There are so many things to do in Melaka (formerly known as Malacca) it is one of the must see places if you are traveling to Malaysia.
A cute historic town with Portugese, Arab, Dutch & Chinese influence (dating back to the 14th century) located just 1.5 hours from Kuala Lumpur is well worth 2-3 days of your Malaysian holiday itinerary.
Things to Do in Melaka
There are so many activities in Melaka, however, we have narrowed it down to our 10 favourite in the city.
1. Visit Dutch Windmill Square
Probably the most iconic attraction in Melaka is the Dutch Windmill Square (otherwise known as the red square).
It is amazing to see the entire square in red & it is a perfect opportunity for Instagram photos. If you wish to get a photo without crowds, it is necessary to arrive early in the morning.
Around the square, you will find local food to try (including yummy watermelon drinks), souvenirs & rickshaws seeking tourists to go for a ride.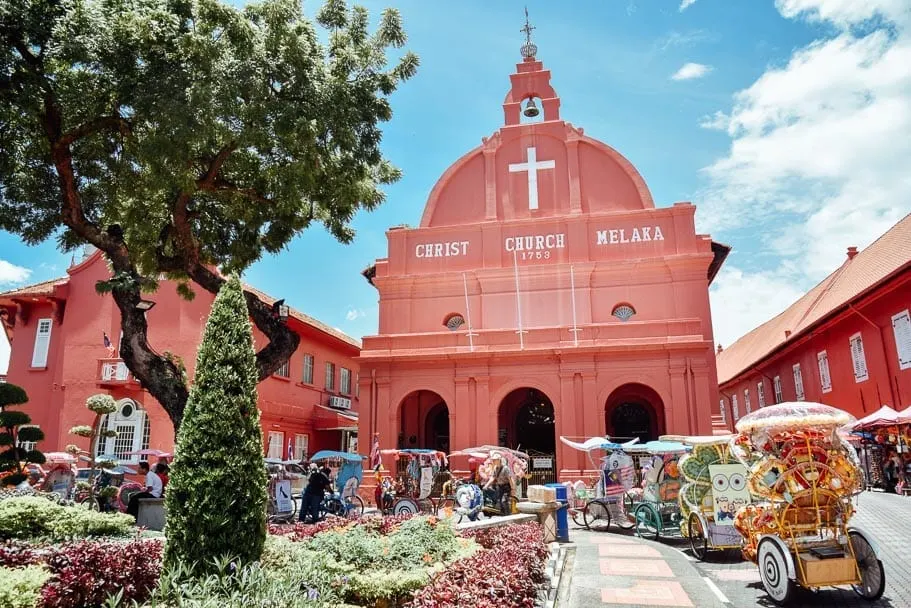 2. Ride a Rickshaw (Trishaw)
If you are looking for an interesting & novel experience in Malacca, why not go for a ride on a Rickshaw.
The rickshaws in Melaka are essentially colourful bicycle powered tuk tuks with different themes. For example, you can go for a ride on a Hello Kitty Rickshaw or a SpongeBob Rickshaw.
At night, traveling on a Rickshaw is even a more interesting experience as they are illuminated & belt out pop music.
It is possible to hire a rickshaw from the Dutch Windmill Square. Prices start from 20 MYR.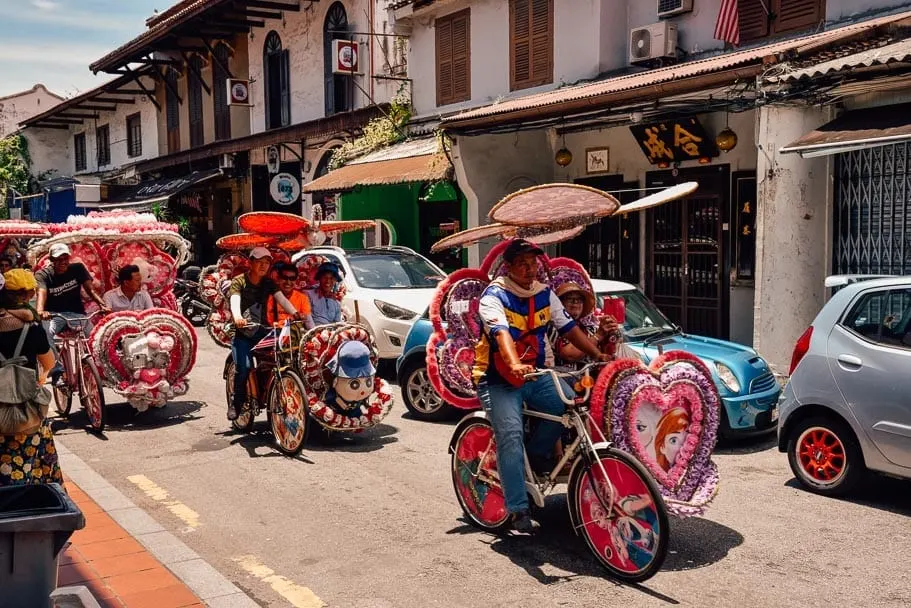 3. Experience Jonker Street
Other than the Dutch Windmill Square, another iconic attraction in Melaka is Jonker Street. Jonker Street is the iconic shopping street in Malacca and also home to the iconic heritage houses.
Jonker Street is a foodie's paradise. You can try some iconic Malaccan food in Jonker Street such as chicken rice balls, cendol & coconut shakes.
At night time, a food market runs along Jonker Street and sells some delicious snacks such as whole coconuts, mango smoothies and pastry yogurt puffs among other things.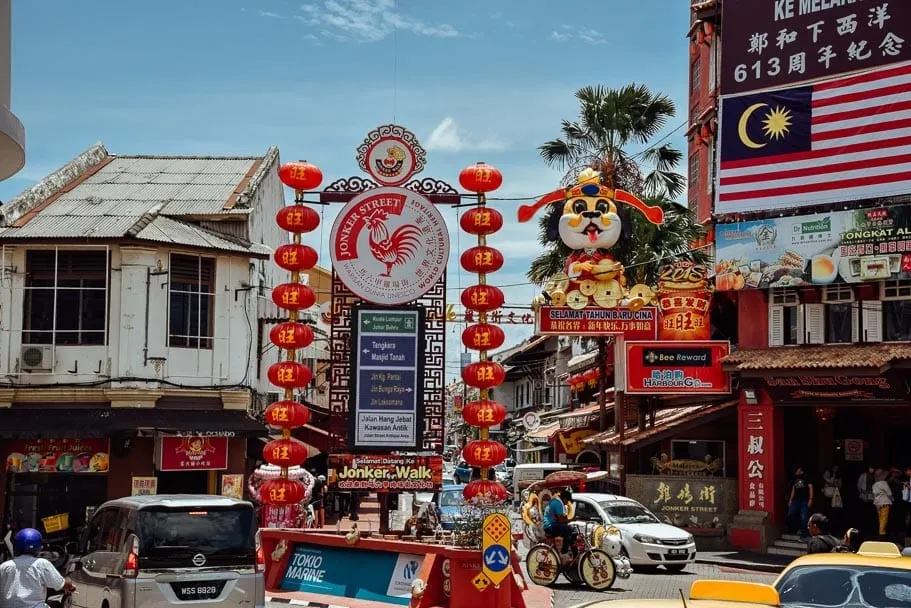 4. Go for a boat ride or walk the Melaka River
Tourist boats run up the Melaka River hourly. One of the best ways to relax and see Melaka is by boat. It costs around 15 RM to experience the sites by water.
Alternatively, you can take a leisurely stroll along the riverbank. Along the river is some seriously cool bars to enjoy a late afternoon snack or beverage.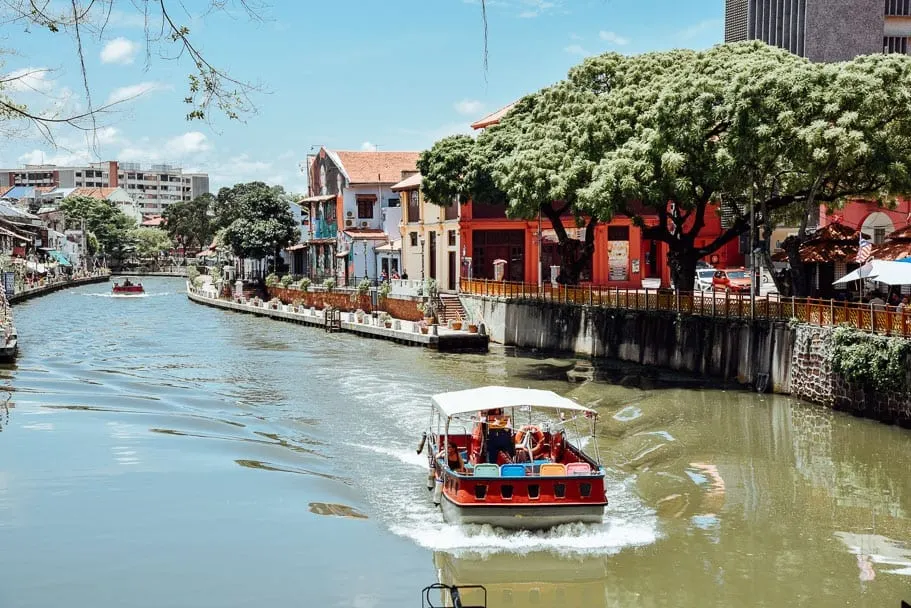 5. Admire the Street Art in Melaka
If you enjoy street art, Melaka has some some pretty cool street art to enjoy.
The street art in Melaka also provides a cool Instagram opportunity. But you will need to go early as the street art is a pretty popular spot for the gram.
Nearby the street art is a cafe called Bikini Toppings where you can enjoy delicious coconut shakes.
6. Visit St Paul's Church
A must see spot in Melaka is St Paul's Church.
This church has a long history – occupied by the Portuguese, Dutch & then used to store artillery by the English.
The architecture of the church is absolutely stunning with an open top roof.
The church is located just a few minutes walk from Casa Del Rio, the amazing hotel we stayed in.
If you are lucky you will spot the hippy busker who plays music in the church.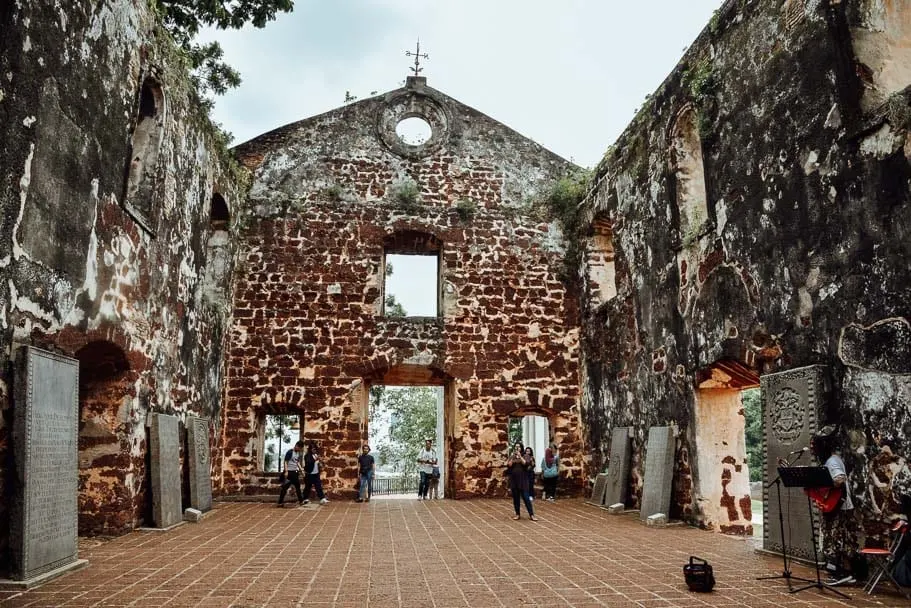 7. Melaka Palace
Right next to St Paul's Church is Melaka Palace (open 9am-5pm daily).
This 'palace' is actually a museum which is a modern reconstruction of the palace of the Melaka Sultanate.
Inside, you will find history of the Melaka region.
8. Admire A Famosa
In the same vicinity as St Paul's Church & the Melaka Palace is the A Famosa. You will find this small ruin at the base of St Paul's Church.
Interestingly, it was previously a Portugese fortress and is the oldest surviving European architectural monument in South East Asia.
Later, when the Dutch drove the Portugese out of Melaka it changed hands and became a dutch fort.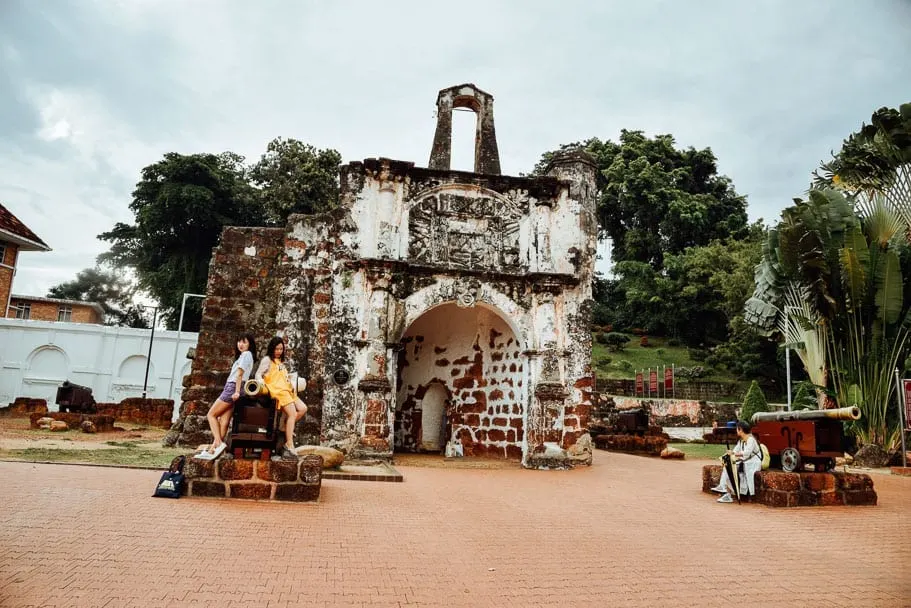 9. Visit the Floating Mosque
One of the reasons we were excited to visit Melaka was to visit the Floating Straits Mosque, a beautiful mosque situated on the man made Melaka island. We've noticed Malaysia has a flair for making their religious monuments gorgeous: Thean Hou Temple and Batu Caves in Kuala Lumpur are two more examples.
The Floating Mosque is located about 20 minutes from the old town.
It is possible to access the mosque by Grab for between 10 – 20 MYR. There is no entrance fee.
Warning: We found ourselves stranded at the Mosque on the way back, unable to find a taxi or hire a Grab. We ended up starting to try to walk 1 hour back to Melaka. Luckily we managed to find a Grab half way on our journey back.
We noticed some people cycled to the mosque and this may be a smarter option. The hotel where we were staying, Casa del Rio has bikes available.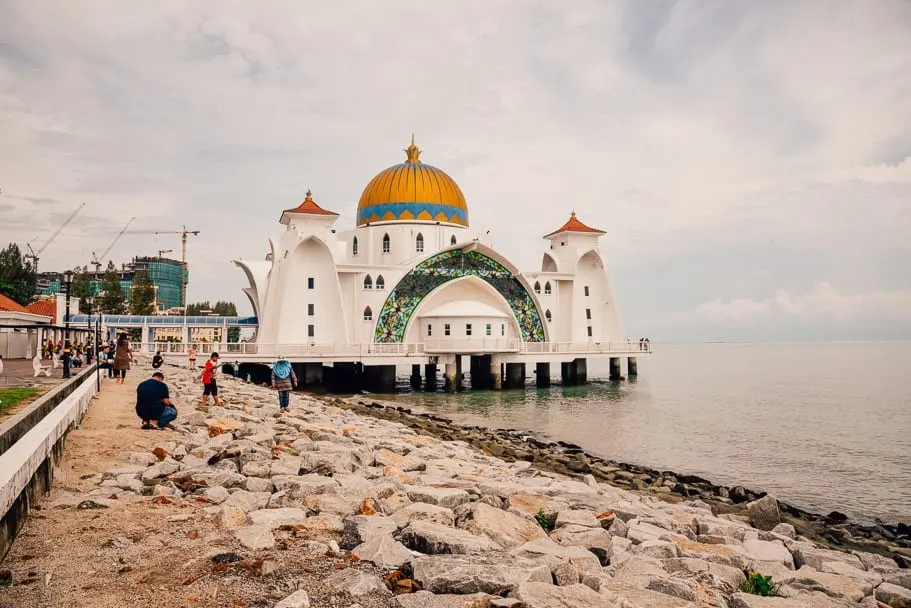 10. Play with huskies at the Huskitory
We enjoy novel animal cafes, having once visited a Meerkat café in Seoul, so we were interested in visiting the Huskitory in Melaka.
The Huskitory costs 20 MYR for 45 minutes of play with absolutely adorable huskies. If you wish you can also buy additional treats to feed the playful pack.
The visit starts with a long play with the adult huskies. Afterwards, the cute husky puppies are brought in for a cuddle.
45 minutes was ample time with the dogs and we would definitely recommend the experience if you love animals.
We caught a Grab taxi to the Huskitory. It cost about 15 and took about 10-15 minutes to reach from downtown Melaka.
It was easy to find a Grab on the way back so we would recommend this transport option.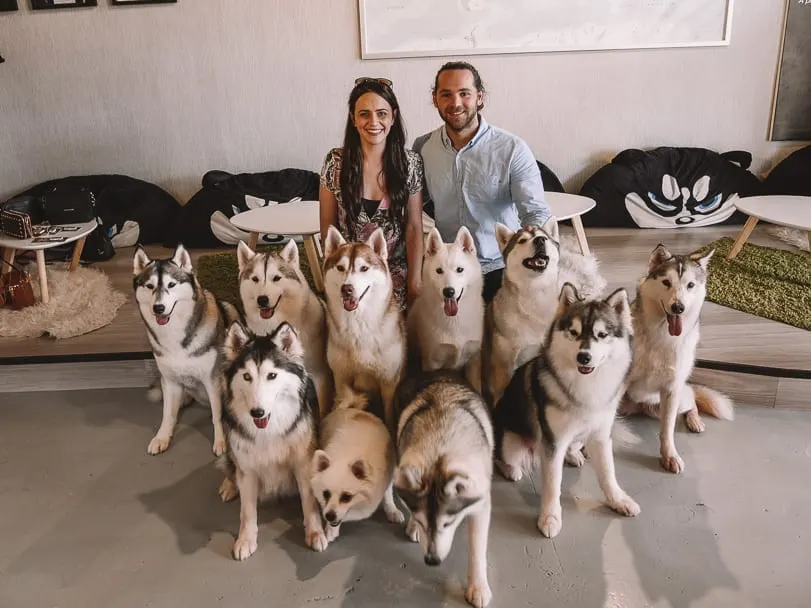 Where to Stay in Melaka?
There are so many great places to stay in Melaka.
We stayed in the Casa del Rio – an absolutely gorgeous 5 star hotel located right on the Melaka river.
If you are looking for a luxurious hotel while in Melaka then we would definitely recommend a stay here.
What is very cool about the hotel is that the interior is designed to match Melaka's Portugese heritage. As soon as we stepped into the hotel we noticed the Mediterranean style colours filling the hotel.
The hotel has a stunning lobby and piazza area with multiple water fountain features – perfect for beautiful Instagram photos.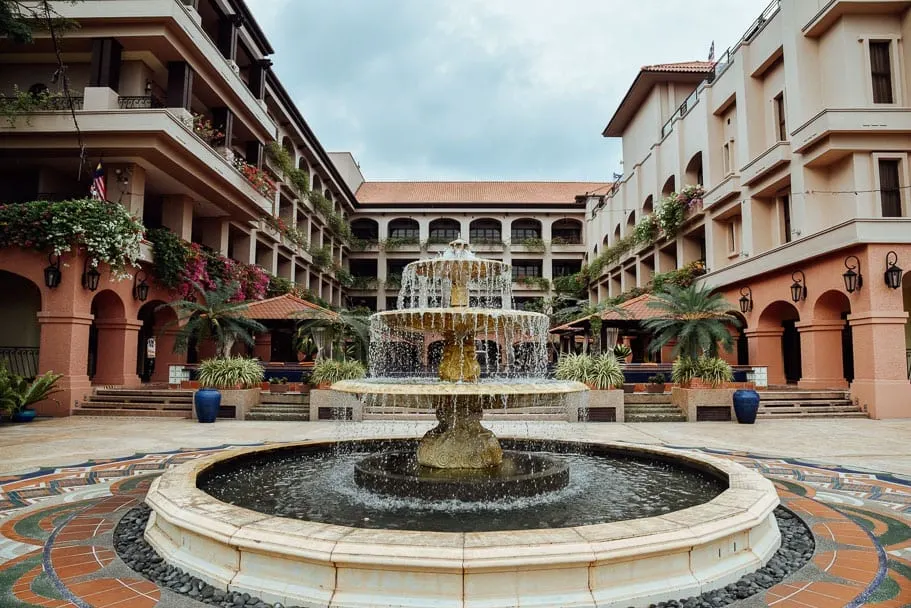 Hotels on the River
Casa del Rio is not only situated directly on the river but also located right in the very heart of the Old Town.
All attractions we have discussed (aside from the Mosque & Huskitory) are located only a few minutes walk from Casa del Rio.
It's the perfect accommodation if you are an early riser and want to avoid the crowds.
Delux Lago River Room
We stayed in the Deluxe Lao/River View Room during our stay and would highly recommend it.
It was very spacious and consisted of a dressing room, a large four point bathroom, bedroom and a private balcony (which we enjoyed very much as it overlooked the Melaka River).
The rooms at the hotel are decorated in Mediterranean style with a touch of Peranakan flair.
The River Grill Restaurant
Breakfast is included in the room rate. The breakfast was of an extremely high standard. It included a buffet breakfast + an a la carte made to order menu.
If you stay at the hotel we encourage you to try the delicious Portuguese Baked Eggs & Spanish Omelette!
Facilities
Two of the highlights of the hotel were the large rooftop infinity pool & the very cool library.
The infinity pool has an absolutely amazing view of Melaka city!
We also enjoyed working on our laptops in the hotel's library. Complimentary tea, coffee & delicious biscuits are available and make the library a desirable hangout.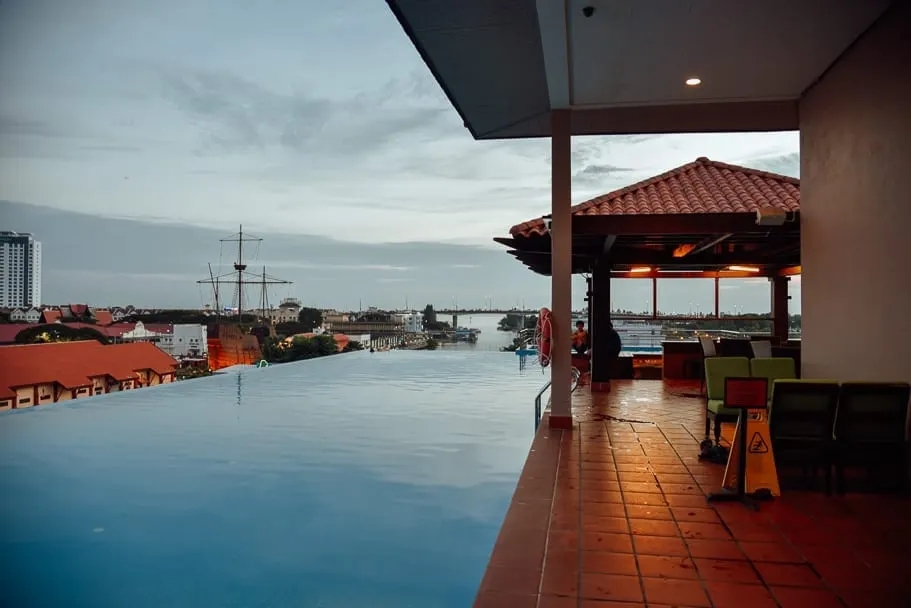 We absolutely loved our time in Melaka. If you have any questions about visiting Melaka or Casa del Rio let us know in the comments below! Next up for us is the lovely Cameron Highlands – a tree-change with a much cooler climate than the coastline.
Save this Malaka Guide to Pinterest (so you can find it again later!)

We were guests at Casa del Rio Melaka. However, this does not influence our opinion. As always, all opinions are our own.