If you are a fan of the old TV show Dad's Army, you will love a visit to Thetford. We made a trip to Thetford from Cambridge.
After exploring the town, we are pleased to report the 10 Best Things to do in Thetford.
While in Cambridge we also made trips to Bury St Edmunds and Ely – some other nice nearby towns you might like to check out!
10 Best Things to do in Thetford
We were surprised to find that Thetford was a bit of a ghost town overrun by a teenage zombie apocalypse.
We saw only few cars driving the streets of Thetford, many stores were closed and no-one seemed to be older than 16. A very strange town indeed!
Nethertheless, if you are a fan of the old long running TV show Dad's Army, the town is definetely worth a visit. The town is teaming with memorabilia from Dad's Army.
With no further adieu, here are the 10 Best Things to do in the town of Thetford!
1. Go to the Dad's Army Museum
Possibly, the biggest drawcard of Thetford is the Dad's Army Museum.
During the years 1968 to 1977, Thetford was the filming location of the popular show Dad's Army.
Since the museum was opened in December 2007, it has drawn thousands of fans to the little town of Thetford to learn more about their favourite tv programme.
The museum provides oodles of information and memorabilia surrounding the tv show.
Interesting Fact: Only 1 main cast member is still alive (as of 2019).
2. Walk along the Riverbank
After visiting the Dad's Army museum, go for a picturesque walk along the Thetford riverbank.
Cute little cafes (including a boat cafe/restaurant) line the riverbank.
While I wouldn't say the riverbank walk is comparable to walks we experienced in Cambridge it was a quaint and pretty walk and worth an hour of your time.
We saw members of the teenage zombie apocalypse jump from a bridge into a very shallow section of the river. Very scary indeed!
3. Find the Dad's Army Filming locations
All around the town Thetford you will see many filming location spots of Dad's Army.
Along the riverbank there is a statue of Captain Mainwaring which you can sit and pose with.
There is a pub/hotel in town called 'The Six Bell' which was used for filming several episodes of Dad's Army including Ring Dem Bells, Wake Up Walmington and All Is Safely Gatherd In.
The old Barn and Stables (now the bedrooms) have also been used in episodes.
Nether Row (a street in Thetford) was also used to film several episodes. Another spot to visit is Old Bury Road.
If you want to see more (secret) places you can go on a Dad's Army Tour (run by the museum).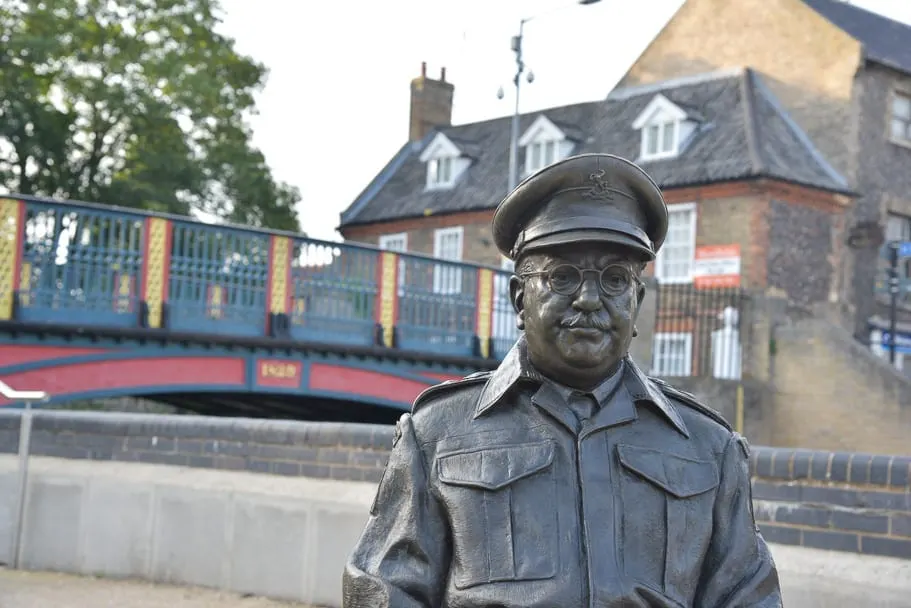 4. Walk around the quaint town streets
Thetford is an old town. It has many old interesting buildings and old doors.
Interestingly, there were Celtic tribes living in Thetford during the Iron Age.
We would recommend taking a walk through the quaint streets of Thetford.
5. See the Statute of Thomas Paine
One for the Americans out there – an English born, American political activist, named the father of the American Revolution.
He is credited for naming the United States of America and for pushing for the Republic. He influenced many household names including Thomas Edison, Thomas Jefferson & Abraham Lincoln.
Paine was born in Thetford in 1737 and died in New York. There is a statue dedicated to him in the town centre.
6. St Mary's Church
Another one for Dad's Army fans – St Mary's Church was used for the opening scenes of Dad's Army.
It is a pretty church so we would recommend checking it out if only just for a picture.
7. See the Thetford Priory (Ruins)
Our favourite part of town was seeing the Thetford Ruins, an important Anglian monastey founded in 1103.
It is free to enter the Ruins.
The opening hours are as follows: 8am-6pm from April until September and 8am-4pm from October until March.
8. Go for the cheapest beer in Cambridgeshire (2 pounds per pint!)
Cambridge is a fairly expensive place to eat and drink.
We were shocked when we arrived to discover 2 pound pints and cider at The Red Lion.
Where to stay in Thetford?
There are many great places to stay in Thetford for all budgets. Here is where we would recommend to stay:
Other nearby towns to explore?
While in the area why not check out some other nearby towns including:
Save Things to do in Thetford to Pinterest (so you can find it again later)
[/et_pb_text][/et_pb_column][/et_pb_row][et_pb_row admin_label="Row"][et_pb_column type="1_3″][et_pb_image admin_label="Image" src="https://coupletraveltheworld.com/wp-content/uploads/2019/07/thetford-england.png" alt="things-to-do-in-thetford" show_in_lightbox="off" url_new_window="off" use_overlay="off" animation="left" sticky="off" align="left" force_fullwidth="off" always_center_on_mobile="on" use_border_color="off" border_color="#ffffff" border_style="solid"] [/et_pb_image][/et_pb_column][et_pb_column type="1_3″][et_pb_image admin_label="Image" src="https://coupletraveltheworld.com/wp-content/uploads/2019/07/THETFORD-UK-THINGS-TO-DO.png" alt="THETFORD-UK-THINGS-TO-DO" show_in_lightbox="off" url_new_window="off" use_overlay="off" animation="left" sticky="off" align="left" force_fullwidth="off" always_center_on_mobile="on" use_border_color="off" border_color="#ffffff" border_style="solid"] [/et_pb_image][/et_pb_column][et_pb_column type="1_3″][et_pb_image admin_label="Image" src="https://coupletraveltheworld.com/wp-content/uploads/2019/07/thetford-england-uk.png" alt="thetford-england-uk" show_in_lightbox="off" url_new_window="off" use_overlay="off" animation="left" sticky="off" align="left" force_fullwidth="off" always_center_on_mobile="on" use_border_color="off" border_color="#ffffff" border_style="solid"] [/et_pb_image][/et_pb_column][/et_pb_row][/et_pb_section]