Looking for the prettiest towns in Lake Como for your next trip? Here are 10 of the very best.
Como
Let's start with the most obvious (and yet still pretty) town to check off your Lake Como bucket list – the town of Como itself.
While many people think Como will be a dingy old town worth forgetting, it is well worth spending some time here due to the myriad of cool things to see and do. Some of the highly rated attractions in Como include the Romanesque Sant'Abbondio, the Silk Museum and the stunning 15th-century cathedral. Lake Como is also famous in its own right for being the filming location of many popular movies including Star Wars!
What's good about this town is its a great starting point to your Como adventure as it is very easy to get a train to the town of Como from Milan. Don't miss a trip on the funicular up to Brunate for amazing views of the lake and towns.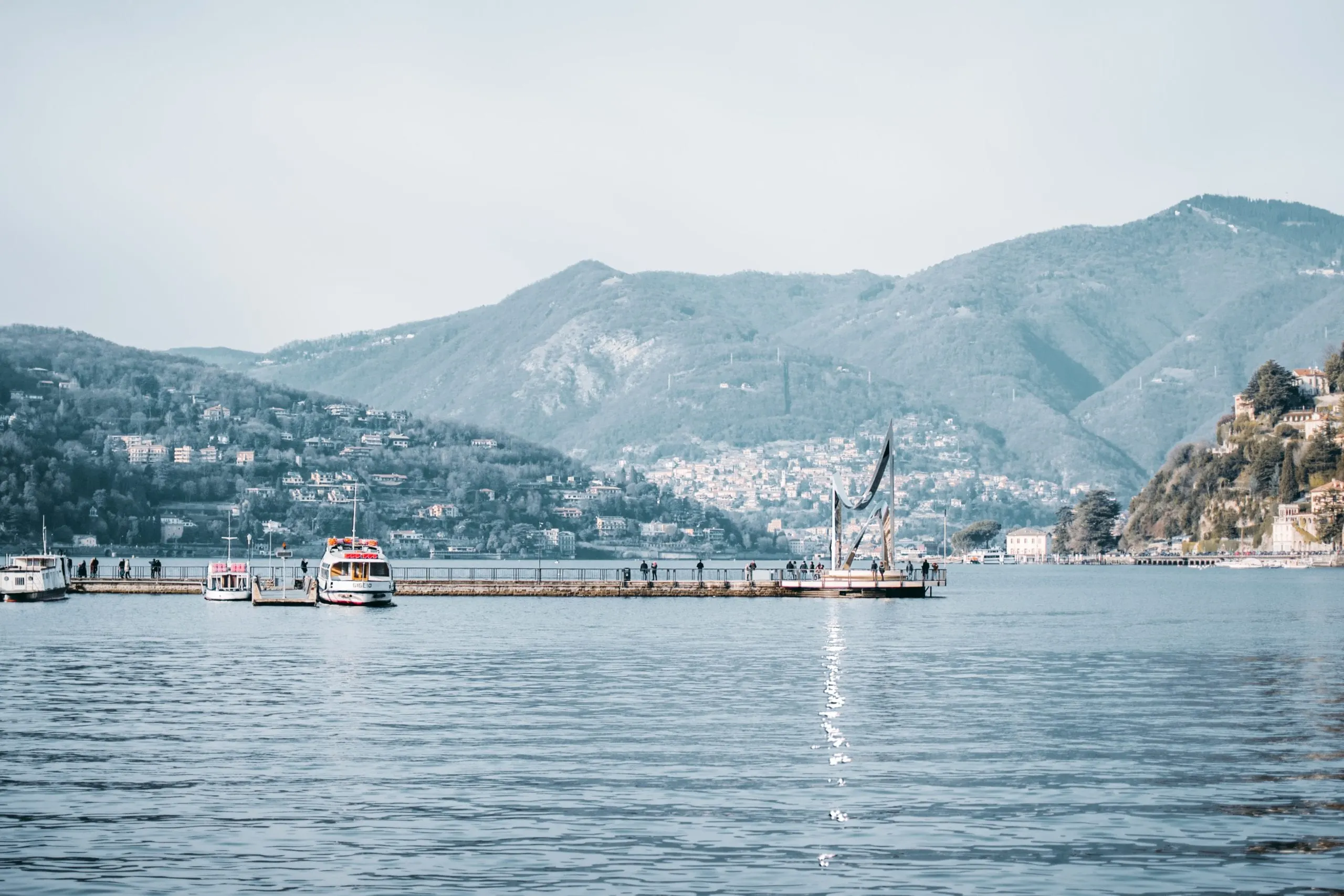 Cernobbio
One of the most unmissable places to visit in Lake Como is the gorgeous town of Cernobbio. Situated at the base of Monte Bisbino in the northwest region of the lake, it is undoubtedly one of the most picturesque spots in the area. You can reach the town within 10 minutes' drive from the city of Como.
One of the main reasons to visit this quaint, beautiful town is to stay or visit some of the most opulent villas: Villa d'Este and Villa Erba. Pictured below is Villa d'Este, a 16th century Villa turned luxury 5-star hotel. Villa d'Este is considered to be one of the most opulent waterfront Villas in the whole of Europe. Along with the view of the lake, the perfectly manicured grounds of the hotel are extremely impressive and fit for a queen. The Villa is also famous in its own right as it has been featured in the James Bond film 'Never Send Flowers'.
In addition to a relaxing afternoon sunning yourself at one of Italy's best villas, if you are a fit and active traveler, you might like to also enjoy some fabulous hiking trails that are located in the area. One of the best rated hikes is Sentee di Sort which you can start from Cernobbio. Be warned it is a fairly steep incline so don't forget your hiking shoes and a few bottles of water if you do decide to take on this hike!
Cernobbio is often visited in conjunction with Argegno and Tremezzina, 2 other popular Lake towns in Como.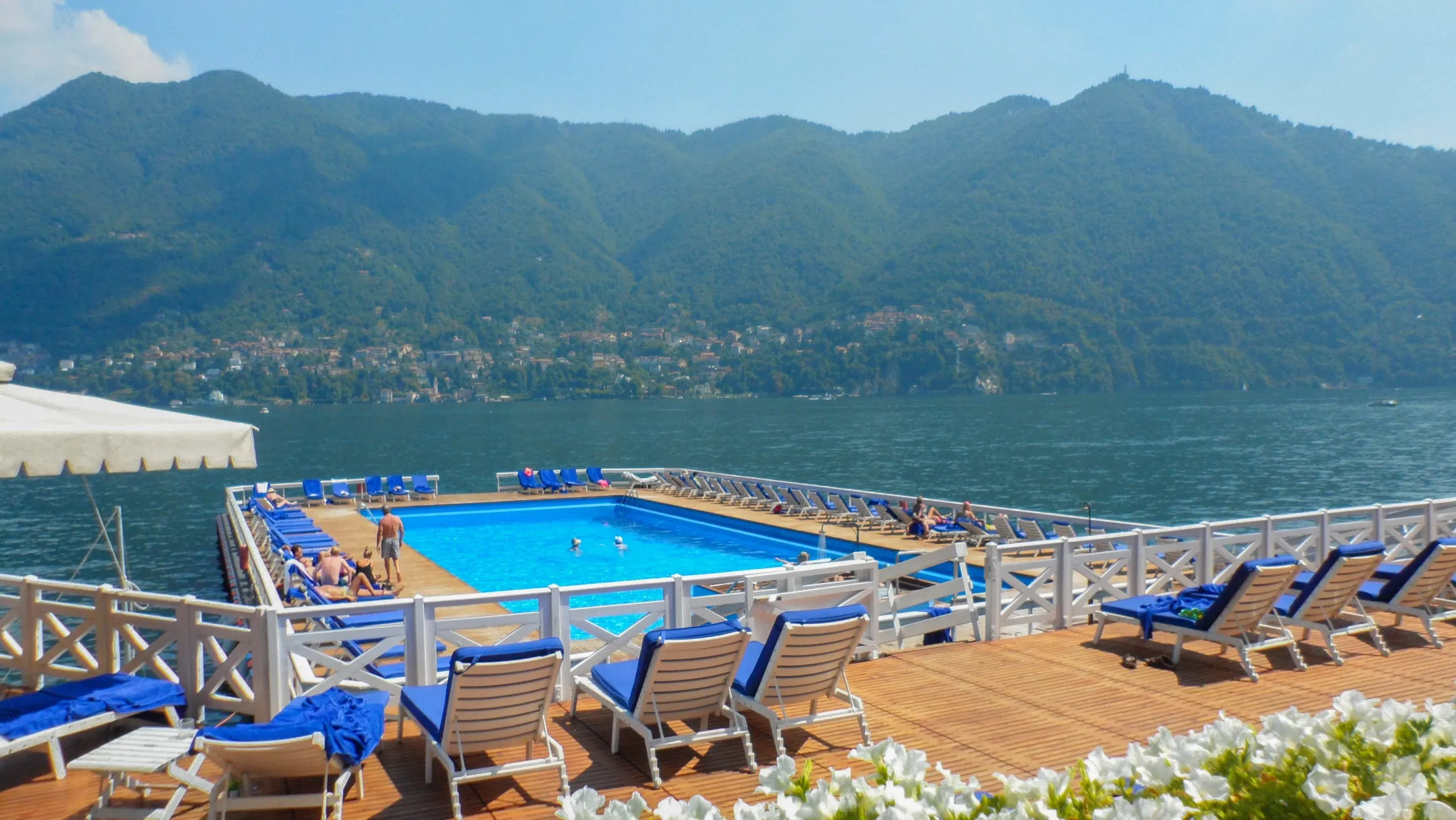 Bellagio
You can't visit Lake Como without visiting the stunning town of Bellagio – it is thought to be one of the most beautiful towns in not only Italy but the whole of Europe!
If you don't like tourists however, this is probably a city in Como that you should avoid as it is the most popular of all the small towns in Lake Como among tourists mainly due to the incredible views and the cute streets. This also means it is normally the most expensive place to stay in Lake Como so we would recommend avoiding staying here if you are traveling on a tight budget. In contrast, luxury travelers will absolutely go to town with the amount of prime shopping opportunities there are in this town!
Like Cernobbio, Bellagio is also home to two stunning villas with incredible gardens – Villa Melzi and Villa Serbelloni which are worth visiting if you appreciate particularly nice gardens.
Tremezzo
If you do decide to stay in Bellagio, you will likely visit the town of Tremezzo as it is located across the lake from Bellagio. There is a direct ferry that operates between the two towns on an hourly basis everyday.
Like many towns in Lake Como it is famous for non other than what – well, villas of course, the two most famous in the town being Villa Carlotta and the Grand Hotel Tremezzo, which while not exactly a villa is another grand and decadent property in Lake Como.
If you are a fan of pretty things (who isn't) Villa Carlotta is well worth visiting as it including stunning Japanese maples, azaleas and a myriad of plants spanning over 14 acres. Inside is nowhere near as cool but if you do decide to look inside the mansion there is a collection of art and sculptures inside.
On a honeymoon in Lake Como? You simply must stay at the Grand Hotel Tremezzo whose rooms arguably have the best view of the lake with private terraces and even jacuzzis to enjoy (not to mention it has its own private beach).
If you are a star wars fan (and a hopeless romantic) you will ADORE Tremezzo. Scenes featuring the romance of Anakin Skywalker and Padmé Amidala in the Attack of the Clones were filmed at Villa del Balbianello, Tremezzo public garden and Picnic meadow. They director decided Tremezzo public garden would make the final cut.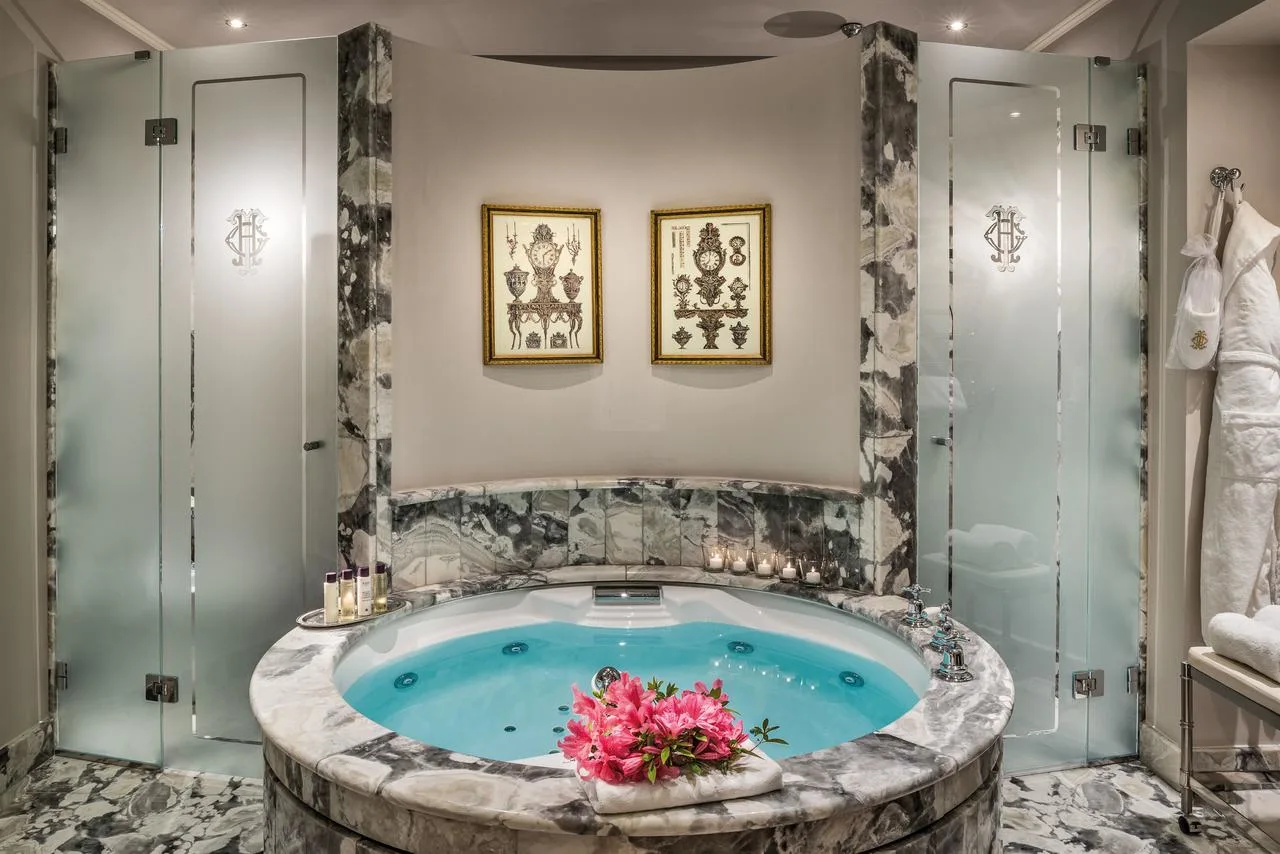 Varenna
I believe my grandparents chose Varenna as their town of choice in Lake Como as they opted to get a train to Lake Como rather than drive. Varenna is perfect for older travelers who wish to do this as you can get a train from Milan straight to Varenna.
Regardless of your method of travel, Varenna is a great place to choose to base yourself in Lake Como as it is a seriously pretty old fishing town with brightly colored houses lining the waterfront. This is one of the few places that have not been overrun with tourists in Como and where you will still get a true sense of Italian culture with traditional trattorias in place that won't cost you an arm and a leg to dine in (*cough* Bellagio *cough*).
If you would like to get out and explore more of what Varenna has to offer, you can do an amazing hike up to Vezio Castle. We would recommend a visit to Villa Monastero (that is if you are not totally sick of villas yet ;))
Bellano
If you enjoy quaint, small towns with hidden gems waiting to be discovered, we recommend you include the very small and often overlooked town of Bellano into your Lake Como itinerary.
Aside from Bellano's amazing untouched beach, one of the main drawcards of this little town is the Orrido di Torrente Pioverna – an incredible naturally formed gorge caused by erosion.
Nesso
Thirty minutes drive along the windy roads and roughly half way from Como to Bellagio up high on the lush steep banks of Lake Como you will find Nesso, a small village of barely 1000 inhabitants. The name comes from the Italian word for centaur which in Roman mythology is the ferryman of Hades who carries souls of the newly deceased across the river dividing the world of the living from the world of the dead.
As you might have noticed from the stories behind the town's name, Nesso has a rich history which is rivalled only by its beauty. For a stunning view of the waterfalls into the lake, head to Ponte Roma (meaning The Roman Bridge) where you can enjoy stunning views of Lake Como and its water source.
Nesso is the perfect town for those looking to enjoy a taste of authentic Italian life. On the topic of tasty Italian, don't miss the Risotto al pesce persico – pan-fried fish served on white risotto – a typical dish from Lake Como. Trattoria del Porto (Via del Pontile Nr. 26 Careno) is considered to serve one of the best. For dessert, try the Miascia – an Italian bread and butter pudding with apples or pears, pine nuts, raisins and sometimes even crumbed macaroons. Another sweet treat typical to the area is La Cutizza – think crepes infused with lemon zest and dusted with vanilla icing sugar.
But back to describing the idyllic romantic village you must visit. Stay in one of the many impossibly stacked houses perched on the mountainside. The most scenic way to travel from town to town is by ferry – each village has at least a small port which you can access by ancient stone paths.
Lecco
Lecco is one of the least visited towns in Lake Como but it doesn't mean its not worth seeing or isn't stunning in it's own right!
One of the best things to do in Lecco is checking out the amazing Basilica of St. Nicholas, a gorgeous baroque church which while has undergone many changes over the years still remains very pleasing to the eye. While you are there, you might also like to take a cable ride up to Piani D'Erna or go for a bike ride along the River Adda.
This town is also accessible by rail to Milan if you are looking for somewhere to travel in Lake Como without a car!
Menaggio
One of the biggest reasons to base yourself in Menaggio is the position of the town to the other towns. Being smack bang in the middle of the lake, it is in the perfect location to explore towns both at the northern and southern parts of the lake.
Just like the other towns it is a really pretty town to stay in and with quite a lot of activity going on including many restaurants, shops and hotels lining the medieval streets. What is interesting about the town of Menaggio is it was once a walled city and there are still parts of the wall preserved to this day.
Other Lake Como Towns you might want to check out:
Argegno – If you like small, quaint towns go here!
Gravedona – Don't miss the 13th-century Church of Santa Maria del Tiglio
Cadenabbia – Villa Carlotta (yes another villa) is probably the most famous part of this town.
Domaso – If you wan't to try your hand at windsurfing on Lake Como, you should come to this town!
Lenno – One of the most beautiful villas in the area, Villa Balbianello, lives in this town.
Colico – Don't miss the hilltop fortress called Fort Fuentes, constructed by the Spanish governor.
Gravedona
Tremezzina
Tip: Don't forget to caption your trip with some awesome Italy Captions for the gram! You might also like to check out one of our favorite Italy hidden gems – Sirmione
You might also like:
Save to Pinterest – Towns in Lake Como