We travel on a full time basis so we are always on the hunt to improve our travel essentials including carry on luggage especially when traveling in the USA or Europe when a carry on bag is a necessity.
We constantly review our gear to ensure our packing lists are practical and up to date.
Planning a trip to Central or South America. Don't miss our packing guides:

The Essential Packing List for Central America

The Big Guide to Packing for South America
Recently, we came across Chester Carry On Lightweight Suitcase Spinner (Black). Here is our travel bag review – why we would highly recommend the Chester Carry On Suitcase as your next travel bag!
Travel bag review – Chester Carry On Suitcase
There are 5 main reasons why we think the Chester Carry On Lightweight Suitcase Spinner is one of the best travel bags.
Lightweight & Unbreakable
The suitcase is lightweight & unbreakable.
We will discuss lightweight to begin with. The suitcase weighs in at only 7 lbs. If you are travelling with only carry on luggage on a flight you need to keep the weight of the suitcase as low as possible.
In saying this, you don't want to purchase a carry on suitcase so light that it is flimsy. The Chester carry on suitcase is the perfect balance of lightweight & durability.
The Chester company uses a durable, water-resistant, 100% Makrolon polycarbonate hardshell. We cannot tell you how many times we have experienced suitcases breaking and cracking during our travels.
This material is perfect as it is lighter than aluminum & more durable/flexible than most plastics, including ABS.
As a side note the material the bag is made can be easily cleaned which is great as it means your bag is always looking fresh & new!
Perfect Size for Carry on Travel
The Chester Carry On Lightweight Suitcase is THE perfect size for carry on travel.
It meets the TSA and IATA approved exterior dimensions (21.5" x 13.5" x 8.5") of domestic and international airlines and fit overhead bins of both small and large planes.
What we particularly love is that while it is small & compact the interior dimensions are large (20.0" x 13.5") and it holds a capacity of 38 liters. This equates to about 3-to-5 outfits making it a great travel bag for women.
The suitcase also has a TSA approved lock (set by a combination code). This is perfect as you do not have to worry about buying/losing an additional lock.
Organised Compartments
Another aspect we love about this Chester bag is that it features organised compartments.
The bag has two spacious compartment including interior organizers to store smaller items (comes in very handy with those small items that are easy to lose).
The best part of the organised compartments however, in our opinion is the removable nylon laundry bag to separate clean and dirty clothes. How perfect is this?!
You no longer have to bring a dirty laundry bag with you when you travel as the carry on bag has it built in!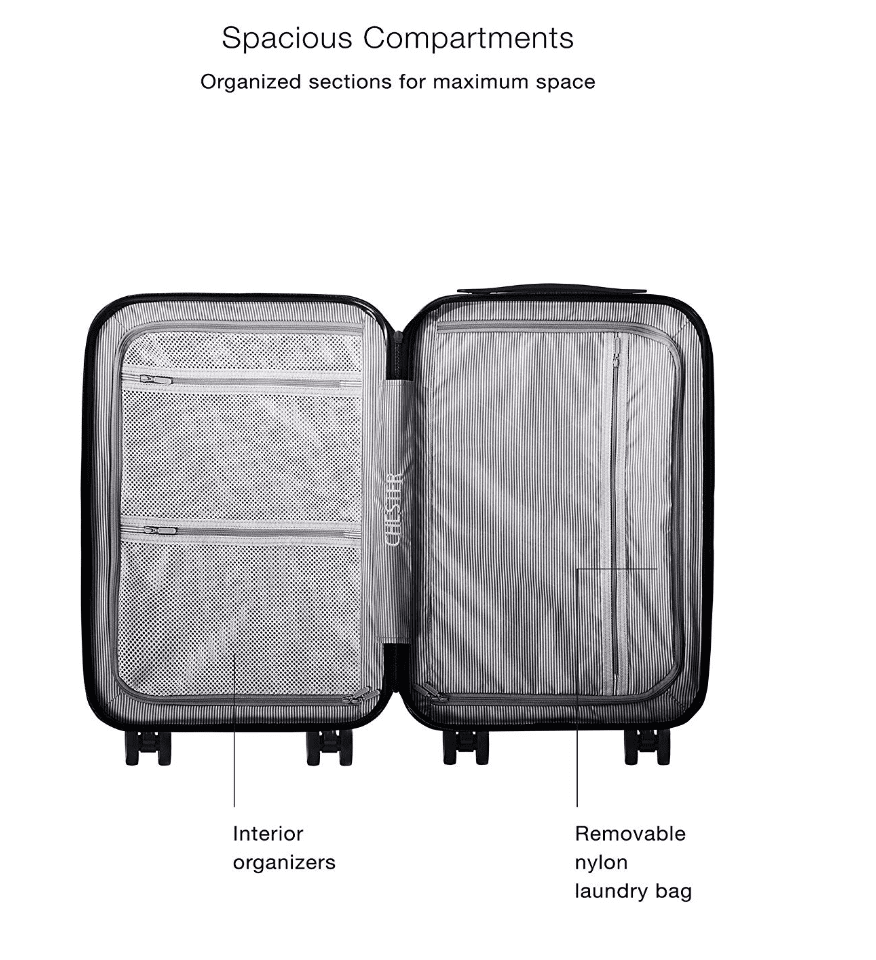 Effortless Handling
What is worse than buying a carry on that cannot be wheeled?!
This is a big no no for us. We need a travel bag with wheels.
We are so happy that the Chester Carry On Lightweight Suitcase features 4 silent, multi-directional wheels for a smooth roll in any direction on any terrain with minimal weight on your arm!
It achieves this superiority through 100% aluminum telescoping ergonomic handle with two lock positions for ultimate control and maneuverability.
A generous refund policy
We almost never purchase from brands without a generous refund policy.
We absolutely love that you can buy with absolute confidence with Chester as the company offers both free returns & a 10-year limited warranty.
This means if anything goes wrong you can return your Chester Bag with confidence.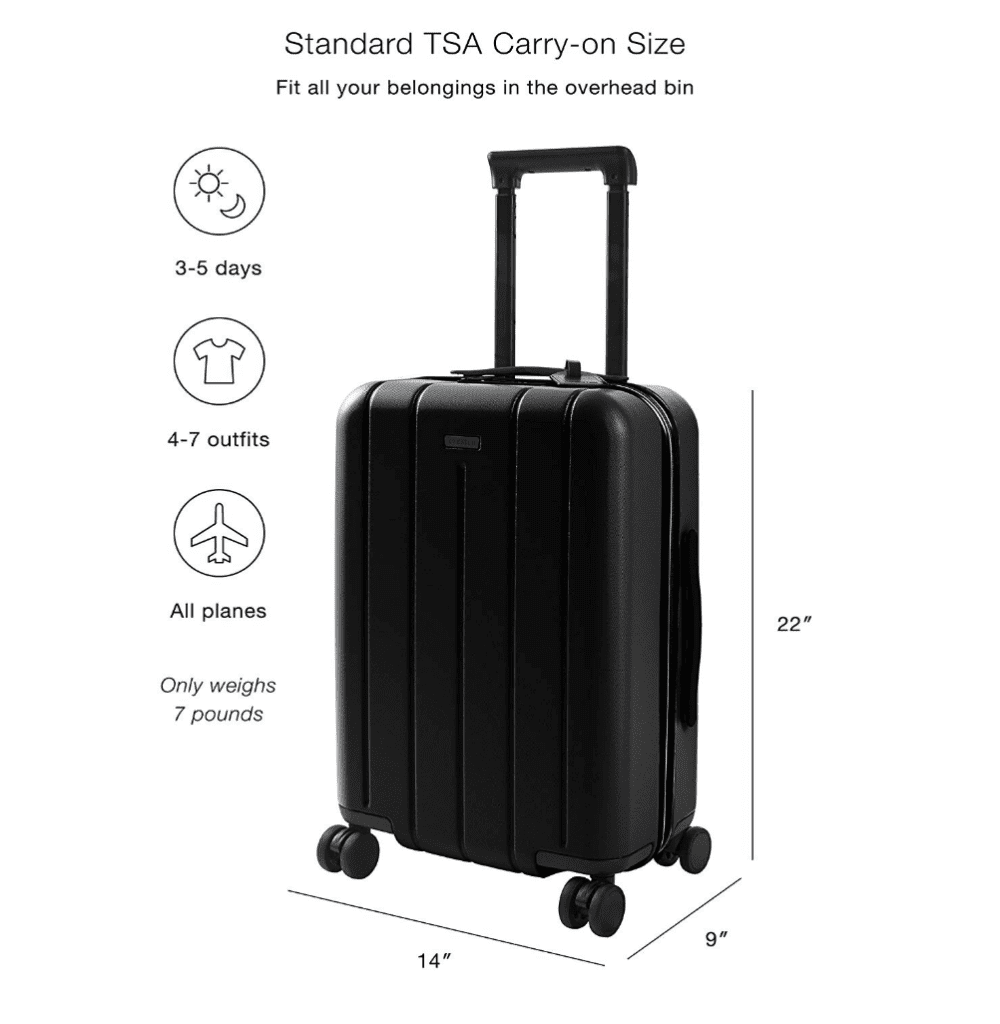 Where to purchase the Chester Carry On Suitcase
You can purchase the Chester Carry on Suitcase on Amazon or Walmart. It is priced at $175 which we think is very fair & reasonable for a good quality carry on suitcase.
On Amazon the bag is in the Top 50 Carry-Ons & holds a score rating of 4.8/5.0
The below amazon review was enough to convince me. This lady was very happy with her Chester Carry on Suitcase after having a negative experience with a low quality suitcase ruining her hair straightener in the rain.
We think this is the perfect all rounder carry on bag! Do you agree? Leave us a comment below to let us know!
Not ready for a new carry on now? Save this to Pinterest so you can find it again later
This post was made possible by Chester however, it does not affect our opinions. We only recommend products we genuinely believe in and love.