Ready for your next big adventure? Planning on taking your vacation? Already traveling? Traveling is the spice we all need to make our life more fulfilled. Here are 100+ Travel Captions for Instagram to make your travel Instagram POP!
We run a couples Instagram, check it out if you are looking for some inspiration. If you are looking for a good caption for your Instagram also check out:
And, if you want to up your IG game, be sure to download our FREE instagram presets here.
Travel Captions for Instagram
Ever not posted a photo because you did not know what to caption it? Travel quotes add life to our photos and they explain our deepest meanings. Travel around the world and feel free to use the following travel captions for Instagram to your photos.
Couple travel quotes
Nothing is more beautiful than traveling with your loved one and making new amazing memories together! Below are some couple travel quotes you can use as Instagram captions after your adventures.
Actually, the best gift you could have given her was a lifetime of adventures.– Lewis Carroll
If happiness is the goal – and it should be, then adventure should be top priority. – Richard Branson
Life is either a daring adventure or nothing at all. – Helen Keller
Never go on trips with anyone you do not love. – Ernest Hemingway
Wandering re-establishes the original harmony which once existed between man and the universe.– Anatole France
Life is an adventure, it's not a package tour. – Eckhart Tolle
Anytime I feel lost, I pull out a map and stare. I stare until I have reminded myself that life is a giant adventure, so much to do, to see. – Angelina Jolie
We take photos as a return ticket to a moment otherwise gone
You'd be surprised who the love of your life turns out to be. After all, adventure fell in love with lost. – Mary Oliver
It doesn't matter where you are going, it's who you have beside you
Love is the food of life, travel is dessert
People never forget two things, their first love and their first day in New York City
I'm in love with cities I have never been to and people I have never met
There's no time to be bored in a world as beautiful as this
I would like to travel the world with you twice. Once to see the world. Twice, to see the way you see the world
Will you give me yourself? Will you come travel with me? Shall we stick by each other as long as we live? – Walt Whitman
Traveling is like flirting with life. It's like saying, "I would stay and love you, but I have to go; this is my station." – Lisa St. Aubin de Teran
Travel only with thy equals or thy betters; if there are none, travel alone. –The Dhammapada
I get a friend to travel with me… I need somebody to bring me back to who I am. It's hard to be alone. – Leonardo DiCaprio
The more I traveled the more I realized that fear makes strangers of people who should be friends. – Shirley MacLaine
See more: Couple Instagram Captions
Family Travel Quotes
Traveling as a family is perfect to build bonds that last a lifetime. Taking time out of busy schedules to travel with our families is not only essential for bonding but also very exciting.
Here are some family travel quotes you can use as perfect Instagram travel captions after your family adventures.
In America, there are two classes of travel: first-class and with children. — Robert Benchley
The greatest adventures are experienced as a team.
Travel isn't always pretty. It isn't always comfortable. Sometimes it hurts, it even breaks your heart. But that's okay. The journey changes you; it should change you. It leaves marks on your memory, on your consciousness, on your heart, and on your body. You take something with you. Hopefully, you leave something good behind. – Anthony Bourdain
As soon as I saw you, I knew adventure was going to happen. – Winnie the Pooh
I have found out that there ain't no surer way to find out whether you like people or hate them than to travel with them. – Mark Twain
There are only two ways to live your life. One is as though nothing is a miracle. The other is as though everything is a miracle. ― Albert Einstein
Fill your life with adventures, not things. Have stories to tell not stuff to show
Teaching kids to count is fine, but teaching them what counts is best. – Bob Talbert
Kids won't remember the trips but you will and that matters
In the end, kids won't remember that fancy toy you bought them, they will remember the time you spent with them – Kevin Heath
To my mind, the greatest reward and luxury of travel is to be able to experience everyday things as if for the first time, to be in a position in which almost nothing is so familiar it is taken for granted. – Bill Bryson
The greatest legacy we can leave our children is happy memories – Og Mandino
Because in the end, you won't remember the time you spent working in the office or mowing your lawn. Climb that goddamn mountain – Jack Kerouac
Travel in the younger sort is a part of education; in the elder, a part of experience – Francis Bacon
Of all the books in the world, the best stories are found between the pages of a passport
There are no perfect parents and there are no perfect children, but there are plenty of perfect moments along the way – Dave Willis
Happiness is, planning a trip to somewhere new, with someone you love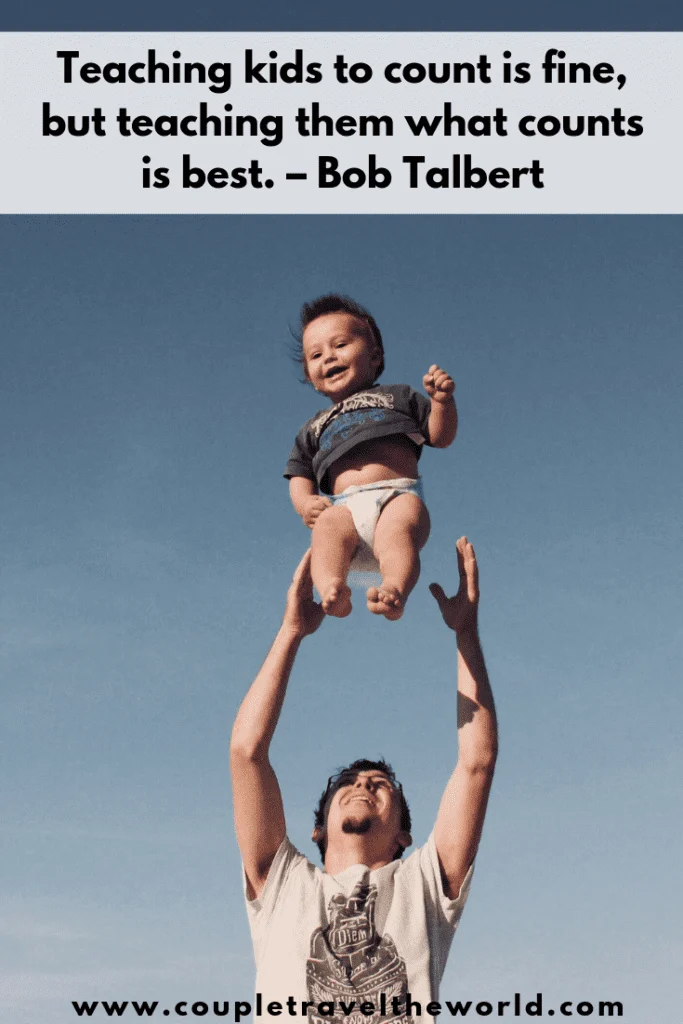 Solo Female Travel Quotes
Traveling alone and especially as a woman requires courage and a strong mind. Traveling alone can be challenging but it is one of the most fulfilling things you can do in your life. Put aside your worries, drop everything, grab your passport and prepare for the adventure of a lifetime!
Here are our favourite sole female travel quotes, perfect for solo female instagram travel captions!
It is in all of us to defy expectations, to go into the world and to be brave, and to want, to need, to hunger for adventures. To embrace the chance and risk so that we may breathe and know what it is to be free. – Mae Chevrette
I want to do it because I want to do it. Women must try to do things as men have tried. When they fail, their failure must be but a challenge to others. – Amelia Earhart
The man who follows the crowd will usually get no further than the crowd. The man who walks alone is likely to find himself in places no one has ever been before. – Alan Ashley-Pitt
Nobody can discover the world for somebody else. Only when we discover it for ourselves does it become common ground and a common bond and we cease to be alone. – Wendell Berry
To awaken quite alone in a strange town is one of the most pleasant sensations in the world. You are surrounded by adventure. – Freya Stark
I learned my strengths and my weaknesses. I experienced the exhilaration of the ups and the despairs of the lows and most of the feelings in between… I learned courage and I learned it myself – Ann Stirk
I think one travels more usefully when they travel alone, because they reflect more. — Thomas Jefferson
Don't be scared to walk alone. Don't be scared to like it. — John Mayer
Some journeys in life can only be traveled alone. – Ken Poirot
I love to see a young girl go out and grab the world by the lapels. Life's a bitch. You've got to go out and kick ass.- Maya Angelou
I wondered why it was that places are so much lovelier when one is alone. – Daphne Du Maurier
Loving life is easy when you are abroad. Where no one knows you and you hold your life in your hands all alone, you are more master of yourself than at any other time. – Hannah Arendt
Adventure Quotes
Life in itself is the greatest adventure it is amazing we have been given this beautiful world to explore. Take an adventure and live life to the fullest!
Here are our favourite adventure travel quotes. They make the ideal travel caption for adventure on Instagram!
Adventure should be part of everyone's life. It is the whole difference between being fully alive and just existing. – Holly Morris
An adventure may be worn as a muddy spot or it may be worn as a proud insignia. It is the woman wearing it who makes it the one thing or the other. – Norma Shearer
Do not stop thinking of life as an adventure. You have no security unless you can live bravely, excitingly, imaginatively, unless you can choose a challenge instead of a competence. – Eleanor Roosevelt
The biggest adventure you can take is to live the life of your dreams – Oprah Winfrey
Adventure can be an end in itself. Self-discovery is the secret ingredient. – Grace Lichtenstein
Certainly, travel is more than the seeing of sights; it is a change that goes on, deep and permanent, in the ideas of living. – Mary Ritter Beard
Anybody can be an explorer if they want to be. You can be an astronaut if you want. Figure out what you want to do, and then go do it. – Helen Thayer
You do not travel if you are afraid of the unknown, you travel for the unknown, that reveals you with yourself. – Ella Maillart
All our dreams can come true, if we have the courage to pursue them – Walt Disney
Twenty years from now you will be more disappointed by the things you didn't do than by the ones you did do. So throw off the bowlines. Sail away from the safe harbor. Catch the trade winds in your sails. Explore. Dream. Discover. – Mark Twain
When you see someone putting on his Big Boots, you can be pretty sure that an Adventure is going to happen. – A.A. Milne
We live in a wonderful world that is full of beauty, charm and adventure. There is no end to the adventures that we can have if only we seek them with our eyes open. – Jawaharlal Nehru
Every man can transform the world from one of monotony and drabness to one of excitement and adventure. – Irving Wallace
Instead of trying to make your life perfect, give yourself the freedom to make it an adventure, and go ever upward. – Drew Houston
For my part, I travel not to go anywhere but to go. I travel for travel's sake. The great affair is to move. – Robert Louis Stevenson
Adventure isn't hanging on a rope off the side of a mountain. Adventure is an attitude that we must apply to the day to day obstacles in life. – John Amatt
Adventure Awaits. Go find it!
Life is either a daring adventure or nothing. – Helen Keller
Don't die without embracing the daring adventure your life was meant to be. – Steve Pavlina
What is life but one grand adventure?
Adventure is a path. Real adventure, self-determined, self-motivated, often risky, forces you to have firsthand encounters with the world. – Mark Jenkins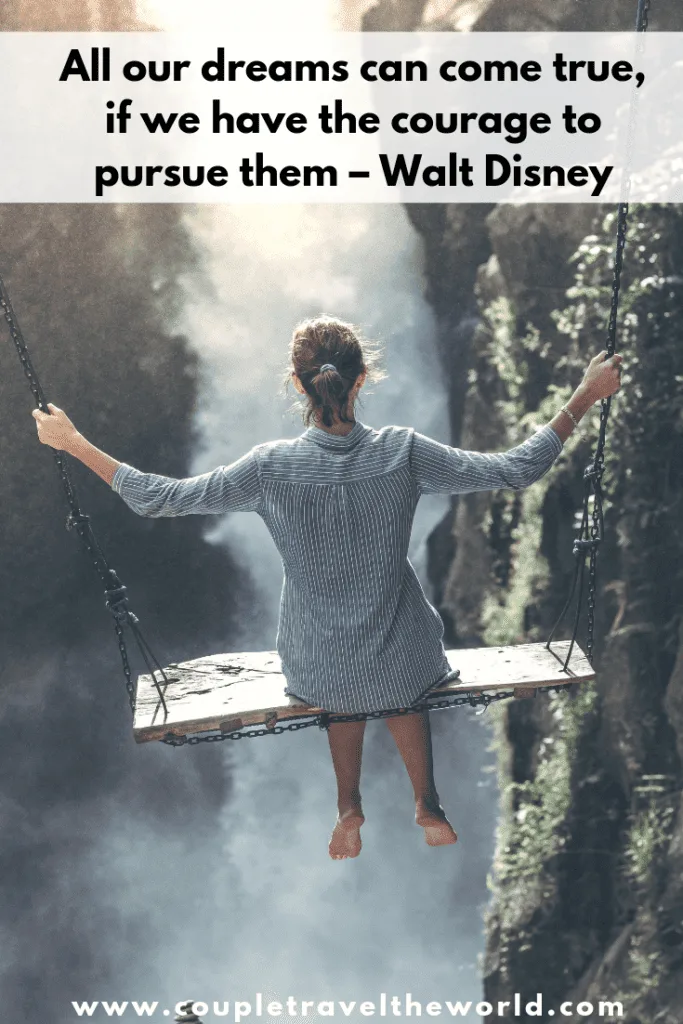 Luxury Travel Quotes
At least once in your life book an expensive trip, stay in a fancy hotel, order the most expensive glass of wine or take a luxury cruise around the world! We all get lost in saving up and forget to enjoy the little pleasures in life. Stop over analysing your finances and book that luxury tour you have always wanted to take.
Here are our favourite luxury travel quotes which provide the perfect travel instagram captions!
Be fearless in the pursuit of what sets your soul on fire. – Jennifer Lee
Adventure may hurt you but monotony will kill you.
The most beautiful in the world is, of course, the world itself. -Wallace Stevens
Work, travel, repeat
The whole object of travel is not to set foot on foreign land; it is at last to set foot on one's own country as a foreign land. – G.K. Chesterton
Time is more valuable than money. You can get more money, but you cannot get more time. – Jim Rohn
It's good to have money and the things that money can buy, but it's good, too, to check up once in a while and make sure that you haven't lost the things that money can't buy. -George Lorimer
Wealth is the ability to fully experience life. – Henry David Thoreau
Travel is never a matter of money but of courage. I spent a large part of my youth traveling the world as a hippie. And what money did I have then? None. I barely had enough to pay for my fare. But I still consider those to have been the best years of my youth. The great lessons I learned has been precisely those that my journeys had taught me. – Paulo Coelho
As much as you can. As far as you can. As long as you can. Life's not meant to be lived in one place
Certainly, travel is more than the seeing of sights; it is a change that goes on, deep and permanent, in the ideas of living." – Mary Ritter Beard
In the end, we only regret the chances we didn't take, relationships we were afraid to have, and the decisions we waited too long to make.
The value of your travels does not hinge on how many stamps you have in your passport when you get home — and the slow nuanced experience of a single country is always better than the hurried, superficial experience of forty countries. – Rolf Potts
Travel is the only thing you buy that makes you richer
And then there is the most dangerous risk of all – the risk of spending your life not doing what you want on the bet you can buy yourself the freedom to do it later. – Randy Komisar
To my mind, the greatest reward and luxury of travel is to be able to experience everyday things as if for the first time, to be in a position in which almost nothing is so familiar it is taken for granted. – Bill Bryson
Travel while you're young and able. Don't worry about the money, just make it work. Experience is far more valuable than money will ever be
Don't tell me how educated you are, tell me how much you have travelled.– Prophet Muhammad
See more: Alabama Quotes for Instagram Captions
Funny Travel Quotes
The world is nothing without a little laugh here and there. So, as you travel, smile, giggle, twinkle and laugh as the world will always smile back at you. Enjoy the following funny travel quotes (ideal for funny Instagram travel captions!)
I need vitamin SEA
Spain travel tip: If bathroom genders are indicated by flamingos, the boy flamingo is the one with a hat. I learned this the hard way. – Dave Barry
You know you're in India when you hear yourself telling your driver as he is backing up, "Careful, there is a cow behind you." – Lydia Ramsey
Travel becomes a strategy for accumulating photographs. – Susan Sontag
Go to Heaven for the climate, Hell for the company. – Mark Twain
You want to know what it's like to be on a plane for 22 hours? Sit in a chair, squeeze your head as hard as you can, don't stop, then take a paper bag and put it over your mouth and nose and breath your own air over and over and over. – Lewis Black
Hey, people who travel with their bed pillow. You look insane. – Jim Gaffigan
A tourist is a fellow who drives thousands of miles so he can be photographed standing in front of his car. – Emile Genest
Airplane travel is nature's way of making you look like your passport photo. – Al Gore
Los Angeles is where you go when you want to be somebody. New York is where you go when you are somebody. Miami is where you go when you want to be somebody else. – Billy Corben
Don't worry about the world ending today, it's already tomorrow in Australia. – Charles M. Schulz
The first condition of understanding a foreign country is to smell it. – Rudyard Kipling
If you are going through hell, keep going. – Winston Churchill
Kilometers are shorter than miles. Save gas, take your next trip in kilometers. – George Carlin
Airline food is the tiniest food I've ever seen in my entire life. Any kind of meat that you get – chicken, steak, anything – has grill marks on each side, like somehow we'll actually believe there's an open-flame grill in the front of the plane. – Ellen DeGeneres
When you travel, remember that a foreign country is not designed to make you comfortable. It is designed to make its own people comfortable. – Clifton Fadiman
It can hardly be a coincidence that no language on earth has ever produced the expression, "As pretty as an airport." – Douglas Adams
Too often travel, instead of broadening the mind, merely lengthens the conversations. – Elizabeth Drew
Airline travel is hours of boredom interrupted by moments of stark terror. – Al Boliska
The man who goes alone can start today; but he who travels with another must wait till that other is ready. – Henry David Thoreau
When preparing to travel, lay out all your clothes and all your money. Then take half the clothes and twice the money
Travel the world and do not limit yourself or let anyone limit you. There is no greater life lived than that of a man travelled. So, go out there and explore and do not forget to take as many pictures as you can and your eyes to store in your memory. So, spread your wings and fly away wander soul.
Want a cool place to travel? Why not visit Alaska! Here are some Alaska Quotes to get you thinking!
Save these Travel Instagram Captions to Pinterest (so you can find them again later!)