Travel Guides | Tips and Blog Posts for incredible places to visit in 2020 & 2021
Our personally hand written travel guides cover over 60 countries and 6 regions of the world. We only provide advice and recommendations we'd give our closest family and friends. Of course, you can head over here for getaways for couples.
Whether you plan to swim with piranhas in the Amazon in Ecuador, relax in Buddhist temples in Thailand, or need to know everything about Big Ben in London, our guides and posts cover everything you need to know to plan a killer vacation.
Our country guides cover everything from what to do, how to get around, which hotels to stay to maximise your time and which restaurants to eat in for authentic local cuisine. If you want to explore cities like a local, we'll show you how.
Get an overview of fascinating regions with our guides to Asia, Europe, Oceania, North, Central and South America. Use our itineraries to plan your trip like how to spend 2 weeks in Colombia including the best ways to get from city to city.
Or dive straight into detailed country guides for destinations like Colombia, Thailand or Poland. Do you know it's time you visited Asia but don't know which country to visit first? We've visited plenty and you'll find all the information you need to chose the right holiday destination for you.
Whether you are looking for holiday ideas, planning an itinerary or need to know how to get from A - B asap, our travel guides and tips will help you create the holiday of a lifetime.
Travel Guides by Region
Where do you need wanderlust inspiration for 2020 and 2021?
Travelling Asia is an eye opening experience. The difference in the way people live in Japan compared to Thailand is stark.
Japan and South Korea are probably more technically advanced than almost any other countries in the world. It's so funny to see the quirky technology in action (hello robot sushi).
Places like Laos and Vietnam are clearly still developing which makes them special as you can enjoy the stunning nature before it is depleted by human construction.
China - the country surprised us with its beauty and shocked us in many other ways. Start here to know how to get around China by train and what to see
Hong Kong - it's incredible that there is so much to do in such a tiny area. From Buddha temples to hikes and jaw-dropping views we'll show you the most important things to do in Hong Kong
Japan - if there's 1 place we never grow tired of it's Japan. The architecture is stunning in it's unique, compartmentalized way. The food is amazing and living in Japan is not nearly as expensive as we expected.
Laos - stunning nature like Kuang Si falls - some of the bluest waterfalls you'll ever see put Laos on the map. Tourists keep coming back because they love the laid back lifestyle and friendly locals
Malaysia - food, food and more food is what makes Malaysia great to us. From authentic Indian food to Chinese/Thai fusions in Penang makes Malaysia a food trip paradise. Did we mention tea? Not only is it delicious but in the Cameron Highlands you can frolic in the tea fields before drinking some (with clotted cream scones and jam of course)
Philippines - if you type in beautiful water in Google chances are you'll find pictures of the Philippines. In particular, the region of Palawan has so many iconic places to swim, snorkel and enjoy the most mesmerizing water. But the Philippines has so much more to it including the awesome Apo Island in Negros where you can swim with turtles
South Korea - even before we stepped foot in Korea we knew we'd love it because we LOVE flying Korean airline to Europe! Simply put, Korean people are some of the kindest and most thoughtful you'll find anywhere. Even though Korea is very foreign, travelling is easy if you know what to do and you can see awesome things like Meerkat cafes!
Thailand - there's a reason Thailand is on everyone's bucket list. The food is amazing. The people are lovely and the destinations are gorgeous and diverse. From riding a motorcycle through hilly villages north of Chiang Mai to sipping cocktails on the beach at a luxury resort in Phuket - there's something for everyone and plenty to fill a two week, month or two month itinerary
Vietnam - is a fun country to visit. Ride junk boats (not actually junk - think luxurious instead) through prehistoric islands in Ha Long Bay to getting a tailored suit made in Hoi An there are so many fun things to do in Vietnam to keep you busy
Bahamas - plenty of beautiful beaches here. Especially if you swim against the tide and travel on local transport to where the locals swim, rather than to where the tourist buses will take you
Dominican Republic - a fun place to visit where you can jump down 27 waterfalls and drink beers on the beach. Not always easy to get around if you intend to rely on the taxi mafia - we'll show you better ways to see it all.
Virgin Islands - The Virgin Islands is renowned for having some of the best resorts in the world. From 5 star hotels to overwater bungalows we nominate the best Virgin Islands Resorts.
In St John you'll find stunning beaches where you swim with fishes and drink cocktails from beach shacks. Say no more.
What about visiting St Thomas? White-sand beaches anyone? Yes please! This remote island is a mecca for beach lovers
Travelling in Europe will enrich your soul, fill your mind with history and having you dying to come back.
We love nothing more than cozying up with a pint in an old English pub but there's something exciting about travelling to Eastern Europe which is less common.
We've travelled extensively in Eastern Europe from Poland to Ukraine, Russia in the north down to Bulgaria in the south.
With a few helpful tips you can get exceptional value for money in Eastern Europe - and you can discover history as rich as many Western European countries.
Czech Republic - the first thing that springs to our minds when we think of the Czech Republic is Prague duck. Sorry vegetarians but this was the best meal we ate a decade ago and when we visited Prague again this year it's still as good as ever. Aside from the food in Prague you'll find the popular Charles Bridge where you can lay eyes on the imposing Prague castle. Gorgeous views
Denmark - stylish and classy are the first words which spring to mind when we think of Denmark. From the well-run public transport and popular bike lanes, to the "Danish style" clothes which is a no-fuss vibe layered with fashionable accessories. Even the royal family is onboard - just look up Princess Margaret riding a bike in style. This style transcends to the Royal Castle and gardens, colourful houses on Nyhavn and abundant hipster cafes and restaurants around town. Yes - the hotels have swagger too - read more.
France - Paris is the city of love. Cute cafes, unparalleled photo opportunities and yummy wine create a stunning atmosphere.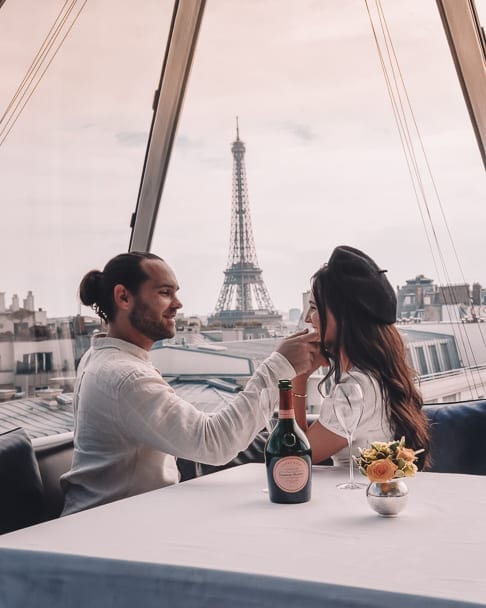 Germany - we first visited for the Christmas markets and a white Christmas, then came back for a knees up at Oktoberfest (several times), and then for the opportunity to see of the cute towns along the romantic road. Every one of these things is worth it.
Hungary - Budapest is home to the most stunning fortress you'll ever see in your life. That's a promise. The city features tonnes of stunning architecture from the Parliament, to the bridge to the castle and even cafes. Mesmerising.
Iceland - want to know what it's like to visit Mars? Save some time and jump on a flight to Iceland instead and venture to the north-east end of the Golden Circle where you'll find terrain which is out of this world.
Poland - our first thoughts of Poland were to Auschwitz near Krakow. The visit is a somber experience worth doing. However, it can be very depressing which is why it's nice that there's plenty of interesting things to do in Krakow to keep you busy. We expected Krakow to be very Eastern European but it's far more like Vienna than St Petersburg or Kiev.
Slovakia - the capital, Bratislava, is the perfect size for a quick weekend getaway. You can easily walk to all the major attractions like the castle, unusual and pretty blue church, UFO bridge (really) and traditional old town square filled with restaurants and yummy cuisine.
UK - Old Blighty is a fantastic place to spend any amount of time. There are endless things to do for all different types of tastes. From eating scones in London while visiting Big Ben to taming the wilds up in Scotland on a roadtrip. Hire a car and explore the countryside to appreciate how old the country is. Driving can be slow because the cities were built centuries before cars were even dreamed of.
Ukraine - unquestionably our favourite budget destination in Europe. All the old world charm (probably even more of it as you can still see the farmers' wives selling their produce on the streets) but with all the modern conveniences you'll want on a holiday like delicious restaurants and far better coffee than you'll get in France.
Canada - everyone knows the people are friendly so we'll jump straight to the natural beauty of Canada which is in abundance. If you enjoy walking or hiking in nature - Canada is one of the best places we can think of to visit.
Mexico - we have so many friends from Mexico which is awesome because the country is huge and so interesting that we always love an excuse to visit. Tip: for every over commercialised place like Cancun there's a far more authentic and interesting town like Tulum or Playa del Carmen
USA - 50 states. 50 very different places which we hope to tick off in the near future. Road trips are so fun in the US and really the best way to get a better appreciation of the country. Sure, places like Disneyworld can be fun, but don't visit the US without visiting at least one of their world-class national parks like Yellowstone, Yosemite or Zion. We can personally vouch for all of these awesome parks.
Belize - visit for the scuba or fun. Not so much to see in the towns but we need to spend more time there
Costa Rica - we love that Costa Rica has recognised it must conserve its most important asset: it's incredible nature. Monkeys, sloths and crocodiles - this is a must visit destination for wildlife lovers. Plenty of things to do there too from surfing to zip-lining to relaxing in secret natural hot springs.
Guatemala - there is glorious old-school charm which still exists in Guatemala. We feel like we've only scraped the surface so far.
Honduras - sometimes gets a bad rap but it's completely safe and fun to visit on the islands. We travelled around with the locals which is a far more authentic and interesting experience.
Nicaragua - the hidden gem in Central America where you can do everything volcano. Want to look at lava? Check. How about taking a swim in a volcano? Check. Sandboarding down a volcano? Yep, you can do that to. Oh, and in Granada we discovered our favourite meal in Central America.
Panama - the country is far more than a stopover destination to South America. Bocas del Toro is a stunning formation of islands to the north of the country which can be reached from Costa Rica. Starfish filled beaches and the longest white-sand beach you might ever see await you in Panama
Argentina - natural beauty at Iguazu Falls. Architectural beauty in Buenos Aires. And beautiful Malbec wine in Mendoza. There's plenty to suit everyone in Argentina.
Bolivia - the stunning Uyuni salt flats are what everyone comes from overseas to see. But there's way more to Bolivia including places like Copacabana where South American backpacking hippies tend to congregate.
Brazil - the beaches in Rio and surrounds are stunning, the atmosphere is casual and fun. Most importantly, if you take proper precautions it's safe too. We even visited a favella which was one of the highlights of our time in Rio.
Chile - the capital, Santiago, is unique in that you can surf at Valparaiso and then ski in the mountains in the same day. Plenty of aztec ruins to see and a tiny cowboy town we'd never heard of which was the highlight of our trip
Colombia - Salento was our favourite place to visit in Colombia with country'n'western saloons, horse rides and yummy coffee. Medellin surprised us with its lack of anything druggy or dangerous at all. Colombians are keen to show tourists how far the country has come
Ecuador - visiting the Amazon in Ecuador was one of the highlights of our time in South America
Paraguay - did you know there's a city known as the black market capital of South America reachable from Brazil by the "Friendship Bridge"? Well know you do and it's quite the quirky place
Peru - Machu Picchu is the reason most people visit Peru but to do no more would be a waste. Huacachina near Ica has a desert oasis where you can ride in a dune buggy.
Uruguay - the tiny country has a very walkable capital where you can sample delicious bbq from a converted train station.
New Zealand - is there a better way to see all New Zealand has to offer than on an epic roadtrip? That's exactly what we did. Spoiler: it's epic featuring 2 x helicopter rides, a near death experience white water rafting and more adrenaline on the Shotover boat.
Blog Post Content You'll Find in our Travel Guides
In our travel guides you'll find details about how to get around by foreign public transport, where are some incredible places to stay and of course - what all the unmissable things to do are across the world.