Love travel but can't travel right now?
Netflix can be a great alternative way to see the world while you are stuck inside bored!
Here are 10 of the very best netflix Travel shows on Netflix right now. Looking for romantic movies, you might also like to check out: Romantic Travel Movies
11 Best Netflix Travel Shows Right Now (2022)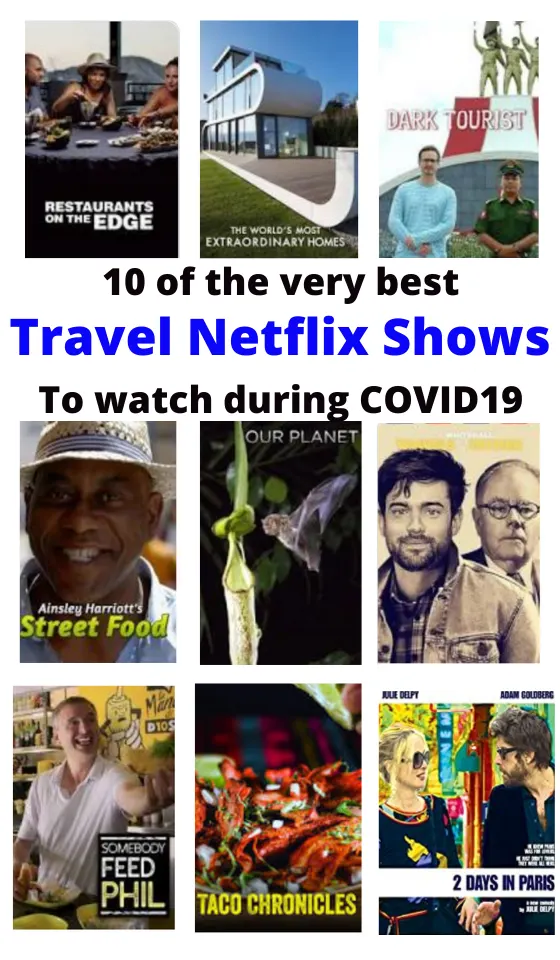 Restaurants On The Edge
Take a look at restaurants around the world which are on the brink of being shut down.
Watch as these culinary experts turn the place around!
World's Most Extraordinary Homes
Take a look at the most extraordinary homes around the world – you will be completely be amazed by how incredible these homes are.
Dark Tourist
Watch as New Zealand filmmaker David Farrier journeys to the darkest tourism areas from nuclear tourism in Japan to Pablo Escobar-inspired tourism in Columbia.
Ainsley Eats the Streets
Chef Ainsley Harriott makes it his mission to discover new street food from around the world and the creates new recipes from his experiences.
​Street Food Asia
Discover the very best street food around the world with this netflix show about street food in Asia.
Breakfast Lunch & Dinner
Well known chef David Chang travels the world with A list stars to eat new dishes and share new experiences.
Definitely one of the best netflix travel shows on now!
Our Planet
I don't know about you but I love wildlife travel. Our planet is the best netflix travel show out there on animals around the world.
Jake Whitehall Travels With My Father
Jake Whitehall Travels With My Father is a hilarious show about Jake traveling with his father. If you are looking for a funny travel netflix show – this is your best bet!
Side note: Mike doesn't like Jake because he supports Arsenal.
Somebody Feed Phil
Phil Rosenthal is hungry. Watch as he travels the globe and gets his fill. Also a really funny travel show.
Taco Chronicles
For all the Spanish speakers out there,Taco Chronicles is the best Spanish travel show currently on Netflix.
If you don't speak Spanish feel free to use subtitles!
Down to Earth (with Zac Efron)
In his new travel show, actor Zac Efron journeys around the world with wellness expert Darin Olien in search of healthy, sustainable ways to live.
Explore bucket list destinations like Iceland and France, as-well as learning about farming in Costa Rica and the Amazon.
Not to mention Zac Efron ain't the hardest person to look at 😉
Save to Pinterest: Best Travel Shows on Netflix