The Tunnel of Love Ukraine is possibly the most romantic place on earth and definitely a hidden gem waiting to be discovered in the Ukraine.
Not many people outside of the Ukraine have heard of the tunnel of love. However, we are sure due to the perfect Instagrammable shots and its ranking as one of the most romantic places in the world, it will be flooded with tourists from around the globe in the not too distant future.
The Tunnel of Love Ukraine
The Tunnel of Love is a semi-abandoned railway line in Klaven, North Western Ukraine noted as being the most romantic place on earth.
While it is relatively unknown from an international standpoint, Ukrainian couples and romantics come to the tunnel of love to marvel in the perfect manicured greenery that has built a tunnel over an abandoned railway.
Wedding goers sometimes choose to come to the tunnel of love to get married. But beware while this place is a picturesque paradise, human sized blood eating mosquitoes also lurk in this corner of the world, waiting to pounce on an unknowing subject!
Due to the mosquitoes, I wouldn't recommend a wedding here however, with LOTS of mosquito repellent, if you love beautiful photography, I would recommend a visit to the Tunnel of Love during your time in the Ukraine.
The Tunnel of Love is somewhat off the beaten track. By train from Lviv (3 hours) and Kiev (7 hours). But with our easy to follow steps below, we will make coming here a breeze for you!
Fun Facts
The tunnel of love is a 3km abandoned railway line. But yes trains still run along the tunnel of love so keep an eye (and ear) out for oncoming trains! We didn't think trains still run this route and almost got hit!
Lovers visiting the Tunnel of Love today have Odek plywood factory to thank for the carefully sculpted tunnel. Were it not for their business, which transports relies on the railway to transport plywood from their factory through the "tunnel" to Klaven railway station, the tunnel would in all likelihood be completely overgrown.
Vampires lurk in the tunnel. Seriously hundreds, if not thousands of blood-thirsty mosquitoes, sit waiting in the trees ready to attack their helpless victims (us)! I have never been attacked by such ravenous mosquitoes in plague-like numbers. After a while, you just accept your fate is to be a human blood bag. Gross.
In the cold war era trees were planted close to the railway line to conceal secret weapons and vehicles transported to the soviet military base. Even today you can find the railway line diverges: to Odek plywood factory to the right and to a secret Ukrainian military base to the left.
Apparently, there is luggage store at Rivne train station. We didn't see said store?
How to get to the Tunnel of Love
You can get to the Tunnel of Love by train, by hiring your own car or by Bla Bla car. Car hire is surprisingly expensive in the Ukraine.
We chose to get to Rivne from Lviv (and then to travel to Kiev) by train over a bus or ride share (Bla Bla car) for 3 reasons:-
We weren't fussed on the idea of sharing a car with a random driving 5 hours through the middle of Ukraine;
The train is faster than the bus (3 hours v 4 – 5 hours), train travel involves travelling in a predominantly straight line, and as we were travelling with 2 suitcases, we hoped to avoid having our luggage strapped to the roof of a car;
In our experience, professional drivers (buses, minibuses etc) in non "nanny-state" countries like US and the UK drive like maniacs. Sometimes minibuses are unavoidable (Machu Picchu, collectivos in Central America etc) spring to mind.
So when there is a choice between riding a train, and placing my life in a stranger's hands on less than perfect roads. I chose train 10/10 times. Thankfully, the train didn't let us down.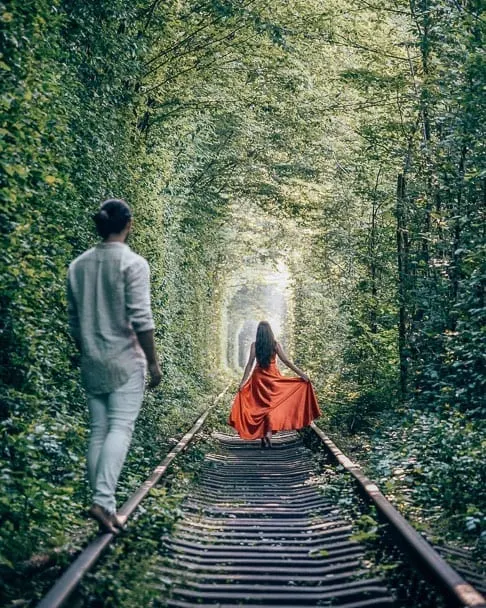 From Lviv to Rivne
Nutshell: Departs Lviv Station | Buy tickets on the day from any counter (except 1 or 7) | Ask for "Rivne" | ¬ 89 UAH ($4) | 3 hours
To reach the Tunnel of Love from Lviv catch the train to Rivne.
Trains from Lviv to Rivne don't always run daily! Trains run most days, up to twice per day.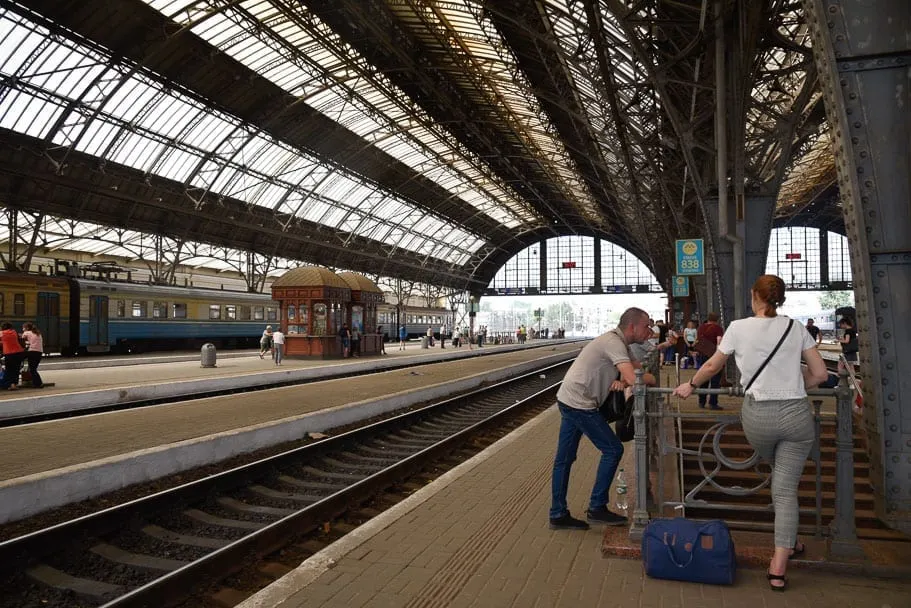 The seats are a 3 x 3 configuration (seats face each other) with an aisle down the middle. Our sets were relatively new with clean, maroon velvet seat covers with just enough padding to keep me from moving around every 10 minutes.
Our train was at about 50% capacity when we left Lviv, then crept up to 75% capacity between the next two stations (about 1 hour) and then stayed at about 50% until Rivne.
In total there were about 5 stops along the way. We stored 1 large suitcase next to the cabin steward / ticket collector at on end of the train. Our second suitcase fit snugly under our seat.
Our remaining carry-on sized bags fit comfortable in overhead storage racks. There was plenty of space as many passengers travelled without any luggage.
Leaving luggage unattended is always a burden when travelling. Actually, even storing our suitcases under the bus is something we loathe, as we wearily try to rouse ourselves from slumber to keep an eye on our bag when we subconsciously notice the bus stop.
The trains were more basic than one can expect in Western Europe. There was no airconditiong, wifi or refreshment carts. I don't even know if there was a place to buy food on board, I assume not.
However, we got from Lviv to Rivne in good time (less than 3 hours) and without drama.
Compared with our train journeys in China, train travel in Ukraine is a dream. It's the people which make the difference. Ukrainians are a stoic bunch. There was no swearing, spitting, loud music, yelling out to one another or funky smells. Any high school librarian would be so proud.
The train passed through green countryside. More natural wilderness than endless fields of farms. Not many animals except for butterflies dancing between the wildflowers along the train tracks.
Buying Tickets at Lviv Train station
Currently undergoing refurbishment, there's only really one entrance and one place for taxis to drop you off, which saves some trouble.
Like many Lviv buildings, the terminal is a grand testament to Lviv's former wealth. It has also failed to be updated internally since it was constructed, by the look of it.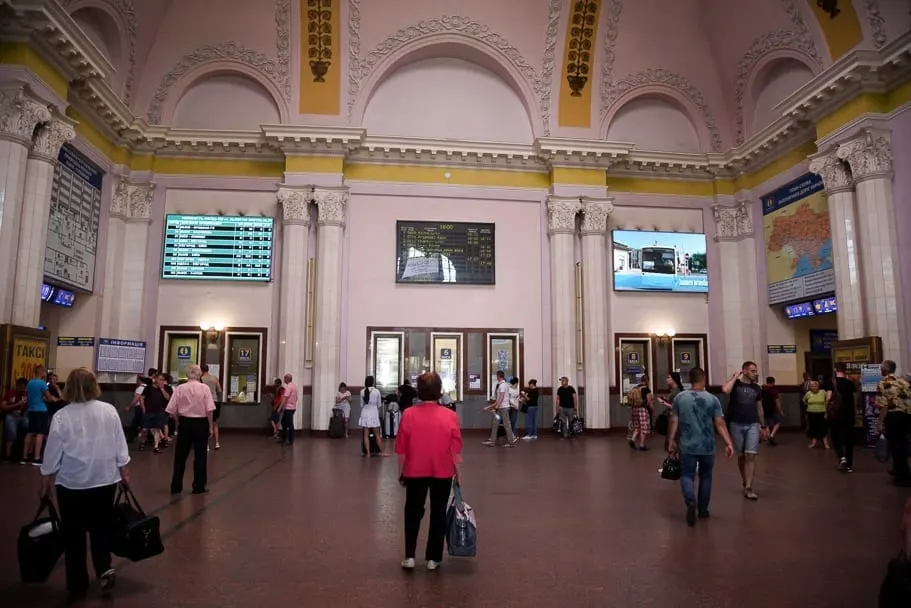 To be fair, when you enter the main foyer your will be greeted with bank-teller style ticket sale points 360 degrees and in one corner there is a brand new electronic information computer.
You can book your tickets from Lviv to Rivne from any ticket counter except 1 and 7.
If you don't know where to go, head towards the electronic information touchscreen. Behind there is an English-speaking information desk where they will point you in the correct direction.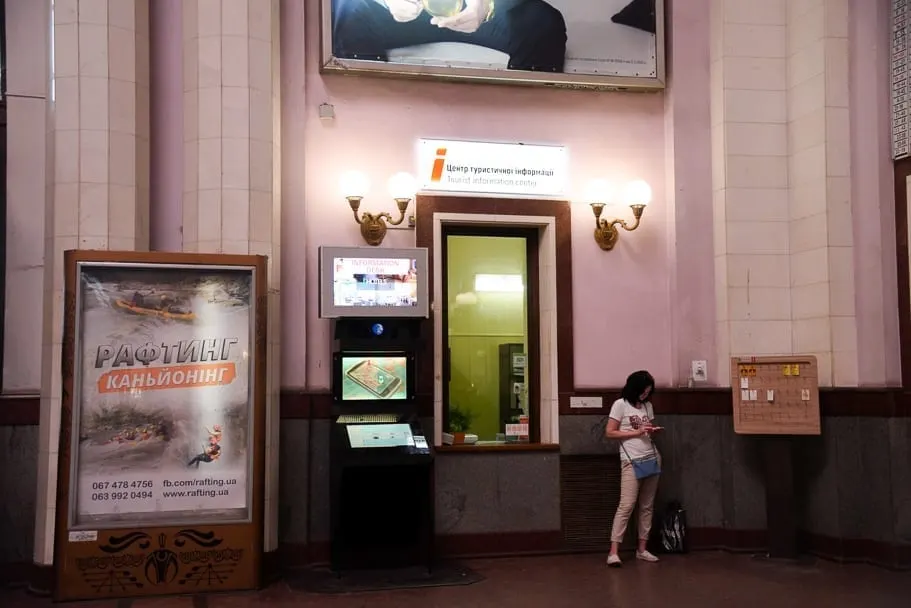 We bought our tickets (about 89 UAH ($4 USD) one way), paying with credit card and received a printed ticket (Train 806 Lviv to Rivne) each in return. Queuing and buying tickets took all of 4 minutes.
Our train departed from platform 3 which is a left turn from the foyer if you are looking at it from the entrance. Again, if you're unsure, ask the information people.
Inside the terminal there are shops to buy water, snacks and sandwiches. On the platform there's 1 or two more. Their prices are dear by Ukrainian standards (30 UAH for 1.5L water).
On the platform we realised we weren't sure whether you were assigned seats. It was too late to return to the information desk so we made do with the shopkeeper we bought water from. Sit anywhere she advised.
Unfortunately, this isn't correct and we queued at the wrong carriage to board. The tickets are not at all straightforward, so ask in advance which seat is yours and which carriage you must board.
Kiev to Rivne
There are 3 main ways to travel from Kiev to Rivne: train, minibus and carpool.
Kiev to Rivne Bus
We looked into buses but eventually chose the VIP train option. Here's what we found about the bus from Kiev to Rivne:
There are two major bus providers in Ukraine. You can book tickets directly on their site: http://www.gunsel.ua/ and https://autolux.ua/ua/uk
From what we could gather, more-likely than not you will find yourself in a packed minivan rather than a coach-style large bus.
Although the roads from Kiev to Rivne received an upgrade in about 2012, our observation is driving rules a less strictly enforced in the Ukraine. So if the roads won't kill you, your texting, smoking driver might instead.
If you love buses, in all likelihood you'll be safe in these minivans. Obviously there isn't much room for luggage so be prepared to pay for an extra seat if the driver demands.
Most buses tend to leave early, around 6am, or late in afternoon around 6pm.
Kiev to Rivne Train
We took the train from Lviv. However, here is information if you are coming from Kiev.
On random dates we checked, there were 2 direct trains from Kiev to Rivne at 7:35am ("Pasazhyrsky poyizd" aka sleeper train arriving 14:35pm) and 12:17 (hard seats only arriving 20:18).
On Ukrainian Intercity long-distance "Pasazhyrsky poyizd" trains there are 3 classes. 1st, 2nd and 3rd
1st Class (SV Spalny vahon) First class is a sleeper cabin for 2 people. There are no bunkbeds. We did this journey from Rivne to Kiev and there was no air con and our cabin's window was not designed to open. Still, there was room for our ample luggage in stowaway cabins our each couchette.
2nd Class (Kupe Kupe or kupeyny) Second Class is a sleeper compartment for 4 people made up of 2 bunkbeds. There's room for bags under and above the beds.
3rd Class (Platskart) Third Class is also a sleeper compartment, for 4 people only without walls. An additional 2 people sit in the aisle.
On every carriage there is a toilet and it's possible to buy water from the attendant (10 UAH). First Class includes fresh blankets and water (although we had to fight for the water!!)
We chose the 1st Class sleeper from Rivne to Kiev as we were tired and wanted the option to rest without fear of having our stuff disappear.
Despite the air conditioning not working, we were happy with the extra room to stretch out and relax. After a few hours it started raining which cooled the train down well.
Bookings can be made cheapest on the official Ukrainian Railway website: https://booking.uz.gov.ua/.
The landscape transforms along the journey – mostly remaining in rich hues of green – but with vegetation changing between tall pine forests to farmlands with one or two cows to swampy duck and reed-filled ponds. Often the landing strip between the rail tracks and the begininng of the forest is filled with small crops in neat rows. Cabbages, beans and other greens.
Rivne to Klevan
FYI – Unlike our experience in Lviv, the information booth attendants in Rivne couldn't be less helpful. Understandably they did not speak English but they weren't happy to try to solve our problem (where to catch the train / bus to Klevan).
In the end, we received incorrect information. We were told the next bus to Klevan is at 9pm. So we waited from 8pm at a nearby cafe before we made our way to the bus stop 15 minutes before the bus, only to find the last bus left at 8:40pm.
Bus: Small Buses depart Rivne to Klevan every 15 – 30 minutes (or as they fill up). Price: 25 UAH ($1 USD)
Train: Departure of local train from Rivne in direction of Klevan is 5:30, 9:48, 15:13, 17:30, 21:04, departures from Klevan in direction of Rivne is 6:03, 7:56, 10:17, 16:46, 18:43, travel time between Rivne and Klevan – about half-hour. Tickets are not bookable in advance and without seat numbers, simply buy it before departure in Rivne (or Klevan).
Taxi: We were quoted 500 UAH ($20 USD). There is no Uber / Grab in Rivne FYI.
Where to Stay near the Tunnel of Love?
One of the challenges with visiting the Tunnel of Love is working out a way to arrive early.
Klevan, the town where you'll find the Tunnel of Love, is tiny. Most people chose to stay in the nearest town with lots of accommodation – Rivne.
Rivne Accommodation
Rivne is probably a good idea if want more accommodation and restaurant options.
The downside is Rivne is 45 minutes drive from the entrance to the tunnel of Love.
Shuttles leave semi-regularly from 5:00am. Some of you will know where I'm going with this: 5:00am probably means 5:30am or whenever the shuttle fills up with others looking to get the perfect shot too.
If you came to the same conclusion as us, consider accommodation closer to the Tunnel of Love.
We chose to stay at a clean, comfortable hotel (see below) 2 minutes walk from the tunnel of love entrance.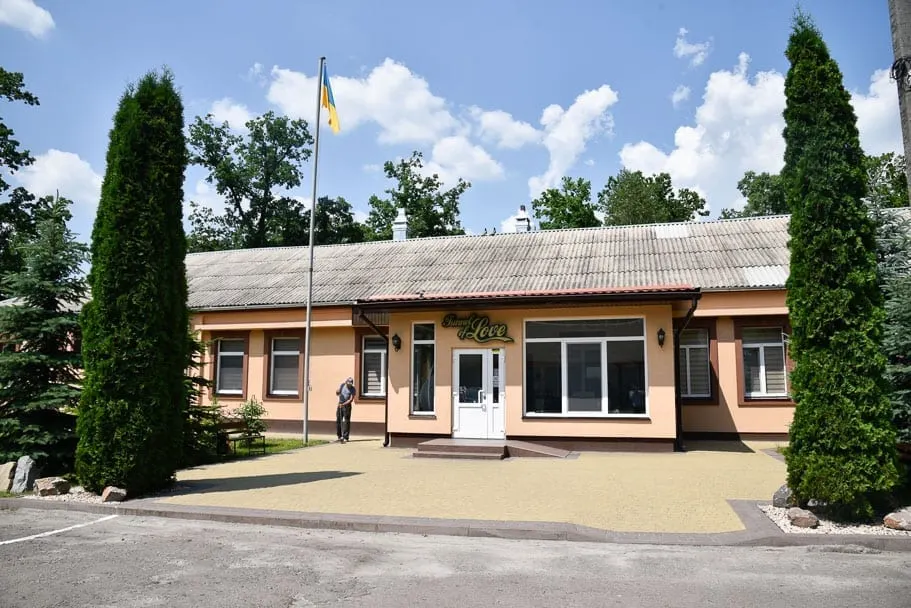 Klevan Accommodation near the Tunnel of Love Ukraine
The Tunnel of Love is situated in tiny Klevan, so this town is the perfect base to visit the tunnel.
Accommodation is scarce, so you have two (2) options (yes, really):
Option 1: cute, modern hotel – $20 – 30 per night – 2 minutes walk to the Tunnel of Love entrance
Option 2: hotel with sauna, restaurant and nightclub – 15 minute drive / 1.5 hour walk to the entrance
Needless to say, we went with Option 1 and were very happy with our selection.
The hotel we stayed was clean, comfortable and modern! Importantly, it had amazing fly screens so no mosquitos could make their sneaky way in.
The below picture is a picture of their restaurant. As we were in the middle of nowhere we had little choice than to eat at the restaurant of the hotel for dinner.
Despite this being our only choice, the hotel owner was a great cook. We tried the ribs, borshe (traditional Ukrainian soup) and traditional Ukrainian ravioli. The total bill for dinner was about 10 USD – yes, prices in the Ukraine are fabulous even at "tourist traps".
So there you have it folks, a complete guide to the Tunnel of Love. We are curious, is this somewhere that you will place on your bucket list?
More Ukraine Blogs?
If you are traveling in the Ukraine you might also be interested in some of our other Ukraine blog posts:
Save this Tunnel of Love Ukraine Blog to Pinterest (so you can find it again later!)