Looking for a TurmChalet Braies Review in the beautiful Italian Dolomites? You got it.
I should note, this review is not sponsored in any way. In fact, as we are always truthful and honest in our blog, I am taking time to warn other travelers to NEVER EVER stay here, despite the great reviews and the nice modern rooms…..
Don't say we don't warn you.
See more: Things to do in the Dolomites
TurmChalet Review Braies Dolomites – DO NOT STAY HERE
We were looking for a beautiful hotel to stay in the Dolomites when we came across TurmChalet online. The rooms looked amazing and it was a decent price WITH even dinner included. Plus, it was reviewed a 9/10! It must be good!
I bragged to my parents about what a great deal with got in the dolomites. Well you know what they say – God doesn't like braggers and in this case I got more than my fair share of bragging karma by booking to stay here….
Where would we stay instead? If we had our time over, we would stay in Bolzano, and make day trips from here. Bolzano was an awesome town in the Dolomites with great restaurants and fabulous strudel!
Arrival @ Turm Hotel
We arrived to the intense smell of poo. Cow poo or horse poo – whatever it was, it was feral. Outside of the hotel, the smell of poo was overwhelming. I understand we are in the country but we didn't experience the smell of poo elsewhere in the Dolomites.
We went inside and got greeted by a gruff German owner when we arrived who did not speak a lot of English. This is fair as we are in another country and we don't expect people to speak our language but I thought we should mention this in case this is a problem for you.
– No smiles – not friendly – Don't even think about getting help with things to do in the area.
I should note, despite the Dolomites being located in Italy, it is predominately a German-speaking area. We didn't know this but it was actually part of Austria until WW1 when Italy negotiated gaining the area in exchange for joining the allied forces.
Anyway, we went up to the room and it was lovely – exactly like the pictures. So, at this point we were happy. But that is where the fun ended.
We noticed after a while that the bathroom had a very strong smell of sewage or drain problems. In fact it was so overwhelming, that we had to have the bathroom door closed shut for our entire stay.
Why we Didn't Like about Turm Chalet Dolomites
On the first night we headed to dinner at Turm Chalet. We arrived around 6.30pm and were very tired after driving all day from Lake Garda.
We didn't realise but we had to be at dinner at 7PM on – the – dot – or the German husband owner would be very angry.
As we organised ourselves we ended up walking down to dinner around 8PM and got extremely dirty looks DESPITE NO-ONE EVEN BEING SERVED YET!!!
Every other guest in the restaurant was sitting there looking extremely miserable. I don't think anyone even got served until 8.30pm despite the owner being very upset if you did not arrive at dinner at 7pm.
We got told off and told very sternly – TOMORROW YOU MUST ARRIVE AT 7PM -OK!?
This was a bit confrontational. I also felt the dinner lacked lustre for the intense wait. It was not Italian cuisine but some kind of German cuisine, which was bland and not particularly tasty. I would rather go elsewhere for dinner, not wait 2 hours to be served and eat something tasty. That's me personally.
We went to dinner for 4 nights out of the 7 we booked. We eventually stopped going as we had to arrive at 7pm on the dot and wait to be served until 8.30pm. The whole ordeal didn't end until 9/9.30pm by the time we were so exhausted and over it. And, the food wasn't worth the wait.
Also, the male owner who served us was grumpy and hardly said hello. A horrible experience.
For the final 3 nights, we bought pizza which was absolutely delicious! It only cost us around 20 Euros for 2 incredible pizzas. Having dinner included was not worth it.
The hotel was pissed we stopped coming to dinner and we had to give reasons why. I think it is because they sell you expensive alcohol at dinner. Maybe this is why it takes so long to get served. It is around 30 Euros for a bottle of Italian wine at the hotel.
The Passive Aggressive Owners of Turm Chalet
Dinner wasn't the only bad part of Turm Chalet in the Dolomites, breakfast was equally as horrifically painful.
The same male German owner who served dinner also serves breakfast and manages it like a drill sergeant. He follows you around and screams NEIN NEIN NEIN NEIN NEIN if you dare to touch the coffee machine or juicer. He essentially follows you around the breakfast room. A very awkward experience.
One morning, I made a call to my mother. The next day, I saw a HUGE sign placed on the breakfast room door with a cross through mobile phones.
So basically you have to sit there miserable and phone calls are illegal.
The Cleaning Ordeal
If all of the above isn't enough to deter you already, let's talk about the cleaning ordeal we experienced.
We made a decision that during COVID19 we would opt out of daily cleaning in our rooms. We just personally preferred to limit contact with our things being touched.
We hung the on the door on Day 1 of our stay.
The next day, before we leave to go out, the cleaner knocks on our door. She points to the sign and "you no want" in broken English. We agreed we don't want, she smiled and nodded and handed us some fresh towels and toilet paper.
We thought all was good in the world. Until the next day….
Still, with the "Do Not Disturb" Sign hanging on the door, we set out for the day to explore the Dolomites.
We came home to find that someone had entered our room. The very odd thing was they didn't do much at all. They didn't give us fresh towels or toilet paper, you could just tell that things had been moved around…
We went down to reception and explained in person and via google translate on our phone that we don't require cleaning. The owner told us that that that was perfectly okay and she would tell the cleaner.
But, again the next day the cleaner came in again. Again, not really doing much at all. On this time, she removed our "Do Not Disturb" Sign.
We went back to reception and asked why. The response was "Ohhh so you NEVER want cleaning?" To which we replied "Yes" and she said "Ohhhh okay".
It's not like they were cleaning anyway. They were just coming in to sticky beak and move our belongings around. It was very odd.
The next day we stayed home because we wanted to relax and had work to do. Noone came into our room or knocked and we thought that they finally got it. Yahoo!
Sadly, we were wrong. Oh. So. Wrong.
The next day, the cleaner came in again. Again, not cleaning but doing things like moving our toothbrush. I had a personal fast drying towel which she moved. She didn't move the other hotel items like the hotel towels or give us new toilet paper.
What are they doing by continually coming in? Are they stealing things? Are they thinking we are wrecking their room? They are anal about breakfast and guests breaking things this may be way but I'll never know.
The whole cleaning ordeal left us very pissed off to say the least. If you value your privacy and/or don't want to risk your belongings being stolen, I'd 100% avoid this hotel.
The Facilities – NOT in Operation!!!
The Hotel has a nice whirlpool spa which we were excited to use as it has a lovely view of the Dolomites.
On the day we decided to stay home and do work, it wasn't open. All Day Long.
How can you advertise these facilities if they are never available?
The Location
I wouldn't call the location great. It is pretty much in the middle of nowhere. The only attraction around is the beautiful Lago di Braies which is stunning but that is all.
If I had my time again, I would probably stay in Bolzano because after hiking and experiencing the beauty of the Dolomites by day, you have the ability to have a great down to explore in the afternoon and evenings.
We also stayed in Seelaus in Alpe Di Suisi which was fabulous – we would recommend staying here too. The beauty of Alpe Di Suisi is worth staying a few nights.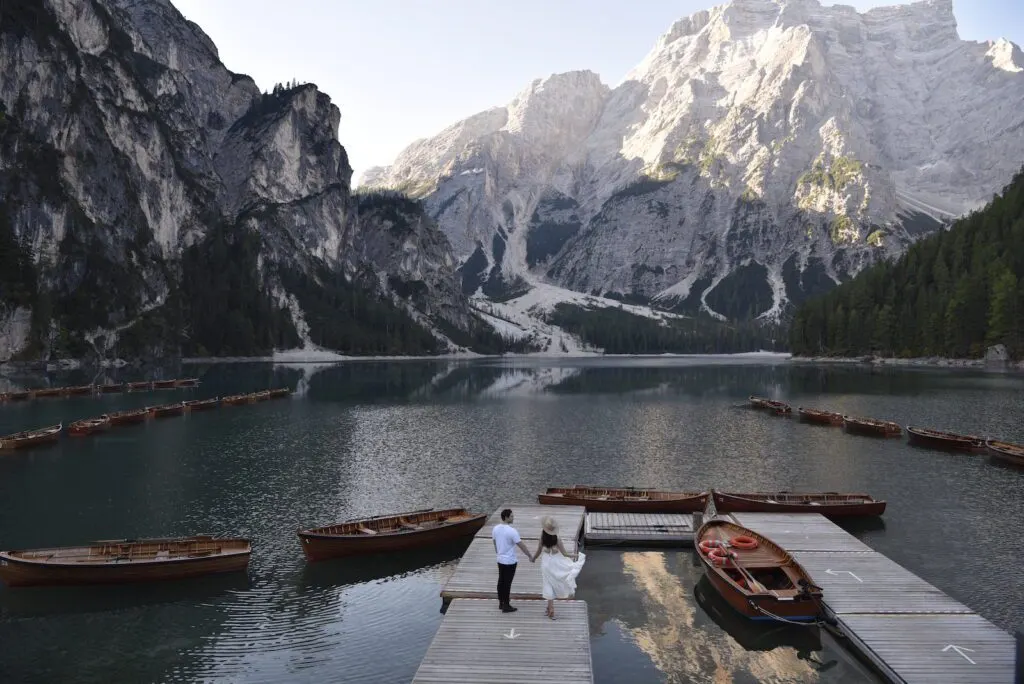 Stolen Wine Saga
Okay, so I mentioned you have to buy drinks at your free dinner, even water which costs 3 Euros a bottle. So we bought wine at 30 Euros a bottle.
If you don't drink your wine, they leave it on your table for the next night.
As we stopped coming to dinner, we had a bottle of wine we had hardly touched. I would say, less than a glass drunk.
At check out, we asked for our wine we payed for back. The owner looked a bit worried and returned with a more than half drunk bottle.
We only had less than half a glass out of this bottle.
So our theory is they sold glasses out of our bottle to other guests. A glass of wine costs 10 Euros a pop by the way….
Turm Chalet Dolomites – Final Thoughts
While the rooms may look good in the pictures (And they do look good in person too!) I highly would recommend avoiding this hotel if you want a nice time in the Dolomites.
I didn't think staff mattered so much to a nice hotel experience. Turns out, I was very wrong.