The gorgeous emerald green and blue waters of Two Jack Lake in Banff, Alberta make it one of our favourite places in Canada.
Visiting Two Jack Lake is a popular past time for tourists and local Banff residents alike due to its accessible location near Banff.
To give you an idea of it's beauty, people even chose to get married at the lake for a beautiful ceremony.
Visiting the lake is a great idea year-round: in summer there is an abundance of water-related activities; in winter the frozen lake is perfect for ice skating and fresh snowfall provides an opportunity to go snow-shoeing.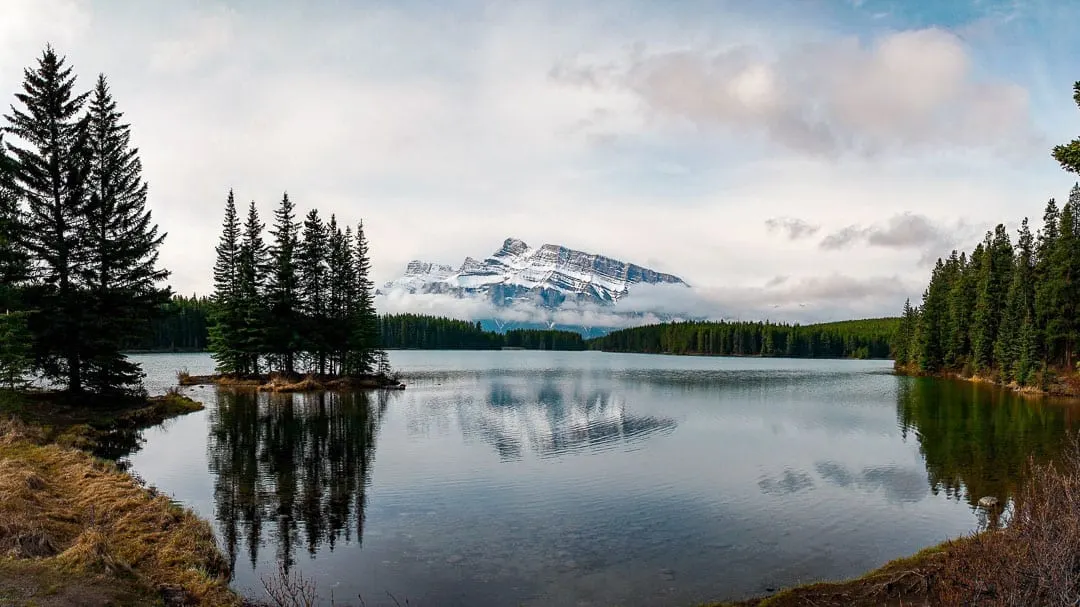 Two Jack Lake
Hopefully local Banff residents will forgive me for sharing their secret picnic spot with you.
For its incredible beauty, Two Jack Lake is often overlooked by tourists in favour of the renowned beauty of Lake Louise.
Overlook Two Jack Lake at your peril, is my warning. A spare hour or two is plenty of time to visit and you will be glad you did.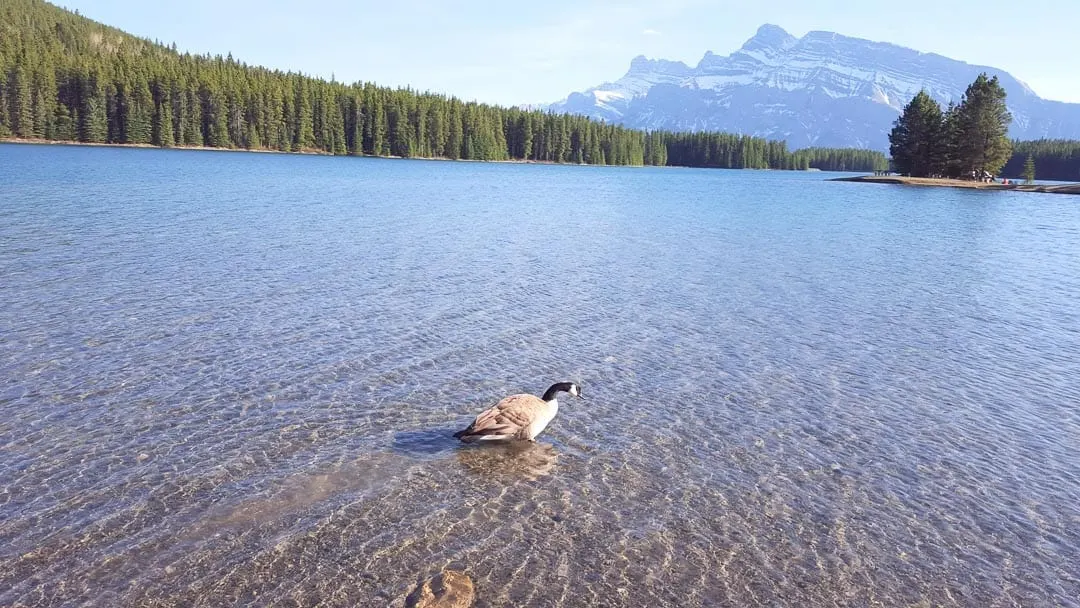 Facilities & Things to do
The grassy shores of Two Jack Lake are a perfect setting for a picnic, particular with the stunning backdrop of Cascade Mountain to the east, Mt Aylmer and Spectral Peak to the North, and Mt Girouard to the west.
The lake is also a perfect place to spend a whole day – have a BBQ, swim, go fishing, stand up paddle board (SUP), play with the ducks, skim rocks, watch the mountain goats do their thing and enjoy the fresh mountain air.
You can even learn how to scuba dive!
If you chose to kayak Two Jack Lake, on a good day the water is so clear you can see the bottom even from the deepest sections.
At the Two Jack Lake Day Use area you will find facilities including:
Canoes and Kayaks for rent
Tables and picnic areas
Free parking
Bathrooms
Dog Friendly
In the winter, Two Jack Lake freezes over and can be used to ice skate, play hockey or go snow shoeing on. Check conditions with park rangers first.
Swimming
Can you swim?: Yes, you can swim in Two Jack Lake. Be aware the lake can be very cold even in summer.
Fishing
Can you fish?: Yes, you can fish in Two Jack Lake. Of course, a Banff National Park fishing license is required.
Fishing Tip: To the south there is an iron bridge where schools of trout tend to congregate 😉
Photography Tip: Two Jack Lake is an awesome places for photographers. Sunrise and sunset is particularly spectacular.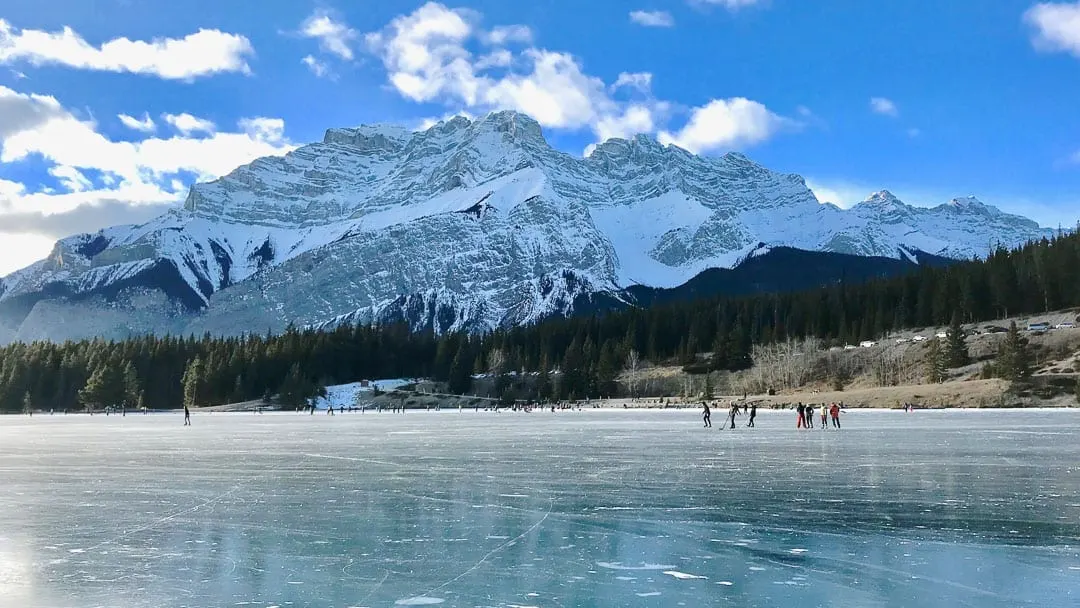 Two Jack Lake Hike
Along the shore of Two Jack Lake are a bunch of trails you can hike.
Distance: 1km – 3 km | Difficulty: Easy | Time: 30 minutes to 2 hours | Trail Type: Lakeside
You can really chose how long your Two Jack Lake hike lasts as you can't walk the entire perimeter of the lake as it continues into Lake Minnewanka (which is HUGE).
Along the trail there are many different vantage points of the blue lake flanked by spectacular mountains. It's so easy to stop every few minutes as you see different perspectives of the immense scenery.
Winter Tip: After snowfall, there's a good chance the trail will be covered. Don't despair. It's the perfect opportunity to go snowshoeing.
The trail is a great place for beginners to try snowshoeing for the first time as it is a popular trail so it gets packed down making it easy for newbies.
That's not to say you should expect a crowded path. The trail is almost never that busy which is why people love it!
So, if you are thinking about trying snowshoeing for the first time, maybe leave it a day or two after heavy snowfall to allow time for more experienced snowshoers to walk the trail and pack it down. It will make your experience a lot easier.
How to Get to Two Jake Lake
Two Jack Lake is a 15 minute drive from Banff. It can also be reached in about 40 minutes by bicycle. Use the map below for directions.
The drive to Two Jack Lake is spectacular and worth it even if you don't have enough time to get out.
You will be mesmerised by the green and blue emerald waters which are flanked by snow capped mountains in every direction.
We also saw mountain goats along the way which were perfectly happy to pose for a photo or two.
Two Jack Lake Map: Directions
Camping (oTENTiks)
If you are travelling from further afield, camping at Two Jack Lake is a great idea.
There are two campgrounds at Two Jack Lake: Two Jack Main Campground and Two Jack Lakeside Campground.
Here's a run down on the facilities and what to expect if you're planning to camp.
Two Jack Main Campground
Camping options include tents, oTENTiks (half tent, half-cabin) and spots for RVs.
Facilities
toilets / restrooms
Running hot / cold water
grills & fuel
no electricity
Does Two Jack Main Campground have showers? No, it does not have showers – check out Two Jack Lakeside Campground instead.
Alternatively, if you are looking for a shower, you can consider the nearby hot springs – fees here.
To make a camping reservation visit here.
Two Jack Lakeside Campground
Two Jack Lakeside Campground is a 23-site campground for tents and RVs.
Does Two Jack Lakeside Campground have showers? Yes, it sure does!
Facilities
all washrooms have hot and cold running water, flush toilets and showers.
no electricity
picnic areas
food lockers
Note: A maximum of 2 vehicles, 2 tents and 6 people are permitted on each site
For more information and to complete a reservation click here.
Hotels & Resorts Nearby
If you need accommodation with more creature comforts then we recommend this resort with health club which is closest to the lake in a lovely location.
Summing Up Two Jack Lake
Two Jack Lake isn't the on most people's radar when they visit Banff. That honour goes to Lake Louise and Lake Minnewanka.
But if you've stumbled across this post early enough – set aside the first morning of your trip to watch the sunrise from the lake.
Have you visited Two Jack Lake? Let us know what you thought! If you have any questions about the Two Jack Lake Hike let us know!
Pin this to Pinterest