One of the first questions we asked when arriving in Iceland is – does this country have Uber? Uber is so useful and we use it almost every country we go (or something similar like Grab etc).
When deciding how you are going to get around, and whether you are going to opt in or out of car hire in Iceland, this is a very important question to know!
Does Iceland have Uber?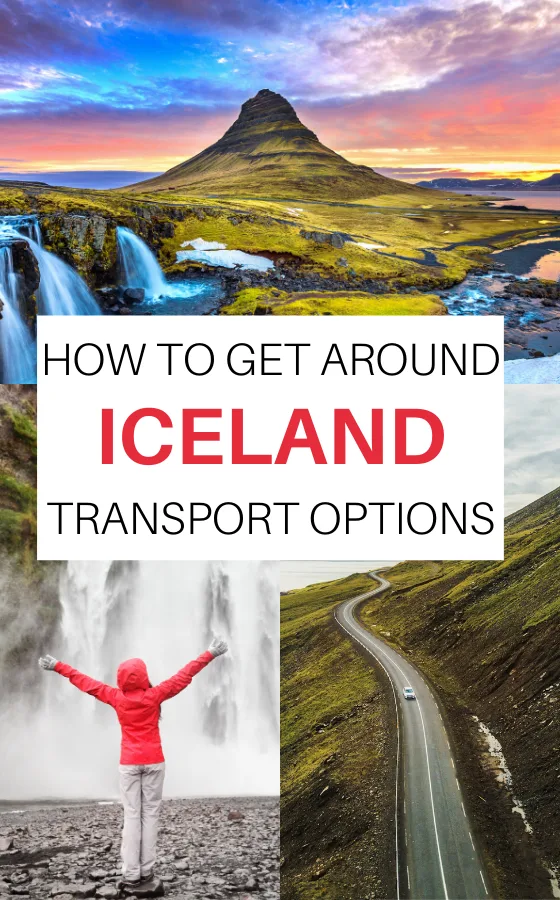 The land of ice and fire is one of the best-known locations for a nice, long vacation or a honeymoon with beautiful scenery. But, when planning the perfect vacation you want to know how to easily get around!
In other countries, Uber has become a beacon of hope for people with no means of transport including tourists. Hence, many travelers frequently ask us whether Iceland has Uber or not.
Unfortunately, Iceland currently does not have Uber.
Is there bolt or Lyft in Iceland? No Unfortunately, other Uber alternatives like bolt or lyft also are not available in Iceland. This means you have to find other ways to get around the country which we will explore in this article.
Plan Your Iceland Trip!

🛌 Find the perfect hotel on Booking.com

🎫 Get exploring by booking tours and excursions on Viator

🚗 Find the cheapest car with Car rentals
This does not mean there is no way to get around this magical country – you can hail a cab, rent cars, use public buses like the Flybus or join one of the many tours offered in Iceland. We will outline your options for this below.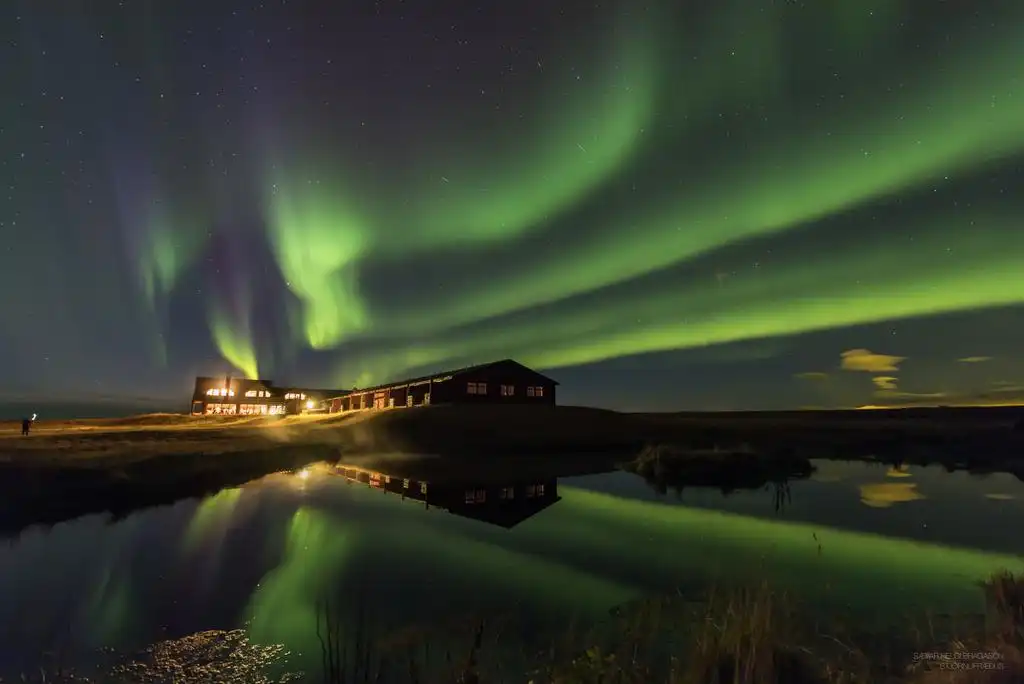 But, does Reykjavik have Uber?
Reykjavik, the capital and the heart of Iceland also (sadly) does not have Uber just like the rest of the country. This is mighty inconvenient.
To see the main sights in the capital city like Hallgrimskirkja Church, Harpa Concert and Conference Hall, you will need to find an alternate mode of transport.
The direct city centre of Reykjavik is very walkable and many people who live close to the city either walk or cycle to work.
Reykjavik does however, have some reliable alternative methods of transport like the Bus Terminal Reykjavik and Hreyfill.
How to get around in Iceland without Uber?
There are many alternative options to travel around Iceland without Uber including a reliable taxi service, good car hire options, tours and public buses.
Iceland Taxis
The taxis service in Iceland is slightly different from other countries. Rather than being of any distinguishable shape and colour like the infamous yellow taxis of New York, the taxis are of all brands and styles.
The size of the taxis also varies so you can ask for a big taxi if you have a gigantic family or a lot of luggage.
To highlight that they are taxis, all the cars have a yellow taxi sign on their roof; a common method to indicate that they are taxis.
Don't be surprised to find a pink sign instead of the yellow one on top of taxis in October. The color is changed for only this month to aid the campaign of breast cancer awareness.
Taxis are generally expensive but despite this fact, Icelanders often use them for small distances such as from the airport.
One great thing about taxis that is different to other countries is that you can rest assure you won't be ripped off. Taxi drivers in Iceland are incredibly honest. Usually, the fare is strictly governed by the metre but you can agree on a fixed fare on occasion with the driver.
Generally taxis are called not hailed in Iceland so you might want to record the number of the 2 major taxi lines in Iceland:
BSR (+354-561-0000) and
Hreyfill (+354 588 5522).
Hreyfill has served the people of Iceland with taxis for over 70 years with its comfortability and friendly staff. Likewise, the BSR taxi service is also gaining good reviews in Iceland due to its fast response time on calls and safe drivers.
Other than these, you can phone Icelimo Luxury Travel (+354 554 4000) or Borgarbílastöðin (+354 522 2440) which are known for fast reponse time 24/7.
See more: Best hotels in Iceland with a hot tub!
Iceland Car Hire
We used a taxi to get to our hotel in Reykjavik but afterwards we hired a car in Iceland to explore the Golden Circle route.
Personally, we would recommend hiring a car as it gives you the freedom to choose your own routes. Even if you want to base yourself in Reykjavik, having a car is great for taking day trips and visiting iconic places like the blue lagoon which is located about a 50 minute drive outside of the capital.
We would recommend RentalCars for the best and most affordable car hire in Iceland. We like to use this car rental company as you can search by price and often there is benefits like free cancellation on offer.
If you are interested in the best rate on car hire in Iceland, the best time to visit is in the off-season (November to March). April in Iceland is not too bad either, provided you come before Easter.
The price of car hire in Iceland peaks in the summer months. This time is not the best if you are interested in an affordable car rental. If you do decide to travel during this time, it is highly recommended to book a car in advance. We have rented a car in June in Iceland and it was pretty expensive.
One big tip we would give for car rental in Iceland is make sure you throughly check the insurance policy of the company you are hiring from. Due to the gravel, little rocks and ash in the winter in Iceland, the car can easily get damaged and you might have to pay a hefty sum if you haven't considered insurance.
Also, ask your retailer if the car you are renting has a mileage limit (defined number of kilometres per day) and if you want to freely ride all day long, be sure to get a car without said limit. RentalCars clearly indicates this limit, which is usually unlimited.
Tip: If you do your own DIY self drive, you might like to check out these unique hotels in Iceland along the way. There are seriously some of the coolest hotels in the world located in Iceland, which mostly require a car to visit.
Iceland Tours
If you don't want to drive, an alternative option is to take a tour of Iceland. There are some fabulous tours of Iceland, which range from 1 day tours of Iceland to multi-day Iceland tours.
Some of these tours will take you to far away places that are undisturbed by civilization so be sure to charge up your camera. The sights are sure to be photogenic!
If you would like to complete the Ring Road in Iceland but don't want to drive it yourself – this is the perfect tour.
Along the famous Ring Road in Iceland you will see volcanoes, glaciers, waterfalls, and mountains.
Driving on the roads in winter can be dangerous, unless you are a good winter driver so many people prefer the option of taking a tour.
Public Buses in Iceland
Reykjavik and some other cities in Iceland have bus services which are affordable and accessible. The public bus system in the capital city is called Strætó BS.
It also works for cities near Reykjavik. It's network has 27 bus routes inside the city and 21 outside of it. The buses have scheduled timings from around 7:00am to approximately 11:30pm in the night for almost all the cities that it services. There are also some infrequent late night services.
If you're a tourist who is unfamiliar with the routes in Iceland, it's best to download the Strætó app or visit their website since there is a great route planer.
Using the route planer is really simple. You just have input your pick up point, your destination and arrival time or departure time. Using this information, the planner will generate all the potential journeys to your desired destination.
Strætó's buses are yellow in colour and adults and kids from over 6 have to pay a fare while under 5 you can ride for free. A big benefit is that Iceland has free wifi on their bus services.
Other than the capital, Strætó also runs routes in Southern, Western, Northwest and Akureyri.
Another option for buses in Iceland is the TREX Travel Experiences which has a fleet of over 100 modern coaches which provide hotel transfers, airport transfers and tours. The nice thing about this bus is that there is plenty of leg room and the windows are large so you can enjoy the amazing views of Iceland as you travel.
Are there trains to get around in Iceland?
Unfortunately, Iceland has no trains or a train network to speak of.
The only forms of transport available in Iceland are taxis, public buses, car rentals and tours. You can choose the best from either one of them or coordinate between them according to your needs.
How to get from Reykjavik Airport (Keflavik) to Reykjavik City Centre?
There are a few good options to get from Reykjavik Airport (Keflavik) to Reykjavik City Centre:
Car Rental
Car Rental is one of the easiest ways to make the journey. Most of the car rental companies are located inside Reykjavik Airport so renting a car as soon as you land is a good idea and the rates are comparatively cheaper.
There are a few Car Rental options 5 minutes' drive from the airport including Lagoon Car Rental. However, these companies will provide you with a free shuttle service. Our favourite Car Rental search engine will help you sort through these.
Bus
Another option is to take a buses or minibus from the airport. The cost of this transfer is between 19 to 24 EUR.
Flybus is one of the best rated bus transfers from the airport. Booking your ticket is advance is advisable as it gives you a guaranteed seat. If you leave the booking of the bus until your arrival there is a chance the bus could be full and you have to wait.
The buses depart every 35 to 40 minutes after the arrival of a flight and they even change their schedule to match any delays in flights. The shuttle will drive you to BSI Bus Terminal – located in Central Reykjavik.
There are other buses that you can use like the Airport Express and Airport Express Door-to-Door but their transfers are timed so are not worth the low price (evener lower than that of the Flybus) if your flight is delayed.
Taxi
The third option is to take a taxi from the airport. Two of the main taxi companies are Hreyfill and BSR.
Hailing a cab on the spot when you arrive at the airport might be difficult so be sure to book one in advance if you want to have a taxi waiting for you.
Taxi is an expansive choice as the distance from the Keflavik Airport to the City Centre is quite long (about 50km) so if you're on a budget, you might want to reconsider this option!
Expect to pay between 200 – 250 Euros for a taxi between Keflavik Airport to Reykjavik City Centre.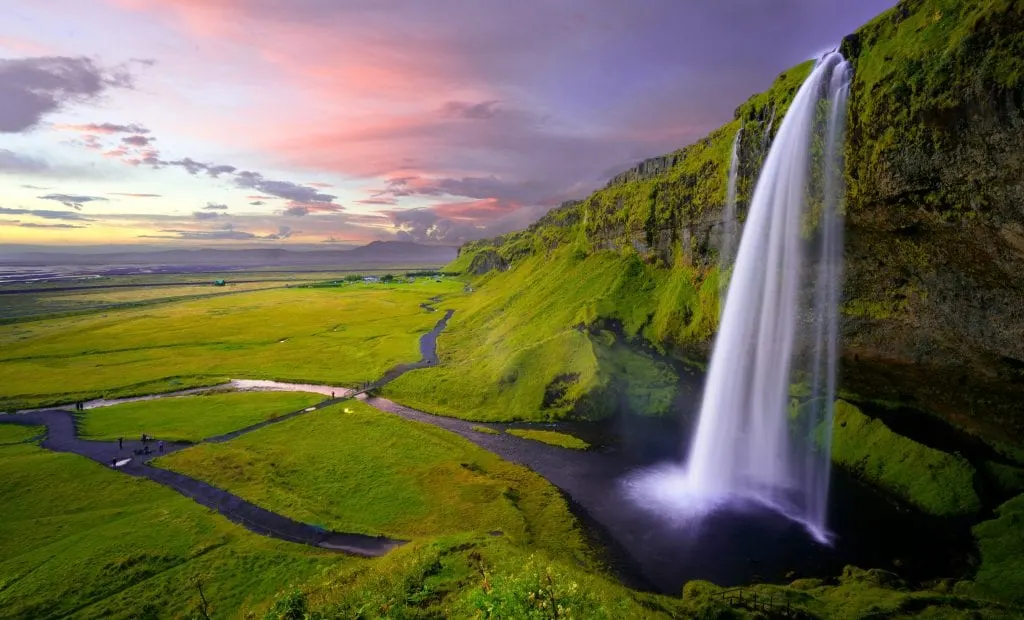 Transport Options for the Golden Circle?
One of, if not the best thing we did in Iceland was to drive the Golden Circle.
If you are planning on making the same route, here are some of your transport options.
Car hire
Renting a car will allow you the freedom to choose your own trails in the Golden Circle. The Golden Circle is basically a route that connects three awesome locations in Iceland: Geysir geothermal area, Þingvellir National Park and Gullfoss waterfall.
You should rent a 4×4 if you're visiting in winter but if summer is your season, it is not necessary. If you are up for a camping experience, a campervan is a fun option in summer.
What we love is that car rental allows you the flexibility of how much time you spend at each attraction and spot in the Golden Circle.
Following the shortest routes, it will only take you about 4.5 hours without stops and probably 7 hours with stops in between. In saying this, it would be an aweful shame to do it that fast as you would miss really getting to soak up the Iceland beauty.
We would recommend spending a little longer and including some of the less popular attractions in the road trip like the Kerið Crater Lake and the Nesjavallaleið Geothermal Plant.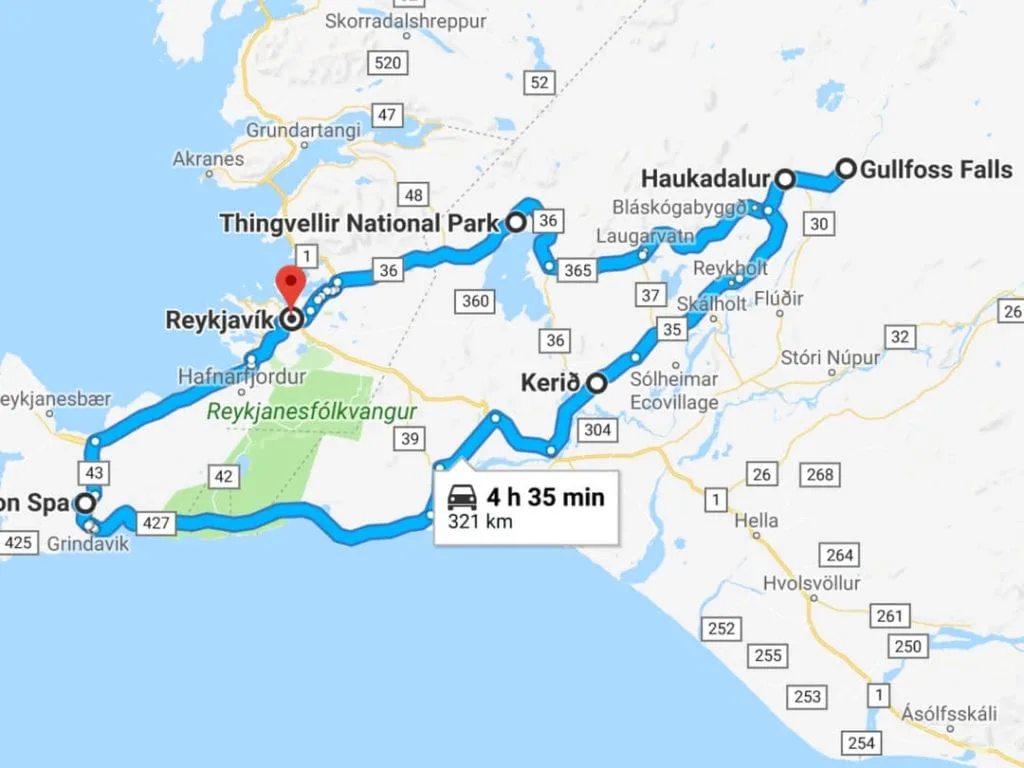 Is there a bus you can take?
Public transport around the Golden Circle is very hard and is virtually impossible as there are limited services covering these areas of Iceland.
Your best bet is to either get a car or a tour. Some of the tours are quite affordable.
Golden Circle Iceland Tours
There are many great tours covering the Golden Circle route in Iceland. If you don't want to drive it, this is a great alternative option.
Golden Circle Classic Day Trip from Reykjavik
At only $47, this is one of the most economical ways to experience the Golden Circle.
The day trip includes an air-conditioned vehicle with an expert guide. You can expect to see Gullfoss waterfall, Thingvellir National Park and Strokkur hot springs on the tour – some of the very best sights on the Golden Circle.
Golden Circle Small Group Tour
An alternative is the Golden Circle Small Group Tour if you would like a more intimate, less shuttle-bus experience of the Golden Circle.
The tour costs $90 and includes some of the most popular routes including the Kerid Volcanic Crater, Geysir Geothermal Area, Thingvellir National Park, Strokkur geyser and Gullfoss waterfall.
Transport Options for the Ring Road?
The Ring Road is for travelers who have a little longer in Iceland and want to discover some of Iceland best spots off the beaten track.
If you are planning on making this route, here are some of your transport options.
Car hire
The Ring Road is 1,333 km long. Many F-roads trail out from it so you need to pick a car while considering everything. You can stay on the main road, not going on the F roads and complete most of the main attractions along the route.
Car Rental for the Ring Road is a great choice as it allows you to set your own pace, change course if weather conditions look bad, and most importantly avoid crowds.
Note: You can rent a standard car but you cannot use them on the F-roads, which can lead to awe-inspiring areas on the Ring Road.
A 4×4 is your best bet if you want to safety drive the Ring Road if you want to experience all it has to offer. Note: It will cost quite a bit more than a standard car and you will have to book in advance as they are the most popular option.
As with the Golden Circle, a campervan is a nice option to explore the Ring Road, especially if you are traveling in Summer.
Is there a bus you can take?
As with the Golden Circle it is near impossible to travel by public bus for the entire duration of the Ring Road.
From June to August, routine scheduled buses take passengers to the popular hiking sites in the Southwest, to the Snæfellsnes and Reykjanes Peninsulas and to the bigger town in the Eastfjords and Westfjords. In summer, buses may also run on some F-roads like the Sprengisandur, Askja and the highland Kjölur routes.
If you are interested in this, you might like to check out Strætó whose main terminal for long-travel buses is at Mjódd and the Trex Hiker transport, which has a few departure locations in Reykjavik.
Is there a tour you can take?
As with the Golden Circle, your easiest alternative to car hire is a tour of the Ring Road.
This 7 day guided Ring Road Tour consistently gets great reviews from travelers.
What is great about going on a tour is that you don't have to spend hours researching stops along the Ring Road – all this is done for you in advance!
Stops on the tour include the Skogafoss Waterfall, Lake Myvatn, a Whale Watching Tour, Godafoss Waterfall, and the Green Lagoon.
If you have a little less time to spend, you can cover the highlights of the Ring Road on this 4 day guided tour.
Going to Iceland? Here are some more Resources
If you are headed to Iceland, lucky you! Here are some more resources you might like to help you plan your vacation:
So sadly, there is no uber in Iceland, BUT we are sure you will still have an epic trip! If you have any more questions about Iceland, we are happy to help so shoot us a line below!
Save to Pinterest!