Unless you've spent the last few years under a rock, chances are you have seen the amazing shots from that swing at the end of the world.
The swing is one of the most instagrammable photos in South America. Copycat cliff-hanging swings have now popped up all over the world, most notably in Barcelona and Bali.
This comprehensive guide covers everything you need to know about the Swing at the end of the World.
What is Ecuador's Swing at the end of the World aka La Casa del Arbol?
In Spanish La Casa del Arbol is an epic tree swing which hangs from a tree house perched atop a cliff overlooking the lush green Ecuadorian hillside with views to the end of the world (and to one of South America's most active volcanoes).
The tree swing is one of the most famous tourist attractions in Ecuador. It also goes by a few other names include the infinity swing, the death swing, and the swing in the clouds.
There's two reasons backpackers and tourists flock to this remote part of the South America: to swing over a cliff and to hike the imposingly named Pailon del Diablo (in English: Devil's Cauldron).
Facts about the Swing on a Cliff
It's really high, located on a mountain 2,600 metres (8,530 feet) above sea level
The swing got its name when the owner sat on the swing helplessly watching as Tungurahua volcano violently erupted sending Pyroclastic flows 2000m down towards the villages of Mandur and Achupashal. Hence the name Swing at the End of the World*
There is actually more than one swing to try your luck on. In addition to the iconic tree house swing, there are two giant swings which are much larger but less scenic.
There are many imitators but the epic height, scenery and adorable tree house makes La Casa del Arbol Banos the most picturesque swing over a cliff.
It's actually a great place to spend a whole or at least half day. There are lots of scenic spots to set up a rug. So make sure you bring a picnic or enjoy some food and beers from the on-site restaurant. The prices are very affordable
There is also a zipline and nature walks to keep you entertained
Entry fee
Precios aka the cost of entry to La Casa del Arbol is $1. Also budget for some beers and food (just because it's good) and also the cost to get there.
Opening Hours
Monday: 6:30am – 19:00 pm
Tuesday: 6:30am – 19:00 pm
Wednesday: 6:30am – 19:00 pm
Thursday: 6:30am – 19:00 pm
Friday: 6:30am – 19:00 pm
Saturday: 6:30am – 19:00 pm
Sunday: 6:00am – 19:00 pm
Tip for early risers (and Instagrammers) – visit on a Sunday to get earlier entry.
Safety
As a popular backpacker destination, there is no shortage of guys (and girls) showing off trying to get that epic upside-down-no-hands-selfie pose. Add an onsite restaurant serving cheap cervezas to the the mix and it seems like a recipe for disaster.
Have there been any deaths?
Despite the appearance of death defying swing, and the nickname 'the death swing' you won't actually find yourself off the end of a cliff. There is even a seat strap to keep you seated.
If you do fall the drop is a few metres. Unless you are a cat you'll probably get hurt, but you be seriously injured.
Like all good stories . It's easy to imagine when looking at these images some poor soul falling to an ill-timed death but to our knowledge there are not recorded swing at the end of the world deaths. We even tried applying our limited knowledge of Spanish to search "Casa del Arbol Muerte" but found no proof anyone has died on the swing.
I have no doubt people have accidents on the swing regularly when fooling around. Don't be an idiot and you will be 100% safe.
Where is "the Death Swing"?
La Casa del Arbol is located in Banos, Ecuador. This is an iconic stop on most South America itineraries. Most southbound routes reach the country catching the bus from Ipiales to Quito.
Banos is an adorable town worth visiting in its own right, and is 6 hours by bus from Guayaquil or 4 hours by bus from the capital, Quito.
How to to the infinity swing?
First, make your way to Guayaquil or Quito to Banos.
Direct buses from Quito or Guayaquil leave multiple times daily and will drop you in Baños town.
From Banos to Casa de árbol there are several options.
Driving Directions by Car
It is possible to drive to the swing from Banos. If you have a car just save the swing to your phone and download it for offline use. Google maps link to the swing: https://goo.gl/maps/uc6eNz38TFE2
The drive from Banos to La Casa del Arbol takes about 30 minutes up a winding, unpaved road.
You won't need a 4WD to make it up. If you see the quality of trend on the bus wheels you'll realise why driving your car won't be a problem.
There was limited parking if I recall correctly.
Tour or taxi to casa del arbol
Day tours are a popular option if your budget extends a little further.
Most tours include another activity like Pailon del Diablo (Devil's Column) a beautiful waterfall near Banos.
Tours leave at 10am, 12noon and 4pm.
By Bus
Catching the bus from Banos to the swing is really easy.
Finding the bus was actually a challenge for us based on the directions we found online trying to plan our way there.
A direct bus leaves from Banos at the intersection of Vicente Rocafuerte and Pastaza streets.
Google Maps link: https://goo.gl/maps/pAfVffNw5Sm
The bus is normally blue like in the picture and has a sign with La Casa del Arbol on it.
You can also look for a little bakery called Panaderia La Delicia Don Gato which is across the road from the bus stop and sells delicious baked goods.
The bus will drop you off on the side of the road. From there it is a short walk uphill (about 10 minutes) to buy your tickets and reach the swings.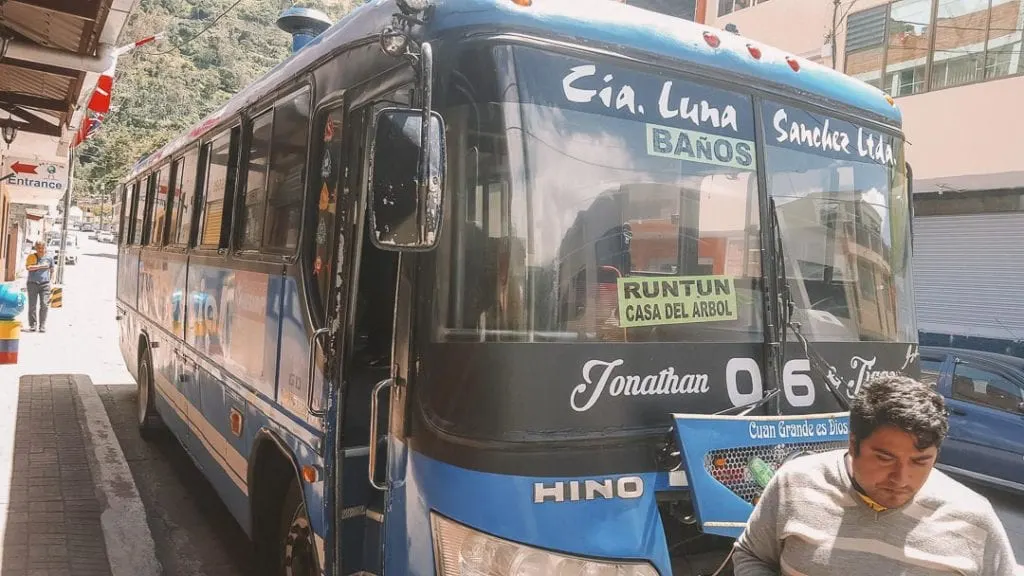 Bus timetable
Buses leave to Banos to La Casa del Arbol at these times:
5:45am
11:00am
14:00pm
16:00pm
Buses return back to Banos and you don't need to purchase tickets in advance.
Where to Stay in Baños Ecuador
If you plan to catch the sunrise you will need to stay in Banos.
If you're looking to make your trip truly epic there's lots of hotels and guesthouses in town with unique features. One such place is Aldea Real guesthouse which overlooks the mighty river snaking through the region. Watch white water rafters from the comfort of your private hot tub! It's a great opportunity to visit Ecuador because there are bargains to be had.
Also: Airbnb – We love the extra space of having our own apartment. Receive $40 off your first trip using this special Airbnb link.
More Things to do in Baños
#1 on your list should be visiting Pailon del Diablo. Read more about it.
Did you know you can actually visit the Amazon – the proper Amazon rainforest – without even visiting Brazil?
We ticked off so many bucketlist items including a night-walk, visiting local tribes, seeing Macaws and pink dolphins, hand feeding piranhas and then swimming metres away!
Read about our adventure at Green Forest EcoLodge.
Travelling to Ecuador? Make sure to Pin this guide to Pinterest!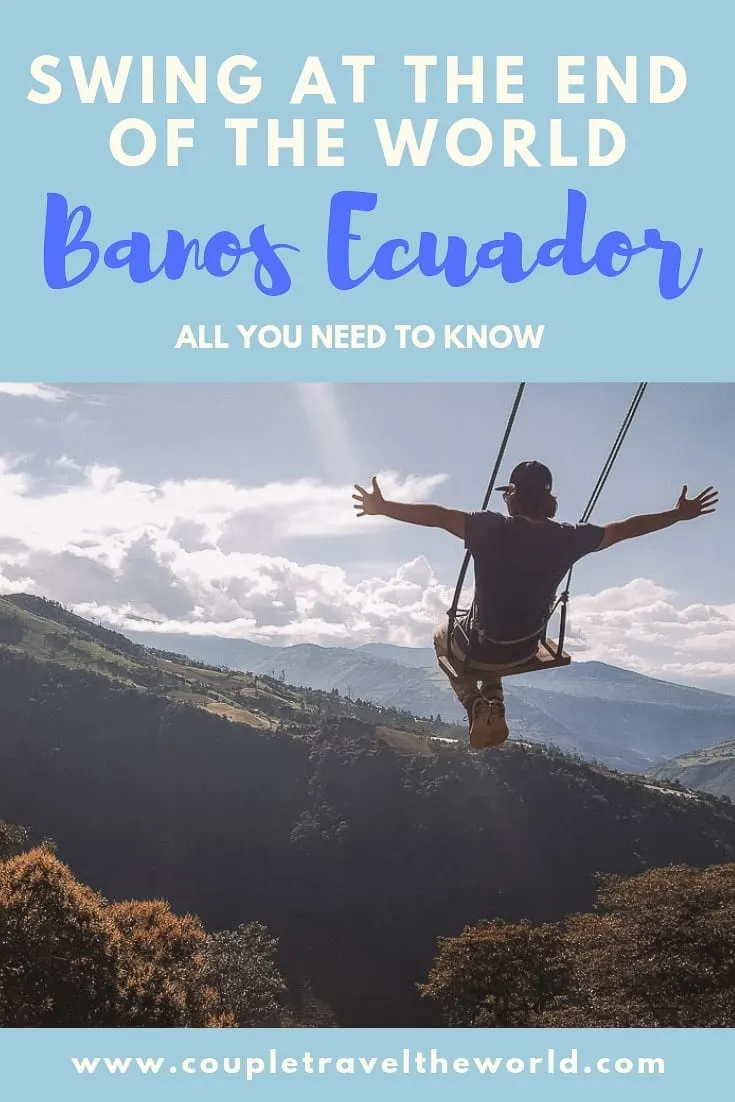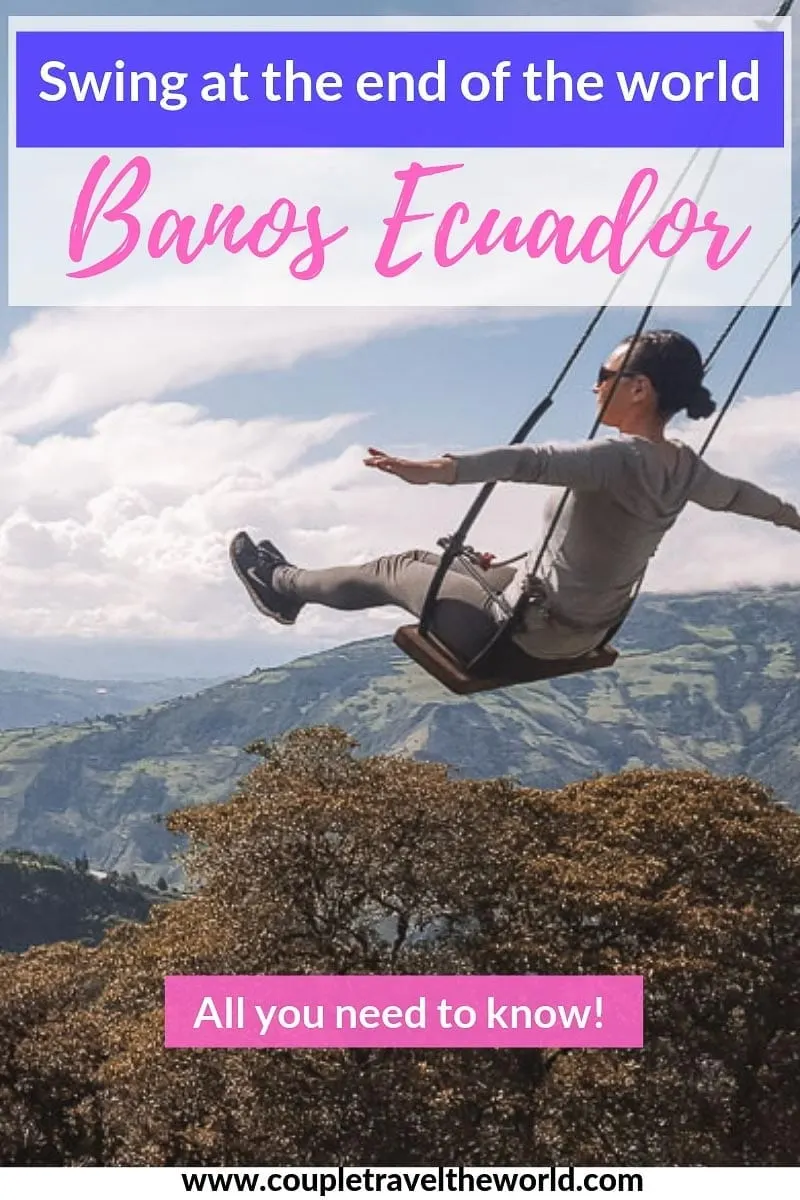 *Okay, this "fact" about how the name came to be is completely made up. But it sounds plausible, right? If you've made it this far you should probably check out the 2016 report about the Tungurahua volcano eruption which inspired our hypothesis.