Cambridge really is an extremely picturesque city with the stunning river Cam and beautiful countryside everywhere you look. If you are visiting Cambridge, these are are our 5 favourite walks in Cambridge that you simply cannot miss!
5 Must Do Walks in Cambridge
There are many great walks in Cambridge to make. We stayed in Cambridge for over a month and have narrowed the walks in Cambridge down to our 5 absolute favourite romantic walks.
1. Milton Country Park
Milton Country Park is a stunning walk in Cambridge through a park with a big lake.
Many locals love Milton Country Park due to the stunning nature and activities in the park. There is a fabulous playground in the park and you can even try your luck at fishing in the lake!
We also loved that you could see quite a bit of wildlife at the park including chipmunks, baby swans, ducks and birds.
If you are feeling peckish after a day wandering around the park, there is a cafe near the parking lot at the start of the park.
Parking at Milton Country Park costs £3.50 for the entire day. There is also limited free parking just outside the park.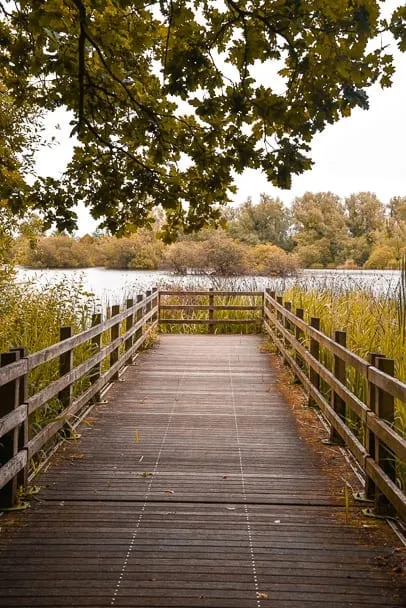 2. Wandlebury Country Park
Wandlebury Country Park is a stunning walk in Cambridge. Perhaps even the prettiest of all the walks we took in Cambridge.
This park goes on for absolute miles and interestingly, there is a very long path in the park called the Roman Road (actually once used by real Romans!).
You can really picture horse and carts traveling alone this long narrow road Roman Road in Wandlebury Country Park.
While this park is absolutely stunning, we found it to be a little bit isolated. There were a few dodgy characters in the park and our mind worked overtime and we were convinced they were serial killers!
For this reason, we would highly recommend visiting this park in the middle of the day only with a group of friends (especially if you plan on walking a long way).
The park is free to enter and just costs £3 in coins to park in the car park.
We visited Wandlebury Country Park after eating delicious scones at The Gog nearby (highly recommended if you fancy scones and tea in a stunning countryside setting!)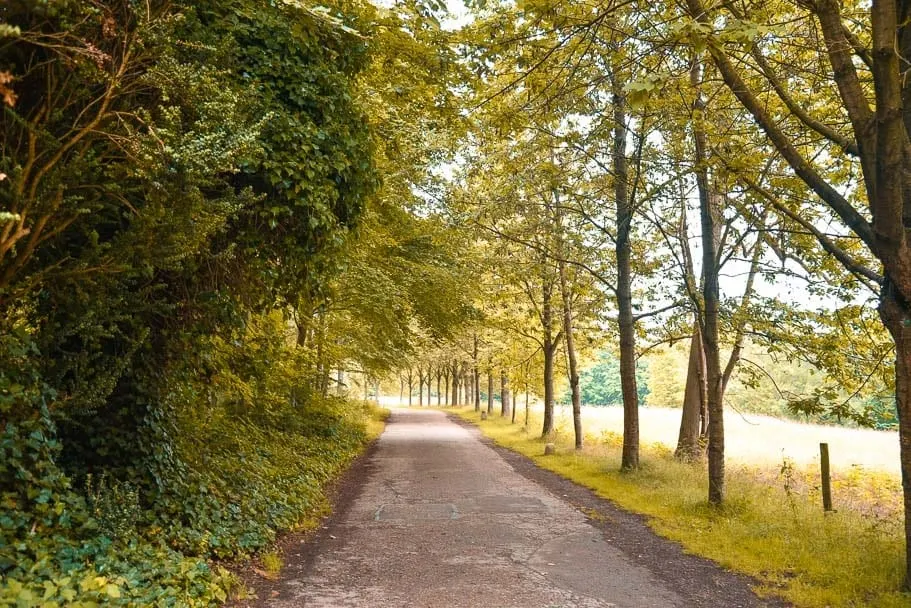 3. Grantchester Meadows River Walk
Grantchester Meadows Walk is a stunning river walk in Cambridge with meadows of cows everywhere you look.
What we love about the Grantchester Meadows Walk is that unlike the more popular Backs Walk, it is a local walk rather than tourist hot spot.
As it is a little outside the city centre, you will see more locals than tourists enjoying this walk. We loved that this gave us a real insight into the life of a local in Cambridge.
As you walk along the river banks you will see locals sun baking, swimming and enjoying a picnic along the banks of the River Cam.
We would highly recommend taking the Grantchester Meadows Walk after feasting on delicious scones and cream at the Orchard Tea Room.
You wont have to go far after eating scones too as the Meadows Walk starts at the back of the Orchard Tea Room.
This walk is certainly a hidden gem in Cambridge! Shh don't tell anyone!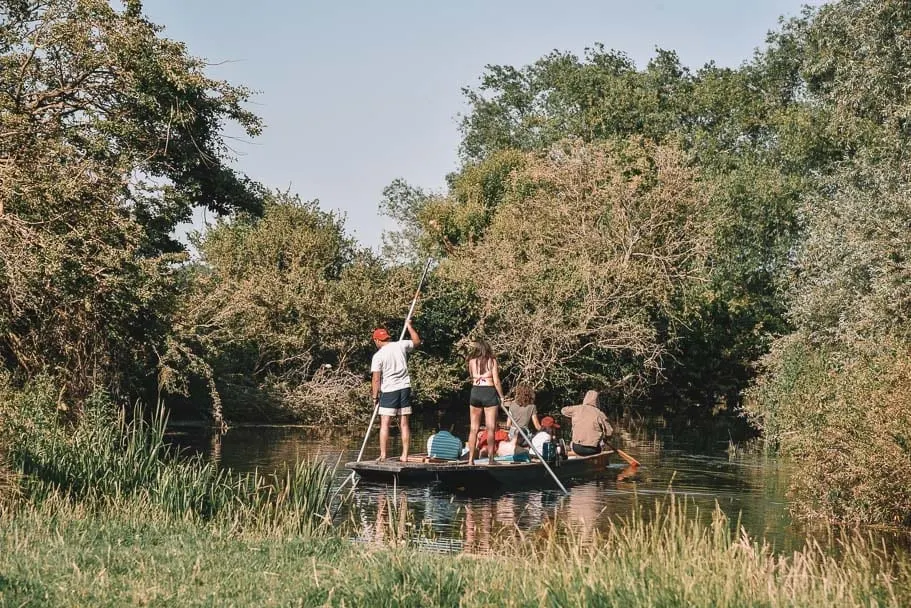 4. The Backs River Walk
As a Cambridge alternative River walk and one more traditional and touristy (yet equally as beautiful as Grantchester Meadows) we would recommend The Backs River Walk.
The Backs River Walk is the original river walk in Cambridge and basically a walk where several Cambridge colleges back on to the River Cam. This is a very picturesque area of Cambridge and a must do.
While taking the Backs walk we would recommend taking a look inside the grounds of Trinity College – the college is absolutely stunning.
While many of the colleges are closed to the public, Trinity College is one college whose grounds is open to the public to take a look around.
From one corner of Trinity College you can get a small glance at the Bridge of Sighs (arguably the most famous and beautiful bridge in Cambridge). A close up view of the bridge is best done by punting the river.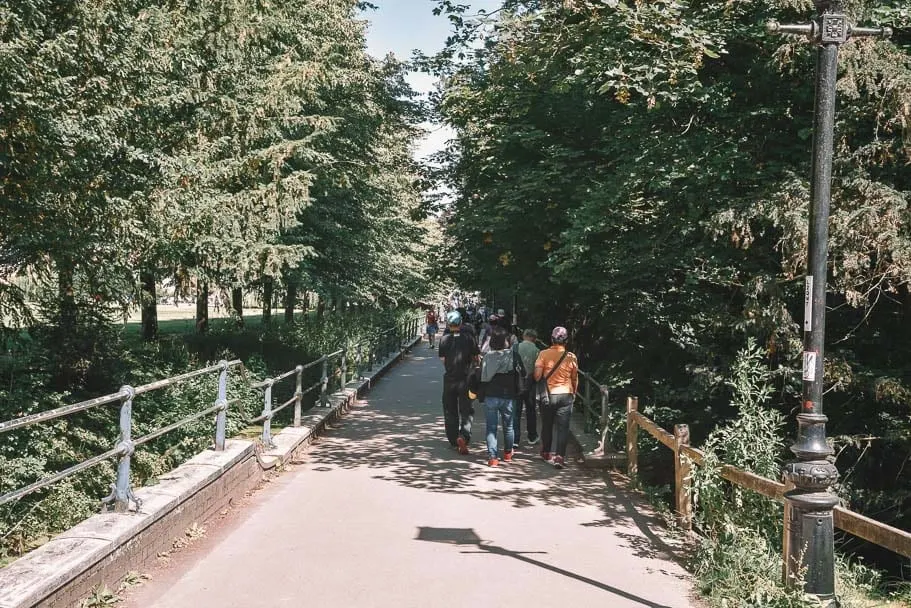 5. A stroll through Cambridge old town
Cambridge city centre is very beautiful. It also is a very old town with a long and interesting history.
Interesting people such as Stephan Hawking and King Henry the Eighth (with all the wives) have connections with this city in England.
We went on a free walking tour of Cambridge on one of our first days here and absolutely loved it!
We are a fan of free walking tours as they give you a great insight of local life and a history of the area you are exploring.
Of course free walking tours aren't exactly free. The guides expect a tip at the end of the tour but we still think it is a very worthwhile spend of money and time in a new city.
It will take approximately 2 hours on the free walking tour and you will cover a lot of Cambridge city centre during this time.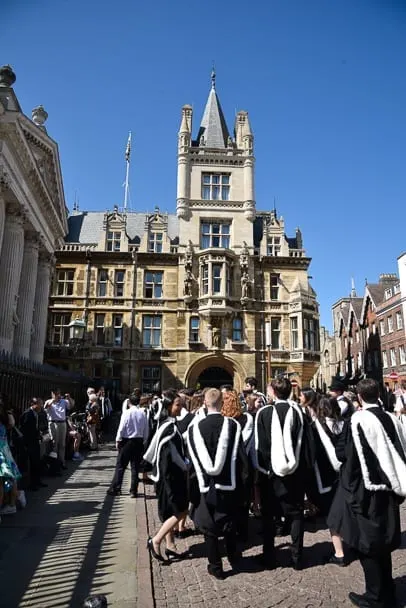 Dog Walks in Cambridge
All of the above walks are dog friendly. The city walk may not be the best for dogs however, we did see locals with dogs in the city.
On all the other walks we saw couples, singles and families walking their dogs.
More Cambridge Blog Posts?
Traveling to Cambridge? You might find our other Cambridge blog posts helpful including:
Save Walks in Cambridge to Pinterest (so you can find it again later!)