We had the most incredible time on Koh Phi Phi Island. Boy, this island is truly paradise. We investigated exactly what to do and where to stay on Phi Phi Island to make your vacation to paradise a breeze!
What to do and Where to stay on Phi Phi Island
We stayed at Phi Phi Bayview Resort, the ideal place to enjoy paradise.
While much of the island is difficult to swim in due to the many long boats docked, the resort is located at one end of the Phi Phi Island and has a nice little strip of untouched beach which is absolutely perfect for swimming.
For this reason, if you like swimming or enjoying an untouched view of paradise, Bayview Resort is one of the best places to stay on Koh Phi Phi Island.
A Phi Phi Island resort in a perfect location
The hotel itself is very nice but the highlight of the resort (in our opinion) was the fact that it was situated in an ideal location on Phi Phi Island.
The hotel not only provided good access to town (only a 5 -10 minute walk) but was far enough away to have it's own little beach right out front.
What's more is that the resort seems to span on for miles and has quite a few extra hidden beaches to enjoy including one with an iconic Phi Phi Island swing.
We hunted for a great beach elsewhere on the Island but few other areas have as nice beaches as those nearby Phi Phi Bayview Resort.
We also loved that when the tide goes out, nearby the resort are a lot of little rock pools to enjoy.
The rock pools are full of life and we saw a lot of sea creatures including crabs and colorful little fish hiding amongst the rocks. It is also a very romantic place to watch the sun go down with your sweetheart.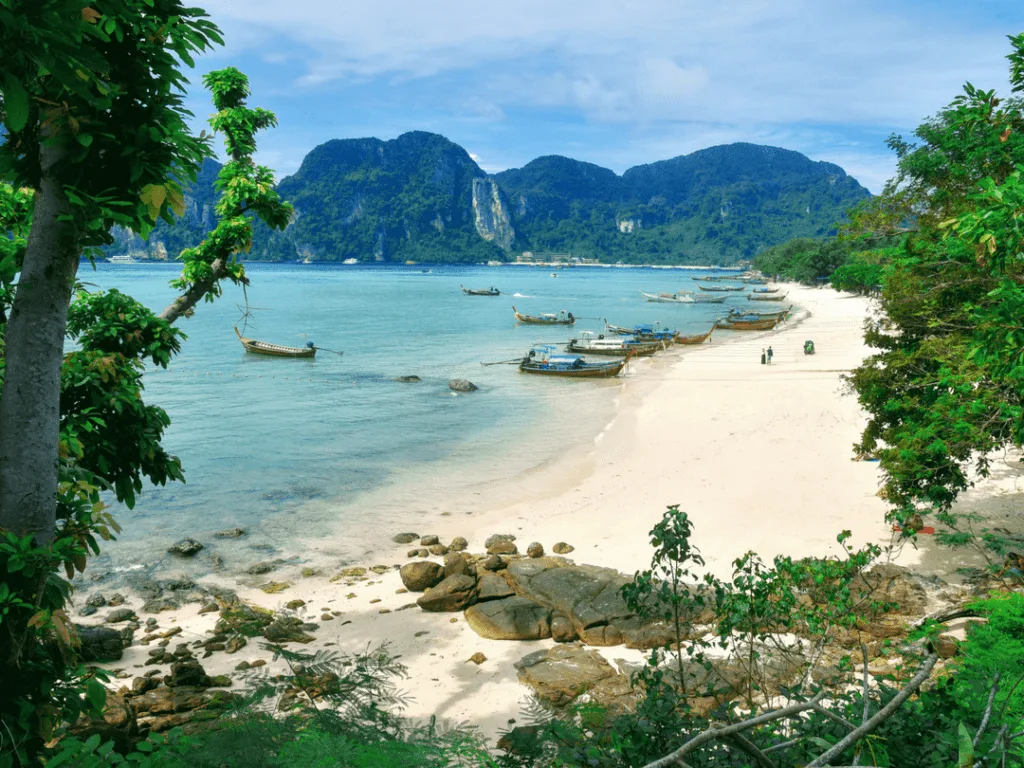 Where to stay on Phi Phi Island? Superior Villa Bayview Resort
What we really liked about Bayview is that the whole resort is made up of individual villas – it really makes you feel like you were staying in an island resort.
The hotel offers a number of different rooms depending on your budget and the size of room you require. We stayed in a Superior Villa and were very happy with it.
We arrived in Phi Phi on the ferry from Phuket (where we previously spent a few days in an absolute Dream). The ferry costs 600 Baht and takes around 1.5 hours to arrive at the island.
We were very happy to find that when we arrived at Koh Phi Phi pier there were bag porters waiting to take us to the resort. When the tide is in, it is possible to reach the hotel via a long boat but when the tide is out, the porters take your bags for you and guide you through the town (about 5-10 minutes) to the resort.
We felt that this was a fantastic service as it would be difficult with big bags to reach the resort alone. When you check out from the hotel, the hotel offers free hourly transport service back to the pier (either by longboat or bag porter).
When we arrived at the hotel, we were greeted by friendly staff who promptly checked us into our Superior Villa.
As the resort is quite large, after check in, porters transport you to your villa on a little buggy through the resort. This was probably one of the most fun and exhilarating buggy rides we have ever experienced. It felt like a Super Mario cart ride as our driver seriously had a need for speed. Much more exciting than a boring, slow ride – we will take a Super Mario buggy any day!
Once our buggy arrived at our Superior Villa we were very happy to find that it was spacious, had strong working air-conditioning and a clean and comfortable bed.
We also loved the little outdoor area in the superior villa – a perfect setting to kick back and relax after a long day of sightseeing.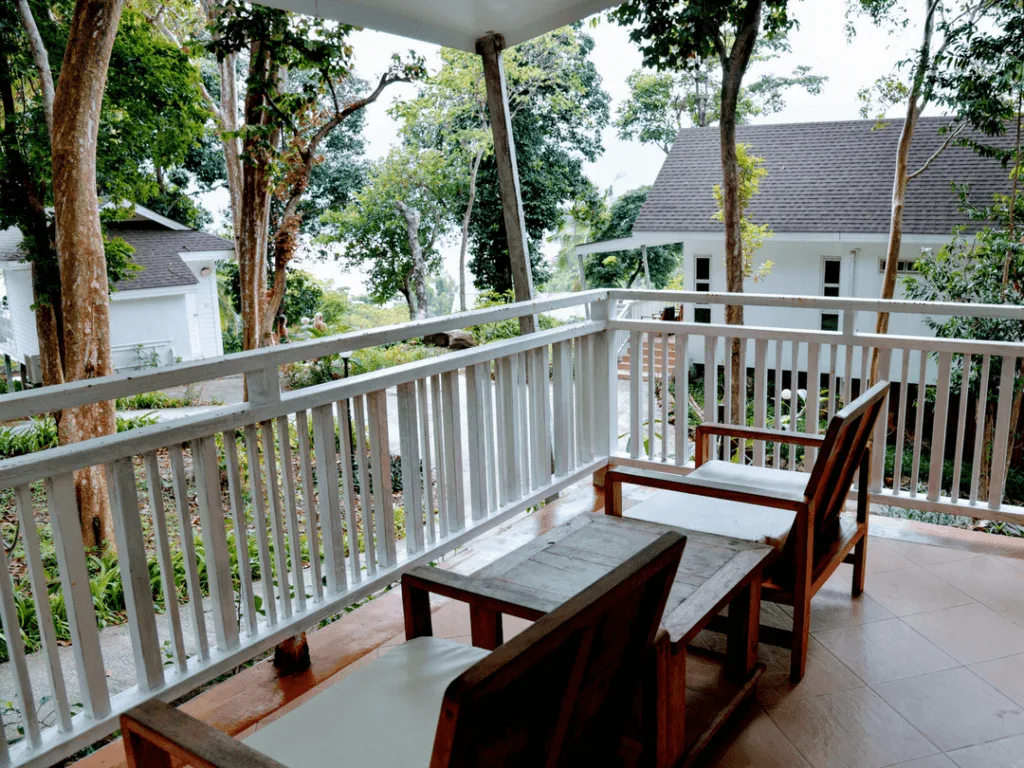 The room was decorated in a red theme (which we loved) and had two towels elephants with little red flowers waiting for us upon arrival. We are always particularly impressed with the ability to make cute towel animals!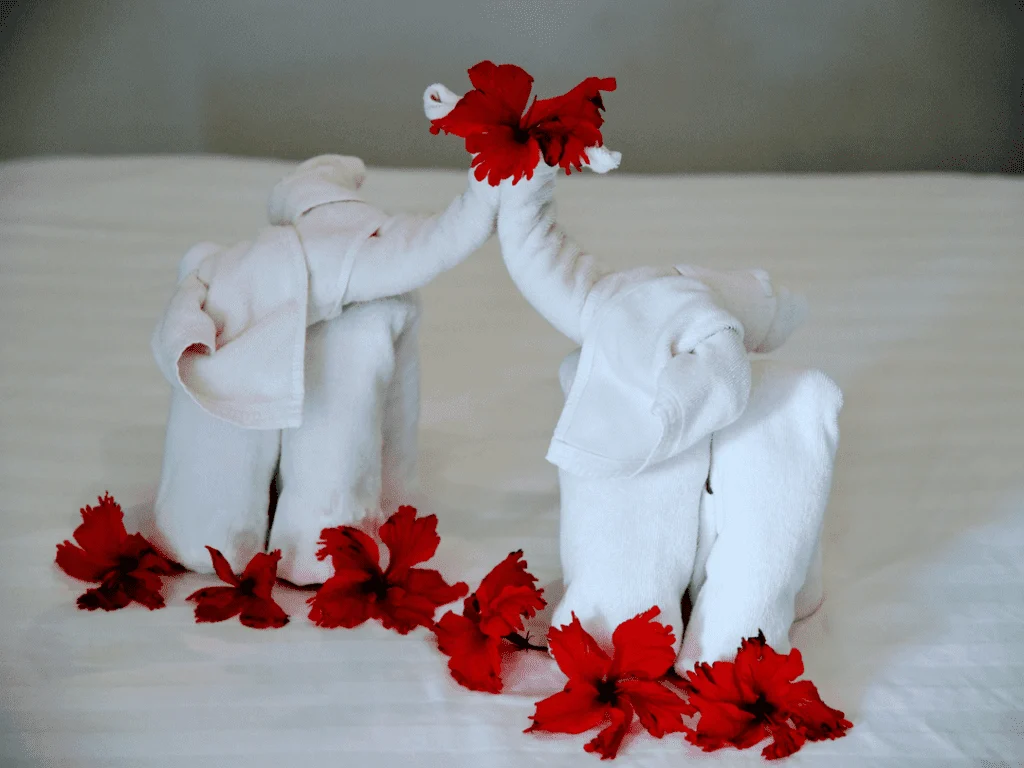 Pool & Recreation Areas
As mentioned previously, there are some amazing beach spots at Phi Phi Bayview Resort.
In addition to the great beach spots, the resort also has a nice pool including a swim up bar and plenty of deck chairs for reading a book or lounging around.
If you feel tense or just like some extra rest and relaxation, you can also get a massage poolside which is pretty neat!
The Restaurant & Buffet Breakfast
The hotel has a restaurant attached which serves a good variety of western and Thai food.
We enjoyed the buffet breakfast in the restaurant each morning.
You can sit inside or outside and enjoy a gorgeous view of Phi Phi Island as you eat breakfast. Who doesn't love breakfast with a view!
We loved the buffet breakfast at Phi Phi Bayview Resort. If you have the choice of a room with or without breakfast, it is definitely worthwhile paying a bit extra for the breakfast.
The buffet breakfast had everything you could want on a buffet including eggs any way, fresh fruit and a good cereal selection. On top of all this, the breakfast buffet also featured traditional Thai cuisine. We were a little surprised to find meals such as Pad Thai and Green Curry on buffet breakfast but they very quite delicious so we were not at all unhappy they were there!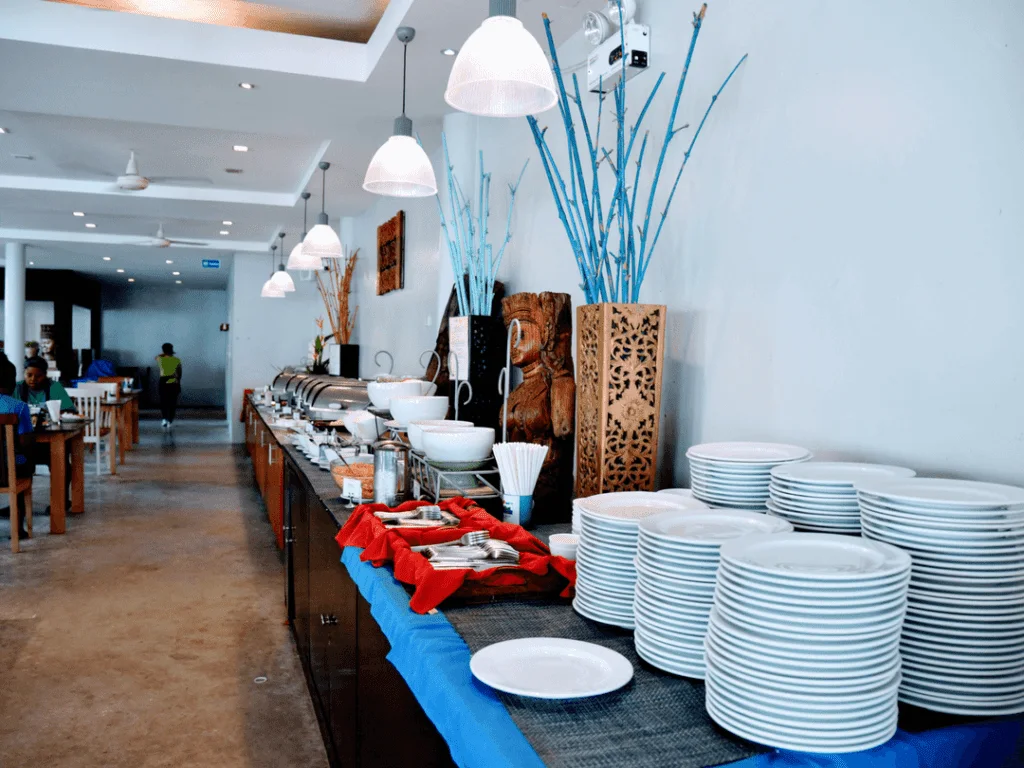 Aside from the hotel restaurant, there are plenty of restaurants in Phi Phi town to enjoy.
For a local experience in town with great food, we would recommend Hello My Mom which has the most delicious Pad Thai for only 60 Baht, what a bargain! Also, if you see locals selling baked good including filled jam and custard donuts – try them – they are delightful!
What to do on Phi Phi Island?
If you only have a few days to spend on Phi Phi Island, the best thing to do is to take a full day Phi Phi Island tour.
The island tour takes you to the best places nearby Phi Phi Island including Maya Beach, famous for the movie 'The Beach' starring Leonardo DiCaprio, as well as Bamboo Island, Long Beach & Monkey Island.
Conveniently, you can purchase your island tour right from the hotel at the same price as outside vendors.
We booked our tour right after breakfast and it was not a problem at all. Our tour picked us up at 9.40am directly from the hotel.
Which Phi Phi Island tour to take?
You have three options for a day tour – a long boat (600 Baht), a larger boat (700 Baht) or a speed boat (1,200). On top of all these prices, there is a 400 Baht National Park fee that you need to pay. Lunch and snorkeling equipment are included on all tours.
We opted to take the larger boat as we are very pale and wanted a boat that has good roof for sun protection. This is a great option if you are concerned about getting some shade as we were able to sit on the top deck of the boat and get adequate shade all day.
Where does the Phi Phi Island tour go?
We boarded the boat and cruised for around 20 minutes before arriving at our first destination, a snorkeling spot just off Long Beach.
Long Beach is an absolutely gorgeous beach. If you don't go on a day tour, you can take a long boat for 100 Baht just to visit Long Beach and spend as much or as little time there as you like.
The snorkeling in this area was fantastic. We saw hundreds of beautiful yellow and blue fish. What was surprisng was how friendly the fish were. Hundreds of them would literally swim right up to our snorkels – it was incredible. We worked out later that the fish were attracted to the sweet cookies that the boat staff were feeding them. Regardless, we were pretty happy to see them up close and personal.
The next stop of the day was Bamboo Island.
Bamboo Island was incredible. The water was an amazing blue, the sand was creamy white – it looked just what you would expect paradise to look like. There are also little waves at Bamboo Island so it is a nice place to take a dip.
We were able to kayak right onto Bamboo Island which is an advantage of getting the larger boat over the long boat or the speed boat – the large boat is the only one large enough to transport kayaks on the tour.
In the afternoon, after lunch consisting of fried rice, we made our way to the most anticipated spot of the day, Maya Beach, famous for the movie 'The Beach' starring Leonardo DiCaprio.
Ever since arriving at Phi Phi we were beyond excited to see this Beach and I can tell you, it didn't disappoint – it was absolutely gorgeous.
Maya Beach had stunning blue water juxtaposed with gorgeous mountains, much reminiscent of our trip to Halong Bay.
Our final stop of the day was to Monkey Island, an island infested with beach monkeys.
We have seen monkeys before (including at Zhangjiajie National Park) and they aren't usually aggressive. But these monkeys were. One of the tourists on our boat brought bananas for the monkeys. However, she ended up having to throw the bananas at the monkeys from a distance as the monkeys were about ready to attack her!
I have seen pictures of people on Monkey Island holding and patting the monkeys – I'm not quite sure how this happens as when we were there they were about ready to kill us.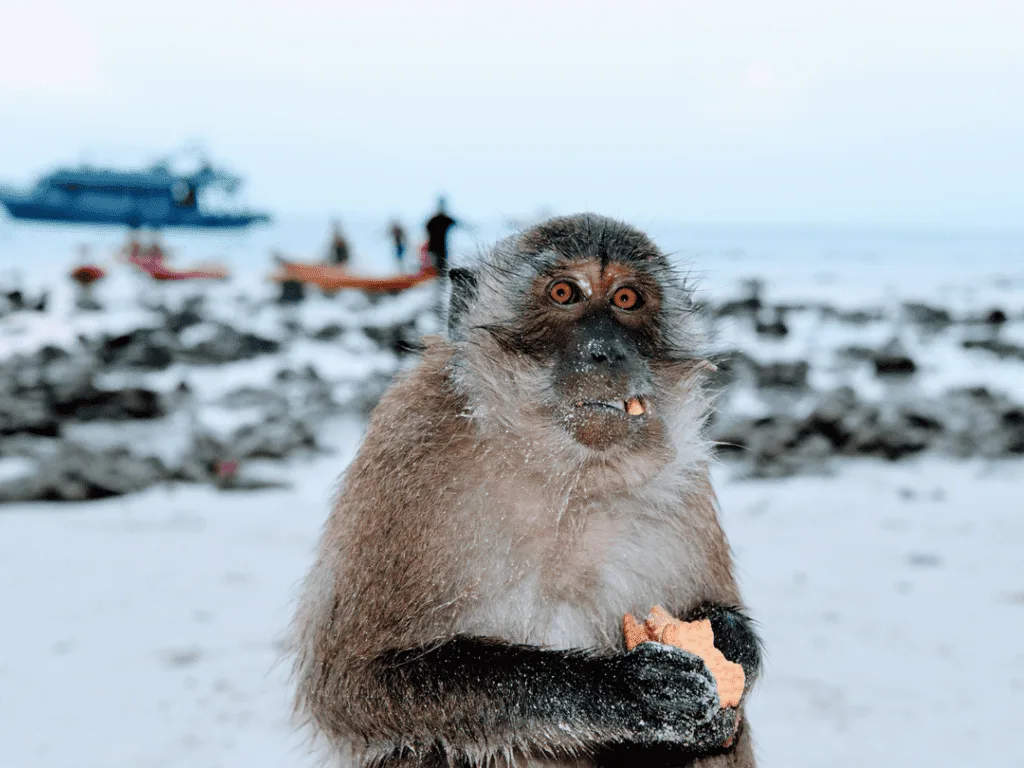 Even More Things to Do on Phi Phi
If you are staying longer or fancy something different, other great activities on Phi Phi Island include:
There is also plenty of nightlife on the island, Phi Phi Island is a little bit of a backpacker's party island. You will see hundreds of backpackers on the island carrying around mixed buckets of booze as they enjoy their night out.
As it is a party Island, there are plenty of bars to enjoy but if you only want to visit one bar during your stay on Phi Phi Island, don't miss Reggae Bar. This bar allows drunk foreigners to try their hand at Thai boxing for the opportunity to win a mixed bucket of alcohol.
It is an absolutely hilarious watching drunk tourists fight each other in the boxing ring. Having a drink and enjoying the show was absolutely one of our highlights of our trip to Phi Phi.
Overall, we enjoyed a perfect 3 days on Phi Phi Island. We would highly recommend spending a few nights on Phi Phi if you are visiting Phuket as the Island absolutely is paradise.
If you would like to book a stay at Phi Phi Bayview Resort, click here for availability and prices during your dates.
If you need any help about planning your trip to Phi Phi or have any interesting activities to add, leave a comment below!
Save this to Pinterest (so you can access it again later)!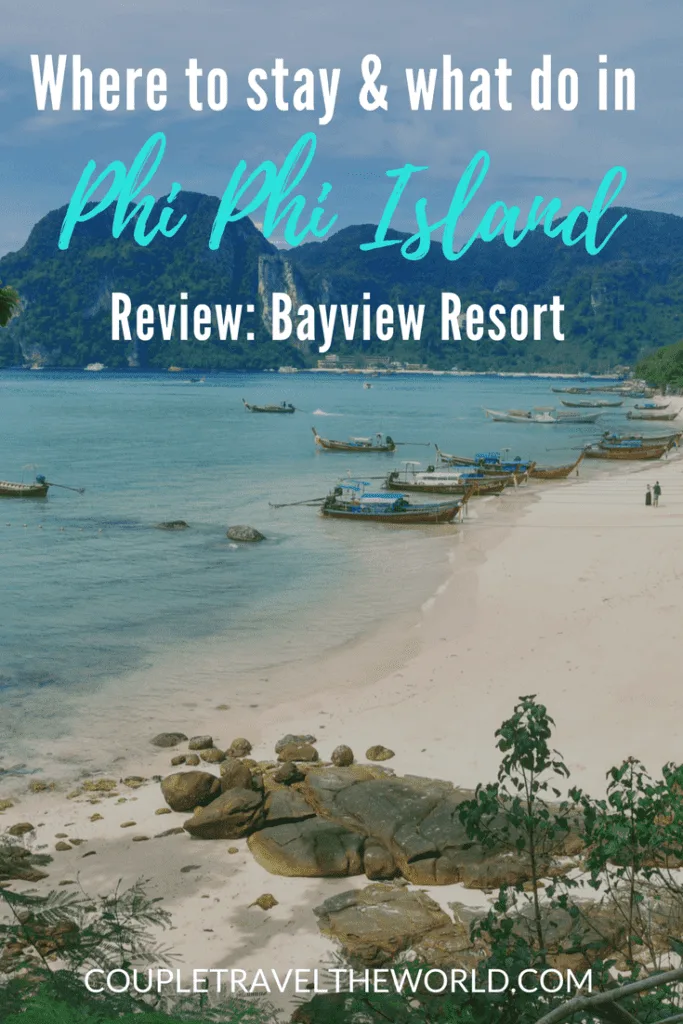 Disclaimer – We were guests at this hotel. However, it does not in any way influence our views or opinions of the experience. Our review is 100% honest and a true reflection of our experience.