Wondering where to stay in Leon Nicaragua?
If you are looking for a real culturally immersive city with lots of things to do don't leave out Leon Nicaragua out of your Central America holiday itinerary.
Many people even prefer Leon to the colonial rival city of Granada as it has less touristic feel. While we thoroughly enjoyed Leon and can agree that it is less touristic, we personally preferred Granada mainly because we loved the 'small town' colonial vibe it was giving off.
However, Leon will always have a special place in my heart as it the destination we were visiting while I lost my Great Grandmother. Traveling can be difficult when you lose previous last moments with your family. However, the La Griteria Chiquita celebrations in Leon were a nice way for me to celebrate her life in my own way, as fireworks lit up the night sky over the Leon Cathedral.
If you are wondering what we packed for our trip to Leon, check out the packing list!
Otherwise, keep reading to find out all the Best Places to Stay in Leon then get the low down on all the best activities in town!
Where to Stay in Leon?
The first thing you might think of when planning a trip to Leon is Where Should I Stay?!
Here are our accommodation suggestions as to where to stay in Leon Nicaragua with all budgets in mind.
The cost of Accommodation in Leon Nicaragua
The average cost of accommodation in Leon Nicaragua is as follows:
Dorm room – $15 – $25 USD per night per person;
Budget double – $40 – $65 USD per night;
Luxury – $50 USD – $130 USD + per night.
For a full list of all available accommodation during your dates in Leon, click here.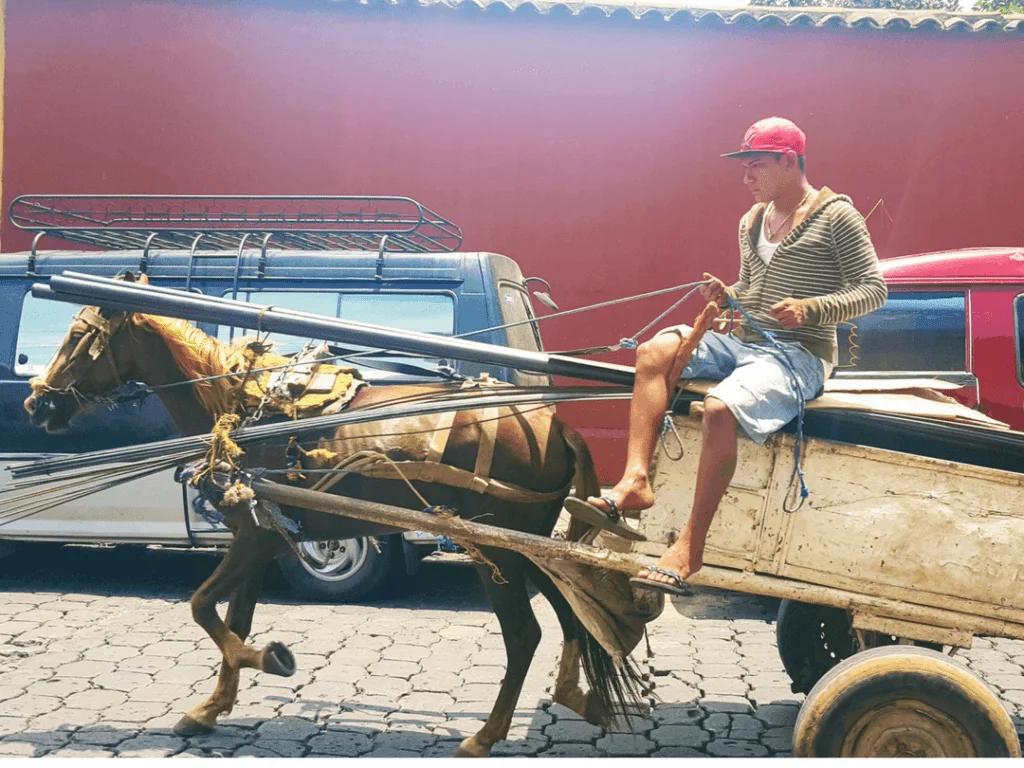 Where we recommend staying in Leon?
Luxury – If you are looking for an assured comfortable stay during your travels, we would recommend Hotel El Convento. This hotel boasts gorgeous rooms with an amazing garden to relax in after a long day of sightseeing.
Comfortable Stay – For a comfortable stay we would recommend Hotel La Perla Leon with clean comfortable rooms, good service & swimming pools to enjoy.
Budget – For a good deal for the budget conscious couple traveler, I would recommend Hotel Flor de Sarta For around $60 USD a night for a double room with private bathroom including breakfast it does represent good value for money. It gets consistently good rated reviews so if you are lucky enough to see availability at this place go for it!
Hostel – Gently sway your troubles away in one of the many shaded hammocks in Poco a Poco Hostel before gearing up for a fun night out pub crawling and socializing as much or as little as you like.
6 Incredible Things to do in Leon Nicaragua
There are so many awesome things to do in Leon that you won't have any trouble filling up a few days of your time here.
Here are our 6 favorite Things to do in Leon Nicaragua.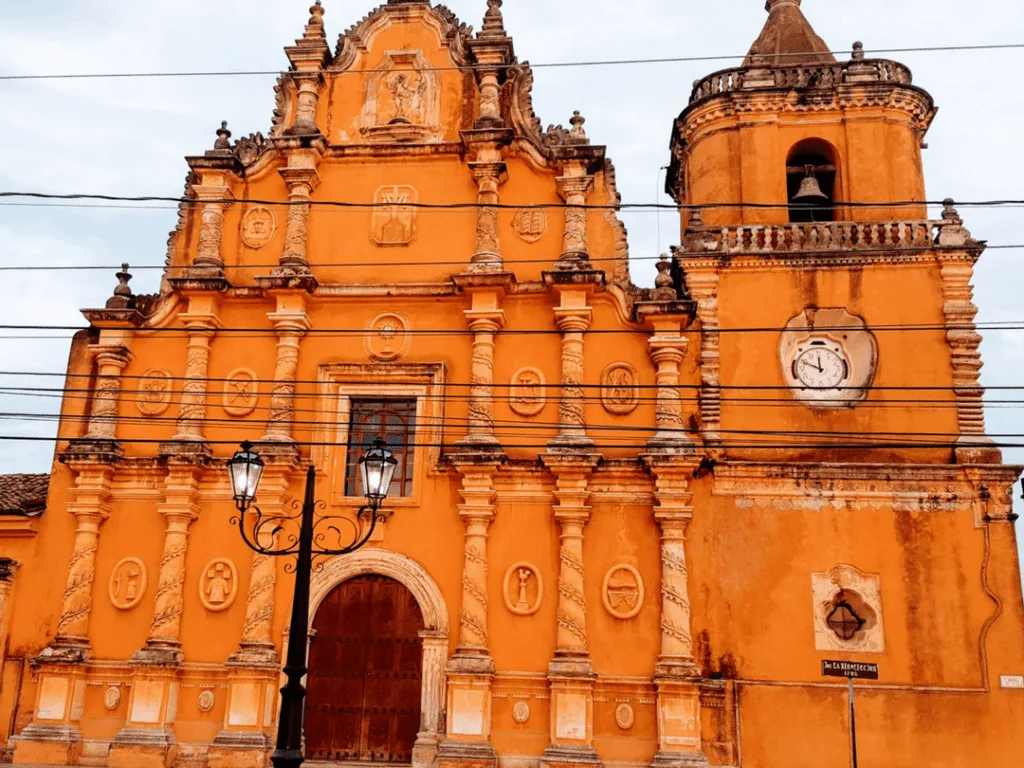 1. Celebrate a National Holiday
There's a lot to do in & nearby the student city of Leon. It particularly comes to life during the many celebrations during the year. If you are able to plan your trip around one of these celebrationsit is definitely worthwhile.
We visited Leon during 'La Griteria Chiquita' a holiday held annually on August 14. The holiday is held to uphold a promise made by Bishop Monseñor Isidro Augusto Oviedo y Reyes to the Virgin in July 1947 to provide her with protection from an eruption of the Cerro Negro volcano.
To celebrate this event, the city lets off fireworks all day and all night from the 14th to the 15th of August. People also let off their own fireworks in the streets (which is very interesting and scary to witness to say the least!)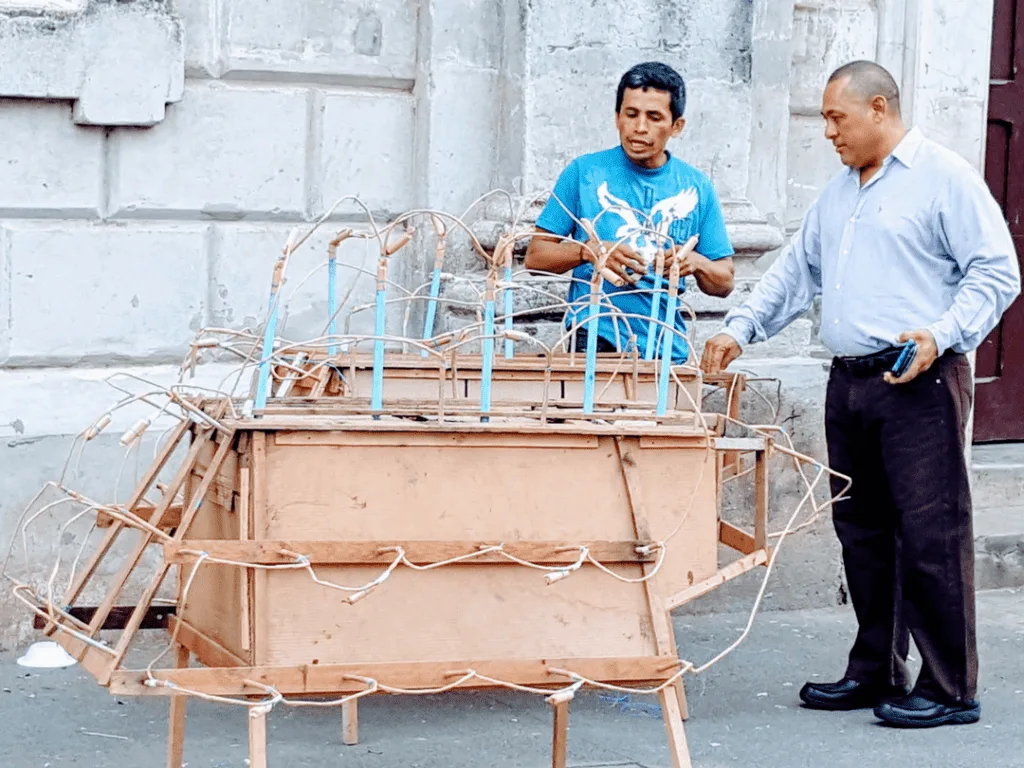 Another tradition that takes place during this time is people collecting sweets from their neighbours houses while singing songs to the Virgin Mary. The whole process can get a little chaotic though as we witnessed in the picture below.
2. Visit Leon's many churches
Leon is a city full of absolutely gorgeous churches.
The centrepiece of the city is the Cathedral of León, also known as the 'Real and Renowned Basilica Cathedral of the Assumption of the Blessed Virgin Mary'.
Leon has been referred to as The White City largely due to this gorgeous white church.
The Cathedral was under restoration when we visited so we weren't able to see one of the best parts of this church – the rooftop. If you can access the rooftop while you are in Leon, it is highly recommendable, I have seen some fabulous photographs taken from the top.
During festivities, directly outside the front of the church comes alive with street markets and vendors selling everything from balloons to fried goods to ice-cream.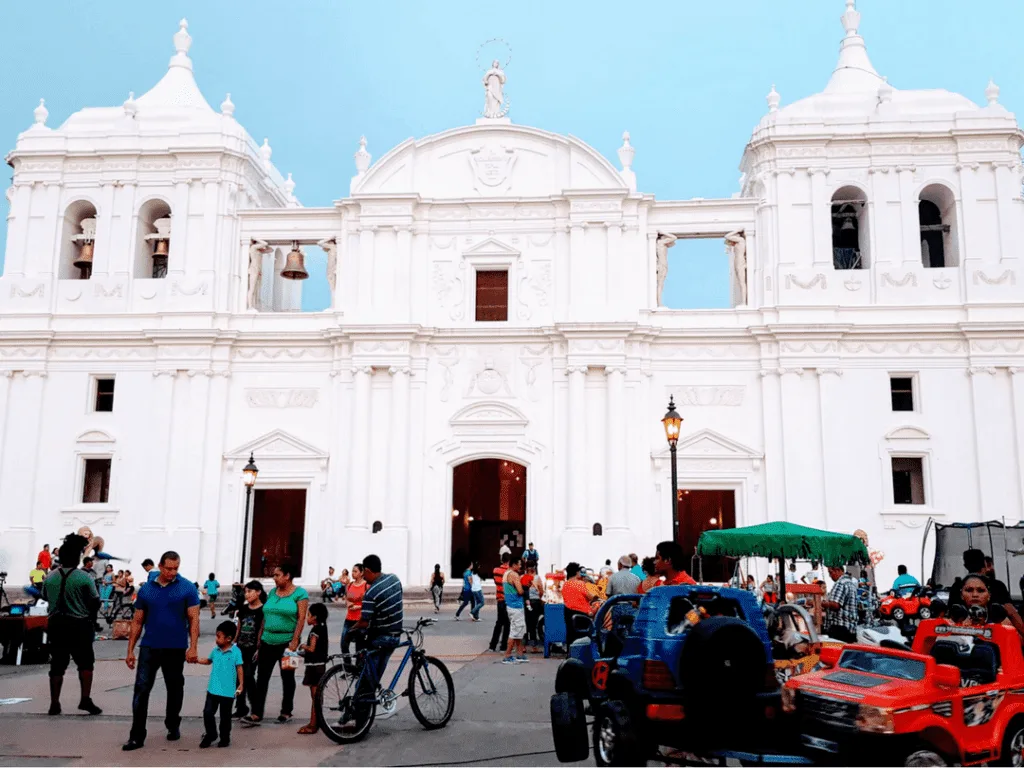 Although this may be the landmark icon of Leon, there are several other beautiful churches to admire as you walk through the streets of Leon's city centre.
The El Calvario Church is also particularly beautiful (and one of our favourites) due to the vibrant colours.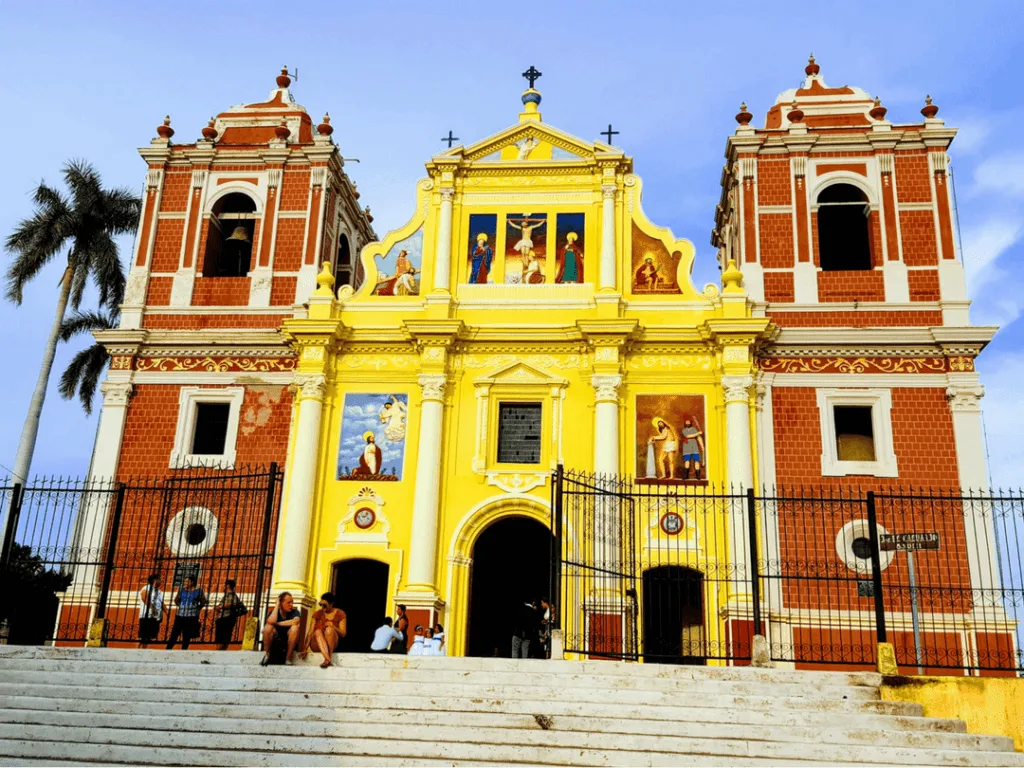 Although dangerous, one of the most famous activities to complete in this area is to Volcano board the Cerro Negro Volcano.
However, it most certainly is not for the faint hearted as you can gather speeds of up to 70 k/m per hour and often people hurt themselves or break bones. For this reason, we decided against it. In saying this, if we went back to Leon on a short term holiday, we would probably take the risk and try Volcano boarding.
If you are a dare-devil, Volcano Boarding is almost certainly one for you. The boarding is priced between $30 – $35 USD pp & can either be purchased here.
4. Eat at the Street Markets
Nicaragua has some of the best street food we have ever tasted in our lives. I'm hanging for plantains & chicken just thinking about it.
In Leon, you will find some of the best (and cheapest) street food in the stalls surrounding the Cathedral of León. Here, they sell all sorts of fried Nicaraguan delicacies. It may not look that great from the outside but all this fried-goodness sure all does taste delicious!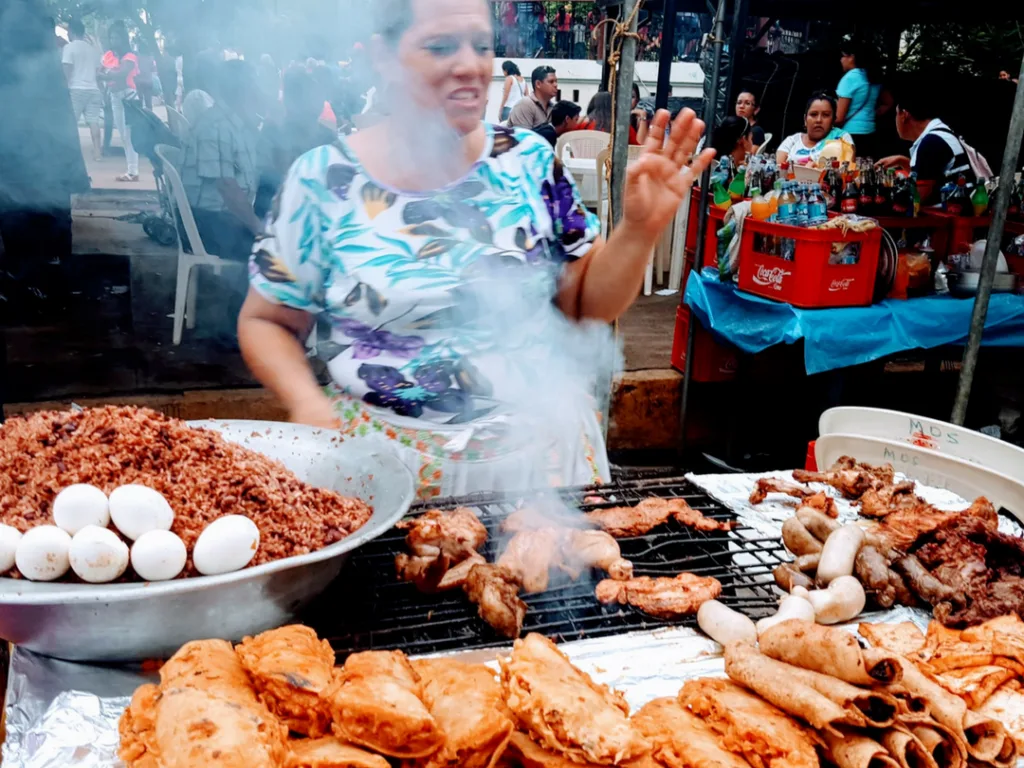 5. Visit the nearby beach of Las Peñitas
If you have a few days up your sleeve while in Leon, we would recommend a visit the cool surfer beach town of Las Peñitas. It is about a 30 minute drive from the city of Leon.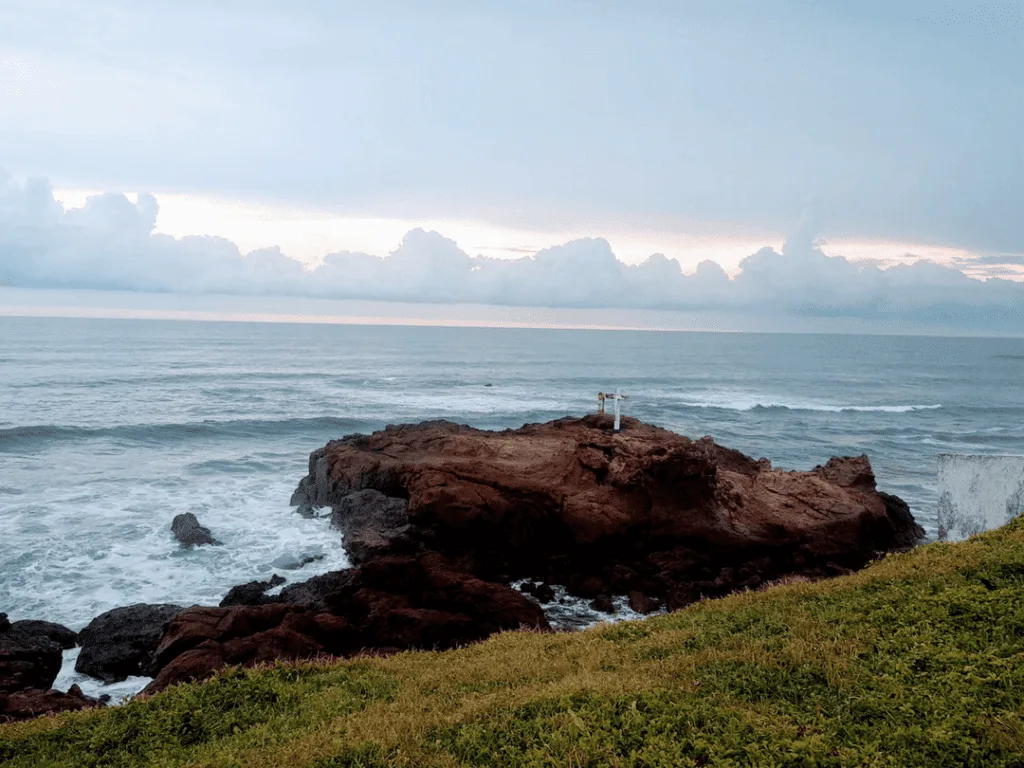 In order to get there, you can take a taxi for around 250 Cordobas (8 USD) or if you can alternatively take the chicken bus to have the true Nicaraguan experience for only 13 Cordobas (0.40 USD).
You can get the chicken bus from Sutiava Market, also known as "El Mercandito" (about 2 km from Leon centre). It cost us 50 Cordobas for two people for a taxi from the Centre of Leon (organised from our hotel & probably a little on the expensive side).
Despite the fact a taxi is very inexpensive, if you are young & able bodied, we would recommend taking the chicken bus for a very authentic local experience.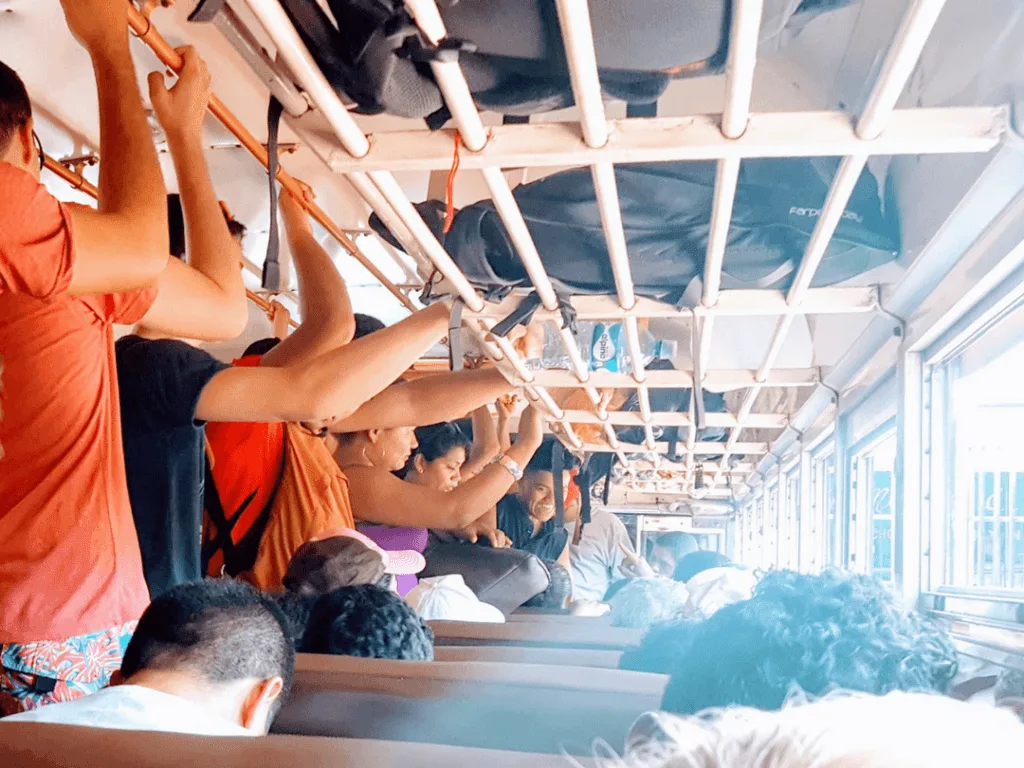 The chicken buses in Central America are quite an experience to say the least. It is impressive how many locals manage to squeeze onto one bus!
Being squished on a bus like a can of sardines at times isn't the most fun experience. However, riding on an old America school bus pumping out Spanish music so loud you can barely hear yourself think is something that you certainly won't forget.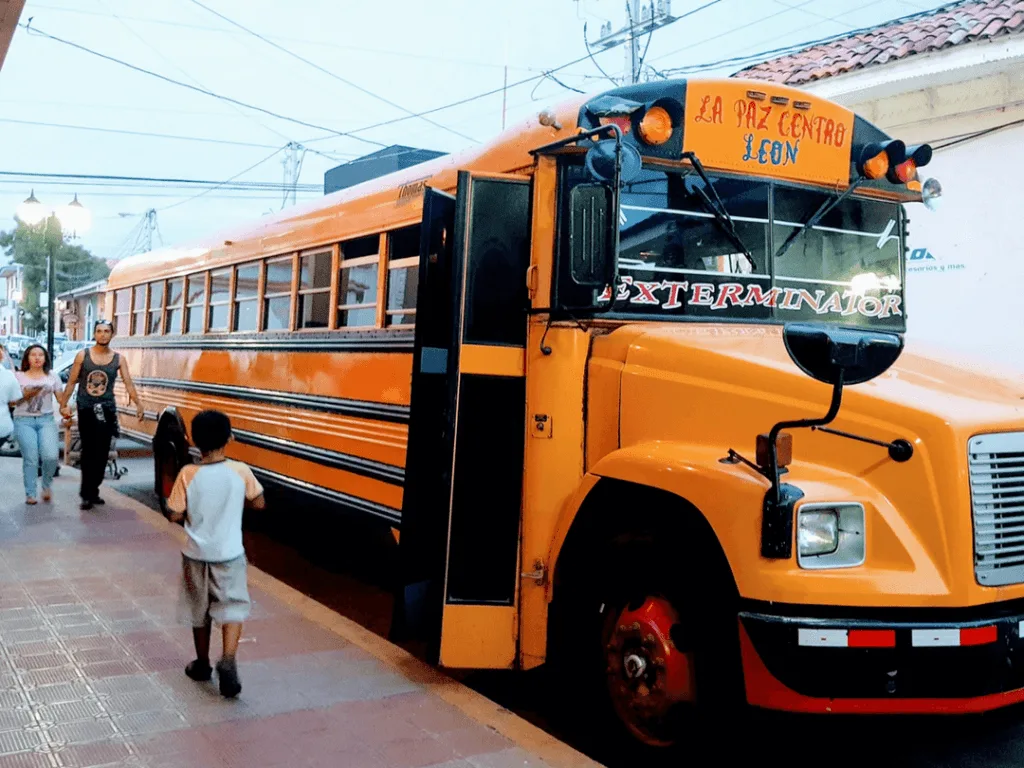 It is possible to visit Las Peñitas on a day trip (and we have seen people doing it). However, we would recommend staying a few nights there to truly appreciate the area.
For a full list of all available accommodation during your dates in Las Peñitas, click here. We stayed at a great, new hotel called Nayal Lodge which I would highly recommend.
6. Admire the Street Art dedicated to the Revolution
Around the city is street art dedicated to the Nicaraguan Revolution. The street art around the city is designed to tell a story of a better future promised by the revolution.
If you want to learn more about the Revolution, consider taking a walking tour with a local who will happily give you a lot of interesting facts about the Nicaraguan war. You can also visit Museo de la Revolucion Museum for more information on the Nicaraguan Revolution.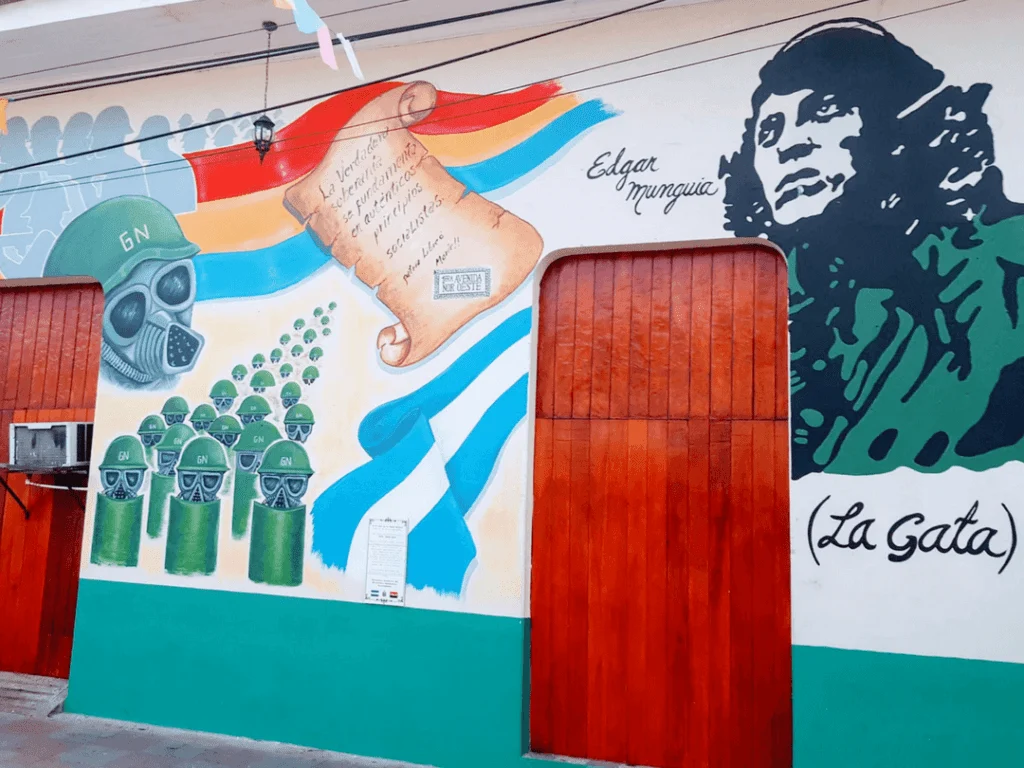 Where to eat in Leon Nicaragua?
Food in Leon ranges anywhere from $1.50 to $10 USD per meal depending if you want to eat where the locals eat or 'tourist trap' places so to speak. As mentioned above, you can get great street food at bargain basement prices (20 – 100 cordobas) near the Central Cathedral.
For a great place for coffee, cakes & sandwiches with affordable yet slightly gringo prices try the Pan & Paz – French Bakery. It is definitely the #1 rated dining option in Leon for a reason! That vanilla slice was to die for!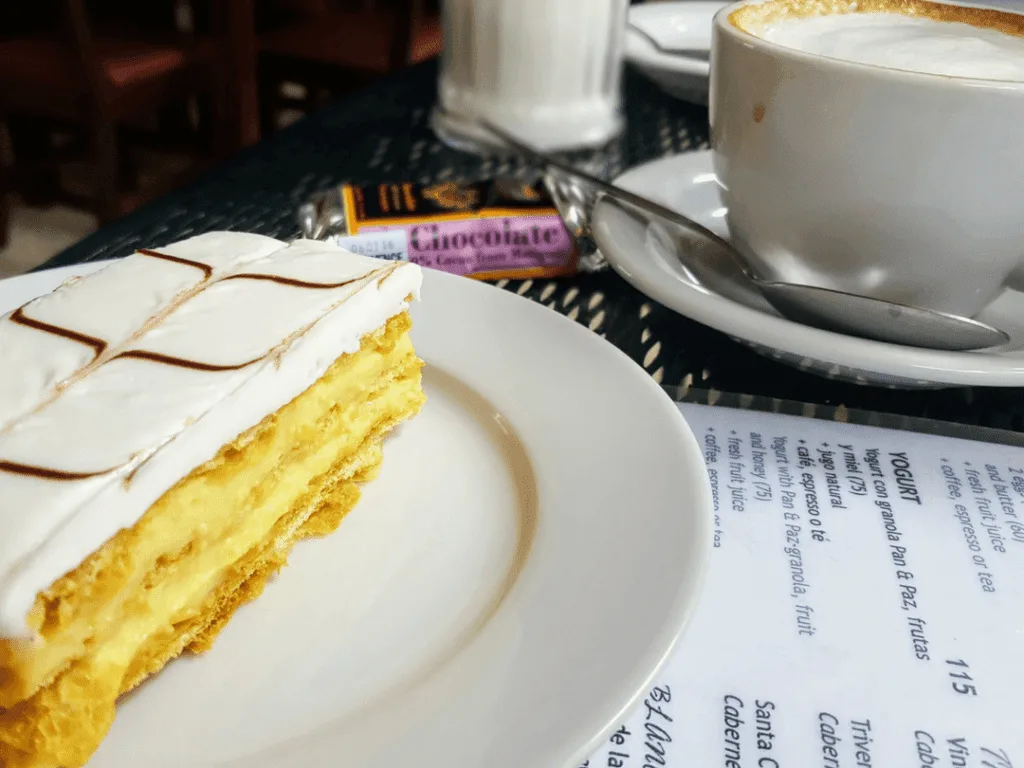 If you are looking for an absolutely delicious smoothie bar (always a winner in the hot Nicaraguan weather!) there is a great place located near the Cathedral called Jugoso.
Here, you can buy a great smoothie between 45 – 65 cordobas (popular with the locals). I would recommend the signature Jugoso (blueberry, strawberry, banana, ice-cream) smoothie. Yummmo!
For a super cheap local style meal, we also stumbled across a local restaurant (We couldn't find a name) on 1st Avenue a couple of stores up from the Mijunas Bar Cafe. We got a meal with chicken, rice, plantains & salad for only 40 cordobas ($1.20 USD) – the cheapest meal we ate in the whole of Nicaragua! Oh, and it was delicious! See if you can find it!
How to get to Leon from Granada?
We have tried both the local mini-bus and the tourist shuttle to Leon from Granada.
At first we were a little nervous to catch the local bus as we believed it required a taxi transfer between bus terminals in Managua. We subsequently discovered that while the local chicken bus does require a taxi transfer in Managua, the local mini-bus does not.
Read More: How to Travel from Granada to Leon for $2 without getting robbed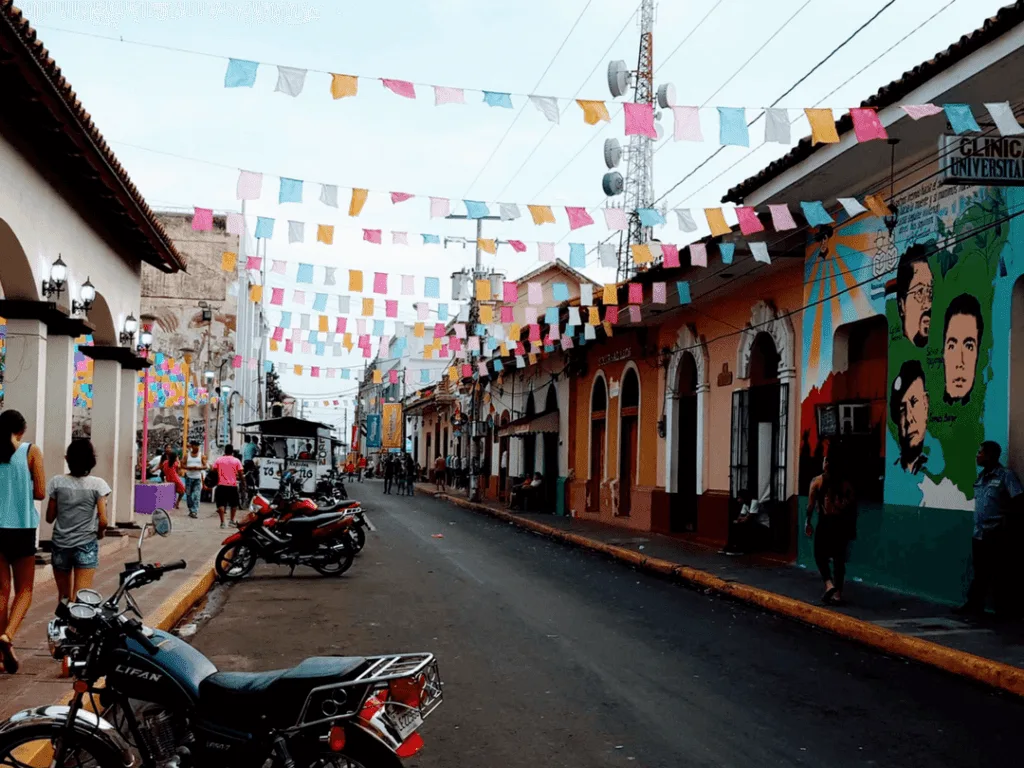 The tourist shuttle from Granada to Leon Nicaragua
It is super easy to catch the tourist shuttle from Granada to Leon. You can get the shuttle from Buena Tours in the city centre of Granada, behind the main yellow cathedral at the beginning of Calle de Calzeda.
It costs $12 pp and takes you directly to Leon. If you are doing it in the opposite direction, most hotels offer this same transfer service.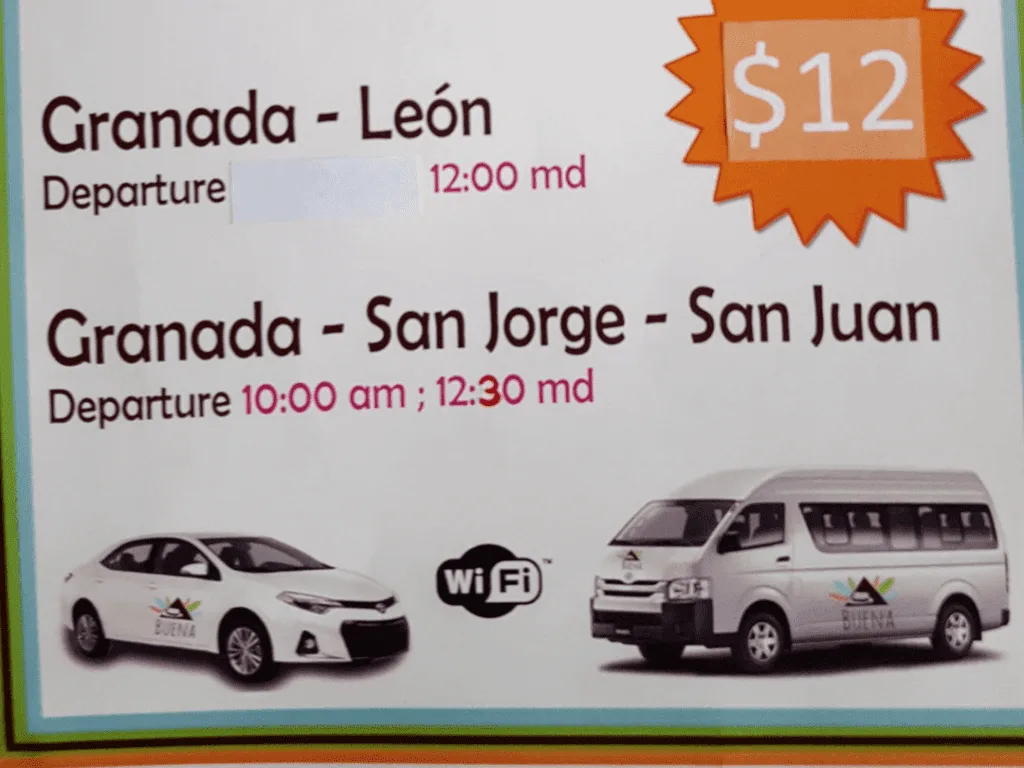 To catch the local minibus from Leon to Granada
On the way back we decided to give the local mini bus transportation a go.
We would recommend the local mini-bus option as it was super easy and way cheaper ($2 USD vs $12 USD). Besides the money, we also like experiencing local transport over tourist shuttles whenever possible as it gives you a good appreciation of life in the city.

For detailed information about how to make the journey without getting ripped off or robbed, read our post about how to travel from Leon to Granada.
Save this to Pinterest (so you can find it again later!)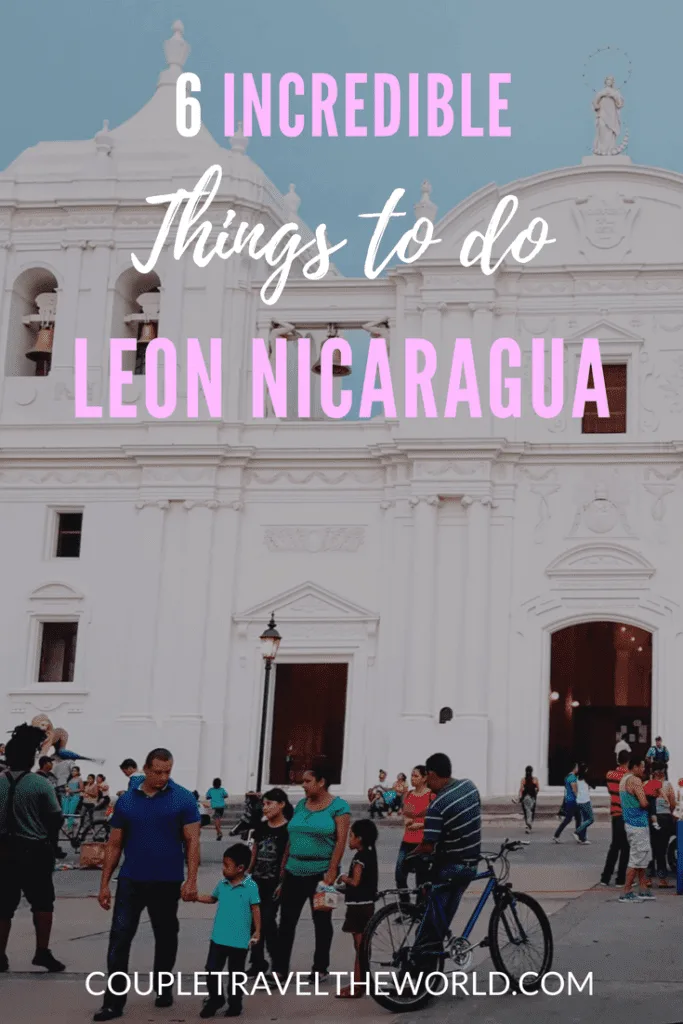 Disclaimer – This post contains affiliate links. This means that if you make a booking through our links we will receive a small commission at no extra cost to you. If you found this post helpful, we would appreciate you using our links to help keep our site running!