El Nido is a tropical paradise popular for romantic beach getaways in the Philippines and home to 45 stunning islands which can be reached on a boat tour.
Tour companies all over town advertise A, B & C island hopping tours. We had so many questions.
But which El Nido tour is the best? What are the best islands to visit in El Nido?
So we decided to stay in El Nido a little longer to do all the tours available.
Which El Nido Tour? – A, B or C (a Photo Guide)
We categorised the tours into the Iconic Lagoon Tour, the White Sand Beaches & Caves tour and the Snorkelling tour.
Read on to see what each tour has to offer (with lots of photos) so you can decide which tour to do first!
Or, jump straight to a tour here: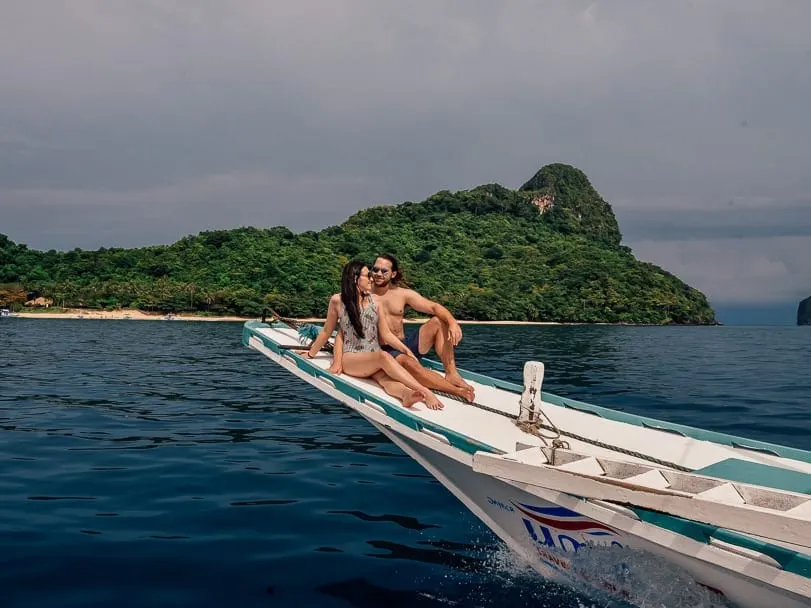 Tour A – The Iconic Lagoons
When you think of El Nido you probably think of the iconic Lagoons – the big lagoon and the small lagoon. If this is what you are interested in, pick Tour A.
If we had time for only one tour in El Nido, this would be it. The landscapes & the lagoons are something unique to El Nido and something that you simply do not see elsewhere.
The tour costs 1200 PHP per person ($22 USD).
Tips for Tour A:
If you want to hire a go pro, save it for Tour C, there is not a lot of snorkeling on Tour A;
Hiring/buying reef shoes is a necessity. You can hire a pair for 100 PHP per person on the beach before you depart;
El Nido is an ocean friendly town so no plastic water bottles are allowed on the boat. Bring a reuseable water bottle for water.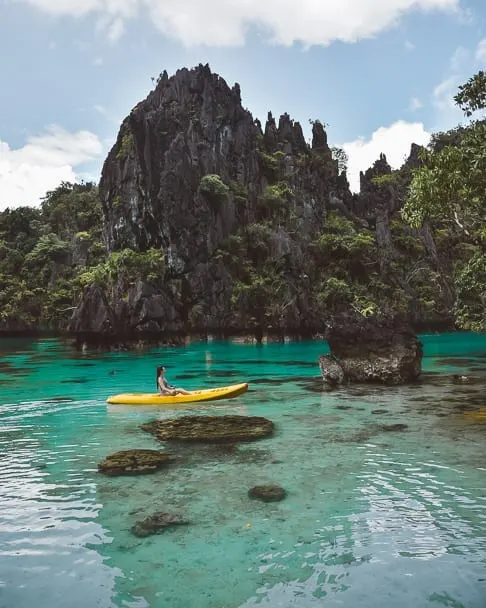 Small Lagoon
The first destination on the El Nido Tour A is the Small Lagoon. An absolutely stunning turquoise lagoon.
Here, you have the choice of swimming into the Lagoon or kayaking (costs 300 PHP per kayak).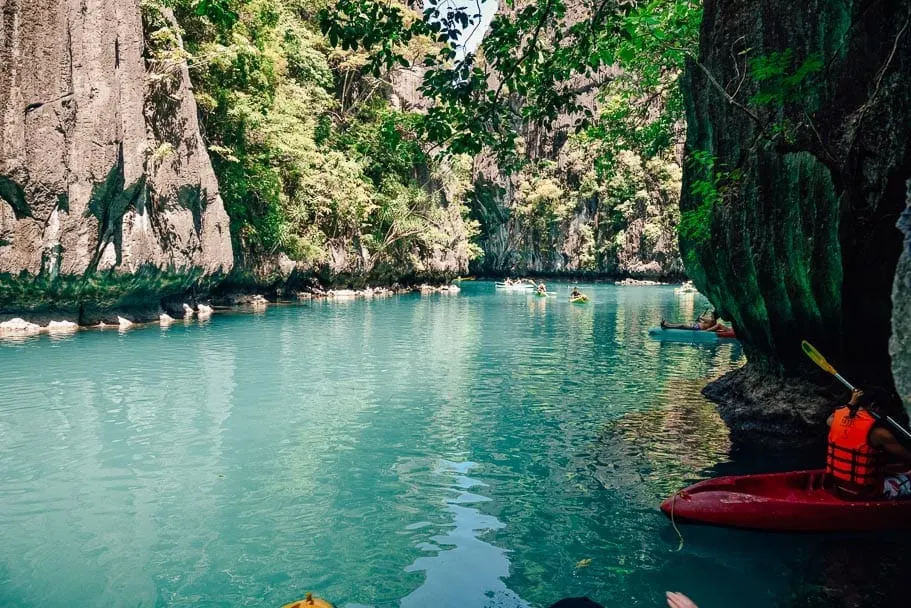 We highly recommend hiring a kayak as it would be extremely tiring swimming and you likely would not get to experience the full extent of the small lagoon.
Big Lagoon
Next stop was Big Lagoon – our favourite spot in El Nido and the most instagrammable place in El Nido in our opinion.
Like Small Lagoon, you have the choice of swimming into the Lagoon or kayaking (costs 300 PHP per kayak).
If you choose to swim you probably won't have access to some of the best parts of the lagoon.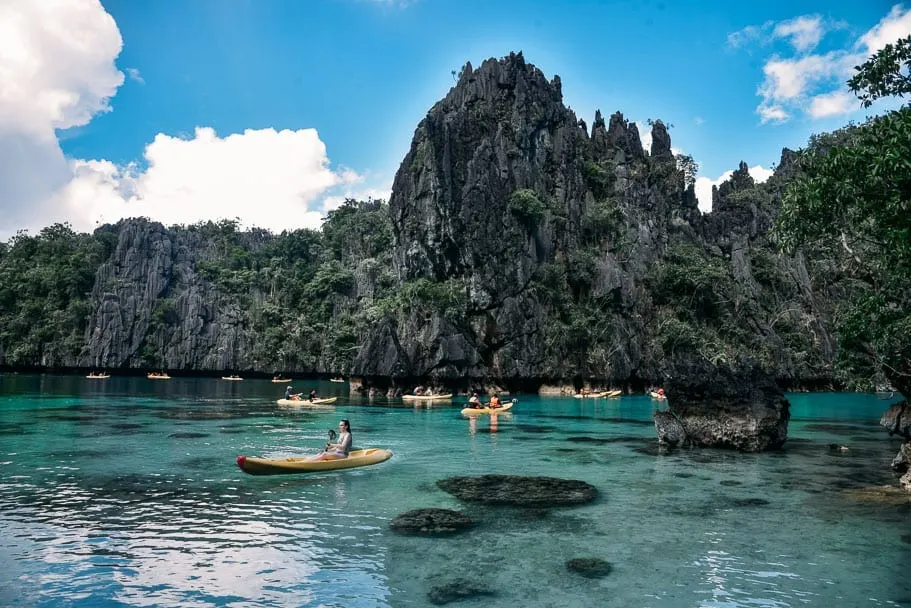 Secret Lagoon
After exploring the Big Lagoon, we got to visit the Secret Lagoon.
We loved that Tour A is action packed and includes lots of adventure activities such as crawling through a little hole to get to the beach on the other side.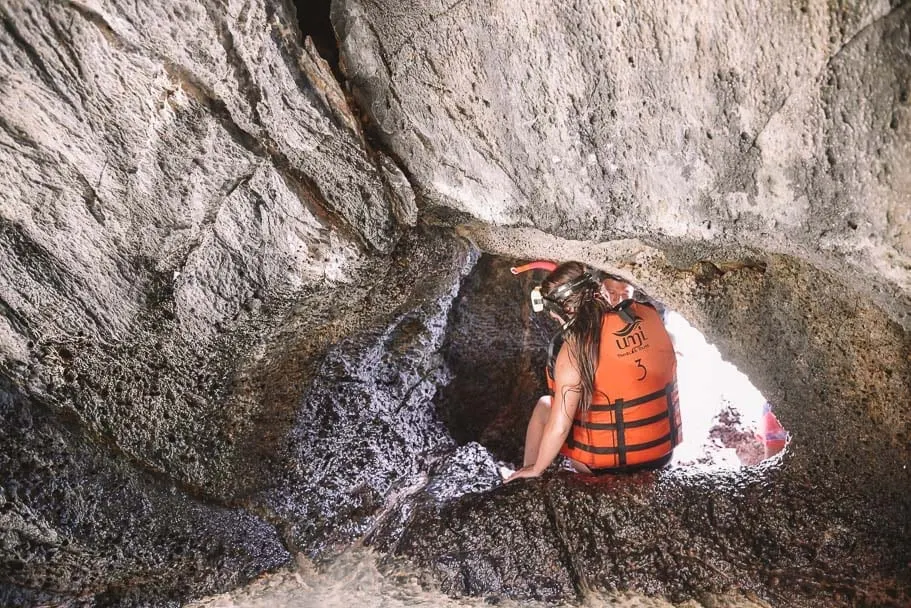 The water at this lagoon was not as spectacular or impressive as the previous spots we had visited but we loved the adventure of accessing the lagoon.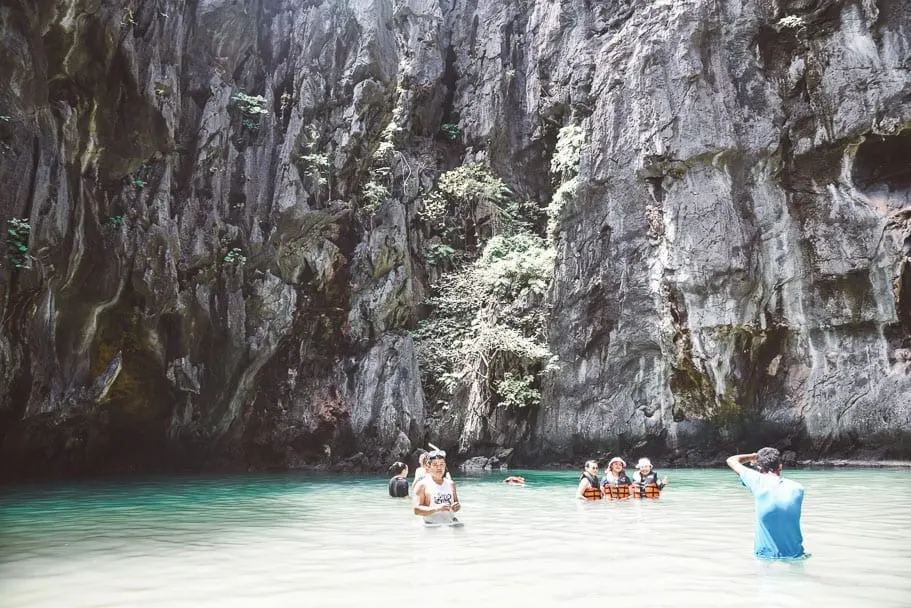 Shimizu Island
After all this activity it is time for lunch on the beautiful Shimizu Island.
If you have a drone, Shimizu Island is the perfect place for a drone shot.
For lunch, we ate a delicious array of food prepared by the Umi Travel crew consisting of grilled fish, pork, prawns, vegetables and fruit. Yummo!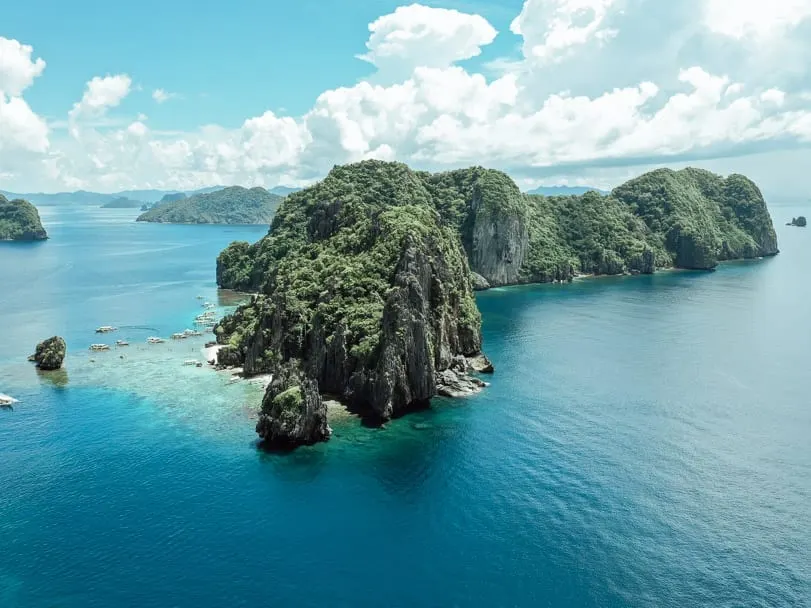 Seven Commando Beach
The final stop on Tour A is Seven Commando Beach.
This beach is a stunning strip of sand dotted with little beach huts to relax in as well as vendors selling various cool beverages for you to enjoy.
It is possible to use your snorkel at seven commando beach.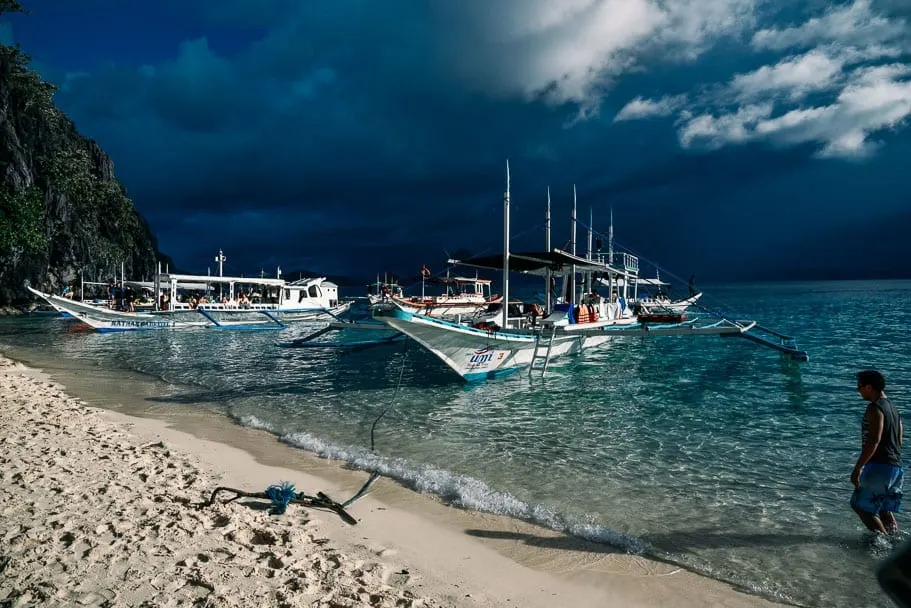 Tour B – Outstanding Beaches & Caves
If you are staying a little longer in El Nido, we highly recommend taking Tour B with Umi Travel & Tours – the beaches & caves on Tour B are just outstanding!
If you want to witness beautiful beaches, pick Tour B.
The tour costs 1300 PHP per person ($24 USD).
*** Note: Same Tips for Tour A (above) apply to Tour B.
Entalula Island
The first stop of the day was Entalula Island.
They don't call Tour B 'The Beach Tour' for no reason. Entalula Island is the most beautiful beach with crystal clear water and white sand.
There is also super cool large rock formations on this island.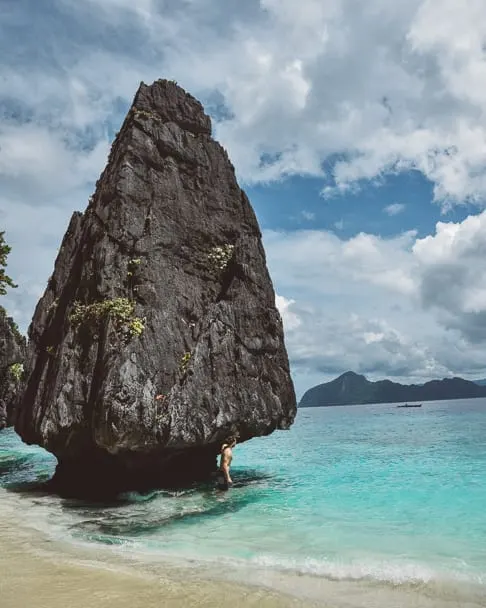 Snorkeling at Popolkan Island
Tour B is not considered 'The Snorkeling Tour' however, we did experience some great snorkeling at our next stop – Popolkan Island.
Snorkeling is absolutely fabulous all over the Philippines – the coral is vibrantly coloured and the fish are plentiful.
Snake Island
After a refreshing snorkel, the next stop of the day is Snake Island.
Luckily, snake island is not called snake island due to the snakes that live on the island but due to the snake shaped sandbar that joins one end of the island to the other.
We were very excited to visit snake island to get a drone shot of the sand bar however, it was high tide when we visited. Regardless, snake island was absolutely stunning and we got to see many orange starfish lining the beach.
A delicious lunch (same as Tour A) is served at snake island.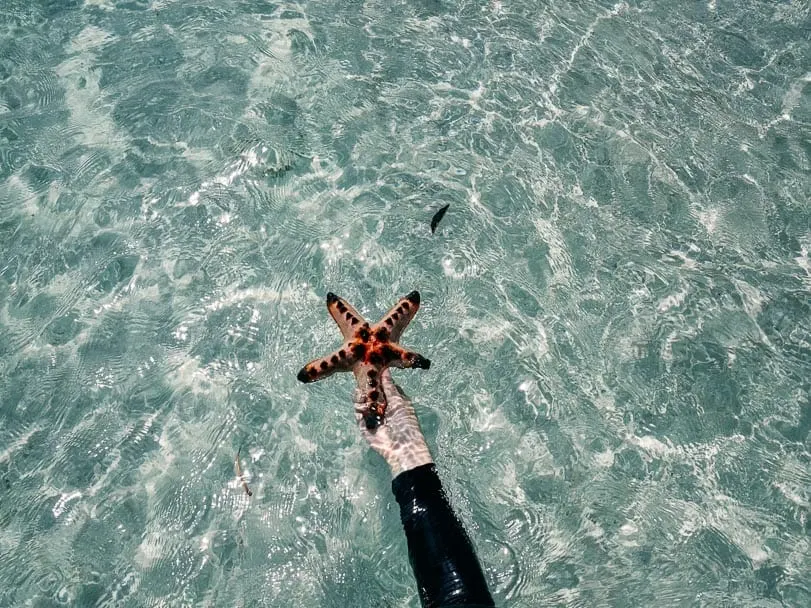 Cudugnon Cave
We love adventuring so we were happy to hear Tour B included a secret cave – Cudugnon Cave.
The cave involved entering through a tight hole and climbing. The guides at Umi Travel & Tours were quite helpful in this regard and helped us every step of the way through the cave.
An interesting fact about the cave is it was used by the Japanese during WWII to store treasure and was only discovered just recently.
The beach directly next to the cave is beautiful too. The good thing about Tour B is that it is less popular than Tours A & C so fewer people are at each destination.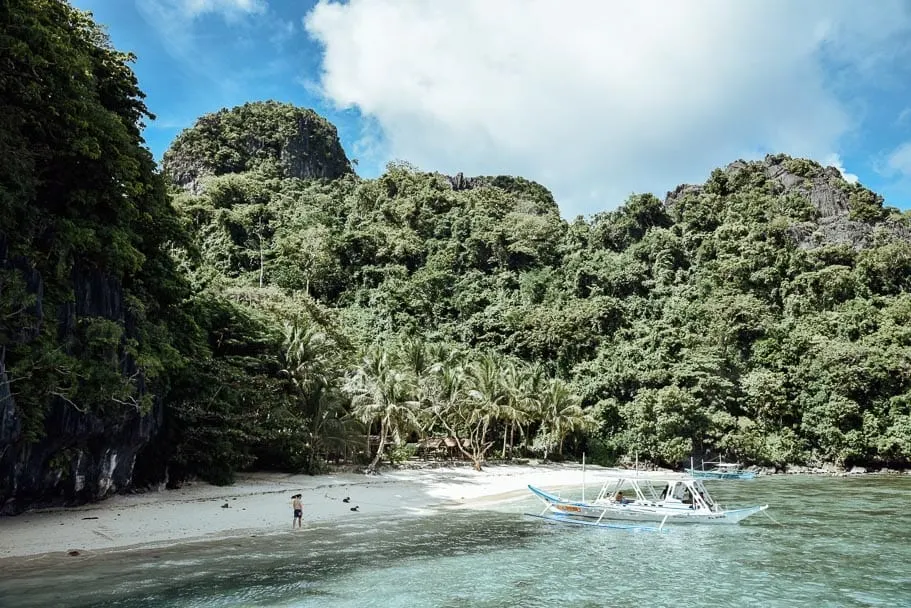 Pinabuyutan Island
This was our favourite island of the day. It was so picture perfect.
At one end of the island is a palm tree lined beach and the other end of the island is the cutest Instagram-worthy house where a local family live.
If you feel like a drink, vendors kayak to the island to sell beer, soft drinks and ice cream.
Tour C – The Snorkeling Tour
If you love to snorkel then Tour C is the Tour for you. Many debate whether Tour A or C is better in El Nido as these are the two most popular Tours.
We preferred Tour A at a pinch (for the iconic factor) but Tour C proved pretty awesome too! If you have the time we strongly encourage you to do both!
The fish & marine life we saw on Tour C was world class.
The tour costs 1400 PHP per person ($22 USD). The boat travels the furthest away from El Nido on Tour C and hence it is the most expensive tour.
Tips for Tour C:
If you want to hire/bring a go pro, this is your tour!
Hiring/buying reef shoes is a necessity. You can hire them for 100 PHP per person.
El Nido is an ocean friendly town so no plastic water bottles are allowed on the boat. Bring a reuseable water bottle for water.
Matinloc Shrine
Matinloc Shrine is usually a stop on Tour C but the team at Umi Travel & Tours were fabulous – they gave the day trippers the choice whether to visit the shrine or go snorkeling.
The people on the boat choose to skip the shrine and go snorkeling instead. A decision well made as the snorkeling was absolutely unbelievable in this area.
It is also a great place for epic photos on the front of the boat. The crew was very happy to oblige with some 'couple goal' shots for us.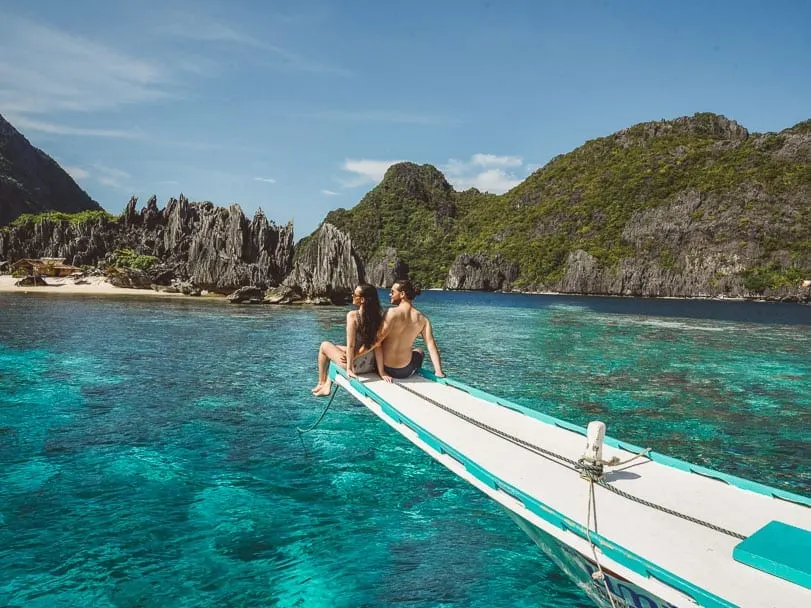 Hidden Beach
Hidden Beach was one of the coolest places we saw on Tour C. If you have a drone, get it ready for hidden beach, the shot is most certainly a winner.
From where the boat docks, you must swim in to find the hidden beach located within.
As it was low tide when we arrived it was quite easy and we were able to walk most of the way in to hidden beach.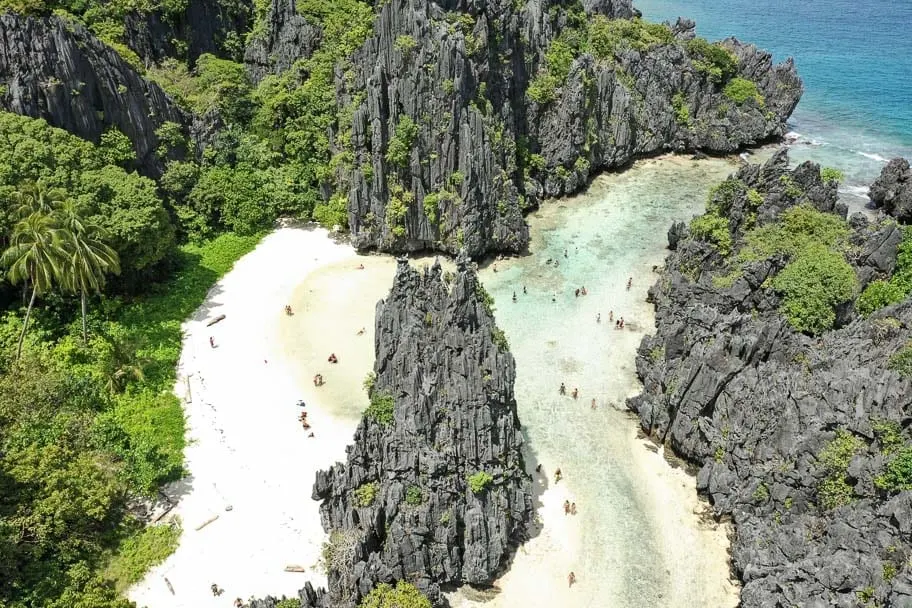 Helicopter Island
Another fabulous view from the sky is Helicopter Island.
Helicopter Island is also a nice place to go snorkeling off the beach. The best spots for snorkeling were at both ends of the island.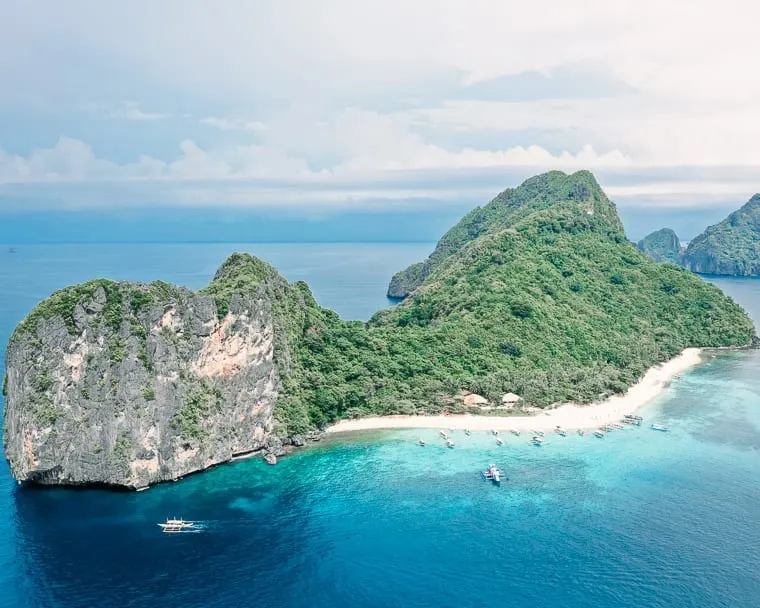 Talisay Beach
During Tour C, lunch was served at Talisay Beach. It wasn't our favourite beach of the day.
However, it was a very relaxing place to enjoy the delicious lunch prepared.
Secret Beach
Another awesome place to visit during Tour C is secret beach. This would also be an epic drone shot as from the sky it vaguely resembles a love heart. Unfortunately our drone had lost power by this time of the day – bring extra batteries!
Much like Secret Lagoon, you are required to jump out of the boat and access Secret Beach through a little hole.
At high tide, it can be a little more difficult to access and you must dive underwater to enter.
Fortunately we arrived during low tide and accessing the secret beach was relatively easy.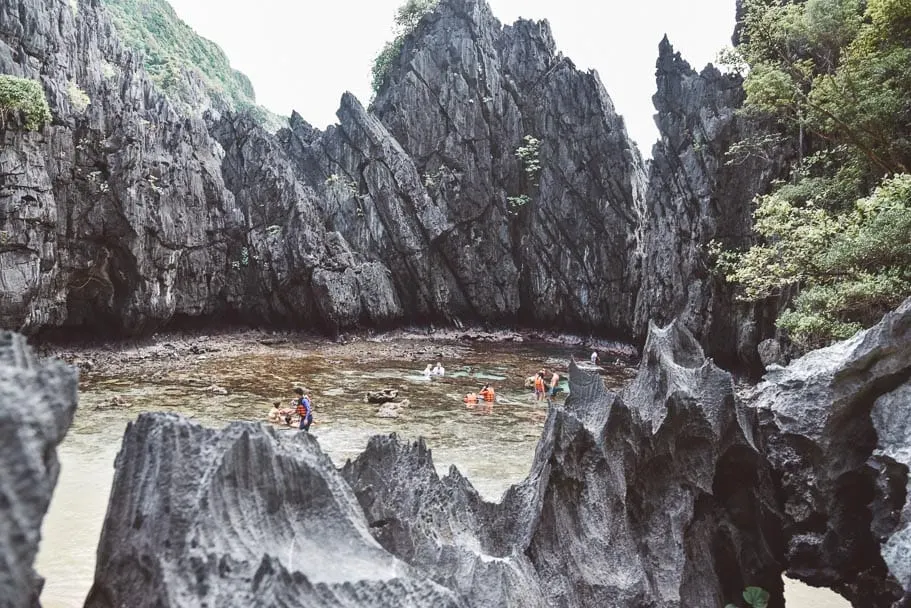 So which is the best El Nido Tour?
That's a hard question because we loved them all. We definitely recommend doing all three if you have the time but if you have ONLY enough time for one tour we would personally recommend Tour A.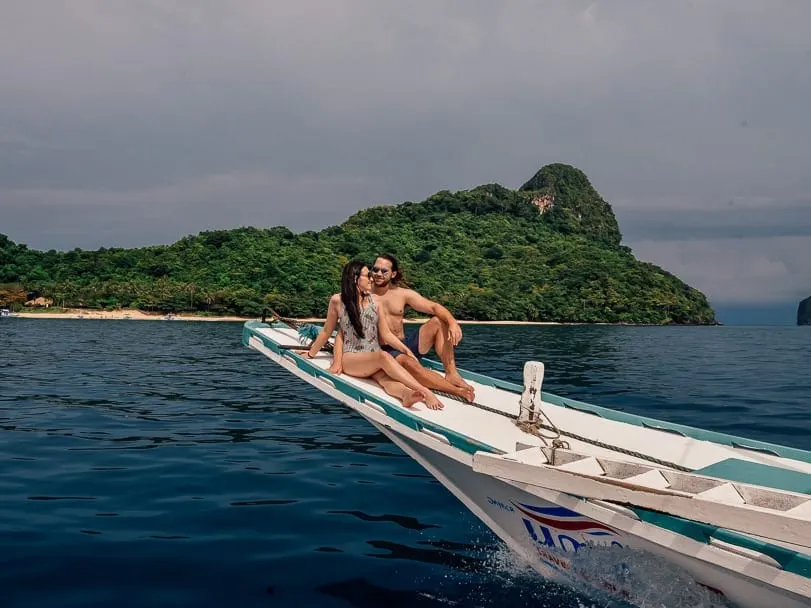 Our Tour Company – Umi Travel & Tours
For all three of our El Nido Tours we went with Umi Travel & Tours. The staff were fun, professional and made sure we were safe the entire time during the 3 day adventure.
We met Sheen from Umi Travel & Tours who informed us that we would really be missing out to choose just one tour. And she was right! All three of the Tours in El Nido are equally fabulous and have different benefits to offer.
We also appreciate that they serve an absolutely delicious lunch consisting of grilled fish, chicken, pork, prawns, grilled vegetables, rich & fruit.
We would highly recommend this company for a tour in El Nido.
Umi Travel and Tours
Hama Street, Barangay Masagana Zone 3
El Nido, Palawan, Philippines
You can find more information at Umi Travel and Tours website. You can also them on Facebook & Twitter, and Instagram.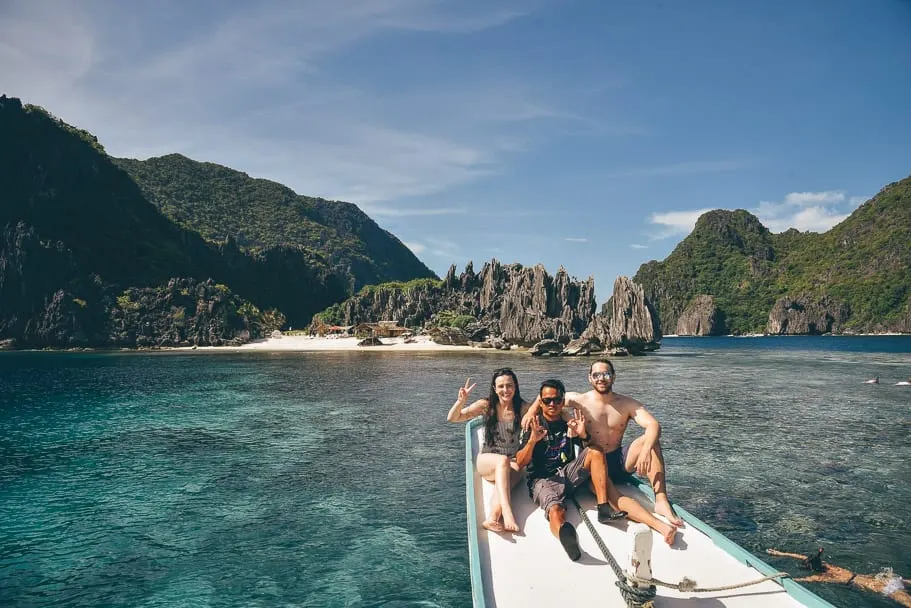 Where to Stay in El Nido?
We stayed at Sea Cocoon during our time in El Nido and loved it. You can read more about our stay and see pictures here!
There are so many fabulous places to stay in El Nido. Search & book with this Booking.com discount link and save $20 off your stay!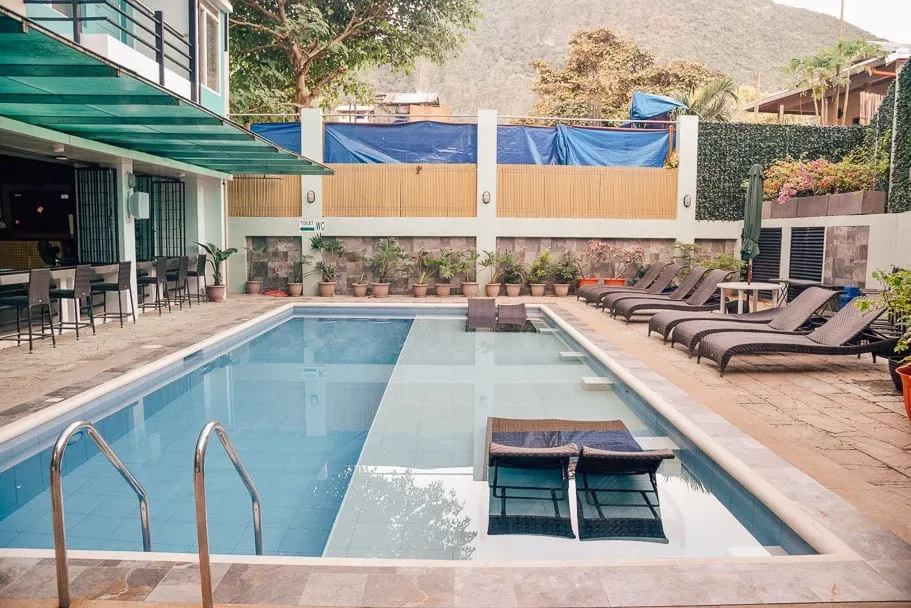 We hope this helped you plan your El Nido island tour! If you have anything to add or need some advice, leave a comment below!
Save this 'El Nido Tour Guide' to Pinterest so you can find it again later!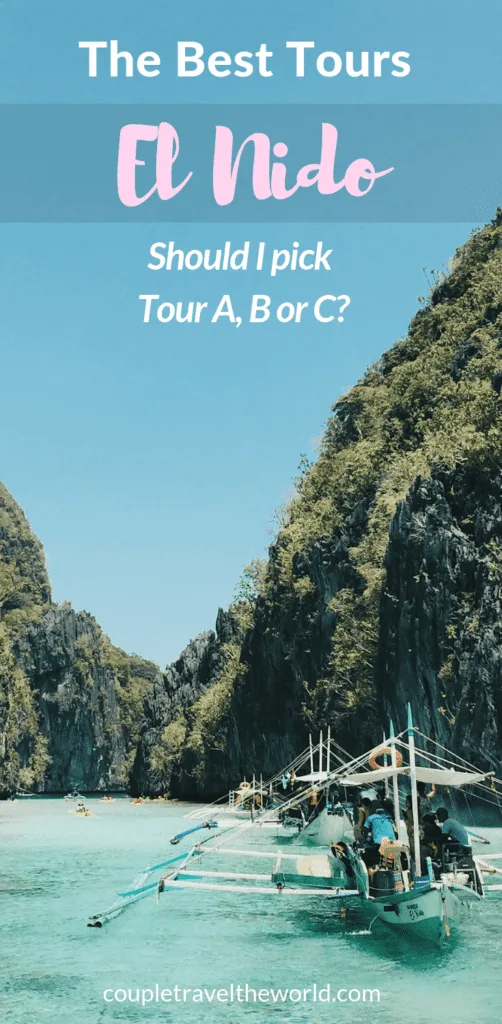 We were guests of Umi Travel & Tours. However, that does not impact our opinion. As always, all opinions are own own.