Why travel to Costa Rica?
It's true, Costa Rica is an eco-tourism paradise but when deciding why you should go to Costa Rica on your next vacation and spend your hard earned cash, it is helpful to have full disclosure of the best and the less desirable aspects of the country.
Before you go, make sure you've got all the essentials covered and ticked off from our Central America Packing List.
5 Things to Love about Costa Rica (why travel to Costa Rica)
From the wildlife to the amazing rain forest, there are plenty of reasons why to travel to Costa Rica. Here are 5 things that we loved the most about the country.
1. Why travel to Costa Rica – The plentiful wildlife
The first reason why you should travel to Costa Rica is that there is more wildlife than perhaps any other country in the world.
If you are a fan of viewing wildlife in its natural habitat then you will just love Costa Rica! While in Costa Rica, we saw sloths, toucans, monkeys, crocodiles and even hummingbirds!
Best location for wildlife?
We found Manuel Antonio to be the overall the winner in this regard. Manuel Antonio National Park is a wildlife lovers dream as it is home to 4 different species of monkeys and 2 different sloth species.
A short drive away from Manuel Antonio National park you can also see a large number of crocodiles underneath what I refer to as 'crocodile bridge' or what is better known as Rio Tarcoles.
If you are driving towards Jaco or Manuel Antonio National Park you really can't miss the bridge. Peer over the bridge to see the crocodile infested waters below.
As a close runner up, Monteverde is also not a bad option for viewing wildlife.
Monteverde has fantastic night tours on offer (where you can see the rainforest come alive at night). There is also a great Hummingbird Gallery in Monteverde where hundreds of hummingbirds flock to feed from the hummingbird feeders.
Accommodation near Manuel Antonio National Park
For a full list of the best accommodation near Manuel Antonio National Park during your dates click here.
Do note though, there is limited accommodation directly in the town of Manuel Antonio. Many tourists chose to stay in the nearby town of Quepos has a larger range of accommodation than its neighbour Manuel Antonio.
Click here for a full list of the best accommodation in Quepos during your dates click here.
2. Why travel to Costa Rica – The scenic walks & waterfalls
Another reason why to travel to Costa Rica is the incredible scenic walks and waterfalls.
Costa Rica really doesn't fall short in this department. There are many gorgeous hiking trails all over the country that lead to breathtaking waterfalls.
Best location for scenic walks and waterfalls?
La Fortuna has the most beautiful rainforest walk leading to an absolutely stunning waterfall. Remember to bring your swimmers as you are allowed to take a dip at the bottom of these falls.
For a full list of the best accommodation in La Fortuna during your dates click here.
3. Why travel to Costa Rica – The gorgeous beaches
The third reason why you should travel to Costa Rica is to experience some of the world's best beaches.
The water at the beach is an emerald green colour, the sand is creamy white and palm trees filled with coconuts line the shores.
There are a variety of surf and flat beaches in Costa Rica so there is really something for everyone.
Best location for gorgeous beaches?
In our mind, Costa Rica has two stand out beaches: the beach inside the Manuel Antonio National Park and the Punta Uva Caribbean Beach near Puerto Viejo.
Probably Punta Uva wins the prize for the best beach as is not only gorgeous but very secluded and free to access.
You need to pay a $16.00 USD entry fee to visit the beach at Manuel Antonio National Park. The only downfall to the Punta Uva beach is that there are a few mosquitoes hanging around so remember to bring the bug spray!
For a full list of the best accommodation in Puerto Viejo during your dates click here.
4. Why travel to Costa Rica – The Coffee & Chocolate
Costa Rica also specialises in two of my favourite things in life – coffee & chocolate!! Thanks to its home grown coffee & chocolate plantations, Costa Rica is home to some of the best coffee and chocolate in the world.
Best location for great coffee & chocolate?
Monteverde is probably the winner in this regard as it is located in the heart of the Costa Rican coffee belt & home to a large number of coffee plantations however, Puerto Viejo is a close second as both the chocolate and the coffee at Caribeans Chocolate Artesanal in Puerto Viejo is amazing.
You can go on a coffee plantation tour (around $30 USD per person) or simply go to the cafe and enjoy chocolate and coffee tasting for free. In Monteverde, the best free coffee tasting is found at Life Monteverde cafe.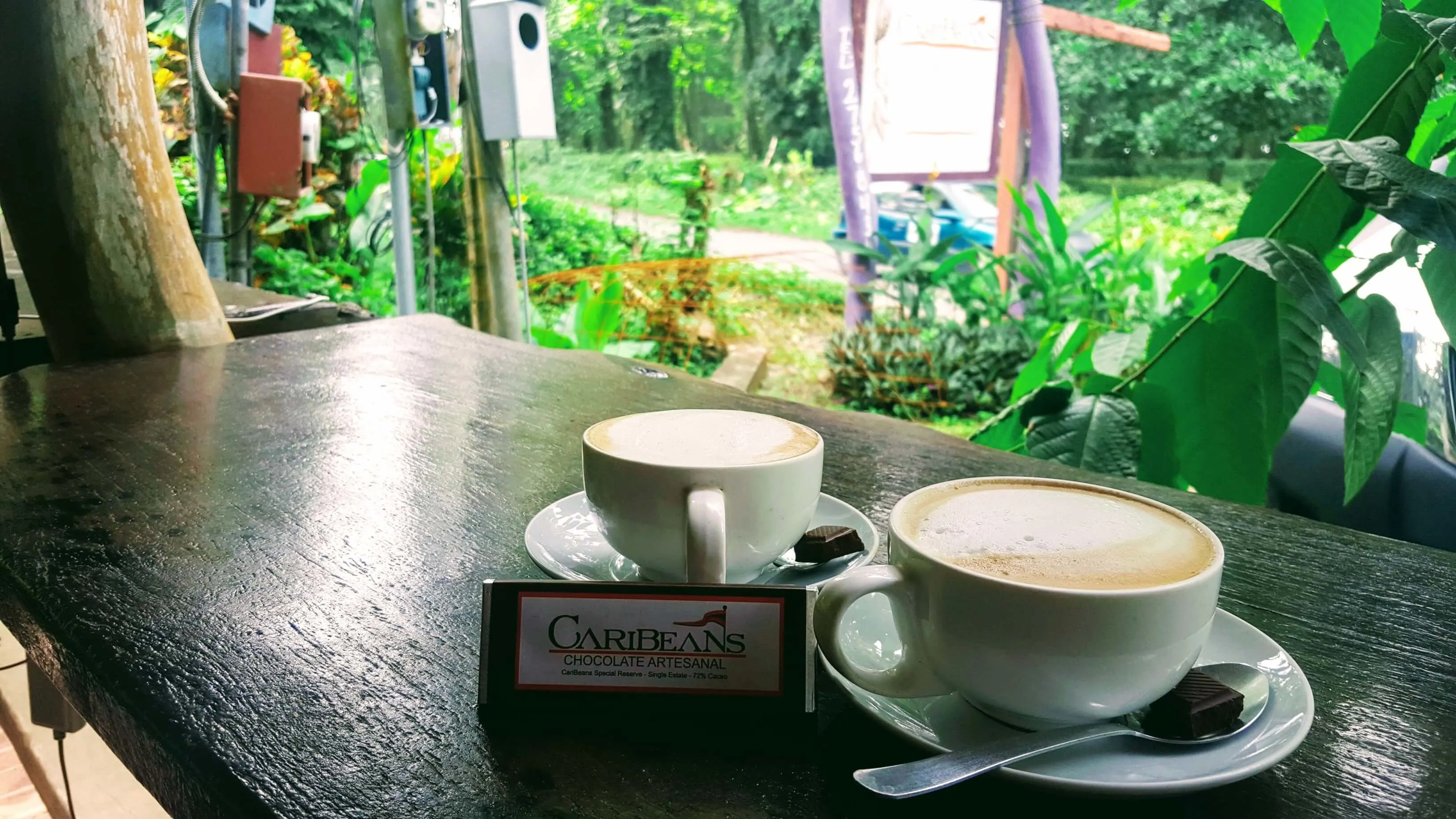 For a full list of the best accommodation in Monteverde during your dates click here.
5. Why travel to Costa Rica – The Delicious Costa Rican beer!
I wouldn't have thought that any beer could be as delicious or refreshing as the Mexican Corona until I tried Costa Rica's Silver Imperial beer. It is light, refreshing and in one word, delicious!
Expect to pay around 700 colones (1.2 USD) if you purchase it at the supermarket or at least 1500 colones (2.7 USD) from a bar.
Best location for beer?
No need to travel to a certain destination, this beer is sold all over Costa Rica!
5 Things to Hate about Costa Rica (and why not to travel there)
While Costa Rica really is paradise on earth, there were a few mentionable (not so great) things that you need to be prepared for before traveling to Costa Rica.
1. Suicide showers
If you are planning to travel on a budget around Costa Rica be prepared to run into the notorious suicide shower.
Suicide showers don't use a regular hot water system but rather the water is heated by electricity inside the shower head.
As you learn when you are a child that that water and electricity don't mix, preparing yourself mentally to get under a shower heated by overhanging electric wires can be quite a daunting experience.
How to avoid suicide showers?
If you are staying at a backpackers, there is a good chance showers are going to be suicide style. Costa Ricans will assure you that no-one ever (or rarely) dies from using suicide showers.
However, if this isn't convincing, the best way to avoid suicide showers is to spend a little more money on accommodation.
If you dare to try one of these water-heating-contractions inspect it first to ensure that no wires come in direct contact with water.
Alternatively, if this is still out of your comfort zone, feel free to try (as I did one night) the water-bottle-over-the-head-shower-fix.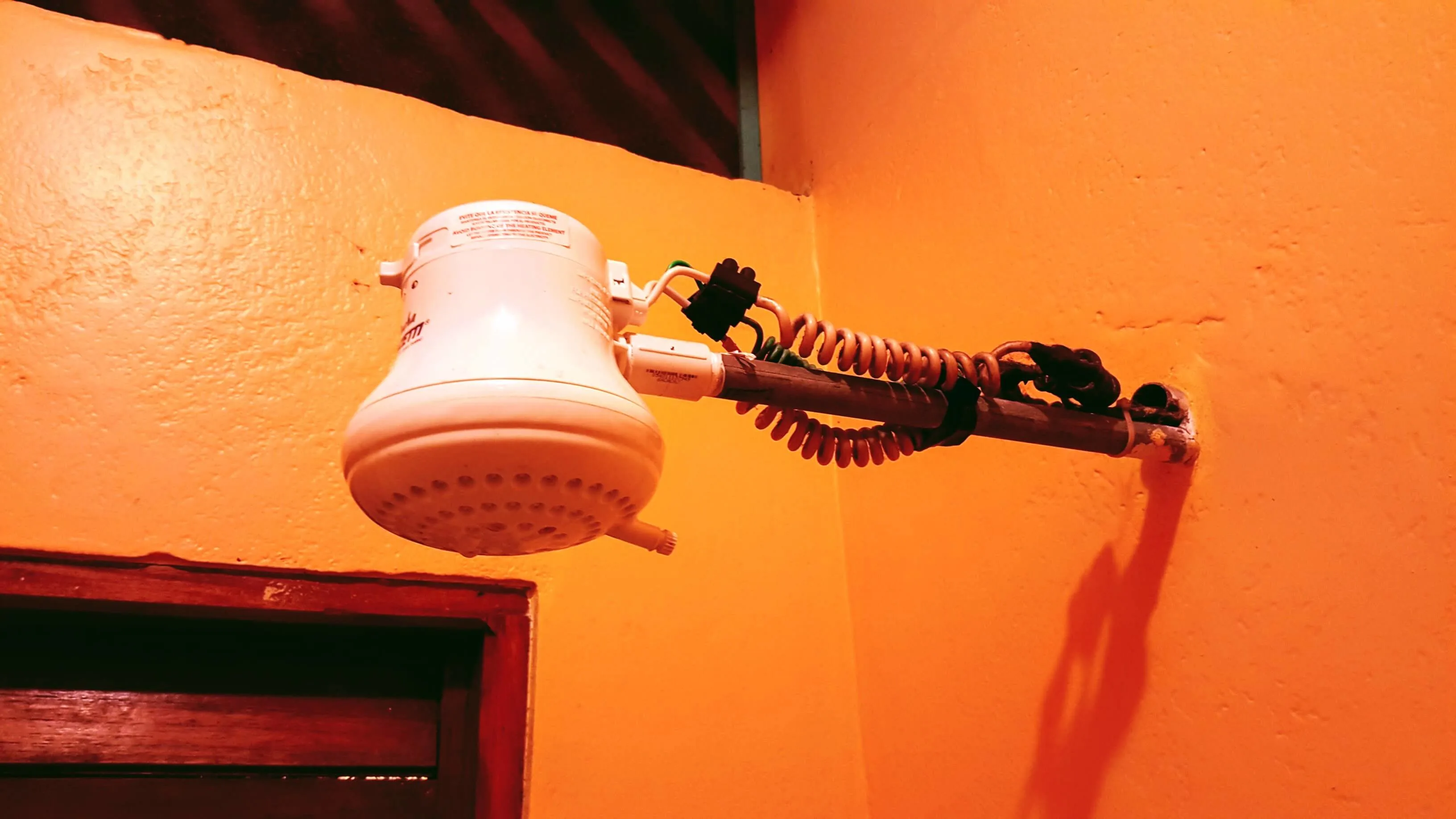 2. Freezing showers
Think the suicide shower is bad? Near the beaches in Costa Rica, there is often no shower heating at all.
Costa Ricans will tell you that warm showers are a gringo (white persons) thing and they are quite accustomed to showering without hot water as the climate really doesn't necessitate a hot shower.
However, cold showers can be hard to get used to if you come from a country where you shower with hot water year round.
How to avoid cold showers?
As with the suicide shower, generally speaking, spending a little more money on accommodation will grant you a nice hot shower.
If the idea of cold showers bothers you, carefully read the hotel reviews before booking. If people mention 'only cold showers' then look elsewhere!
3. Cost of the vacation
If you are thinking of visiting Costa Rica for a cheap Central American vacation then reconsider. Prices will be similar to the United States (and sometimes even more expensive).
The price of a meal in a restaurant will set you back at least $10 USD per person and the cost of tours can cost up to $100 USD for an adventure based tour like zip-lining.
Can I still vacation in Costa Rica on a budget?
The answer to this question is most certainly yes but you have to be careful with your money. Local family run restaurants known as 'Sodas' are your best bet for a cheap meal.
Accommodation in Costa Rica is also relatively affordable. You can find decent accommodation for $40 – $60 USD a night (where you'd be lucky to get a shabby run-down Motel in most places in the US for this price).
4. Driving on Unpaved Roads
As most of the country of Costa Rica is rainforest, there are still quite a few unpaved roads, especially if you are making the journey to Monteverde.
Most car companies advise your rent a 4 wheel drive to make this journey however, we comfortably made the drive in a regular sedan. In saying this, it was a little slow and uncomfortable, due to the amount of potholes on the last 25 km stretch to Monteverde.
How to avoid driving on the unpaved roads?
If you want to avoid unpaved roads completely, this is possible as most main roads are now paved in Costa Rica. The best thing you can do is avoid Monteverde at all costs.
5. The creepy crawlies
While Costa Rica is home to some pretty cute wildlife, unfortunately, the good comes with the bad and the wildlife in Costa Rica also extends to creepy crawlies like mosquitoes, ants and sand flies.
How to best avoid the creepy crawlies?
The best advice here is to find a place with air-conditioning so that the windows and door can be closed at night. When you are out and about, have a can of insect repellent containing DEET handy at all times!
We hope this article helped you determine whether Costa Rica is the right place for your next holiday. Leave a comment below if you have any questions or anything to add about visiting Costa Rica.
Save this to Pinterest!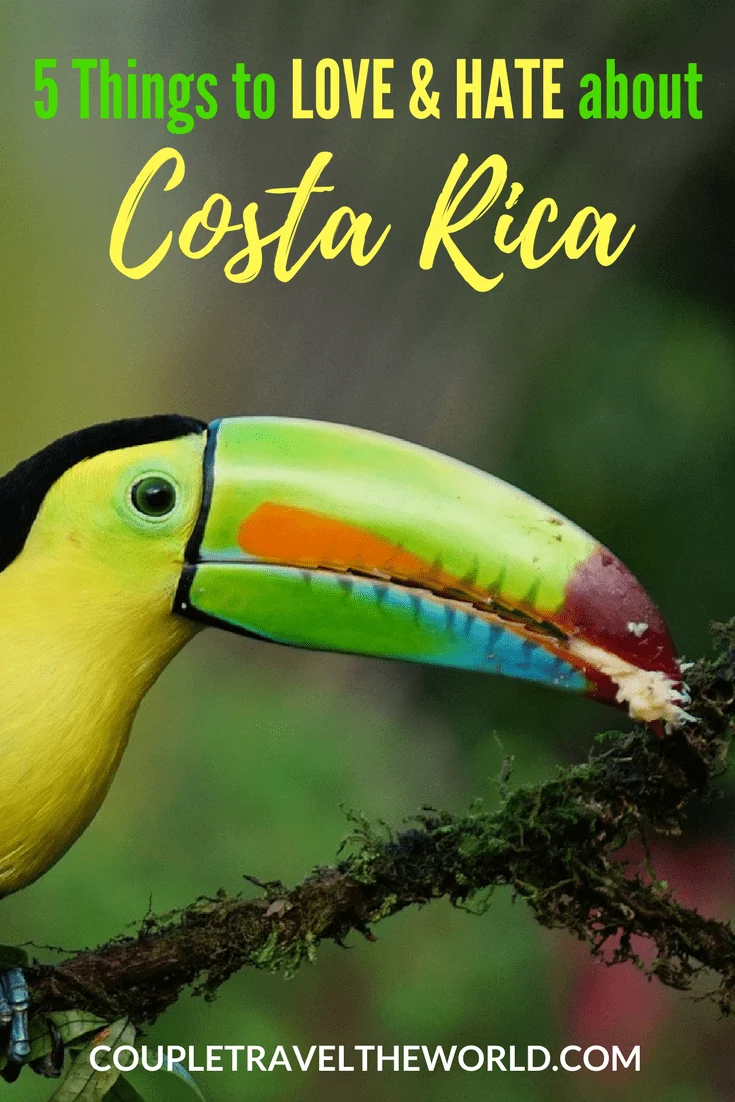 Disclaimer – This post contains affiliate links. This means that if you make a booking through our links we will receive a small commission at no extra cost to you. If you found this post helpful, we would appreciate you using our links to help keep our site running!