We've flown Wizz Air a few times and would fly with them again (we even bought a Wizz Discount Club membership). That said, there are a few things we hate about the Hungarian budget airline and we're going to vent about those in our Wizz Air review.
Pros: Cheap fares, flight routes to unique locations, positive safety record, reasonable seat room, reliable on time record.

Cons: The hidden extra fees (I'm just scratching the surface here), hostesses are too surly to allow a female to take a photo of their pretty pink overcoat uniform

Tips: If you need a bag then pack light and book Wizz Priority to skip the queues, board first and bring a 10 kg carry on for €10.
Hopefully Wizz Air management see this feedback and take action because some policies really suck.
What I Hate About Flying Wizz Air in 2022
Sneaky fees were previously the bane of my existence when flying budget airlines in Europe.
Rebooking fees which make changing date futile. Check.

Sky high fees if your carry on is overweight at the boarding gate. Check.

Bag fees twice the price of the fare. Check
Wizz Air has all the worst fees you'll find on most budget airlines. But I've become accustomed to those and know how to avoid it.
No one makes the same mistake of failing to check in online twice (the €75 pp fee is proven to improve memory, thanks Ryanair).
(Yes, Ryanair sucks too. But I've put together a guide about how to avoid every single Ryanair fee).
My new pet hate is coercing you into making a seat reservation for an extra fee.
No, not would you like extra legroom sir? Or, would you prefer to sit in the first row?
That's a minor inconvenience which can be clicked away like an annoying pop up ad.
So how have Wizz Air and Ryanair made flying a budget airline worse?
By intentionally seating you away from your travel companions.
Oh, is it inconvenient that you're in row 6 and your partner needs to board at the rear of the plane to reach her seat in row 42?
Why not buy a seat together for £12?
Thanks Wizz Air. It's no Emirates First Class!
Not only is this asshole product design. It also makes the crew's life far more difficult. Why?
Because before take off an adult version of musical chairs takes place with everyone bartering their way to sit with their buddies.
No one wants to be sleep on a random's shoulder for 2 hours. Shocker.
Well, maybe you should just buy a seat then if you really want to sit with your family?
Are you sure you want to open these floodgates by enabling companies to manipulate you that easily?
What if the next time you went to watch your favourite sporting event, the opera or musical and your ticket only buys you a seat in a certain area. If you want the pleasure of sitting next to someone you know, you'll have to pay an extra €16.
A great way to increase profits overnight. But at what cost?
There is principle here and people making these decisions need to realise there's a distinction between imposing cost-saving inconveniences and applying manipulative tactics.
I'm OK with charging people to bring suitcases on board which take up cargo space and add weight, thus consuming more fuel.
What's not cool is trying to manipulate people to buy seats by splitting friends and families up.
It's not like they fixed a problem here. Everyone was surviving just fine when seats were allocated in order of when you checked in and groups bookings weren't dotted across the plane.
Either boycott Wizz Air or play musical chairs to sit with your loved ones. We'll be doing the latter because the airline doesn't otherwise suck.
But please, don't enable companies like Wizz Air to strong arm people by buying this manipulative add on.
Wizz Air Check In
The Wizz Air check in process was quick and straightforward. To check in there are 3 options: check in online and print a boarding pass, download the Wizz Air App or check in at the airport (paid).
Warning: checking in at the airport with Wizz Air is not free. It costs 25 euro if you do not check in online at least 3 hours before your flight.

Airport check in is free at these airports only: Dubai (to Budapest only), Corfu, Palma de Mallorca, Tirana (to Budapest only), Zaragoza, Moscow, Marrakesh Menara Airport.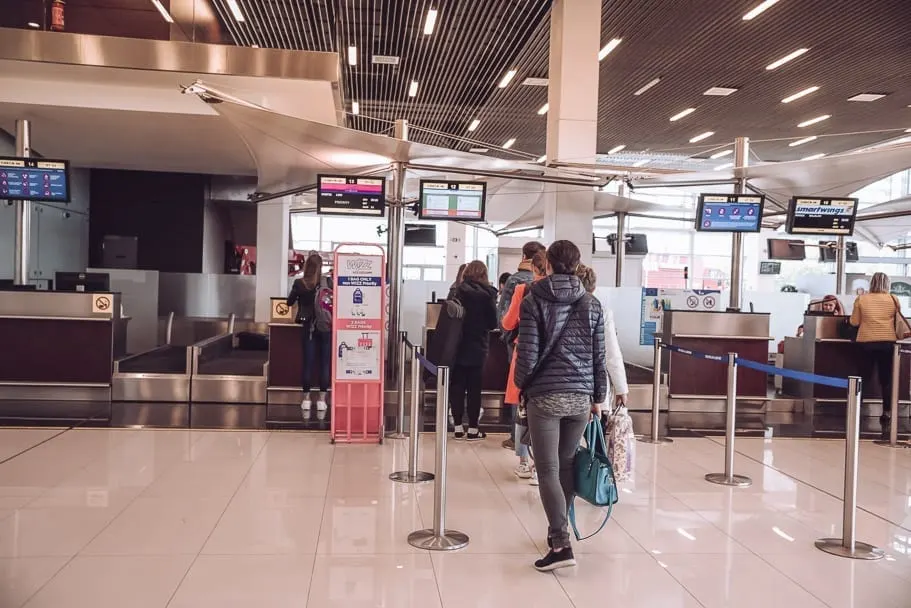 Checking in Using the Wizz Air App
After downloading the Wizz Air App from the play store, I signed in to my account I created when booking my flight.
Once logged in my upcoming flight was displayed with the option to check in (it opens 2 days before your flight – but thankfully you can pay more to check in earlier).
The process involves the usual helpful last minute opportunities up sells which allow budget carriers to turn a profit but are super annoying.
No, I don't need insurance. Yes, I agree I'm at a much greater risk of dying or suffering personal property injury if I don't protect myself now.
Aside from the upsells, checking in using the Wizz Air App is simple – my passport and date of birth etc were already pre-loaded from an earlier flight. You can save your details for future flights.
After entering your details you have another opportunity to chose your seat for an additional fee.
Then you will be issued with a boarding pass with a QR code which is your ticket to freedom. The boarding pass can be used offline – so now need to worry about having wifi to use it.
If you're travelling with a companion on the same booking, and you've not yet acquainted yourself with the new upsell which is all the range among budget airlines in Europe right now, you're in for a pleasant surprise.
Even though you booked together and checked in together – you won't be sitting together! Hooray for humanity!

Wizz Air Baggage Policy
On Wizz Air you can bring a small backpack, purse on free of charge.
If you need another bag there are a few options:
€10 – buy Wizz Priority which includes a 10kg carry on bag;
€12 – check in a 10kg bag (you don't receive priority with this option);
€24 – €40 euro – check in a bag from 20 to 30kg.
Our Recommendation: If you're only taking a small trip, I recommend the 10kg carry on option with Wizz Priority because you also get priority bag drop, boarding and you don't have to wait around for your luggage at the other end.
I've never tried it, but I highly suspect bag pooling is not allowed. By bag pooling I mean where you're travelling with a friend who is only using 10kg of their 20kg allowance – taking over their share.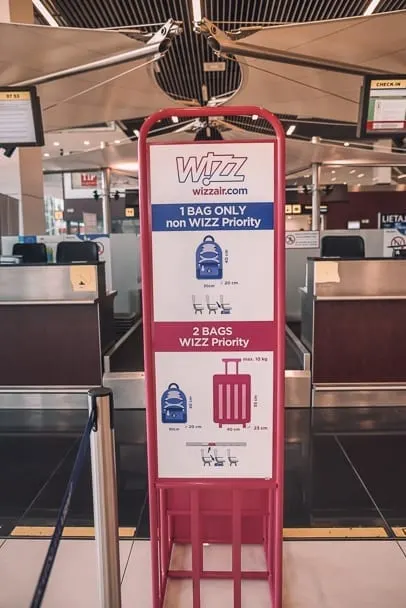 Wizz Air Bag Drop
As check in is online you only need to go to the check in counter if you have a bag to stow.
The line was pretty short by budget airline standards, but we skipped it anyway using our priority boarding pass.
We showed the e-ticket to the lady at the desk and she tagged it and whisked it away in seconds.
The whole process from lining up to depositing the bag took no more than 3 minutes.
This was a massive positive for us.
In Flight Experience
Most recently we flew from Bratislava to Lviv (Fight 6736) on an Airbus A320.
The seats weren't spacious but I didn't feel cramped like I have when flying with Easyjet or Sky Airlines.
The leather seats were slightly worn but comfortable enough.
Seats on Wizz Air don't recline, so reclining etiquette doesn't come into play.
The seat configuration is 3 x 3 (A – F) which is no different to any other budget airline.
One thing I noticed was that fewer people brought carry on bags to stow on board than our most recent flight on Ryanair.
I don't know whether this can be attributed to the route. Our Ryanair flight was from Paris, so maybe people cart home shopping.
It was a welcome surprise, nevertheless.
Wizz Air Food & Shopping
Wizz Air doesn't serve complimentary meals but you can buy food and beverages on board.
Snacks range from €1.50 for peanuts to €3 for 40g pringles.
Beer,wine or spirits costs €4.5 – €5. There's also a two for €7 deal. A coke or juice costs €2.5 – €3.
Food offerings include a seeded rye baguette with turkey ham, pickles, mustard-seed flavoured mayo, Edam cheese and onion chutney. For €4 it's not bad value if you're flying at a reasonable time of day (we weren't).
It wouldn't be a real flight if there wasn't the opportunity to buy perfume. I can't remember the last time I actually saw someone buy duty free on a short haul flight?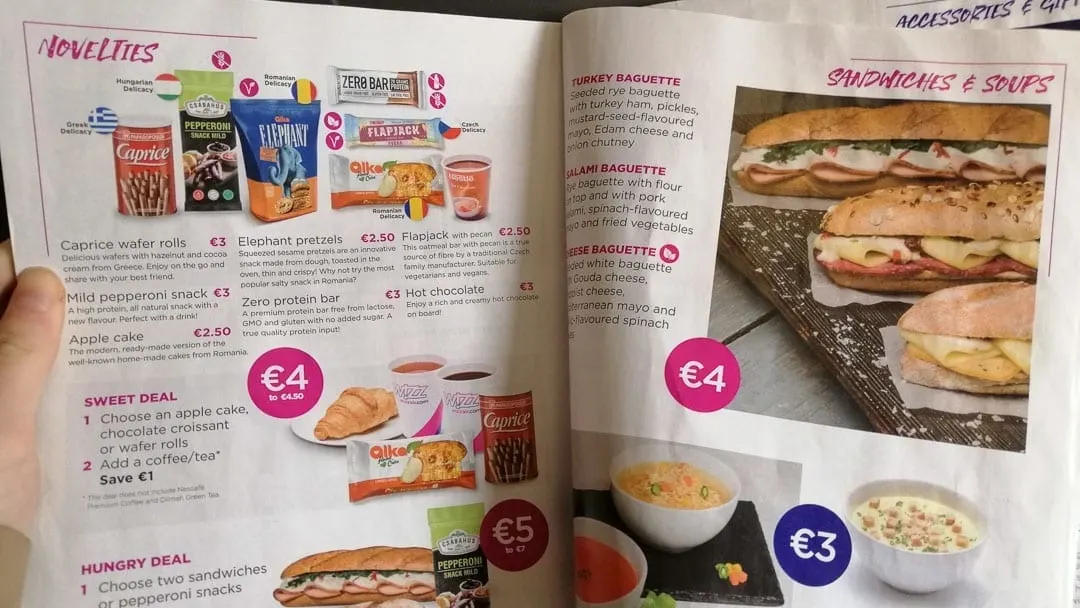 In flight Entertainment
New touch screen displays in every seat, loaded with the latest movies and your favourite tv series is something Wizz Air definitely doesn't have.
I've never actually found this to be a problem. Probably because most flights leave at the crack of dawn so I sleep.
Is Wizz Priority Worth it?
Wizz Air only allows you to bring on a small backpack size bag for free.
Unless you can live from a small backpack, you'll probably need to pay to bring a bag.
With Wizz Priority for 10 euro you can bring 1 x 10kg bag (55 x 40 x 23 cm) as carry on luggage.
You also get priority check in (bag drop) and priority boarding. Priority boarding is lovely when skipping the queue at the gate and to ensure your bags can be stowed in the overhead locker above your seat, not 10 rows away.
We usually get better seats (rows 1 – 6) but this isn't promised.
As is the course with many budget airlines, you might find yourself needing to take a shuttle bus to the plane after passing through the departure gate.
Your priority status remains in tact here, as priority passengers board a separate bus which arrives first to the plane.
Verdict: Unless you're only travelling with a backpack, there's no question paying €10 for Wizz Air priority is worth it.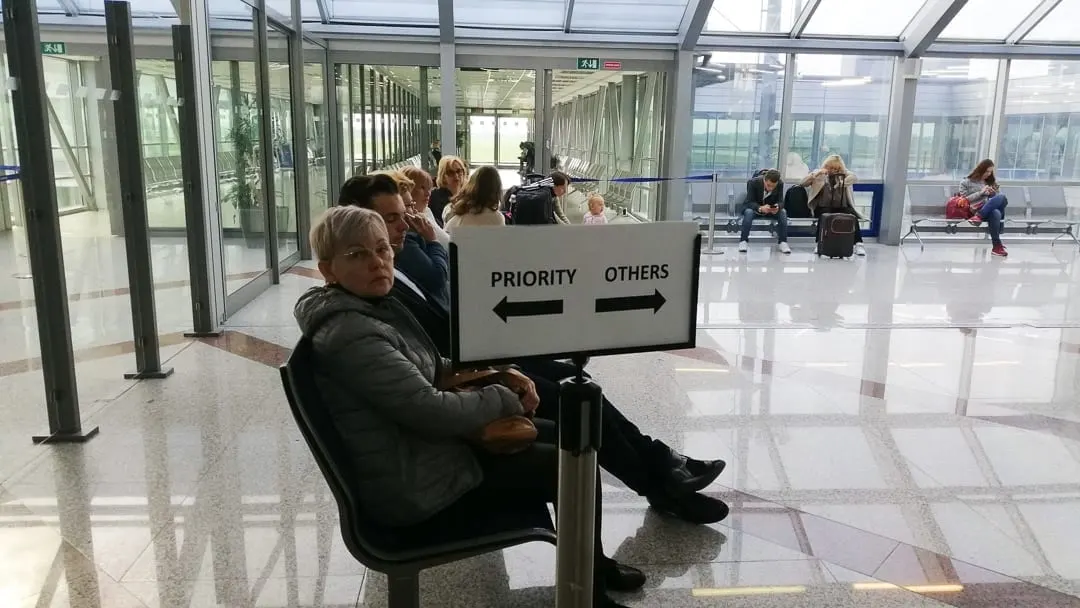 Wizz Discount Club: Worth it?
Hands up, I was upsold on the Wizz Air Discount Club.
Basically, the membership costs 29 euro and lasts for one year. Members receive at least 10 euro off flights and 5 euro off bags. The discount extends to the club member and 1 companion.
The discount was applied immediately, so as we were buying 2 flights and 1 bag, the membership only cost 5 euro.
Since it was the 2nd Wizz Air flight I've taken in the last 6 months, I figure there was a reasonable possibility I would fly again and save at least 25 euro (20 euro profit).
I'd estimate there's a 50/50 chance I'll fly with Wizz Air again. So putting 5 euro down, to maybe make 20 euro profit seemed a reasonable bet (watch me never fly Wizz Air again now).
Read more about the Wizz Air Discount club here.
Verdict: The jury's still out on whether it's worth it for us. But since it only cost €5, last 1 year and I've already looked up more flights with Wizz Air, I expect the Discount Club will be good value.
Edit: I've flown WizzAir a few times again to London, Paris, Lviv etc. The discount club hasn't been worth it yet.
Every single time the fare has been more expensive after I've logged in with my Wizz Air Discount club. It seems like they have some funky algorithm changes which make the bags more expensive if the fare is cheaper (due to the Discount Club membership). Anyone else noticed this?
Wizz Air Safety Record
Wizz Air has no recorded fatalities and currently holds a 7-star safety ranking from airlineratings.com
Their fleet has an average age of 4.5 years and is made up mostly of Airbus A320 and A321s.
I've never felt unsafe flying with Wizz Air.
The best thing about flying Wizz Air are the cheap flights and obscure destinations. We stumbled on a few gems which make our list of places to travel this year.
Final tip: If you're still willing to try Wizz Air, to get the cheapest flights double check by opening a flight aggregator like this one, and click through to the add bags page on 3rd party sites like Mytrip, Kiwi, gotogate etc as some offer cheaper bags).
***
More airport and flight reviews:
****
Save this Wizz Air Review to Pinterest