After you have finished visiting the pandas in Chengdu, consider traveling to Xi'an, home to the world famous Terra Cotta Warriors.
Catching the train from Chengdu to Xian is really simple as there is a direct train but this does fill up.
If you have left your planning to the last minute, you might need to change trains halfway.
If this is you – don't worry! We had to change trains so now we're experts and can show you exactly how travel to Xian from Chengdu by train (including changing trains in Da Zhou) step by step.
How to travel from Chengdu to Xian
Xian is also a pretty cool town in its own right with a fabulous street food market known as Muslim Street.
The main two ways to travel between Chengdu to Xian are to either fly or catch a train.
Note: If you plan to catch the train from Xian to Chengdu then start at Step 4 and work your way back.
How to travel from Chengdu to Xian by train
If you would like to travel between Chengdu & Xian by train follow these steps:
Step 1 – Get to Chengdu Dong East Railway Station from your hotel
From our hotel in Chengdu (located in Chengdu City Centre) it took around 40 minutes to reach Chengdu Dong East Railway Station. We caught a Didi (China's version of Uber) and it cost us 27 Yuan. By taxi, it costs around 35 – 40 Yuan during the day.
Step 2: Catch a train from Chengdu Dong East Railway Station to Xian, or if full, change trains at Da Zhou Station
The fastest train from Chengdu Dong East Railway Station to Xian takes around 11 hours and costs 128 Yuan ($19 USD) for a hard seat or 369 Yuan for a soft sleeper ($55 USD).
If you want to take the fastest train from Chengdu to Xian, you need to book a few days in advance as it is a popular option and the tickets book out fast.
If you have secured tickets on the direct Chengdu Xian train – well done! You can skip strain to Step 4 below!
If you are too slow on this option, the second option is to catch a train from Chengdu Dong East Railway Station to Da Zhou and then onwards to Xian. This journey including the transfer and wait time takes very similar time (not including any wait time in Da Zhou).
The first leg of this option costs 65 Yuan ($10 USD) for a hard seat or 194 Yuan for a soft sleeper ($29 USD) and takes approximately 4 hours. As we didn't book the first option long enough in advance, we took this option.
We would recommend catching the direct train if it was available. While the change of trains in Da Zhou didn't appear to add more time on our journey, we faced delays on boarding the train in Da Zhou and had to wait 2 hours to board our train to Xian.
The only positive was that there was good working wifi at the train station at Da Zhou and plugs to charge our laptops. On a 11 hour straight journey, our laptops would have died half way through the journey with nowhere to charge them (Not Fun!)
Despite online sources to the contrary, as a foreigner, you can buy tickets for this train at any train station in Chengdu. However, there can be long lines and wait times of over an hour to get a ticket.
After you purchase your ticket, you are required to proceed through airport style security (passport required) so make sure you have enough time before your train departs.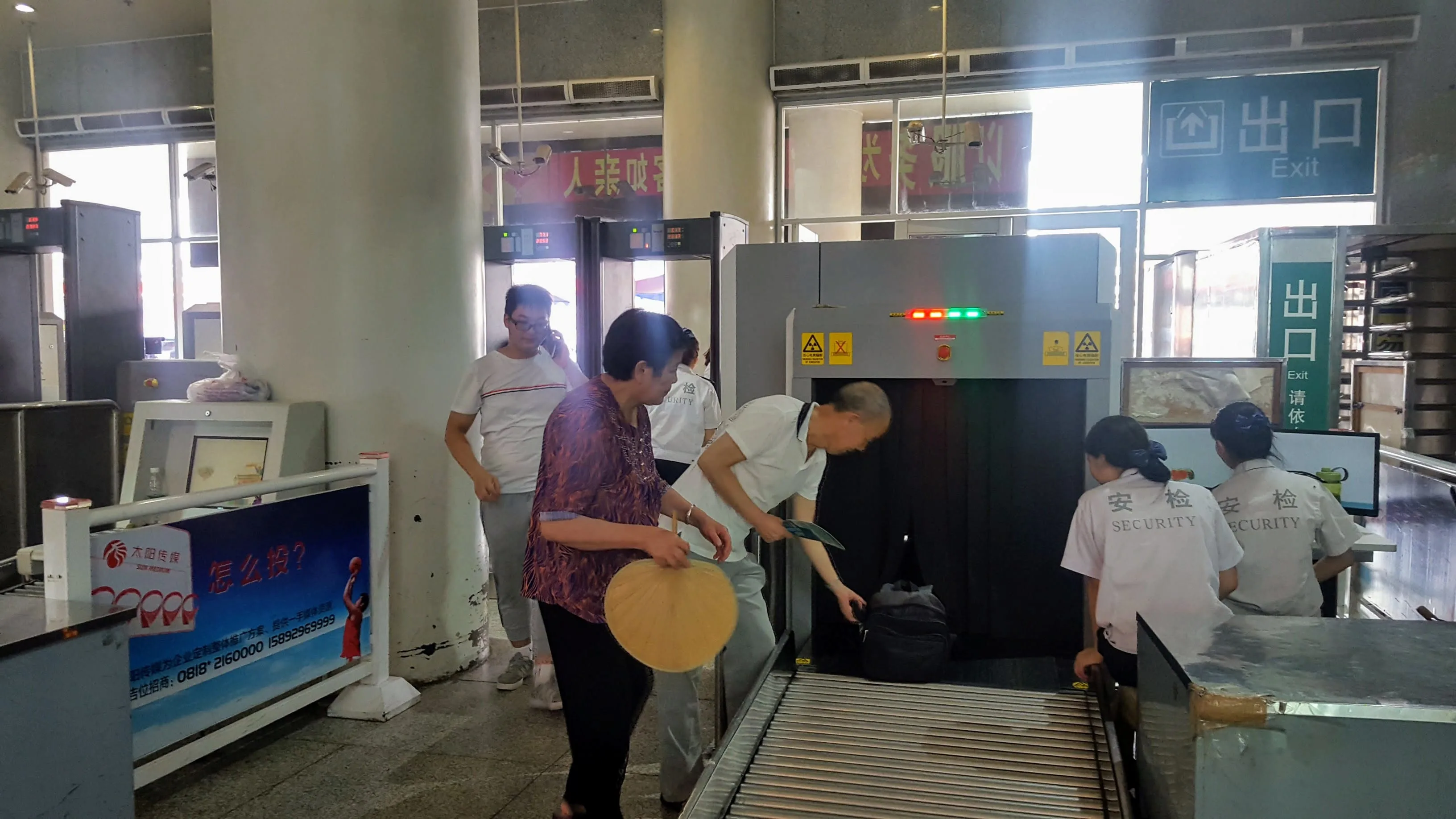 Tip: The slow trains are configured three seats across, then two seats across. If you are traveling as a couple and want to sit in a two seater, two seaters end in the numbers 3 & 4 and 8 & 9 and three seats end in 0,1, 2 and 5, 6, 7. For instance, ask for seat 53 & 54 to get seats alone not seats 50 & 51.
Step 3: (If direct train is full) Catch a train from Da Zhou to Xian
The train from Da Zhou to Xian takes 6 hours and costs 72 Yuan ($10 USD) for a hard seat. The train also offers the possibility of sleepers beds for around $10 USD more. However, as we were traveling during the day and did not intend to sleep we opted for a regular seat on the train.
It was okay but the seats are a little uncomfortable. In hindsight, knowing how full the train would be, I would have opted for a sleeper for more stretch space.
An attendant brings around trolleys of food & drink every so often, if you have forgotten to bring snacks along with you.
Tip: Make sure you give yourself enough time between the connecting trains (2 hours to be safe). If the first train is delayed (happens option in China) you still have enough time to make your connecting train.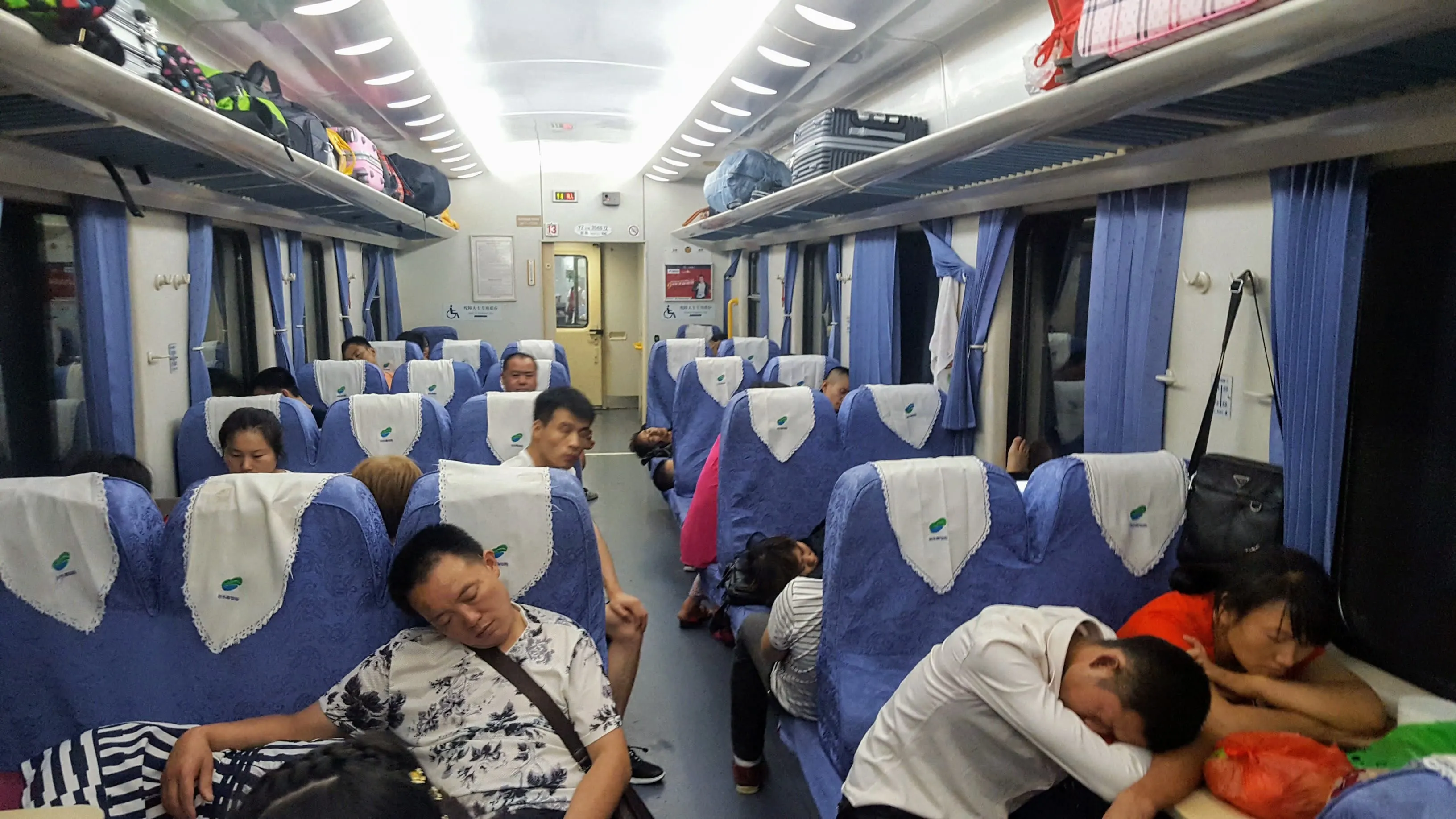 Step 4: From Xian South train Station to Downtown Xian
Our biggest problem happened when we arrived in Xian. We thought we booked the train straight to Downtown Xian however, it went to Xian South station, about an hour away.
A taxi from this station will cost you at least 100 Yuan ($15 USD). We checked later & some trains do go to the Downtown Xian station so check carefully before purchasing your ticket.
Congratulations you've managed to safely travel from Chengdu to Xian by train!
Now go celebrate by eating your body weight in delicious food at Muslim street and lots more things to do in Xian.
Flying from Chengdu to Xian
Flying between Chengdu and Xian is the quickest way to travel, however, we did not find any affordable and direct routes on our travel dates.
This may not always be the case. Skyscanner is the most convenient way to see if there are flights on your dates.
Baggage rules on domestic flights in China can be confusing so make sure to click through to the booking page to calculate the baggage fees to determine if flying is cost-effective.
Where to Stay in Chengdu & Xian
We usually start and end our searches with Booking.com as we find it easy to use and we trust their review scores.
In Chengdu, we stayed at the Lazybones Hostel Templeside Poshpacker. Despite it being called a hostel, it was more like a hotel as it was very clean and comfortable with modern furnishings.
We also loved the beautifully decorated café area with lots of seating and two gorgeous cats. The hostel was also very affordable as we only paid $25 USD a night. It is truly deserving of its 9.2 review score on booking.com.
The best bit was that it provided a great base for visiting the Chengdu Panda Research Centre.
You can get a taxi for around 50 CNY from the hostel however, it is very simple to get the public bus, which costs only 4 CNY per person. Check out our youtube video of the hotel room below. Click here for directions to the Chengdu Panda Research Centre.
In Xian, we stayed at Travelling With Hostel. Unlike many places in the world where hostels are mainly aimed at young, single travelers looking to meet people, hostels are a great option for couples in China as many of them are clean & comfortable with a private bathroom.
They are on the same standard as a modern 3 or 4 star hotel elsewhere in the world. To get a good hotel at bargain basement prices, pay special attention to the review score.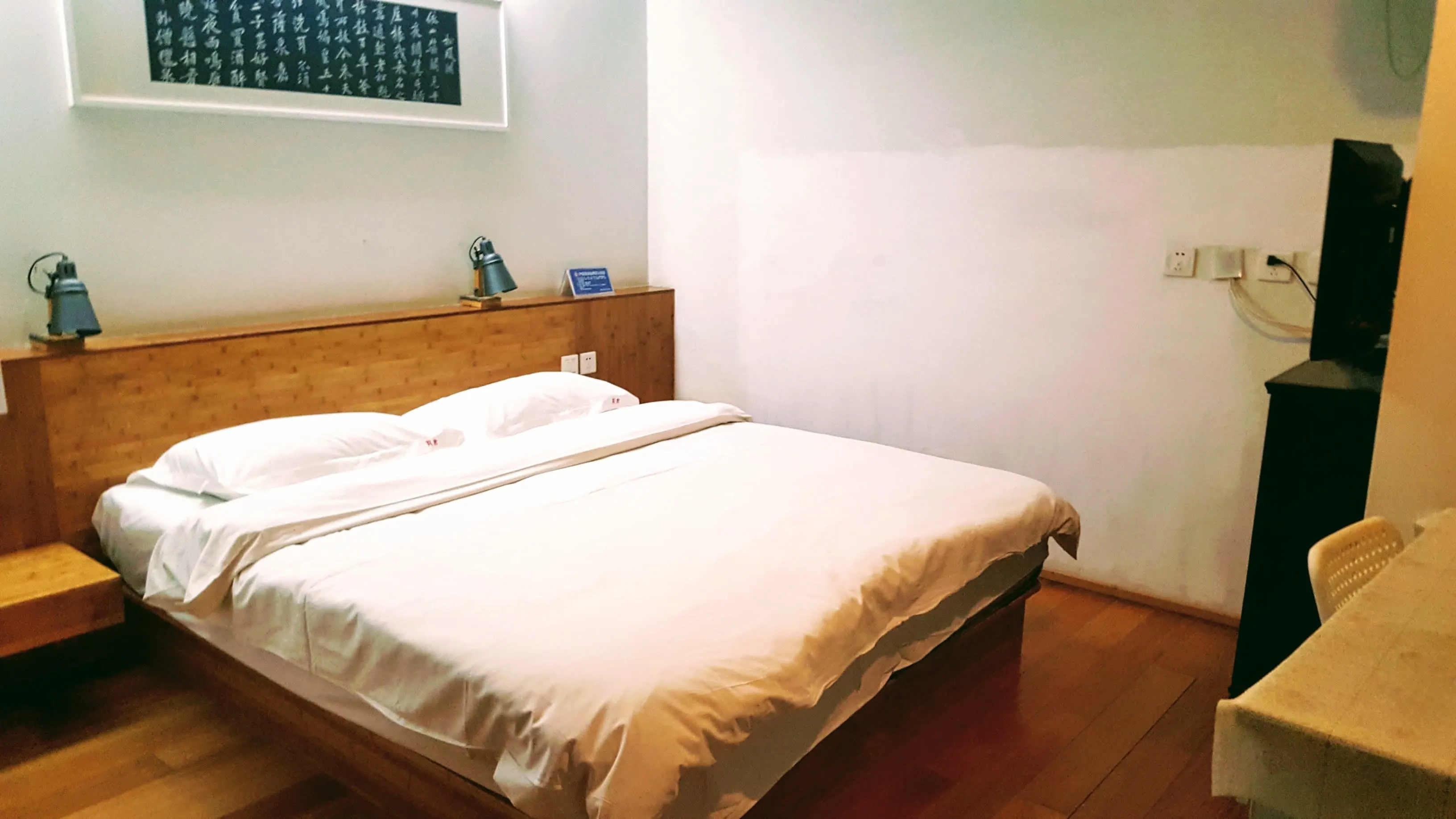 We hope this guide helpful in planning your journey between Chengdu and Xian! We would love to hear from you so please leave a comment below!
Save this 'How to travel from Chengdu to Xian by train' Guide to Pinterest!
Disclaimer – This post contains affiliate links. This means that if you make a booking through our links we will receive a small commission at no extra cost to you. If you found this post helpful, we would appreciate you using our links to help keep our site running!