Marco Island is full of things to do. Maybe something you don't see all over Instagram or on the cover of National Geographic but it truly is a hidden gem in Florida.
Being so close to the Everglades National Park, Miami and Key Largo we decided to check it out while heading up the West Coast of Florida.
As soon as we arrived we were in love – the relaxed country vibe, the stunning houses and the quirky touches (many houses have unique letterboxes here) and the opportunity to go shelling (Marco Island is considered one of the very best shelling beaches in Florida) are just some of what makes this destination so special.
Marco Island forms part of the stunning Ten Thousand Islands. With amazing white sand, palm tree lined beaches (being just off the Gulf of Mexico) as well as weird alien-like structures to explore in the middle of the ocean it is a place you don't want to miss.
Okay now that I got your attention with the aliens, stick around for a while, make yourself a hot cup of cocoa, as we outline everything you need to know to plan a perfect trip!
Whether you have kids, are traveling as a couple (as we did), on a friends trip, looking for a budget or luxury vacation, we have you covered with the ultimate list of things to do in Marco Island.
Where to stay in Marco Island?
But First, you are going to need a place to stay as you will want a few days to explore this beautiful region of Florida.
Where you stay in Marco Island really depends on your budget. Luckily, there are places to suit all types of budgets here.
If you can afford it, we would highly recommend staying in one of the luxury hotels in the area – they are particularly beautiful.
Best Luxury Hotels
Let's start with the good stuff. Marco Island's luxury hotels are not just boring rooms but amazing full service resorts which back onto the beach.
The Marriott Marco Island is our favourite island beach resort. With beach cabanas, rooms overlooking the ocean (Marco Island has mean sunsets), yoga on the beach and an abundance of beautiful shells, this hotel is a no brainer for a romantic getaway, special occasion or just if you prefer holidays a little on the luxurious side (really can't blame you there!).
The Hilton Marco Island Resort is also a great choice. We have to say we have a little Hilton bias. I grew up with a Hilton loving granny and we recently spent a month Hilton-hopping in Europe. It was bliss. Especially the Hilton Budapest. What's great is that you really can't go wrong with a Hilton (I personally love that). The Hilton also backs onto the beach and has a stunning pool.
If money is no object this 5 star hotel is outrageously perfect.
Best Budget Hotels
Sometimes you just want to go somewhere and not spend tonnes of money. We feel you.
It goes without staying that Marco Island is not a budget destination but you will be happy to know if won't cost you as much as Miami or Key West for a clean and comfortable place to stay.
For a clean and comfortable place to stay with consistently good reviews you can't go past the Old Marco Inn and Suites which has large and clean rooms and a nice pool.
The Boathouse is another good choice for a budget stay. With clean and comfortable rooms and a view of the waterfront, you really can't go wrong.
Things to do in Marco Island
Marco Island has something for every kind of traveler – whether you want to relax on isolated beaches, take a snorkeling trip to one of the most beautiful islands in the world, go shelling or mini golfing – there is an abundance of activities.
We also loved how close the proximity of the Island to Everglades National Park being just a 20 minute drive away. You can spend the morning on the beach and the afternoon hunting for alligators at Shark Valley.
There is also an abundance of wildlife which we loved. Marco Island is home to many nesting turtles as well as tortoises which you will see freely roaming the beaches (something we haven't seen before)
Oh, and if you are a bird watcher, you will be packing your bags already as it is home to some of the best birding trails in Florida!
Visit the Beaches in Marco Island
You probably are not thinking of visiting this area if you don't want to visit the beach so let's start with the beaches first.
There are 2 public beaches directly located in Marco Island – Tigertail Beach and South Beach. There are other beaches a short car ride further away in Naples. You can see our guide to Naples Beaches here.
The beaches are often in competition – which beach is better? Keep reading to see which beach we preferred or if you want a more in depth beach guide you can find that here.
Tigertail Beach
The first of Marco Island's two public beaches is Tigertail beach.
Located on Hernando Drive, it is a very popular beach with locals and tourists alike due to the abundance of activities on offer.
Here you will find many great nature trails to explore. It is a great beach for bird lovers as Tigertail Beach has been named as one of the best bird watching locations in Florida. It is an important habitat for nesting shorebirds.
We didn't see many birds but we saw a tortoise at Tigertail Beach which we were very happy about. I mean how cool is a random tortoise walking around a beach?! Gotta admit, I've never seen that before.
Aside from animal watching, Tigertail Beach is also a great spot for watersports including kayaking to the tidal lagoon which joins Tigertail Beach to Big Marco Critical Wildlife Area known as Sand Dollar Island Spit.
At Sand Dollar Island Spit there is a decent chance to see a Florida fighting conch which is pretty cool.
What is great about about Tigertail Beach is that it has something for everyone both adults and young children alike.
The water is dead flat at Tigertail Beach which means it is ideal for families with young kids. And if you are at all concerned, the beach provides little life jackets for free to keep the kids safe. I seriously love this!
There is full facilities at the beach including a large playground and a big SHADED cafe which is essential to retreat from the hot summer sun. You can alternatively rent a shaded sun lounger if you prefer to stay on the beach itself.
It costs $8 USD to park at Tigertail Beach. There is no free public parking options in the area and you cannot park on the street so basically, despite it being a 'free beach' there is an $8 fee to access Tigertail Beach.
While I did just complain about the $8 fee, it is probably a worthwhile fee as the beach is very clean and the facilities including the boardwalks, showers and kids life jackets (free for use) are in perfect condition.
The downside of Tigertail Beach is the water itself is a little mediocre but due to the awesome activities and facilities on offer there, I'll let that slide…
You can see our full write up on Tigertail Beach in our Marco Beaches guide.
South Beach
The best "beachy beach" in Marco Island is undoubtedly South Marco Beach on South Collier Blvd.
South Beach has crystal clear water, white sand and is in the direct vicinity of many stunning luxury hotels.
It is without doubt the most popular beach. While hardly anyone is at Tigertail beach, many beach chairs and umbrellas line the shoreline at South Beach.
There is also a possibility to partake in water sports like jet-skis, paddleboard and kayaks at South Beach. There is a rental shop close by called Marco Island Watersports where you can rent these if you are feeling adventurous!
$8 seems to be the going rate in Marco Island. Like it's beach rival, Tigertail Beach, it is $8 to park near South Beach.
I say near because there is no allocated beach parking directly at South Beach. There are however many paid parking lots in the direct vicinity of the beach at $8 a pop.
Being a more beachy-beach, there are no nature trails here however, there is a sign as you enter which states that it is the home of nesting turtles which is very cool. As nesting turtles emerge after nightfall, it is unlikely that you will be lucky enough to see one at South Beach though Boo :(.
Like Tigertail, South Beach had a neat little stand with free life jackets for families with kids to use. How cool is this public initiative in the area?
All in all, we preferred South Beach as the sand and water itself is a lot nicer than Tigertail. It is also great for photography which we loved.
What I didn't like however, it that unless you are staying at one of the hotels nearby (a good reason to choose one of these!!) there are less facilities directly available at South Beach. There are restaurants available in the nearby streets but no cafes located directly on the beach.
This also means that there is no vendors selling shade covers, stand up paddle boards and kayaks. As you will see in the picture below, it is necessary to bring your own umbrellas and anything else you might need to the beach with you.
To see a comparison of the beaches see our Marco Island Beaches guide.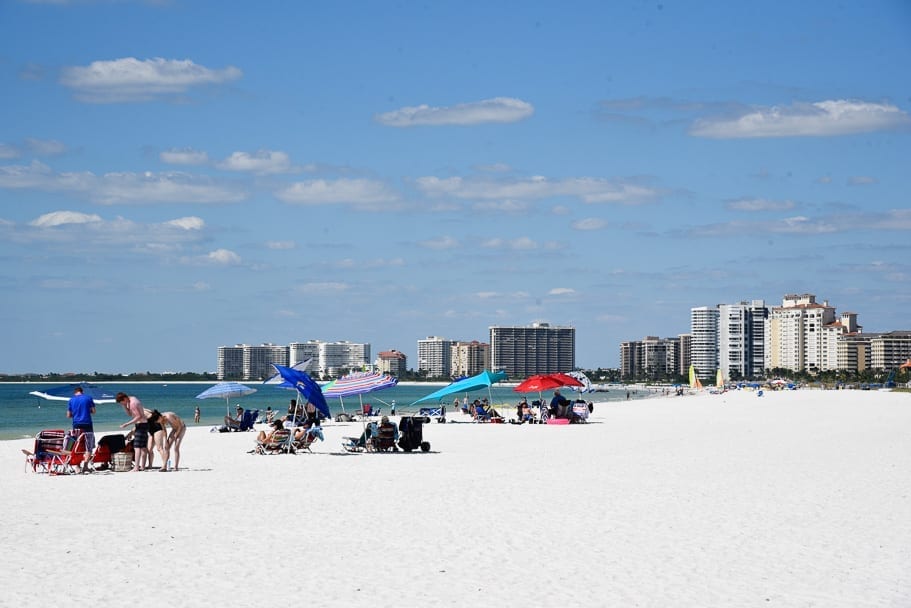 Hideaway Beach
There is another beach I should mention in Marco Island, it's called Hideaway Beach.
Hideaway Beach is a lovely beach but it is an invitation only thing to do in the area.
If you manage to score an invitation from a member at the beach you are in luck as it is one of the nicest beaches in the area with a really nice bar and restaurant attached. Unsurprisingly, there are fewer tourists on the beach too which is nice.
We have heard you can sneak in by walking from Tigertail Beach. This is only advisable for the most frugal & eager among us as it would be a very long and tiring walk! Any takers?
Take a stroll at Markle Park
If you are looking for somewhere in Marco Island where you can park for free, have a leisurely walk or go for a picnic with the family then Markle Park, otherwise known as the Frank E. Markle Park, is your spot.
The Park has a stunning lake in the middle where you can go recreational fishing (catch and release that is) as well as a nice walkway, around 800 metres in length, to get your exercise in.
There are also many picnic tables at the park as well as basketball courts and a pool if you want to tire the little ones out (paid entry).
If you have brought your dog on vacation with you you will be happy to know that the park is very dog friendly with two fenced in areas for the dogs to run free.
Unlike the beaches in Marco Island you will enjoy free unlimited parking at Markle Park.
Marco Island Historical Museum
If you are interested in history including American Indian history you should definitely make a trip to the Marco Island Historical Museum.
The museum holds very interesting information about Southwest Florida's Calusa Indians. It also homes many items that have been unearthed from the late 1800's.
The entry sign actually interested us the most as it gave us a brief insight to the area.
Not that long ago, in 1965, Marco Island had fewer than 600 residents. The Deltona Corporation had a greater vision for this small town. It flew out prospective buyers at great expense and ran a $600,000 media campaign to attract people to the area.
It is incredible how quickly the town flourished! If you think about it 1965 really is not that long ago and now it is a fabulous place in Florida to visit.
In order to inspire people that Marco Island is the place to be, the Deltona Corporation used amazing artwork.
The artwork used the Deltona Corporation to attract people to live in on the Island is displayed around te outside of the Marco Island Historical Musuem.
The musuem is free to enter although donations are greatly appreciated to keep it running.
There is easy and free parking right outside the musuem.
Marco Island Centre for the Arts
Being a small beach town, Marco Island has a very arty vibe to it. If you are an artist you will really appreciate this aspect.
One place to head for art lovers is the Marco Island Centre for the Arts.
The Centre was set up by a small group of artists in 1969, right when the town was in its initial growth stages, to learn from each other and offer support.
These days the centre offers classes and workshops for adults and children who are interested in Art.
If you don't want to take a class, you can still check out the centre for free and admire the art. Parking is also free which is nice and easy
There is some particularly cool artwork displayed outside the centre if you prefer to spend most of your time at the beach and just want to stop by briefly.
There are often different exhibits and events at the centre. If you want to check out what's on while you are there, you can check out their website here.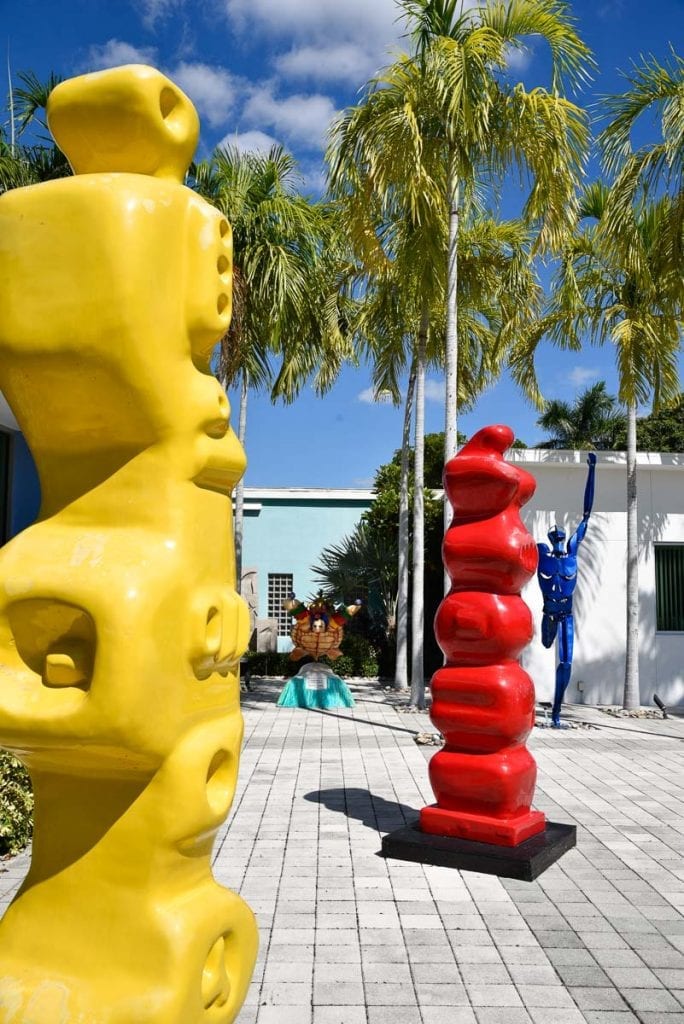 Go Mini Golfing
Mini golfing is a great family activity on Marco Island.
There is a fantastic 18 hole mini golf course called Marco Golf and Garden.
The course is really fun and well kept and they even offer complimentary water bottles in coolers which is necessary if you visit in the Summer months. It can get hot on the Florida coastline.
There are cute statues located all over the course which give it a nice an extra touch. Personally, I much prefer mini golf when the course is more interesting. Some of the holes at Marco Golf include incorporate water which is pretty neat!
The course costs $12 for any players over 12 years old.
Take a Shelling Tour
One of the unique aspects of the island is the ability to go on a shelling tour.
Marco Island is known for having some of the best shelling beaches in Florida. If you want to go somewhere to find some seriously cool shells to bring home – this is the best spot in Florida.
While you can find nice shells on the public beaches including South Marco Beach and Tigertail Beach, the best shells are found on a dedicated shelling tour.
The very best areas for shells are found in the Ten Thousand Islands National Wildlife Refuge. This requires a boat to access so it is necessary to go via a tour.
We would recommend the Cape Romano Shelling Tour This shelling tour is the best as it incorporates seeing the strange alien like Cape Romano structures as well as shelling. Don't wait too long to go as Cape Romano is sadly sinking and won't be around forever.
If you are lucky on a shelling tour it is possible to find a Junonia shell. If you won't know what I mean, one of those big, pretty speckled shells that are sometimes sold in beach shops.
Go on a Fishing Trip
If shelling isn't quite your thing, a very cool alternative trip is a fishing trip in Marco Island. We would recommend: Marco Island Inshore Fishing Charter
As the island forms part of the Ten Thousand Islands there is some great fish to be caught in this area of Florida including some of the biggest and rarest fish in Florida including sharks, red drum, snook and tarpon.
We hand fed tarpon in Robbies in the Florida Keys and were were shocked how huge they are.
The fishing trip in Marco Island is pretty legit as it covers a very wide area including the rivers, creeks, the barrier islands, and backcountry shoreline.
You can choose to either go for a full or half day depending on how serious a fisherman or fisherlady you are.
If you want to DIY fish in Florida you need a license. On the tours they provide you with a temporary license for the day so it is nice and easy.
If you would like to alternatively bring your own rod and fish yourself, you can purchase a 3 day license for $17, seven day license for $30 or one year license for $47 at GoOutdoorsFlorida.com or you can call 1-888-FISH-FLORIDA (347-4356).
Have a relaxing afternoon at Caxambass Pass Park
Caxambass Pass Park is a great place to relax and watch the fisherman, boats come and go or go on a kayaking adventure.
It might not look like much when you first arrive but it's a great spot to chill in Marco Island. Parking is free.
If you are feeling adventurous , you can rent a kayak or stand up paddle board from Paddle Marco and explore the surrounding area.
It costs $35 for a 2 hour rental or $75 for a full day rental (there are also various prices in between if you would like a 3 or 4 hour rental).
If you prefer a guided tour, Paddle Marco offers 2.5 hour guided tour through the mangrove tunnels.
This area of Marco Island is great for dolphin spotting. You can often spot a dolphin while kayaking here.
Naples Outlet Centre
If you are a shopaholic you will be happy to find a fabulous outlet centre nearby where you can score some great shopping bargains!
We love picking up a bargain ourselves so we were happy to find an outlet store nearby. We checked it out after we visited some of the Naples Beaches.
It is a lovely outlet centre with a beautiful water feature, in front of a Starbucks store, which is always appreciated.
It is a large complex so there are plenty of good brands there including Abercrombie and Fitch and Adidas.
Visit the Marco Island Brewery
For beer lovers, Marco Island Brewery is a great place to come.
The brewhouse has a very chilled vibe with a huge selection of beers on tap and no less than 40 flat-screen TVs to catch the latest sporting event.
We should also note that if you missed eating Key Lime Pie in the Florida Keys this is a fantastic alternative spot to try it. Their Key Lime Pie is bang on.
There is also a happy hour (3:00 – 5:30pm) daily where you can catch some great deals (vary daily).
Keewaydin Island
One of the prettiest islands readily accessible from here is Keewaydin Island.
Keewaydin Island is an absolutely stunning barrier island with pristine beaches. This beauty of this island is one of the biggest drawcards to the area.
The island is only accessible by watercraft.
Basically, you have 2 options if you wish to visit: 1. Hire your own boat or Go with a tour.
You rent a boat at Rose Marina on Marco Island to access the island. A full day boat hire coats $320 for a 7 passenger pontoon boat. If you have a large group this can prove quite economical. If you don't have a boat license you do need to register for a Temporary Boating Certificate to drive the boat.
Alternatively, if you like life a little easier, it is better to go by tour. Here are the tours we would recommend to access Keewaydin Island:
The tours depart from Naples which is about a 30 minute drive away. Naples is worth going to, the beaches in Naples are great!
On Keewaydin Island you can join the party (it is known as a bit of a party island) or find a secluded strip of beach to privately enjoy to yourself. The beauty of Keewaydin Island is that it suits all different types of beach goers.
Cape Romano Dome Houses
One of the weirdest and most unique activities on the island is to take a tour out to see the Cape Romano Alien Structures.
The Cape Romano Dome Houses are abandoned white domes on stilts.
The story goes that in 1980 Lee a retired oil producer started constructing his home. Sadly, by 2004, water levels rose and started to flood the concrete pillars holding up the home. Hurricane Wilma finally destabilised the house completely.
All that is left now is alien like structures of a former house in the middle of the ocean. It is kind of eerie and has an Area 51 vibe.
The houses are a great example of rising water and climate change. It is believed that they will soon be completely emerged under the water.
If you would like to see Cape Romano Dome Houses before they are gone, we would recommend: Cape Romano Shelling Tour
The best part of this tour is that it incorporates the other awesome thing about Marco Island – the ability to find amazing shells.
Visit a Otter Mound Preserve
Otter Mound Preserve is a short historical walk in Marco Island that provides interesting historical facts about the area and the early settlers.
It is also a great place to spot an animal or two include tortoises.
Eat at an Interesting Local Restaurant
There are many interesting local restaurants to enjoy in the island.
Here are the quirky restaurants we would recommend checking out in the area:
The Crazy Flamingo

Hoot's Breakfast & Lunch

Jack's Lookout

Sand Bar

The SpeakEasy Marco Island

Cocomo's Grill
The Crazy Flamingo is a strange restaurant in Marco Island with even its own bright pink car. The restaurant serves great steak sandwiches and other no fuss pub food.
Another quirky restaurant worth checking out in Marco Island is the SpeakEasy Marco Island. This is a prohibition Era–inspired waterfront restaurant serves traditional Chicago food.
For something more beachy we suggest heading to Cocomo's Grill – a laid-back island-themed restaurant specialising in seafood and steaks. The tuna tacos are highly recommended.
Take a trip to the Everglades National Park
One end of the Everglades is only 20 minutes drive from Marco Island so it is entirely possible to take a day trip to the Everglades.
We love exploring the National Parks in the United States and the Everglades is one of our favourites.
It costs $30 per vehicle for a week long entry to the Everglades.
If you are planning to do more than 1 National National Park we would highly recommend purchasing the annual National Park pass which permits you to access unlimited National Parks in the USA for a year.
If you decide to visit the Everglades from Marco Island make sure you don't miss some of our favourite hikes including:
Our favourite trail for alligator watching is the Anhinga Trail. Alligators are easily spotted on this trail. Below is one we spotted.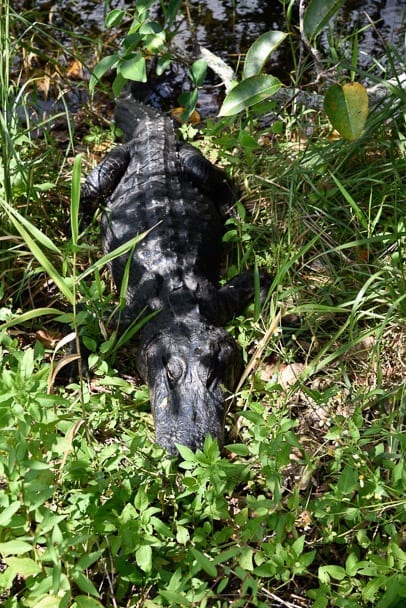 Take a trip to Captain Horr's Pineapple Plantation
Captain Horr's Pineapple Plantation is part of a gated community in Marco Island.
Within the gated community (which you must pay $10 USD to enter) you can view the vacation home of Captain John Horr including what remains of his pineapple plantation.
Taste the local produce at Marco Island Farmers Markets
If your trip to Marco Island falls between November to April then consider yourself lucky as you can try all of the local produce in the area at the Marco Island Farmers Markets.
Despite being located on little Marco Island, this farmers markets is actually one of the largest markets in Southwest Florida.
At the markets you can purchase fruits, vegetables, flowers and even meats!
Take a day trip to Naples
Naples is very close to Marco Island only around 30 minutes away so it is very easy to take a day trip to Naples.
If you decide to make a trip to Naples, we recommend visiting Clam Pass Beach, Vanderbilt Beach and Delnor Wiggins Pass State Park.
Clam Pass Beach is very popular among day trippers to Naples as it has a great cafe/bar on site which is perfect for relaxing by the seaside with a drink in hand.
The beach is also known for having one of the best sunsets in the area.
While in Naples you might like to stop in the Rookery Bay Environmental Learning Center.
Beach tip: Another great beach is Barefoot Beach preserve just a little further along in Bonita Springs.
Take a day trip to Key West
Yes, it is possible to explore Key West from Marco Island with the Key West Express (in the same place the Key West Princess docks).
If you don't have much time and want to explore multiple areas in Florida this is a great way to do it.
If you decide to go to Key West check out:
The ferry makes daily departures to Key West which cost $155 for a round trip journey.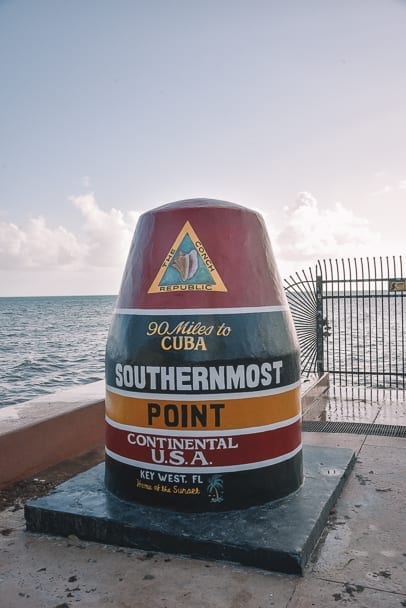 Exploring Florida?
If you are on a Florida Vacation, you might also like to check out our other posts on Florida to help you plan your trip:
Save Marco Island to Pinterest (So you can find it again later!)