Looking for the best baby monitor without wifi for travel?
In this article, we will discuss the top baby monitors for traveling with babies and toddlers! It can be hard to travel with a little one, and even harder if you are relying on good wifi for the baby monitor. That is why, a baby monitor without wifi that use a local video feed is far more reliable on vacation.
All of the baby monitors featured here are non–Wi–Fi devices. We considered price, weight/size, battery life, and durability when making this list.
7 Best Baby Monitor Without Wifi For Travel
The Infant Optics DXR–8 baby monitor offers a great, cost–effective alternative to the PRO model. This monitor features an active noise reduction feature that filters out background noises, enabling you to better hear your baby.
It also has a high definition 720P video resolution playback, as well as a closed–loop FHSS system that provides a secure and private connection. The monitor itself has volume and brightness buttons, making it simple and user friendly.
Buy it here.
The VTech DM221 Audio Baby Monitor is a great choice for monitoring your baby. It has a range of up to 1,000 feet, and it beeps when you fall out of range. The parent and baby units both feature a night light, which can be toggled on or off.
The parent unit runs on both a rechargeable Ni–MH battery and AC power, allowing for long–term monitoring. However, if you're looking for a more budget–friendly option, the VTech Upgraded Audio Baby Monitor also has up to 1,000 feet of range and a night light.
It runs solely on rechargeable Ni–MH battery, so if you want to use it for long–term monitoring, you should be sure to use both the battery and AC power.
Buy it here.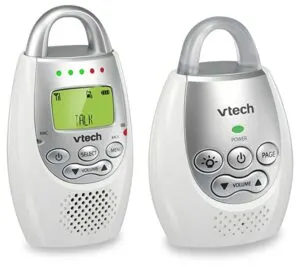 The Eufy SpaceView Pro is the perfect video baby monitor for parents who want to be alerted right away when their baby is crying. The 5" 720p display is incredibly sharp and allows parents to get a clear view of their baby.
The Pro model also has a larger and longer–lasting battery, although it is a bit bulkier. If you are looking for an economical choice, the Eufy Security model is slightly cheaper and offers the same features.
Buy it here
The ANMEATE Baby Monitor is an excellent choice for parents looking for a low–cost, yet reliable, traveling baby monitor. Not only is it incredibly affordable, but it also features a 2.4 inch screen, making it easy to pack for on–the–go use.
Additionally, the monitor covers a transmission range of up to 960 feet, allowing parents to keep an eye on their baby from a far distance. Setting it up is a breeze, so you can start monitoring your baby in no time!
Buy it here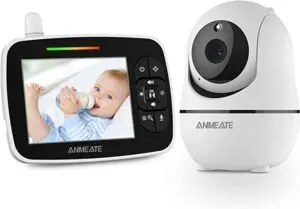 The Baby Sense Baby Monitor range offers parents the ultimate in peace of mind. With a 720 HD image on the large 5" LCD display, the Split–Screen HD Display with 2 HD Cameras monitor provides a 960ft range for optimal surveillance.
With two–way talkback and night vision, parents can communicate with and keep an eye on their little one from anywhere. For those wanting a more compact monitor, two other versions are available: the 4.3 split screen monitor and the 2.4 inch baby monitor.
The 4.3 inch monitor has a 720 HD image display and a range of up to 960ft, while the 2.4 inch monitor features a 480 HD image display and a range of up to 500ft, as well as two way talk back, night vision, and a built–in lullaby player.
Buy it here
The Motorola Comfort75 Video Baby Monitor is the perfect choice for those who want to keep an eye on their baby, without needing any technical know–how. It also provides a cost–effective solution, compared to other models offered by Motorola.
What makes this baby monitor even more appealing is the added bonus of the Hubble Baby Smart Sleep Assistant feature, which allows you to easily monitor and track your baby's sleep schedule. With this feature, you can ensure your baby is getting the right amount of rest and enjoy peace of mind.
Buy it here.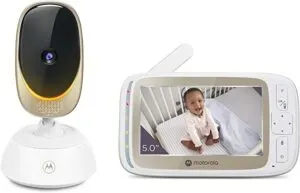 The HELLOBABY Baby Monitor is a great choice for parents looking for an affordable and easy–to–use monitor. It offers a range of features including a room temperature monitor and alert, night vision, lullaby, sound level LED indicator, and audio only mode.
While it may not be HD, the picture and sound quality are still quite good. Furthermore, setup is extremely simple and the parent unit is powered by a rechargeable battery.
With its range of features, convenience, and affordability, the HELLOBABY Baby Monitor is an ideal choice for parents.
Buy it here
****