Have you got just 1 day in Xian? That's cool, we'll tell you what to do in just 24 hours in Xian China!
Xi'an is a great place to spend a day or two on a romantic Asian getaway as it is only a 4.5 hour fast train ride from Beijing.
If you are pressed for time, you could do all the main attractions in Xi'an in only one day.
We have compiled a 24 itinerary for someone who is time poor. If you don't want to do everything in such a rush you could break these activities up over multiple days.
The ideal time to spend in Xi'an would be 2 full days, if you don't plan to do any day trips outside the city. However, you can squeeze the main attractions into one full day in Xi'an and here's how:
1 DAY IN XIAN MORNING – VISIT THE TERRACOTTA WARRIORS
The morning is the best time to visit Xi'an's most iconic attraction, the Terracotta Warriors, as there are far less tour groups in the mornings. There is also a lot less people to push past for photographs!
In summer, it can also get very hot at this attraction so it is a good idea to go in the morning while it is still cool.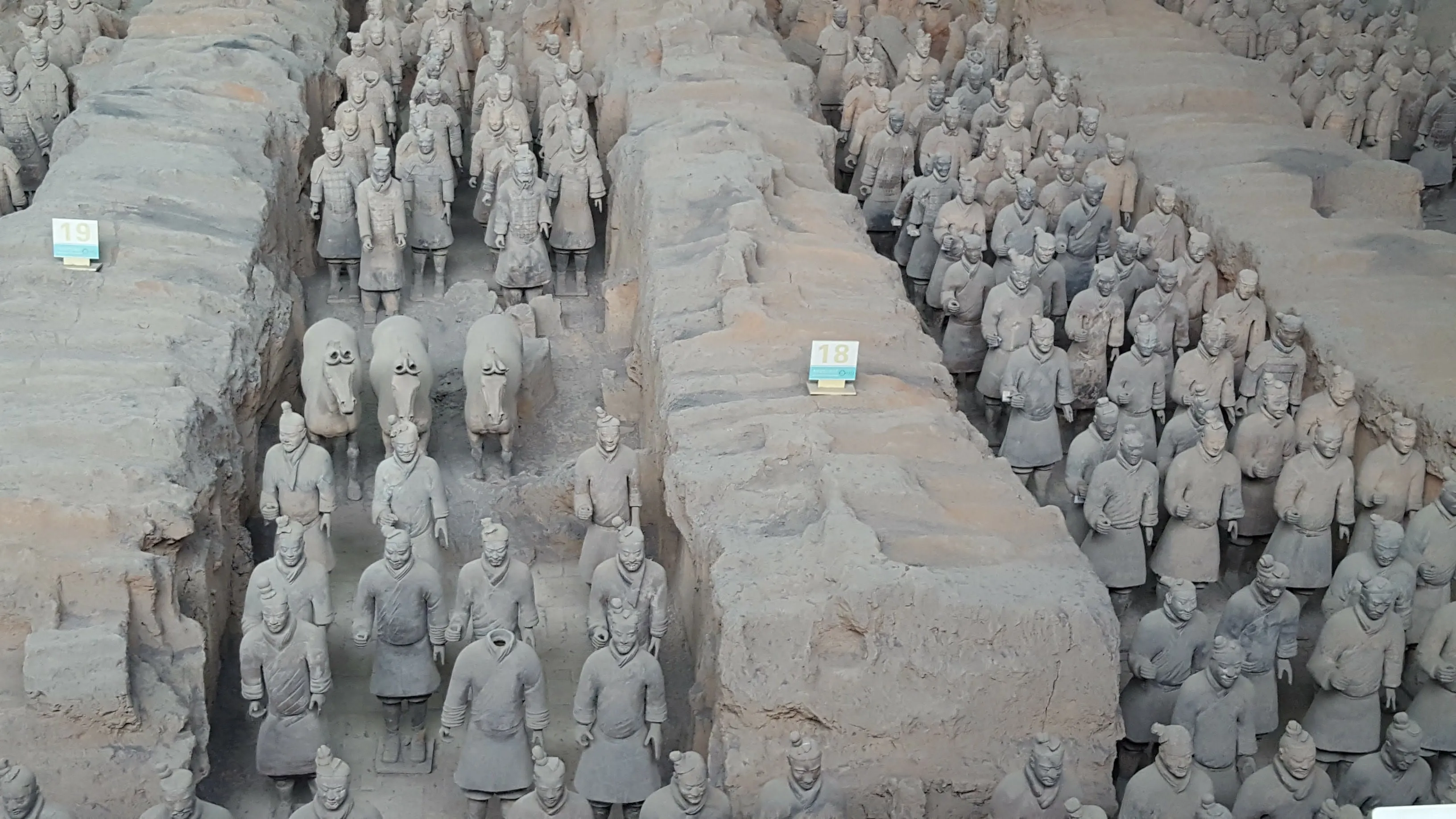 What are the Terracotta Warriors?
The Terracotta Warriors are one of the most famous attractions in China. These terracotta sculptures portray the armies of Qin Shi Huang, the first Emperor of China. They army were buried with the emperor in 210–209 BCE and were designed to protect the emperor in his afterlife.
The Terracotta Warriors were not discovered until 1974 when local farmers discovered them in the in Lintong District, Xi'an, Shaanxi province.
What is particularly incredible about the Warriors is that they are all individually designed even have different facial characteristics. They also vary in height according to their roles, with the tallest being the generals.
In 2007, it was estimated that he Terracotta Army held more than 8,000 soldiers, 130 chariots with 520 horses and 150 cavalry horses, the majority of which remained buried in the pits nearby Qin Shi Huang's mausoleum.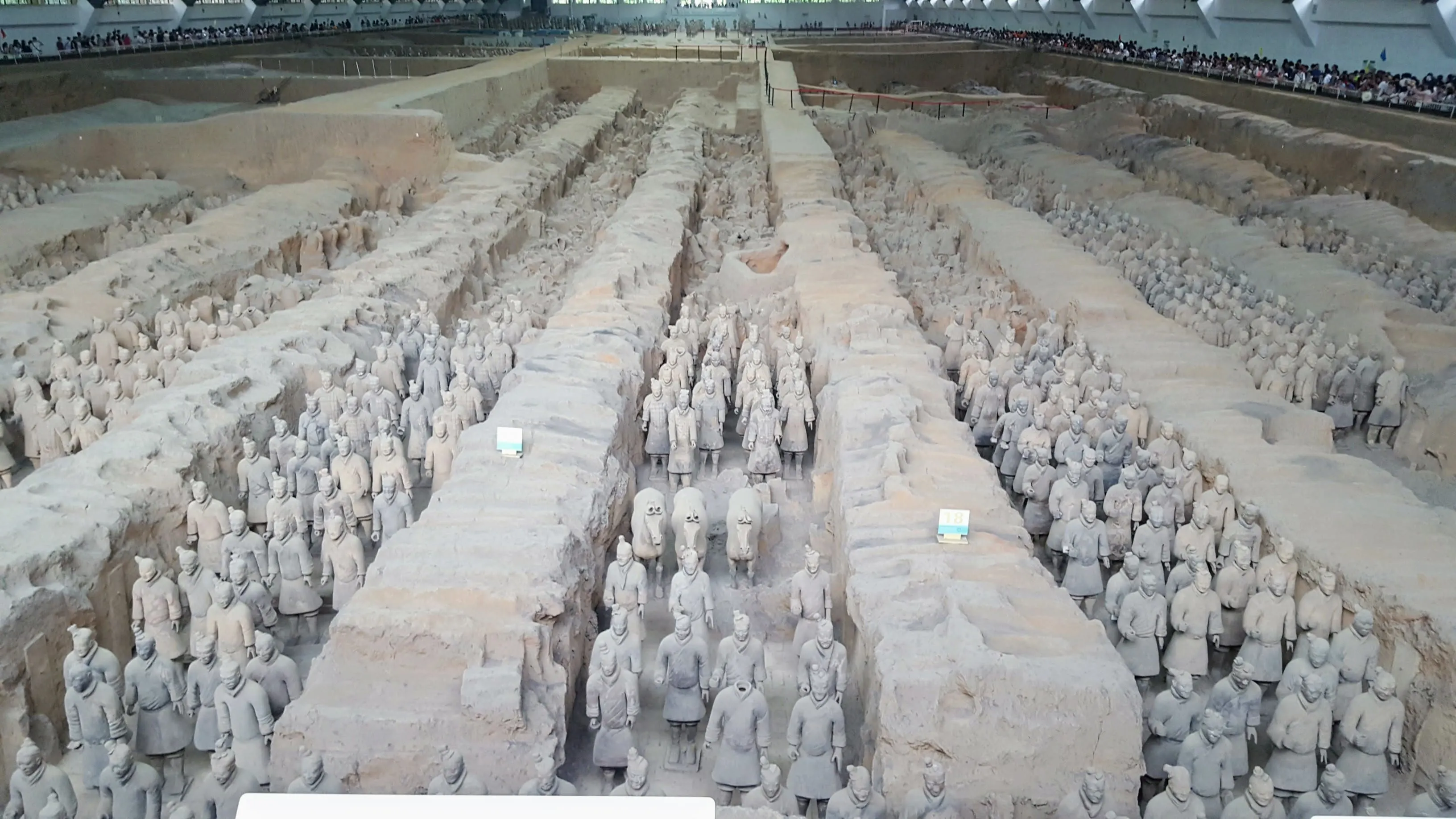 How much is entry to the exhibit and what does it include?
Entrance to the attraction costs 150 CNY ($22 USD).
At the museum, there are 3 main pits to enjoy. Two of the pits show the excavation work that is continuing to be completed to this day. The third pit, where the excavation work is mostly complete, is where you will get the best views of the Terracotta Warriors in completion.
The entrance fee also includes entrance to the bronze statutes. These statutes were designed to be the emperors mode of entry to the afterlife.
How long to spend visiting the Terracotta Warriors?
The museum takes about 3-4 hours to enjoy to its fullest. That means if you arrive at 8am, you will be finished the museum by 12 noon.
How to get to the Terracotta Warriors by bus?
From Traveling With Hostel (see why we recommend this hostel below) take bus number 26 to Xi'an Railway Station (1 CNY). Alternatively, the walk is 15 – 20 minutes.
From Xi'an Railway Station catch Tourist Bus #306. The ride takes about one hour to reach the Terracotta Warriors.
Buses leave frequently. Once you leave, a conductor will collect the fare of 7 CNY ($1 USD). Our conductor spoke English and was very helpful as to where we needed to get off.
AFTERNOON – ADMIRE THE XI'AN CITY WALL
The second biggest attraction in the city is to visit the Xi'an City Wall.
What is the Xi'an City Wall?
The Xi'an City Wall is one of the oldest, largest and best preserved city walls in China.
It is a very impressive structure and was originally built as a military defence system under the rule of the Hongwu Emperor Zhu Yuanzhang in the 14th century.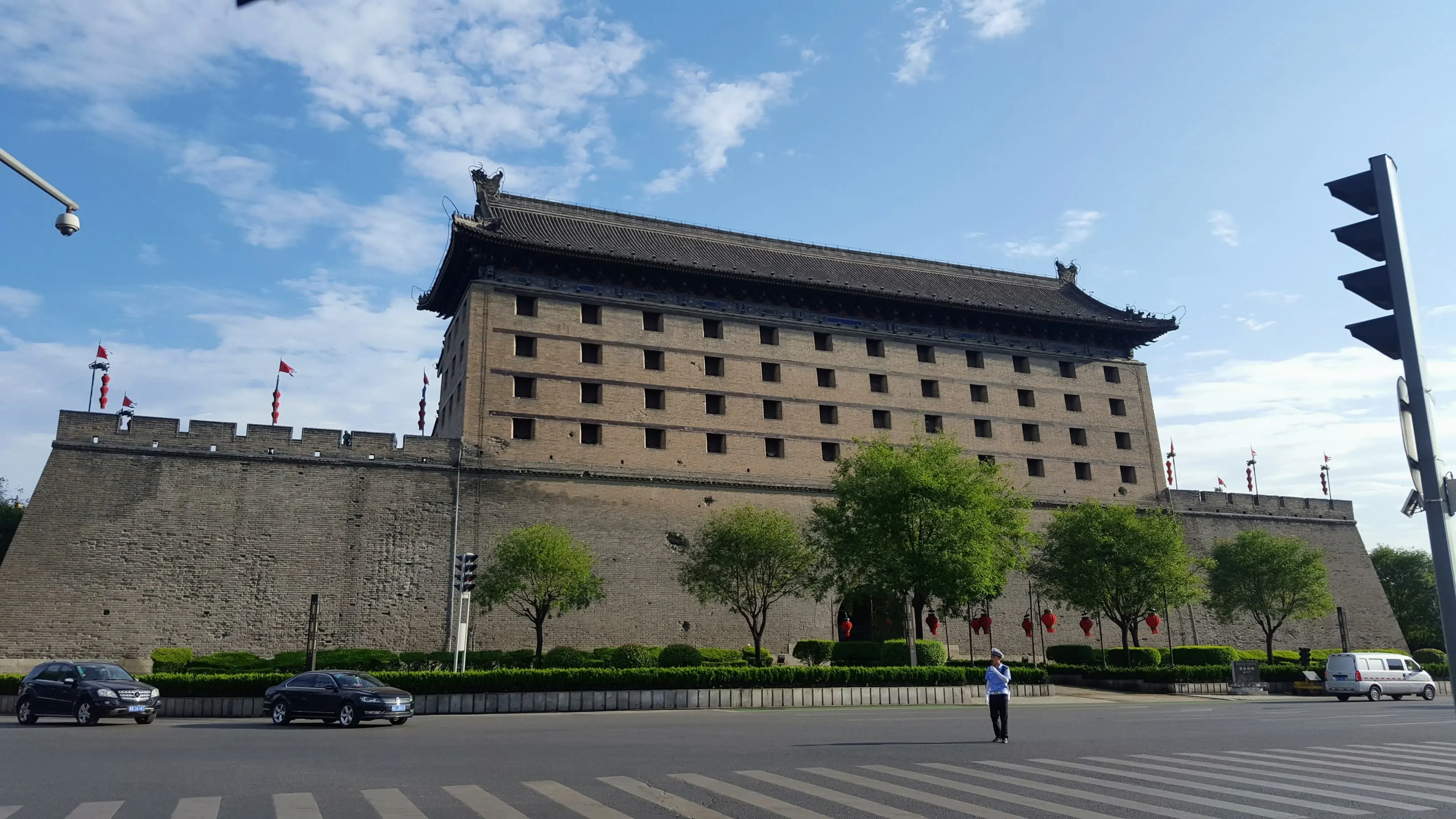 How much is entry to the Xi'an City Wall & how long should I spend there?
The cost of entry to the Xi'an City Wall is 50 CNY ($7.50 USD).
To experience the wall, most people hire a bike for 2 hours and cycle around the wall. The cost of hiring a tandam bike to experience the wall is 90 CNY ($13.50 USD) or individual bikes cost 50 CNY($7.50 USD).
How to get to the Xi'an Wall?
From Xi'an Railway Station (where the bus will drop you on return from the Terracotta warriors), there is an entrance to the city wall. The entrance is large so you will easily spot it. If you face the train station – the wall will be behind you.
Alternatively, from where we stayed, turn left, go straight about 300 meters and across the road you can enter the North Gate of the Xi'an Wall. The ticket office is south of the gate.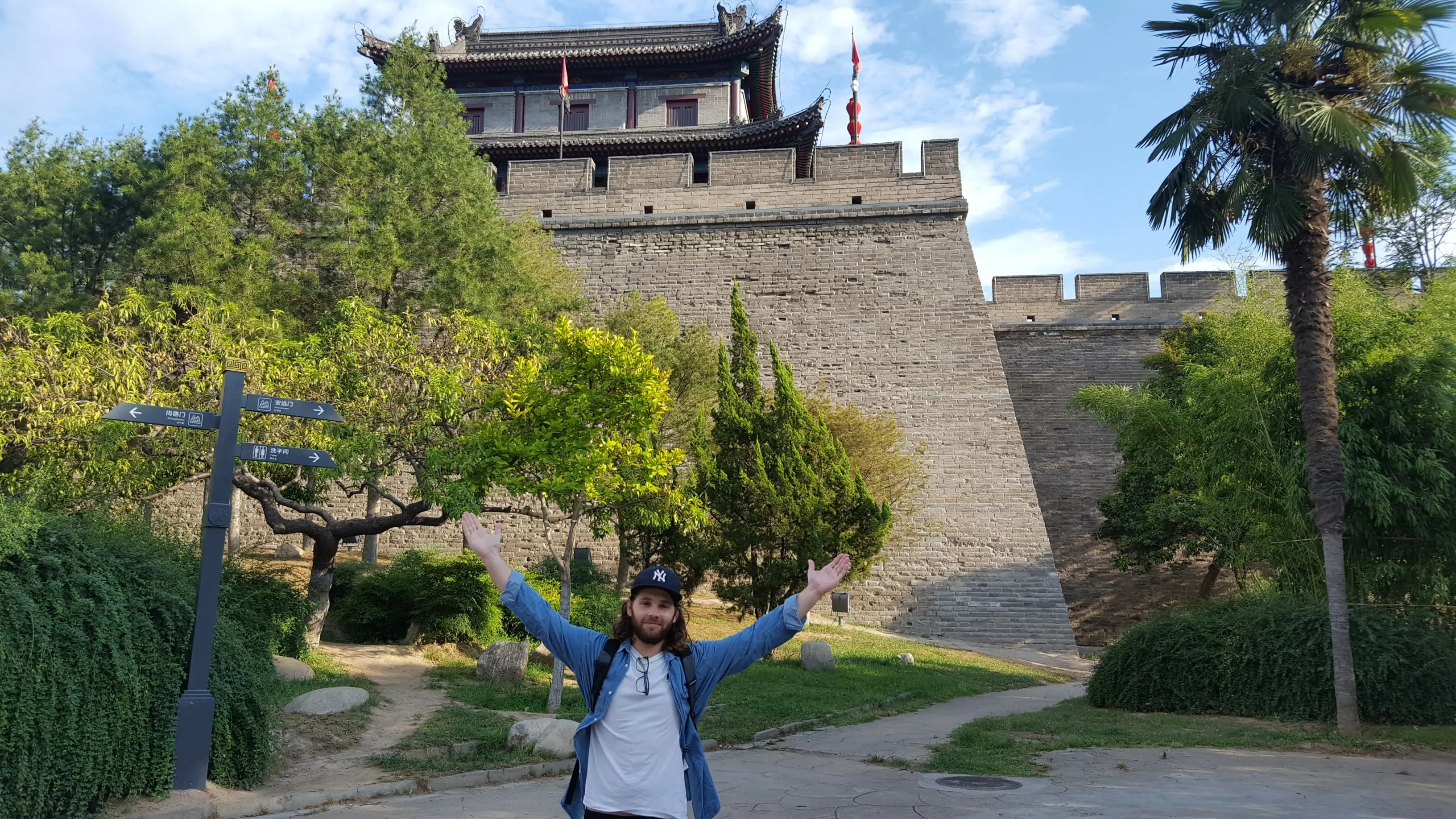 EVENING – VISIT THE BELL & DRUM TOWER AND MUSLIM ST
Despite Xi'an being most well known for the Terracotta Warriors, in our opinion, Muslim street gave the Terracotta Warriors a run for their money.
The Bell & Drum Tower is also worth checking out as it is in the same vicinity as Muslim Street.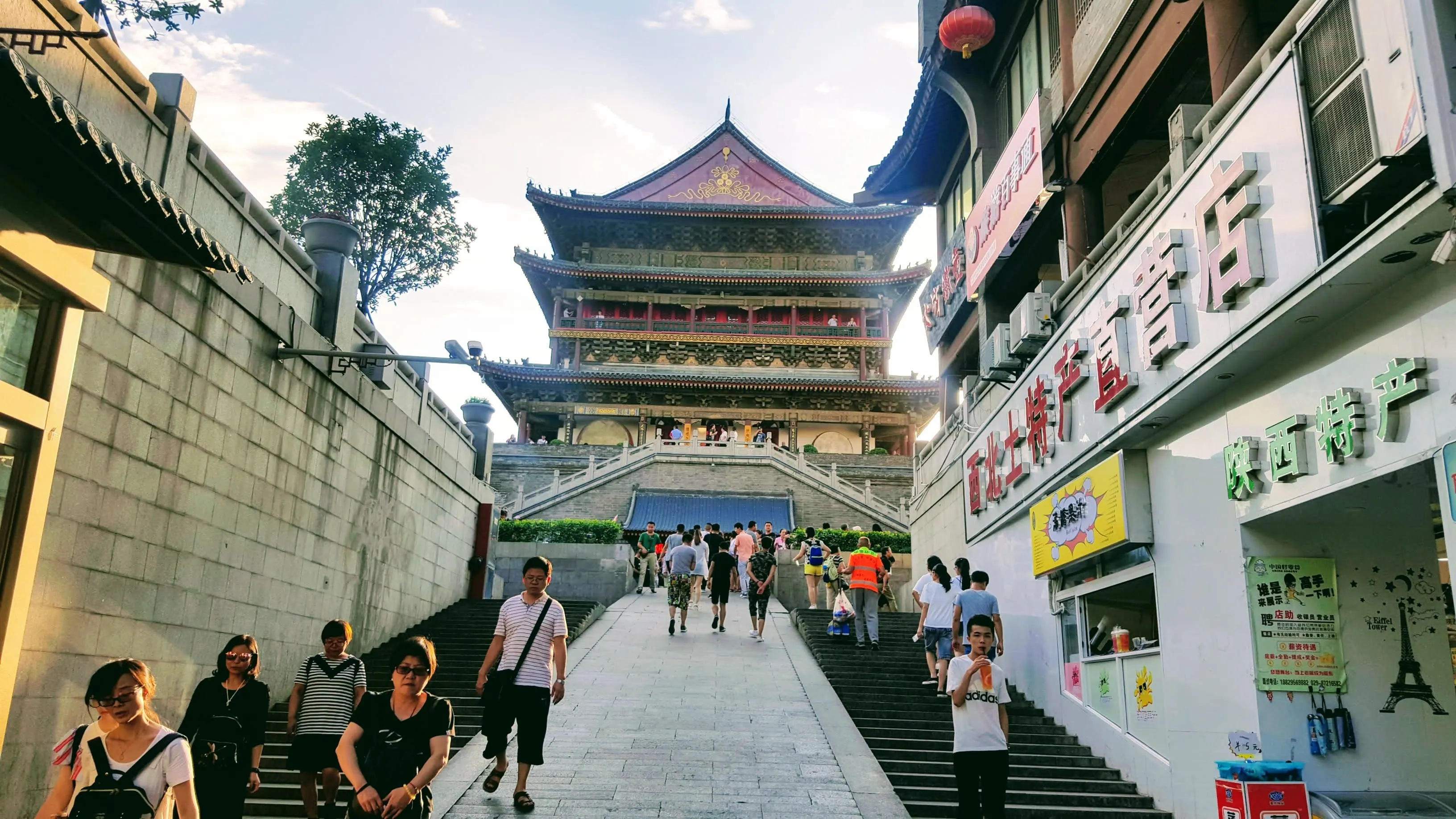 Muslim Street
Muslim Street is basically a street food market. It is extremely popular amongst tourists and locals alike for Muslim cultural atmosphere and the fantastic food on offer.
While called 'Muslim Street' it is in fact a collective number of streets, including Beiyuanmen Street, North Guangji Street, Xiyangshi Street and Dapiyuan Street.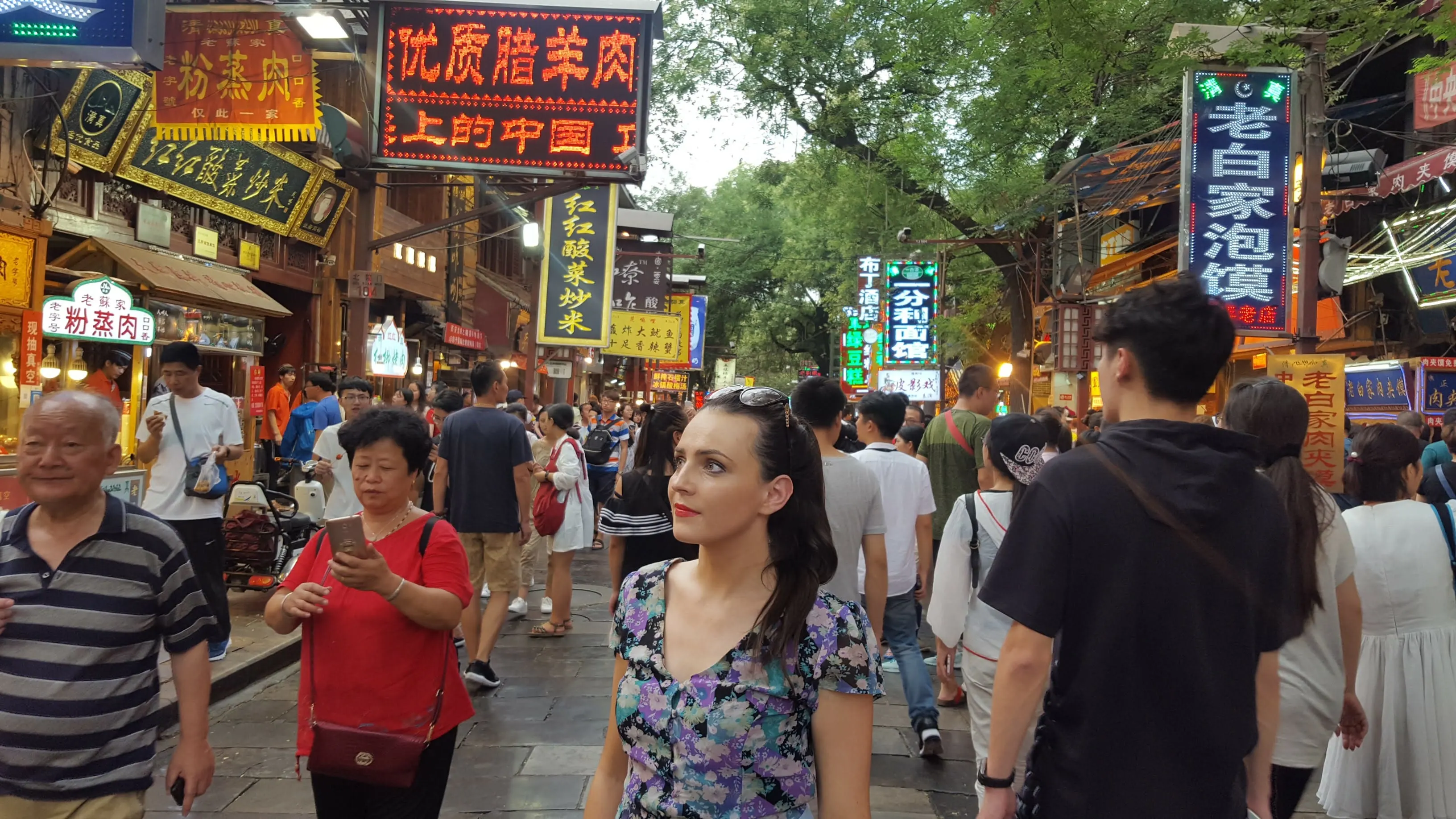 One thousand years ago Xi'an was the starting point of the ancient Silk Road. A number of people from the Arabic countries, known as the Hui people, settled down on Muslim Street and created business ventures. The number of Hui people currently residing in the area has exceeded 60,000.
On Muslim Street, be sure to try Roujiamo, a marinated meat bun, Yangrou paomo, pita bread soaked in lamb soup, cold noodles and the traditional yellow dense sponge cake.
It is free to enter Muslim Street and costs around 15 CNY ($2.2 USD) for most dishes on the street.
You will want a few hours to wander the streets and try the different delicious delicacies on offer!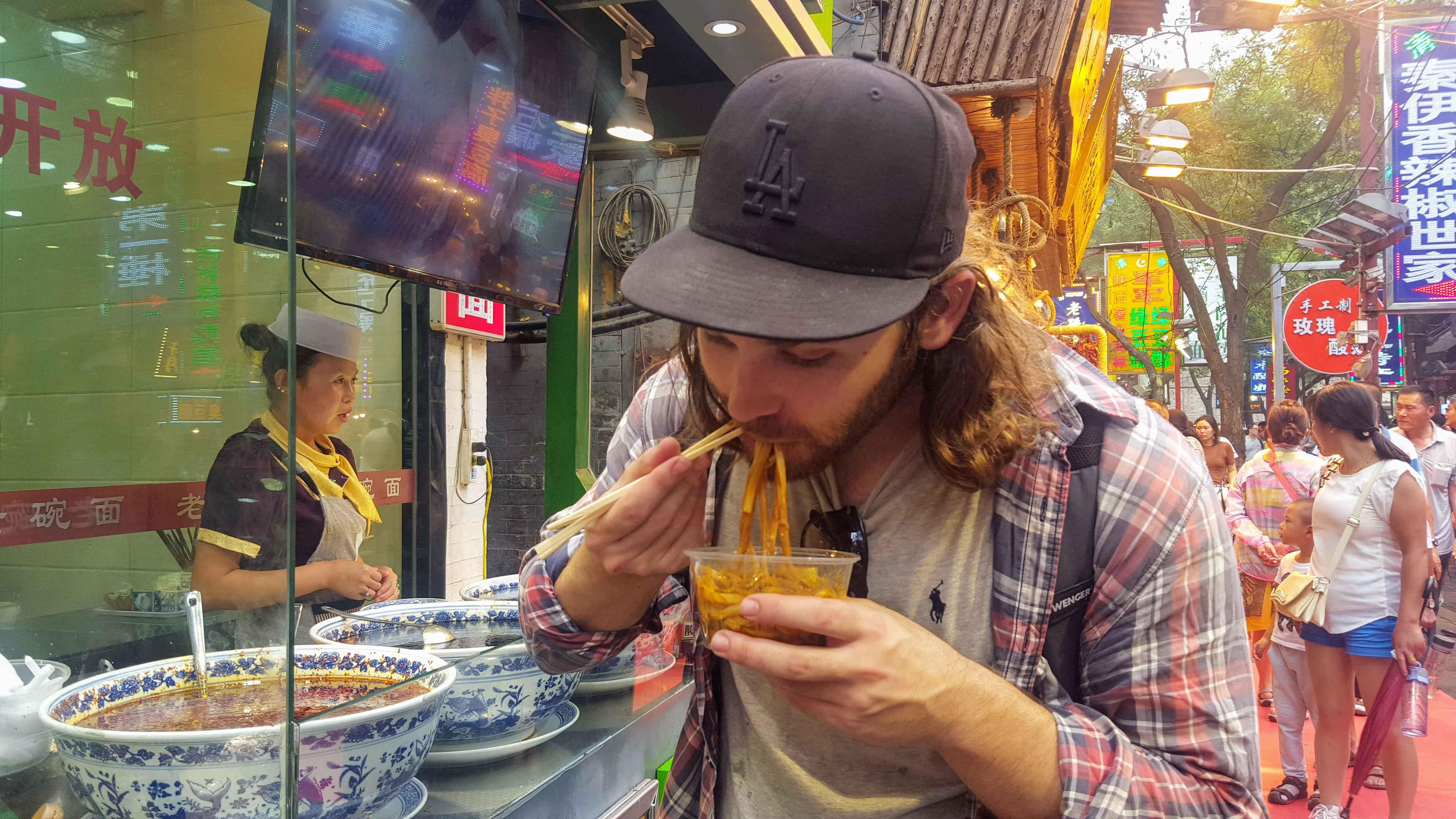 Bell & Drum Tower
The drum and bell towers were built in 1272 and reconstructed a few times after fire.
These towers played an important role in telling the time in the Han Dynasty (206 BC-220) where there was a morning bell and a dusk drum. The drum and bell tower allowed people to work on time schedules as they was no other way of keeping track of the time.
You can admire the Bell & Drum tower for free from the outside. If you want to go inside, it costs 35 CNY ($5 USD) for each or 50 CNY ($7.50 USD) to go inside both towers.
Visiting these two structures shouldn't take more than an hour or two of your time.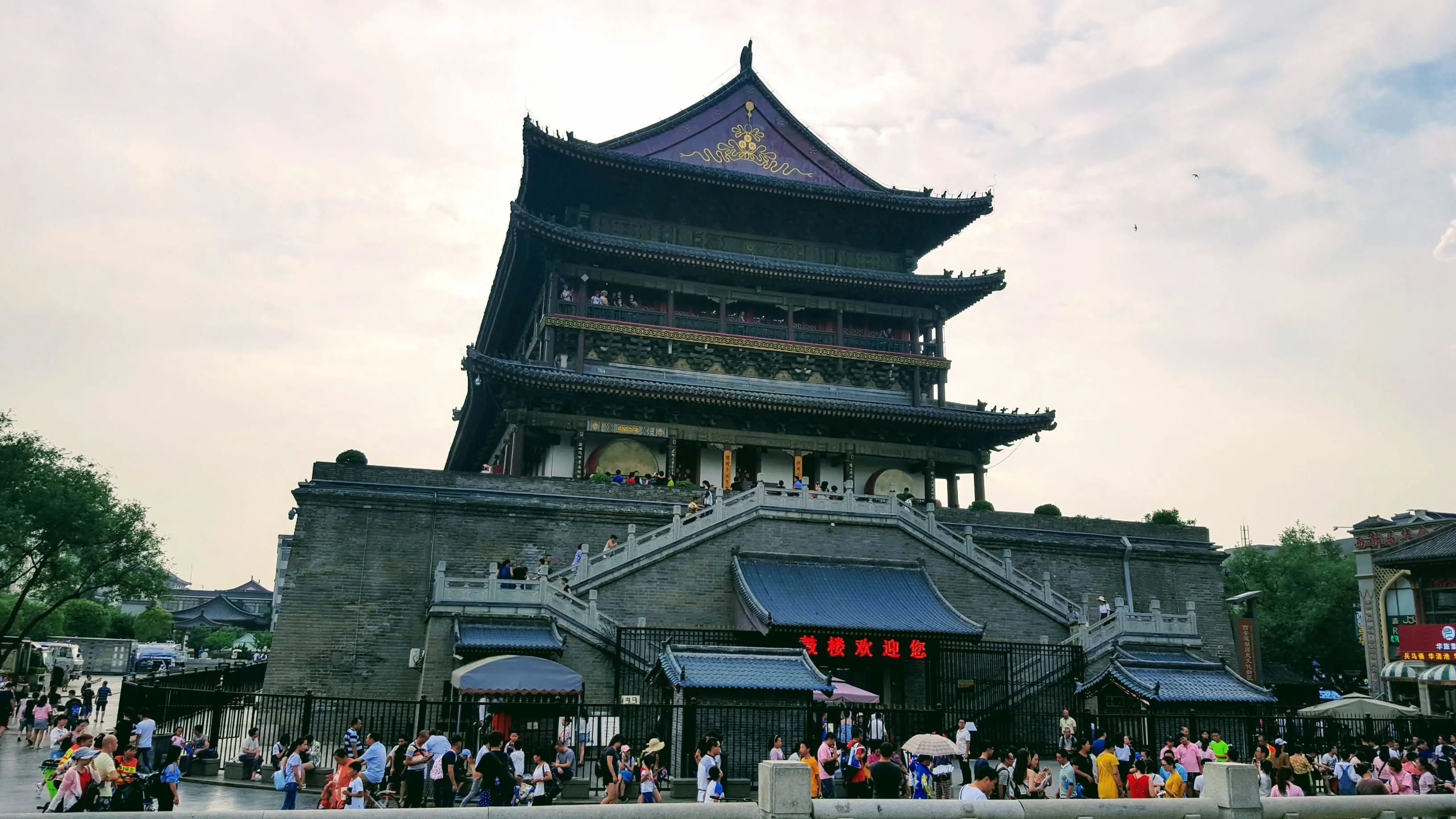 How to get to the Drum & Bell Tower & Muslim Street?
Continuing from the Northern section of the wall near Xi'an Train station, catch bus 201 or 611 to the Bell Tower, which is located in the intersection of North, South, East and West streets. The bus fare is 1-2 CNY.
In the same vicinity as the Bell Tower, you will also find Muslim Street and the Drum Tower.
Alternatively, from where we stayed, take the metro from Station 安远门 (2 minutes walk away) and catch red line #2 for two stops to Zhenou Zhan.
Where to stay in Xi'an for 1 day?
A good place to stay in Xi'an is close to Downtown Xi'an, near Muslim Street and the Drum & Bell Towers. There are good public transport links from this area. Click here to search for your dates in Xi'an on Booking.com
In Xi'an, we stayed at Travelling With Hostel. The hostel was of good quality and we would highly recommend it to other travelers. It was very comfortable and even had a great cafe/common area to relax in.
Unlike many places in the world where hostels are mainly aimed at young, single travelers looking to meet people, hostels are a great option for couples in China as many of them are clean & comfortable with a private bathroom. They are on the same standard as a modern 3 or 4 star hotel elsewhere in the world.
To get a good hostel at bargain basement prices in China, pay special attention to the review score! As a general rule, we only select accommodation with a review score better than 8/10!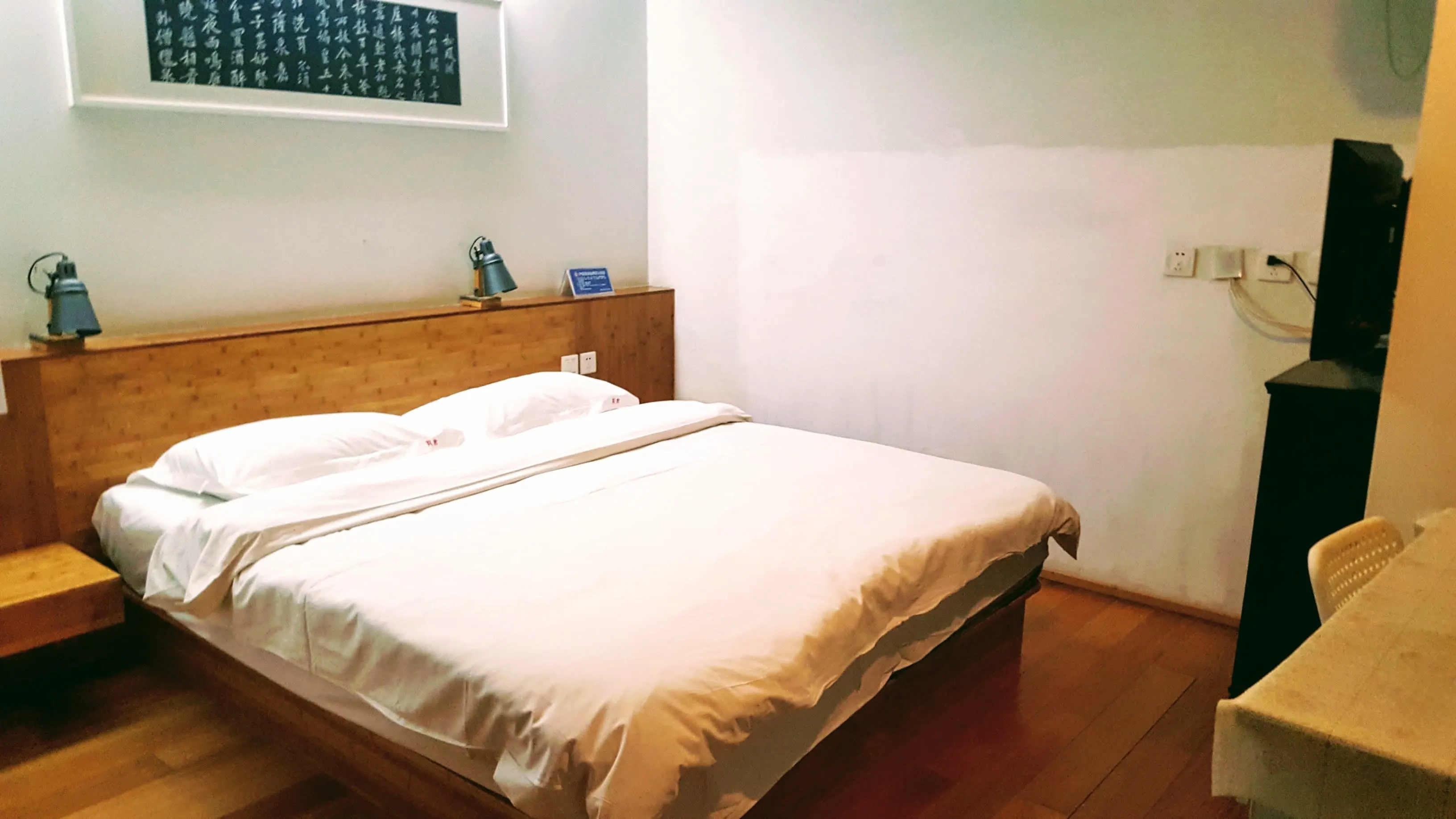 We hope this helped you plan your trip to Xi'an. We would love to hear from you so please leave a comment below!
Save this 'How to' Guide to Pinterest!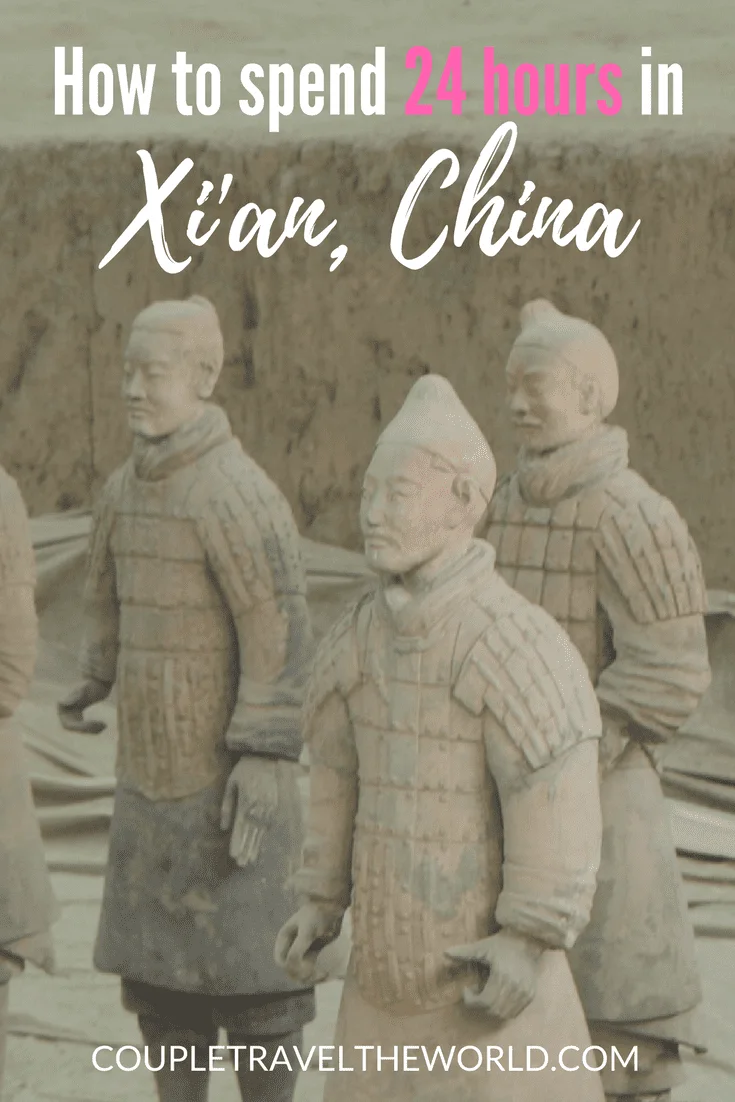 Disclaimer – This post contains affiliate links. This means that if you make a booking through our links we will receive a small commission at no extra cost to you. If you found this post helpful, we would appreciate you using our links to help keep our site running!