Looking for a beach near Amber Cove Cruise port?
The gorgeous Sosua Beach is just an hour from Amber Cove Port Terminal. Here, you can swim or snorkel right off the beach in crystal clear water!
If you have the time it's definitely worth the visit & it wont cost you an arm & a leg if you do it in the right way! Follow our two simple steps below to reach Sosua Beach on a self made, DIY Shore Excursion!
But first, if you are planning a cruise to Amber Cove, be sure to watch our full walk through of the Amber Cove Port Terminal.
Best Beach Near Amber Cove Cruise Port: How to visit Sosua Beach without a tour (or a taxi)
If you ask a cab driver outside the gates of Amber Cove Port Terminal how much it will cost to be taken to Sosua Beach you will be quoted upward of $100 USD.
However, it is possible to catch the public bus to Sosua Beach for not even a quarter of the cost.
We paid only around $3 USD each on the public bus from Amber Cove to Sosua Beach.
Here are two simple steps to make this journey, DIY style!
Step 1: Take a collectivo minibus to Puerto Plata
Exit the gates of Amber Cove port terminal and cross the road.
Here, you will have to hail down a collectivo minibus to Puerto Plata. You can hail them down from anywhere along the road, they will stop for you.
To get the best price, it is advisable to have Dominican Pesos with you. It cost us 25 Pesos each (0.50 USD) to reach Puerto Plata.
You can exchange your USD at the Crew Bar at Amber Cove. The buses will accept USD but it will just cost you a little more.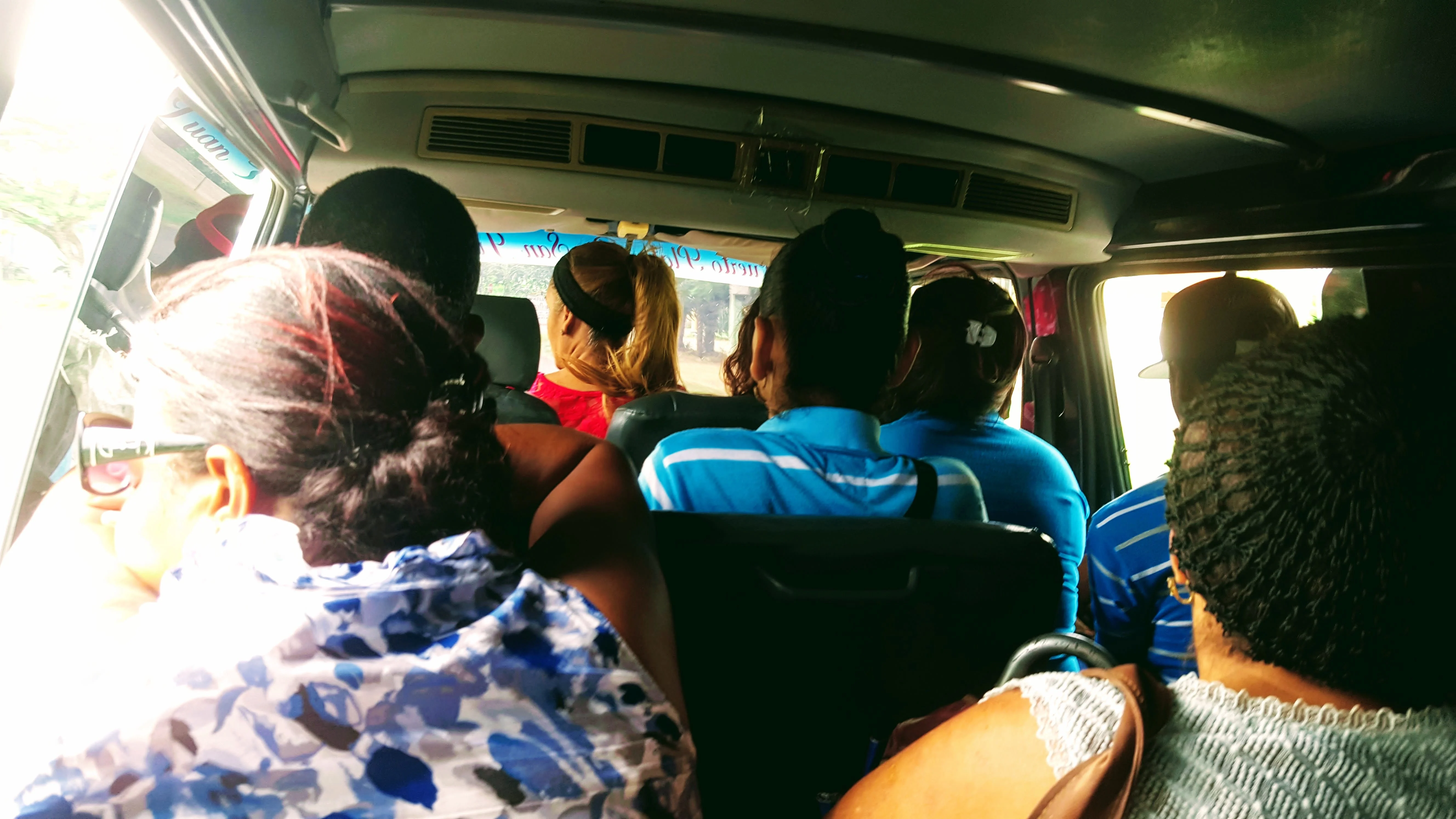 Step 2: Transfer to a second collectivo at Puerto Plata to Sosua Beach
Once you arrive at Puerto Plata, you will need to transfer to the next collectivo to reach Sosua Beach.
We stopped in front of the Hospital Provincial Dr Ricardo Limardo in Puerto Plata. Here, you can get a second collectivo to Sosua Beach. The bus continues down Route 5 to Sosua Beach.
It costs 100 Pesos per person ($2 USD) and drops you 10 metres away from Sosua Beach. You just need to walk through a few markets and restaurants to reach the gorgeous beach!
On the way back, simply do the journey in reverse!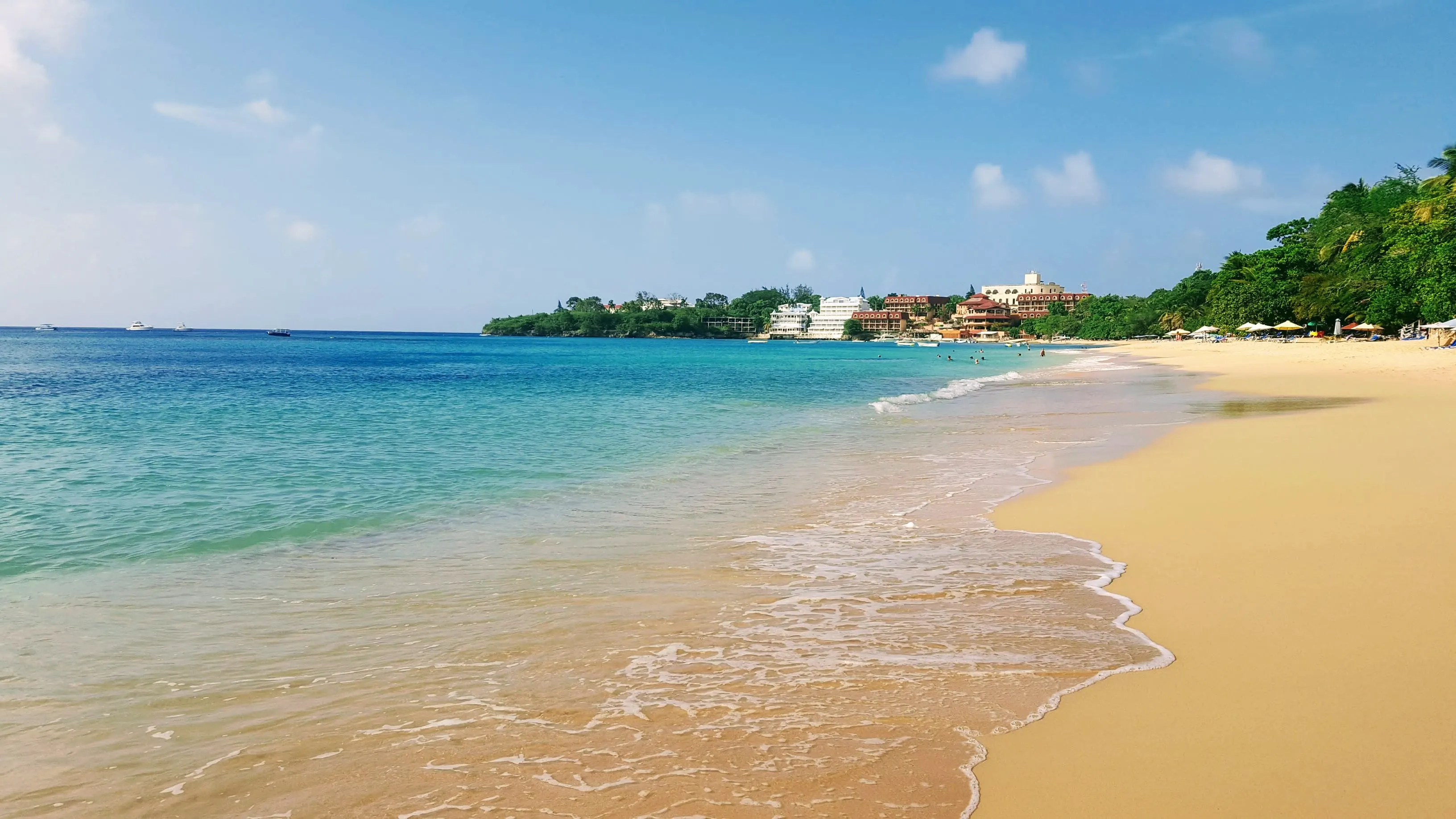 Important extra information!
We found there to be quite a number of collectivos running and the connections to be fast.
Be warned though, this is not a luxury journey. They pack as many Dominicans as humanly possible on these small buses and often you are sitting in extremely close proximity to another person if not on top of them!
To give you an example, the front seat is only designed to hold 3 people but 4 people will sit there. If you are okay with the local experience, then go for it – it is a great way to experience the local culture.
For us, the local experience made our day trip to Sosua Beach even better. A young Dominican boy asked us if we would listen to him sing (a rising star in the making) so on went the radio and the bus cheered as the young boy sang along to various Spanish love songs. Very entertaining if I do say so myself!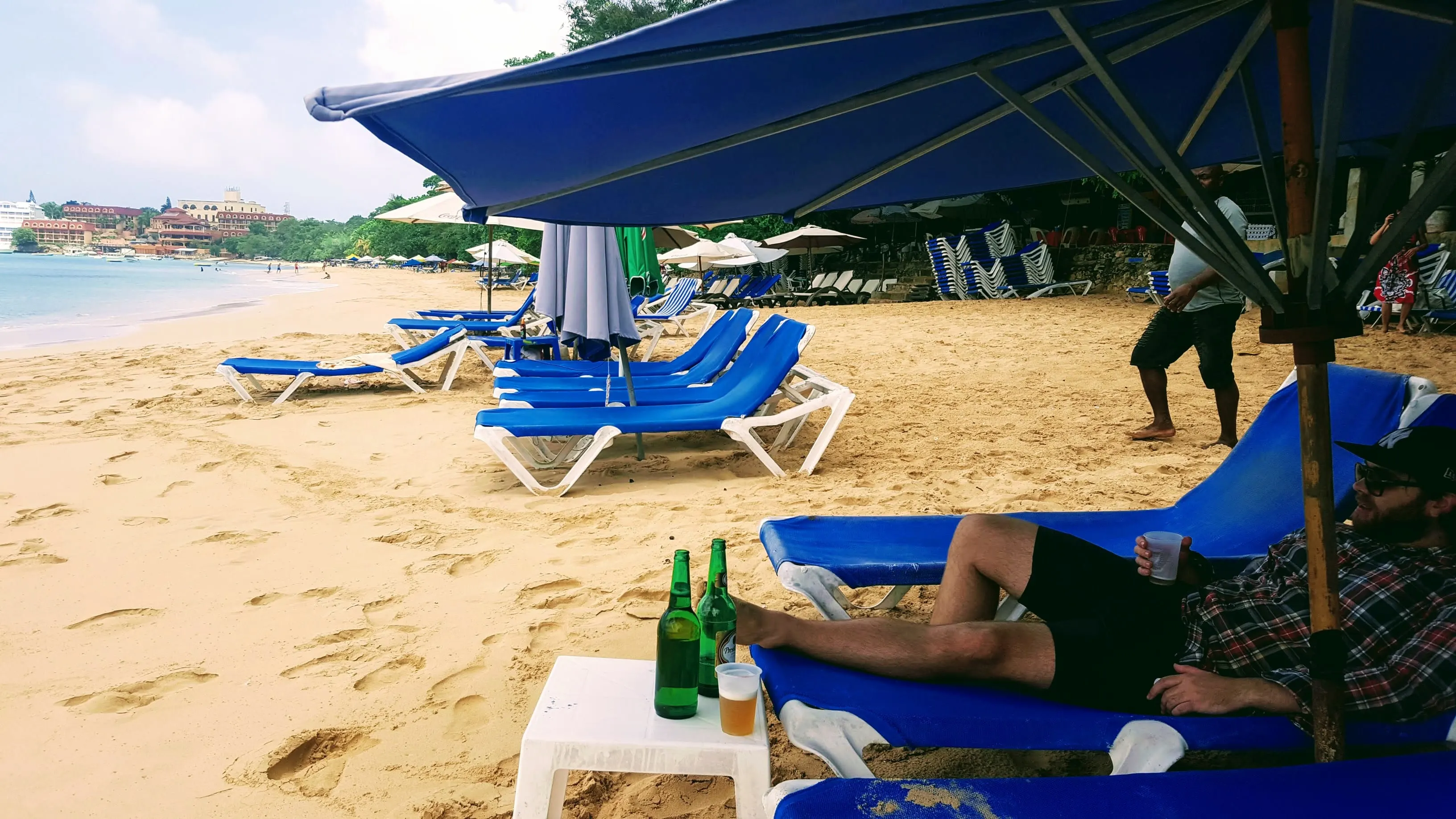 About Sosua Beach
Sosua Beach was one of the most beautiful beaches we have ever seen. It beat the closer beaches of Cofressi & the Amber Cove by a long shot!
The beach is lined by beach shacks selling food & drinks. As soon as you enter the beach, beach vendors will swarm at you at every direction, trying to get you to enjoy a cerveza (beer) at their beach shack or rent beach chairs & umbrellas for the day.
If you want a beach chair and umbrella, it is necessary to negotiate to get the best price. We negotiated 2 beach chairs with umbrellas and two large beers for $6 USD.
Make sure you have the right money to pay the vendors as we found they don't carry a large amount of change.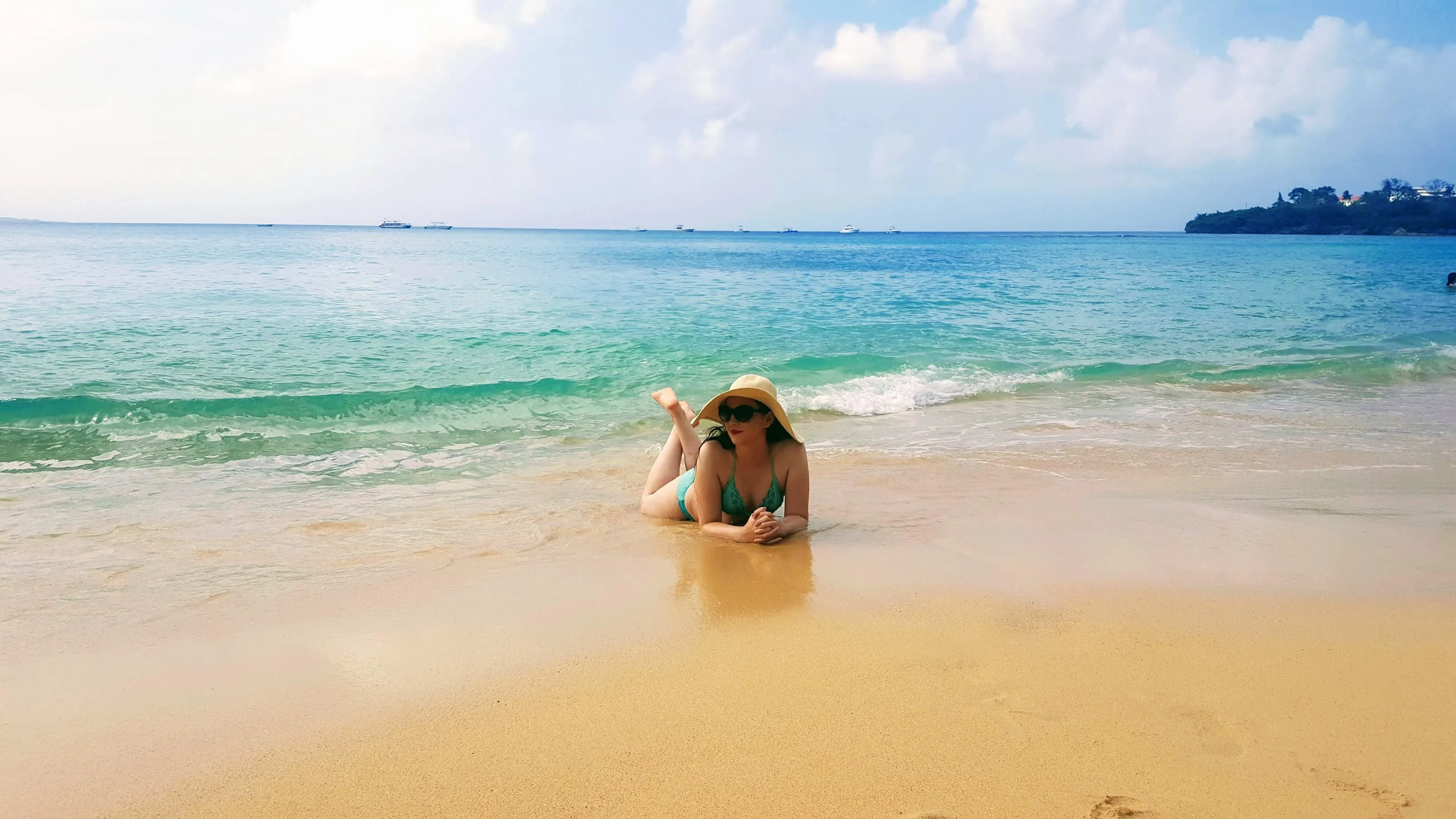 What activities are available at Sosua beach?
We brought our own snorkel with us (which we would highly recommend) and spent the day relaxing and looking at the colourful fish in the water just off the beach.
If you are looking for a more adrenaline pumping activity, we noticed that they offer banana boat rides at the beach.
There are also great Dominican products available for sale along the beach. The stores sell anything from paintings to clothing. We bought a really nice painting and absolutely love it!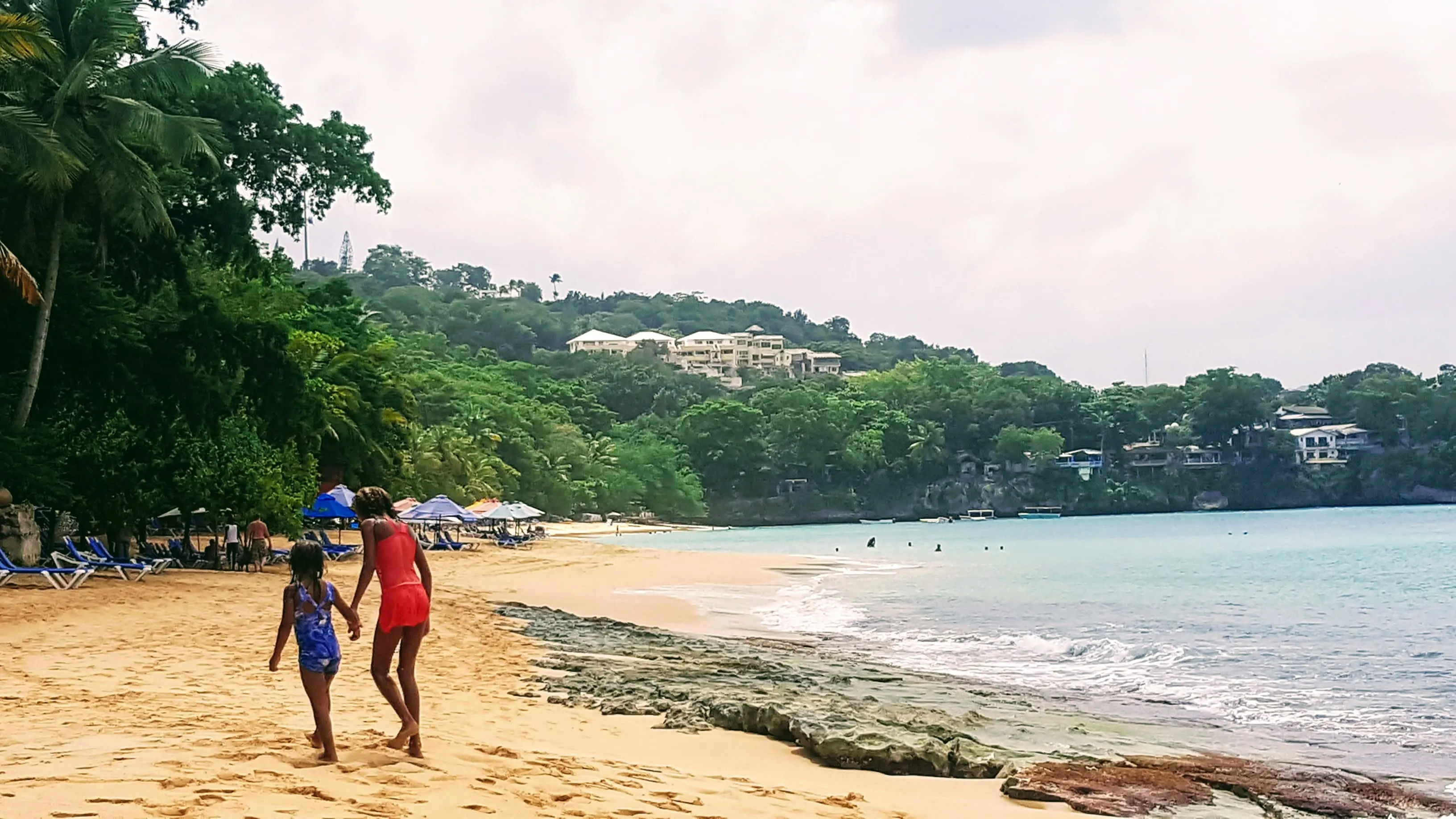 More Excursions from Amber Cove
If you've arrived in the Dominican Republic on a cruise, then count yourself lucky.
Amber Cove is only a short distance from 27 Falls one of the top rated things to do in the entire Dominican Republic.
Take on the challenge of sliding and jumping (safely) down up to 27 waterfalls in a truly memorable experience.
Tourists seriously drive 5 hours from Punta Cana to visit 27 Waterfalls. Thankfully, it's right on your doorstep.
We wouldn't tantalize you without this awesome attraction for families, couples and thrill seekers without showing you how to do it without an expensive tour.
Check out our guide to the iconic 27 Waterfalls in the Dominican Republic.
Cruises to the Dominican Republic
We arrived to Amber Cove Port Terminal by cruise ship.
We find the best prices to be found at cruisedirect. We like cruisedirect as we find their prices are very reasonable and their website to be very user friendly.
We hope this guide helped you plan your trip to Sosua Beach and that you love it as much as we did! Leave a comment below if you have any questions or anything to add about visiting Sosua Beach.
Save this Best Beach near Amber Cove Cruise port Guide to Pinterest!
Disclaimer – This post contains affiliate links. This means that if you make a booking through our links we will receive a small commission at no extra cost to you. If you found this post helpful, we would appreciate you using our links to help keep our site running!