After our amazing trip from London to Brussels (which had us converted on train travel for life) we traveled on by train from Brussels to Frankfurt.
During this leg of the journey we were still able to use our Eurail pass.
The train from Brussels to Frankfurt takes 3 hours on average, and runs up to 27 times per day. So there's no excuse not to visit the Germany's transportation hub and centre of banking and finance!
Brussels to Frankfurt train
The Brussels to Frankfurt train route was not as glamorous as the London to Brussels channel train however, the train was super easy to find and extremely clean and comfortable – what more could we really ask for!
After the first experience with Eurail we were totally converted on train travel.
The Brussels to Frankfurt train route only confirmed that train travel is definitely one of the best ways to get around Europe.
We were very happy with this train route – the train had plenty of seats and it was a very clean and comfortable journey.
The check in procedure
For the Brussels to Frankfurt Eurail train route there is no check in procedure.
As we were transferring trains, we did not pass again through security to board the train. We are unsure whether security exists for first time passengers however, we do not believe so.
This made the check in procedure very stress free.
We found our train platform on a display board in the main station and followed the signs to the relevant platform. A simple & easy transition.
We arrived in Brussels with a 20 minute turn around between trains and it was just enough time for us to make the transition.
Had there been a train delay we would have run into some problems so we recommend leaving yourself a little more time than we did to transfer.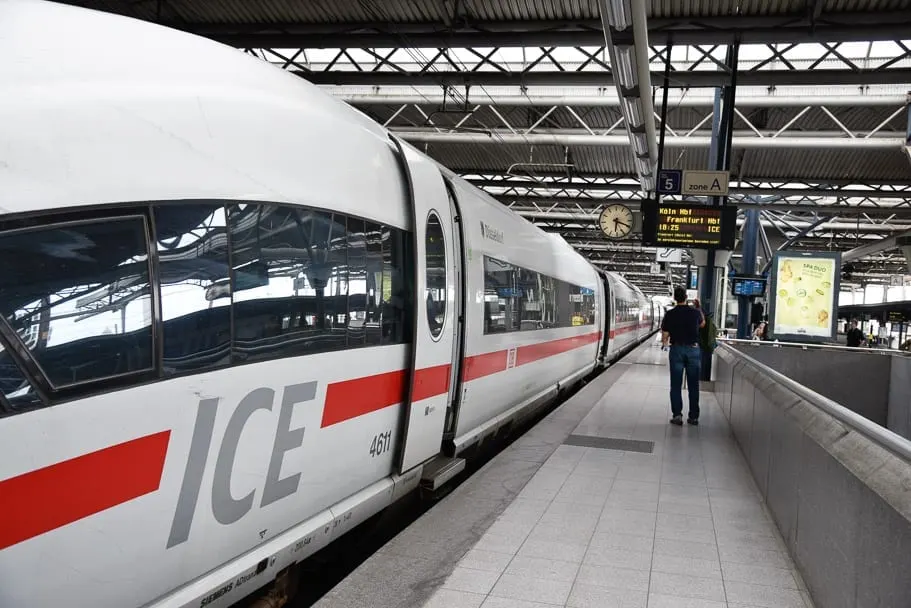 Brussels to Frankfurt train seats
The configuration of the seats was 2 – 1 in first class.
While the seats were not as luxurious as the London to Brussels channel train there were still very wide and comfortable in first class. The chairs reclined and came with power points to charge laptops.
On this train there was not mirrors or seperate phone chargers like our first Eurail journey. Nethertheless, we were happy with our seating.
Meals and entertainment
There were food and drink available on the train for purchase.
The price of food was reasonable with a breakfast costing €5 and coffees costing around €3 depending on what you order.
Unlike the Eurail channel trains there is no tv entertainment onboard but there was great wifi that we managed to utilise to catch up on some work.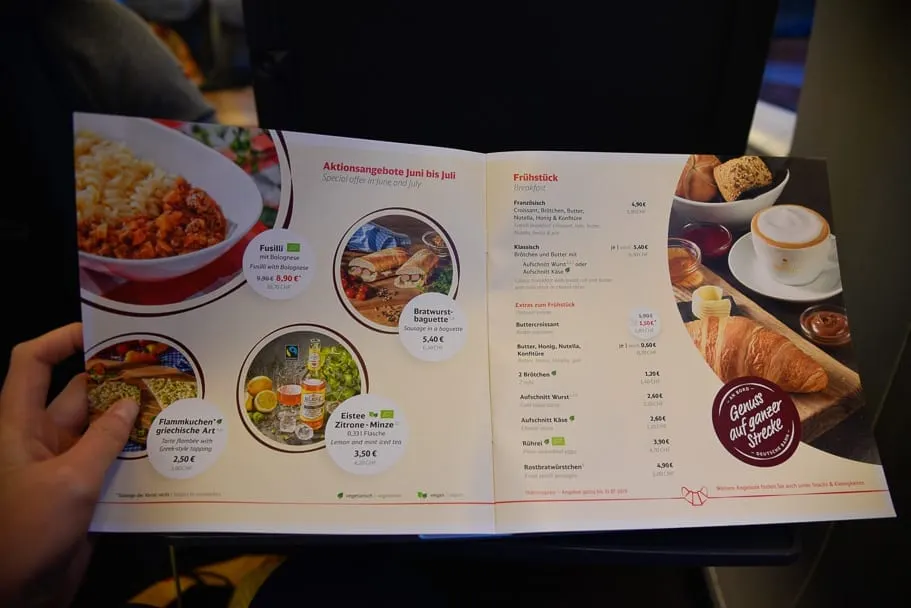 Luggage storage
It is always concerning where to store big suitcases on a train.
There was no designated bag storage however, we did find numerous corners to store our big bags on the train. A win!
How to book tickets with Eurail?
Booking your tickets from Brussels to Frankfurt is very simple:
Firstly, go to the Eurail website. You can choose what pass you require under the tab "Eurail Passes". You can select a monthly pass (like we did) or an X amount of day pass if you are going for a shorter trip.
Once you have purchased your Eurail pass, it gets sent out to you in the mail. Allow 1 month to receive your pass in the mail. If you are in Europe, it will likely come sooner but you are better safe than sorry!
Once you have received your Eurail pass in the mail, you can start making reservations under "Plan your Trip" on the Eurail website. While some Eurail routes require reservations, it was not necessary to have a reservation on this particular route.
Do I need to reserve my seat?
As above, for this leg of the journey from Brussels to Frankfurt it is not compulsory to reserve your seat.
If you wish to be safe and reserve your seat in advance it will cost you an additional reservation fee of around €18 per person.
We did not find this to be necessary. On the train we took (high season in early July) there were plenty of seats available.
Once the train starts moving a ticket conductor will simply come and check your Eurail pass and you are off to go!
Should I travel in first or second class?
Eurail has a rule that if you are over 28 years of age, you are only allowed to travel in first class – what a great rule!
We would have opted to purchase first class in any event as the first class Eurail carriages are much more luxurious, have more legroom, far far less people on the carriage and extra amenities such as power plugs to charge laptops etc.
If you have a first class pass, you can still travel in second class if you are desperate to make a route and no first class seats are available.
It is also cheaper on reservation fees if you travel second class.
Disclaimer: We were sponsored by Eurail in this review. However, that does not in any way impact our views of opinions. As always, all opinions are our own.
Planning the Brussels to Frankfurt Train? Save this train guide to Pinterest so you can find it again later!