Wondering which are the best Coron Island Hopping Tours to spend your money on? We know the feeling!
Having tried and tested the tours we can help you pick the right tour for you.
After experiencing all there was to offer in El Nido, we moved on to Coron (only a short boat ride away).
Like El Nido, Coron is an area where boat tours whisk you to jaw-dropping lagoons, reefs and white sand beaches.
Which Coron Tour should I take? 4 Coron Tours which Rocked!
We did the 4 main tours in Coron with JY Travel & Tours. They were all absolutely amazing!
Know which tour you're interested in? Jump right to it here:
Or keep reading to see what each tour has to offer to help you decide what is the best for you.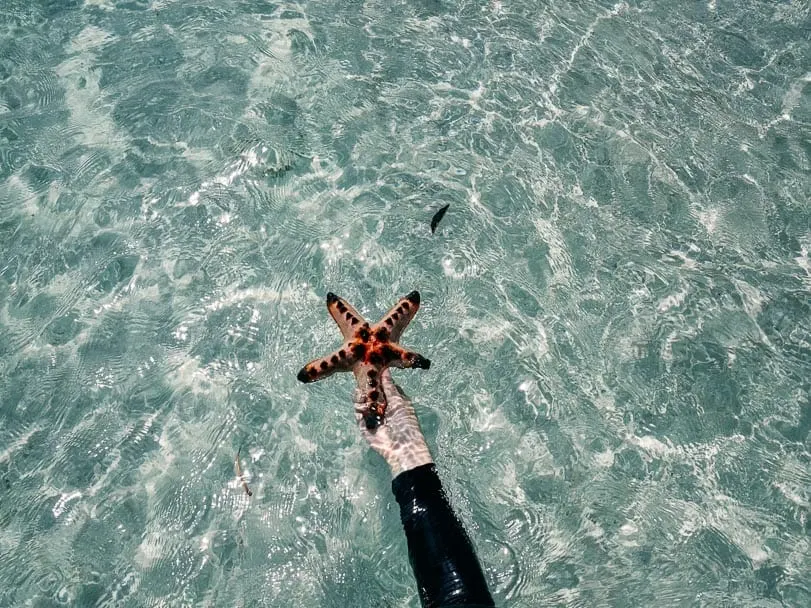 The Ultimate Tour – For those who only want 1 Tour
The Ultimate Tour is exactly as the name suggests – it showcases the best & most iconic areas Coron has to offer.
If we had time for only one tour in Coron, this would be it. The stunning lagoons and amazing landscapes are unique to Coron and something you do not see everyday.
The Ultimate Tour costs 1200 PHP per person ($22 USD).
The tour includes: hotel transfers, an experienced guide & lunch. It does not include the use of kayaks (1000 PHP per kayak).
Tips for the Ultimate Tour:
Unlike the El Nido tours, hiring/buying reef shoes is not really a necessity. We did not hire the reef shoes and were perfectly fine;
Bringing or hiring a snorkel is worthwhile as part of the tour involves viewing of an underwater ship wreck;
Hiring a kayak is advantageous but not essential. You can also enjoy the Twin Lakes by swimming.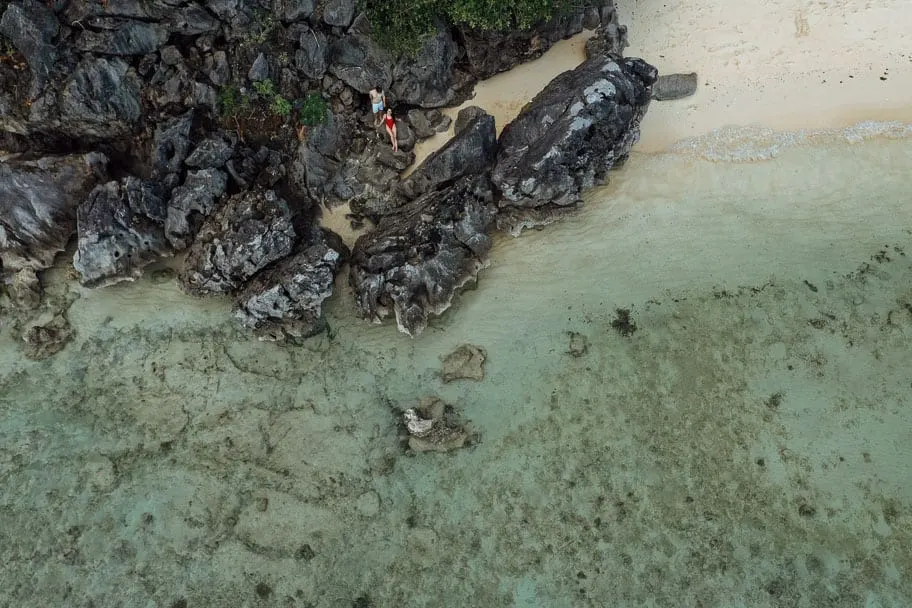 Kayangan Lake
The first destination of the day is Kayangan Lake. This is perhaps the attraction we were most excited to see in Coron due to the perfect turquoise water.
To reach this attraction, it involves a 367 step climb.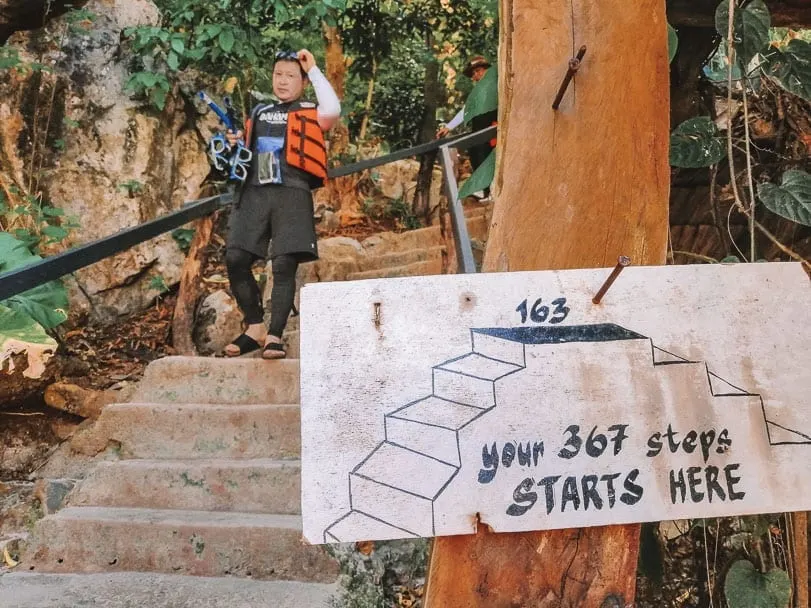 Luckily half way up, you will find an absolutely stunning view of Coron.
As this is one of the most iconic views of Coron, there was quite a line up to get this shot. Well worthwhile for a beautiful memory though!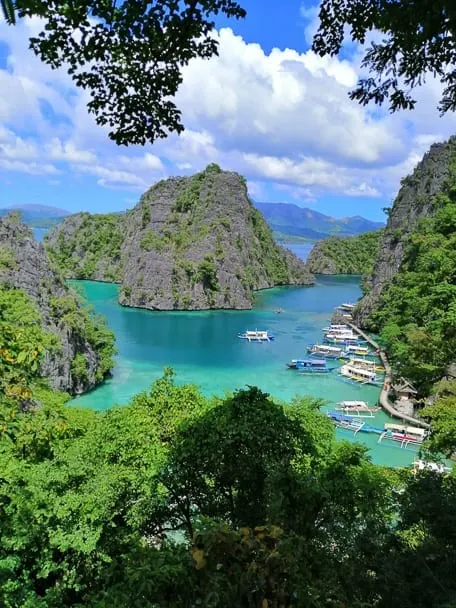 And yes, the hike is completely worth every agonising step up as at the bottom you are rewarded with some of the clearest water in Asia with absolutely stunning natural rock formations.
The water is in fact so clear that you can see garfish swimming around you in the lake.
You are not allowed to swim in Kayangan Lake without a life jacket so make sure you bring one with you from the boat!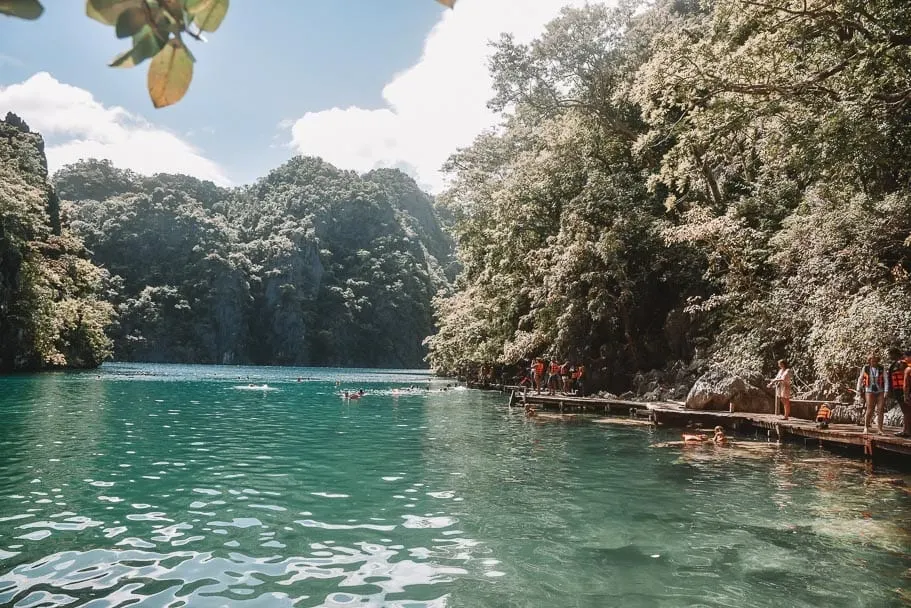 Barracuda Lake
Our next stop was Barracuda Lake. This was an unexpected stop and a "bonus stop" of our tour.
We thoroughly enjoyed Barracuda Lake and would recommend trying to book a tour which includes it.
If anyone is also interested in the best place to free dive in Coron – this is the place to do it! The underwater rock formations at Barracuda Lake are absolutely unreal.
We did not free dive but we had an opportunity to snorkel at Barracuda Lake and were very happy with the opportunity to be able to swim & snorkel in one of Coron's most iconic locations.
We could also see the beautiful underwater rock formations just by snorkeling as the water is SO clear in Barracuda Lake. The visibility is unparalleled anywhere else we visited in Palawan.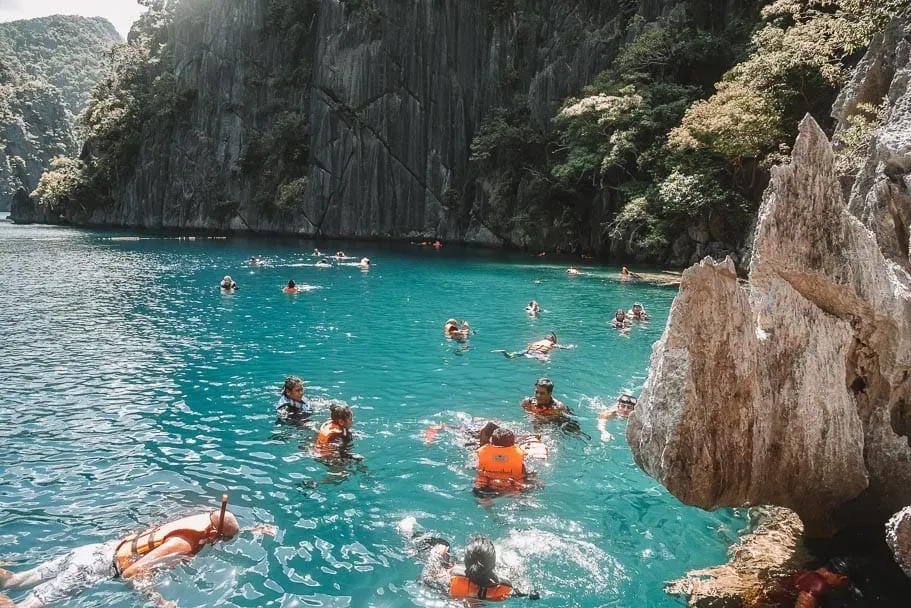 Twin Lake
Following Barracuda Lake is one spot we were eagerly awaiting. It's one of the most iconic spots of Coron – the Twin Lake.
Twin Lake is known for the beautiful colour of water & stunning rock formations.
Here you have the opportunity to use rented kayaks. It is advisable but not absolutely necessary to kayak at Twin Lake.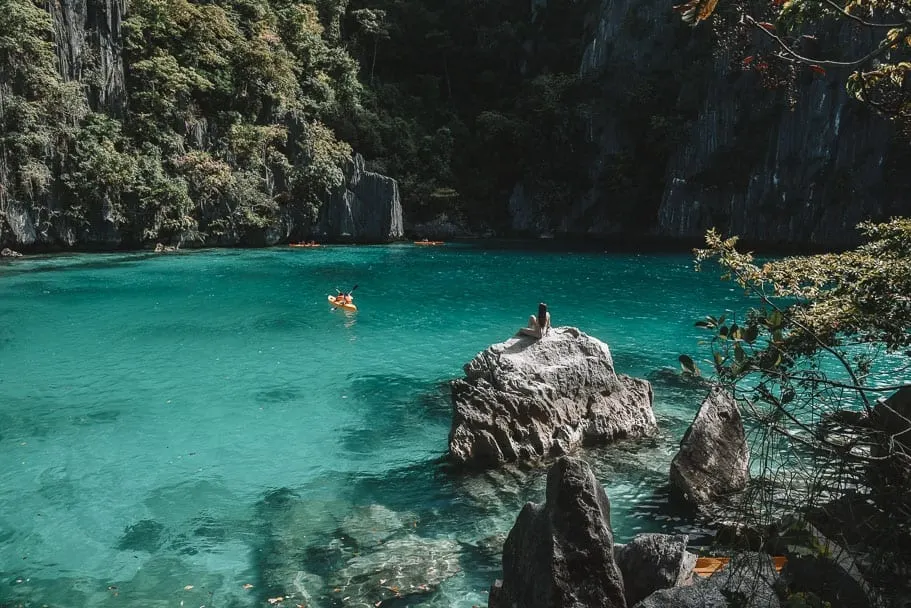 After a fun time swimming & kayaking in the lake, we enjoyed a delicious lunch aboard the boat. This consisted of grilled fish, rice, vegetables, chicken & fruit.
Japanese Ship Wreck
The next stop is a Japanese ship wreck. It was very cool seeing a Japanese ship wreck from WW2 submerged underwater.
As stated above, it is advisable to hire or buy snorkel gear for this tour as it is fascinating to see the ship wreck.
CYC Beach
The final stop of the day was CYC beach.
You can swim or use your kayak to access the beach.
Interestingly, we met a French tourist camping overnight on CYC beach. He had actually come on a day trip and asked if he could be collected the next day.
An option for anyone who wants to get back to nature for a night. Ask your tour if this is possible in advance. The tourist brought all his own supplies.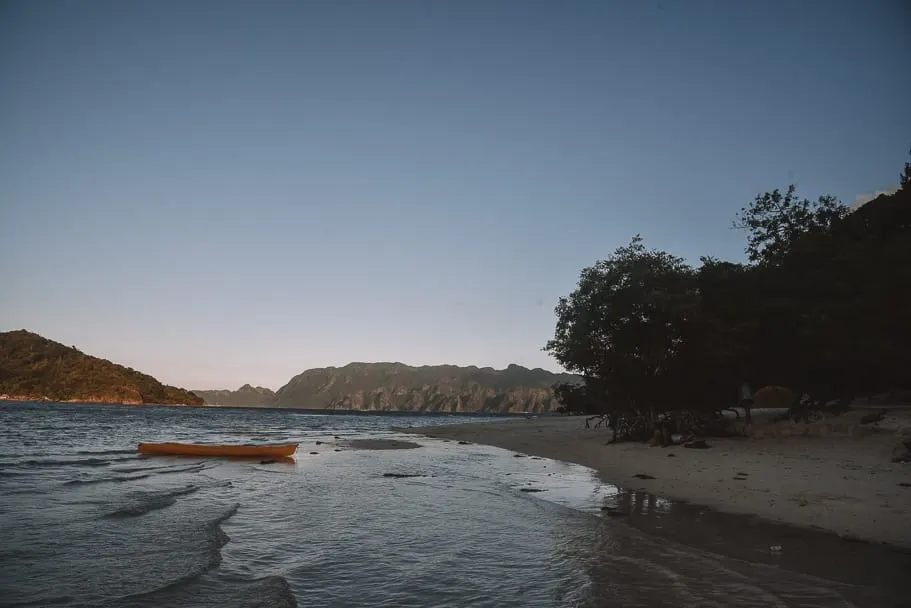 As we got back on the boat, we were treated to "Turon" a Filipino specialty which is banana wrapped in spring roll paper and fried.
Turon was one of the extra perks on our tour with JY Travel and Tours and one of the many reasons why we love them!
Coron Escapade Tour
The next tour we took of Coron was the Escapade Tour. We choose this tour as we wanted to see some spots further away from Coron where fewer tours (and tourists) go.
We recommend this tour for those looking for beautiful beaches further away from Coron.
There are less stops included in this tour as the first stop is 1.5 hours boat ride from Coron.
The tour includes: hotel transfers, an experienced guide & lunch. It does not include the use of kayaks (1000 PHP per kayak).
Tips for the Escapade Tour:
Hiring/buying reef shoes is not really a necessity. We did not hire the reef shoes and were perfectly fine;
Bringing or hiring a snorkel is worthwhile as the snorkeling on this tour is amazing;
Hiring a kayak on this tour is not necessary.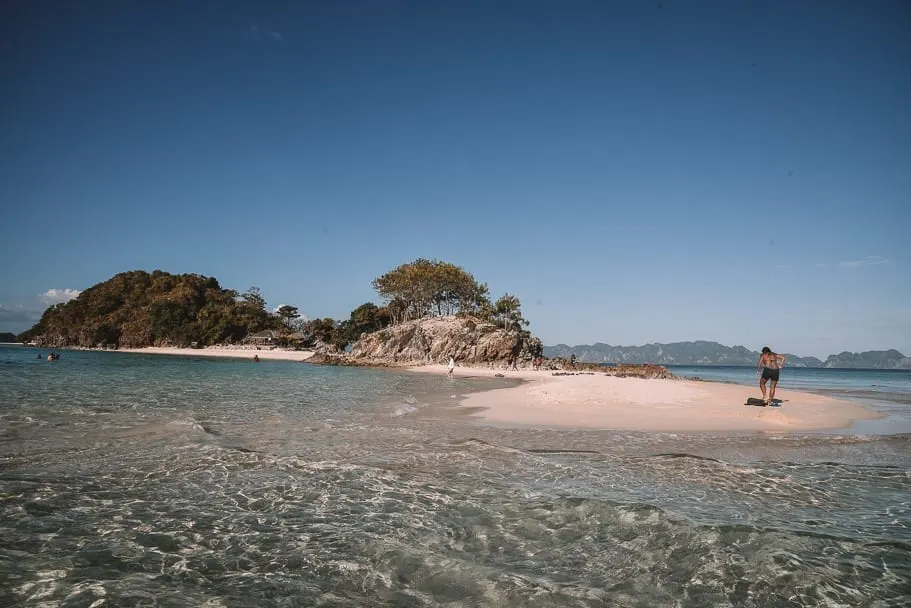 Malcapuya Island
The first stop was Malcapuya Island. This Island is absolutely beautiful – white sand beaches & crystal clear water.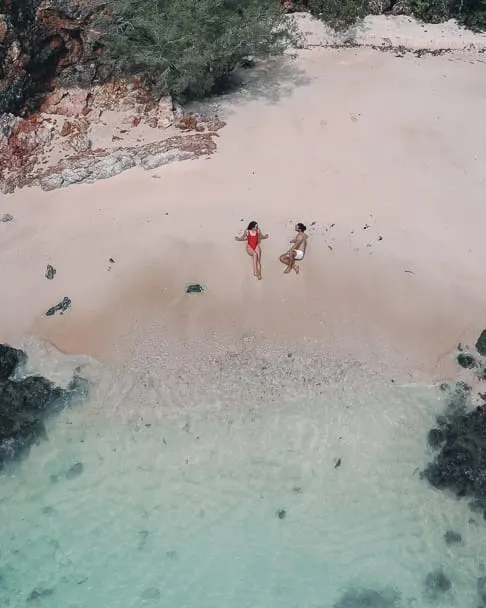 What we also loved about this beach was that there are plenty of tables & chairs to sit on at the beach to keep shaded in the hot weather in the Philippines.
This island is also great for off shore snorkeling so if you have brought or hired a snorkel, this is a great opportunity to see some beautiful reef life.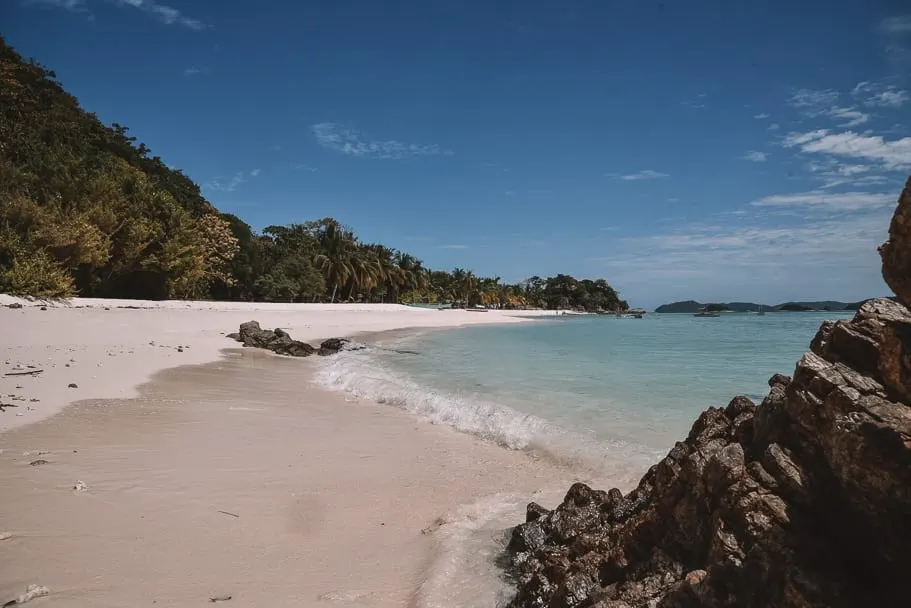 Banana Island
After enjoying snorkeling and swimming at Malcapuya Island, it was time to stop for lunch at Banana Island.
The JY crew prepared the most delicious lunch at Banana Island consisting of grilled fish, chicken, rice & fresh fruit.
Banana Island is also a great place to snorkel. If you feel energised after lunch we highly recommend snorkeling at Banana Island as it was one of the best snorkeling spots we experienced in the Philippines.
Metres from shore Mike found a huge school of fish on a feeding frenzy – check out our Instagram story highlights for more about this!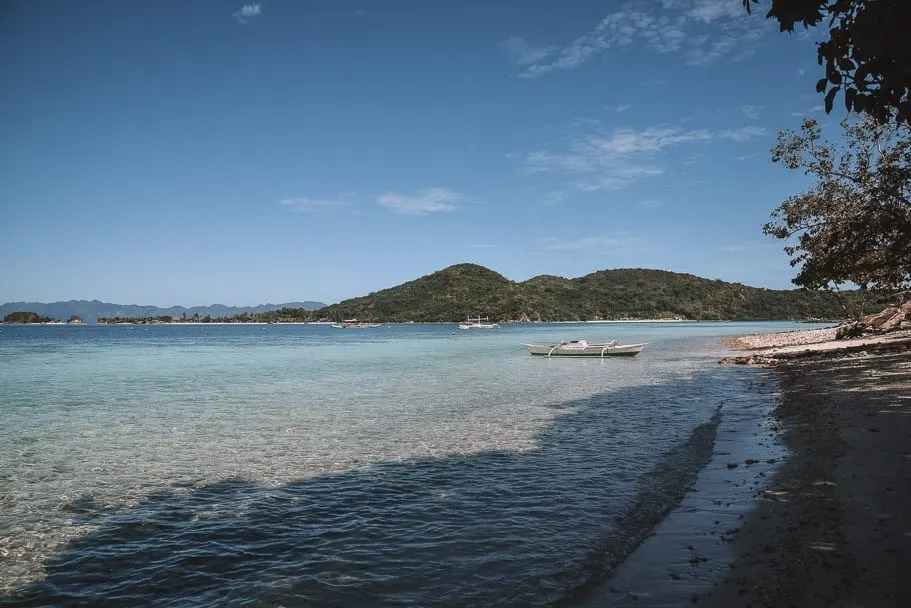 Bulog Dos Island
The island we were most excited about visiting for the day was Bulog Dos Island, which features a stunning white sandbar which protrudes from the beach.
Alas, we are not very lucky with sandbars. Just like our visit to Snake Island, El Nido – we visited at high tide so the ocean covered most of the sandbar.
Even though the full sandbar was not visible Bulog Dos was still an absolutely beautiful island. The snorkeling on this island is also fabulous.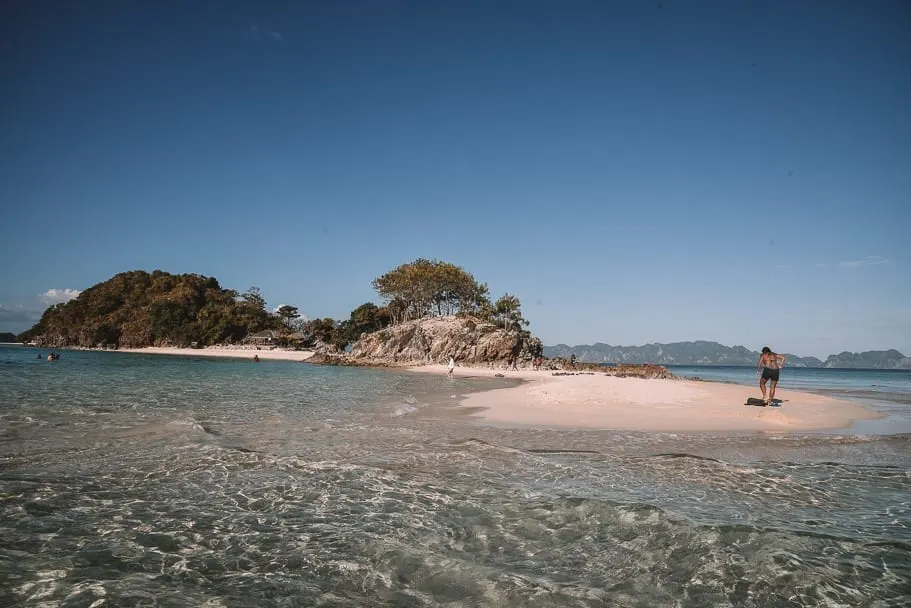 There is also a viewpoint on this Island where you can get some pretty cool Instagram shots.
Calauit Safari Tour
One of the reasons we were excited to visit Coron was to see African animals at the Calauit Safari.
We had seen this safari park on Instagram and were amazed that there was really African animals living in the Philippines. I mean, how cool is that?
Coron Safari
This tour starts even earlier than regular El Nido and Coron tours. The pickup time for the Coron Safari tour is 5am.
We actually didn't realise this and managed to miss our tour one morning. Not recommended. All of the island tours in Coron start at around 8am. This is different – be prepared.
The first stop is for a local breakfast for those who want it. Breakfast is 100 pesos per person and includes 2 eggs, Filipino sausages & rice.
From here, it takes around 30 minutes to reach the entry to the safari park.
The safari park is a very interesting experience and definitely not be missed if you are in Coron.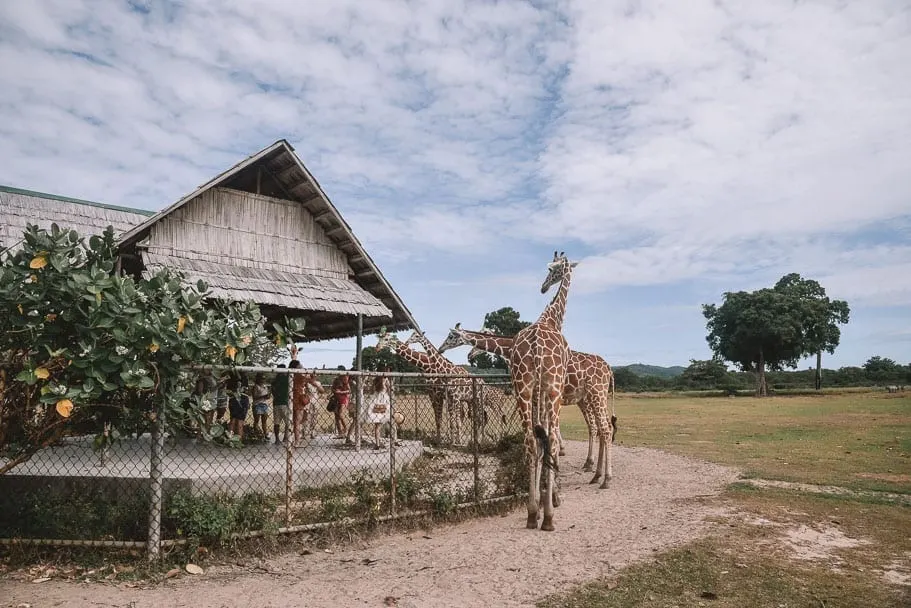 A cool quirk of the park is that it's located on an island reachable only by boat. It really felt like we were visiting Jurassic Park as our boat trundled up to this densely green island where rare animals awaited.
We found the boat ride over to the island to be pretty fun in itself.
When you first arrive, you get to feed the giraffes. It was so fun to be able to feed these animals. They were quite cheeky too so hold on to your branch or they will take it in one bite!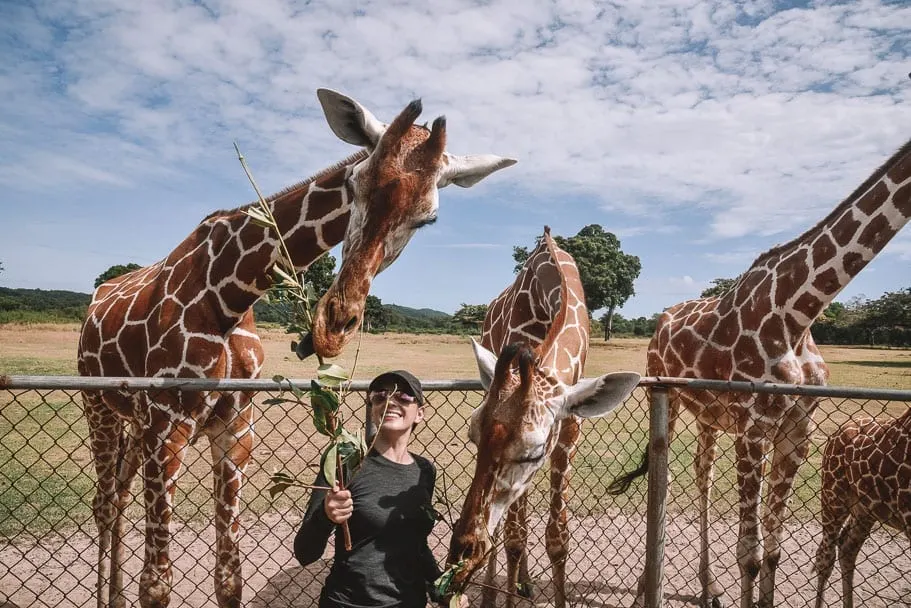 From there the rangers take you around the park to have a longer look at the animals and take photographs.
You can get fairly close to the giraffes and zebras in order to take a beautiful photo. The rangers don't like you getting closer than 3-4 metres.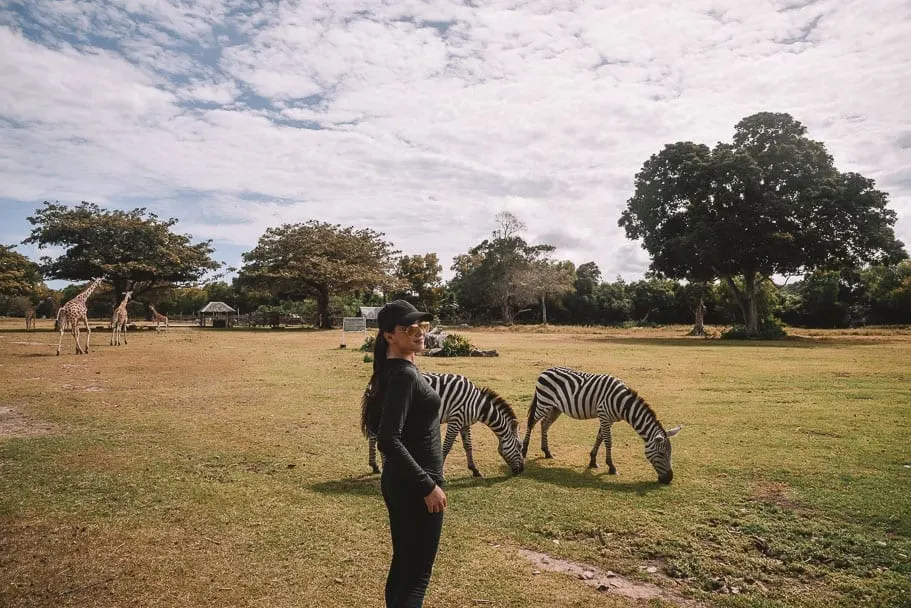 On the safari, the ranger also took us to see turtles, monkeys & a large snake.
It was a great experience and we would highly recommend it to anyone who loves animals.
After the safari, we had a quick pitstop at a local beach before heading back to the same restaurant as breakfast for lunch.
Black Island
After lunch the group split into two: those who wanted to see a waterfall & those who wanted to see Black Island.
We choose to skip the waterfall in favour of Black Island, an absolutely beautiful island off the north coast of Coron.
There is also an amazing cave on the island with a natural swimming hole. If you feel like an icey cold dip, you can even take a swim in the cave.
Otherwise, the rest of the Island has magnificent crystal clear blue water perfect for swimming (and drone shots).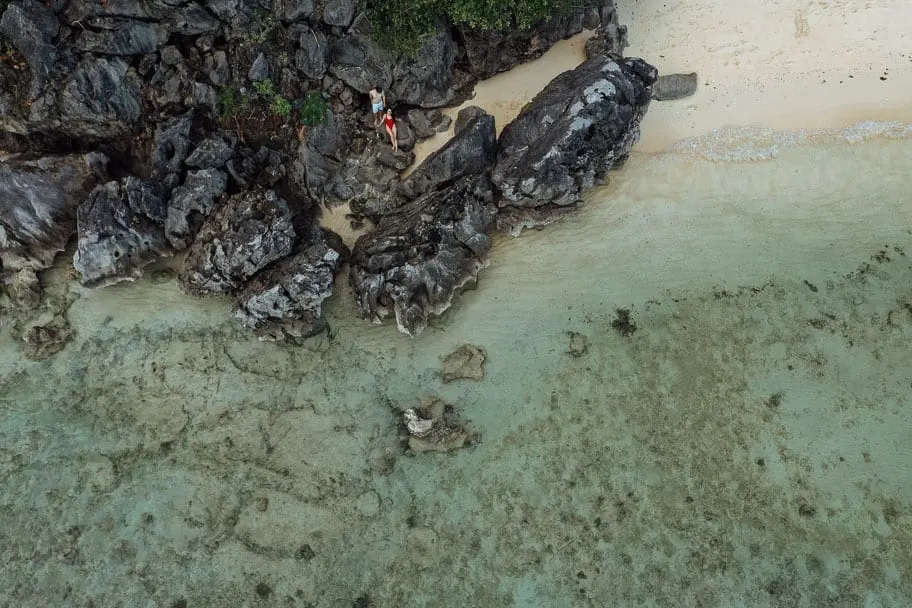 Black Island was the perfect relaxing end to the safari adventure.
Coron Town Tour
We arrived in Coron after a ferry ride from El Nido. The boat from El Nido arrrives at around 10am in the morning. This means it is too late to do a boat tour.
However, we didn't need to waste any time as we were able to join the Coron Town Tour! This tour starts at 4pm in the afternoon.
Admittedly, we are not usually fans of town tours. We would rather DIY. However, as this tour requires an after dark transfer to the hot springs 30 minutes from town, we think it's good value and more convenient than taking a tuk tuk.
We would highly recommend it if you have an extra afternoon spare while you are in Coron.
Lualhati Park
The first stop on the Coron Town Tour is Lualhati Park.
This was our least favourite spot of the tour but it was only a short stop for 10 minutes.
Basically, it is a nice river view walk/dock boat. Locals sell various souvenirs here and if you haggle, you can get a great price!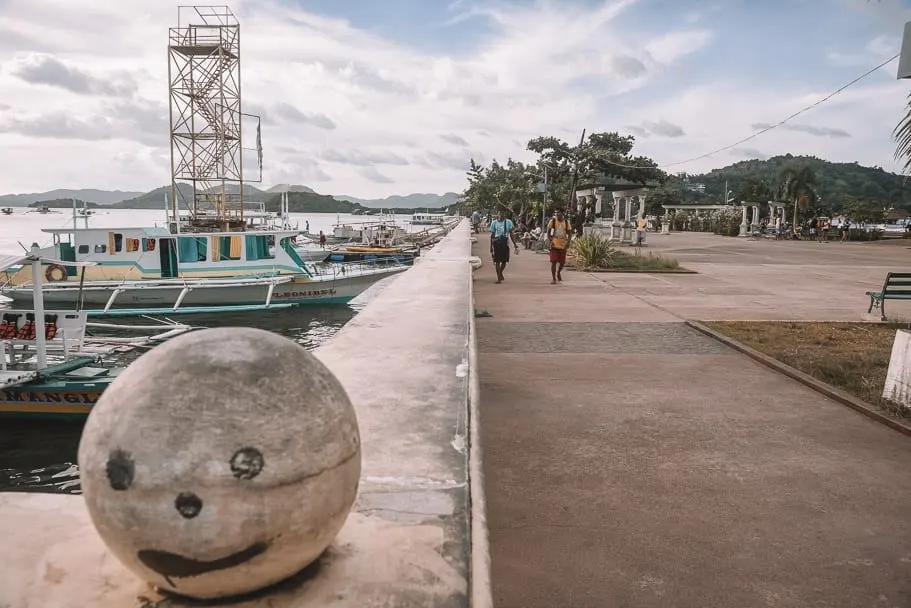 Mt Tapyas View Deck
The highlight of the Tour in our opinion was what came next – Tapyas View Deck.
The view and scenery at the View Deck is sublime.
We were not expecting this kind of countryside in the fisherman village of Coron and we were totally blown away.
In order to access the view deck, it is around a 20 minute stair climb to the top. We found it reasonably tiring (we were quite exhausted at the top).
Our guide told us that older people still manage to make it so it is definitely a doable hike!
From on side of the mountain a view deck with a beautiful vista of Coron town. On the other side is beautiful yellow rolling countryside like the one pictured below.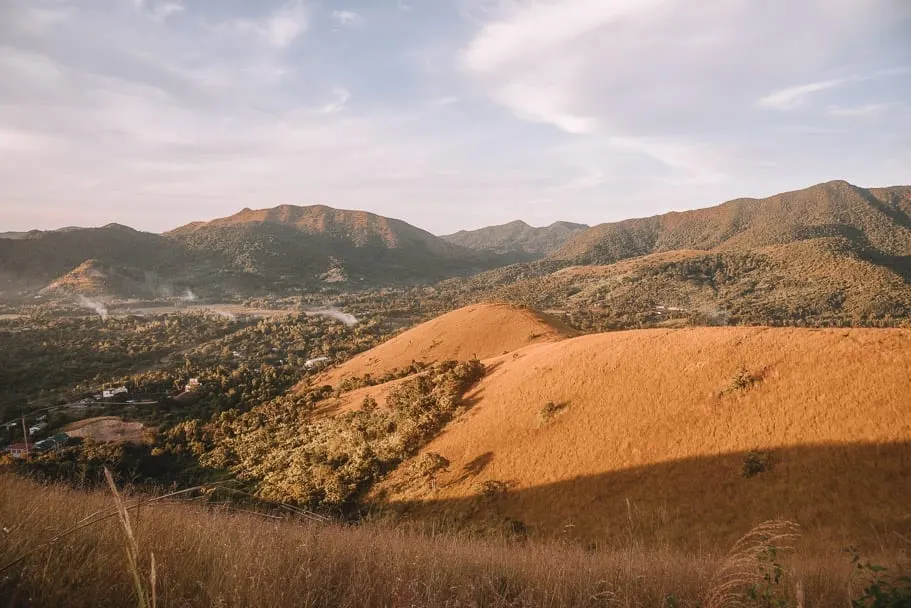 Mt Tapyas View Deck is the perfect place to enjoy a beautiful sunset.
One of the reasons for the late start of this tour is so you can sit down and enjoy the sun set over Coron.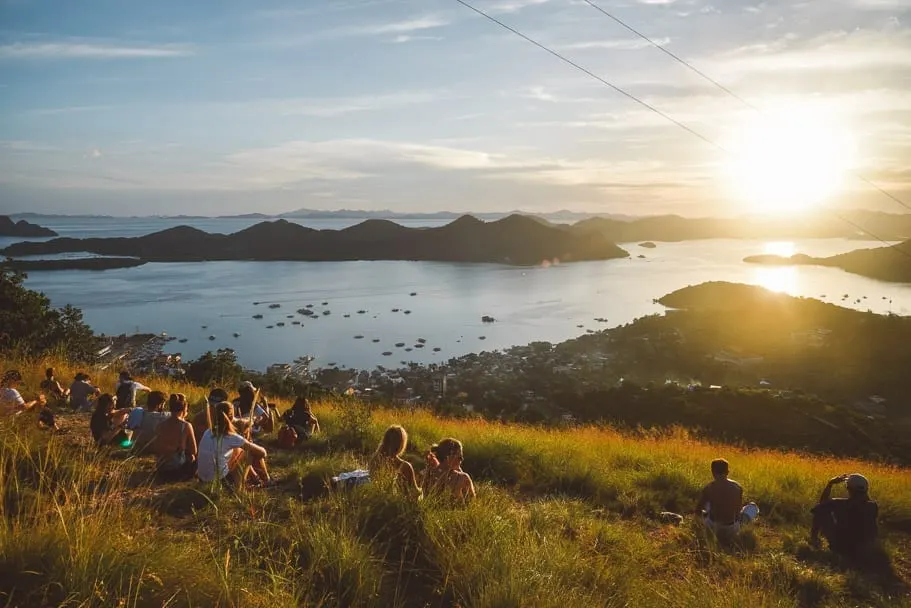 Maquinit Hot spring
After a steep climb uphill, what is better than relaxing tired muscles under the stars?
We weren't sure what to expect of Maquinit Hot Spring but we were pleasantly surprised.
The hot spring was so relaxing. It is extremely hot though and hard to stay in longer than 20-30 minutes at a time.
Luckily, there is a little cafe where you can buy cheap drinks and relax around the hot springs while you steam off.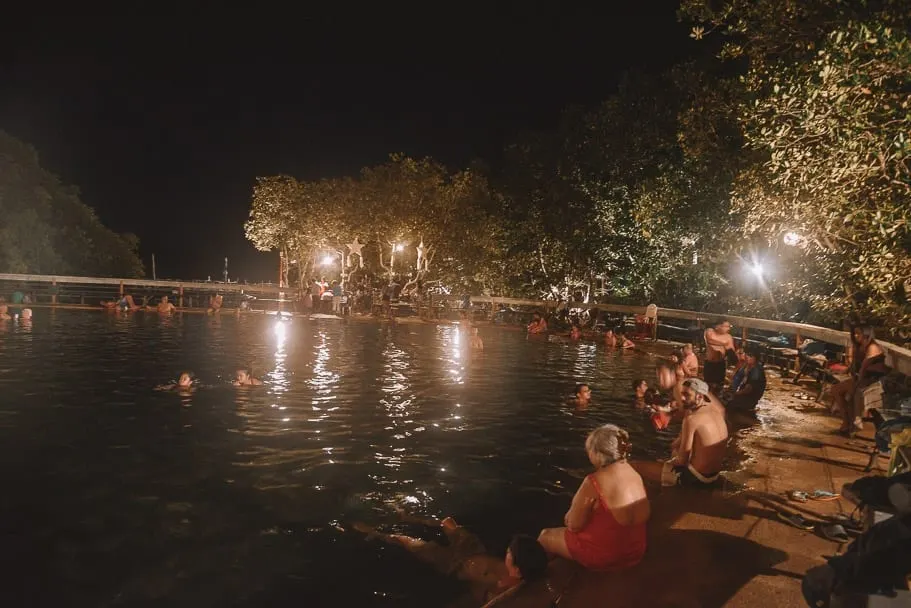 Our group preferred to stay longer at the bigger attractions. There were a few attractions we missed in this tour: Town Plaza, Souvenir Shops, St Augustine Church & the cashew harvest.
What is great about JY Travel & Tours – they listen to the needs of the group and their preferences.
We loved that the tour is adaptable to individuals interests.
Which Tour Company? JY Travel & Tour
All Tours of Coron we did with JY Travel & Tours. We couldn't recommend this company highly enough.
The staff were fun, professional and looked after our safety the entire time. They were also very helpful with information about the surrounds.
Not only are the staff fabulous but they serve a fabulous lunch consisting of grilled fish, chicken, pork, prawns, grilled vegetables, rich & fruit.
If you are looking for a tour in Coron, we would highly recommend this company.
You can find more information on JY Travel & Tour website. You can also them on Facebook & Instagram.
Where to Stay in Coron
There are so many great places to stay in Coron to suit all budgets.
Click here to search all accommodation in Coron during your dates.
We would recommend staying in town rather than outside of town as there tends to be better access to internet! We stayed in a very clean & comfortable place in town with a great view.
To see where we stayed in Coron click here!
We were guests at JY Travel & Tour as part of these tours. However, as always, all opinions are our own.
We hope this helped you plan your Coron tour! If you have anything to add or need some advice, leave a comment below!
Save this 'Coron Tour Guide' to Pinterest so you can find it again later!
[/et_pb_text][/et_pb_column][/et_pb_row][et_pb_row admin_label="Row"][et_pb_column type="1_3″][et_pb_image admin_label="Image" src="https://coupletraveltheworld.com/wp-content/uploads/2018/12/What-to-do-in-Coron-Philippines.png" alt="What to do in Coron Philippines" show_in_lightbox="off" url_new_window="off" use_overlay="off" animation="left" sticky="off" align="left" force_fullwidth="off" always_center_on_mobile="on" use_border_color="off" border_color="#ffffff" border_style="solid"] [/et_pb_image][/et_pb_column][et_pb_column type="1_3″][et_pb_image admin_label="Image" src="https://coupletraveltheworld.com/wp-content/uploads/2018/12/The-Best-Tours-Coron.png" alt="The Best Tours Coron" show_in_lightbox="off" url_new_window="off" use_overlay="off" animation="left" sticky="off" align="left" force_fullwidth="off" always_center_on_mobile="on" use_border_color="off" border_color="#ffffff" border_style="solid"] [/et_pb_image][/et_pb_column][et_pb_column type="1_3″][et_pb_image admin_label="Image" src="https://coupletraveltheworld.com/wp-content/uploads/2018/12/Things-to-do-in-Coron-and-what-tour-to-take.png" alt="Things-to-do-in-Coron-and-what-tour-to-take" show_in_lightbox="off" url_new_window="off" use_overlay="off" animation="left" sticky="off" align="left" force_fullwidth="off" always_center_on_mobile="on" use_border_color="off" border_color="#ffffff" border_style="solid"] [/et_pb_image][/et_pb_column][/et_pb_row][/et_pb_section]