Gorilla trekking Rwanda is becoming one of the most popular activities in East Africa. It is a once-in- a-lifetime experience that is both unforgettable and exciting.
Located in the lush jungles of East Africa, gorilla trekking offers an up close (close and personal) look at one of the most impressive animals, you may even be lucky enough to come face-to-face with a silver-back Gorilla.
In this guide we will provide you with everything you need to know to complete a gorilla trek in Rwanda including how to go, where to stay and what to pack. When preparing for a Gorilla trek it is imperative that you pack and wear the right gear!
Gorilla Trekking in Rwanda
Gorilla trekking is currently offered in Rwanda, Uganda and the Democratic Republic of Congo. Each country offers a unique immersive experience, with differences in weather and the terrain!
Each trek generally starts with an early morning start to see the Gorillas so you can't easily avoid that no matter which country you visit.
How much is gorilla trekking in Rwanda? Vs Uganda and Congo
Currently, Gorilla permits in Rwanda cost $1,500, in Uganda they cost $700 and in the Democratic Republic of Congo they cost $400.
Our party chose to visit Rwanda to gorilla trek as Rwanda is reportedly a less strenuous hike to see the primates. As a general rule, gorilla trekking in Volcanoes National Park, Rwanda is easier than Bwindi Impenetrable Forest in Uganda. Of course, this is never guaranteed as it depends where the gorillas are located on the day of your trek.
Volcanoes National Park is also much easier geographically to visit than Bwindi Impenetrable Forest in Uganda as it is located only a 2 hour drive from Kigali, where you will fly in. In Uganda, you require an additional flight after landing at the international airport in Entebbe. This can easier eat up the difference in the gorilla trekking cost fast so make sure you look into the cost of flights if you are choosing to trek in Uganda based on a cheaper permit.
While it is the most costly, Rwanda is also the safest country to trek with gorillas. In fact, Rwanda is one of the safest countries to visit in Africa. We were amazed with how incredibly safe we felt the entire time we were in Rwanda. The streets are also insanely clean, cleaner than most places we have visited in Europe and America so overall, despite the increased price for gorilla trekking, we felt that it was a good choice.
In Kigali, you will notice that you have to pass through airport style security every time you enter a building. This surprised us. The locals told us it is not really necessary anymore and something that is leftover from the genocide.
Also, our guide told us that in Rwanda, the money you pay for the trek goes directly back to gorilla conservation as well as to assist the local community which is a great initiative. We felt the money we were paying for the trek was going to good use.
You can book gorilla permits directly online from the government website. If you are booking a tour, they will book the permits for you.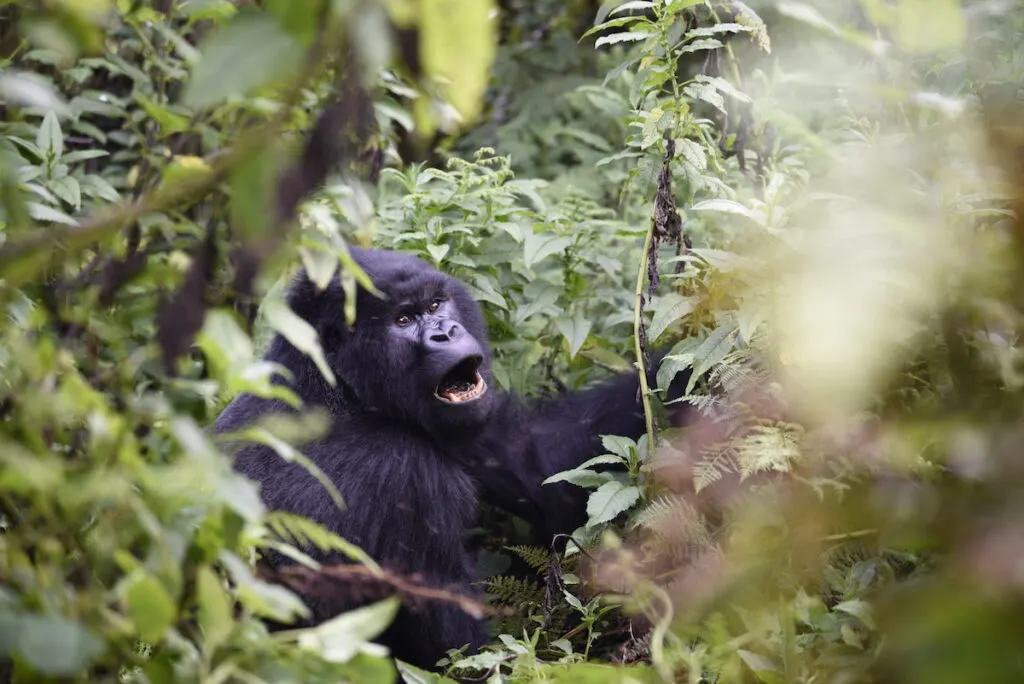 What to wear gorilla trekking in Rwanda?
It is extremely important to wear the correct hiking gear whilst trekking to see the endearing gentle giants of the forest.
This isn't your regular hike with a designated path, the trek involves going into an unpathed rainforest, guides using a machete to clear the path in front of you from vines and shrubs.
As hikers penetrate into the African jungle, the vegetation can change from thick tropical rainforest to highland bamboo forests.
In regards to what to wear, it is highly important to have your body protected – you should dress in layers. The weather in the African rainforest can be irregular, unpredictably changing from chilly to hot and humid.
Wearing layers allows you to adjust your clothing as the weather changes throughout your trek.
On the bottom I would recommend wearing lightweight, durable clothing. Avoid wearing jeans or cotton clothing as even though it may look better for an Instagram snap, you will not be comfortable if the weather becomes humid. Opt for Nylon or polyester.
Hiking pants women we would recommend:
Waterproof Stretch Convertible Outdoor Pants
Hiking pants men we would recommend:
Wespornow Men's-Convertible Hiking Pants
CQR Men's Tactical Pants, Water Resistant Ripstop Cargo Pants
Your pants must also be able to ensure you are best protected from stinging nettles, wearing gaiters over your pants will also increase this protection.
A lot of places online recommended buying gaitors to wear for gorilla trekking. We weren't sure if this was really necessary but they proved to be a godsend while we were trekking to protect ourselves from the stinging nettles – they are very real and abundant!
Womens gaitors we would recommend:
Unigear Snow Leg Gaiters, 1000D Fabric Waterproof Boot Gaiters for Hiking Walking
Mens gaitors we would recommend:
Pike Trail Leg Gaiters – Waterproof and Adjustable
On your outer layer, I recommend taking a fleece jacket that will keep you warm with a raincoat over the top.
The area which you hike gorillas in the Volcanoes National Park is at high altitude. This means it is reasonably cold year round which is why dressing in layers is important. We visited the area in May (a warmer month in Volcanoes National Forest) and still needed a light jacket.
It rains a lot in the area so a rain jacket is also very essential, especially if you are planning a trek in the rainy season (September to May). It is rather un-surprising that it rains a lot considering how lush and green the forest is.
The stinging nettles can also be found quite high so it is also important to protect your upper body. I would advise wearing a long sleeve hiking shirt underneath your jacket layer in case you need to peel off in the heat and to protect yourself from stinging nettles.
Jacket women we would recommend:
Long sleeve Hiking shirt – Women's Long Sleeve Shirts UPF 50+ UV Sun Protection Safari Shirt
Under layer – Columbia Women's Benton Springs Full Zip
Rain jacket – Columbia Women's Arcadia Ii Jacket
Men's Jacket men we would recommend:
Long sleeve Hiking shirt – Men's Long Sleeve Sun Protection Shirt
Under layer – Columbia Men's Steens Mountain 2.0 Full Zip Fleece Jacket
Rain jacket – Columbia Men's Glennaker Rain Jacket
The right shoes are also extremely important – hiking boots, that are waterproof are essential! Hiking boots will provide you with support and keep your feet protected from the slippery muddy terrain!
It was extremely muddy completing the gorilla hike. We were slipping and sliding everywhere and hiking shoes really were a big help. We wondered if crampons would also assist but did not end up bringing them. I think it was a wise decision as I don't think the mud was hard enough for the crampons to get enough grip.
Hiking boots for women we would recommend:
NORTIV 8 Women's Hiking Boots Waterproof Backpacking Lightweight for Outdoor Trekking Camping Trail Hiking Boots
Hiking boots for men we would recommend:
NORTIV 8 Men's Waterproof Hiking Boots Outdoor Mid Trekking

Last but not least, you will require a pair of good quality gardening gloves as when you are trekking through unmarked areas in the forest, with no path, these will come in real handy. You will be required to push branches away with your hands as you walk.
Always remember to wear a hat and sunglasses to protect you from the hot African sun! By dressing appropriately, you can ensure that you are comfortable for your great adventure!
Only pack the essentials! As you may be hiking for several hours (depending on how close the family is) it is extremely important only to pack the necessities.
Note: Your shoes and gaitors will get insanely muddy. Our hotel, Five Volcanoes Boutique Hotel, was very nice and the staff cleaned them for us when we arrived back.
In your backpack I recommend packing, a full water bottle at least 2 L (unfortunately you won't have anywhere to refill your bottle), some insect repellent, some sunscreen and some snacks. Get insect repellant with as high level of DEET as possible. Usually your hotel will provide you with snacks for your hike so you aren't required to buy them in advance.
If your backpack is heavy and you are worried about carrying it to find your Gorilla family you can hire a porter. Porters are members of the local community and by hiring a porter you are giving back to the local community.
Porters have a lot of experience in Gorilla treks and know the terrain. They can help you carry your backpack and camera equipment and can also help you up steep parts of the trek. If you are a little uneasy on your feet, you will really appreciate the help of a porter.
Our guide told us that you pay porters around $10 USD plus a tip. Expect to pay around $20 USD total including a tip. The porters were really kind and gracious people and we felt by hiring them it was helping them a lot so we would really recommend hiring a porter, whether you can carry your backpack or not.
Note: You don't need to pack hiking poles as these are provided to you from your gorilla guide either in the form of a wooden pole or bamboo stick they find in the forest.
What to expect on a gorilla hike in Rwanda?
The Gorilla trek will forever be one of the most memorable activities I have ever taken part in.
Expect to leave your accommodation around 6.30am to set off for the gorilla hike. From most accommodation in the area, including where we were staying at Five Volcanoes Boutique Hotel it is only around a 15 minute drive to the area where you get a gorilla briefing before your trek.
The gorilla meeting area is lush, green and clean – much like the rest of Rwanda. The whole 'operation' is very organized.
When you first arrive, you stand around and wait to be assigned a gorilla family. There are around 20 gorilla groups that you can trek to in the Volcanoes National Forest. Each group has a maximum of 8 people plus the guide, porters and gorilla trackers. Therefore, a maximum of 100 people a day can complete a gorilla hike.
While you wait to be assigned a gorilla group and guide, you can help yourself to a complimentary barista made coffee. This coffee is some of the very best we have tasted in Rwanda so it is highly recommended to get a cup (even if it means you might have to use the bush toilet on the hike).
Depending where your gorilla family is located will depend whether you have an easy, medium or hard trek. If you are unfit or not a confident hiker, you can request an easy trek but this is never guaranteed. Also, even if you request an easy trek and it is granted, an easy hike is not guaranteed as your gorilla family can move further into the forest during your hike.
We requested an easy trek as we were hiking with my parents in their 60s/70s but our request was not possible to be granted as there was a lot of older people on the day of our hike and the easy groups were already full. We got assigned a medium – hard trek.
After we were assigned our trek, we met our guide who was very friendly and informed us about some safety protocol in the area surrounding mountain gorillas, sounds to make, things to do and not to do when you get in close contact with the gorillas. For example, if the gorilla runs and you and beats its chest, you should crouch down and act submissive to let them know you are not a threat and/or do not wish to challenge them.
You are only allowed to stand within 10 metres of the mountain gorillas but they are allowed to approach you if they wish. Upon occasion, gorillas have touched people but (so far) there was never been a fatal incident involving a mountain gorilla and a person in Rwanda so you can feel very safe tracking the gorillas here. They are very peaceful animals who are used to humans as they see them each day during the treks.
We were a bit concerned about the danger of coming in close contact with wild gorillas but we didn't really need to be. Sure, they are wild animals and there could be an unusual incident but it is not at all likely.
Our trek (medium – hard) took us around 5 hours to complete from start to finish. Out of the 20 groups hiking the day we completed the trek, we were the 4th last group out of the forest.
It was a reasonably difficult and fairly long trek but I thought it was achievable for someone with medium fitness. My Dad in his 70's completed the medium/hard trek without too much trouble.
Probably, the worst part about the trek was the high altitude which made it harder to breathe than normal. This was more noticeable at the beginning of the hike.
From the meeting area, it was around a 20 minute drive to where the hike started, in a local village. Depending what gorilla family you are assigned, you could be driving up to 2 hours from the meeting point to start your hike. The drive was fine, except the last part up to the start of the trek which our guide described as an "African massage" due to the unpaved bumpy roads.
When we arrived in the village, we were welcomed by the cutest African children. These same African children greeted us as we finished out trek and chased our car down the road for miles as we left – it was very adorable.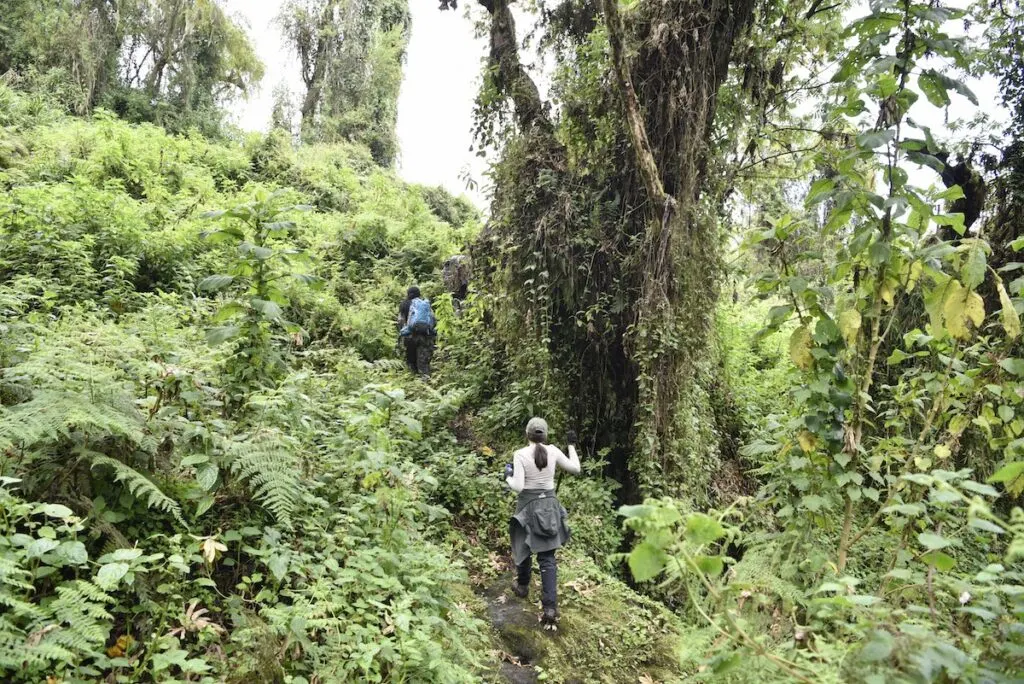 The first 30 minutes of our walk was through farmlands to the start of the forest.
When we reached the start of the forest, the real hard part of the trek began as it was all uphill from here and rather muddy. We probably trekked for a solid few hours, stopping regularly for water breaks before we made contact with the gorilla family.
Expect to be trekking through thick forest, often creating your own path. Your guide and/or the gorilla trackers or porters will have a machete to assist creating a path. You gloves will really come in handy here.
Gorilla trackers let your guide know where the family you are tracking are located, so your chances of seeing gorillas is almost guaranteed.
The gorilla trackers work really hard and someone spends all day/night tracking the gorillas in shifts. While it is not compulsory, it is recommended to provide the trackers with a small tip for their hard work. They don't come back down the mountain with you, so it is necessary to tip them after you have finished viewing the gorillas.
When the gorilla family is in sight, you are made to remove your backpacks, leave your belongings including any food and water before getting close to the gorillas. I didn't hear the water part and took my water bottle with me. I got in trouble by our guide so make sure you listen carefully to all the instructions.
You spend 1 hour with the gorilla family you are assigned before heading back down the mountain. Seeing the gorillas in their natural habitat up close and personal was one of the best experiences of our life and something we will never forget.
Spending $1500 to trek with gorillas seemed expensive to us and we wondered whether it was worth the money before completing the hike.
If you are wondering the same thing, I can say with 100% certainty it is worth every penny and is something we would do again if we had the chance.
Coming back down the mountain is very slippery so your hiking boots with good grip will come in handy here.
When you reach the bottom and back to the village, there will likely be stands where the locals wish to sell you souvenirs. Bring some cash to buy something small from them as they really appreciate it. They live very poor in the village, we used a locals toilet and it was just a hole in the ground, so every bit of cash makes a big difference.
How hard is gorilla trekking in Rwanda?
One thing we googled a lot before we left was – how hard is gorilla trekking in Rwanda. Mostly because we had our parents in their 60s/70s with us and we were unsure if they would be able to complete the hike.
There is no exact answer because it depends where the mountain gorillas are located on the day of your hike, however, I would say if you are of medium fitness, you should be able to complete a gorilla hike in Rwanda. As a general rule, gorilla trekking in Rwanda is easier than Uganda so if you are worried about being able to complete the hike, we would suggest going to Rwanda over Uganda. Our driver said he has done both and Rwanda is definitely the easier hike.
You can request an easy hike at check in on the day of your tour, but as stated before this is not guaranteed and we did not get an easy hike despite requesting it.
If you are totally immobile but still want to see the mountain gorillas, it is still possible if you hire a gorilla chair. This means that 4 porters will carry you up the mountain.
Where to book a gorilla hike in Rwanda?
Many people book a gorilla hike through a tour which organises everything for you including your passes. If you have limited time or wish to stay in Kigali the whole time, you can book a 1 Day tour of the mountain gorillas.
Unlike Uganda, this is possible in Volcanoes National Forest as Kigali is only located 2 hours drive away. I would recommend booking at least a 2 Day tour of the Gorillas and ideally a 3 day tour if possible as a 1 day tour means you have to leave your hotel in Kigali at around 4.30am in the morning. Also, the drive from Kigali is quite windy so you may feel sick right before your hike which is never a positive.
If you want to somewhat DIY to save money, you can book gorilla permits directly online from the government website. As mentioned above, the permits cost $1500 USD each.
It is recommended to book your permit at least a few months in advance of your trip as they do sell out. The second most popular activity in the area is hiking to the Golden Monkeys. We weren't able to complete this activity as it was sold out the day after mountain gorillas.
You can only somewhat DIY your trip to see mountain gorillas as you are not allowed to rent a car and drive from Kigali to Volcanoes National Forest so you will need to find a driver. Often , your hotel can arrange this for you and our hotel, Five Volcanoes Boutique Hotel, was able to organise a driver for our group of 6 people for $300 USD a day.
For this money, our driver (called Baboon due to a baby baboon he adopted) was able to drive us anywhere we wanted.
Do you still need a COVID-19 test to trek the mountain gorillas in Rwanda?
Yes, as of 2023, a COVID-19 test is still required to trek the mountain gorillas and the golden monkeys. You are also required to wear a mask when you get in contact with the primates. Your guide will let you know when you need to put on your mask. You aren't required to trek with your mask on, only when you come into contact with the gorillas.
You can get a test at the Kigali airport for $50 USD each person. This was very easy to do and you will see signs as you go to collect your bags. The testing was very quick (taking around 1 hour for 6 of us to get tested). Our results were available for us to check online that evening.
Your COVID-19 test needs to be valid for the days you trek gorillas and golden monkeys so keep this in mind when you are booking in a test.
Most accommodation near Volcanoes National Park in Rwanda will also be able to organise the COVID-19 test for you for around $60 USD to call a doctor out to the hotel to take the COVID-19 tests.
Where to stay in Rwanda for Gorilla trekking?
If you are looking for somewhere to stay in Rwanda for Gorilla trekking, Five Volcanoes Boutique Hotel is the perfect jungle haven to reside at.
My family and I had the pleasure of staying at Five Volcanoes and it was an exceptional experience. The hotel provides an unparalleled experience, with outstanding hospitality, service and facilities.
From the moment we arrived, I was captivated by the hotel's charm. Five Volcanoes Boutique hotel is perfectly situated on the edge of the Volcanoes National Park, allowing for convenient access to the park to witness the Gorillas!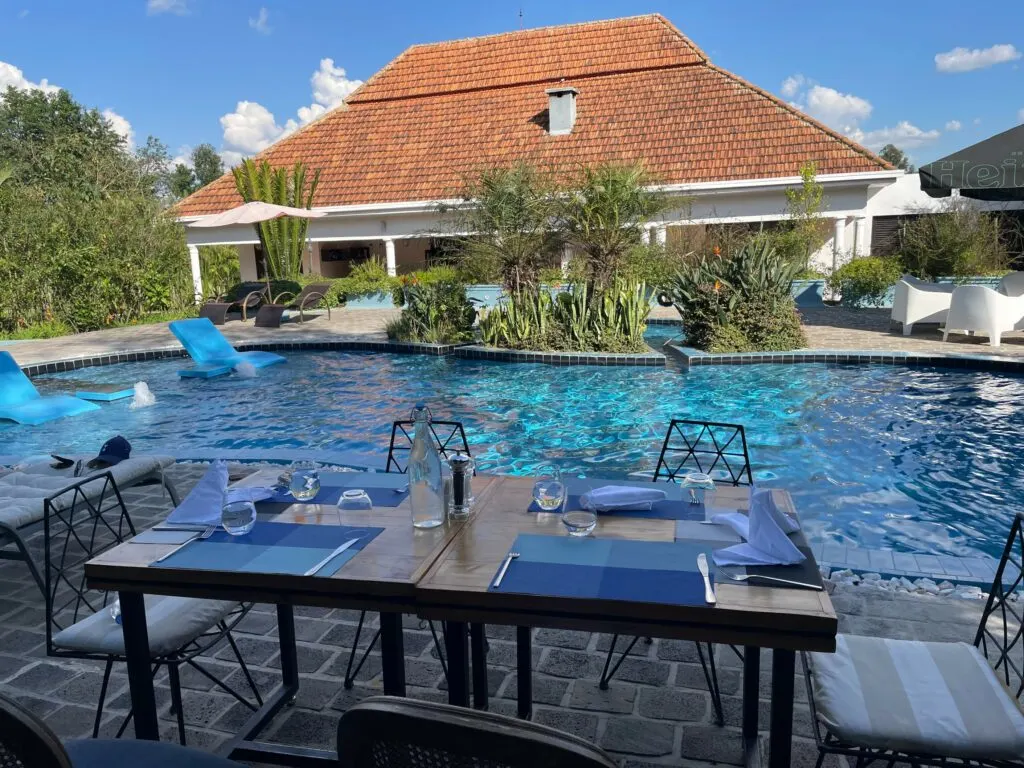 The boutique hotel is a beautifully tranquil experience. The architecture of the hotel has a traditional Rwandan influence whilst also providing a modern design.
The attention to detail is unparalleled – from the furnishings of the rooms to the artwork displayed on the walls of the beautiful boutique hotel.
The rooms are extremely comfortable, spacious, clean and provide you with luxuries such as hot showers and in room heating (which isn't provided at other hotels nearby).
My group stayed in the Volcano Manor, which was perfect for a family. The Manor fits 6 guests, with 3 bedrooms, a lounge and dining area.
Each bedroom room was equipped with a private balcony and terrace offering breathtaking views of the property.
The staff even offer for you to have breakfast, lunch and dinner in your personal dining area by bringing the food to you. The scenery around the hotel is beautiful, with a pool to relax by during the day.
The dining experience was exceptionally delicious, with many options to choose from each night (including an entrée, main meal and desert).
Each meal had exquisite flavours and each dish was well presented.
On our last night, our waiter went above and beyond and organised a personalised traditional Rwandan meal, which was absolutely delicious.
If you like cocktails, ask the staff about the Five Volcanoes specialty cocktail!
The colour was bright blue and it looked as good as it tasted. The hotel staff provided a 5 star service – providing an early breakfast for your Gorilla trek and even pack you a lunch!
After you return from the trek they clean your boots and give you an incredible foot massage.
The staff were extremely helpful to cater for any of our needs, ensuring that we had a memorable stay Five Volcanoes boutique hotel also offer a range of activities to enhance your experience – whether it is a Gorilla trek, a cycling tour, visiting the Golden monkeys or a canoe trek.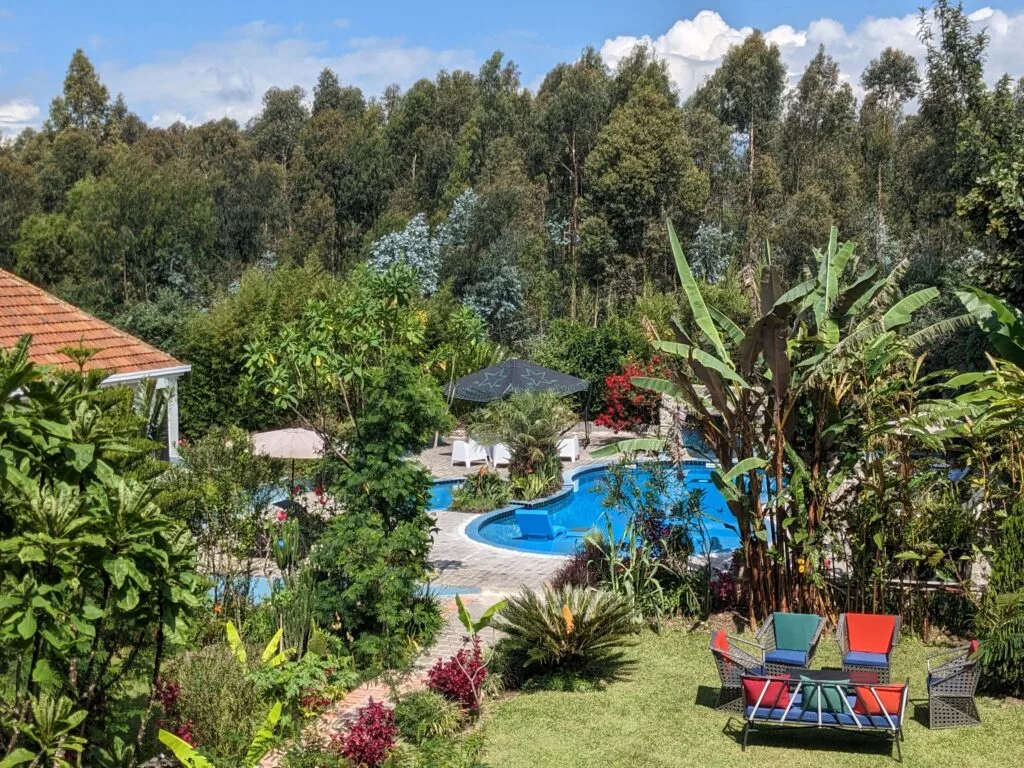 I intend to visit Rwanda again for another Gorilla trek and will definitely be choosing to return to Five Volcanoes Boutique Hotel.
I will also be recommending this hotel to anybody who also wishes to visit Rwanda.
When planning your trip, it is a good idea to check the availability of the hotel in advance and try to make your reservations early – this hotel can be in high demand due to its unparalleled features and due to the amount of people planning Gorilla treks in the area.
****