Considering cruising on the Norwegian Star but don't know what the ship will be like?
You have come to the right place. We have traveled on Norwegian Cruise Line a lot (here's a Norwegian Getaway review, a Norwegian Sun review and a Norwegian Sky review) and are now finally platinum members (yippee – hello free speciality dining meals!) so we know a thing or two about Norwegian ships.
Norwegian Star is one of the smaller of the Norwegian cruise fleet, it is also one of the older ships which means it doesn't have some of the facilities of the large ships like waterslides but we still really enjoyed our cruise.
We cruised on the Norwegian Star for over 30 nights on a back to back sailing from Southhampton UK to Reykjavík Iceland up the coast of Scotland and Norway. During this time, I noted my thoughts on the ship so keep reading for the good, the bad and the ugly of the Norwegian Star to decide whether you would like to cruise on it for your next vacation.
Norwegian Star Review: The Good Bad and the Ugly
Entertainment
The entertainment on the ship was of a really high quality overall. The ship has a production team which consist of 3 lead female singers, 3 lead male singers and backup dancers. I believe this team rotates every 8 months or so so the production team may vary depending on when you travel.
If you are on a cruise for around 10 days (this was 1 leg of our 3) they will do 3 shows in total. These shows are on repeat for a few months so if you do back to back cruising, you will likely need to see the same show twice. That being said, we really liked the production shows and were happy to see them a few times. There was a good show when we sailed called "What the World Needs" celebrating music of Burt Bacharach.
We also met the cast around the ship and they were all really nice and friendly. They are allowed to access some of the guest facilities like the gym and buffet so you often see them around. Most of them are up for a chat.
In addition to the production performances, there are 3-4 guest acts that Norwegian hires which perform in the Stardust theatre (the main stage). This is the only theatre on the ship.
During our cruise, we had a guest singer, a magic show, a juggler, a violinist and an acrobatic duo. All shows were good but the acrobatic duo (MP Art Duo) were absolutely phenomenal and absolutely world class having previously worked for Cirque du Soleil.
This is a great cruise for young adults so if you are in your 20s/30s and thinking to book this cruise we would say, go for it as the entertainment was great for this age group.
My Dad was disappointed we didn't have a comedian onboard on the first two legs of the cruise like there has previously been on other ships. Being a smaller ship, there was less overall entertainment than larger ships like the Norwegian Epic and less choice but it was still overall a very high quality. We were on back-to-back sailings and on the third leg of the cruise a comedian did come on. Although, I would rate the entertainment and comedic value as poor. It was disappointing to say the least.
A benefit to the larger ships is that you don't need to book shows in advance. You can just show up and get a seat. I really liked this as it meant you didn't have to plan your schedule in advance.
In addition to the theatre performances which are generally on 7pm and 9pm (two shows nightly) there was various other entertainment around the ship like piano players, guitarists and violinists to watch as you enjoy a drink.
Rating: 9/10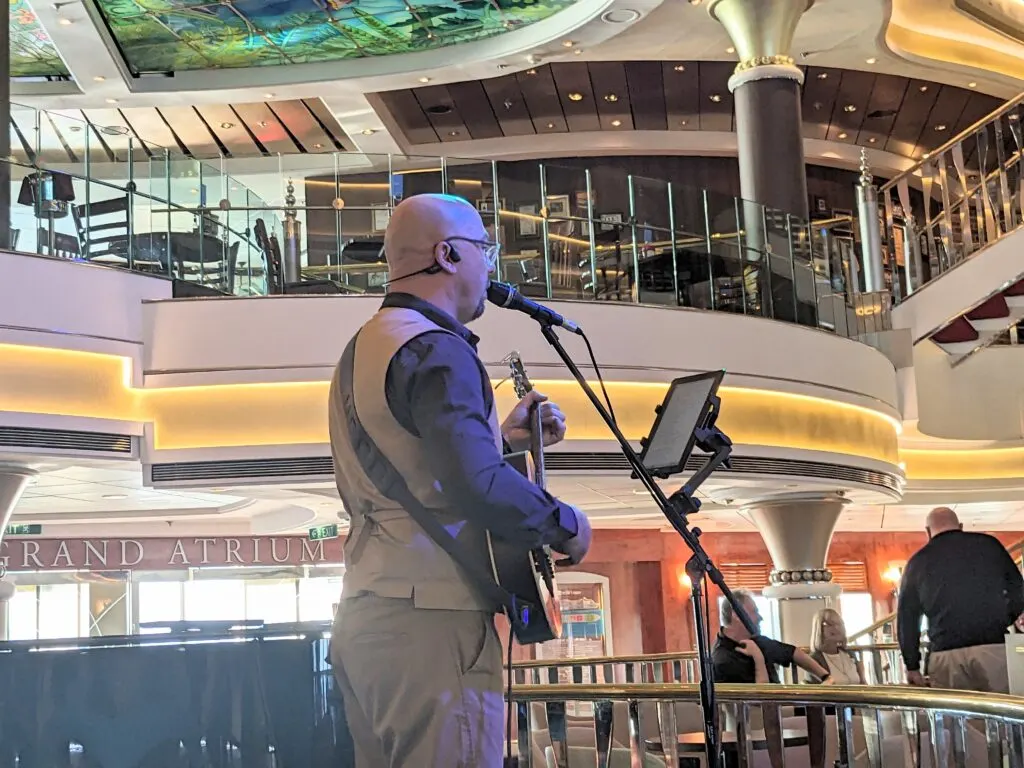 Food
The food on the Norwegian Star was overall of a very high quality. There are 2 free main dining areas (Versailles and Aqua) as well as a pub area (O'Sheehans), a Chinese restaurant (Ginza) and a buffet (the Garden Buffet) that you can visit without a speciality dining package.
Versailles is the fancier of the two free restaurants onboard the Norwegian Star with an old-world Mary Antoinette vibe. The ceilings at the restaurant are high and the decor of the restaurant is regal and gold. Lovely oil paintings line the walls.
Aqua presents more modern-style dining with more modern furniture and finishings as well as a star ceiling.
Versailles was my preference of the two as I preferred the decor and the service tended to be faster as a whole. Both Versailles and Aqua serve exactly the same menu each night and share a galley so the food for both restaurants is identical.
I think some guests just choose to dine at whichever restaurant is closer to their cabin. There are a lot of larger guests onboard the cruise – it is a foodies paradise after-all – and some of them can't walk very far.
The menu for Versailles and Aqua changed nightly and for the most part I couldn't fault it. Some of my personal highlights (if you see them come up) are the peanut bang bang chicken and shrimp and the rainbow trout.
We dined at Ginza, the included Chinese restaurant only twice over the 30 nights we were onboard the Norwegian Star on our back to back sailing.
I would say the food at Ginza was a bit ordinary overall. It had a bit of an MSG taste if I'm honest. A special mention to the fried vegetable pot stickers at Ginza which stood out from the rest of the menu and are worthwhile ordering if you decide to dine there.
The pub O'Sheehans was the only restaurant on the Star that opened 24/7. In the past Norwegian cruises have offered a late night small buffet so you can have a snack after the show finished but it seems this stopped after COVID-19 which I think is a bit poor.
O'Sheehans has a great pub menu and is worth visiting for their burgers, sandwiches and hot dogs. It is also the only place on the ship which serves Guinness beer which my husband and father appreciated. If you are traveling in a group, it is also one of the most likely places you will get a window ocean view table as the tables at Versailles are mostly set up for couples.
The Garden cafe had some good food on offer too. One night they had suckling pig on the menu which was seriously delicious and we really enjoyed.
There are also 6 specialty dining restaurants onboard the Star where a fee, dining package or voucher applies: Cagneys Steakhouse, La Cucina Italian, Le Bistro French, Moderno Brazilian, Sushi and Teppanyaki. If you don't have a dining package included in your cruise/ are not a platinum number, I believe you can purchase a package onboard for around $50 USD per person per restaurant.
Out of the 6 specialty dining restaurants onboard the Norwegian Star we tried 4: Cagneys Steakhouse, La Cucina Italian, Le Bistro French and Moderno Brazilian.
We had 1 speciality dining included in our cruise as part of a promotion. Plus, if you cruise with Norwegian a lot and hit "platinum status" you get 2 extra speciality dining included per cruise of 5 days or longer. So in total we had 3 per cruise and 9 speciality dining in total during our 30 days at sea.
Cagneys Steakhouse had very good food especially the Filet Mignon steak (highly recommended). A few in our group tried some of the other steak cuts at the restaurants and none compared to the quality of the Filet Mignon. Don't be turned off by the fact that you don't get as much Filet Mignon 8oz as the other cuts of steak where you get as much as double as it is plenty and you will leave feeling rather full, quality over quantity I say. Other good options at the restaurant are the onion soup (very good) and the shrimp cocktail.
La Cucina Italian was a big let-down. If you only want to try a few of the speciality dining restaurants onboard, I would avoid this one. The pizza was border-line uneatable. The pasta meals were pretty basic with the one saving grace the lasagne, which was above average.
We dined at Le Bistro French several times during the cruise as the food was absolutely top notch. My family were disgusted by the idea of ordering escargots (snails) but after trying one of my garlic snail deliciousness, they ended up all ordering the entree themselves next time we dined there.
The beetroot goats cheese salad as well as the duck main are also highly recommended. I ordered duck every single time we dined at Le Bistro as it was that good!
Moderno Brazilian was a mixed bag. The boys really enjoyed it but my mother and myself didn't really rate it. I would say the meat was a bit too salty for my personal taste. It does include a really nice buffet which includes sushi and yummy cheeses to start with as an entree which is really nice.
Rating: 9/10
Beverages and Bars onboard
On Norwegian, you have the choice to buy a NCL beverage package which gives you access to all drinks (except speciality coffees like lattes) under $15 in value OR you can buy what you want onboard as you go.
If we are traveling in a group, as we were on this cruise, we usually buy the beverage package as it is more economical if you are consuming a bit of grog. Norwegian often offers "Free at Sea" promos where they throw in the beverage package into the price of the cruise for a few hundred extra. There is also a beverage gratuity added if you decide to purchase the beverage package.
There are numerous bars you can visit around the ship with our favorites being Gatsbys, the Mojito bar, the Bliss lounge and the Whisky bar.
I was very happy overall with the choice and quality of beverages onboard the Star. If you like a good red wine, I would recommend trying the Barkan Classic from Israel which was really nice.
As mentioned, speciality coffees like lattes are not included in the beverage package and I really think they should be when ships like Costa do include them when buying their beverage package. That is my only complaint about the beverages.
Rating: 9/10
Staff
We found the staff on the Norwegian Star a little hit and miss. There were some seriously fantastic but others were borderline bad.
The customer service overall at Norwegian needs serious improvement. You could line up for hours at customer service at the ship and have nothing done for you. Try calling Norwegian on the phone and it's even worse. No-one in customer service seems to know what's going on. For example, as a platinum member, you are supposed to get chocolate covered strawberries delivered to the room. Despite asking multiple times, they did not arrive to our room on our last leg of the cruise.
On the other hand, we met a bartender called Rico who was a champion and made our time on the cruise an absolute pleasure. He's the best – 10/10 for Rico. Rico worked with a bartender called Jeffrey in a duo who was also really lovely.
The staff at the restaurants were also generally really nice and helpful. We often ordered multiple meals and they were really kind and didn't care how much we ordered or make us feel like pigs. I also ordered extra this or that like extra shrimp in one meal and they were happy to oblige.
Norwegian helps you with your luggage when you leave the ship, which is a great service, but when I went to collect mine, someone had spilt some large drink on it which I didn't appreciate. When I went to inform staff at the terminal, it was difficult to find anyone and no-one seemed to care much.
Rating: 6/10
Cabins – Inside State Room
The Norwegian Star is an older ship and the cabins are really started to shown the age of the ship. The cabins are very clean and comfortable but they are showing signs of age like marks on the counter and yellow-ing of the walls.
We stayed in an inside cabin while onboard and it was ample for 2 people but I would not recommend anymore than 2 people staying inside, despite the fact there is a pull down bunk, it would be extremely crowded with more than 2 people. If you are traveling as a family with kids, I would recommend a larger room, like a balcony.
Included in the inside cabin is a double bed, full size floor to ceiling mirror, tv and desk/makeup station with a mirror as well as a private bathroom with a decent sized shower.
If you are traveling to somewhere that has the midday sun in summer, an inside cabin was really great as it totally blocked out the light. My parents usually book a balcony but loved their inside cabin for the light-blocking capabilities.
Rating: 7/10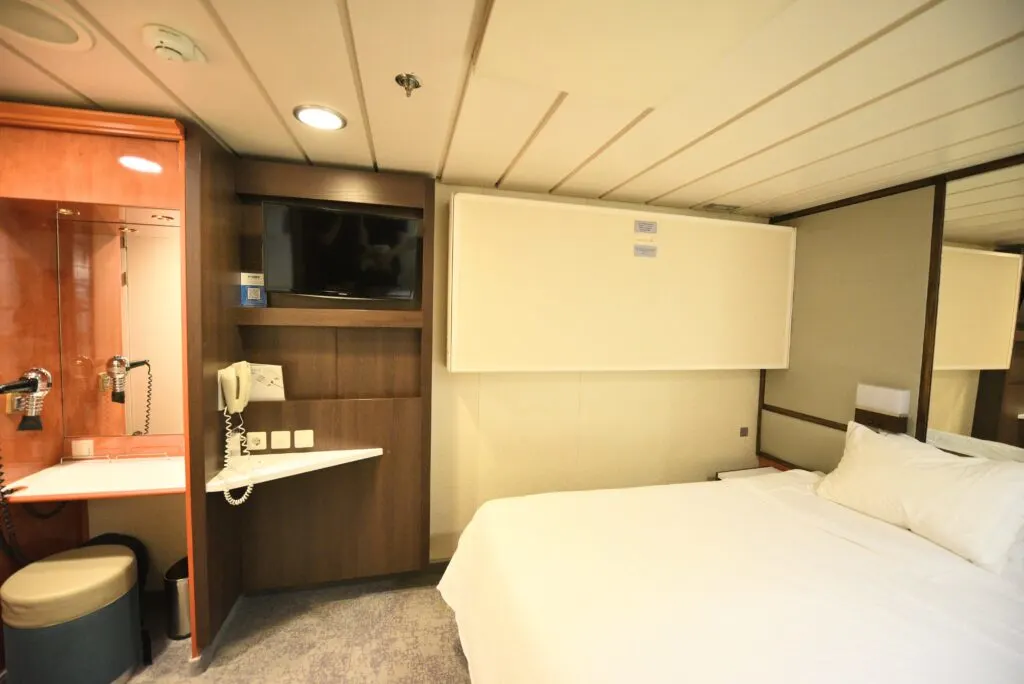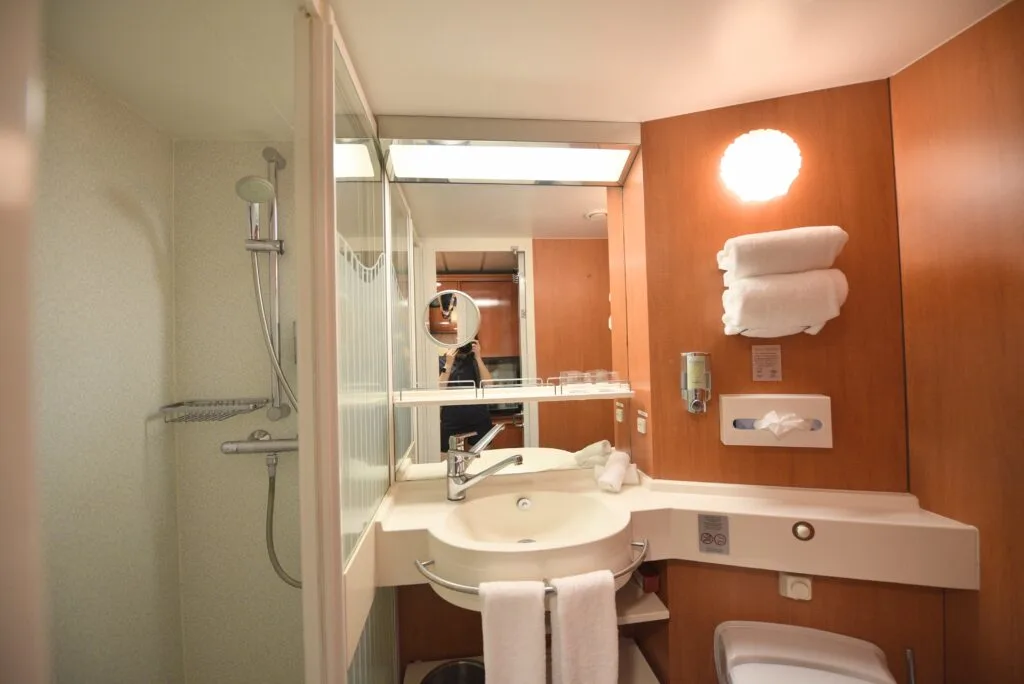 What rooms to avoid on the Norwegian Star?
If you are susceptible to motion sickness, you will want to get a room in mid-ship, ideally on the lowest floor possible.
I would also avoid any rooms in close proximity (either next to or above) restaurants and bars due to noise.
We stayed on level 9 (front) and my parents stayed on level 4 (mid) and their room was far more stable. Ours rocked around more when the seas became rougher.
Wifi
We use wifi to work and purchased the unlimited wifi plan onboard. It was a big let-down. The wifi package costs around $40 USD a day for access, for the fastest package. There are 2 packages that you can choose from: one that is only good for checking emails etc and one that is supposed to be fast enough to stream. Well, half the time it did not work at all.
If the wifi flat out does not work after you buy it, you can visit the Internet Cafe staff and they will normally give you a refund so that is a good saving grace.
Rating: 5/10
Activities onboard
One thing I think Norwegian does really well is that they constantly entertain you while on board. The entertainment schedule you receive on the Freestyle Daily delivered to your room each day is packed with activities to choose from.
There is something to suit everyones taste from Trivia to "Game Shows" like the Newlywed Not So Newlywed show. This game show is a Norwegian classic and if you start to do multiple Norwegian cruises you will see it again and again but it's pretty funny and doesn't get old – I will let you experience it for yourself.
There is also karaoke and dance classes you can take part in, amoung other things. They have sadly taken out some of the more "contact activities" since COVID like the ultimate dance off where you partner with a member of the production crew and compete.
We noticed some other thing had also stopped since COVID like the towel animals. I suppose there is too much contact with guests towels for them to continue this cute housekeeping perk.
Rating: 8/10
Facilities
As I said before, the Norwegian Star is an older ship which means the facilities are nowhere near as high quality as some of the newer and bigger ships in their fleet.
There is a small heated pool with four hot tubs in the middle of the boat as well as 2 hot tubs at the back of the boat for guests use. There are 2 hot tubs at the front of the boat for staff use only. There are no water slides on this cruise or rock climbing.
There is a small basketball court as well as a tiny driving range. The gym area was large and modern. We visited almost every day to try to offset the food we were consuming.
If you have kids there is a kids club area as well.
Rating: 7/10
Ports
We visited Edinburgh, the Orkney islands, the Shetland islands, up the coast of Norway, around Iceland and to Greenland. The Star's itinerary constantly changes based on what time of year you are booking.
Unlike some ships that constantly just go back and forward to the Bahamas or Alaska, the Star visits lots of different ports around the world. For the last few years, the Star has been sailing around South America in December, a route the Sun used to do.
I'm only giving the rating an 8/9 as due to the Star being a cheaper ship it often does not get the dock and has to use tender boats to access the ports of call which is more annoying and takes longer to do.
Rating: 8/10
How to get the best price?
If you are flexible with dates, you can search Cruisedirect by month for all sailings.
We booked our cruise through Cruisedirect and we recommend you do the same because they consistently have the best deals. We paid around $600 USD per 10 day cruise which was great value.
What we like is that the site is quite user friendly and you can search cruises by price.
7 Night Caribbean Cruises from $469 on Norwegian, only at Cruisedirect.com. FREE Open Bar & Shore Excursions, Plus Up to $500 to Spend On Board!
Norwegian Star Review: Overall rating 8/10
All in all considered, I would give the Star a rating of 8 out of 10. A few areas of the cruise weren't great but overall I had a really good time and would travel on the ship again.
I would say areas like the lower quality facilities and the older cabins did not overall detract from the enjoyment of my trip. While some of the staff were crap, others we will never forget and really made our journey enjoyable.
The Norwegian Star tends to be selling at a lower price point due to the age and the size of the ship and if you can get a good deal, I would recommend going for it! I think you'll have a great time.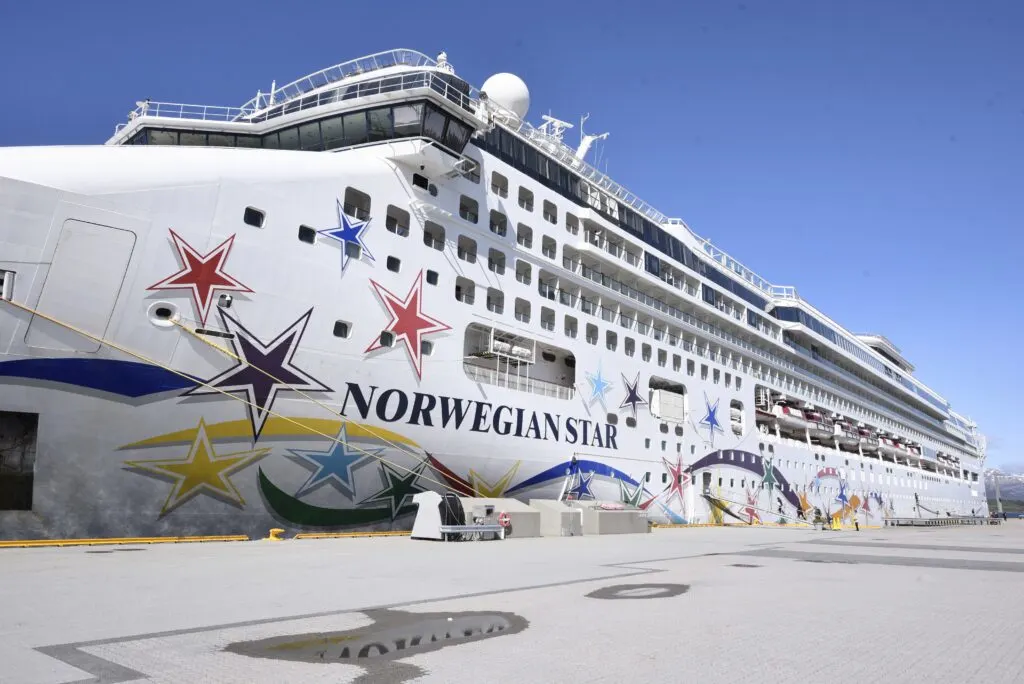 ***
If you are planning on traveling on the Norwegian Star and have a question or if you have traveled on it as a past guest and have a comment, our readers would love to hear from you as every tip counts so leave a comment below!
****
More cruising fun: