Looking for the best Iceland car? Renting a car in Iceland is a great idea so you are off to a great start. Sure, it is possible to get a tour to see the best sites of Iceland but we highly recommend getting your own set of wheels to get around as driving yourself around Iceland is a really cool experience and one you will seriously never forget.
There is also no uber in Iceland which makes getting a car, even to drive around Reykjavik, and visit places like the blue lagoon even more of a smart and economical idea.
You get to spend more time at each stop and less time being herded onto a tour bus like sheep. In this guide we detail everything you need to know to rent your own car in Iceland including our best Icelandic car hire tips to get you the best deal on car hire.
Plan Your Iceland Trip!

🛌 Find the perfect hotel on Booking.com

🎫 Get exploring by booking tours and excursions on Viator

🚗 Find the cheapest car with Car rentals
Where to Find a Rental Car? Our Top Tips
Over the last 10 years renting a car in Iceland has become very popular (especially to drive the popular driving routes in Iceland like the Golden Circle and the Ring Road) so there are many many car rental companies in Iceland including the large global companies like Alamo, Avis, Budget, Europcar and also some local companies also offering car rentals.
The problem with Iceland is that car rental, as well as everything else in Iceland including food and accommodation, is that it is very expensive.
The best way to get the best deal is to scan the market to see who is offering the best price during your dates.
We always book with Rental Cars, Booking.com's car rental booking service and were provided with a new & reliable car with good tread on the tires and GPS navigation built into the car.
If you get certain loyalty perks with a company, you can also search for that particular provider and often it is cheaper booking through Rental Cars as they are competing with a lot of different providers to try to get your business.
Icelanders are quite savvy business people (they realise tourists need cars) so there is also now Peer to Peer car rental in Iceland. There are also people renting out their car with a tent on Airbnb. Personally, we prefer going with a proper rental company as insurance is so important when renting a car in Iceland due to the road conditions, the wind and ash.
As we were in Iceland for a while, we decided to give the peer car rental a go. We saved about $100 on a 4 day rental with the peer to peer car rental but there was no central locking (we had to manually lock the door) and the aircon/heat in the car didn't work. So, all in all, we didn't think it was worth the saving.
How much does car hire cost in Iceland?
As mentioned above, Iceland is an expensive country and because driving some of Iceland's scenic routes like the Golden Circle, is some of the best things to do in the country, car hire companies have cashed in on the tourist dollar.
Prices change based on when you are traveling to Iceland with summer between June to August being the peak and most expensive time to visit Iceland, including to rent a car.
To give you an idea, I did a search on Rental Cars and found a Hyundai i10 or similar in July for $352.53 for 4 days. It can cost around $100 USD pp for a tour to the Blue Lagoon so renting a car can be quite an economical choice if there are a few of you to share the cost and you are comfortable driving.
How much does petrol cost in Iceland?
Gas / petrol in Iceland is rather pricey. As at 2023, petrol will set you back around 300 ISK (2 USD) a litre (almost $8 USD a gallon). For a full day of driving we were spending around $50 USD on fuel. Factor this cost into your Iceland budget.
Some rental cars in Iceland are hybrid which will save you money on fuel if you are lucky enough to score one.
Do you need a 4WD in Iceland?
If you are traveling to Iceland in summer, as a general rule you won't need to hire a 4WD to do the usual routes like the Golden Circle, the Diamond Circle or the Ring Road.
The exception to this rule is if you intend to drive on F roads in Iceland (gravel) which are restricted to certain types of vehicles which generally are Jeeps and 4WDs. If your itinerary includes an F road, you will need to ensure that the car you are renting is allowed to travel on F roads.
The general route taken by most tourists on the Golden Circle and the Ring Road does not cover F roads.
If you are traveling to Iceland in the winter months where you expect snow on the road, we would recommend a 4WD for more traction on your wheels. Based on our personal experience driving in Iceland in December and a 4WD was absolutely essential. All rental cars ought to have winter tyres but a 4Wd is still necessary for your safety.
We have driven a 2WD in Colorado in winter (with winter tyres on) and slid off the road and hit a tree. We could've lost our lives so I would never recommend to anyone to take unnecessary risks. Pay the extra money, it is seriously not worth it to have an accident.
Car Rental Types in Iceland
There are quite a few different car rental types that you can choose from in Iceland. What you select really depends on what you want to do in the country and what time of year you are visiting.
Sedan/Cars
Standard cars are the cheapest option of car rental in Iceland. They are perfectly fine and acceptable for driving in summer, around Reykjavik, the blue lagoon, the Golden Circle, the Ring Road and the Diamond Circle or otherwise provided you don't plan on driving on mountain roads that are unpaved, usually referred to as F roads in Iceland. It is not legal to drive this type of vehicle on F roads and the insurance in Iceland won't cover it.
We have hired regular Sedans a few times in summer in Iceland and would recommend it if you don't have too much luggage as they are the most economical. Driving a Sedan in June in Iceland was totally fine.
In winter, avoid this type of vehicle as it is too sketchy on the icey roads.
SUVs/4x4s/Jeeps
4×4 rental vehicles are the best car rentals in Iceland for winter months, if you want to drive on F roads or if you have a lot of luggage or people. When we are traveling with our parents we always hire a 4×4 regardless of the season as there is not enough room in a regular car for 4 people plus baggage.
If you are renting a 4×4 specifically to access the F roads in Iceland, it is important that you check with the car rental company that the SUV you are hiring is allowed to go on those roads.
Campervans
As Iceland is an expensive country, many people choose to rent a campervan or an RV to save money on accommodation. Camp sites in Iceland will set you back around $20 pp vs $400 a night sometimes on accommodation at popular times on the Golden Circle/Ring Road.
This makes hiring a campervan or RV in Iceland as a rental vehicle a popular choice. Take into account however that campervans and RV are far more expensive than normal cars and fuel costs will be higher. Petrol is very expensive in Iceland.
We would not recommend hiring a campervan in winter unless it is an RV with heating due to the weather. Many campsites also close for the season after September as camping in Iceland in winter isn't as popular.
Insurance for car rentals in Iceland
It is important in Iceland to always get car insurance. It is a very rugged country and insurance is absolutely essential when renting a car in Iceland.
There are often rocks/volcanic rock on the road in Iceland that can damage the car so you definitely do not want to go without insurance, even if it blows out the travel budget.
Tourists also often struggle to drive safely in Iceland. We saw (presumably) tourists driving on the wrong side of the road in summer. In winter, it is even worse with a lot of cars slipping all over the place.
We have previously opted out of getting proper insurance for our own car in Colorado and ended up very sorry when we totalled it in winter weather by hitting a tree. It is much cheaper to pay for insurance than to pay for damage to a vehicle, especially in Iceland where labor is dear.
It is important that you carefully consider each rental car companies cost of insurance and add that to the cost of the rental price. We really like Rental Cars as this is cost and the excess is clearly specified for you.
It is very unlikely that your own insurance will cover you in Iceland so if you want to only use your own insurance make sure it does before failing to purchase additional coverage in Iceland. The other thing to consider is if you decide to use your credit card or a third party coverage, you most likely will have to pay the full damage and later be reimbursed through your own provider.
Make sure you also take note of the deductible when renting a car in Iceland to make sure it is not overly extravagant in case you total the car. A lot of car rental companies in Iceland will include a small deductible even if you are covered for the premium insurance cover.
It is important to also read the terms and conditions of the insurance cover as some things are often excluded from the insurance coverage like hitting animals and high water crossings. There are a lot of sheep crossing the road in Iceland in the summer months which is why you always need to remain very vigilant when driving in Iceland.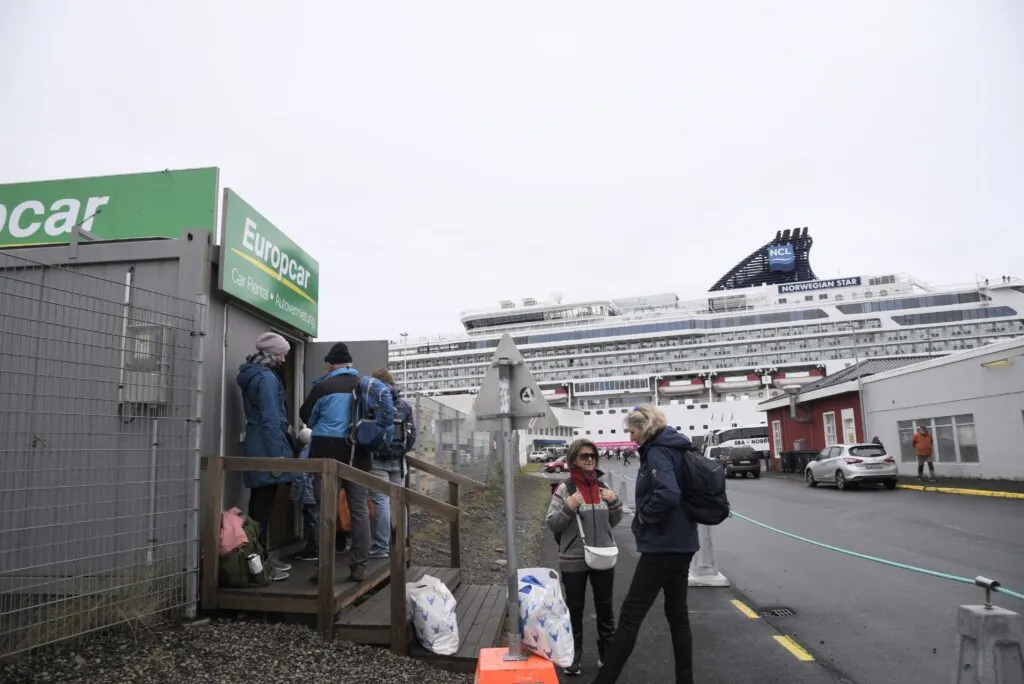 Rental Requirements in Iceland (Age etc)
As a general rule, you do not require an International driver's license to hire a car in Iceland. You do however, need a regular drivers license in English letters. If you do not have a drivers license in English letters, you will have to get an International driver's license to hire a car in Iceland.
The driver will need to present in person at the car rental company to present their license.
To rent a vehicle in Iceland, the minimum age is 20. If you are between 20 – 25 there is usually additional insurance and there may be some vehicle class restrictions. You also have to have held a license for over 12 months usually.
There is no maximum age limit in Iceland for renting a car.
To rent a car in Iceland, you will need to have a credit card as a security deposit. In most cases, it is not possible to hire a car in Iceland without a credit card on file at the car rental company.
You can sometimes pay for the car in cash or via a debit card but you will need a credit card for a security deposit. Often credit cards provide you with additional insurances while traveling so it is very useful to have one as an extra protection. You can also often get points for airlines as a sign on bonus which is great too.
How to save money on a rental car in Iceland?
There is no such thing as a bargain in Iceland (usually!) However, there are a few ways you can lower the high cost of your car rental in Iceland:
Travel in Low Season – Summer is the easiest time to drive a car in Iceland but it is also the most expensive. If you are an experienced driver and you want to see the Northern Lights (which are incredible) winter in Iceland is generally a cheaper time to visit (outside of Christmas and holidays).
Book for a week or longer – If you plan to drive the Ring Road you will need at least a week in any event. There are often weekly discounts if you are booking for a longer period of time which can give you a day or 2 free rental.
Drive a stick – Manual cars are cheaper to hire in Iceland than automatic cars so if you know how to drive a stick you will save some $.
Book a standard car – If you are traveling in summer and not on F roads, you will likely not require a 4WD which will save you some money.
Travel light – Overpacking means you need more room in the car. A bigger car = more $.
Book in advance – As the time gets closer, cars become more scarce and prices go up. Booking your rental car in Iceland ahead of time, especially if you are traveling in peak periods will save you and ensure there is a car actually available.
On Rental Cars there is usually free cancellation so if your plans change, you can cancel your car free of charge which we love while still locking in a great rate.
Get a gas discount card – There is such a thing as a gas discount card in Iceland which will save you money on fuel. Sometimes the car rental company will give you one. Ask when you check in to get your car.
Our rental car experience in Iceland
We traveled light and booked a Volkswagen manual car in Iceland to drive the Ring Road and paid US$772 for 10 days rental.
We ended up renting our car through Firefly just because it was the cheapest available at the time. We have also rented from Europcar in Iceland before as well in summer. We have also previously hired a 4WD to drive Iceland in winter.
We always use Rental Cars to search for the cheapest during our dates and compare our options from there. It is easy to check out the terms and conditions of each of the cars on their search engine.
The cars we got in Iceland were almost new, with very few miles/kms on it which we liked but also gave us a bit of anxiety that we would damage them and have to pay excess on the insurance. It all worked out and no damage was done (phew). This is not always the case in Iceland as tourists tend to drive a lot of miles in rental cars and often they can come with a few 100k miles already on it.
Our car included a collision damage waiver with US$1,771 excess. It also included theft protection with US$1,771 excess. If you are willing to pay more on the rental you can reduce this excess to 0 but we thought this was a fairly decent cost to risk ratio. We also have additional insurance for car rentals via our credit card.
Our car rental included unlimited mileage which is important to check out when hiring a car. You will drive a lot of miles in Iceland and you don't want to be stung for a fee for mileage.
FAQ + Tips for hiring a car in Iceland
What are the driving conditions like in Iceland?
Generally, driving is pretty easy in summer on the main roads unless it is a windy day. Vehicles like campervans which are high can flip over on a very windy day in Iceland so be careful of this.
Driving in winter is a bit tricky. We hired a 4WD in winter and slipped all over the road. You should be a good driver and drive slow and carefully.
What side of the road do people drive on?
It is the same as the USA and Europe – the right side of the road.
Are there any special driving rules in Iceland?
If there are sheep on the road, you are required to honk at them. Most car rental companies will tell you this when checking in to hire your car.
There are also different rules for roundabouts. Traffic in the inner lane takes priority to the outer lane.
Make sure you review Icelandic road rules before going out with your car. Your car rental company will tell you the main ones to look out for when checking in.
What about Sheep on the road?
As mentioned previously, keep an eye out for fluffy friends on the road and always give them a honk.
How does summer vs winter driving differ in Iceland?
Summer driving is a lot easier than winter driving in Iceland. If you are not an experienced driver, we would recommend a trip to Iceland in summer for this reason. If you are not an experienced driver on winter roads, we would recommend booking a tour of the Golden Circle instead.
In addition to no snow and ice on the road, there are far less road closures around Iceland in summer than winter which mean shorter travel times as a whole.
Summer is also a lot easier driving than winter due to the amount of daylight hours. During summer it is light almost all night long in Iceland due to the midnight sun.
Rental cars in Iceland are equipped for these conditions for example with winter tyres but you always need to be a careful driver in Iceland.
Spring can also present difficult travel conditions in Iceland, for example, if you want to visit Iceland in April, there likely will water on the roads from the melted snow which can present difficult driving conditions.
Can I access F roads in Summer?
You can but only if you have a vehicle which is allowed to drive on them which is usually a 4WD. This is the same rule in summer and in winter. If you want to drive on F roads in Iceland check with your car provider or the terms and conditions of your rental.
Are there highway lights in Iceland?
No, there are no highway lights in Iceland like you see in other countries like the USA. There are reflectors on the roads to assist you but you need to rely almost entirely on your headlights when driving. Driving in winter can be very dark and isolated with not many cars on the road.
Does premium insurance cover everything in Iceland?
No, normally it doesn't but you will need to check the terms and conditions of your car rental company to be sure. You can sometimes take out extra cover in Iceland for "wind and ash". Iceland is a very windy country.
There is an issue in Iceland which I have never heard of elsewhere known as "wind blown doors" basically the wind can get so strong in Iceland it can break the doors off. This is particularly a problem when you are getting in and out of cars so hold on tight!
Tip: Make sure you take photos of your car before you take off and also when you return the car to ensure that you are not charged for any damage to the car that you did not make.
What is the speed limit in Iceland?
It is important not to speed in Iceland as there are many cameras in place that will give you a fine for speeding. It is also dangerous.
The general speed limit is 30-50 km/hour in populated areas, 80 km/hour on gravel roads in rural areas and 90 km/hour on paved roads.
Tip: Make sure you fill up where you can
Some areas of Iceland are rural and isolated so make sure you fill up with fuel when you can to avoid running out before the next gas station.
Websites to bookmark for driving in Iceland
There are two good websites that can assist you when driving in Iceland road.is and safetravel.is. These websites will let you know about road closures, weather alerts, and driving conditions which is very useful.
***
If you decide to rent a car in Iceland, have a blast! It is seriously an experience you will never forget. The scenery and activities in this country are out of this world. If you have a question not covered in this article, leave us a comment below and we will try to assist if we can.
***
Going to Iceland? Here are some more Resources
If you are headed to Iceland, lucky you! Here are some more resources you might like to help you plan your vacation: