Looking for where to stay on the ring road in Iceland and the best Iceland ring road hotels to book for your trip? How exciting!
To be honest, we found this a bit of a hard task when we were planning our Ring Road Trip. I don't remember it being half as bad when we did a road trip of the Golden Circle a few years earlier.
When we were doing research, it was difficult to work out where the main towns were located along the Ring Road and where the best places to stay were, if you were not going to be traveling in a camper (as most of the people online seemed to be doing).
After hours of research online, we managed to get pull a Ring Road itinerary together with hotel stops along the Ring Road. To be fair and honest, some of our troubles happened because areas of Iceland are remote and isolated and there just aren't that many hotels or airbnbs servicing the area and the ones that are there are booked out months in advance.
For this reason, we highly recommend booking your Iceland accommodation a few months in advance of your trip, in order to avoid car camping on the Ring Road! Don't do what we did and try to scramble at the last minute as you could be left homeless….literally!
To help you out with your trip, we have put together a list of great places to stay on the Ring Road is if you are traveling the Ring Road in an anti-clockwise direction. If you want to drive clockwise you can just flip the list. People spend hours researching the pros and cons of which direction they will go but I think just go where you can get a roof over your head, especially if you are traveling in peak season so check accommodation in advance of picking your direction.
As I have commented before, many people choose to camp on the Ring Road but it is not the only option and certainly not the most glamorous way to visit Iceland as many of the camp sites available are very basic. Call me high maintenance but I really like having a plug for my hair straightener when I travel on vacation sorrynotsorry.
14 Best Iceland Ring Road Hotels (8 Stops in order as you drive it!)
The best way to complete the Ring Road is by hiring a car in Iceland.
We always book with Rental Cars, Booking.com's car rental booking service and were provided with a new & reliable car with good tread on the tires and GPS navigation built into the car.
If you don't want to drive or you are finding booking accommodation along the Ring Road too difficult, it is also possible to book a Ring Road tour which includes 7 nights accommodation done for you.
Quick Guide: Where to stay as you drive the ring road
As you can see from the above schedule, you will need at least 10 days to drive the Ring Road.
If you are considering a vacation to Iceland, I would suggest 2 weeks to cover the Ring Road without rushing or if you want to add the Golden Circle into the mix.
Plan Your Iceland Trip!

🛌 Find the perfect hotel on Booking.com

🎫 Get exploring by booking tours and excursions on Viator

🚗 Find the cheapest car with Car rentals
OVERNIGHT STOP 1 – Reykjavik
You will start your Ring Road journey in Reykjavík, the capital of Iceland. There are plenty of great hotels in Reykjavík so you won't have trouble finding a good hotel to stay in here.
There are also lots of romantic hotels in Reykjavík if you are traveling in Reykjavík as a couple like we were but regardless of whether you are on a romantic break in Iceland or not, these hotels and apartments are awesome for everyone.
How many nights? We would recommend 1- 2 nights in Reykjavík. We personally spent over a month in Reykjavík, enjoying 'local life' and working in the various cafes throughout the city (Ida bookstore and Cafe is great if you want a good one) and had a great time but if you are here for a good time and not a long time, I would say 1-2 nights would be sufficient. This gives you enough time to check out the city and make a trip out to the Blue Lagoon or Sky Lagoon.
Reykjavík is a really cool colorful hipster city where everyone is welcome. I overheard a gay man in Ida bookstore say he moved here from Iran because he can freely choose who he wants to love as being different is celebrated. 🙂
You can also choose to have Reykjavík as a base to explore some of the closer attractions on the Golden Circle, another popular driving route in Iceland which will only take a few days if you are low on time.
We initially drove the Golden Circle in winter and when we re-visited Iceland in June, we took day trips out to the main attractions from Reykjavík including the beautiful Þingvellir National Park, where Iceland's Parliament was established in 930 AD. Attractions in the National Park like Oxararfoss Waterfall are far easier to access in summer I must say!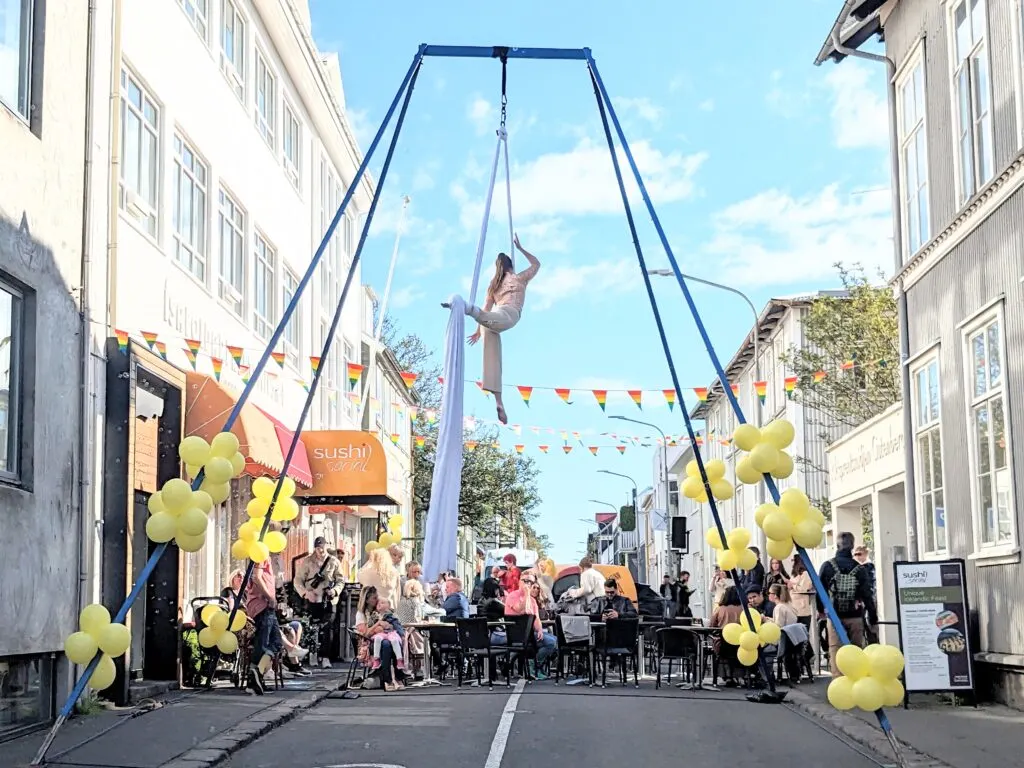 A good option to start your Ring Road journey is at the Ocean Break Cabins, nestled next to the mesmerizing ocean waves. Imagine taking a leisurely stroll along the sandy beaches, creating cherished memories.
This isn't exactly in Reykjavík but it is very close which means if you have a car rental in Iceland (highly recommended) you can visit the city centre as well as places on the outskirts of Iceland like the Blue Lagoon, or the stunning new Sky Lagoon in Iceland.
Located in the southwestern corner of Iceland, these cabins are just 15 minutes away from Keflavík International Airport and 30 minutes from the Blue Lagoon. Prices for a two-person cabin range from $200 to $350.
Each cabin offers standard amenities such as a TV, kitchenette, lounge area, and private bathroom. The whole cabin will be exclusively yours, including access to a private hot tub on the terrace. With breathtaking coastal views, you can enjoy romantic evenings by the water's edge. Certainly one of the most cool and unique places to stay in Iceland for sure.
Book your stay at Ocean Break Cabins.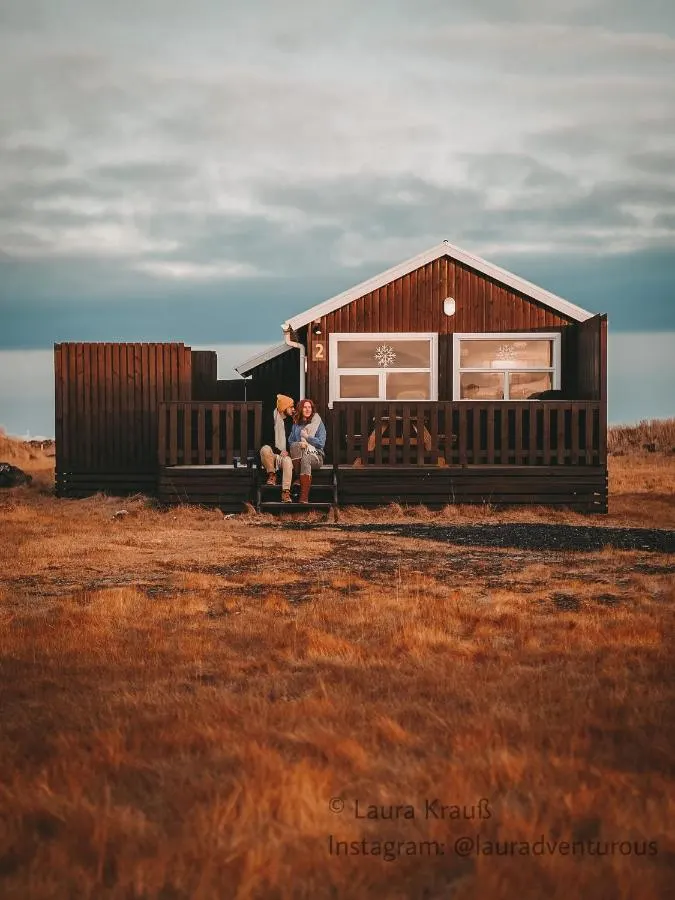 Experience bliss at the Hotel Ísland – Spa & Wellness Hotel, an ideal destination for people seeking relaxation and rejuvenation. With "spa and wellness" in its name, this hotel ensures a truly pampering stay.
Located in the vibrant capital city of Reykjavík, approximately 45 minutes northeast of Keflavík International Airport, Hotel Ísland offers room prices ranging from $150 to $550, depending on the room type and season.
The hotel features standard amenities, including a TV, private bathroom, and kitchenette. Most rooms offer panoramic mountain views. Unwind at the spa, practice yoga, enjoy salon services, or treat yourselves to delectable dishes at the on-site restaurant. After exploring the city or taking a dip in the Blue Lagoon, savor moments of tranquility at the hotel.
Book your stay at Hotel Ísland – Spa & Wellness Hotel.
Want to add the Golden Circle into your Ring Road journey? Sure, no problem! Before heading on to Vik, add an overnight stop in Hella. The best place to stay in Hella is arguably Hotel Ranga.
OVERNIGHT STOP 2 – Vik
The next night-time stop you will make on your Ring Road journey is to the cute town of Vik in Iceland, where the famous black beaches and Icelandic plane wreck made famous by Justin Bieber are located.
You will drive around 2.5 hours from Reykjavík to reach Vik. There are also plenty of awesome things to see on the way (schedule stops at Seljalandsfoss waterfall and Skogafoss waterfall) so it will likely take you longer than this to reach your hotel.
If you are traveling to Iceland in the summer months, it can be incredibly hard to find good accommodation here so we would highly recommend booking your hotel in advance in Vik. We didn't do this and got very very lucky on a last minute cancellation or else we would've been homeless in Vik and probably car camping which would've been quite uncomfortable!
How many nights? We would recommend 2 nights in Vik. We personally stayed 3 nights in Vik so it depends on how much time you have to explore Iceland.
Here are a few places we would recommend in Vik Iceland. You can also search for all accommodation in Vik during your dates here.
We stayed at Hotel Vík í Mýrdal and we were very very lucky to be able to get a room so last minute as normally they are totally booked out. We got the final room at the hotel, on a cancellation. The hotel was clean and comfortable and wifi was good. Negatives were the toilet did not have a strong flush!
Nestled against the stunning backdrop of South Iceland's majestic mountains and a mere 400 meters from the renowned Black Sand Beach, Hotel Vík í Mýrdal offers an exceptional stay experience.
This top-tier accommodation boasts a wealth of amenities, including a fitness center, a restaurant, a bar, and a 24-hour front desk, all conveniently located just 34 km away from the awe-inspiring Skogafoss Waterfall.
Each of the modern and comfortable rooms at the hotel is thoughtfully designed, featuring a desk, complimentary WiFi, a flat-screen TV, and a private bathroom. With an array of activities to delight in within Vík, guests can start their mornings with a delectable buffet or continental breakfast before embarking on their exploration endeavors.
Book your stay at Hotel Vík í Mýrdal.
Hótel Kría, a relatively new addition to Iceland's accommodation scene since its opening in 2018, has quickly risen to prominence as one of Vík's finest hotels.
Nestled amidst the towering mountains of South Iceland, this exquisite 3-star hotel boasts a range of amenities, including a restaurant, a bar, and a charming garden. Just a brief five-minute stroll from the property, guests can discover the captivating black sand beaches of Vík.
The guest rooms, adorned with contemporary interior design, offer a comfortable stay with complimentary WiFi, satellite TV, a communal area, and a private bathroom.
Exploring the area through invigorating hikes is highly recommended, and to start the day on the right foot, guests can enjoy a delightful cold and hot breakfast buffet. As the day winds down and adventures unfold, unwind at the hotel bar with a refreshing cocktail, all while soaking in the breathtaking mountain vistas.
Book your stay at Hotel Kria here.
Beneath the volcano Katla, this Hotel stands just by the Ring Road – a perfect place to stop on your Ring Road road trip – in the striking South Coast.
The Volcano Hotel is 170km away away from Reykjavík and 12km away from the town of Vík (home to the famous black beach of Iceland). In Vik you will also find a popular swimming pool, supermarket and gas stations for refueling.
This hotel is a perfect base in the Mýrdalur valley as a lot of amazing tourist attractions are close to the hotel including the Seljalandsfoss waterfall, the Skógafoss, the Skógar museum, the Eyjafjallajökull volcano glacier, and the glacier outlet Sóheimajökull on route to the hotel if you're travelling there from the capital.
Compared to some other unique hotels in Iceland, this hotel is very small scale and intimate with only 7 comfortable rooms.
OVERNIGHT STOP 3 – Jokulsarlon Glacier Lagoon (Skaftafell or Hof )
About 2 hours away from Vik, you will find one of the best attractions on the Ring Road, the Jokulsarlon Glacier Lagoon. There is sadly not a lot of accommodation in direct proximity to the Jokulsarlon Glacier Lagoon and Diamond Beach which makes finding a good place to stay here and explore the lagoon a bit tricky. :/
What you will want to do is look for hotels in Skaftafell / hotels in Hof and surrounding areas.
There are a few places we would recommend staying to visit the lagoon if you are lucky enough to get a room at the hotel. As they are few and far between, you really need to book them a few months in advance of your trip.
How many nights? We would recommend booking 1 near near the Jokulsarlon Glacier Lagoon. You could alternatively extend your stay in Vik and do a day trip to Jokulsarlon Glacier Lagoon (about 2 hour drive) but this would mean a lot of extra driving each day and means you are backtracking each day. Ideally you would stay 2 nights but one night is enough to explore the Jokulsarlon Glacier Lagoon and Diamond Beach.
This contemporary and inviting hotel offers a seamless blend of modernity and comfort, ensuring a truly delightful experience for its guests.
The rooms are thoughtfully designed to provide ample space, allowing visitors to unwind and relax after a day of exploring the wonders of the surrounding area.
To enhance the overall well-being of their guests, Fosshotel Glacier Lagoon offers the added luxury of a rejuvenating sauna, providing the perfect opportunity to unwind and let the stresses of the day melt away.
Additionally, guests can kick-start their mornings with a delightful breakfast, which can be conveniently included in the room rate, ensuring a hassle-free and satisfying start to each day.
Book your stay here.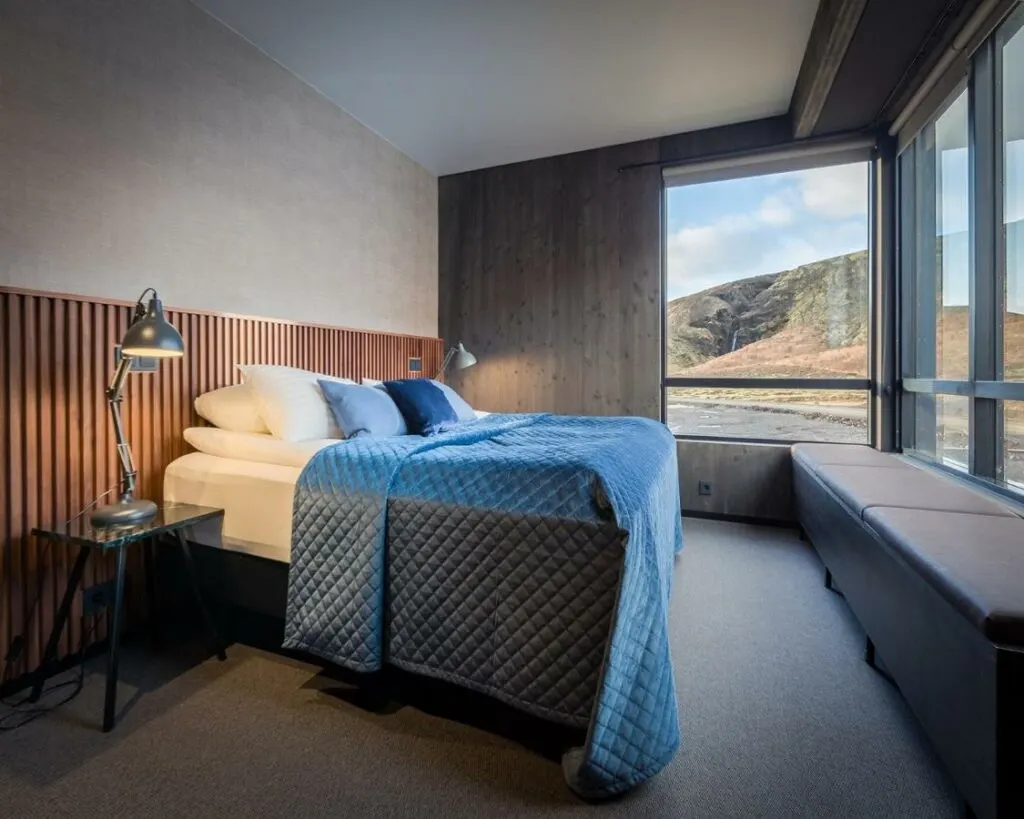 Adventure Hotel Hof is a conveniently located establishment in southeast Iceland, surrounded by stunning mountains and in close proximity to the breathtaking Skaftafell nature reserve.
Situated in southeast Iceland, Adventure Hotel Hof enjoys an exceptional location near numerous incredible attractions. The Skaftafell Nature Reserve, just 20 minutes to the west, provides thrilling opportunities for glacier hiking and trekking. Enclosed by ice caps and adorned with lava fields, forests, and waterways, it truly lives up to the "adventure" in the hotel's name. On the other hand, the Jokulsarlon Glacier Lagoon, 35 minutes to the east, showcases Iceland's deepest lake, famous for its multitude of icebergs and resident seals.
Adjacent to the lagoon is Diamond Beach, where these icebergs gracefully wash ashore. Adventure Hotel Hof's exceptional location not only appeals to those seeking to marvel at these remarkable sights but also to those embarking on a comprehensive exploration of the South Coast or embarking on a journey along the Ring Road.
As an intriguing historical note, the hotel is situated next to a historic turf church, offering a fascinating glimpse into Iceland's past.
Throughout the hotel, you'll find a bright, airy, and colorful atmosphere that ensures every guest feels welcome. Complimentary Wi-Fi and parking are provided, along with complimentary tea and coffee. You can also enjoy a delightful breakfast each morning and savor locally sourced meals at the on-site restaurant in the evenings.
Book your stay here.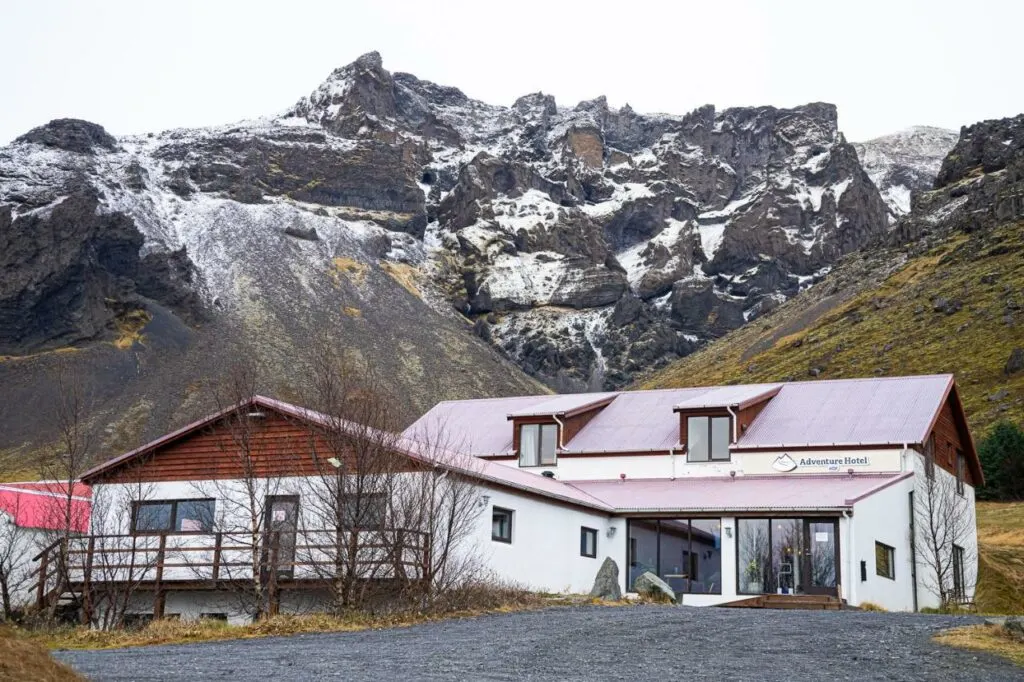 OVERNIGHT STOP 4 – Hofn
Just a short 1 hour 20 minute drive from the Jokulsarlon Glacier Lagoon you will reach Hofn, the next overnight stop in your Ring Road route.
Hofn's prime location right on the harbor provides a picturesque setting, where you can immerse yourself in the captivating sights and sounds of the sea. With a population of around 2,000 people, this quaint town has a welcoming atmosphere and a unique blend of natural beauty and Icelandic charm.
For nature enthusiasts, Hofn is a gateway to stunning landscapes, including nearby scenic hikes, rugged coastlines, and breathtaking mountain vistas.
If you find it challenging to secure accommodation right next to the mesmerizing Jokulsarlon Glacier Lagoon, staying in Hofn another night is another option.
A fantastic choice for budget-conscious travelers, Höfn Guesthouse is conveniently situated in the heart of Hofn. This cozy guesthouse provides private rooms with shared bathroom facilities, offering comfortable accommodations at an affordable price.
The Ring Road accommodation is very expensive so finding an affordable guesthouse to break up the expense of the trip is a relief!
In addition to its budget-friendly rates, Höfn Guesthouse offers some basic communal kitchen facilities, allowing guests to prepare their own meals and save on dining expenses. It's a great option for those who prefer a self-catering experience or wish to enjoy a home-cooked meal during their stay (although be aware the "kitchen facilities" are basic and consist of little more than a microwave)
Book your stay here.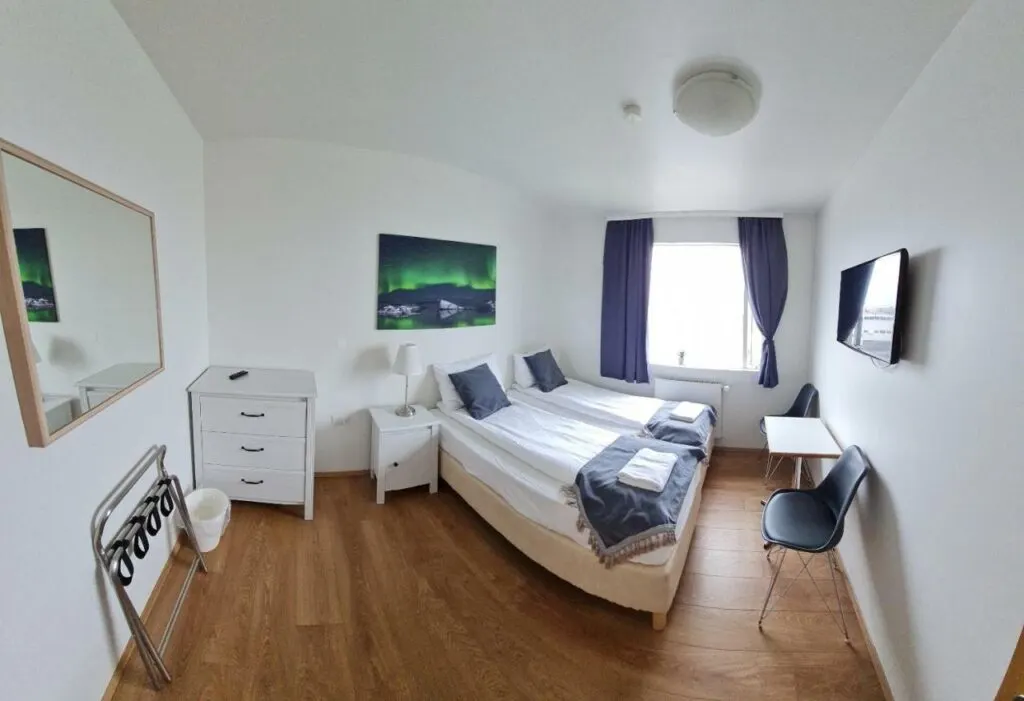 The Old Airline Guesthouse, a contemporary hotel ideally situated on the picturesque harbour. With its prime location, this modern establishment offers guests a delightful stay experience.
The double rooms provided are tastefully designed, providing a comfortable and cozy atmosphere for visitors to relax and unwind. While some rooms may have shared bathroom access, rest assured that cleanliness and convenience are prioritized to ensure a pleasant stay for all guests.
Additionally, the Old Airline Guesthouse goes above and beyond by providing access to well-equipped kitchen and laundry facilities, allowing visitors to feel right at home during their stay. Whether it's preparing a home-cooked meal or taking care of laundry needs, these convenient amenities add an extra level of comfort and convenience.
To start the day off on the right foot, guests can indulge in a delicious breakfast that is included in the daily rate. This complimentary breakfast ensures that each day begins with a satisfying and energizing meal, setting the tone for memorable adventures and explorations in the surrounding area.
Click here to book your stay.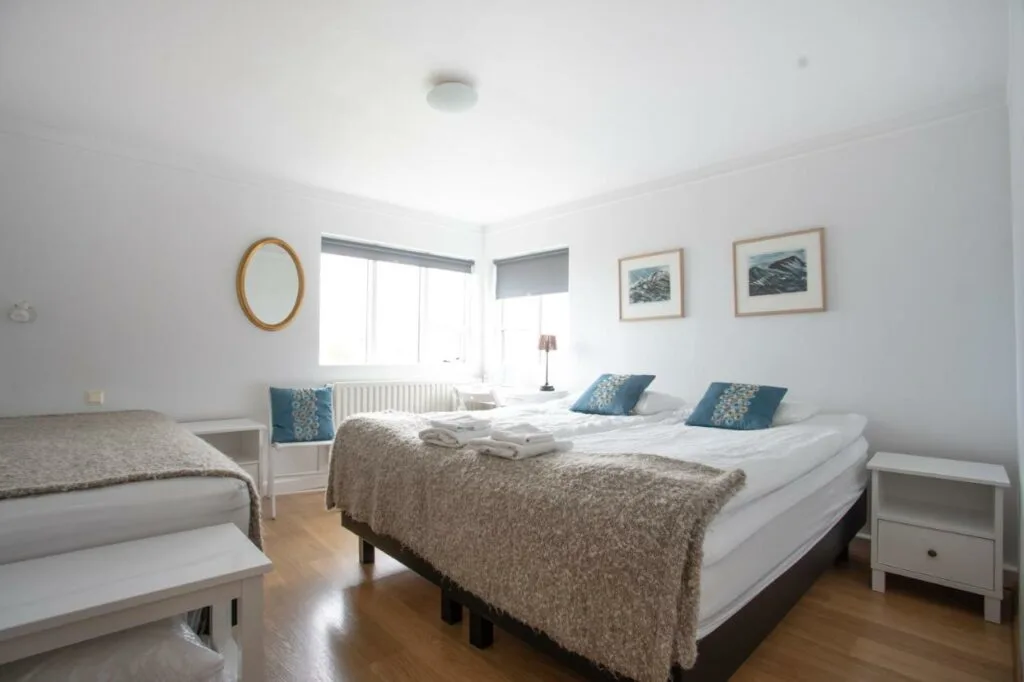 OVERNIGHT STOP 5 – Eastern region and Egilsstadir
The Eastern region of Iceland is an absolute gem, captivating visitors with its breathtaking beauty. This area is pretty rural Iceland and you will only find very small towns in this region of Iceland.
Sadly, it is another part of the Ring Road route where accommodation is scarce so you will need to book in advance.
A highly recommended stopping point along the way is Egilsstadir, the vibrant and thriving main town of the East. It is around 2.5 hours driving from Hofn to Egilsstadir.
How many nights? 1 night is enough to break up your journey.
You can check out accommodation in Egilsstadir and surrounds here and we have also recommended a place below, if you are lucky enough to score a room.
Hotel Eyvindará, a charming family-run establishment, is nestled in the serene countryside along Road 93, offering a picturesque view of central Egilsstadir just 1.2 miles away.
Guests can delight in the convenience of complimentary WiFi access in the lobby while enjoying the scenic vistas of the hotel's garden.
The rooms at Eyvindará are equipped with private bathrooms, ensuring guests enjoy their personal space and comfort. Some rooms even boast the luxury of a private terrace, providing a tranquil outdoor area for relaxation. For those seeking a little more privacy, the charming cottages feature their own private terrace and bathroom. To start the day off on a delightful note, Hotel Eyvindará serves a delicious breakfast each morning, offering a range of options to suit every palate.
Guests can also unwind and enjoy refreshing drinks in the cozy ambiance of the hotel lobby, adding an extra touch of relaxation to their stay.
Book your stay here.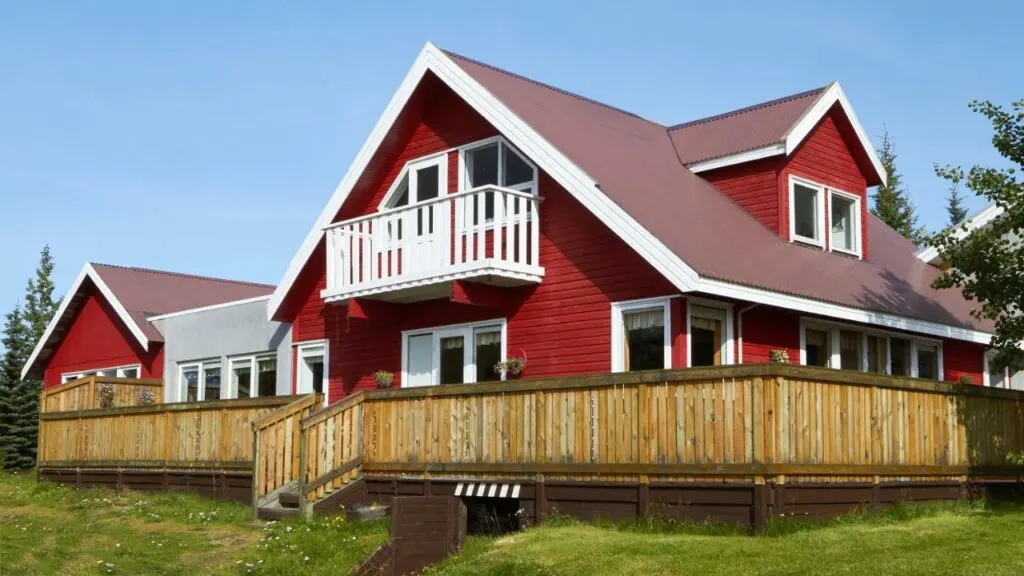 OVERNIGHT STOP 6 – Myvatn
It is another 2.5 hours to reach one of our favorite areas of Iceland with incredible lunar-looking landscapes, geysirs, hot springs and waterfalls. If you visit in summer, the stunning Bláklukka (bluebells) of Iceland are in full bloom in this region which is absolutely stunning.
Some of the unmissable things to do in and around the area are the Myvatn lake, Mývatn Nature Baths and nearby geothermal geysirs, Krafla Crater, Godafoss waterfall and the amazing Dettifoss waterfall.
How many nights? You could easily spend 2-3 nights in the Myvatn area. We spent a full 2 days exploring and could have easily spent longer here.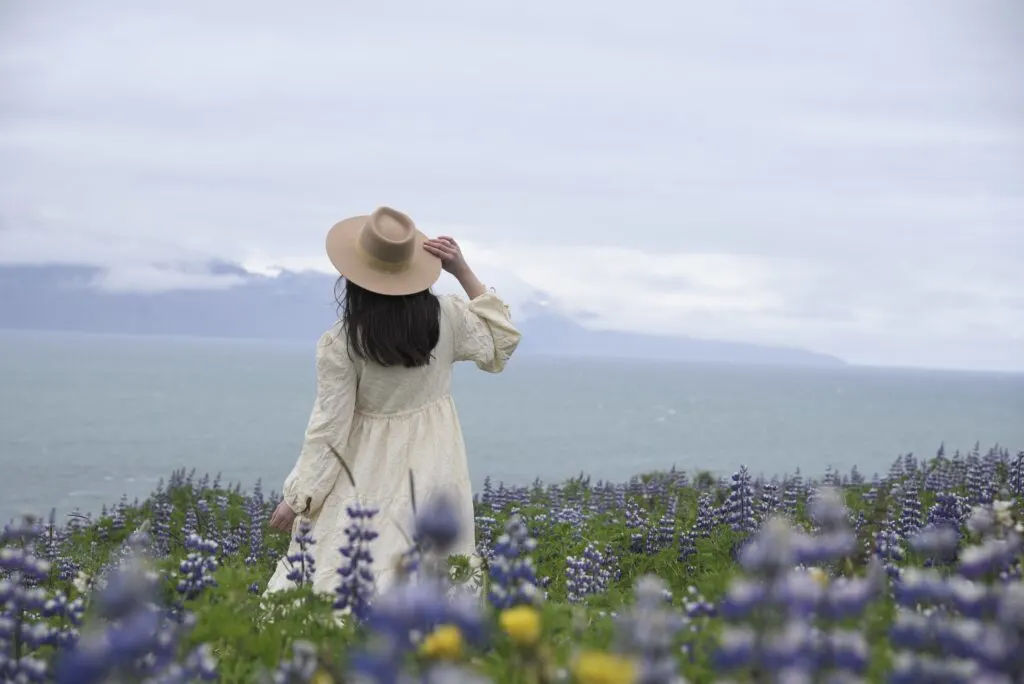 Here are some places we would recommend staying in the Myvatn region:
Guesthouse Dimmuborgir, located in the scenic region of Mývatn in Northeast Iceland, offers an enchanting and delightful stay experience. Nestled amidst the captivating surroundings, this guesthouse is a perfect choice for your accommodation in Mývatn.
Each individual guesthouse exudes a charming ambiance, with roofs adorned with twinkling Christmas lights, adding a touch of magic to your stay. Moreover, you'll be treated to magnificent views overlooking the serene Mývatn lake, creating a picturesque backdrop for your getaway.
Many of the guesthouses at Dimmuborgir are thoughtfully equipped with kitchens, providing guests with the opportunity to indulge in their culinary prowess while exploring the wonders of Iceland.
This added convenience allows you to savor the experience of cooking and preparing meals in the comfort of your own guesthouse. With its adorable charm, stunning views, and the option to prepare your own meals, Guesthouse Dimmuborgir is an ideal choice for those seeking a memorable and cozy stay in the remarkable Mývatn region.
Book your stay at Guesthouse Dimmuborgir here.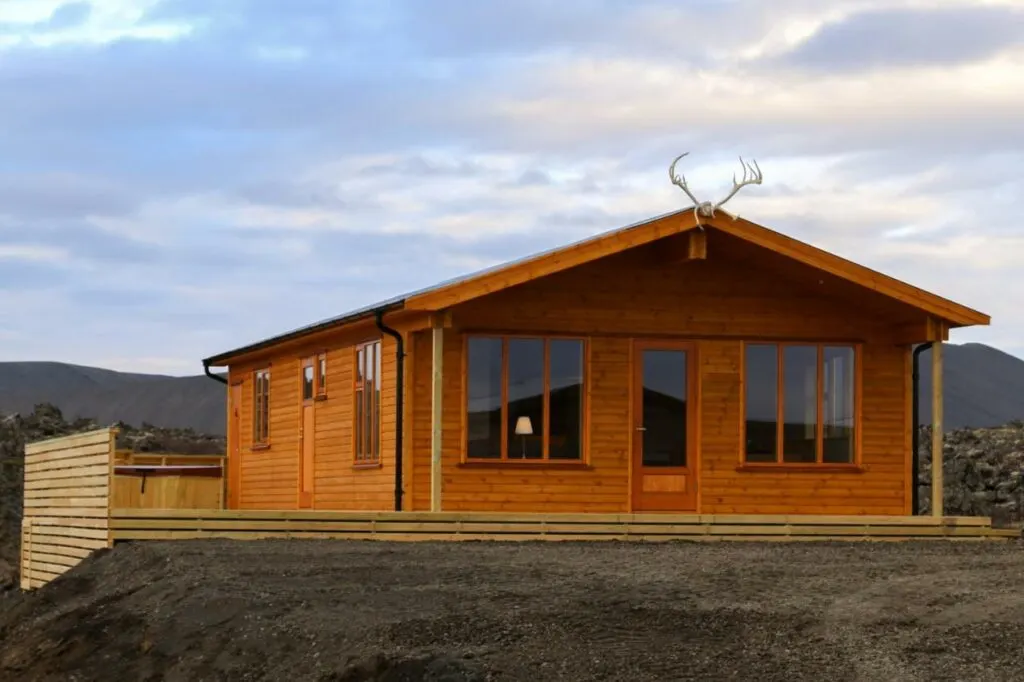 Discover the tranquility of Hótel Laxá, nestled 2 km away from the captivating Lake Mývatn and conveniently located just a 30-minute drive from the magnificent Godafoss Waterfall and Krafla Crater. This modern hotel offers a host of amenities, including complimentary Wi-Fi and tastefully furnished rooms. Each room at Hótel Laxá is equipped with a flat-screen satellite TV, an electric kettle, and a cozy seating area, ensuring a comfortable and enjoyable stay.
The bathrooms feature complimentary toiletries and a hairdryer for added convenience. Guests can indulge in delectable dining options at the hotel's restaurant and bar, or take a moment to unwind in the serene garden or on the inviting terrace.
For those seeking relaxation, the renowned Mývatn Nature Baths are just a 20-minute drive away. Additionally, the charming town of Húsavík can be reached in a scenic 45-minute drive, offering further exploration opportunities.
The surrounding area of Hótel Laxá is ideal for horse riding and hiking enthusiasts, providing a picturesque backdrop for outdoor activities. Whether immersing yourself in nature or exploring the nearby attractions, Hótel Laxá offers a peaceful retreat for a memorable stay.
Book your stay at Hótel Laxá here.
OVERNIGHT STOP 7 – Akureyri (Northern Iceland)
Akureyri is only located 1 hours drive away from Myvatn and most of the key attractions in surrounding area are the same, so if you find a good hotel base in Myvatn and don't want to move, this could be an option.
Another option is to stay a night in the little town of Husavik in Iceland, which has the best whale watching tours in the country including ones where you can see puffins! Here is a link for accommodation in Husavik.
How many nights? 1 night or 3 nights if you choose not to stay in Myvatn and make trips out to the Myvatn attractions from Akureyri as a base.
See all accommodation in Akureyri during your dates here.
Experience the epitome of luxury at Icelandair Hotel Akureyri. Though the hotel exudes a corporate ambiance, it encompasses all the essential elements for an exceptional stay. The generously sized and plush rooms provide a haven of comfort, ensuring a restful night's sleep.
Indulge in the serenity of the great outdoor patio, offering a tranquil space to unwind and take in the breathtaking city views. Delight in culinary delights at the onsite restaurant, which presents a fantastic selection for both breakfast and dinner.
Whether starting the day with a sumptuous breakfast or savoring a delectable dinner, the restaurant offers an excellent dining experience that caters to discerning tastes. At Icelandair Hotel Akureyri, luxury meets convenience, promising an unforgettable stay where every need is catered to with impeccable service and amenities.
Book your stay here.
OVERNIGHT STOP 7 – Snæfellsnes Peninsula
You'll be up for a bit of a drive today so get up early. It is over a 4 hour drive from Akureyri to the Snæfellsnes Peninsula. If you drove the Ring Road in a clockwise direction, it is a 2 hour drive from Reykjavík. Some people choose to base themselves in Reykjavík and explore the Snæfellsnes Peninsula as a day trip or an overnighter.
The Snæfellsnes Peninsula is one of the most scenic and beautiful areas in Iceland and something not to miss on an Icelandic vacation. It is home to Kirkjufell (Iceland's most recognizable mountain) and some of the most photographed places in the country.
Stykkisholmur is the biggest town on the Snæfellsnes Peninsula and wherer most people choose to base themselves in this region.
How many nights? 1 – 2 nights is a nice amount of time.
Click here to search all accommodation in the Snaefellsnes Peninsula during your dates.
Hotel Stykkisholmur is situated in the charming fishing village of Stykkisholmur, overlooking the sea. Guests can enjoy complimentary Wi-Fi and stay in tastefully adorned rooms featuring a TV.
For golf enthusiasts, Stykkisholms Golf Club is conveniently located just 328 feet away. Each guest room at Hotel Stykkisholmur boasts a work desk and a private bathroom equipped with a shower. Many rooms also offer breathtaking ocean views, adding to the overall allure.
The on-site restaurant not only provides scenic sea views but also specializes in serving the freshest local catch of the day, which may include monkfish, cod, or halibut. Guests can start their day with a delightful Scandinavian breakfast buffet, served each morning.
Book your stay here.
Back to Reykjavik (Airport accommodation)
After the Snæfellsnes Peninsula you are heading back to the start, Reykjavík and it is the finish of your epic Ring Road adventure.
If you are flying out from Keflavík International Airport, we suggest staying at near airport for your final night in Iceland for convenience. See here for all accommodation near Keflavík International Airport. The airport is about a 20 minute drive from the Blue Lagoon so you might like to schedule your visit to the lagoon on your last night in Iceland.
We have stayed at Konvin Hotel near the airport and could recommend it. The rooms were very spacious (which we were surprised about) and clean and comfortable. The only downside was the walls tended to be a bit thin so you could vaguely hear your neighbours.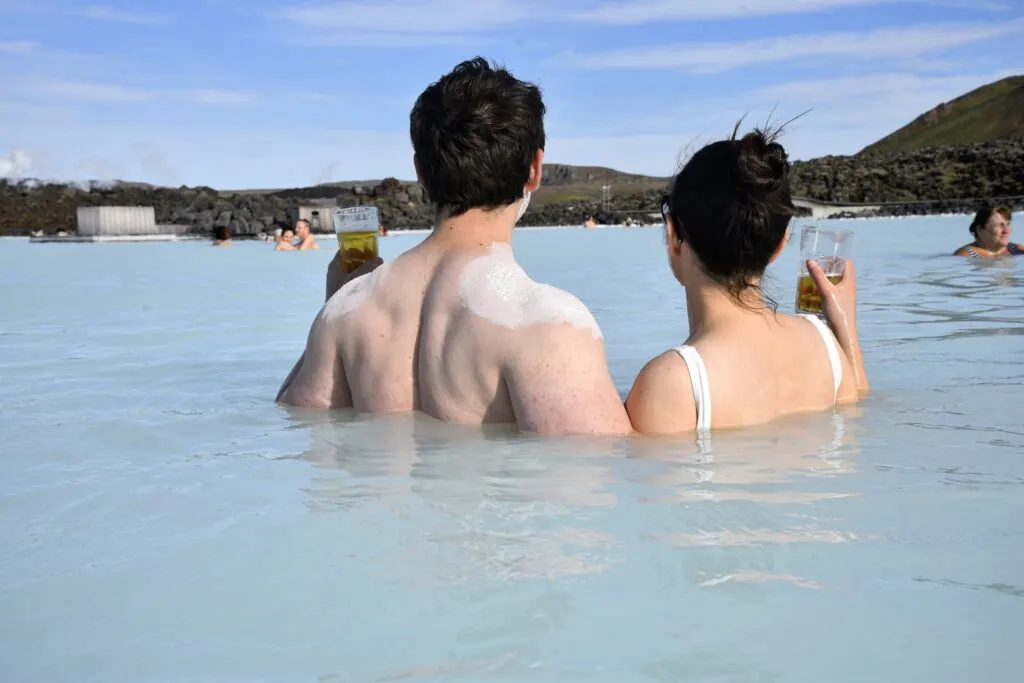 Iceland Ring Road FAQ
How long does it take to drive the Ring Road?
You will need at least 10 days to drive it.
What is the distance around the Ring Road?
The Ring Road is a 1322 km (820 miles) loop.
Which direction should I drive the Ring Road?
A lot of people have opinions on this. In our view, check out accommodation and see when it is possible to stay in each place and let that dictate which way you drive the Ring Road. As discussed in this article, accommodation can be very scarce in some areas in Iceland so it is prudent to book in advance.
How much will I need to budget for expenses?
Iceland is a very expensive country and staying in hotels along the Ring Road is even more so due to the lack of accommodation in the area.
Expect to pay at least $300 USD a night for respectable accommodation in some areas of the Ring Road and on average (although you can get good deals on Rental Cars ) $100 USD a day on car hire. Dining out at restaurants is also expensive in Iceland.
To give you an idea, a pizza at a good restaurant in Vik cost us about $25 USD a pizza (Black Crust Pizzeria) and pizza is an affordable food choice.
Can I add the Golden Circle into this Ring Road itinerary?
Yes, you can! We would suggest adding an overnight stop in Hella between Reykjavík and Vik if you want to explore the Golden Circle attractions as well as the Ring Road. The best place to stay in Hella is arguably Hotel Ranga.
Iceland Ring Road Map
Use our Ring Road Map to help you find where to stay around Iceland.
***
See more Iceland fun: