Looking for the best bahamas cruise for couples? You have come to the right place!
We went on a trip to the Bahamas through Norwegian Cruise Line on the Norwegian Sky. It was a 4-night cruise departing from Miami. This is (as far as I'm aware) the only ship on their fleet, which is totally all inclusive (except for the specialty restaurants).
What I mean by this is that every person on board automatically gets the 'drink package'. This entitles you all drinks on board up to an $ 11 USD value. This gives you access to a wide range of drinks. While technically this doesn't include ALL drinks, there wasn't any drinks that we ordered that came above the $11 limit.
This cruise trip visited Nassau and Norwegian's private Island, Grand Stirrup Cay. It also went to Grand Bahama Island but it was raining the day we pulled in & we were only interested in visiting the beach so we didn't leave the boat that day (hence I will only comment briefly on this port).
I have thought of some questions that I would have like answered prior to sailing on this cruise, so here's our review of the Norwegian Sky bahamas cruise and why we think it is the best bahamas cruise for couples on the market!
Best Bahamas Cruise for Couples: All Inclusive Cruise on the Norwegian Sky
Which room to choose?
As we are travelling on a budget, we chose the cheapest room on offer on the Norwegian Sky which gave us an inside room located on deck 4.
For this category we paid $250 USD pp. plus taxes & gratuities. Once you add in these additional expenses, the cost probably totals around $220 USD per room per night. While this was definitely a splurge for us on our budget trip, the cruise was worth every penny as it exceeded our expectations.
One way you can easily monitor for cost of cruises to ensure that you get the best possible price is to regularly check Cruise Direct. On the site, you can compare all cruise lines by price in the time you wish to cruise. Be careful if you are not an American citizen though as certain offers on cruise direct are only applicable to American citizens.
The room we choose (Guaranteed Inside Category IX) was pretty small but it was generally clean & comfortable. It had a double bed & a small couch.
With two full sized suitcases open, we pretty much couldn't move in this room. However, an older couple we met later on the cruise told us that there was room under the bed designated for the suitcases (wish we had of discovered this earlier!).
For our purposes & budget, the room worked well. Both my parents & grandparents have booked balcony rooms on other Norwegian cruises and raved about them. If these rooms are within an $100.00 USD price difference per person, I would recommend splurging as, from what I've been told, they are far bigger & more comfortable.
Ports we visited and what we did
As we were travelling on a budget & we were visiting beach locations, we decided not to participate in any shore excursions. We looked through the list of shore excursions on the boat & none particularly interested us & most were over $100 USD pp. On this particular cruise, not booking shore excursions turned out to be a smart decision.
Norwegian's Private Island, Grand Stirrup Cay
This was a really fantastic day & our favourite part of the Bahamas. As this is a private island owned Norwegian cruise line, only Norwegian cruise lines are able to access this island
Grand Stirrup Cay is a really beautiful island which has crystal clear blue water & white sand. From directly off the beach you are able to snorkel and see lots of colourful fish.
The biggest mistake we made was not buying a snorkel set prior to boarding the boat. We paid $30 USD pp to hire snorkel equipment for a few hours, the same price that it would have cost us to purchase our own equipment in Miami prior to departure.
Another major plus of this island was (as it was Norwegian's private island) all the food & drink on the island was included & you didn't have to purchase anything additional.
For lunch, the cruise line put on quite an extensive buffet. There were also deck chairs that you could use for free & Norwegian entertained their cruisers with free games & activities on the island throughout the day. You really don't need to purchase a shore excursion on this day & in my opinion you would be missing out if you did.
Nassau, Bahamas
We also had a great day in Nassau in the Bahamas. When we existed the boat we were swarmed by locals trying to hire rental cars & scooters.
They indicated that you needed some form of transportation to access the Island's beaches. We considered hiring a scooter however, we thought we would go for a walk first to check out the local area.
This was a smart decision as it was only approximately a 15 minute walk to a beautiful beach (located next to Fat Tuesday beach club). It was great to get a 'local feel' by seeing locals also using the beach.
You can access Wifi in the Fat Tuesday beach club or in McDonalds in Nassau city centre. We spent the entire day sitting in a shaded part of this beach, reading & swimming in the water.
Grand Bahama Island, Bahamas
As indicated previously, we didn't leave the boat on this day as it was raining. We spent the day eating & drinking on the boat. However, we did hear the beach was a long way away (45 minutes by car I believe).
Therefore, if you are inclined to buy only one shore excursion, this might be the place to do so.
Food and entertainment onboard
Food
The food on board was plentiful to say the least! We felt like there was a never ending supply of board and left the ship feeling very fat. Without paying an additional fee, there were three free restaurants on the boat:
Garden Buffet
Garden Buffet was the main buffet on board the ship which served breakfast, lunch & dinner. It was pretty much open for all day snacking & shut about 12pm at night (just enough time for a late night snack after the onboard nightly entertainment).
The buffet had a wide range of different food on it. Like most buffets, I wouldn't rate the quality of food on the buffet as sensational however, it certainly was plentiful & had a large range of variety.
Palace & Crossing Restaurants
The other two included restaurants onboard the ship were Palace & Crossings. These two restaurants served exactly the same food each night. The only real difference in the restaurants was the decor. I would suggest going to the restaurant with greater availability.
The food served at these restaurants was very nice & changed on a nightly basis. One thing that we didn't realise at the time was that you can order as many main meals & entrees that you like. A couple of die hard cruisers told us this on our last night & safe to say we went crazy & had a bit of everything that night.
Entertainment
We were also satisfied with the entertainment. We thought the dancers were of an exceptional quality so we would recommend going to the shows if you are up for it.
Transportation to cruise Terminal
Car Rental from Miami Cruise Port
We hired a rental car from Miami. If your car rental company (e.g. this is the case for Sixt) end downtown it is a fair walk from the cruise terminal.
There is no public transport between these points so we decided to walk to the cruise terminal. If you don't have a lot of luggage, this might be possible. However, this was extremely difficult with our two suitcases & not advisable.
Try to get your car rental to end at the actual cruise terminal if possible.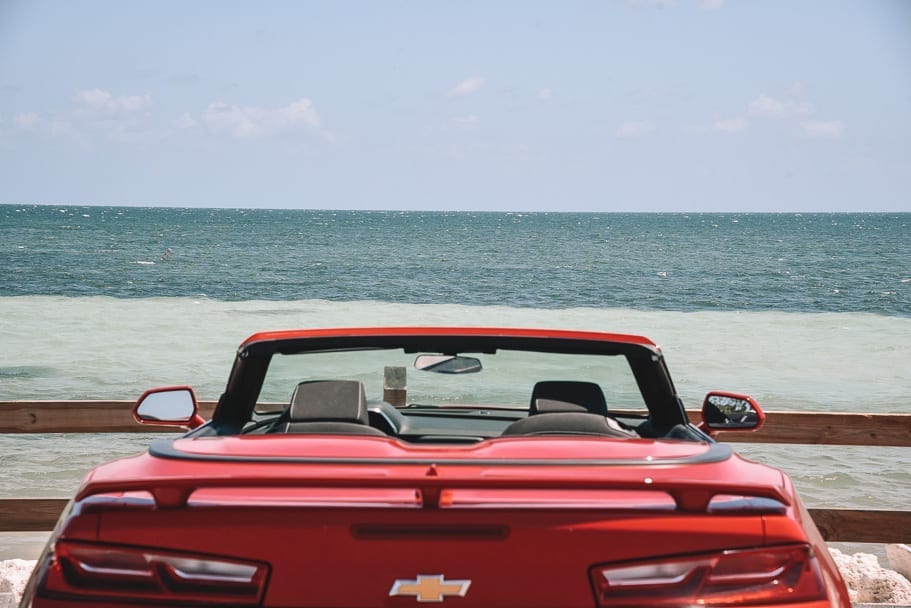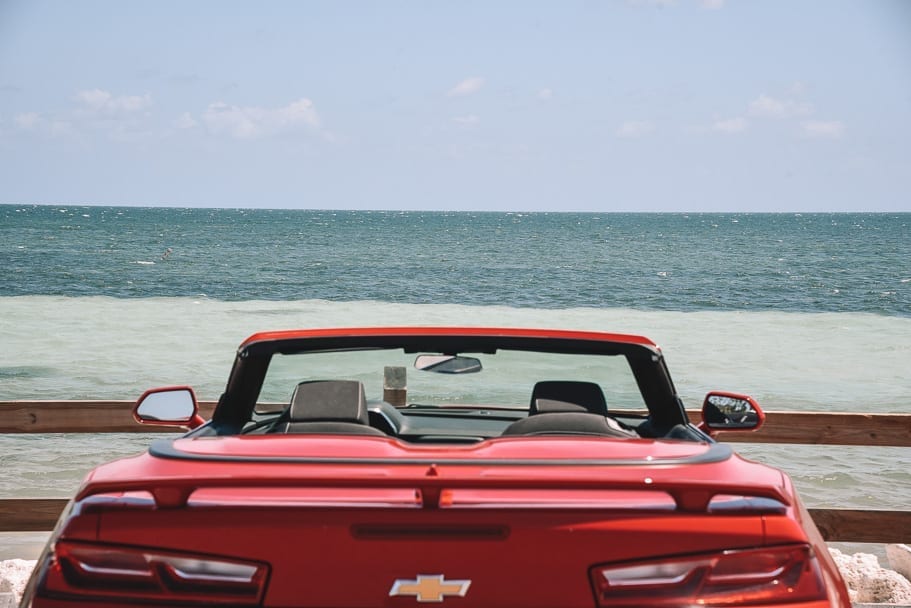 To Miami Airport upon disembarking the cruise
Norwegian cruise line offers a paid shuttle from the cruise terminal that drops you directly at the airport. This shuttle can be purchased upon leaving the ship.
Top Tips for a Couples Cruise to the Bahamas
Check in early!! When checking in, you choose your embarkment time. We paid the mistake of checking into our cruise only a few days before sailing.
Buy a snorkel set before departing on the cruise.
If your cruise happens to decrease in price 30 days or more prior to departure, Norwegian cruise line have a policy that, if you call, you will get upgraded to the next category of accomodation (e.g. interior room to exterior room) IF the exterior room is the same price or less than what you paid.
We really like traveling on Norwegian cruises and we think it is definitely one of the best cruise ships for couples to the Bahamas. If you have sailed to the bahamas on a honeymoon or otherwise on a different ship and prefer it, we'd love to know – leave us a comment below!
****
Other cruises: