Looking for an honest Norwegian Prima review? You have come to the right place.
We recently sailed on the Norwegian Prima from Reykjavik to Southampton on a 10 night sailing.
Firstly, I will note that we are in no way affiliated with Norwegian Cruise line and this is not a collaboration with them. This is an honest review based on our personal experience on the ship.
If you want a short answer – we enjoyed the ship and would sail on it again but there were a few things that didn't quite hit the mark for us.
Keep reading for our full review:
Norwegian Prima Review – Should you spend $ to sail on this ship?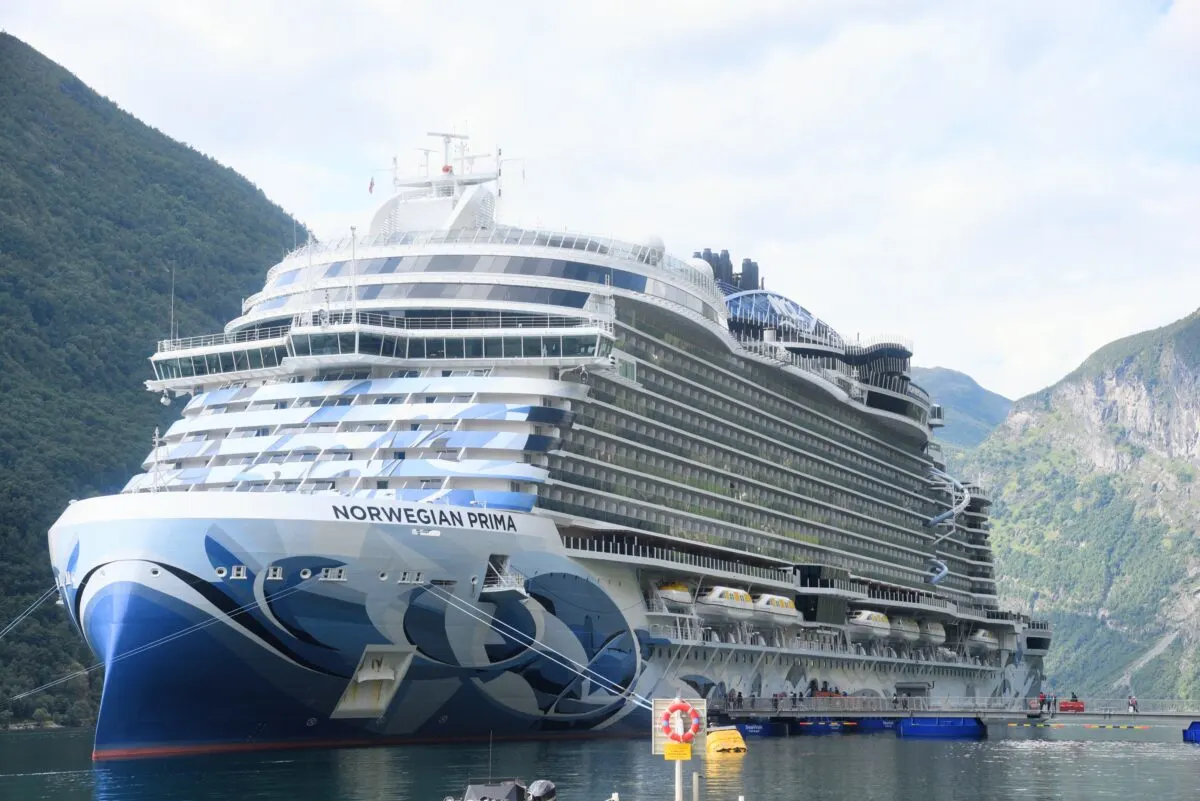 The Ship's spaces
Overall, the areas you can sit and enjoy in the Prima were all fabulous.
Everything, as you would expect was new and modern and really nice.
We especially really liked The Observatory, located on deck 17, which provides guests with comfortable seating and grand views.
There is a bar located at The Observatory along with a tea, coffee and water station and also a light snack area.
There is also a stunning outside area on level 8 with really plush and modern sun loungers. Find it behind Indulge Food Hall.
We really loved this area although note, if you are traveling to cold regions of the world it can be too cold to utilize it which is a real shame as it is so lovely!
I didn't love that there was no real atrium or middle of the ship. There is no grand staircase which I personally don't like. Maybe I am just used to this structure but it took me a little longer to remember where everything was located for this reason (I think).
I have read on NCL prima reviews that this was also an issue for other people.
They often have classes like line dancing classes in "the atrium" area but it was so small there was hardly enough room to move around.
It was also a struggle to get a seat in the bar on level 6 due to the lack of space.
The Prima Theatre was really nice but we hardly got to see inside it due to the lack of shows and entertainment being offered in the theatre (more details on that below).
Rating – 9/10 (Due to the new & modern facilities)
Rooms (Our inside #11767 Stateroom)
The rooms on the Norwegian Prima were very plush and modern.
They were far superior to any previous Norwegian ships we have been on including the Norwegian Star and the Norwegian Getaway (which before the addition of the Prima and the Viva was one of Norwegian's newer ships).
We usually book an inside category and bid for an upgrade at around $200 per person. Unfortunately, this time we were unsuccessful but we were still very happy with our room.
It was much bigger than our previous inside rooms on other NCL ships so we had far more room for activity (moving around with our luggage) than usual.
The bathroom was also very spacious and modern. The shower was at least the size of a usual hotel room shower with great water pressure.
I will note that our shower was blocked and became a mini swimming pool every time we used it which was a negative. We told housekeeping and they were able to fix it but it seemed like it is a common issue on the ship.
If you are interested in what products NCL has in the bathrooms, body wash as well as a combined shampoo/conditioner are provided for you. They do not supply body lotion. The products NCL provide are acceptable but I personally prefer to use my own.
There is also decent storage space in the room: 2 large drawers as well as a full double cupboard with hangers.
We travel with a lot of luggage and it was enough space for us after we unpacked and stowed our suitcases under the bed.
Should I book a balcony cabin?
We did take a peak inside the balcony cabins and they are also lovely. However, they do not look too much bigger than the inside staterooms.
The biggest benefit to having a balcony in my view is always having access to a view, without having to fight for a seat in the public areas.
As we were traveling through Norway and Iceland, this was very much the case as the scenery was spectacular and for this reason, it would've been nice to have a balcony cabin. That being said, as the ship was large, we always managed to find a seat with a view.
Another benefit in booking a balcony room is having access to mobile data on your phone from your room. If you have data, you can usually access it when you are in outdoor spaces in the ship or near a window.
There is no phone signal / mobile data access in an inside cabin but I believe you would be able to access your personal mobile data when you are close to a port from your balcony.
Rating – 9.5/10 (I would have rated the rooms 10/10 if it wasn't for our drainage issues in the shower)
Entertainment (Shows & Performers)
We were very disappointed with the entertainment onboard the Norwegian Prima.
When we cruised they had one headline act, the Donna Summers musical, but it only played 2 times on the entire cruise, one being the final night.
When we got on, we went to book our entertainment straight away after boarding at about 3pm.
The Donna Summers musical was already completely booked out on the first night it was performing which only left us with the final night of the cruise at 10pm as our only option.
As we usually like to finalize our packing at this time, we were less than impressed with the time of the show but as it was our only option, we took it.
The musical was awesome and I'm glad we saw it but it was a shame that we couldn't have had more decent entertainment throughout our vacation.
Note: we tried to reserve tickets when we booked about 6 weeks before sailing but we were unable to then. I can't say if that's because it was already fully booked or if it was an error with the Norwegian website / app.
Aside from the Donna Summers musical, the only other thing we could book in the NCL Theatre was a comedian who was already completely booked out as of 3pm on the first day.
We expected in addition to the Donna Summers musical, there would be a cast show 2-3 nights of the cruise, but this was not the case.
Aside from the Donna Summers musical and the comedian, the ship hardly offered any other entertainment. There was sometimes a singer which played only 1 show in the theatre per night (usually there was 2 viewings on the Norwegian Star) and there were no impressive guest acts like we saw on the NCL Star like the incredible MP Art Duo.
We did see The Price is Right game show on 1 night which was a fun experience which we would recommend attending.
You actually had to book in for this which (again) booked out totally by 3pm on the first day of the cruise but they let us sit in at the top level. If you are seated in the top level you won't be selected to participate in the show which was a bummer as they offer some cool prizes – someone in the crowd won a flat screen tv, someone won beats headphones and another lady won $250!
Instead of offering additional shows, the cast of Donna Summers attended various parties on the cruise like the white party and the 70s disco party and danced with guests. This was not to our personal taste as we prefer more traditional entertainment.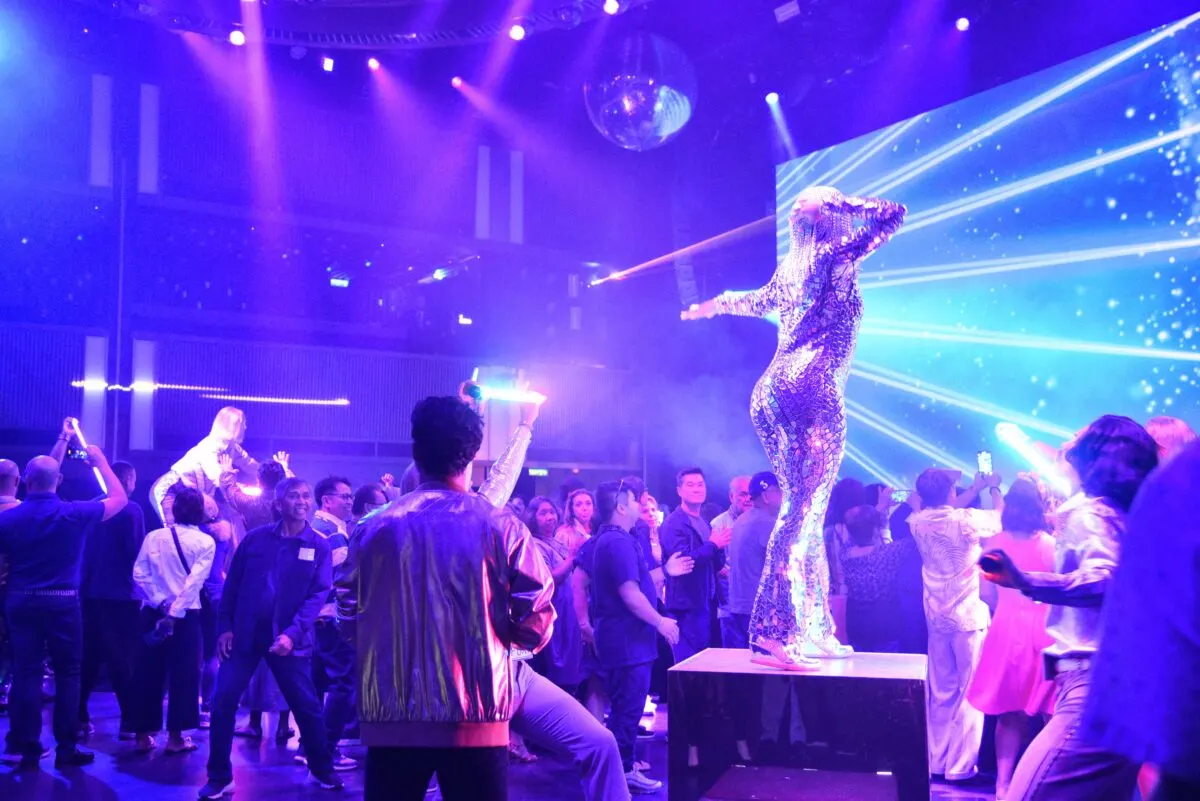 We also found the performers around the ship like the bar singers etc to be very poor as a whole. We were excited about a country night but the Asian lady signer seemed less than enthused to be singing country and most songs she selected were very borderline country, if at all. There was limited modern country for the younger crowd.
We did see a Fleetwood Mac tribute band on our final night by chance in Syd Norman's on our way to the Donna Summers musical playing in Syd Norman's bar which were actually very good!
It was a shame for us that the only good entertainment happened on the final night! Better late than never!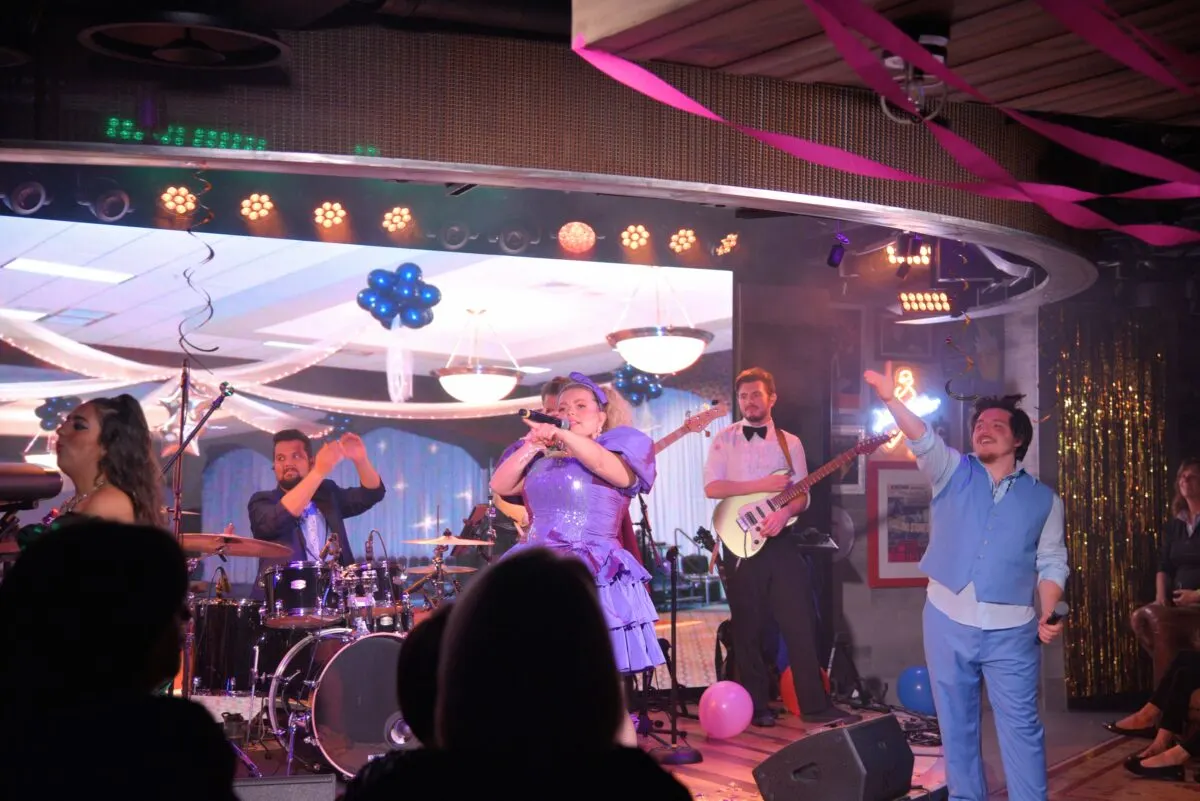 Rating – 4/10 (Due to the lack of shows)
Onboard activities like the Wave water slide, The Rush, The Drop etc)
Being a new ship, in addition to the standard NCL pool, the Norwegian Prima has some very exciting entertainment in the form of a wave water slide, 2 dry slides which flank the ship and drop from level 18 to 8, GoCarts, 2 infinity hot tubs, an escape room, an outdoor games area and mini golf, arcade with Virtual Reality games and a virtual driving range, among other things.
The GoCarts, escape room, darts and mini golf all have a cover charge but you can use the rest of the activities without cost.
The GoCarts cost $15 per person per go which we found to be reasonable. The darts is $15. I'm not sure about the costing of the other activities as we did not intend to do them.
We were very excited to try some of these offerings especially one the the dry slides called "The Drop" which is basically an exhilarating free fall drop down the side of the ship using a dry slide concept with a body bag you slide in.
We were disappointed as every time (except the last time) we went to use "The Drop" or "The Rush" it was closed due to adverse weather. What we did not realize is that these would shut with even the slightest amount of rain or waves. It was lucky we got to do them at all so if you are keen make sure you give them a go while they are open.
Both days at sea when we intended to go on the dry slides and use the GoCarts, we were not able to do so due to adverse weather.
We found it frustrating that the slides are only open from 11-12pm and again from 1-5pm which is only a good time on sea days.
My opinion is that these activities should open a bit later on shore days so guests have an opportunity to use them when they return from exploring.
In order to try "The Drop" and "The Rush" we did not go outside until later one day missing out on some time on shore.
I wouldn't say they were worth it as "The Rush" was really bumpy and made me dizzy when I got off and "The Drop" which I expected to be exhilarating was a bit slow and you get stuck in the middle (on the clear plastic section) and have to wiggle your way down.
However, I liked the GoCarts and thought they were worth the $15 cost per person. You got a very decent go on the track.
You can go as fast or slow as you like but if you want to race, you are timed on your fastest lap (6-7 loops total).
Rating – 7/10
Entertainment by the crew (like Game shows, classes etc)
Norwegian always offers a variety of crew-led entertainment to keep you occupied during your cruise.
One common Norwegian classic is the "Newlywed, Not so Newlywed Game Show" which they offered in the Prima theatre one night due to the severe lack of other entertainment (usually this is run in a bar).
They also had others that we hadn't seen before like the "Ultimate Couple Game Show" onboard which was entertaining. It involved couples competing in a series of challenges to see who reigns supreme as the ultimate couple.
There was also other crew-led entertainment like dancing classes, language classes and bean bag toss tournaments.
I would say that what was offered was fairly amusing so no real complaints here. My only complaint would be that these should not replace the other entertainment like traditional shows in the theatre.
Rating – 8/10
Gym & Ocean walk
The gym facilities onboard were really nice and we used the gym on both sea days.
I do have two complaints about the gym however.
Firstly, the weight area of the gym is tiny so it is really difficult and almost impossible to use. Secondly, they also let high ranking crew members use the gym so it is often over-run with Norwegian staff. Norwegian have a separate gym for staff so my personal feeling is that crew of any level should not be permitted to use the guest gym, especially when certain sections of the gym are so small.
There is also a nice walking/running track on deck 8 of the ship called the "Ocean Boulevard" with two Oceanwalk glass bridge walkways.
The downside of the glass is that it's also closed in bad weather due to being a slip hazard.
Rating – 7/10
Complimentary (Free) Included Dining
There was 5 areas for complimentary dining on the Prima: 2 main restaurants (Hudsons and the Commodore Room), the main buffet, Indulge Food Hall and The Local (a burger and casual dining restaurant).
Indulge Food Hall replaced the complimentary Asian Ginza restaurant you find on some other Norwegian cruises.
There were pros and cons of the free included dining onboard the NCL Prima.
First, it's worth noting that all dining areas on the Prima, including the complimentary food venues, are absolutely beautiful.
You can't complain with how the Prima ship looks – it is stunning and very modern everywhere you turn.
Overall, the food was fairly decent in the complimentary restaurants but it was not as good as the food on the Norwegian Star, which we recently sailed on.
We expected the food to be better than older ships like the Star as the Prima is Norwegian's newest offering and the price of the cruise is more expensive than their older ships. I expected they would've had their best chefs on this ship but that was not the case.
If you cruise a lot with Norwegian, like we do, you will start to notice that almost the same menu is served on every cruise. This does get a little repetitive. It would be nice if Norwegian would switch it up a bit.
Hudsons
We elected to dine at Hudsons restaurant most nights we were on the cruise. I would say it was our favorite free place to dine onboard.
Hudson's serves exactly the same menu as the Commodore room but there are two main reasons why we preferred it.
Firstly, Hudson's has floor to ceiling windows which mean no matter where you are seated in the restaurant, you get a lovely view. It is also the fanciest of the free dining restaurants onboard so the décor was very impressive.
The second reason we preferred Hudsons restaurant was that it was less crowded than the Commodore room. We often got seated on a table of 4 in Hudsons (although there was only 2 of us) whereas in the Commodore room we were crammed in like sardines. This means you can't have your own private conversation and if the person next to you has COVID-19 you are certainly going to get it.
The staff at Hudsons were also lovely and very attentive.
As mentioned above, the food was decent quality but not as good as other ships we have been on.
Some meals we recommend include the Vegetarian Pad Thai, the Lamb Shank and the Pesto Gnocchi if you see them appear on the menu.
We were excited when the Ragu Tagliatelle came on the menu as we enjoyed it so much on the Norwegian Star but it wasn't very good which was disappointing.
In Hudsons you can also order a steak from Cagney's for an additional supplement.
I did upgrade to a Fillet Mignon steak one night in Hudson's which was a speciality section on the Hudson's menu from Cagneys.
One night I paid an additional $15 for an 8oz Fillet Mignon steak which was a great deal, considering it's around $40 off the menu at Cagneys. I'm not sure if this was an error price on the menu or just a special offering as the inferior cuts of steak were $20 / $25 extra.
The steak was very good and cooked to perfection – well worth paying for.
The Commodore Room
The Commodore room was also lovely and modern with beautiful décor.
The windows at the Commodore room are smaller porthole windows and the seating is much closer (as mentioned above). I also found service to be a bit slower.
The same menu is served as at Hudson's. It opens around 30 minutes later each evening so it is a good spot to dine if you miss Hudson's one night.
The Main Buffet: Surfside Cafe & Grill
We thought the main buffet area was poor. Again, the dining area itself is modern and appealing with big windows (which is great) but the actual food on offer at the buffet was not particularly good.
It surprised us how small the buffet was too! It was about half the size of the Star or Getaway for example.
What was on offer at the buffet wasn't great either. For example, the cheese station on the Prima was embarrassingly bad. There were about 2 cheeses on offer with no biscuits/crackers available whatsoever.
If you've ever had a complimentary European breakfast in a cheap hotel in Europe, you'll be familiar with the quality of cold meat / cheese on offer.
A lot of the food resembled slop on the buffet. You could find seldom good dishes but they were few and far between.
We enjoyed some yummy lemon and pepper shrimp at the buffet one afternoon which we recommend if you see it.
Aside from a few good dishes here and there, the buffet is hardly worth going to.
Indulge Food Hall
I really liked the concept of Indulge Food Hall.
Basically, you have a chance to try many different cuisines from around the world. You order your food on touch screens and it gets delivered to you.
The seating at Indulge Food Hall is also really plush and beautiful. It also caters for large groups with tables capable of seating groups of up to 10 people at a time.
I would say the quality of the food at Indulge was among the highest in the ship.
The Indian was really yummy and there is even proper Naan bread ovens which were really cool!
There is no Brazilian churrascaria onboard but we were able to order our favourites here including beef tenderloin with a side of charred pineapple with brown sugar.
The Guacamole served here was also made with proper avocado and without being mixed with mayonnaise (looking at you The Local).
The breakfast options offered at Indulge Food Hall were also better than the buffet with things like spinach avocado egg white wraps and sausage & egg muffins on offer.
24/7 Dining @ The Local
The Local is the pub style dining that Norwegian offers on every cruise.
The menu was exactly the same as previous Norwegian cruises we have taken. You can expect pub grub at The Local with things like burgers, wings, hot dogs and nachos on the menu.
The local remains open until 3.30am so it is the place to go for your midnight snack if you are feeling peckish (gone are the days where a late night buffet is offered).
Service was fast and they actually served me real plantains as opposed to some weird fake ones I was served on the Star.
The guacamole, however, was appalling. I guess they serve so much of it they cut costs by mixing it with mayonnaise.
Free included dining Rating – 7/10
Speciality Dining
There are 8 speciality dining restaurants aboard the Prima: Cagneys Steakhouse, Food Republic (contemporary Asian), Hasuki (Teppanyaki), Le Bistro (French), Los Lobos (Mexican), Nama (Sushi), Onda (Italian) and Palomar (Mediterranean/Seafood).
We dined at Le Bistro and Palomar. We also ordered Starbucks coffee so I will comment on each of these.
Overall, as you would expect, the food quality at the specialty dining was at a higher level than the free dining onboard.
You can pay for the specialty dining on an al la carte rate or it is often included as part of a "Free at Sea offer".
As we are Sapphire members with Norwegian, we get 2 speciality restaurants included for cruises over 7 nights in duration.
Le Bistro French
We had such a great experience at Le Bistro recently on The Norwegian Star that we elected to dine there again on the Prima.
The food at Le Bistro is always consistently delicious, although I think if I was picky I would say the food at Le Bistro on the Norwegian Star was slightly better than the Prima.
I ordered (as I always do): the escargots, beet & goats cheese salad, duck main and strawberries and cream desert. I think I have my order at Le Bistro down pat now.
All the meats were very enjoyable. My husband ordered the steak tartare, French onion soup, lamb main and the meringue and custard desert. His steak tartare was particularly delicious.
He was disappointed that he only got 2 lamb chops where he got 3 lamb chops on the Star – it's the little things in life haha.
On the plus side, service at Le Bistro was really great.
The Maître d' told us she had reserved us a table by the window but near the entrance as she expected us to be elderly (given we are Sapphire latitudes status). She and the staff were very surprised we are only in our 30s.
Palomar
We chose Palomar as our second speciality dining restaurant as it is unique to the Norwegian Prima (it will also be on the Viva) and also being on deck 17, it has fabulous views.
Palomar is a Mediterranean and seafood restaurant with a mixture of surf and turf meals. The non seafood meals available at Palomar are similar to what you will find at Cagneys Steakhouse.
I ordered the gumbo grilled shrimp for an appetizer, Fillet Mignon for main and Apple Tart à la Mode for dessert. My husband ordered the grilled octopus for a starter, grilled lamb chops with gigante beans main and Galaktoboureko (an orangy custard pie with crispy pastry) for dessert.
I wouldn't bother again with the gumbo grilled shrimp as it was a bit flavourless but the grilled octopus was exceptional and highly recommended. Both mains were good.
Both desserts were good, but the greek yogurt sorbet was mind-blowingly delicious. We ordered extra.
Starbucks
Being a large ship, there were actually two Starbucks stores onboard.
There was one large store near guest services on level 7 and another smaller store located within Indulge Food Hall.
On our sea days we satisfied our caffeine addiction with a beverage from Starbucks.
The quality is consistent with stores on land which we appreciated. The cost was also similar at around $6 for a Venti latte.
You can also buy Starbucks' usual pastries including our favourite, the lemon loaf.
Specialty dining Rating – 8.5/10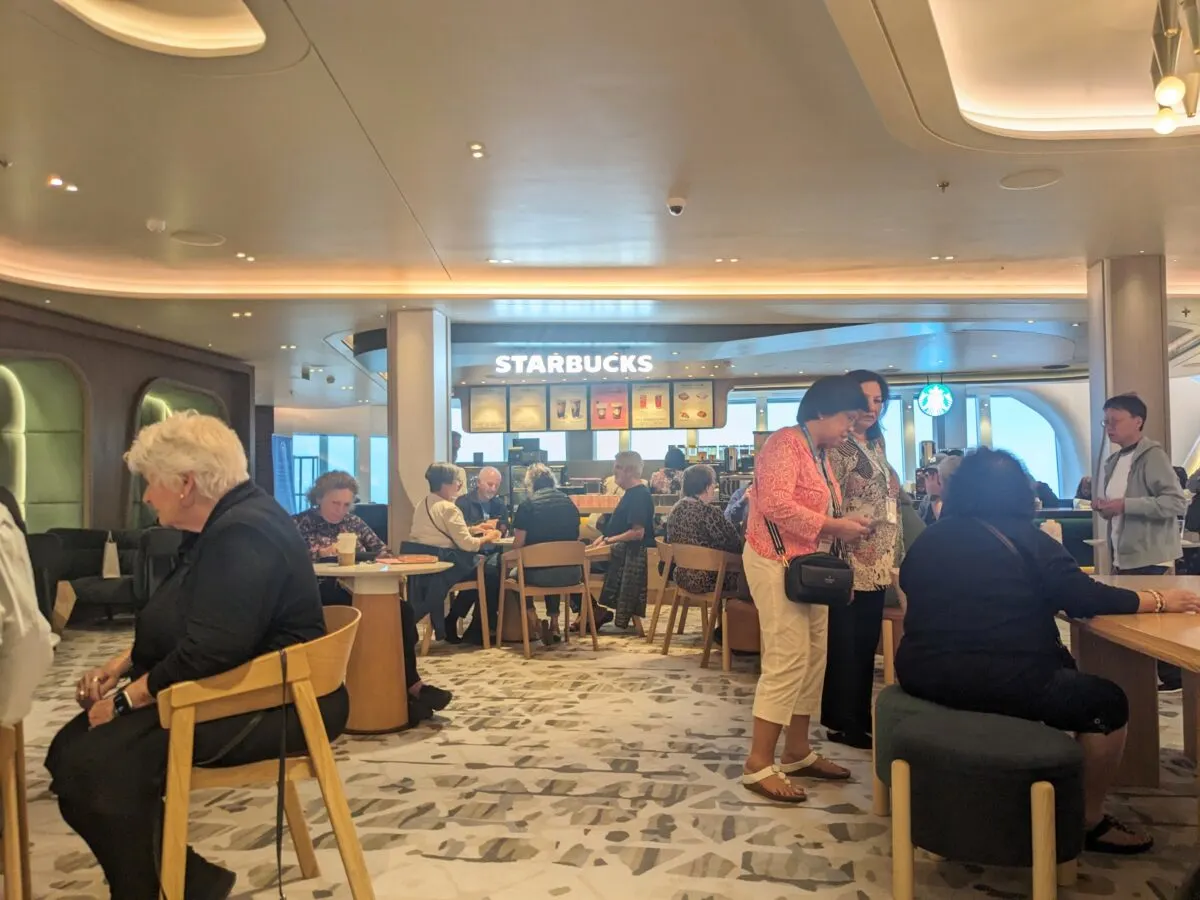 Bars onboard
There are around 10 different bars aboard the Prima which are really all modern and plush.
As we were traveling just the two of us this time (and we aren't huge drinkers) we elected to go without the NCL beverage package this time around.
The beverage package is great value if you do want a few drinks a day but note you are subject to a service charge of around $20 per person per day. You can read our pros and cons of the NCL beverage package here.
If you book a "Free At Sea Promotion" usually the price is only slightly more but not much + the cost of the service fee. This effectively means if you drink 2-3 alcoholic beverages a day you should be in front.
We mainly only drink wine at dinner so we decided to buy bottles of wine instead. The price of a bottle of wine for most of the standard bottles on the ship is between $40 – $50 including tax and service fees.
Tip – If you own at least 100 Norwegian cruise shares, you get $100 onboard credit every cruise which will buy you at least 2 bottles of wine 😉
We went through about half a bottle of wine at each dinner meal so we needed around 5 bottles total. We got 2 bottles through our credit, one bottle included with our specialty meal for being Sapphire members and ended up only purchasing 2 bottles or around $100 worth of grog on the cruise which was enough for us.
Bar Rating – 8.5/10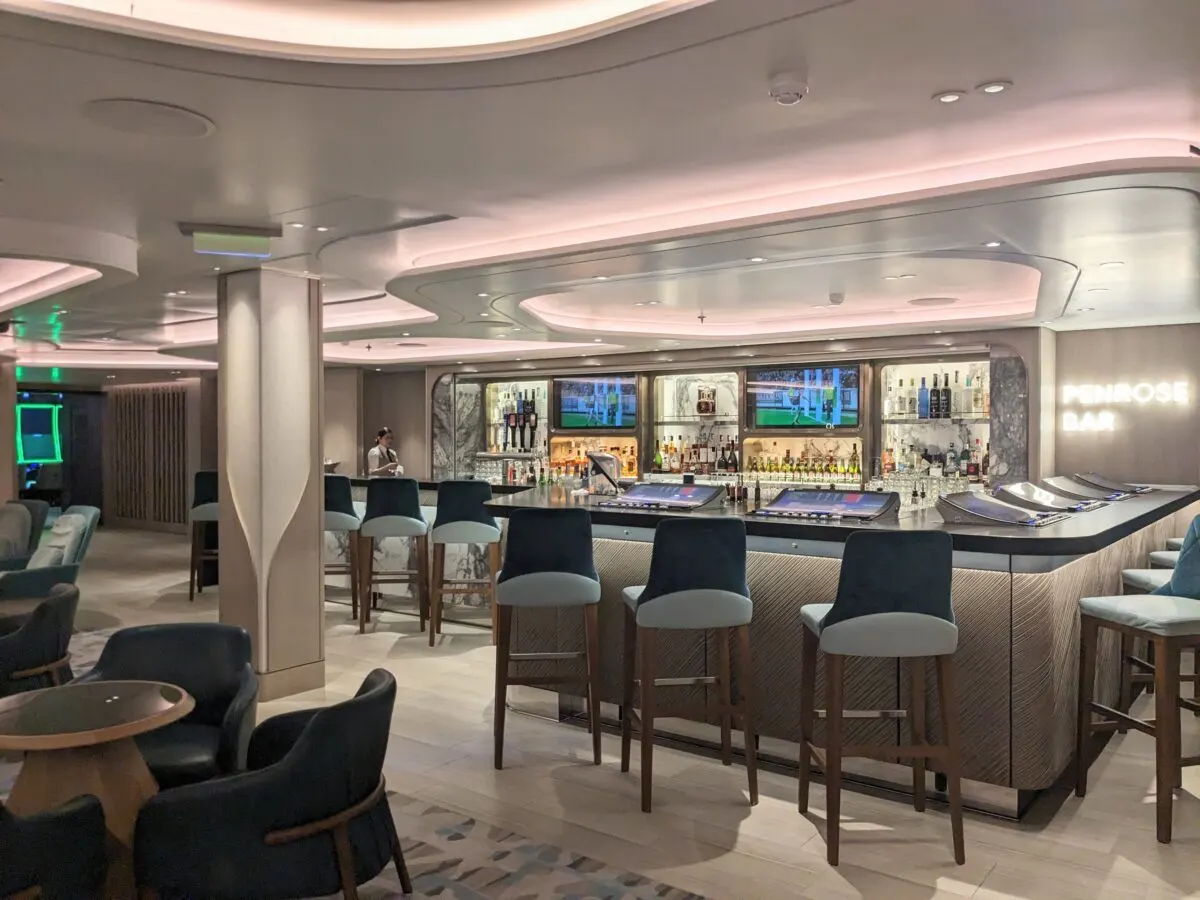 Service onboard (housekeeping, bartenders, waiters, customer service etc)
Usually, customer service onboard Norwegian is not very good. When we sailed on the Norwegian Star, service as a whole was pretty poor.
I did not find that to be the case with the Prima which was a very nice surprise!
The staff onboard seemed overall happier than other ships and they were happier to oblige if you had a request.
For example, we often asked for a window seat or not to be seated close to others at a restaurant, and the staff always tried (and usually succeeded) in making it happen for us.
If I had to be picky, service could be a little on the slow side at times at the free dining restaurants like Hudson's and the Commodore room. Sometimes we sat around twiddling our thumbs wondering where your bread and butter was, but I think it was just because they were extremely busy.
We later learned from a waiter that the galley is located on another level of the ship so they have to run down to get the meals. This explains a lot.
Housekeeping was good so nothing to complain about there. Our housekeeper did a very nice job cleaning our room.
If you are wondering, service charge is $20 per person per day on the Prima.
Rating – 8/10
Wifi on the Prima
We work online, so internet is very important to us. That being said, Norwegian's wifi service has always let us down.
Aboard NCL's newest ship, we were hoping to find an upgraded, or at least usable, wifi service.
We were sadly disappointed.
Two days in on our first sea day were ready to stump up the $40 a day but as we were enjoying our Starbucks coffee we noticed a line snaking it's way back from the internet cafe as far as the eye could see.
It's a familiar sight on Norwegian sea days: everyone's ready to use their wifi, it doesn't work and they queue up to see the internet manager who gaslights first time cruisers into thinking it's the fault of their device until they give up.
Such was our hope that the Prima's internet would be usable we sampled one of the smaller packages which was $75 for 100 minutes.
If you want to buy an unlimited package note that they keep discounting the price by $40 each day to a maximum discount of 7 days continuous usage which is around $280 for the fast package.
We wanted to buy it for the final three days of the cruise and thought it would cost around $120 ($40*3) but it turns out it does not discount anymore beyond the 7 day mark.
As expected, the internet was a little hit and miss. It worked late at night while everyone was in bed but not very well in peak times like days at sea when you really want it to work.
I wouldn't recommend buying it unless you are very desperate. It's a shame really as I'm sure others like us would cruise more regularly if you could utilise working wifi on sea days etc.
Rating – 5/10
Overall score NCL Prima – 7.8/10
Our total score for the NCL Prima is 7.8 out of 10. I originally gave the Prima a score of 7.2 but after looking at my photos I thought it was being harsh. I almost raised it to a 8/10.
Would we pay to sail on it again? Yes, we would!
But we wouldn't necessarily pay a large premium to sail on it over NCL's older ships which surprised me.
***
Have you or should you sail on the Norwegian Prima?
If you have a comment to make on your experience with this ship, let us know in the comments below.