Looking for the best Iceland hotels with a hot tub? You have come to the right place!
Known for its otherworldly beauty, Iceland is a land of fire and ice, where majestic glaciers, cascading waterfalls, and mystical geothermal wonders await at every turn.
And what better way to unwind and immerse yourself in the country's natural splendor than by soaking in a soothing hot tub while gazing up at the dancing Northern Lights or under the midnight sun?
In this article, we'll be exploring some of the most charming and luxurious accommodations in Iceland with a private jacuzzi, spa or hot tub in room or one outdoors that you share!
Join us as we discover the best lodges with a hot tub in Iceland (ones that after seeing you simply must stay at!)
Plan Your Iceland Trip!

🛌 Find the perfect hotel on Booking.com

🎫 Get exploring by booking tours and excursions on Viator

🚗 Find the cheapest car with Car rentals
8 Best Iceland Hotels with a Hot Tub You Must Stay at!
Look no further than Hotel Laxarbakki Iceland if you're searching for the perfect place to stay, particularly if you crave a hotel with a hot tub.
This hidden gem in the heart of Iceland offers an idyllic retreat where relaxation and natural beauty converge. As soon as you dip into the outdoor hot tub, surrounded by the stunning Icelandic landscapes, you'll feel all your cares and stress melt away.
The hotel's warm and inviting ambiance, coupled with spacious and well-appointed rooms, ensures a comfortable and memorable stay. The added bonus of the rejuvenating hot tub experience makes it an ideal choice for those seeking a peaceful and soothing escape.
Furthermore, the hotel's convenient location provides easy access to a wealth of attractions, including awe-inspiring waterfalls, captivating geothermal areas, and scenic hiking trails.
Whether you're marveling at the Northern Lights or indulging in the hot tub after a day of exploration, Hotel Laxarbakki Iceland promises an enchanting and rejuvenating journey that will leave you with cherished memories of Iceland's unparalleled beauty.
Book your stay here.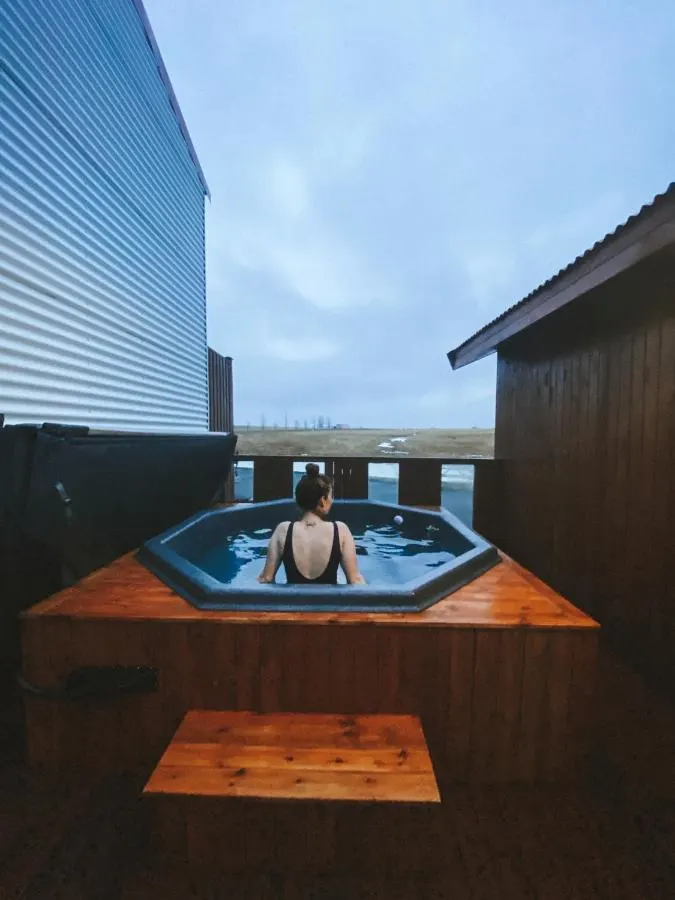 This hotel is literally one of the coolest hotels in Iceland with a hot tub. I mean just look at that view!
You should absolutely consider staying at Frost and Fire Hotel in Iceland for an extraordinary and unforgettable experience. This unique hotel offers a perfect blend of natural beauty, relaxation, and adventure.
Situated along the banks of the mystical Varma River, the hotel boasts stunning views of the surrounding geothermal landscape, including the famous hot springs of Hveragerdi.
The highlight of the hotel is undoubtedly its geothermal hot tubs, which allow you to soak in the soothing warm waters while being surrounded by Iceland's breathtaking scenery.
It's a rare opportunity to immerse yourself in nature's wonders, experiencing both relaxation and rejuvenation like never before. Frost and Fire Hotel also offers easy access to numerous hiking trails, allowing you to explore the picturesque Icelandic countryside.
The charming rooms, warm hospitality, and mouthwatering cuisine served at the riverside restaurant all contribute to making your stay an unforgettable one.
Book your stay here.

Hotel Grimsborgir by Keahotels is the epitome of perfection when it comes to accommodation in Iceland. If you are looking for a top notch hotel with a hot tub in Iceland you can't beat this.
This luxurious and charming hotel offers an experience like no other, blending modern comforts with the rugged beauty of the Icelandic countryside
The spacious and tastefully designed rooms provide a cozy sanctuary after a day of exploration. But what truly sets Hotel Grimsborgir apart is its awe-inspiring surroundings. Nestled amidst majestic mountains and serene landscapes, the hotel offers breathtaking views of Iceland's natural wonders right at your doorstep.
Whether you want to witness the enchanting Northern Lights dancing across the night sky or bask in the midnight sun during the summer months, Hotel Grimsborgir provides an ideal vantage point for such extraordinary experiences. The hotel's top-notch amenities, including a relaxing hot tub and a gourmet restaurant serving delicious Icelandic cuisine, further enhance the overall stay.
With its perfect blend of luxury, comfort, and natural beauty, Hotel Grimsborgir by Keahotels is the ultimate choice for an unforgettable and enchanting stay in Iceland. For sure one of the best lodges with a hot tub in Iceland.
Book your stay here.

Hótel Eyvindará is an absolute gem and the perfect choice for anyone seeking a memorable stay in Iceland, especially if you crave the luxury of a hot tub.
From the moment I arrived at this charming hotel, I knew I was in for a treat. The outdoor hot tub, set amidst the breathtaking Icelandic landscapes, offered a rejuvenating escape like no other.
Whether it was unwinding under the stars after a day of exploration or witnessing the mesmerizing Northern Lights dance across the night sky from the warmth of the tub, each experience was simply magical.
The hotel's serene location, surrounded by nature's beauty, provided a peaceful retreat, while the cozy and well-appointed rooms made me feel right at home. The attentive and friendly staff added a personal touch to the entire stay, making it even more special.
Hótel Eyvindará exceeded all my expectations, and I left with unforgettable memories and a desire to return. If you're looking for an extraordinary Icelandic getaway with the added delight of a hot tub experience, Hótel Eyvindará is the place to be, and I highly recommend it to anyone seeking an unforgettable and rejuvenating adventure in Iceland.
Book your stay here.
Experience the epitome of 4-star luxury at Stracta Hotel Hella, an elegant haven for your vacation, offering exquisite self-catering suites and apartments.
What truly sets this property apart is its unparalleled commitment to wellness, boasting exceptional amenities such as a charming barrel-shaped wooden sauna and inviting outdoor hot tubs nestled within the lush garden.
Here, you can bask in the therapeutic embrace of geothermal waters, immersing yourself in their soothing properties for an all-encompassing health-enhancing experience.
Every room grants you complimentary access to the rejuvenating hot tub and sauna, but for those seeking added seclusion and intimacy, the hotel offers the choice to upgrade to a two-bedroom apartment, complete with an beautiful open-air hot tub, or indulge in the opulence of a deluxe suite featuring a private in-room hot tub on a scenic balcony.
At Stracta Hotel Hella, the pursuit of relaxation and well-being is elevated to an art form.
Book your stay here.
Embark on an enchanting holiday escape at Hotel Vestmannaeyjar, a modern oasis enveloped by breathtaking scenery. Immerse yourself in tranquility with the hotel's spa and wellness center, featuring two indoor hot tubs that whisk away daily stress, a soothing sauna, invigorating showers, and a serene relaxation area. For the ultimate indulgence, massages can be arranged upon request.
Outdoor enthusiasts will be thrilled by the array of exhilarating activities available, including hiking, horse riding, and golfing at a nearby course.
Culinary delights await at the on-site restaurant, where yummy seafood and signature dishes crafted from locally sourced produce are available
For history aficionados, the Vestmannaeyjar Museum of Natural History is a mere 15-minute stroll from the hotel, offering an enriching experience of the region's heritage sites. At Hotel Vestmannaeyjar, an unforgettable holiday experience awaits amidst nature's wonders and modern comforts.
One of the best hotels in Iceland with a hot tub for sure.
Book your stay here.
See more: 10 Best Romantic Hotels in Iceland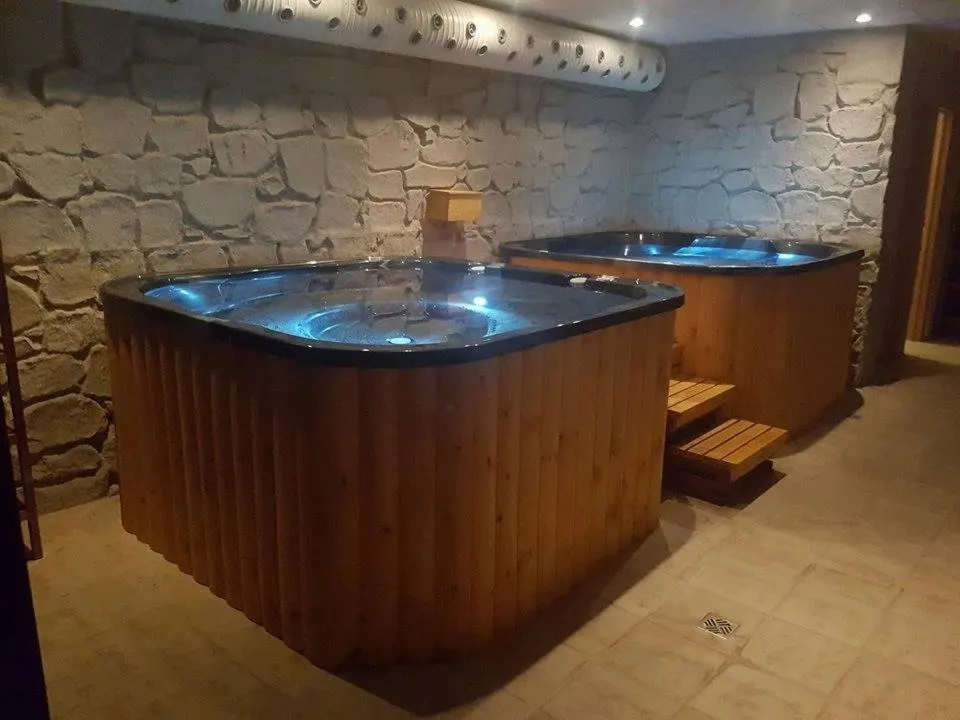 Having experienced the sheer magic of staying at Myvatn Berjaya Iceland Hotels, I can confidently say that it's an absolute gem, especially for those seeking a hotel with a hot tub in Iceland.
From the moment I stepped into the circular outdoor hot tub, all my worries melted away as I soaked in the soothing warmth while being mesmerized by the captivating Northern Lights above. The experience was simply surreal, and it perfectly complemented the hotel's cozy and tastefully furnished rooms, providing the ultimate relaxation after a day of adventure in the stunning Myvatn region.
The hotel's location is a paradise for nature lovers like me, with easy access to the breathtaking Lake Myvatn and its panoramic views. The combination of the hot tub experience and the opportunity to explore the beautiful Icelandic landscapes made my stay truly unforgettable.
If you're looking for a hotel that offers both comfort and a connection with nature, Myvatn Berjaya Iceland Hotels is the place to be, and I can't wait to return! One of the best hotels in Iceland with a jacuzzi for sure.
Book your stay here.
Hraunsnef Country Hotel is another undeniably a fantastic choice for your stay in Iceland, offering an enchanting and authentic Icelandic experience with of course a great jacuzzi spa!
Nestled amidst the rugged beauty of Iceland's countryside, this charming hotel allows you to escape the hustle and bustle of city life and immerse yourself in nature's tranquility.
The hotel's serene location, surrounded by lava fields and majestic mountains, creates a captivating atmosphere that instantly transports you to a world of pure serenity.
The cozy and well-appointed rooms provide a comfortable retreat after a day of exploring the nearby wonders. Moreover, the hotel's proximity to popular attractions, such as the Golden Circle and the Blue Lagoon, makes it an ideal base for embarking on exciting adventures.
The warm and welcoming hospitality of the staff adds a personal touch to the overall experience, making you feel right at home.
Whether you're admiring the awe-inspiring landscapes, enjoying traditional Icelandic delicacies at the on-site restaurant, or simply relishing the tranquility, Hraunsnef Country Hotel promises an authentic and unforgettable stay that will leave you with cherished memories of your Icelandic journey.
Book your stay here.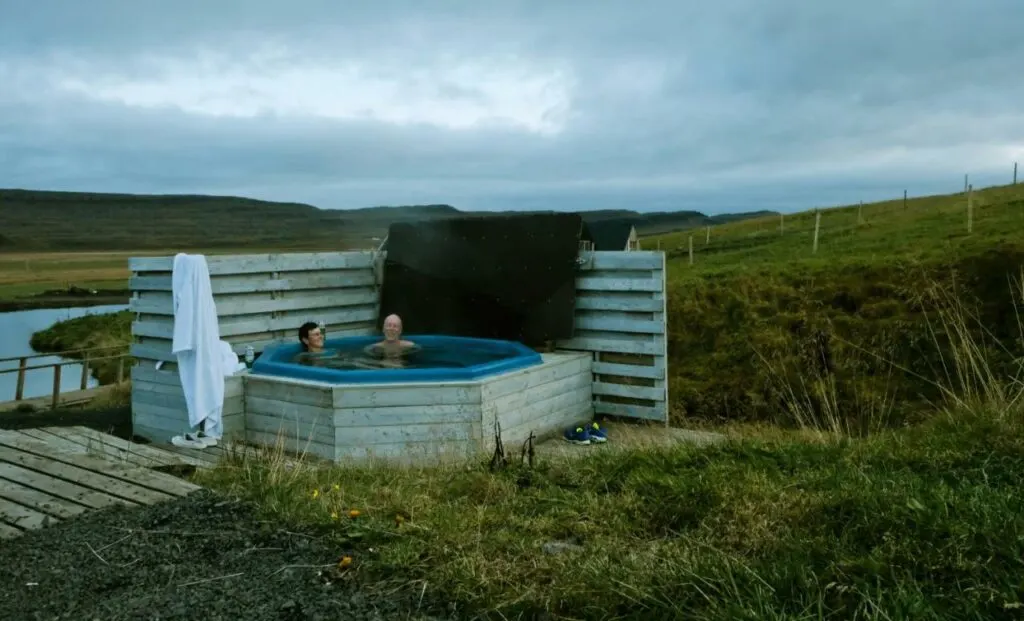 ***
See more: