If you are looking for a relaxing & rejuvenating stay in the capital of Denmark, look no further than the amazing Kong Arthur Hotel Copenhagen, which we think is one of the best 4 star hotels in Copenhagen.
What makes the Hotel Kong Arthur special is the fact that it has the largest spa facilities in Copenhagen. For this reason (and the fact the rooms are so incredible) the hotel is perfect for couples a relaxing couples getaway in Copenhagen.
Kong Arthur Hotel Copenhagen Review | What to expect
Hotel Kong Arthur is perfectly located in Copenhagen – in the city centre, on the edge of the super trendy hipster area of Norrebro and adjacent to one of the stunning inner lakes of Copenhagen.
As we approached the hotel we were impressed by the building architecture. The hotel exterior is stunning and has a upper East side vibe to it. The blue and white tones, reminded us of luxury hotels presented in tv shows such as gossip girl.
Not only does the hotel offer a perfect location to explore everything the city has to offer and beautifully decorated rooms but it has three elements that we believe set it above and beyond a normal 4* hotel, making it one of the best 4 star hotels in Copenhagen:
1. Cosy hour
2. The Water Temple &
3. The Scandinavian Organic Farm breakfast
Book your stay here
Cosy Hour
Hotel Kong Arthur's 'Cosy Hour' (from 5 – 6 pm daily) provides guests an opportunity to mingle and enjoy a glass of beer or wine compliments of the hotel.
We loved this part of the hotel as it gives guests the opportunity to first hand experience Danish Hygge.
Hygge – translated roughly to coziness or warmth – is considered a key factor in Denmark's consistently high happiness ratings.
The buzz and happiness at cosy hour was palpable.
Most hotel guests appeared to take part in Cosy Hour, with an eclectic mix of solo business travellers, couples, families and large groups.
We love the concept as it is a great way for travelers to meet and exchange tips and stories of their adventures in Copenhagen.
Cosy Hour takes place in the gorgeous lobby & lounge area which has a very cosy and intimate feel to it in itself.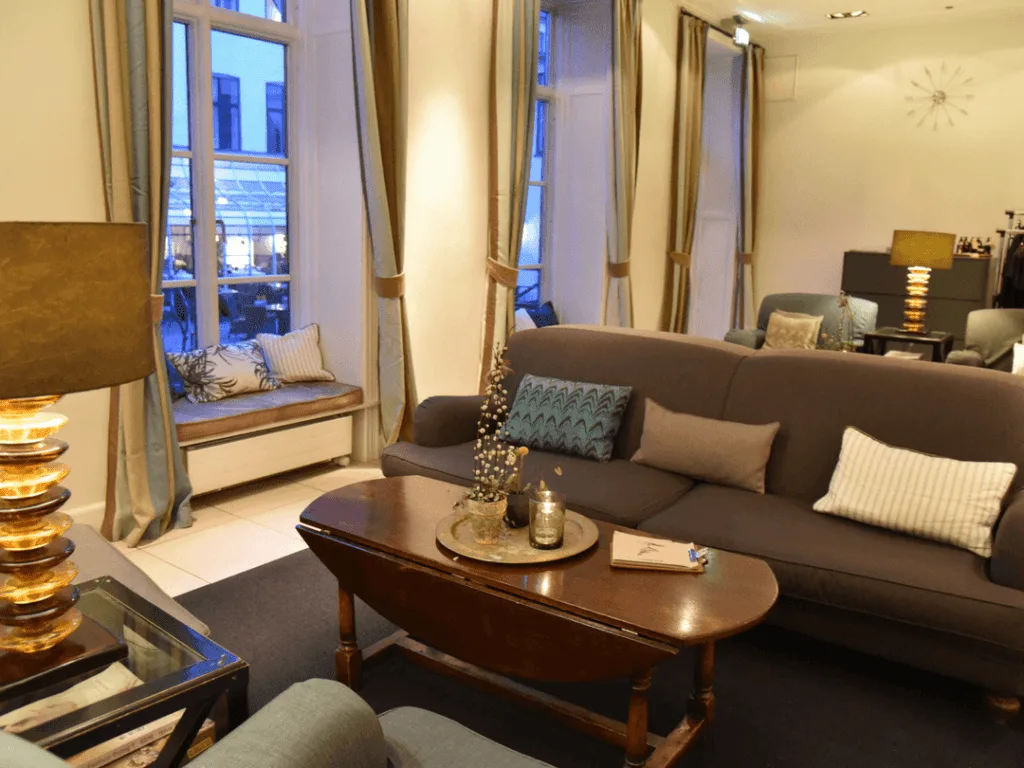 Scandinavian Organic Farm breakfast
The organic Scandinavian breakfast was one of the best we have sampled in our travels. After thoroughly enjoying the breakfast, we commented to each other how fresh and organic all the produce was.
The juices are freshly squeezed, the smoothies and dairy are organic and on top of this, the bread is sourced locally so it is consistently fresh.
The breakfast options included:
Savoury – A great range of pastries, crusty fresh bread, danishes, cereal, a wide selection of cheese, ham, tomato, cheeses, eggs and bacon.
Sweet – Muesli served with pumpkin seeds, hazelnuts and topped with chia seeds, almonds, and goji berries as well as pancakes and the most delicious berry smoothie we have tasted in a while!
We also loved the overall decor of the breakfast area – it is served daily in the most gorgeous glass atrium!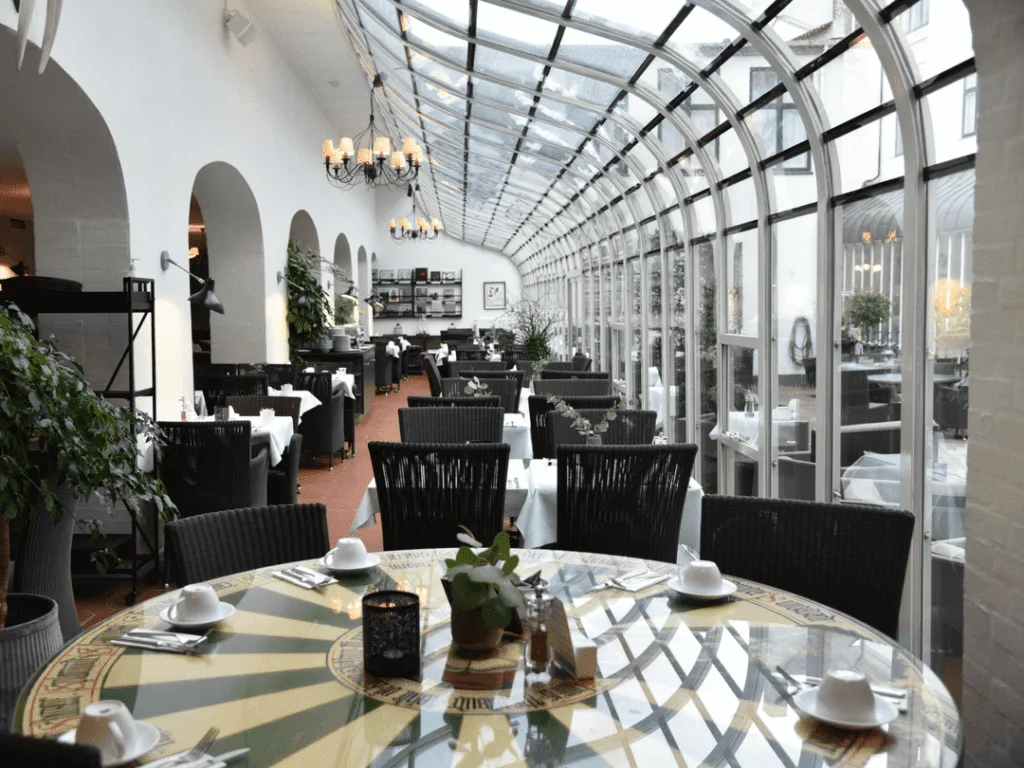 As a special note, don't miss the Skyr (thick Icelandic yogurt) served with a sweet, tangy strawberry or blackberry coulis.
Skyr is the most delicious yogurt we have ever had the pleasure of tasting so if you haven't experienced it before, it is definitely a must try while in Copenhagen.
Breakfast runs from 7.00 – 10.00am Monday – Friday and from 7.30 on the weekends. We recommend getting to breakfast as early as possible to avoid the breakfast rush!
Note: The white tablecloth also makes a great canvas for creating Instagram worthy breakfast shots.
The Water Temple
Probably our favourite aspect of our stay was the stunning Water Temple.
The Water Temple is the largest spa facility in Copenhagen providing guests and the public with 850 sqm of pure indulgence in a Bali inspired environment.
We loved that the Water Temple is never crowded with people as the hotel perfectly co-ordinates when guests use the facilities, requiring that you book a time to visit.
Even if you are not staying at Hotel Kong Arthur, we would highly recommend booking a visit to the Water Temple while you are in Copenhagen. We promise you wont regret it! The opening hours of the Water Temple is as follows:
Monday – Friday from 10 am – 8 pm
Saturday from 10 am – 8 pm
Sunday from 10 am – 6 pm
Water Temple includes a hot tub, a sauna, an aroma steam bath, a cold water bucket, and a peaceful area for relaxation. As a kid-free zone it's perfect for couples!
If you are staying in a Spa Room at the hotel you receive free access to the Water Temple. For this reason, we highly recommend booking a spa room as the Water Temple is well worth visiting.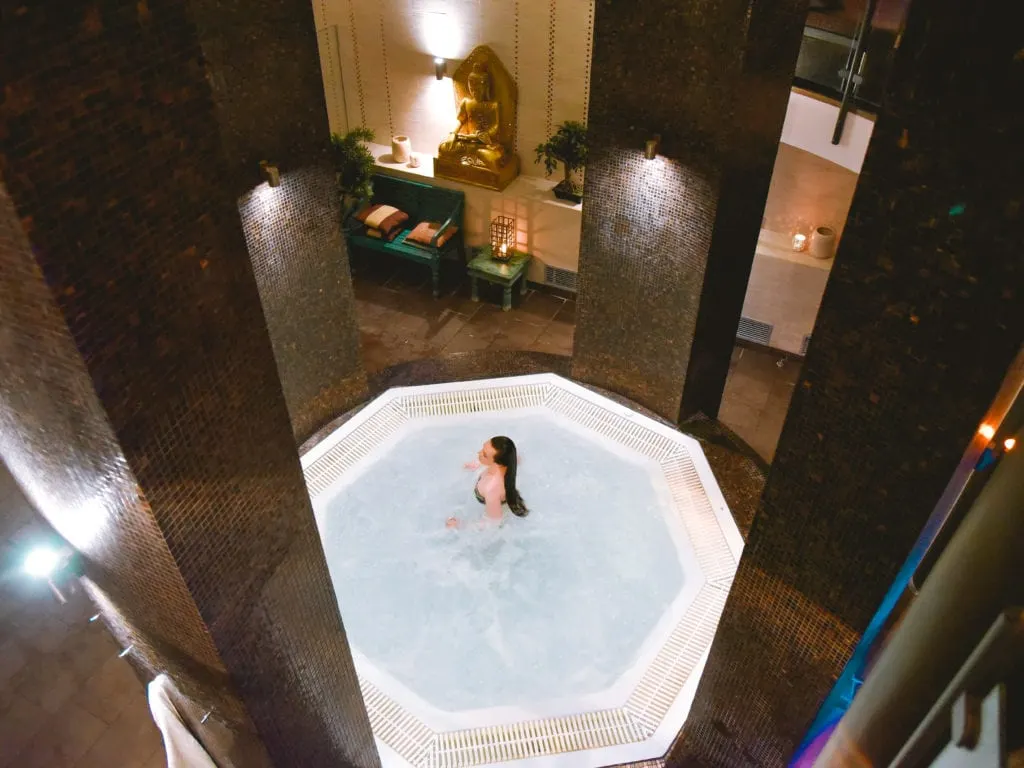 Rooms
There are 155 rooms in total at Hotel Kong Arthur which are all decorated in their own unique style. One of the really cool aspects of this hotel is that no two rooms are exactly the same.
All of the rooms at the hotel have the following amenities: Wifi, Minibar, Cable TV, Coffee/tea, Desk, Safe box & a Private bathroom.
We stayed in one of the Spa Rooms and would highly recommend it for a completely relaxing & rejuvenating experience while exploring Copenhagen.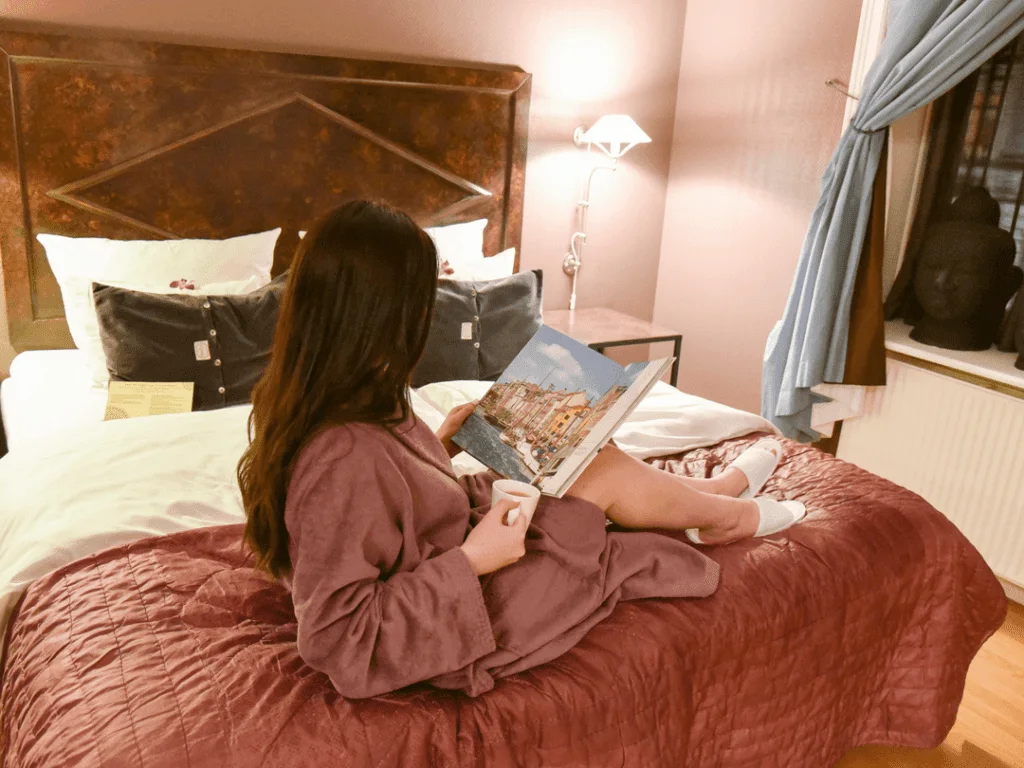 What we loved most about the Spa Rooms was that the whole floor was dedicated to providing guests with the complete relaxing spa experience.
The spa floor is decorated in Balinese style with Buddhas & inspirational quotes adorning the walls and bamboo shoots in the corners.
When you enter the spa floor, you will first notice a beautifully decorated seat for guests' enjoyment with complimentary apples provided.
As you walk towards your room, you immediately feel calm & relaxed as soothing, spiritual music is softly played in the hallways of the spa floor.
As we stated above, one of the biggest perks to booking a spa room is that you get free access to the Water Temple, our favourite part of the hotel. If you would like any additional services like a massage, the hotel also kindly provides guests with discount vouchers in room.
We loved that the Spa Rooms are perfectly designed to seduce the senses by scents, colors and an calming atmosphere, taking guests on a mental journey to the Far East.
We loved the purple Balinese theme (including 2 large Buddha heads on the window's edge) which provided us with an extremely relaxed atmosphere.
The spa room included a very comfortable bed, desk and lounge chair with a large jacuzzi bathtub and separate shower. The wifi in room was also fast which is very important to us in hotel satisfaction!
As a special note, the gorgeous velvet bathrobe was one of the softest we had ever tried! Highly recommend using it!
We also appreciated that the bathroom was very spacious and continued the Balinese theme perfectly.
We always love having a jacuzzi bath tub on holidays as an extra special treat.
We pampered ourselves in the luxurious Panpuri toiletries provided in room. There is nothing worse than receiving average, unusable toiletries in a hotel so we were very happy receiving high quality toiletries.
Additional Features/Perks of the Hotel
Rent a Bike – One of the unique aspects of Copenhagen is that 62% of the city ride to work or university. To experience everything that Copenhagen has to offer, it is advisable to hire a bike. The hotel makes this easy for guests providing a bike hire service. In the lobby, you can also find a booklet detailing the staff's favourite spots to ride in Copenhagen.
Morning Runs – 2 Mornings of the week guests are invited to take a 5 km running tour of Copenhagen with a guide/fitness instructor.
Book entry tickets at reception – You can also buy entrance to many of Copenhagen's attractions right at the reception including the Tivoli Gardens, the Hop on Hop off bus tour & the Copenhagen Card which provides you entrance to many of the cities best attractions.
Meeting Rooms – The hotel is also great for business travelers as they offer modern meeting facilities in a calm setting.
What to do in Copenhagen?
Hotel Kong Arthur is located right in the very heart of Copenhagen city centre. It is within walking distance to many of the best attractions in Copenhagen.
Our favourite attractions in Copenhagen and distances from the hotel are as follows:
Copenhagen City Centre & Shopping District – 5 minutes walk;
Rosenborg Castle – 10 minutes walk;
Rundetaarn (17th-century tower for amazing views) – 10 minutes walk;
Carlsberg beer factory – 25 minutes by public transport;
The Little Mermaid – 25 by public transport; and
Nyhavn (iconic colourful harbour houses) – 22 minutes walk or 15 by public transport.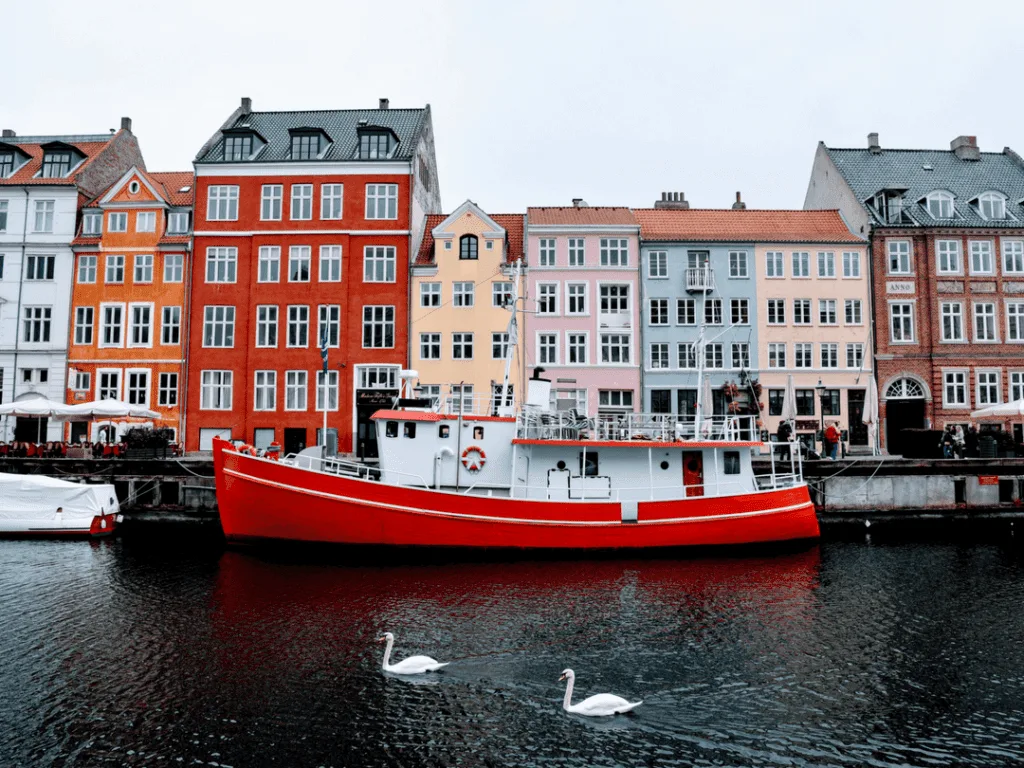 We absolutely loved our stay at Hotel Kong Arthur. We would recommend it to anyone (especially couples) looking for a boutique luxury spa hotel in Copenhagen.
With many affordable flights into the city, it is the absolute perfect place for a romantic city break.
If our review helped you, please come back and let us know in the comments below.
The contact details of the hotel are as follows:
Email:

[email protected]

Phone: +45 33111212
Website: http://www.arthurhotels.dk/hotel-kong-arthur/
If you have any questions about staying at this hotel or visiting Copenhagen in general, we would be happy to help. Another 5 Star Hotel we recommend is the Skt Petri. Check it out!
Leave us a comment below!
Save this to Pinterest (so you can find it again later)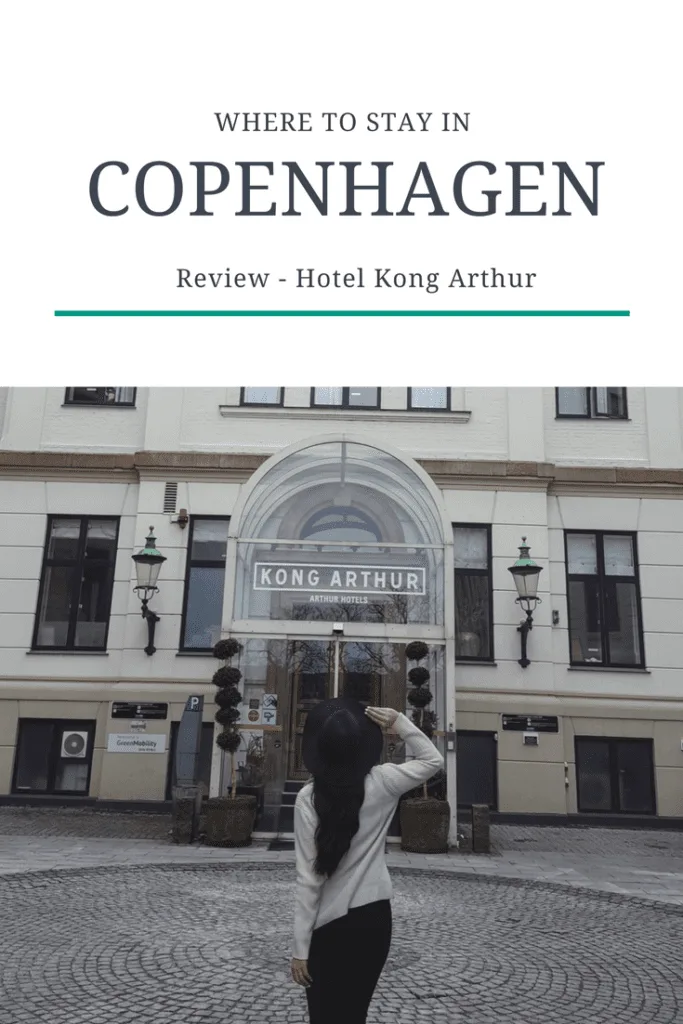 Disclaimer – We were guests at this hotel. However, it does not in any way influence our views or opinions of the experience. Our review is 100% honest and a true reflection of our experience.