Having just come from a marvellous stay at Novotel Phuket Resort Karon Beach we were excited to visit their sister hotel at Novotel Surin Beach.
We travelled between the resorts in style in the Novotel car.
Where to Stay in Surin Beach? Novotel Surin Beach
When coming from the Novotel Phuket Karon and having such a great experience the bar was set high.
We were not however concerned about disappointment due to the high standards set by the Novotel worldwide.
While the Novotel Phuket Karon was potentially more modern & glam hotel, the Novotel Phuket Surin we liked in other areas.
Firstly, the beach was slightly better at Surin & the hotel was less busy & had more of a relaxed vibe.
Once again, the Novotel Surin Beach did a perfect job in providing for families & couples alike looking for rest & relaxation in Surin Beach.
Family Suite
We stayed in a family suite at Novotel Surin Beach Resort.
The suite was very modern and comfortable. We would highly recommend it to other couples traveling to Surin Beach.
We were very impressed with how spacious the suite was – at 56 m² you have plenty of room to spread out & relax.
The suite included a separated bedroom, and living room with a comfortable lounge which can be converted to 2 children beds if traveling with kids.
We were happy that the room featured high-speed Wi-Fi, a LCD TV with satellite channels and even a DVD player in each room.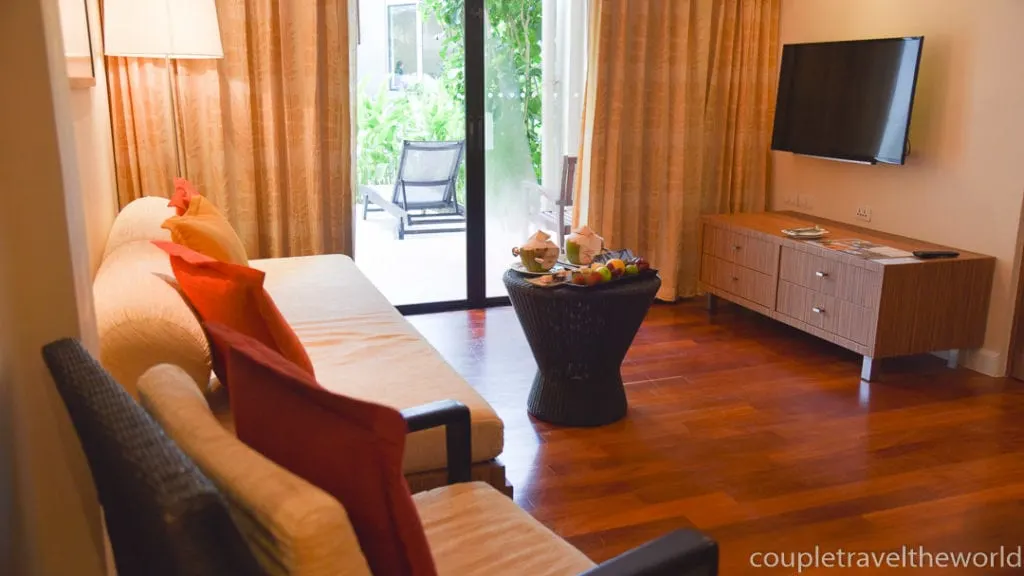 Probably our favourite feature of the room however was the large (double) private balcony with 4 reclined chairs where you can walk from your terrace directly to the pool! This is a great place to kick back start your day with a coffee.
The decor of the bedroom was lovely & modern.
When we walked in we were greeted with a 'welcome' sign on the bed & coconuts & fruit for our enjoyment. We always appreciate the little extra benefits a hotel provides you when you enter the room.
The bathroom was compact but had everything you could want in a comfortable stay including a spacious walk in shower.
The Pools & Premises
We loved that the Novotel Surin also has two amazing pools for guests enjoyment.
The main pool of the premises is very large and spans across a lot of the property.
We loved that the main pool felt like an oasis and there was always space in the pool to yourself.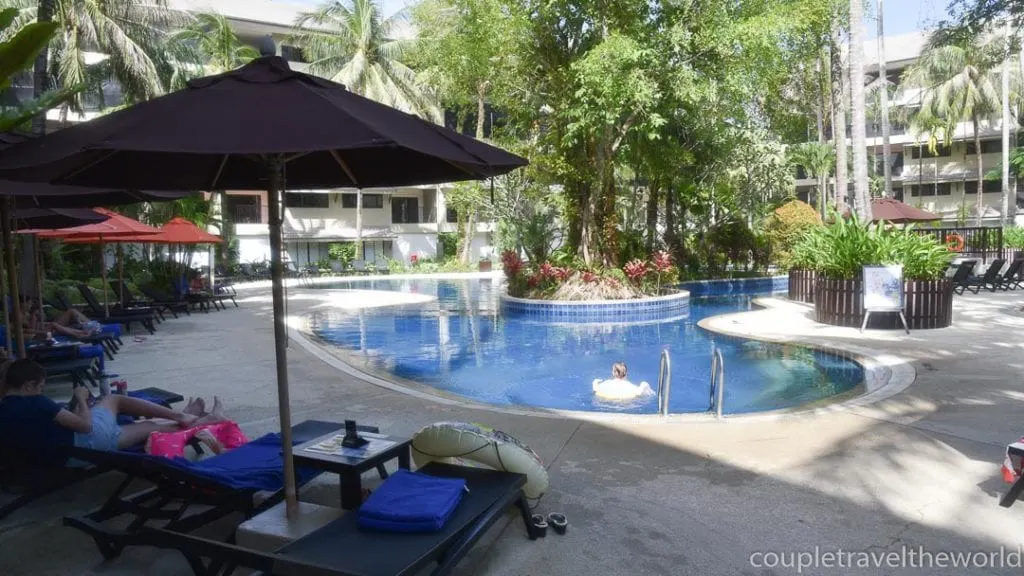 The second pool made us feel like we were little kids again.The two slides may look slow & boring but they were even fun for us adults!
The hotel also offers an activity schedule for guests to enjoy during their stay including fitness activities for adults and a foam party for the kids.
Around the pool area are plenty of deck chairs to enjoy & even a ping pong table for guests use when they are tired of lying around.
One aspect we thought was quite quirky was the service buzzer at every deck chair – not having to get up for your food while you are on holidays is quite a treat!
Dining Novotel Phuket Surin
There are plenty of dining options to choose from when staying at Novotel Phuket Surin. We loved the variety of food availability including Asia & Western cuisine.
The hotel offers the following dining options: Asia Alive, Food Store & Boardwalk Pool Bar.
Novotel Fire & Ice experience
As we loved our experience with fire & ice dining so much at Novotel Phuket Resort Karon we decided to have it again and sample different parts of this amazing menu.
If you have read our blog about Novotel Phuket Karon you will know that we love fire & ice dining because it is a theatrical dining experience, where the food comes to life right before your eyes.
The fire and ice menu is quite extensive so it is definitely possible to have it two nights in a row if you wish!
The first meal we tried was the seafood orb. This was an 'ice dish' and came to the table smoking in dry ice.
The seafood itself was utterly delicious and cooked to perfection. We are not huge fans of saefood and even we throughly enjoyed the seafood orb.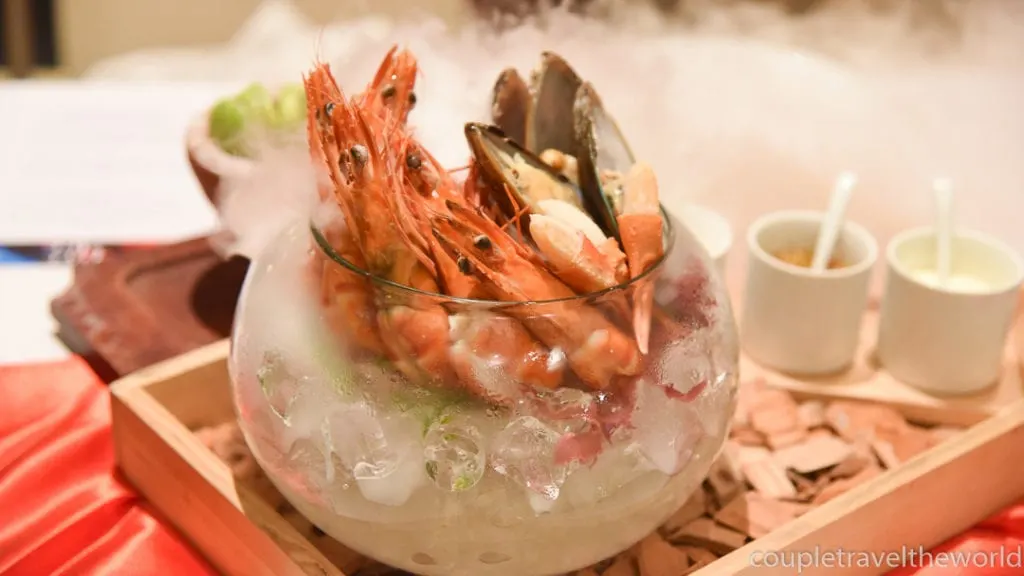 After feasting on seafood deliciousness, we decided to kick of the night with a super fun flaming shot.
To our surprise, the way you drink this shot down is actually using a straw.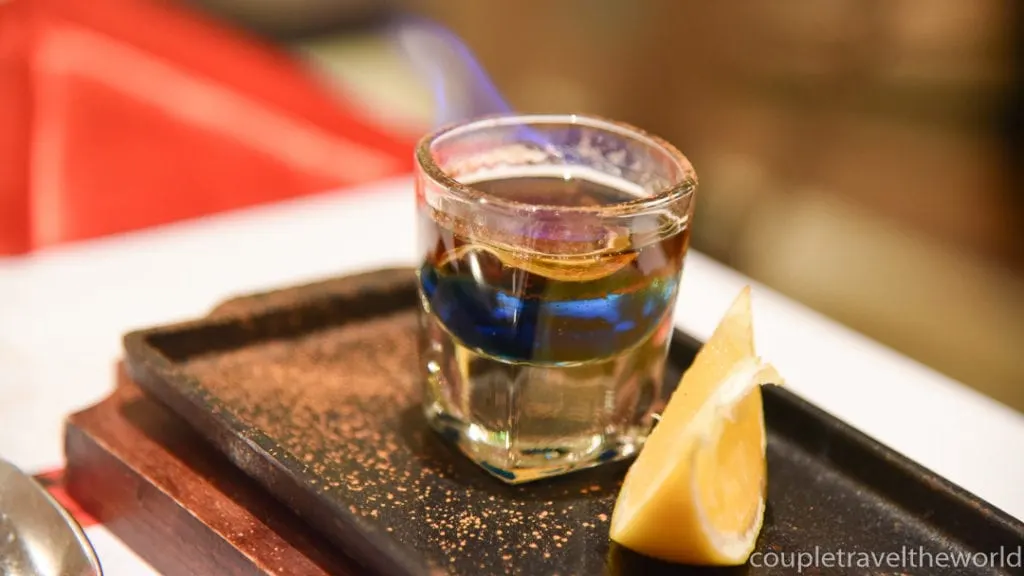 Following this mind blowing shot, we were excited to try El Diablo Nachos consisting of Mozzarella, Chorizo, Jalapeño, Nachos Guacamole & Tequila. Yum yum!!
Doesn't it just look like a masterpiece! It sure tasted pretty good too!
After feasting on the hot nachos we decided it was time for something ice cold!
We love trying new cocktails and this cold El Nino cocktail certainty did not disappoint.
The cocktail was absolutely delicious and featured tequila, blue curacao, triple sec lime & syrup.
If you know us, you will know that we are total sweet tooths and definitely cannot pass up desert at the end of an evening.
This is where the flaming chocolate fondue came in.
With hot dark chocolate and marshmallows, banana, dry apricot, macrons and even fresh strawberries to dip into the chocolaty deliciousness, this is certainly a winner for any sweet tooth!
Breakfast at the Novotel Surin
We adored breakfast at the Novotel Surin and was one of our favourite parts of our stay.
The buffet really had everything you could wish for including the most delicious bircher muesli you can imagine.
Breakfast items at the Novotel include:
Continental breakfast items include pastries, bread, brioche, muffins, yoghurts, cereals, fruits, salad, cheese, pancakes, crepes;
Asian dishes include sushis, congee, stir fried noodles, fried rice;
Eggs live cooking station – have your eggs the way you like time;
Western Hot section including gourmet sausage selections, cook ham, crispy bacon, potato hash
In Balance Spa
We were lucky enough to have tried In Balance Spa at the Novotel Phuket Karon.
We enjoyed the experience so much we decided to try the Thai massage at Novotel Phuket Surin.
We found the masseuses were very experienced and we greatly enjoyed our massage experience.
Book Novotel Surin Beach
Use our special Booking.com discount code to get $25 off your booking.
If our review helped you, please let us know in the comments below.
Save this to Pinterest (So you can find it again later)
We were guests of the Novotel. However, as always, all opinions are our own.