Looking for a Skt Petri review? Denmark's capital of cool, Copenhagen boasts a number of luxury hotels for a romantic getaway but the magnificent architecture in Skt.Petri Hotel caught our eye.
There seemed to be a youthful energizing atmosphere so often lacking in a luxury hotel. So could it be the best 5 star hotel in Copenhagen?
Keep reading for a full review of our experience!
For the best price to stay at click to book Hotel Skt Petri.
Best 5 Star Hotel in Copenhagen Review: Skt. Petri
Skt. Petri Hotel is a boutique hotel providing a laid-back luxury experience in the very heart of Copenhagen city centre. With gorgeous Scandinavian architecture everywhere you look – it is the ideal place for a cozy romantic vacation in Europe.
As the hotel was originally a department store, the lobby is absolutely stunning with high ceilings decorated to match the hotel's motto: stimulate your senses, sharpen your attention and warm your heart.
The architectural design of the hotel is so impressive that a famous Danish photographer hand picked the hotel to create an art project. And, it is no wonder why, everywhere you look is stunning architectural design.
As we visited the hotel at Christmas, the lobby and restaurant was transformed into a magical winter wonderland.
The incredible architecture was not only to be found in the lobby but translated into the hotel rooms of Skt Petri which are decorated in regal colours with highlights of emerald green.
The hotel is also situated a perfect location for exploring the surrounding area and all that Copenhagen has to offer.
Located just a few minutes walk from Nørreport Station and directly in Copenhagen's city centre, you can walk by foot to many of Copenhagen's best attractions or catch Copenhagen's top-notch metro to any location you wish to visit outside of the city centre.
We have visited Copenhagen in the past and in our opinion, this really is one of the best 5 star hotels in Copenhagen.
Deluxe Room
Skt Petri offers numerous different types of rooms depending on your budget and the size of room you require including standard rooms, superior rooms, deluxe rooms and suites.
The rooms are custom designed with vibrant colours and materials. We loved all the individualised tailor made items in the room which made the hotel unique and unlike a standard 5 star hotel. These included the hotel's iconic Platner side chair by Warren Platner, lamps from edgy Boca Do Lobo and the Snoopy Lamp by Flos.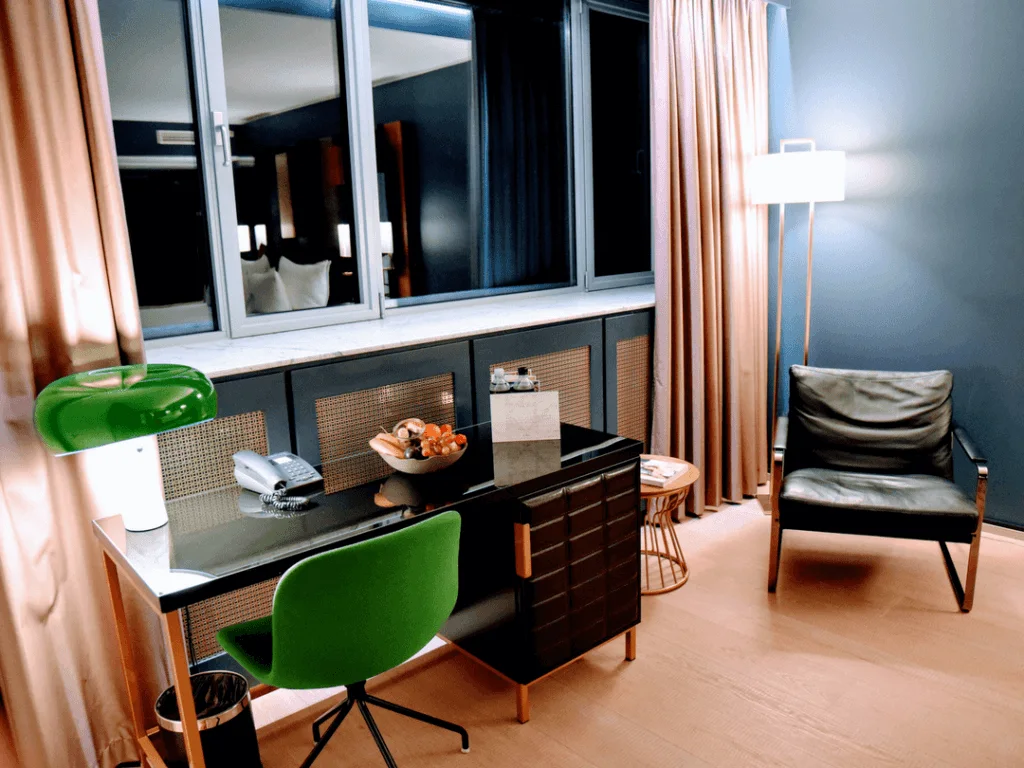 You can really tell by the way the rooms were customised that Skt Petri wanted to go beyond what a guest would find in a standardised 5 star hotel to provide an experience guests had never had before.
We stayed in a deluxe room and could not be happier with it.
The room was very spacious (deluxe rooms are guaranteed to be between 29 – 33 sq mtrs). It included everything you could need for a luxurious experience including 2 free bottles of water, upgraded toilet amenities, bathrobes, slippers and a kettle for making coffee and tea.
When we first entered the room, we also discovered a lovely welcome note which was hand written by staff.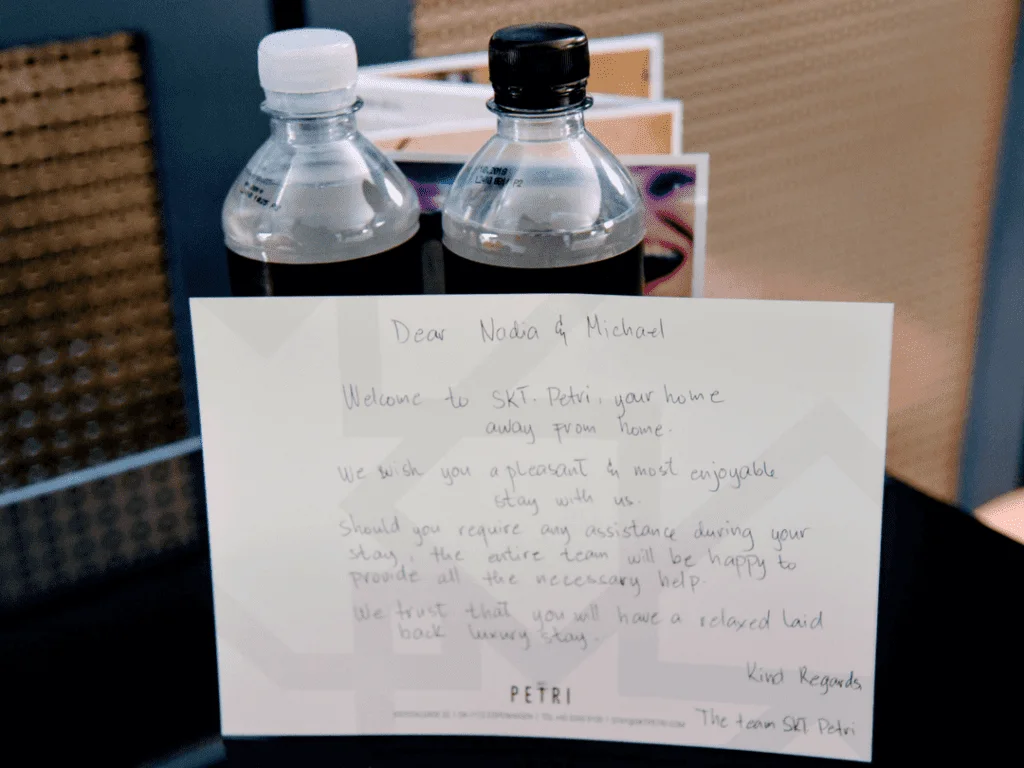 We also greatly appreciated the extremely generous complimentary fruit platter (with mouthwatering chocolate liqueurs) we found upon arrival to our room.
It is these little extras that go above and beyond and make Skt Petri one of the best 5 star hotels in Copenhagen.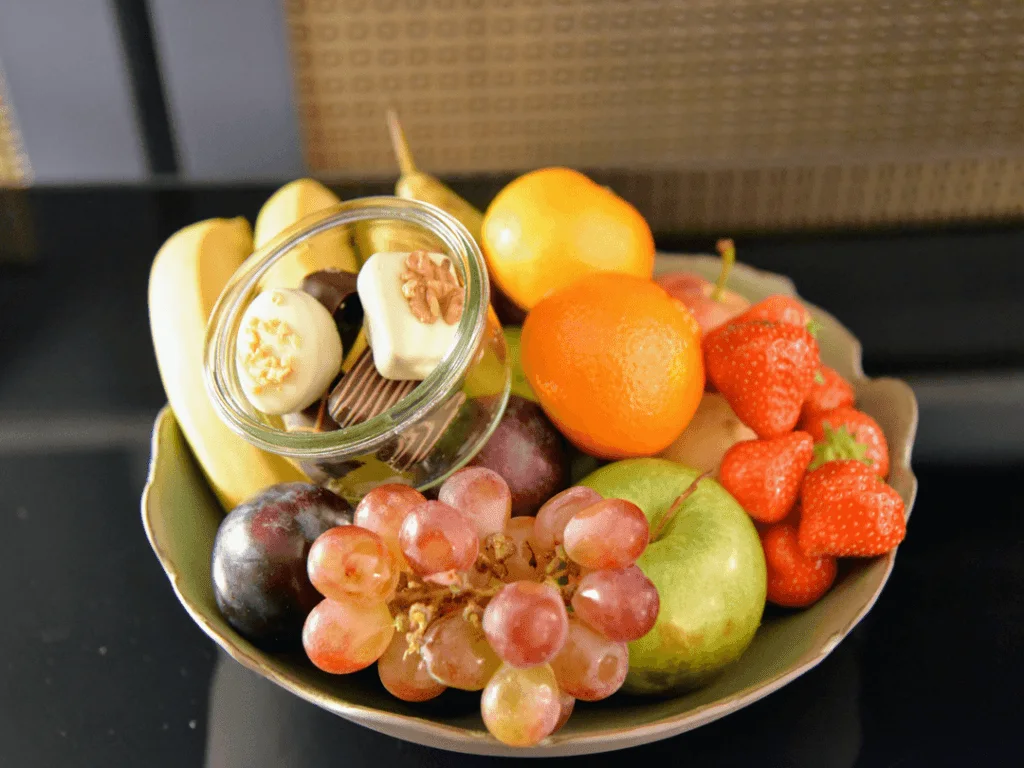 We enjoyed a very relaxing night in watching television and enjoying the yummy fruit platter left for us by the hotel for desert.
If you are on a romantic couples getaway, it is also useful to know that the mini bar in the room is well stocked with an ample selection of wines and other beverages. So no need to leave your hotel room to even so much as purchase wine!
The bed also helped to facilitate a very relaxing night as it was large (180 cm wide) and extremely comfortable. In true Scandinavian style, it consisted of two single beds pushed together with individual doonas. The mattress felt like you were floating on air so we both had a fantastic sleep.
A super cool touch in the room (that we have never seen before) was the fact that if you don't want housekeeping you can place a note on the door of your room which means that instead of getting housekeeping service, the hotel will donate 50 DKK a night to a good cause. What a great option for guests who don't want housekeeping!
We also appreciated the quirky do not disturb signs at the hotel which read – sleeping is an art – do not disturb the artist. We could not agree more with that statement! It is always refreshing to check into a hotel with interesting, unusual touches to entertain you. There is nothing more boring than a stark hotel!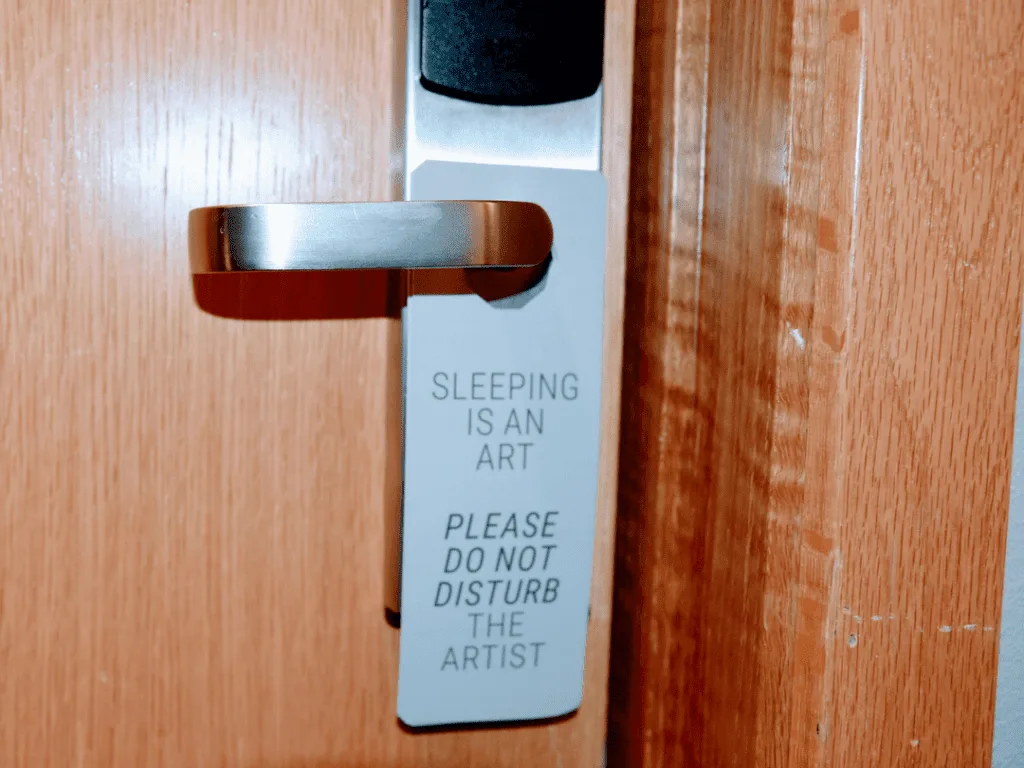 The bathroom also had everything you could need for a comfortable stay in Copenhagen including a large shower over bath and a his and her sink complete with his and her bathroom amenities in pink & blue bottles. Cuttttee!
However, by far our favourite part about the room though was the absolutely amazing view – everywhere you looked in the room had an incredible view of the Latin Quarter. How can you beat waking up to this view?!
Our room also had an extremely large balcony where you can really soak up the view of the entire city.
When you stay in a deluxe room, not only do you get incredible views of the city but guests are also invited to enjoy an amazing complimentary breakfast in the separate restaurant, P Eatery.
We loved our dining experience at P Eatery! Keep reading for a full review of our dining experience!
P Eatery – SKT Petri Breakfast
The hotel offers a buffet breakfast (which looked incredible) but for a more intimate couples breakfast without the hustle and bustle of the buffet, we decided to eat breakfast each morning at P Eatery, Skt. Petri's incredible onsite restaurant.
When you stay in a deluxe room, eating at P Eatery is included in the price of the room.
It is well worth booking a deluxe room to have P Eatery included in your rate as the food is absolutely outstanding. We left thinking that it is the best hotel breakfast we have ever experienced.
The ambiance and atmosphere at P Eatery is so fantastic as, like the rest of the hotel, it is decorated with gorgeous Scandinavian architecture.
We loved the numerous different seating options available at P Eatery. You can even sit at the window and watch Copenhagen's morning bike rush hour which is very interesting. One of the unique aspects of Copenhagen is that 62% of the city ride to work or university.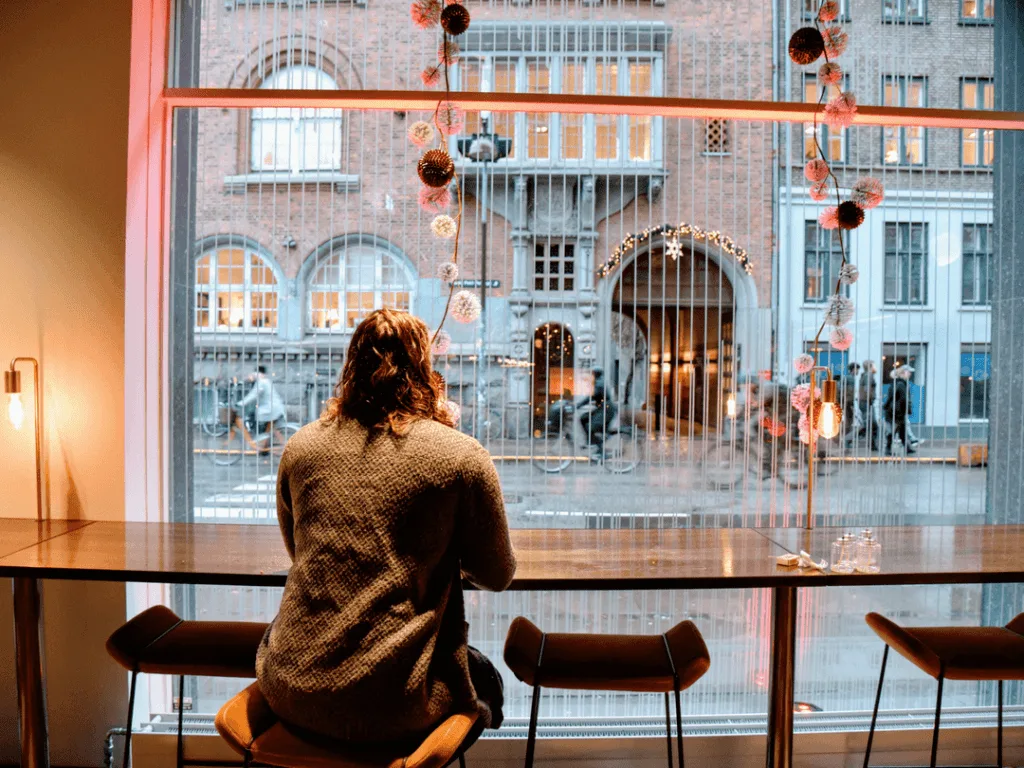 The service at the P Eatery was great and the food was even better. We were greeted each morning with a smile by a friendly waiter who took our coffee order. The coffee at P Eatery was fantastic so, even if nothing else we would highly recommend a visit to P Eatery to sample their sensational barista skills.
Along with the coffee came a bread basket complete with freshly baked croissants, bread rolls and danishes. There was also a cheese and meat platter with the most incredible jam we have tasted in our lives. It was so delicious that we complimented the waitress on it who informed us that the jam was a specialty product made in house by the chefs at P Eatery.
The cheese platter was followed by an extensive menu of breakfast items to choose from including eggs any way, avocado toast, eggs benedict and the most incredible Icelandic yogurt (a must try!!)
On the first morning of our stay we enjoyed the avocado toast and eggs benedict. Both dishes were delicious and cooked to perfection.
Mike ordered the eggs benedict and was impressed with the freshness and quality of the dish. The waitress was also was very obliging and offered any customers who ordered bacon an extra serving. Yippee!
We are also big fans of avocado toast and P Eatery's avocado toast certainly did not disappoint.
The toast had a very generous portion of avocado topped with a yummy cottage cheese and tomato. If I could eat this every morning for breakfast I would be a very happy girl.
The following morning we both ordered poached eggs on toast with a side serve of bacon. I was also extra greedy and ordered the Icelandic yogurt as well to top it off.
The poached eggs on toast were very yummy and perfectly cooked. We loved how appetising the restaurant managed to make eggs on toast look. P Eatery certainly have their plating skills down pat.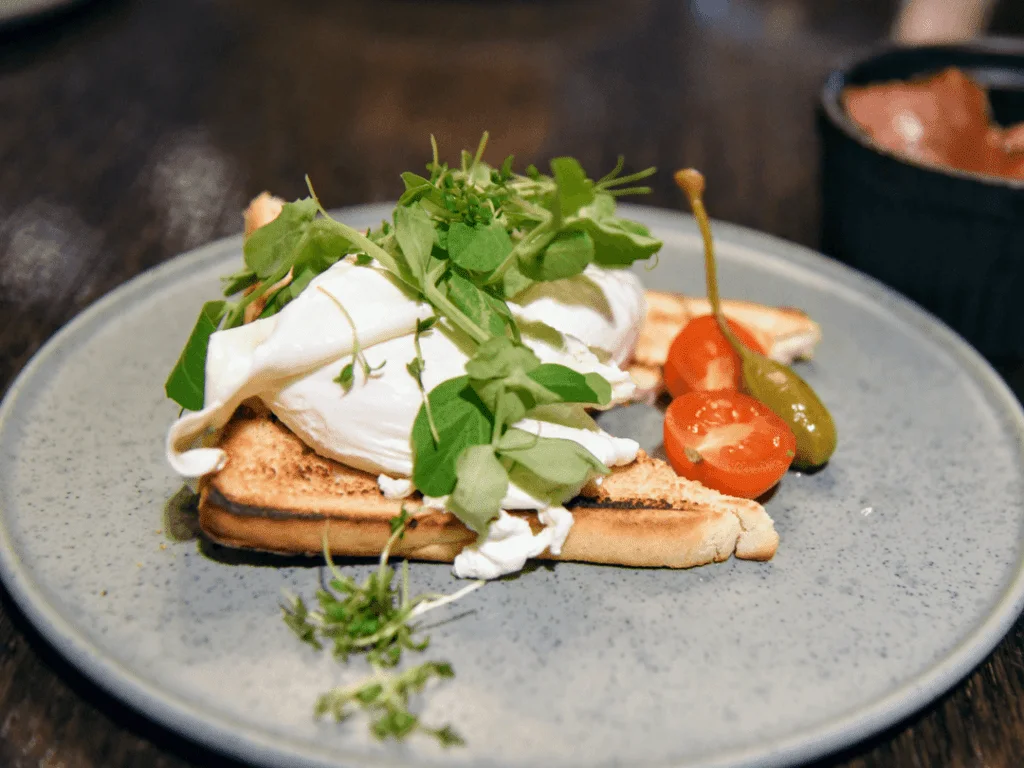 The highlight of the breakfast experience for me personally was the Icelandic yogurt. It was the most delicious yogurt I have ever tasted and came complete with muesli, fruit and apple syrup. All I can say is yum yum yum!
If you are dining at P Eatery for breakfast I promise you won't regret ordering the Icelandic yogurt, it is sensational and along with the jam, made the breakfast the best we have ever experienced. That is saying a lot considering the fact we have had racked up a lot of delicious breakfasts in our travels!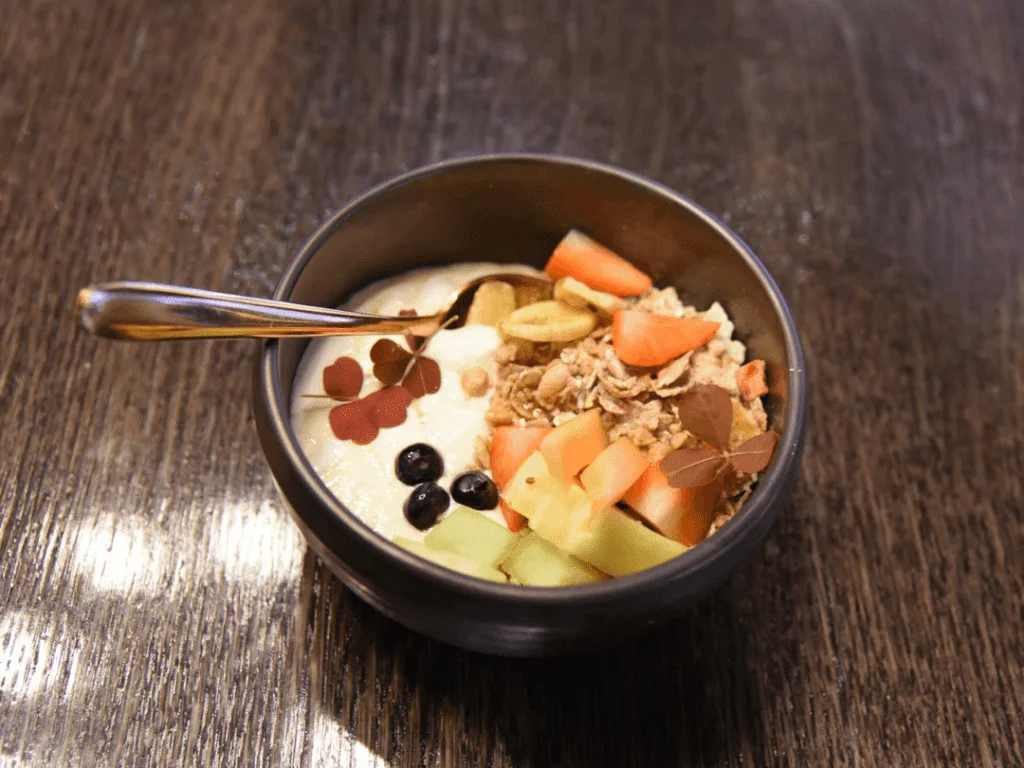 Even if you are not staying at Skt Petri we would highly recommend a dining experience at P Eatery as the food and service at the restaurant was fantastic.
P Eatery is open breakfast, lunch & dinner seven days a week from early morning until late.
Recreation Areas
The lobby is gorgeous and has plenty of great seating areas which are perfect to relax and enjoy a drink while soaking up the hotel's fantastic architecture after a long day of sightseeing.
Skt. Petri is an architect's dream so it is definitely worth your while taking the time to enjoy a drink or light meal in the lobby just to enjoy the amazing ambiance the hotel has to offer.
Currently, the hotel is renovating their in house gym. However, the hotel offers guests day passes to some of the best gyms in the city which are open until late each night.
One of the nights we stayed at the hotel we felt energetic and visited Fitness World, a gym just a few minutes walk from the hotel. While the hotel is renovating their own gym, we felt that the fitness passes were an incredible alternative for gym-junkie guests to enjoy.
Skt Petri Hotel Service
As you would expect in a 5 star hotel, the service at Skt Petri was incredible. All staff members spoke perfect English (in a British accent which was a cute touch!) and really cared to help make guests' experience a positive one.
The staff were always extremely friendly and happy to help with anything that we needed during our stay. They politely helped us with any queries we had including outside gym opening hours and where P Eatery was located.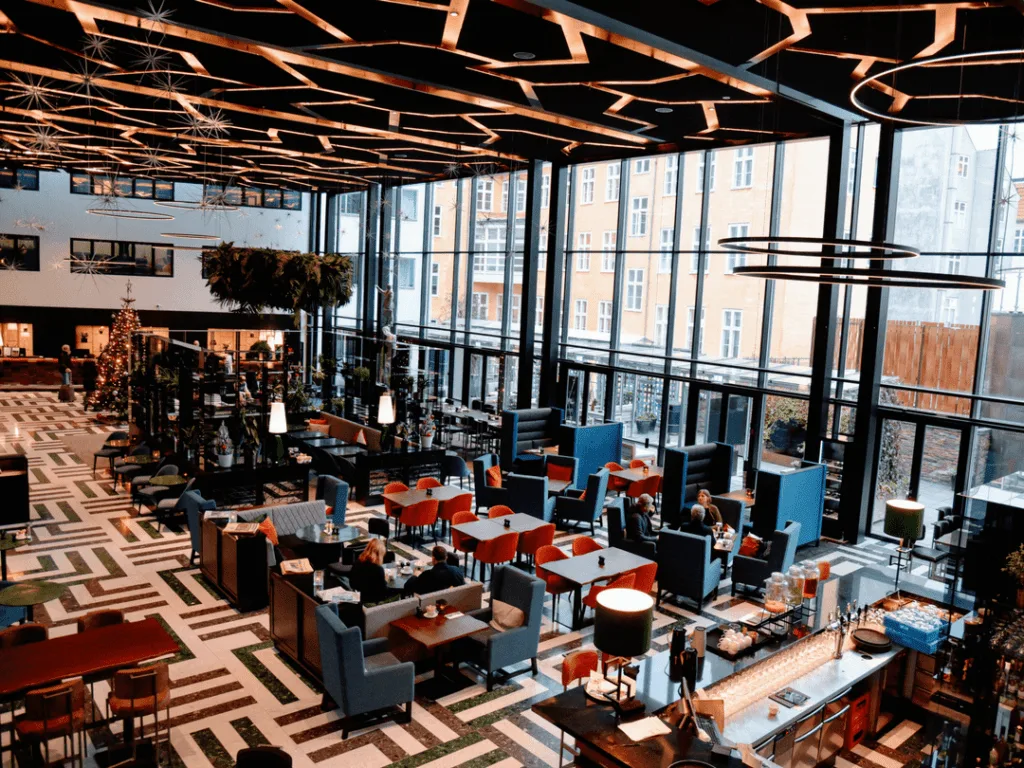 What to do in Copenhagen?
Skt Petri Hotel is located right in the very heart of Copenhagen city centre. It is within walking distance to many of the best attractions in Copenhagen.
Our favourite attractions in Copenhagen and distances to them from Skt Petri hotel are as follows:
Copenhagen City Centre & Shopping District – Right at your doorstep;
Royal Palace – 2 minutes by foot;
Carlsberg beer factory – 25 minutes by public transport;
The Little Mermaid – 30 minutes by foot or 20 by public transport; and
Nyhavn (iconic colourful harbour houses) – 20 minutes by foot or 12 by public transport.
In the winter, Copenhagen is also a fabulous European city to enjoy Christmas festivities. There are incredible Christmas markets located in various different spots around the city, all within walking distance of the hotel.
How to Book
We absolutely loved our stay at Skt. Petri! We would recommend it to anyone (especially couples) looking for a 5 star luxury hotel in Copenhagen. With many affordable flights into the city, it is the absolute perfect place for a romantic city break.
If you would like to book a room click here to search dates and book instantly.
The contact details of the hotel are as follows:
If you have any questions about staying at this hotel or visiting Copenhagen in general, we would be happy to help. Leave us a comment below!
Save this to Pinterest!
Disclaimer – We were guests at this hotel. However, it does not in any way influence our views or opinions of the experience. Our review is 100% honest and a true reflection of our experience.