If you are planning to visit London Big Ben is one of the attractions you simply cannot miss.
If you want to know the origin of the Big Ben name, 8 interesting Big Ben facts, some interesting history, what and how you can visit and where to stay near Big Ben then read on.
Big Ben London
When you think of London, attractions such as Big Ben surely spring to mind. The clock tower is a cultural icon of the United Kingdom and recognised worldwide as a symbol of parliamentary democracy.
The clock face has become one of the renowned symbols of London. As of 1970, it has been recognised as a UNESCO World Heritage site.
In case you haven't heard, Big Ben in London is the House of Parliament's iconic clock tower. Big Ben is the bell not the tower.
It is located in Westminster London – the best area to stay in London due the close proximity to this and many other iconic London attractions including the London eye. We stayed at St Ermin's, a hotel in perfect proximity.
Big Ben Tower Name
When you think of Big Ben tower you're actually thinking of the Elizabeth Tower.
However, it is most commonly known as Big Ben after largest bell inside the tower. This bell was originally meant to be named the Royal Victoria however, in the end it was named Ben instead.
Prior to 2012, the tower was called the Clock Tower. However, the tower was renamed the Elizabeth Tower in 2012, after Queen Elizabeth II in honour of her Diamond Jubilee.
It is debatable who the Big Ben bell is named after. The most common people include Sir Benjamin Hall who was in charge of its installation or boxing champion Benjamin Caunt.
The tower has been renamed over the years however, there has been no name change for the bell. The official name of the tower bell is simply Big Ben.
Big Ben Information
Here are 8 interesting Big Ben facts you need to know before you visit:
The bell first chimed on 11 July 1859
The world first heard the sound of Big Ben in 1932 during King George V's Christmas broadcast;
Science enthusiasts will be interested to know that the sound of Big Ben demonstrates the difference between the speed of light and sound. At the base of the tower you will hear the sound one-sixth of a second after the bell is struck;
Big Ben is 96 metres high or 314 feet. The tower also has 11 floors;
It has celebrated the reign of six English monarchs;
Normally, residents of the UK are permitted to join free tours of the tower. This has been paused until the reopening of the Elizabeth Tower in 2020;
If you look close, you will notice the tower leans, ever so slightly;
For all the musicians out there, the note the tower strikes is an E.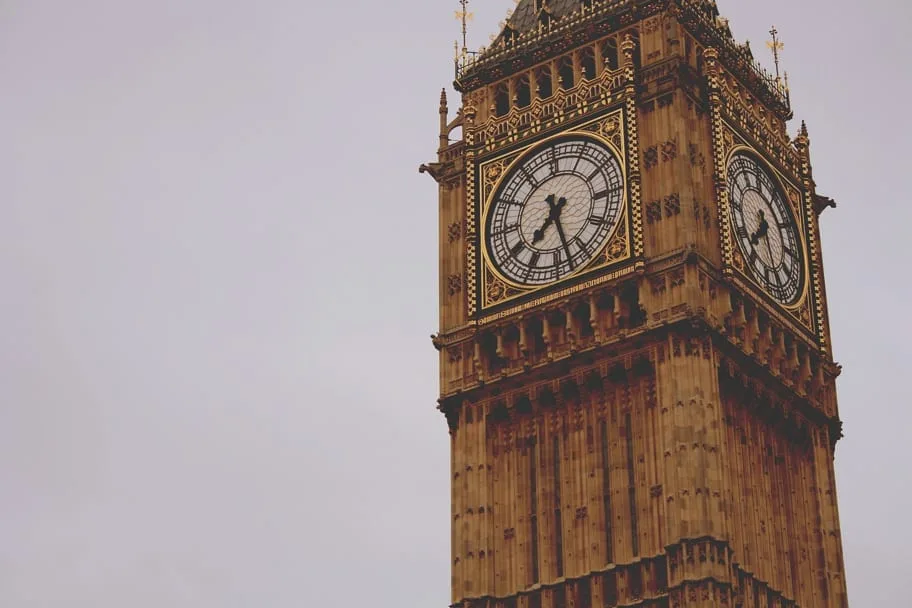 Big Ben New Years Eve
One of the most popular times of the year to visit Big Ben is New Years eve. Under the clock tower is one of the most iconic spots to ring in the new Years in London.
Interestingly, since the renovations, the last time Big Ben rang (not for a special occasion) was 21 August 2017. While the bell does not normally ring while under renovations, a special exception is made for New Years eve.
As the clock is not in operation during the construction work, the tower has a custom bell designed to only strike for New Years eve.
Big Ben at Night
Another popular time to visit Big Ben is at night.
It is one of the most popular attractions for night photography if conditions are right. A perfect time to capture Big Ben in all its glory is twilight.
Normally, the bells and clock face is illuminated at night. The only exception to this was during World War I, the clock face was not allowed to be illuminated at night to prevent Germans from attacking.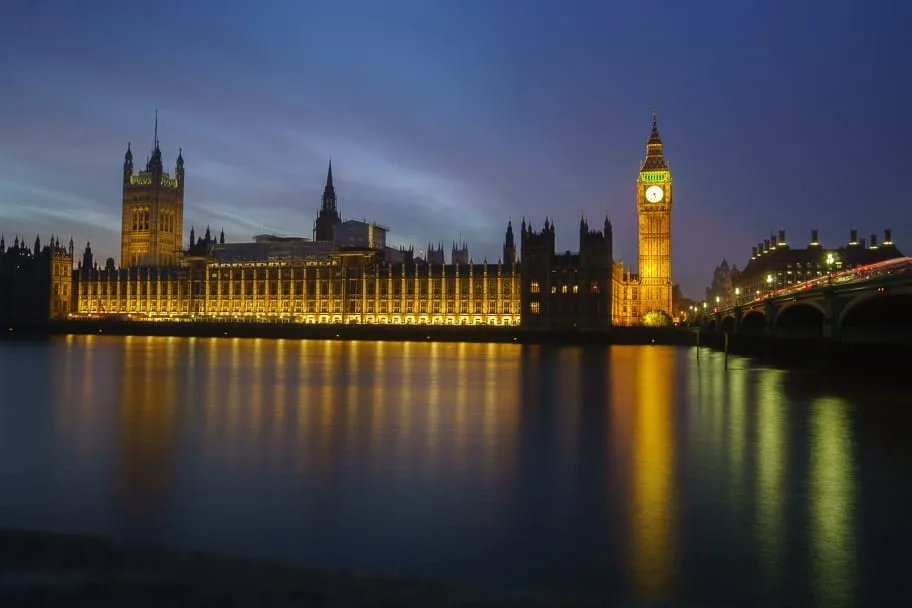 Big Ben History
Big Ben was completed in 1859 in neo-gothic style by English architect Augustus Pugin. The significance to its build at the time was that it was the largest four-faced striking and chiming clock in the world.
After the previous Palace of Westminster was destroyed by fire on 16 October 1834, the tower was the brainchild of Charles Barry's new palace design. While Charles Barry designed the palace, Augustus Pugin designed the tower.
Big Ben celebrated its 150 anniversary on 31 May 2009.
Big Ben Visit
Unfortunately, Big Ben tours are currently suspended until refurbishment is over. You can still see the clock tower unobstructed fro the outside.
During the refurbishment, monthly free talks about Elizabeth Tower and the bells are given by tower staff. These include the history, workings and a question and answer session.
When reconstruction is finished, only UK residents will be permitted to tour Big Ben inside. Other visitors are allowed to attend debates, watch committee hearings and take a tour inside the Houses of Parliament.
Big Ben Tickets & Tour
As mentioned above, Big Ben is currently under construction and normally tours are only available to UK residents. However, on a Saturday, all visitors can take a guided tour of the Parliament in the Palace of Westminster.
The Houses of Parliament tickets cost £15 for adults, £37 for families, £10 for students and £6 for children. Children under 5 can get in free.
Big Ben Opening Times (Houses of Parliament)
Guided tours of the Houses of Parliament (to which Big Ben is usually connected) are from 9:15 a.m. to 4:30 p.m on a Saturday.
The opening times are as follows: 8:45am – 16:45pm Monday to Saturday (closed Sunday)
July and August tours operation hours:
Monday, Tuesday, Thursday and Friday from 9:15 a.m. to 4:30 p.m.
Wednesday from 1:15 to 4:30 p.m.
September tours operation hours:
Monday and Friday from 9:15 a.m. to 4:30 p.m.
Tuesday, Wednesday and Thursday from 1:15 p.m. to 4:30 p.m.
During holidays guided tours may not be possible however, there are audio tours available so that you can tour at your own pace.
Big Ben Website
To find out more about Big Ben and when it will be operational again, you can visit the official website.
Big Ben UK renovation
As of 21 August 2017, Big Ben renovations commenced. The repair includes reconstruction to the stone, roof and 13-foot pendulum.
As the restoration is underway, scaffolding now covers all but the clock face.
Once complete, the Big Ben clock face will be restored to its original blue colour as it stood in 1859. The clock hands and face had been painted black in the 1930s.
Interestingly, the renovations will also provide the tower with its first ever toilet.
Answers below to some common questions about the Big Ben reconstruction:
Is Big Ben working?
No, Big Ben is currently not in operation. However, you can see the clock face unobstructed from the outside.
When is the Big Ben renovation end date?
The major repair work on Big Ben is expected to continue until 2021.
How long will Big Ben be silent?
While repair work is ongoing, Big Ben will be mainly silent until 2021 except for special occasions such as New Years eve when it will ring again.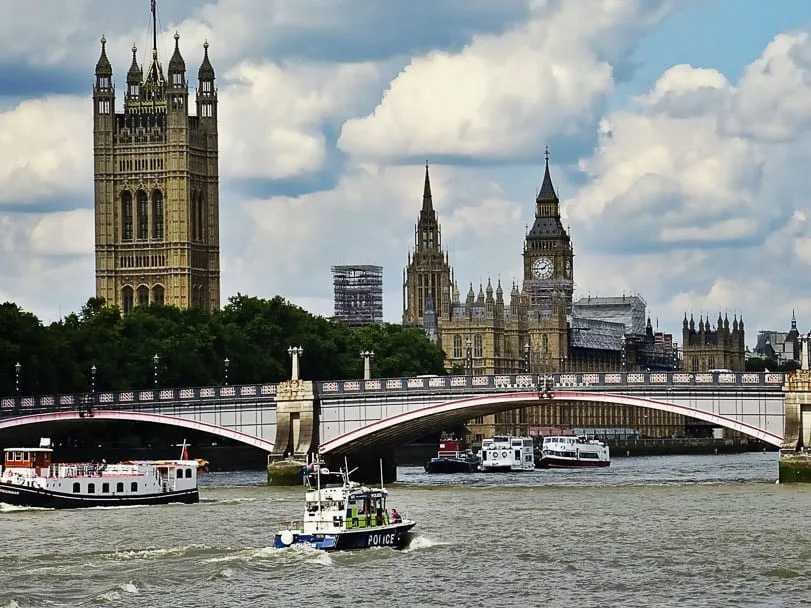 Big Ben Jokes
Over the years, Ben Ben has been the butt of many jokes. Here is one crude joke we found online:
Why were the two whores travelling in London pissed off? A: Because they found out that Big Ben was a clock!
Big Ben Quotes
If you are looking for a good Big Ben quote for Instagram this is our favourite:
"Big Ben was beginning to strike, first the warning, musical; then the hour, irrevocable." ― Virginia Woolf, Mrs. Dalloway
Big Ben Theories
Big Ben Theories mainly surround how Big Ben received its name.
The leading theory is Big Ben was named after Benjamin Hall who was in charge of its installation.
The second theory is the bells were named after boxing champion Benjamin Caunt.
How to get to Big Ben? Big Ben Tube Station
The nearest underground tube to Big Ben is Westminster Station which is only a 1 minute walk from Big Ben.
It is easy to reach Big Ben as it is located in the very heart of Westminster.
The Big Ben London address is A302, Westminster, London SW1A 0AA.
What to do near Big Ben?
Many of London's best attractions and restaurants sit in close proximity to Big Ben.
Use this map to find more interesting places near Big Ben.
Things to do Near Big Ben
After seeing Big Ben you are well positioned to visit plenty of other London attractions:
Houses of Parliament (Palace of Westminster);
10 Downing Street – Home to the Prime Minister;
London eye

;

Little Ben Clock; and
Buckingham Palace.
Big Ben is only a stones throw away from the London eye, another of London's must see attractions. We would recommend a visit to Big Ben followed by a short walk to the London eye. The best photos of the London eye can be captured at sunset.
If you visit now, you'll find the tower is closed for reconstruction. A cute alternative is Little Ben Clock in Victoria – a miniature version of Big Ben in Westminster.
Restaurants and Pubs Near Big Ben
Feeling thirsty after your visit? Why not quench your thirst with a cold beer in St Stephen's Tavern.
The tavern is not just a popular waterhole for tourists. The pub serves pints to politicians attracted by the close proximity to Houses of Parliament.
Another popular haunt for fine ales is the Red Lion. This pub is closer to Downing Street and all PMs are said to have drained a pint here.
Charles Dickens was also said to be a loyal connoisseur of the food and ale here.
If you are looking for a hotel and restaurant for high tea which was a favourite of MI5 spies and politicians alike, read on.
Best Hotel Near Big Ben
During our time in London we stayed at St Ermin's Hotel. In our opinion it is the best hotel near Big Ben.
The Rooms at St Ermin's
The rooms at St Ermin's are amazing.
We arrived on a red eye flight and were greeted by very friendly staff who took our bags so we were free to explore the city for a few hours before check in.
Upon checking in (St Ermin's kindly checked us in as soon as possible and rang us when our room was ready) we were delighted to be staying in one of the hotel's fabulous executive rooms
The room included a large queen bed, a desk, a double lounge, a place to store your bags & a large window with a view out to Westminster.
The hotel also featured a very lovely bathroom with a shower and all the amenities you could wish for during a comfortable stay such as shampoo, conditioner & soap.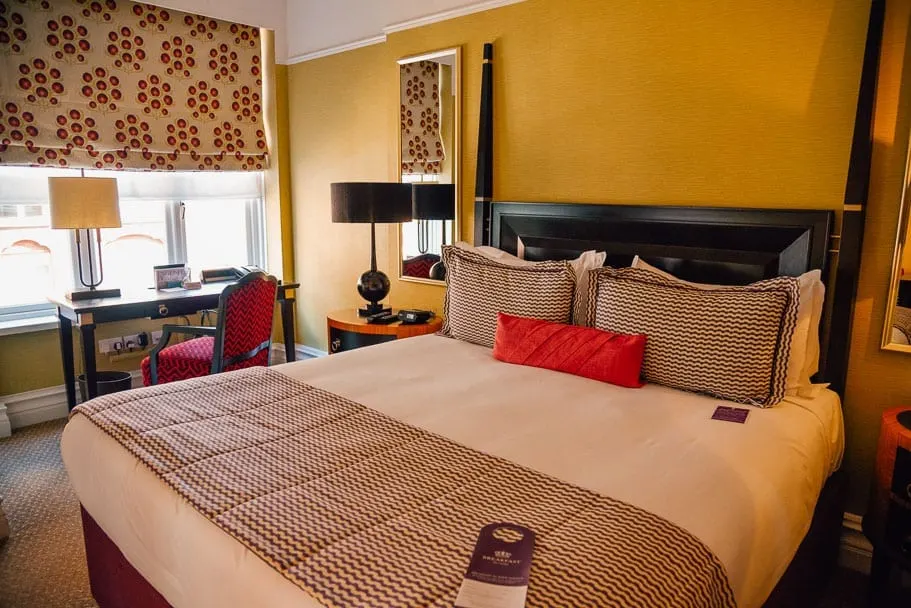 Breakfast @ the Caxton Grill
One of the highlights of our stay at St Ermin's was the buffet breakfast in the Caxton Grill. Make sure you select a room with breakfast included in the rate as it is well worth it.
As you enter the breakfast room, the staff offer you a complimentary newspaper. A nice touch we have not seen at many luxury hotels which we have stayed.
The buffet breakfast included a hot breakfast included an egg and bacon station, a freshly baked pastry area, fruits and yogurts and cheese and meats as fruit, juice, tea, coffee, cereal served buffet style.
We were delighted to discover that the pastries at breakfast are baked daily!
If you would like a particular style of egg not included on the buffet, the staff are more than happy to oblige.
If you would like an a la carte option such as pancakes you are able to do so at an additional cost. The pancakes with blueberry looked delightful.
St Ermin's Amenities
The hotel includes a gym and an absolute stunning tea room. One of the specialities of the hotel is the high tea that they offer.
We met a friend of ours in the St Ermin's al fresco patio area. It had a very intimate and cozy vibe – perfect for an afternoon in London meeting friends.
One morning during our stay we felt motivated and used the hotel gym. It was very well equipped and had everything you would need from treadmills to weights to yoga mats.
Tip! Get to the gym early as it proves quite popular by around 8am in the morning.
St Ermin's Rich History
St Ermin's has a very interesting history. Any history buffs will absolutely love this hotel.
The history of St Ermin's dates back to the 15th century as the building was originally a chapel dedicated to St. Ermin.
The hotel has subsequently had connections with Winston Churchill in 1940. During WW2, members of the SOE (Special Operations Executive) worked on cracking the code.
It is rumoured the has a secret underground tunnel that leads to Westminster! Let us know if anyone finds it!
We had a fabulous time in London.
If you have any questions about visiting Big Ben or staying at St Ermin's let us know!
Save this Big Ben Guide to Pinterest (so you can find it again later!)