We absolutely love cruising. It is definitely one of our favourite holiday choices. While we have been on a lot of ocean cruises, we have never experienced a river cruise until we went on U River Cruise. Here is our honest U River Cruise review (previously U by Uniworld).
U River Cruise Review
U River Cruise offers many different holiday routes through the picturesque rivers of Europe.
The cruise we choose to go on was "Germany's Finest" a river cruise that covers the most quaint and picturesque little towns in Europe.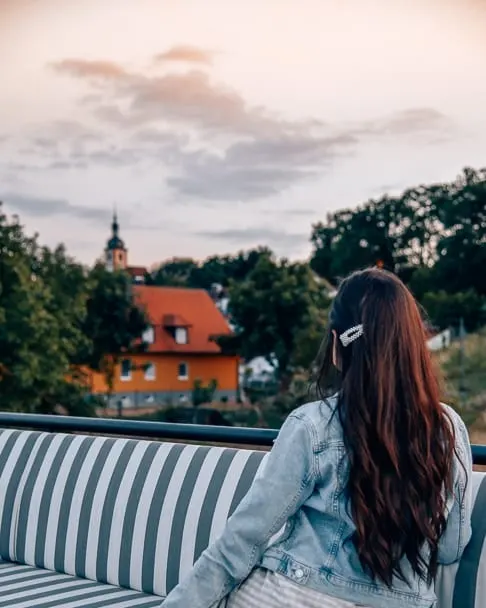 The cruise line offers standard cruises but has recently branched out to themed cruises.
Looking to try something different and interesting we opted to go on the U River Cruise Drag themed cruise.
On this cruise, U brought on 3 celebrity Drag Queens from Ru Paul's Drag Race.
As a heterosexual couple we were a little nervous and apprehensive of how we would fit into the world of Drag. In short, we absolutely LOVED it.
The cruise completely exceeded our expectations and left us hanging for more.
The U Concept
U River Cruise was opened as a river cruise concept that was appealing to a younger audience.
When the cruise first opened just a few years ago, they restricted the guests to people under 40. They have since lifted the age requirement.
We think this was a smart move as the cruise really has something appealing to all age groups who love adventure. On our cruise the age ranged from around 20 to 60+.
What was particularly different for us to regular cruising was that the cruise had daily excursions that were included each day for free. How awesome is that?!
In traditional cruising all inclusive excursions is practically unheard of. The all inclusive excursion concept blew us away. We challenge you to find the same concept elsewhere.
Of course there was more in depth day tours that you needed to pay for (one of which we HIGHLY recommend doing – see below!)
The included excursions included historical city tours, bike rides of the river, hikes and brewery tours.
Themed U River Cruises
As we mentioned above, we chose to go on one of the cruise ships themed cruises.
Throughout the year, U River Cruises offers a variety of themed cruises. We choose the Drag theme.
If your travel dates happen to align with one of the themed cruises we highly recommend taking the opportunity to go for it.
Our Drag themed cruise was amazing.
The cruise ship brought on 3 celebrity drag queens from Ru Paul's Drag Race – Phi Phi O'Hara, Jiggly Caliente and Darienne Lake.
Throughout the cruise each did a solo act – Phi Phi O'Hara did a drag queen make up tutorial, Jiggly Caliente did a paint and wine event and Darienne Lake did a comedy evening.
The Queens came together at the end of the cruise for a fabulous drag performance.
Whether you identify as Queer or not, the Drag themed cruise was great. The skills, wit and talent of the celebrity Drag queens was beyond impressive.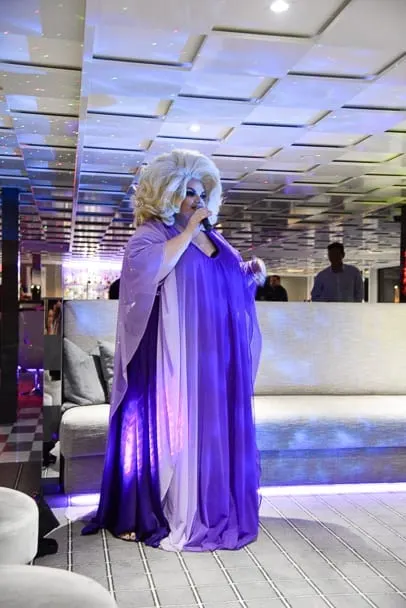 "The A" Ship
U River Cruises has two ships – the A & the B. We went on "the A".
The A is a very beautiful boat. Despite the fact it is more affordable than other river cruises on the market we found the ship to be very beautiful.
To be permitted to cruise European rivers there are size requirements including height, width and length.
If you are looking for a massive cruise liner to sail on – you simply won't find it on a river cruise.
River cruise boats are more small and intimate experiences.
"The A" U River Cruise ship has a main dining room (serving breakfast and dinner), a bar area and a rooftop area, a gym, a free laundry area in addition to the rooms on board.
Having sailed on massive cruise ships before we were unsure how we felt about such a small boat. However, it proved to be plenty of space.
The more limited space and the fewer guests on board the ship (we had only 40 guests total on our ship) meant that you got to know the guests and become friends.
We left with friends we would definitely meet up with if we traveled to their cities.
The Cabins
There are 3 types of cabins on a U River Cruise: a studio, balcony and suite room.
We stayed in a balcony cabin and would recommend it. Colourful red interior with tinted glass sliding doors to keep the room cool and significantly cut the outside glare.
It was lovely to relax on the bed and watch the river slowly pass by. Speaking of the bed, it was lavishly prepared with heavy duvets and fluffy pillows.
For a cruise – the bathroom was very spacious and particularly beautiful featuring a marble walk in shower (not a cubicle shower) twice as large as most cruise ship showers.
U River Cruises use Bee Kind shampoo, body wash, soap and body lotion which does not use materials which are harmful to bees.
Like any cruise, the cabin is compact. However, there is plenty of cupboard space with hangers to for your shirts, dresses and jackets, and draws and shelves for everything else.
There's plenty of space to unpack the contents of your suitcase, and then hide your suitcase under the bed.
The only thing we would criticize is the fact that there is no walk-out balcony. Due to boat width restrictions, it wasn't possible to have this.
If you are quite partial to a walk-out balcony I believe the suite rooms have this.
Deck
When you are not in your room, nestled amongst the most comfy blankets, the top deck of our river cruise boat – "the A" – has plenty of space to lounge about on.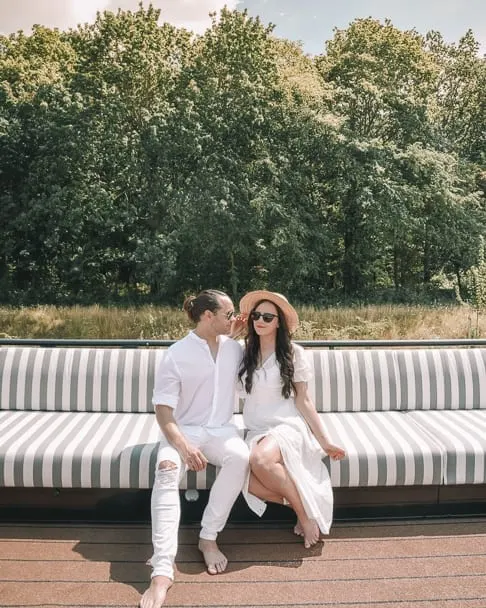 Deck chairs, comfy tables and chairs, long lounge seat which ran the perimeter of the boat in cute green and white stripes.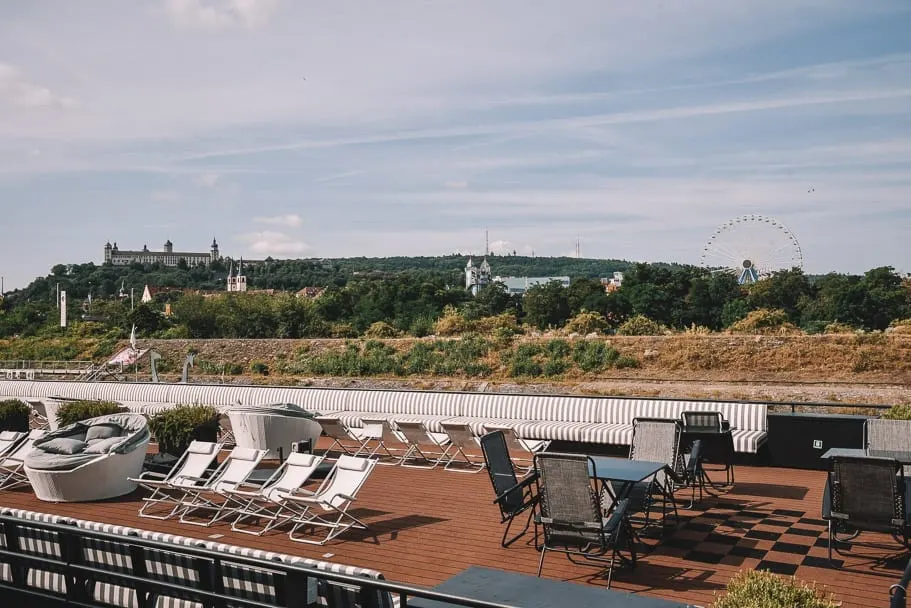 And our favourite – the bubble which was a round lounge seat with a retractable roof for shade and shelter from the wind. If this isn't enough options for you – there's also a tent to hang out in too.
On the top deck there is also a bar named the Ice Bar. Unfortunately you can't expect igloos in there but you will find a cool ice blue bar ready to make fresh handcrafted cocktails.
The Ice Bar in itself is impressive because it can be completely collapsed on command when the boat passes under low bridges.
Speaking of ducking under bridges on one or two occasions we went under super low bridges and at the captain's command all the revellers needed to drop to the deck where we watched the bridge pass centimetres overhead.
The Bar
The bar on the A is a place we loved to hang out on a nightly basis.
We will let you into a little secret and – the U themed cruises are all inclusive so they are very worthwhile to go on if you like a drink or two.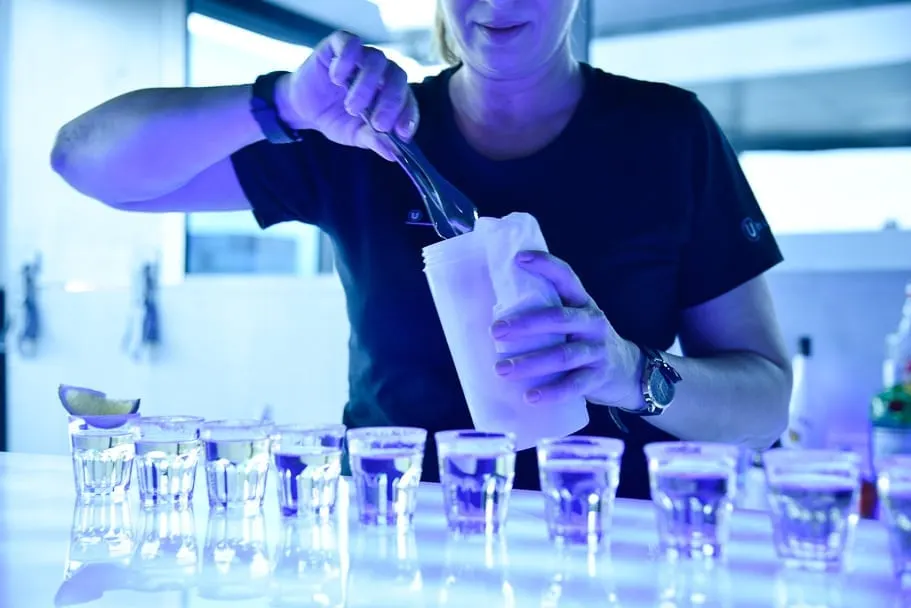 The alcohol was flowing and included top notch wine, German beer, cocktails including practically any spirit you can think of and a wide range of mixers including our personal favourite red bull – gives you wings for those long nights at the bar ;).
The bar area includes a large bar bench with high stools, booths overlooking the river, a dance floor and scattered comfy soft lounges.
The bar area was beautifully decorated and very classy.
Nightly, the cruise organises various parties and events.There was a 70s, 80s 90s night, a karaoke night, a comedy night and a performance night.
One slight criticism is that we didn't know about the 70s, 80s 90s night in advance – it would have been nice to prepare an outfit. Most guests just improvised with what they had in their suitcase.
Cocktail tip – Each day there is a "cocktail of the day". Make sure you try an apple strudel – it is an absolutely delicious cocktail that the bar staff have perfected.
The Restaurant & Food
We are happy to report that the food is a very high quality on the cruise.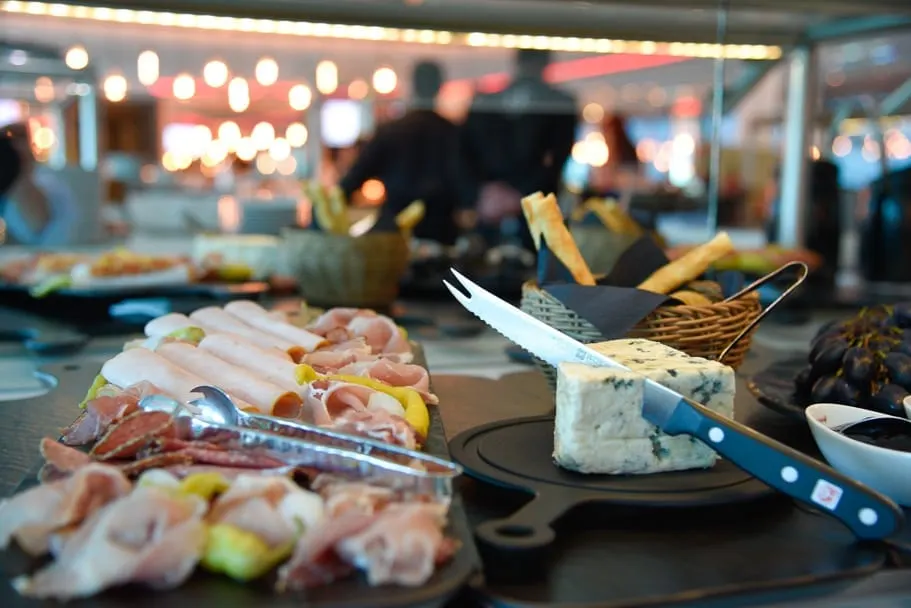 Unlike large cruise liners, it is a casual setting (you can wear what you like which is nice).
Breakfast is a large and plentiful daily buffet with a wide variety of food including an omelet station, a fruit and yogurt station (including the most delicious bircher muesli and fresh strawberries) and various rotating hot plates.
Dinner rotates between a buffet and a shared family style dinner where staff bring you various different plates to share at your table.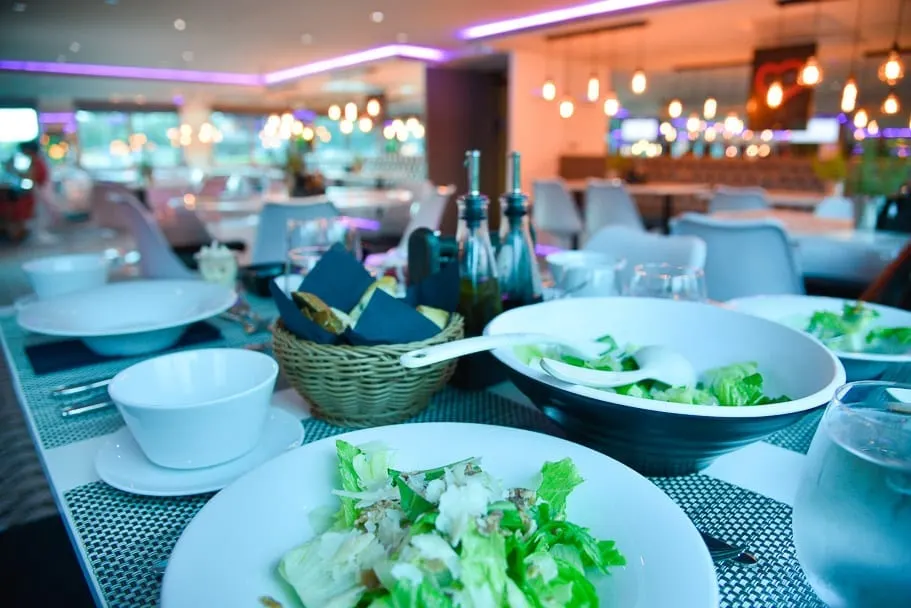 Some of the highlights of dinner included ribs (cooked to perfection), lamb wellington, salmon, pasta station freshly cooked to taste with Parmesan cheese.
After dinner you will be delighted to discover a wide variety of delicious deserts.
One of the highlights for us was the dessert performance on the second last night. We don't want to spoil all the fun for you but we will leave you with a little taster photo below.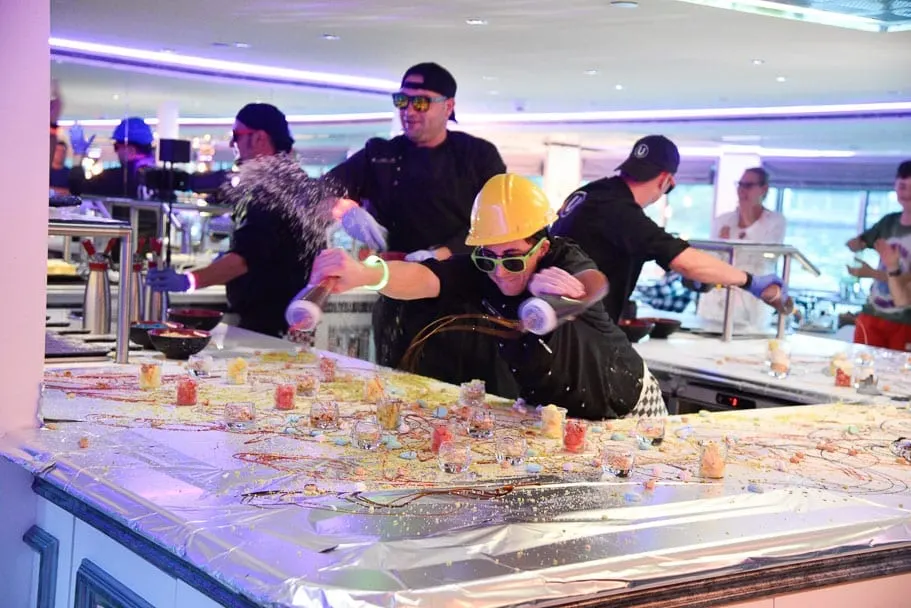 We were on a river cruise through Germany so the U put on various Bavarian cuisine during the cruise including pretzels (even a make your own pretzel class), bratwurst and more.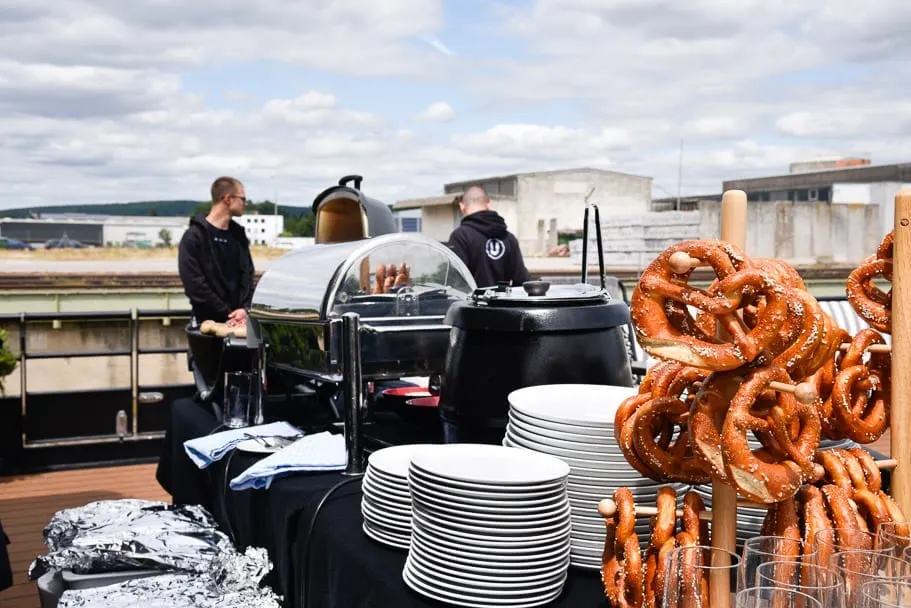 Itinerary
We travelled through the stunning countryside of Bavaria on our U river cruise. As stated above we went on "Germany's Finest".
With all the fantastic excursions on offer, time to wander the towns at your own pace is short, so here's what not to miss!
Regensburg
Our German river cruise started in the medieval town of Regensburg. The town has a population of over 150,000 making it the fourth largest city in Bavaria.
Regensburg was a picturesque location to commence our cruise as the boat could dock within the city in the shadows of the spectacular Königliche Villa.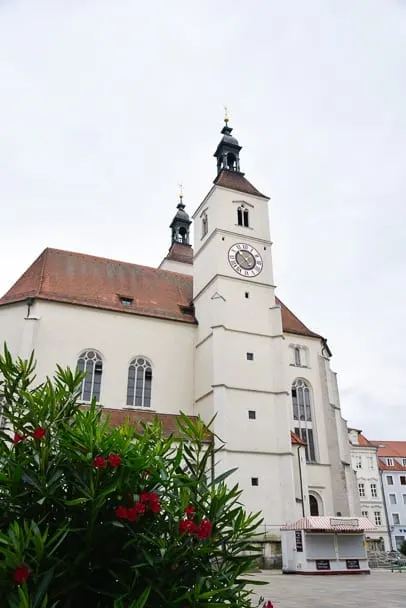 This cute Bavarian town has a fascinating and sometimes dark history. We learned all about it on a free walking tour run by U River Cruise.
Behind the pretty houses we learned about the occupants during medieval times – the Executioner, Grave Digger, Night Watchman and prostitutes.
Germany has over 45,000 churches and St Peter's Cathedral in Regensburg is one of the more spectacular.
Fun fact: Regensburg, the oldest town on the Dabube river, dates back to at least the 7th century when an abbey was founded.
To this day, tall towers dot the Regenburg skyline which are symbolic of the city's history.
If you thought these towers were used to defend the city you would be wrong. Rather, as Regensburg was a flourishing city of trade – merchants returning from trading in Italy brought with them the idea to build these large towers which were popular in Italy as a symbol of wealth.
Visitors to Regensburg at the time could immediately tell of the city's wealth by the towers which dotted the city.
During WWII Regensburg was bombed by the Allied Forces as it was a hub of aeroplane manufacturing in Germany. Fortunately, many of the original buildings survived.
U included excursions: Insight to Regensburg guided tour (Very interesting – don't miss this one!)
Kelheim
There is an optional shore excursion cycle from Regenburg to Kelheim (40KM/25MI) along a pretty trail partially by the river and partially through the forest.
We didn't take this excursion but the cyclists reported back that they loved the ride.
Nuremberg
The second largest city in Bavaria is famous for having one of the most spectacular Christmas markets in Europe. Even during summer it's easy to picture why Nuremberg is such a popular Christmas destination.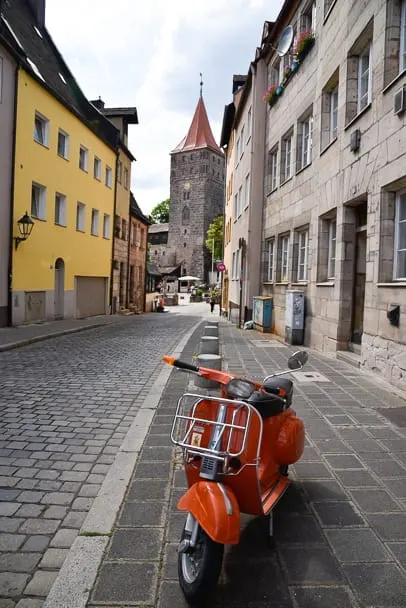 The main Christmas market is held in the square in front of the Church of Our Lady (Frauenkirche, Nuremberg) and a handful of red and white candy-striped sit in the square all year round prompting us to think of mulled wine, roasted chestnuts and gingerbread.
Don't Miss: Nuremberg Castle – year round it is the most popular attraction in town. The medieval fortified buildings which date back to the 13th century ominously overlook Nuremberg Old Town. It's an easy 15 – 20 minute walk up to Nuremberg Castle from the city centre.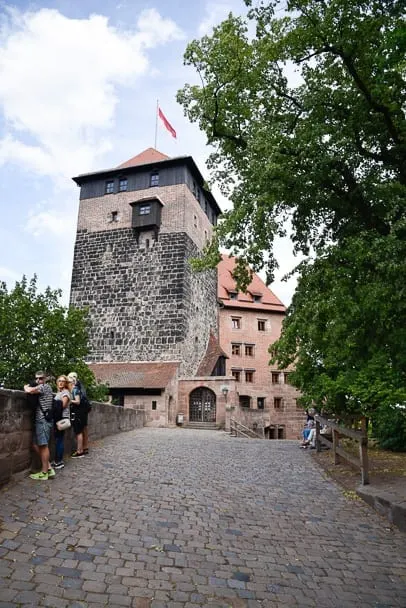 Your reward for hiking to the top is a spectacular view of Nuremberg including the prominent Gothic cathedrals of St. Sebald (Sebalduskirche Nürnberg), Church of Our Lady and St Lorenz.
You can walk along the fortified walls which extend down from the castle. It is also possible to take a tour inside the castle (€3 – €12 depending on what you want to see). Points of interest include the "Deep Well" which dates back to the 14th century and was used as a source of water during sieges. It's only €3 to see the Deep Well in Nuremberg Castle.
Historical Nuremberg: While today Nürnberg is synonymous with the joy of Christmas, for many it has darker connotations/connections. From 1927 to 1938 the Nazi Party an annual rally in Nuremberg. The Nuremberg Rallies were large propaganda events which were attended by high ranking Nazi party officials including Adolf Hitler.
Interesting Fact: The 1939 Nuremberg Rally – which had been given the name "Rally of Peace" – was cancelled one day before it was due to start because Germany invaded Poland.
After World War II, trials for the German war criminals for their part in the Holocaust were held in Nuremberg. The Nuremberg Palace of Justice was chosen for it's significance as a former Nazi rally site.
Tourists can visit Courtroom 600, where the trials were held, as part of the Nuremberg Trials Memorial – details here.
Good to know: The "A" docks at an industrial port 15 minutes drive from Nuremberg. Shuttles run to the city.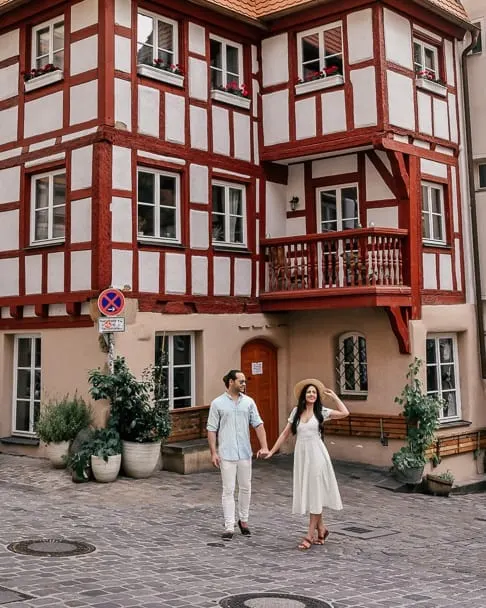 U included excursions: Insight to Nuremberg guided walking tour.
Bamberg
Bamberg is a UNESCO heritage listed town on the river Regnitz.
Don't miss: Altes Rathaus, the spectacular town hall perched on an island over the Regnitz. The hall features colourful murals created by the German Rococo and fresco painter Johann Anwander in 1755.
The most photographed aspect of Altes Rathaus is actually the half-timbered guard house painted in yellow and white known as Rottmeisterhäuschen.
Good to know: In spring and summer delightful pink flowers placed in flower pots along Geyerswörthsteg bridge will frame a beautiful shot of Bamberg town hall.
Bamberg is a great place to sit at one of several cute Bavarian restaurants on the river where you can people-watch and admire the colourful fisherman's houses.
River cruises dock in an industrial port 10 minutes from Bamberg. As the town is too small to fit large tourist buses, shuttles drop guests at Bamberg Concert Hall 10 minutes stroll from the centre of Bamberg town.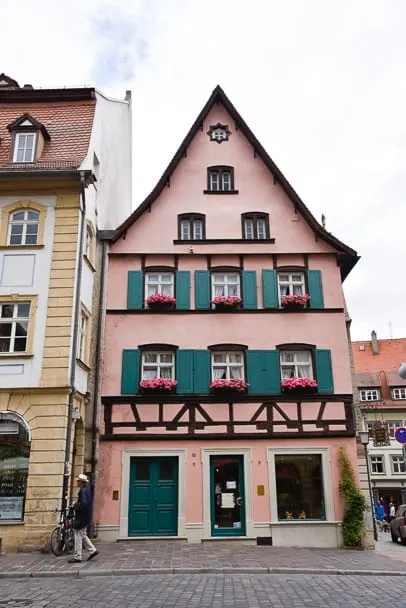 U included excursions: Insight to Bamberg guided tour
Wurzburg & Rothenberg
Don't miss: Marienkapelle (a Gothic church with distinctive red facades) and Marienburg fortress which is perched high up on the hill overlooking Wurzburg.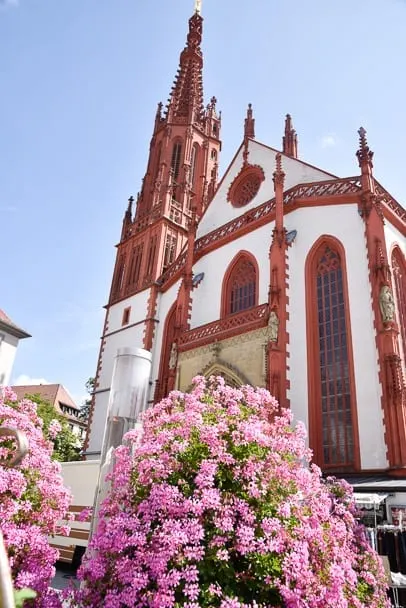 For the best view of Marienburg fortress, make your way to the Old Main Bridge where you can enjoy the view including the vineyards which cover the hills beneath the castle.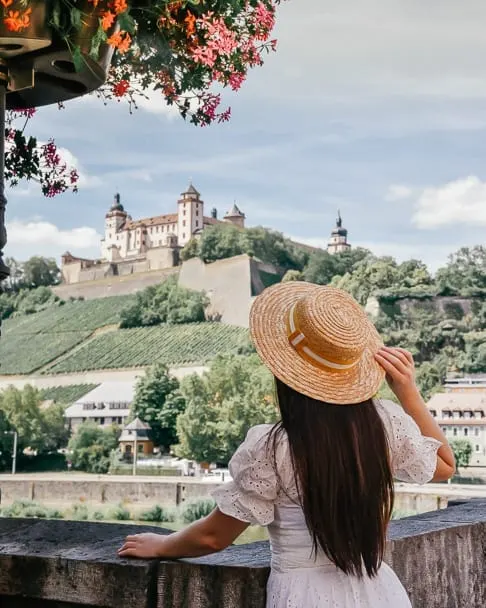 As beautiful as Wurzburg is – many cruise ship visitors take the opportunity to visit the nearby town of Rothenberg which is dubbed Germany's most picturesque medieval town. This is the paid U excursion not to miss!!
When Rothenberg was damaged during WWII, residents were unable to afford to repair the ancient town. So they placed advertisements in newspapers around the world advertising their plight and highlighting the history of the town. Donations flooded in and the city was rebuilt to its former glory in what could be one of the world's first crowd-sourcing events.
It's possible to walk the walls of the fortified city today where you can enjoy views of the medieval town and the tiny Taub river.
Don't miss: Plönlein – the most photographed house in Germany. The yellow half-timber house built on an uneven fork-road in the shadows of Kobolzeller Tor – a 65 metre tall tower which dates back to the 13th century.

Rothenburg Schneeball – a shortcrust pastry dusted with icing sugar originating in Rothenburg. We sampled a Schneeball from BrotHaus Cafe which our guide informed us was the only bakery to hold the original centuries-old recipe.
Käthe Wohlfahrt – Weihnachtsdorf – the Rothenburg Christmas store which is the home of the Christmas tree ornament.
Christmas decorations are sold year round. It's possible to take a tour deep inside the shop for €7. It's worth ducking your head in for a peak at the spectacular Christmas tree even if you don't plan to take the tour. Find the Rothenburg Christmas store just off the main square – look for the car with presents falling off the back.
U additional excursions ($): A bus & guided trip to Rothenburg (about an hour away). We opted to take the tour as we have heard glowing reviews of the fairytale town. They were not wrong. Highly recommended.
Miltenburg
Miltenburg is a tiny town of just 9,000 inhabitants which features some of the cutest streets on our Germany river cruise.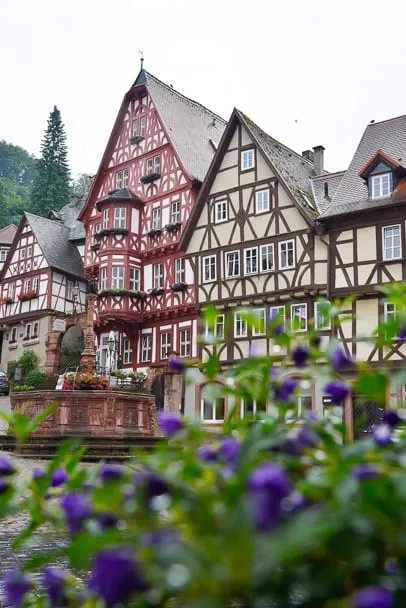 The town is a great place to stroll about, enjoy a beer and pretzel, and take in the colourful iconic Bavarian half-timber houses which line the streets.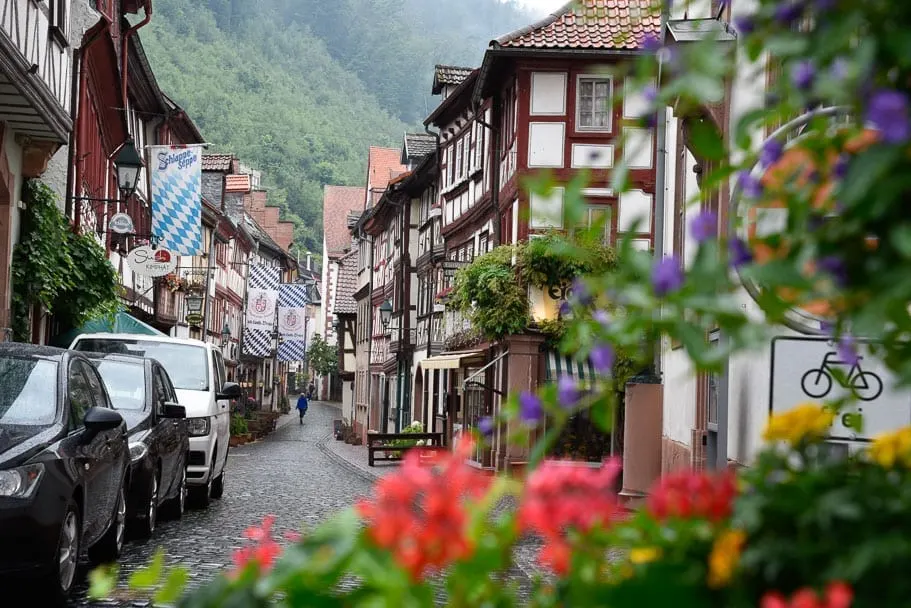 Don't Miss: Visit the Miltenburg Castle, a 12th century castle which overlooks the town. It is possible to hike through the forest to reach the castle or take the stairs from the town. In the event of rain, it is advisable to take the stairs from the town centre.
Today the castle is a museum featuring classic and contemporary art. You can also climb the keep which is 27 metres high and offers great views of Miltenburg town.
U included excursions: Castle hike, brewery tour and bike tour. We took the castle hike tour. If you are wondering, the brewery tour got the best reviews from our fellow cruisers.
Frankfurt
Before visiting Frankfurt we had been warned it was a business city which is not necessarily a must-see destination.
However, our Frankfurt experience was not like this at all. It's a fantastic feeling waking up on the Main river in the middle of such a large city, looking out from your balcony and seeing rows of classical museum buildings, the iconic Iron Bridge and dramatic neo-Gothic churches in the background.
Just 10 minutes walk from the boat and we were in Frankfurt Old Town which features a combination of Gothic churches and colourful half-timber houses.
Frankfurt is described as a melting pot of culture in Germany. It's said that on any given day you could meet people from over 100 different countries.
Don't Miss: Römerberg – the historical market square – where you can see all of this spectacular architecture and culture coming together in one place. While you're enjoying a Frankfurter sausage of course!
In Frankfurt it is trendy to enjoy Apfelwein – apple cider. It is commonly enjoyed with a Frankfurter and Frankfurt green sauce – a light, Greek yogurt based sauce with fresh herbs including parsley, cress and chives. The sauce is traditionally served with part of a boiled egg and potato.
U included excursions: Insight to Frankfurt guided tour (1 hour)
U additional excursions ($): A more detailed guided tour of Frankfurt with local guide. We participated in tour as we wanted a more detailed tour of Frankfurt. The guide was great and the excursion included local food to try.
U River Cruise Review Summary
If you can't tell already, we absolutely loved our U River Cruise of the most amazing fairytale towns in Germany.
We would highly recommend taking a Europe river cruise to our family and friends.
Disclaimer: We were guests on the U River cruise. However, as always all opinions are our own.
Save this to U River Cruise to Pinterest (so you can find it again later!)