Looking for Tulips in Holland?
Here are some secret spots from a local that showed us the best tulip fields in the Netherlands!
With tulip season quickly upon us, our guide will show you exactly where to go to see Tulip Fields in Holland including where to go to see them for free and take fabulous photography!
Tulips in Holland: Where to See Tulips?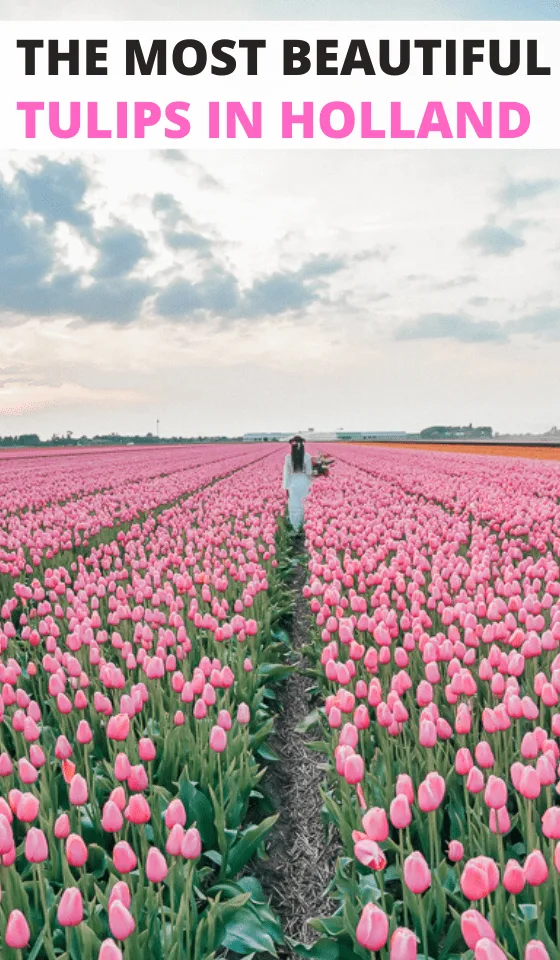 Best Time to See the Tulips in the Netherlands
The first question is what the best time to see the tulips in Holland?
We visited in the final days of the season (we were there 11 May) and we caught the very last tulips of the year before they were cut. The farmer literally told us that the tulips were being cut the very next day!
If you want to schedule your trip to The Netherlands while tulips are in season you will want to visit between March and May.
Anytime between these months until around 11 May (date we were there – day after tulips were cut) is a great time if you want to have prime tulip viewing!!!
Of course, each year the tulips are cut at a slightly different time depending how hot or cold that year has been. Once the weather gets too hot, the tulips are required to be harvested.
Our tip? Don't leave your tulip viewing too late in the season or risk not seeing any tulips at all! While we were there on the final days of viewing, we were very lucky to see tulips!
Tulips Map
If you're wondering where some tulip fields near you are, use this map to find the best tulips in the Netherlands:
Most Popular Spot for Viewing Tulips: Keukenhof Gardens
The most popular spot for seeing tulips in the Netherlands is Keukenhof Gardens
Located in the town of Lisse, this gardens is completely set up for tourists to view the tulips.
Keukenhof Gardens is a sight to behold. It covers 32 hectares of land and 7 million flowers bloom in the gardens annually.
If you are looking to take beautiful instagram photos, the downside of the gardens is they are crowded with people which makes photography difficult to say the least.
On the plus side, it is a very easy day trip from Amsterdam being located only 40km from the city.
Tickets to the gardens cost € 19 per adult.
Tulip Picking Gardens
Another option you have is to visit one of the various tulip picking gardens in the Netherlands. In these gardens you can access the tulips and for a fee also hand pick them.
Some popular tulip picking gardens include:
Tulips in Amsterdam
As one would expect, there is not exactly tulip fields in Amsterdam. There is however tonnes of opportunities to see tulips in Amsterdam – the city is brimming with tulips in Spring!
One of the best opportunities to see a mass of tulips in Amsterdam is during the annual tulip festival.
There are also great floating tulip markets in Amsterdam where you can purchase amazing tulips fresh from the fields.
Places to See Tulips for Free
It is possible to see tulips for free in Holland. Just outside of Amsterdam there are many fields of tulips that are being harvested for sale in the international market.
As mentioned before, we were traveling with a local who directed us to some free tulip fields where the owner is okay with photography.
IMPORTANT: Tulips are the main source of business for many of the farmers in the Netherlands. If you do decide to visit a private farm in the Netherlands not open to the public, it is important that you respect the tulips by not picking or crushing them.
Option 1: In the Fields Around Lisse
If you don't plan your trip too late in the tulip season, you will see many fields of tulips in and around Lisse, nearby the Keukenhof Gardens.
These gardens are privately owned tulip fields (with flowers being grown for sale on the international market) so the best port of call if you would like to access them is to ask the local farmer if you may take a stroll or some photography in his fields before wandering in. Usually, you can find someone wandering around on a tractor or such somewhere nearby.
If you do find yourself around Lisse, you might also like to make a stop in at the Museum dezwarte tulp which is dedicated to the history of tulips in the Netherlands. It might be interesting to you if you would like to learn more about tulips in the Netherlands.
Option 2: Secret Spot from a Local – 't Zand Region #1
If you want to see some fabulous tulips fields near Amsterdam, we would recommend you visiting the 't Zand region of Holland, around 1 hour from Amsterdam.
As mentioned before, we had a local with us and she was able to show us some great fields.
The first field we accessed in the area is indicated on the map below. You can download this straight to your phone for directions to it.
I would recommend visiting this particular field only until the beginning of May. By mid May, we found a lot of the tulips had already been harvested so it was not ideal.
Here is a photo of what this field looked like in mid May. Still beautiful but not as full.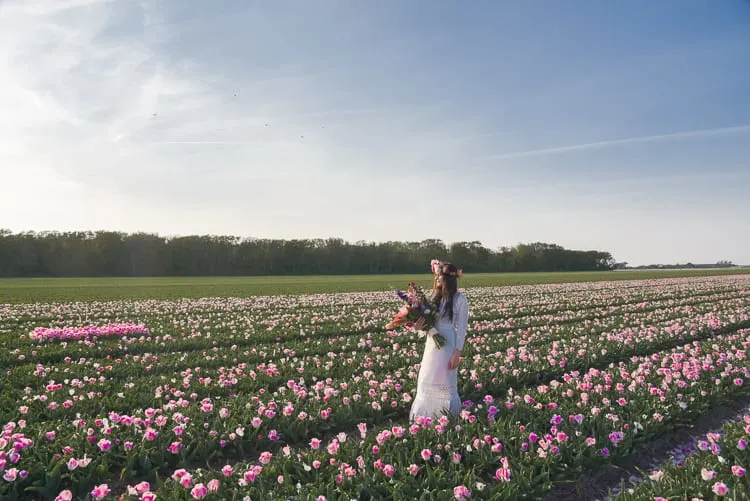 Option 3: Secret Spot from a Local – 't Zand Region #2
The second area we visited, it was possible to see tulips as late as May 11.
Each year is different and when the tulips will be picked is really at the discretion of the farmer so we wouldn't advise going this late in the year if you want to have a good chance of seeing the tulips.
Again, you can download this to your phone to find the exact location of these tulip fields.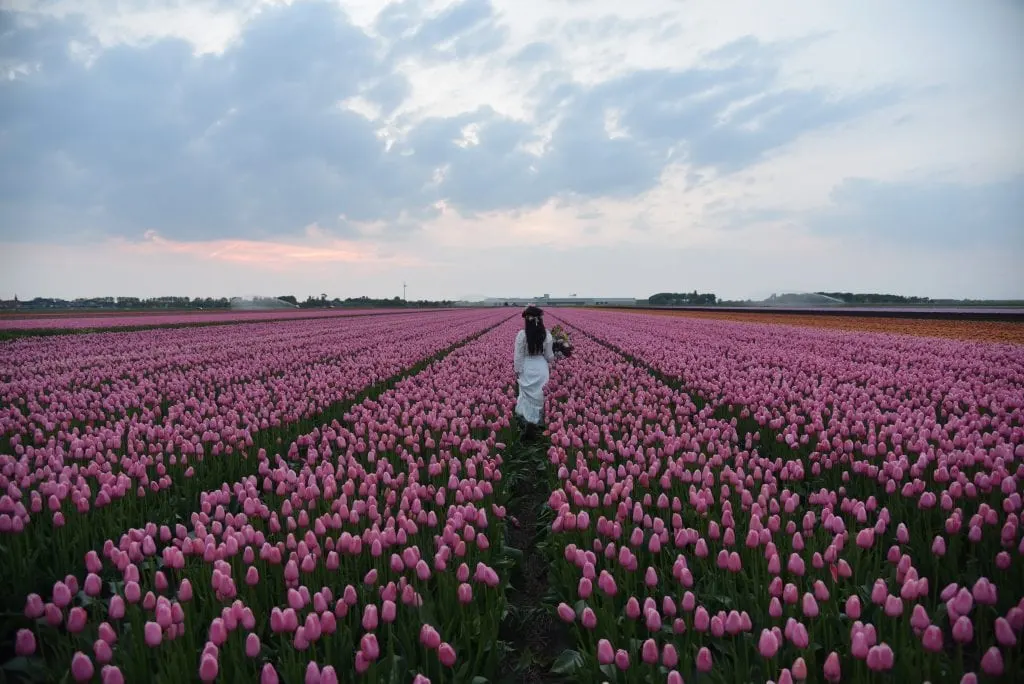 We hope you have a fabulous time hunting for tulips in the Netherlands and this post helped you a bit!
Love flowers and smelly stuff? So do we! You might also like to hunt out some seriously great lavender fields in the UK!
Save Tulips Fields in Holland to Pinterest!