Wondering where to swim with giant turtles in the Philippines? Look no further.
We cover everything you need to know and what to expect at Apo Island, Dumaguete in the beautiful Philippines.
If you're planning to visit Dumaguete, don't miss all the instagrammable things to do in town and make sure you also take a trip out to visit Twin Lakes.
Credit: Incredible turtle photo taken by our buddy Nic Morley the day we visited. Follow him on Instagram @nics_mindset
Swimming with turtles at Apo Island
We had been in the water for no more than 5 minutes when WOW – a few metres to our left we spotted a giant turtle floating into view.
This is exactly what we came to Apo Island to see.
Without too much exertion we catch up to this incredible creature and swim along with it. Once up close and personal the size of the turtle is striking– it was nearly as big as us!
This adult turtle was well over 1.3 metres in length and must have weighed at least 100 kilos. At a stretch we could have wrapped our arms around it for a bear hug – but only just.
And no doubt our friend would have let us hug him. He was that friendly and docile.
We've swum with turtles at Heron Island and near Cancun, Mexico but what sets the turtles at Apo Island apart is they are completely comfortable swimming with humans.
It was a magical moment swimming with this big boy as he went about his day. We watched as he effortlessly glided around, pausing to munch on seaweed floating on the surface.
At one stage a pink semi translucent jellyfish crossed into his path – without hesitation he gobbled it down in two bites!
We swam with him for what seemed like an eternity before we eventually bumped into some other divers and decided to part ways.
Swimming with this giant turtle at Apo Island will be an amazing memory we won't forget any time soon.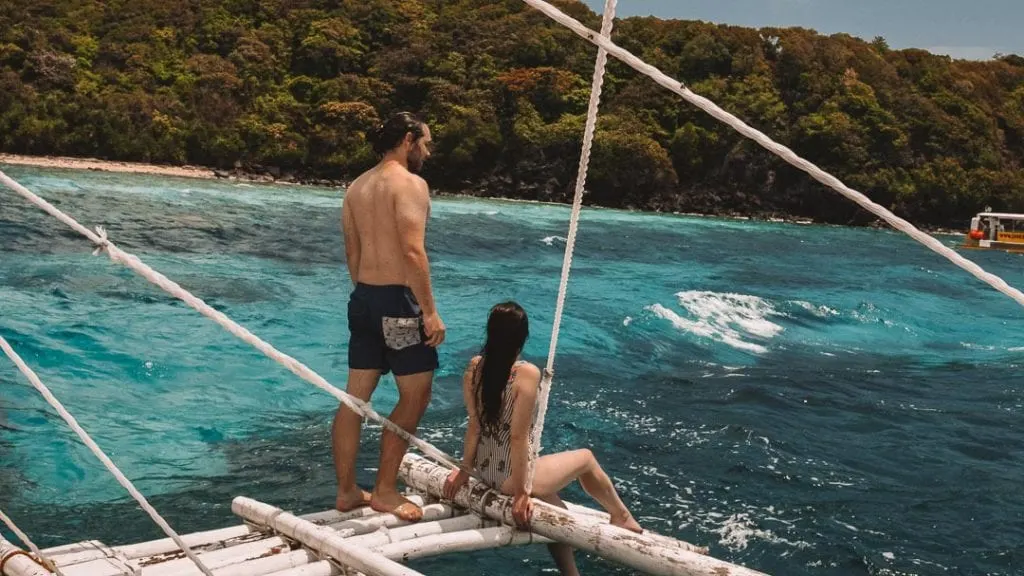 What Marine Life do you see?
Apo Island is a hub of marine life. We didn't even attempt to count all the colourful fish species we saw. We loved the swirling balls of pinky-sized black and white catfish.
Two metre long sea snakes also inhabit the waters. Their venomous bite can be fatal. We didn't see one, which we weren't distraught about, though others did.
Tip: Sea snakes are venomous but have a small bite. Divers recommend covering your ears when you spot a sea snake as this is one of the few parts on your body they can wrap their fangs around.
We should note sea snakes aren't naturally aggressive and none of the experienced guides could recall anyone being bitten.
Even when we rested on the boat we spotted wildlife. A vibrantly coloured young adult turtle swam to the surface to chill for several minutes, poking his head up for oxygen and to watch us watching him from the boat.
One fish you won't find here are sharks. In fact, aside from sea snakes and turtles you won't find many fish larger than half a metre.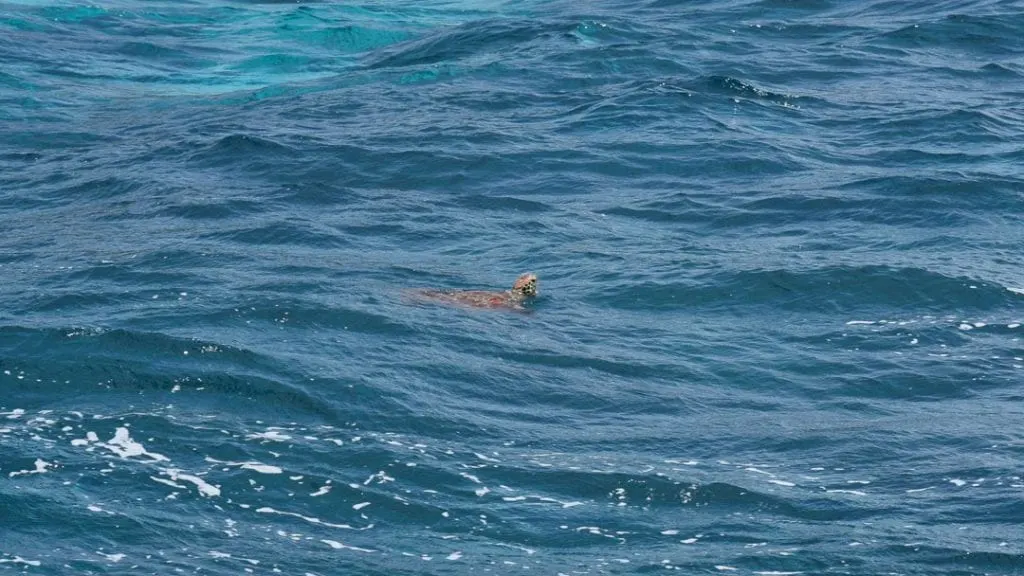 Apo Island Dive Sites
We stopped at 3 dive sites on our snorkeling tour. Each site had its own unique features so we recommend diving at all 3 spots.
Dive Site 1 was the half of the island closest to the mainland. The backdrop to our first dive was a sparsely occupied island featuring a few dotted houses, and rugged cliffs jagging out from the island. The water was emerald blue and inviting.
Dive Site 2 had more colourful and diverse coral. This spot also had the most photogenic water. We loved admiring the iconic Philippines ocean featuring a plethora of shades of blue, coloured by the coral or white sandbanks below.
At Dive Site 3, on the rear side of Apo Island we found giant blue starfish and climbable cliffs, caves and overhands to snorkel through. In shallower water near shore we encountered a wall of bubbles rising steadily from the ocean bed.
The water in this small area is heated by geothermal activity and feels like a tepid bath. The Dumaguete region is a geothermic area.
We though Dive Site 1 was the best Apo Island dive site but our opinion may be influenced by swimming with the giant turtle.
Why are there so many turtles at Apo Island?
Apo Island Marine Sanctuary is unique because it is the longest lasting community lead marine protected area in the Philippines. In the 1970s and 1980s scientists presented locals with data which explained their dwindling hauls were due to over fishing and unsustainable fishing techniques.
A radical plan was presented (for a community almost completely reliant on fishing to survive) to create protected zones where fishing was prohibited. After several years of promising results – and despite numerous setbacks (think local politicians elected by promising to remove restrictions because 'the fish had returned') the locals jumped on board with the plan.
Apo Island Marine Sanctuary was born.Locals established 'sea shepherds' who remain to this day to watch over the protected areas to prevent illegal fishing. Destructive fishing techniques including dynamite fishing (where literally a stick of dynamite was detonated and the stunned fish were scraped from the surface on mass) were outlawed.
Unsurprisingly the area is now thriving. Colourful coral, diverse species of fish and lots of turtles abound the waters. The residents of Apo Island – there is about 1,000 of them – survive fishing non-protected areas in a sustainable way and also from tourists visiting the areas. A group of local women visited our boat to offer souvenirs including Apo Island t-shirts for a few dollars.
How to Get to Apo Island
Apo Island, Negros is the in the middle of the Philiippines territory in the territory of Visayas.
To reach Apo Island you will need to fly to Dumaguete Airport – a 1.5 hour flight south of Manila.
From the airport you can reach Atlantis Dive Resort in 20 minutes. Apo Island is a 30 minute boat ride from the resort. Along the way we saw flying fish scooting out of the water and flying about.
Apo Island Tours – Snorkelling and Diving
Tours with Atlantis costs about $94 USD and include transportation to and from the island, marine park passes, high quality fins, snorkels and masks (including defogger for a crystal clear view), water, tea and coffee, and a delicious lunch.
At the most there were 10 tourist boats in the water when we visited, which is far less crowded than many other snorkelling trips we've taken in Asia. Aside from the occasion we followed our giant turtle friend to another tour group, we did not encounter another group in the water. It was not even common to bump into others from our 8 man group. We were pleased the water was not saturated with tourists.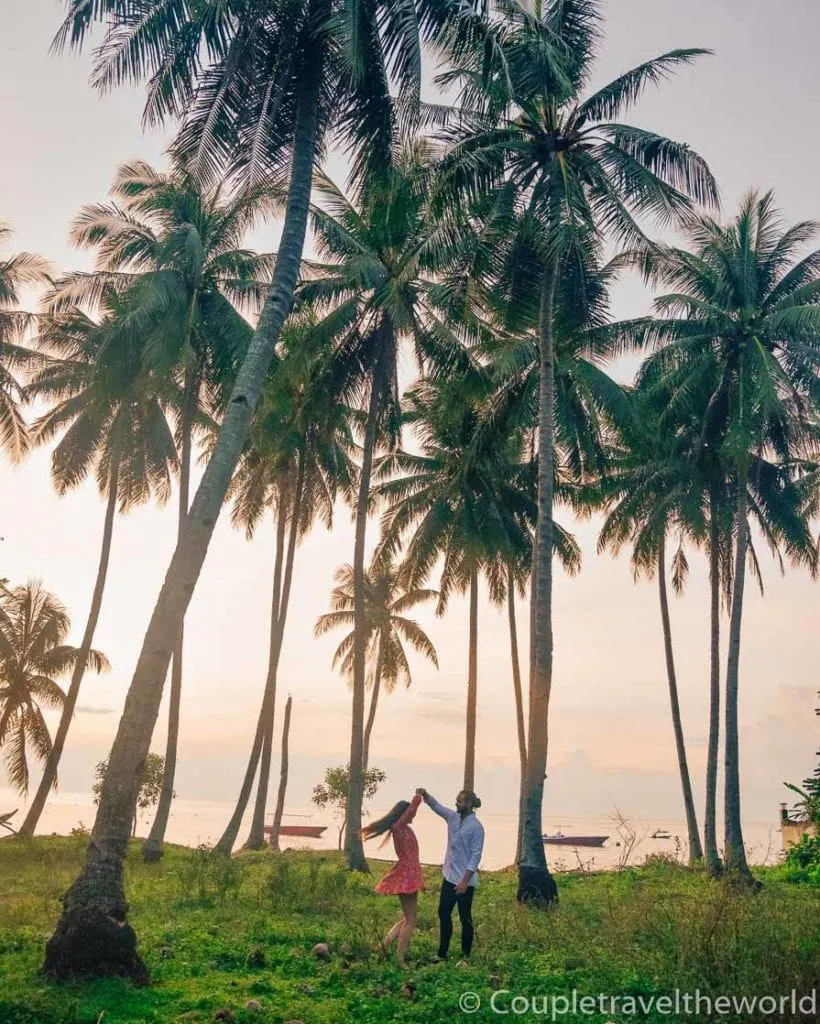 Apo Island Accommodation: Where to stay
Atlantis Dive Resort is hard to beat for its convenience. Located on mainland Negros, 20 minutes from the airport (direct flights from Manila) and Dumaguete Old Town. The resort is located right on the beach where you can swim straight off and see marine life right away. Tours to Apo Island depart daily from the beach resort.
It also happens to be a well-run, comfortable resort with friendly and attentive staff.
For those who want to learn to dive the resort offers courses to attain your certification. The swimming pool has a 4 – 5 metre deep end to practice in.
We can vouch for the food to. We tried some delicious Filipino cuisine including Lechon (whole roasted pig with crackling), BLT sandwiches, and of course – frosty San Miguel beers – essential after a strenuous day swimming with turtles. The resort also has plenty of tasty craft beers brewed locally by a Czech expat.
Save our guide Swim with Turtles at Apo Island to Pinterest so you can find it again later!
If you have any questions about swimming with turtles at Apo Island, Philippines please comment below.