Looking for the best hotels in Washington DC for couples? You have come to the right place.
We recently went on a Washington DC romantic getaway and were on the hunt for the best DC hotels for couples.
What do we look for in a romantic hotel? Here are some things we want to see if they align with your requirements:
Clean and comfortable (This is probably my #1 requirement. There is absolutely nothing worse than checking in to an unclean hotel with hairs in the bed);
Something unique or special about the hotel (I really like something special about a hotel, especially if I'm going to splurge out the cash on it. For example, I really liked staying at the Historic Stanley Estes Park Hotel in Colorado because it was the inspiration for Stephen King's novel "The Shining");
Value (I love getting good value. Washington DC is an expensive place to travel. If you have champagne taste on a beer budget, have a few on the list which are perfect for affordable romantic getaways near dc)
Quick list of romantic hotels in Washington DC (You can open these up in different windows to compare side by side if you wish):
Keep reading for a full description of the most romantic DC hotels.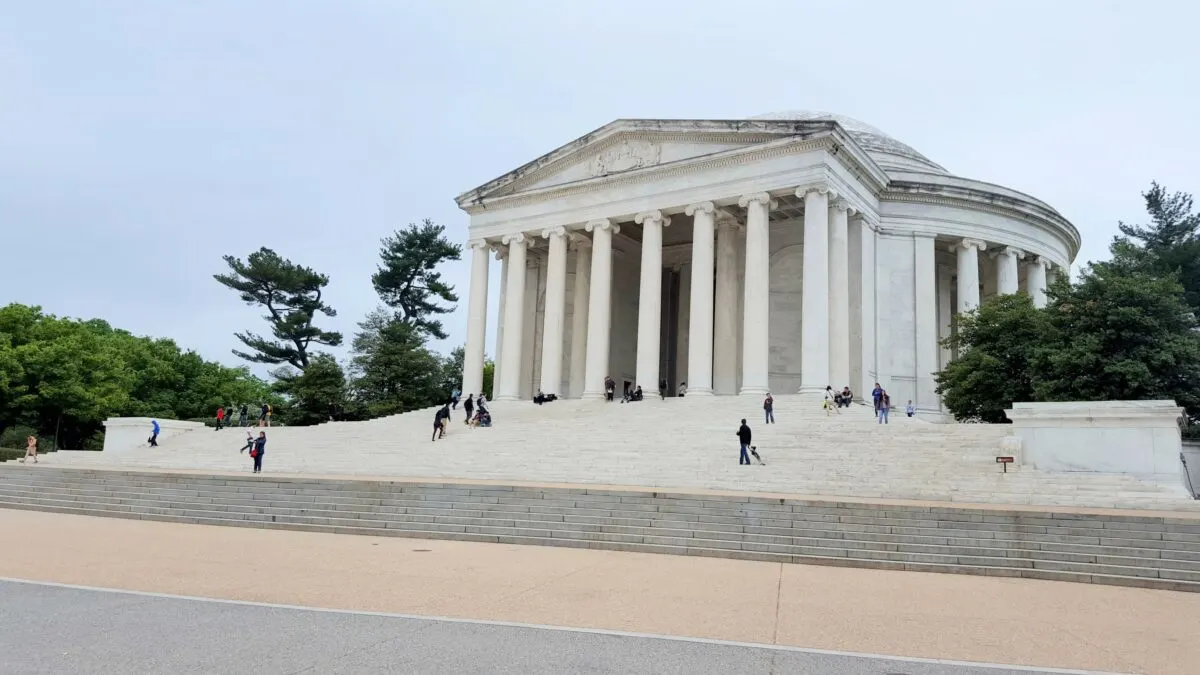 5 Best Hotels in Washington DC for Couples
Why is it good for couples? Hilton Fairfax is a really awesome romantic hotel in Washington DC (near the airport) at an affordable price. The rooms are clean and the bar and restaurant area is amazing. We loved staying there as a couple and would recommend it! If you have a car and want to save some cash on an expensive downtown hotel, this is a great choice.
Want to know where the airline staff put their crew up overnight when they are on international flights? The Hilton Fairfax is one of their go-to hotels because of the great rates, clean and comfortable rooms and great facilities.
We really loved staying here and paid only around $130 USD a night which is a total bargain for Washington DC. When we were checking in there was a bride and groom waiting to speak to the front desk behind us.
The rooms at the Hilton Fairfax are a generous size with a full lounge chair included. They also have fridges and coffee machines in the rooms but we were a bit disappointed that there was no microwave in the room. To be fair, Hiltons are known not to have a microwave in the rooms so we were aware of this when booking.
If you want to dine in or even just have a drink, downstairs of the Hilton Fairfax is absolutely stunning with a gorgeous bar and dining area.
We thought the hotel was all in all pretty good value. For example, usually hotel's charge for laundry facilities but the Hilton Fairfax has a free washing machine and dryer on the 14th floor for guests' use. As we had been traveling for a while, this came in real handy for us. There is also a good quality gym area.
The area the hotel is located is really pretty, especially in the Fall when the fall colors are in full bloom around the area. I did not notice too many restaurants around but there is a Walmart and two Starbucks nearby.
One of the best Washington DC romantic hotels if you are fond of good value. We used this as a base to start our romantic mountain getaway in Virginia!
Pros:
Affordable quality;
Great dining and bar area;
Nice spacious, clean and comfortable rooms;
Close to the airport – 15 minutes drive.
Cons:
No microwave in rooms;
Lift wasn't the newest;
About a 30 minute drive to downtown Washington DC.
Book your stay here | Read all reviews here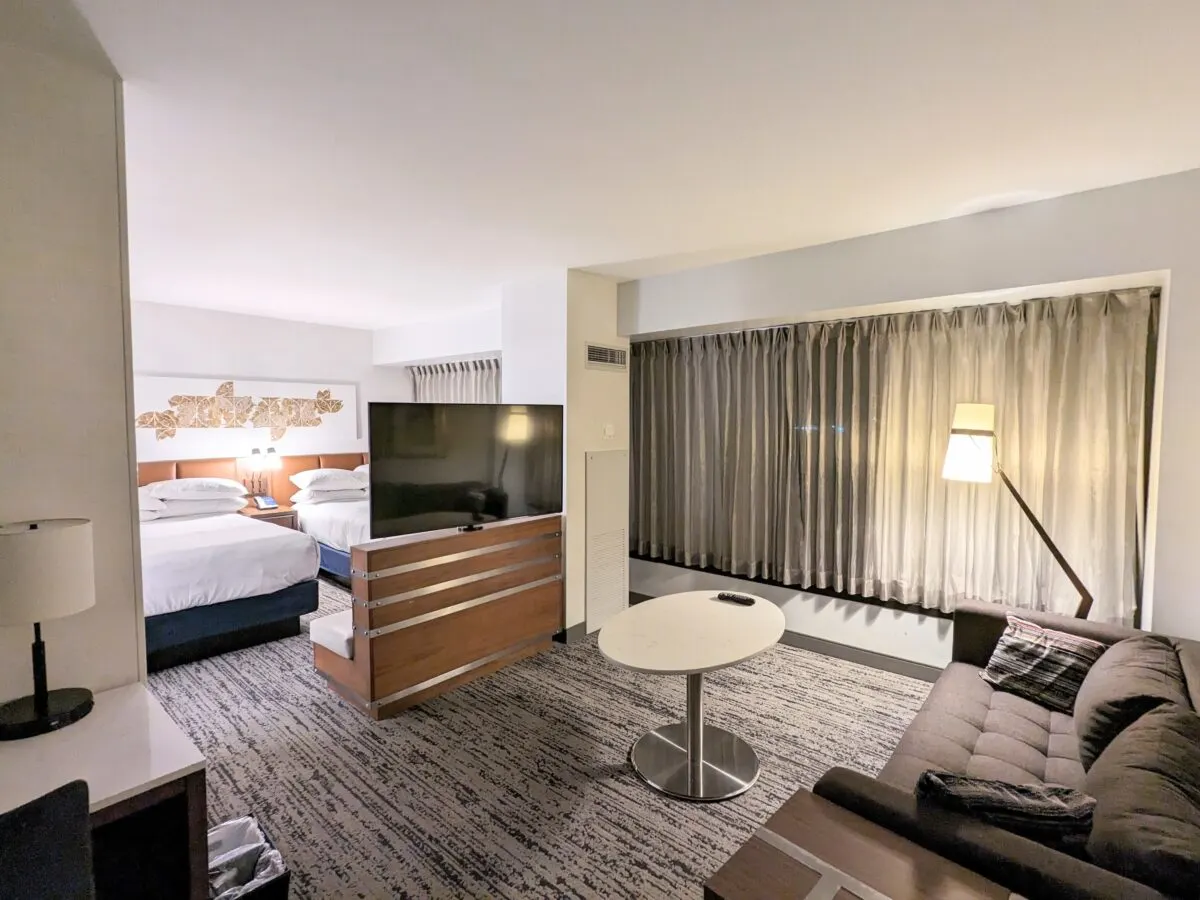 Why is it good for couples? I personally like a hotel with something special and unique to it. It makes it really fun. This hotel is very unique and almost a mini art gallery!
This hotel is kind of wacky and we're totally here for it. The lobby of the hotel features a mural featuring Justice Ruth Bader Ginsburg crafted from 20,000 painted tampons. If your girl is a feminist she will LOVE this hotel as it is pretty much the definition of girl power. Even if you decide not to stay at this hotel, we recommend stopping in for a drink at the bar as the decor is pretty darn cool.
The female empowerment does not end with the picture of Ruth Bader Ginsburg, there is a four-story mural on its exterior of the hotel, depicting two fierce female warriors.
Let's just say the hotel is practically an art gallery. It was designed under the direction of Andrea Sheehan, Principal of Dawson Design Associates, renowned for her penchant for "dark, sensual spaces."
Andrea is ALL about symbolism and everything in the hotel has a meaning which is pretty cool. There is a carved wood serpent light sculpture that winds its way along the ceiling, symbolizing the serpent that tempted Eve to eat from the Tree of Knowledge in the Garden of Eden.
This symbolism extends to an apple mural behind a lobby table and the bar's name, Fig Leaf, both paying homage to the so-called "Bad Girl" Eve, whose only transgression was seeking knowledge despite male opposition.
As I'm sure you aren't surprised, Andrea Sheehan is a feminist and wanted to create a space designed for women by a woman. She was able to bring her vision to life in collaboration with the forward thinking Viceroy Hotel Group. The result of Andrea's vision is a provocative and enjoyable celebration of feminine power that resonates with guests of all genders.
Two art installations warrant closer examination: the "Wall of Honor," featuring an illuminated array of tiny charcoal sketches showcasing notable women from ancient times to the present day (see how many you can identify), and "Talking Sequins," an arrangement of 12,000 custom protest buttons pinned onto fabric along a curved wall, resembling a gown and feeling remarkably soft to the touch.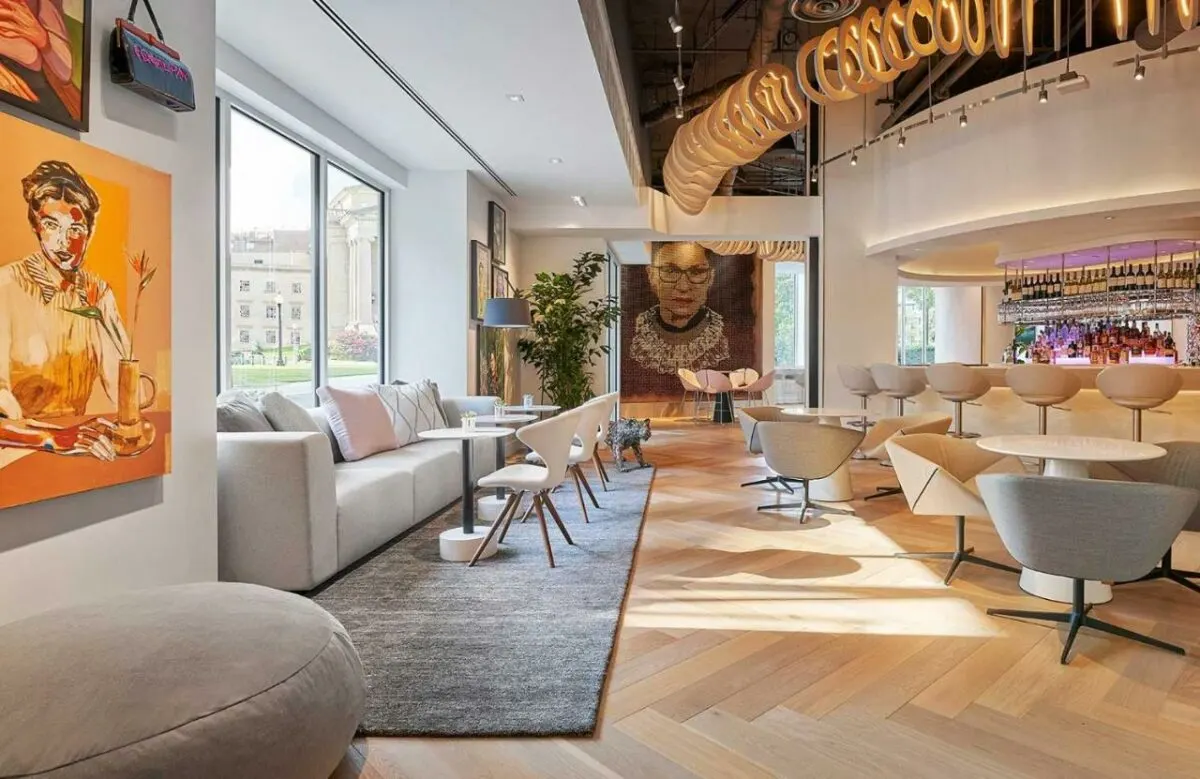 As you would expect at such a well designed hotel, the rooms are absolutely divine too. The showers adorned with formidable Greek goddesses spiral inward like nautiluses.
All the rooms are modern and some feature an awesome view of Thomas Circle and beyond.
As you would expect, there is also great food and beverage options available at the hotel. Both Fig and Leaf in the lobby and Hedy's Rooftop Lounge offer craft cocktails and light dinner options.
The resident mixologist, Jasmine Diaz, crafts specialty drinks using spirits from women-owned distilleries. One of her famous cocktails was made in honor of Vice President Kamala Harris called #IAMSPEAKING.
Pros:
Located in the middle of the city with no drive time;
Unique hotel with art gallery;
Great dining and bar area.
Cons:
Reasonable expensive at $400 a night;
Some men may not love the feminine vibe.
Book your stay here | Read all reviews here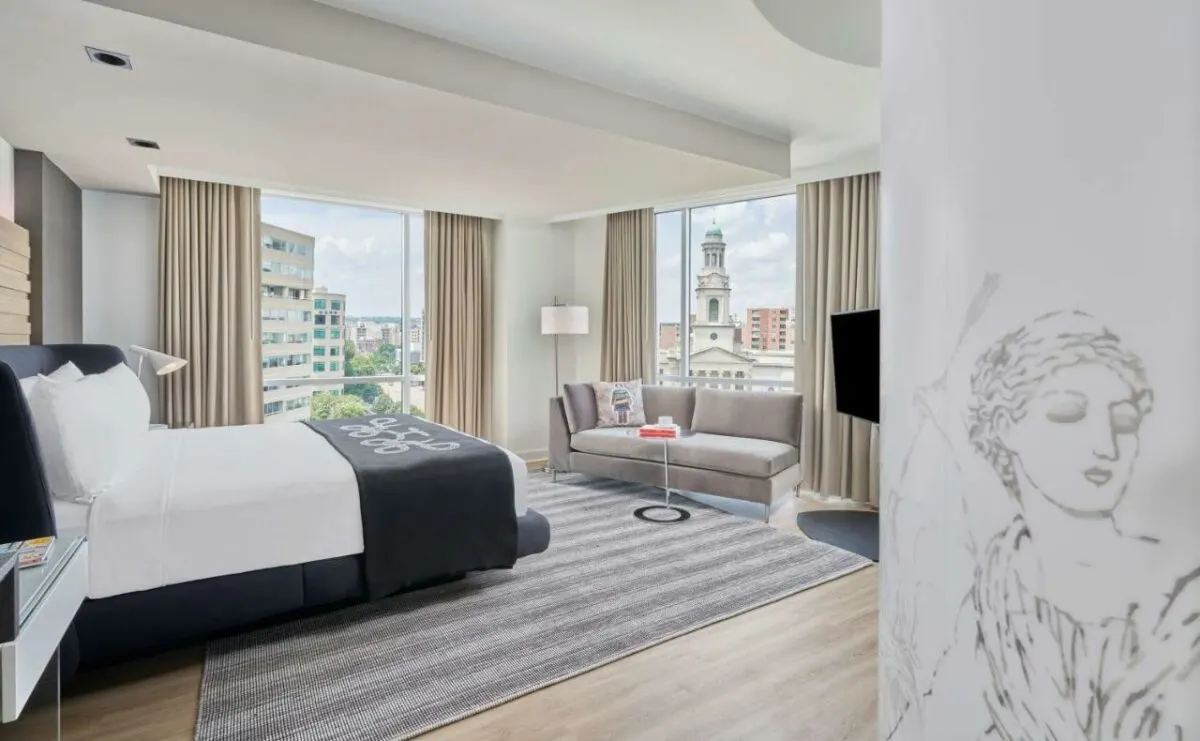 Why is it good for couples? I personally like a hotel with something special and unique to it. It makes it really fun. This hotel is very unique and has a great history. Plus there is a lovely bar area to enjoy some drinks.
If you want to stay in a hotel with a lot of history and a story behind it, The Watergate Hotel in Washington, D, an ultra-chic hotel, located on the banks of the Potomac River is a good choice. Personally, I think the historical notoriety of The Watergate Hotel is a big selling point as I always prefer to stay in an interesting hotel if I have the choice, especially when traveling to an expensive city such as Washington.
Back in 1972, during the Presidential Campaign, Richard Nixon orchestrated the break-in at the office of the Democratic National Committee (DNC), an act that now seems quaint compared to modern cyber security breaches.
Remarkably, the revamped Watergate, now a luxurious Washington DC hotel just a short stroll from the Kennedy Center, doesn't shy away from its notorious history. Instead, it embraces it with a sense of humor, and that's a significant part of its charm, along with its stylish 1960s architectural elements and well-appointed rooms. The Watergate proudly proclaims itself to be "Unapologetically Luxurious."
While some guest rooms may lean toward the smaller side, their impact is grand, especially if you request a room with a balcony overlooking the Potomac River. The coil motif found in the lobby continues in the rooms, adorning leather bed backboards, funky chairs and 1970s-style retro chairs. Each white duvet is complemented by a grey houndstooth throw.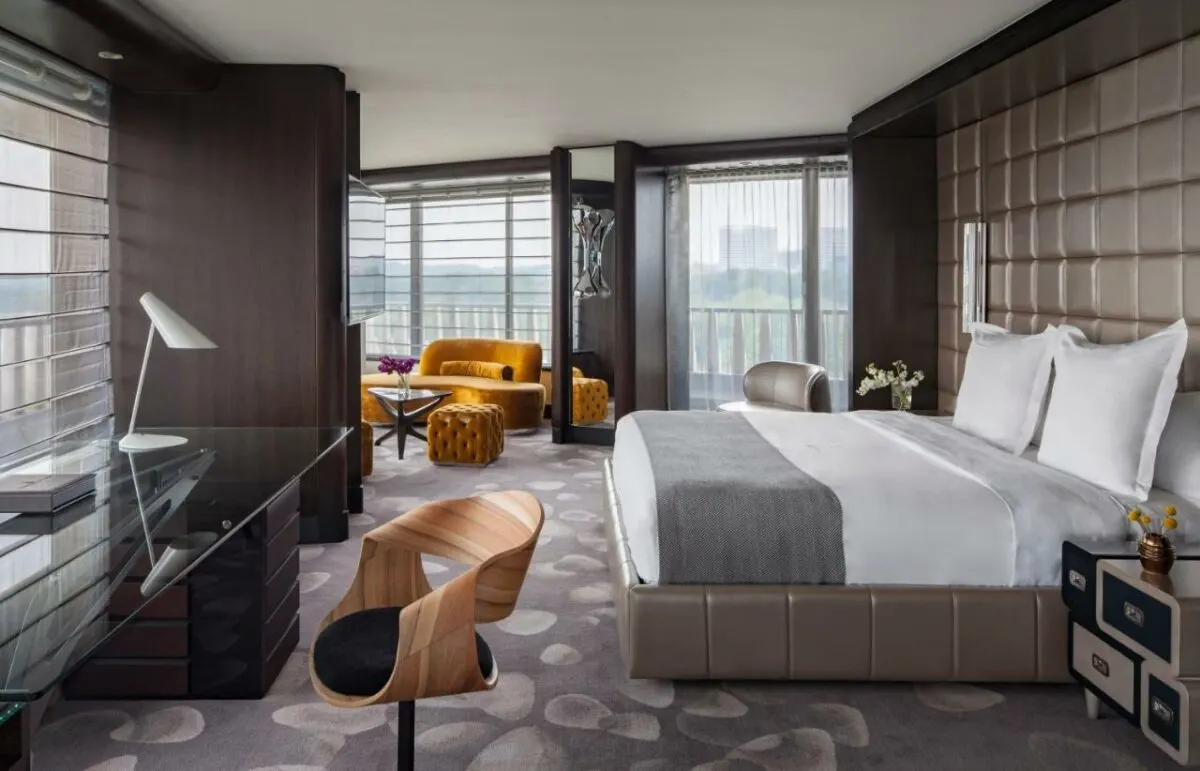 Bathrooms exude a bold masculinity, featuring spacious rain showers, black marble floors and sinks, and walls tiled with grey and white stripes of marble. A sleek arrangement of cocktail glasses graces a side table, a flat-screen TV stands ready for entertainment, and all the modern amenities of a luxury hotel are at your disposal.
Here's the fun twist: the bedside tables resemble filing cabinets (a playful nod to the past), complimentary pencils bear the stamp "I stole this from the Watergate Hotel," and room key cards humorously declare "No need to break in."
If you want to WOW your date with a bit of fun you can reserve the"Scandal Room 214," dubbed the Sexiest Room at One of the Most Romantic Hotels in DC.
On June 17, 1972, E. Howard Hunt and G. Gordon Liddy, leaders of The Watergate break-in team, occupied The Watergate Hotel's room 214. This room served as their command center for monitoring the burglary at the Democratic National Committee in the Watergate Complex office building next door.
According to The Watergate's website: "Originally Room 214 – used in the 1972 Watergate break in. This room has been decorated in collaboration with Lyn Paolo, the costume designer for Scandal and contains items from the Watergate Scandal period. Binoculars, a manual typewriter, a reel-to-reel tape recorder and curated book collection are just some of the pieces that evoke the spirt of the 1970s. Modern amenities are also included– a 48″ flat screen TV, a spa-like bathroom with custom amenities and two custom "Cover Up" robes to enjoy during your stay."
Don't miss the awesome rooftop bar with epic views.
Pros:
Located in a great downtown location, perfect to explore everything Washington has to offer;
A cool history;
A great bar area overlooking the river.
Cons:
Rooms average on the pricier side of $400 a night on average
Book your stay here | Read all reviews here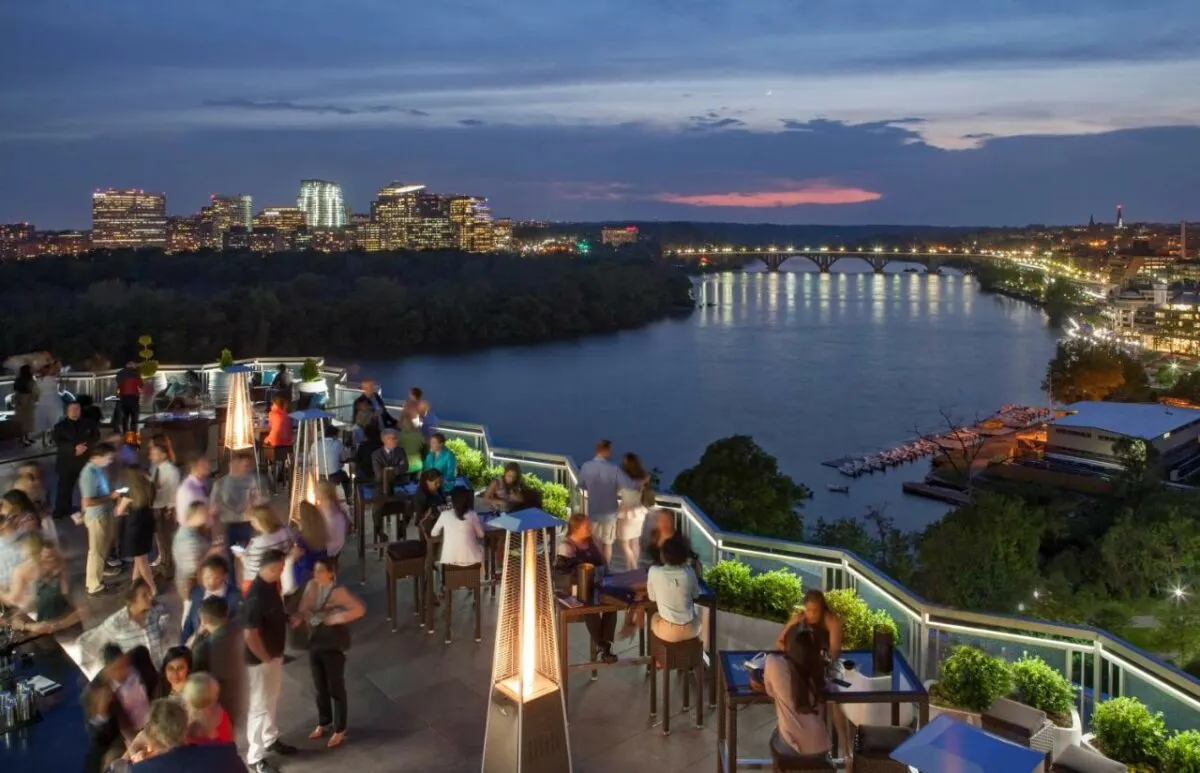 Why is it good for couples? Good price, good facilities, good location, nice decor, what's not to love?!
If you want one of the most romantic hotels in Washington DC for couples this is a great choice!
Why? Well it is a combination of its soft color palette, elegant curved design elements, and its prime location that makes this hotel a total winner.
The location is totally ace. Situated on an absolutely stunning tree-lined street, the hotel is a mere 84 steps away from DuPont Circle. It has a real royal and regal vibe as it is surrounded by grand townhouses and foreign embassies, which inspired its name.
The Ven had a total makeover in 2014 which has made the hotel nothing short of beautiful. The check-in process at the reception desk is swift, relaxed, and welcoming.
Stepping into the lobby, you'll notice a shift from bold jewel tones to soothing muted shades, creating a tranquil atmosphere encompassing multiple chic seating areas and an elongated, gleaming bar.
A few years ago they added another restaurant, a rooftop pool and lounge, and a basement Art Museum which features really cool artists on a rotating display.
The rooms are compact so don't expect huge rooms here but they have been designed beautifully with nearly floor-to-ceiling windows that fill the space with natural light. Despite their compact size (with equally compact bathrooms), clever design choices in shades of grey and striking teal create an illusion of spaciousness.
Why this is a great hotel for couples is due to the great food and beverage options available at the hotel. It is always nice to be able to go get a drink from the bar. The restaurants at the hotel Fred and Stilla are consistently rated high.
There is also a awesome fitness centre at the hotel for gym junkies and leisure activities like Foosball and a giant wall-hung Scrabble board for added entertainment.
Pros:
Stunning rooftop pool;
Great bars and food and drink options;
Price is reasonable as low as $150 a night in low season (winter);
Great location in downtown DC.
Cons:
A nice hotel but not that unique.
Book your stay here | Read all reviews here
Why is it good for couples? This hotel is awesome for couples traveling on a budget who either 1. don't mind driving or 2. want a hotel near the airport. We have paid as little as $70 a night at this hotel with all taxes and fees included which is insane for Washington!
We often stay at La Quinta hotels while we are traveling. What I really like about about La Quintas is that you know what you are getting. It is very rare that we stay in a La Quinta and it turns out horrible. For that reason, they are always a great choice when traveling as a couple.
There are lots of La Quintas all over Washington DC but some of them are older and more worn out than others. La Quinta Dulles Airport is a newer La Quinta so the rooms are very clean and comfortable.
It is a no frills hotel located on the outskirts of Washington DC that we would recommend if you are traveling on a budget or going to the airport.
Pros:
Clean and comfortable rooms;
Great price as low as $70 USD a night;
Close to the airport
Cons:
About a 30 minute drive to downtown Washington DC.
Bar area was average and no restaurant onsite.
Book your stay here | Read all reviews here
***
See more Washington DC fun: