There is seriously no shortage of romantic mountain getaways in Virginia as it is home to some of the best mountainous areas in the country including Shenandoah National Park and the Blue Ridge Parkway!
We recently flew into Washington DC and thought due to the time of year (October) it was the PERFECT time to take a romantic getaway in VA! I'm a big fan of fall colors so I think September – November is the ideal time for a Blue Ridge Parkway road trip but you can go literally any time of year and have a blast.
Our recommendations below can be followed in order as a road trip from Washington DC. You will ideally want at least a week to follow this route.
Our TOP romantic getaways in VA mountains detailed below:
Our TOP Romantic Mountain Getaways in Virginia to Take This Year!
Shenandoah National Park
If you are looking for pretty mountain getaways in Virginia, Shenandoah National Park has to be at the top of your list!
Shenandoah National Park is one of the best weekend getaways in Virginia from Washington DC as it is only an easy 1.5 hour drive away.
We have been to Shenandoah National Park a few times now in our opinion the best time to year to visit is fall as the colors are just magic. We have previously done a Shenandoah road trip from New York which is around a 4+ hour drive.
Shenandoah National Park is certainly one of the most underrated NPs in the US but we think it is well worth a visit. It has great hikes and is particularly beautiful in Fall.
As with all National Parks, there is an entry fee to visit. It is $30 for a vehicle for week-long access to the park or if you are planning to visit more than 1 National Park, it is a great investment to purchase an America The Beautiful Pass which gives you year long access to all National Parks for only $80.
We usually try to visit a few in a few and think the America The Beautiful Pass is very good value.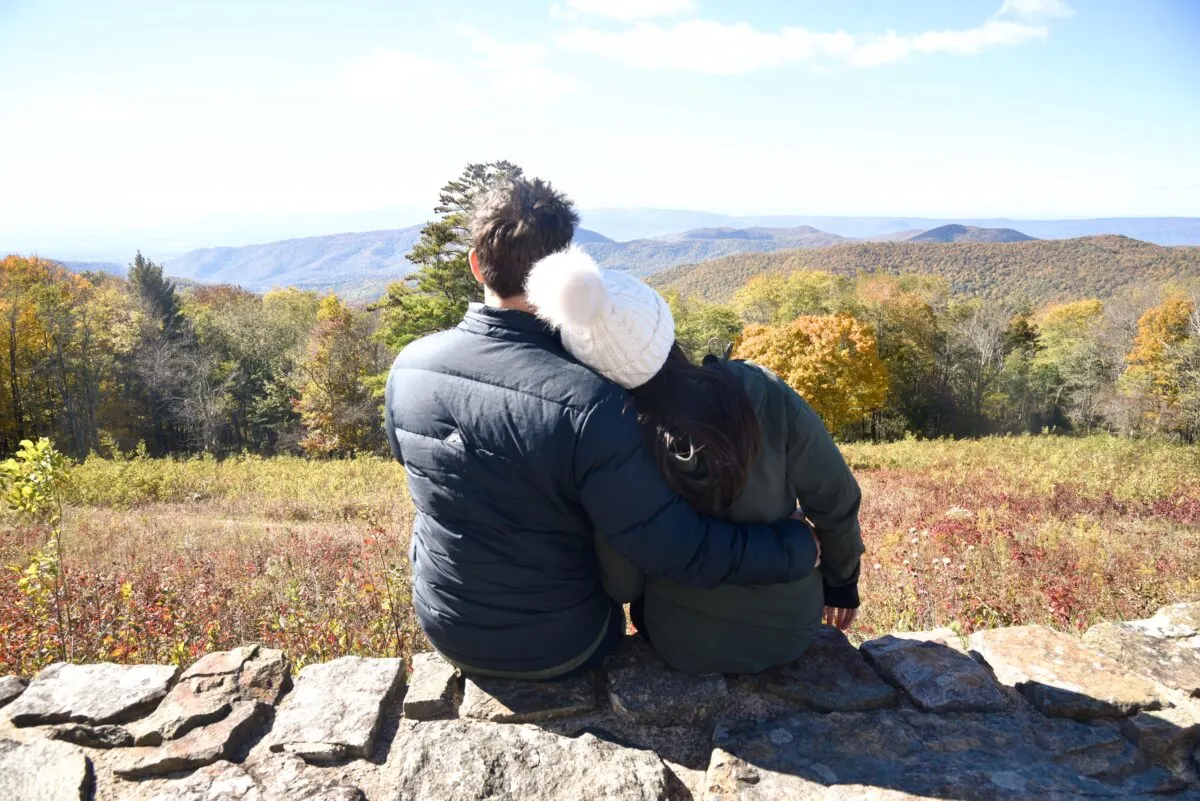 Harrisonburg VA
Our favorite place to stay near Shenandoah National Park is the university town of Harrisonburg VA. It is one of the most romantic getaways in Virginia for sure.
The first thing you will notice about this town is the very large stadium, right in the middle of town. Along with football games, this often hosts concerts and other activities. You can check out events in Harrisonburg to see if there is anything interesting on when you plan to visit.
Being a country town, it often hosts country music concerts.While we were there, Old Dominion were playing but we couldn't get tickets which we were sad about so make sure you plan in advance!
If you want some activities outside Shenandoah National Park, Harrisonburg doesn't disappoint.
The downtown area is nice and has quite a few restaurants and cafes to enjoy. We were very excited to try the iconic Bison Burgers at Local Chop & Grill House, one of the best rated restaurants in town, but were left a little disappointed.
I think it might've been a bison meat blend which I wasn't impressed with. It was still a cool atmosphere inside however and we got great service!
We also visited Jimmy Madisons in downtown Harrisonburg and really enjoyed our meal – it exceeded our expectations.
I ordered the BBQ Platter with pulled pork and brisket, sides of Mac & Cheese and the famous Jimmy Sprouts which was outstanding (Caramelized Brussels Sprouts, Sweet Pecans, Candied Bacon and Honey Thyme Vinaigrette). The meal was huge and I couldn't fault it.
My husband ordered the Wafflewich which included Southern Fried Chicken, a Belgian Buttermilk Waffle, hickory Bacon, apple Butter, aged cheddar and maple syrup which was equally as good as the BBQ platter and possibly better.
All the meals were decently priced and had very generous serving sizes. Jimmy Madisons is also a full scale whisky bar so if you enjoy whisky you will be in heaven here.
The White Oak Lavender Farm is a popular place to go outside the NP. Don't miss their delicious lavender ice cream which is worth the calories.
We also really enjoyed the Bluestone trail, a 1.5 mile easy flat path in downtown Harrisonburg VA as it had a cool lake with large fish and great fall colors. If you are in town for sometime and you feel like a game of Pickleball, there is also courts there which can be hired out.
If you have packed your fishing gear (permit required) with you or just feel like an easy walk closer to town, Lake Shenandoah is a great place to go. It has an easy 1.6 mile loop trail around a picturesque lake where you can fish or boat. A great stroll in the afternoon which will only take you around 30 minutes to complete. Dogs are permitted.
Inside the NP Skyline Drive is a 'must do' as it is picturesque everywhere you look. If you are an active couple, there are also plenty of great hikes to do in Shenandoah.
The most popular hike in Shenandoah is the strenuous Old Rag loop which is 9.3 miles in length. It takes at least 7 hours to complete so it is not for the faint of heart!
We instead enjoyed the shorter Rose River Falls loop which is 3.8 miles long and took us around 2 hours give or take to complete. It passes by some of Dark Hollow Falls (another popular trail in the NP).
Rose River Falls was the perfect trail to complete in the fall as the colors on the walk were absolutely stunning.
Another trail we really loved in Shenandoah is Bearfence Mountain. There are two ways to the top of this hike.
One includes a rock scramble (1.4 miles roundtrip) with clear drop offs which is not suitable for anyone with a fear of heights and the other route is an easy 1.1 mile roundtrip with a really nice view at the top.
Accommodation in Harrisonburg
Harrisonburg is a big town with all the usual hotel chains and plenty of accommodation options. Our favorite place to stay in Harrisonburg is without doubt Hyatt Place. It has really good reviews for a reason.
Make sure you book a room on a high level with a mountain view – it is well worth the extra few bucks (usually only about $10-$20 a night the difference).
At the hotel is a great gym, indoor pool and stunning rooftop restaurant The Ridge Room which is ideal for a romantic dinner.
We weren't sure what the food at the Ridge Room restaurant would be like but we were blown away by the quality.
The flatbread/pizza was beyond delicious as were the brussel sprouts. I wasn't a huge fan of the pork belly or the meatballs. If you are staying at the hotel you also get 20% off your bill for food at the restaurant which is really great as it makes it super affordable.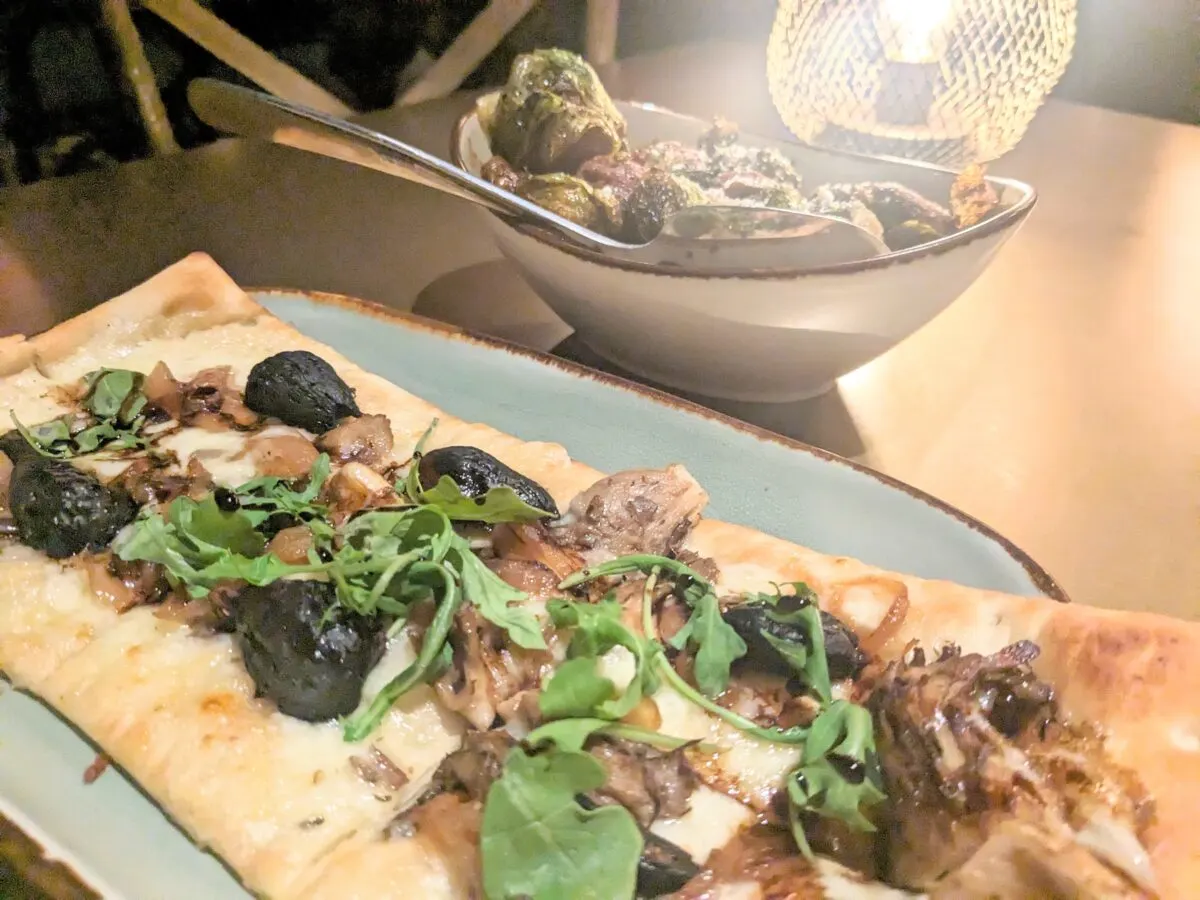 Blue Ridge Parkway
One of the best places for a romantic getaway for couples, especially in Fall is a trip to the Blue Ridge Parkway. There are a few towns directly located along the Blue Ridge Parkway which are ideal for a couples retreat.
The best time of year to visit the Blue Ridge Parkway is between September to late October when fall is in full effect. There are so many great spots that you can pull over and watch the sunset with a glass of bubbly or a Starbucks pumpkin spiced latte -whatever is your jam!
The Blue Ridge Parkway is totally free to enter so it is one of the most affordable places to go for a romantic getaway in VA!
Waynesboro VA
Waynesboro is located around 2 hour 40 minutes drive from Washington DC.
What makes the town of Waynesboro special is not the town itself but its proximity to the Blue Ridge Parkway, only being around 10-15 minutes from the downtown area to the Blue Ridge Parkway entrance.
It is the first town in Virginia located along the Blue Ridge Parkway and a really nice place to start a Blue Ridge Parkway road trip!
We saw a black bear on this section of the Blue Ridge Parkway which we were really happy about (of course from the comfort of our car!) There are 5,000 to 6,000 black bears that call Virginia home but we have only got the chance to see one once.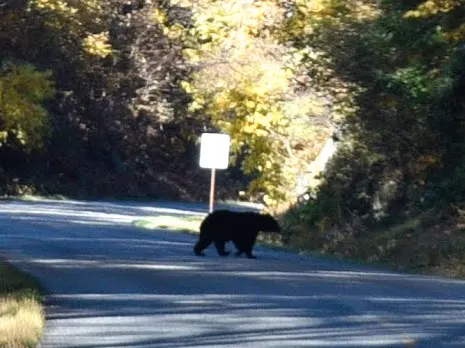 Like all areas of the Blue Ridge parkway, there are plenty of great overlooks to stop, take a photo and even have a sunset picnic, sans bears hopefully!
If you want a bit of activity, one of the most iconic hikes in the area of the Blue Ridge is Humpback Rocks which is a 2 mile out and back hike or a 4.3-mile loop.
We really enjoyed the 2 mile out and back hike but I will note that it was rather strenuous as it was a real slog on the way up.We are in our 30s and of reasonable levels of fitness and still needed to take regular breaks to reach the top. Luckily, there were benches almost the entire way up.
It takes around 40 minutes to hike up and around 30 minutes to hike back. Don't be turned off if you are a little unfit as there were people of all ages completing the hike. There was an older couple in their 80s behind us, struggling a bit but they still made it!
The view at the top was absolutely magic. If you are afraid of heights like I am, note, there is a really sketchy rock scramble right at the top which has a sheer cliff to the side and would be downright dangerous in wet weather.
While my husband did the scramble, I enjoyed a really nice view without needing my "Lion King moment". The hike was still worthwhile even without perching on the top rocks. A sensible family with small kids also opted out of the cliffside climb.
Most of the hikes in this section of the Blue Ridge are quite challenging but there are still some nice shorts strolls you can do if you don't want to exert yourself.
Blue Ridge Tunnel is one of the most popular short walks in the region however, you will need to use a head-torch if you want to hike it as the tunnel can get dark. Head torches are always a good idea for safety in any event if you plan on hiking in case you miscalculate the time and end up hiking back in the dark.
Greenstone Overlook has a nice short 10-15 minute trail if you want to stretch your legs. For some reason, there was an abundance of ladybugs on this particular trail which were super cute.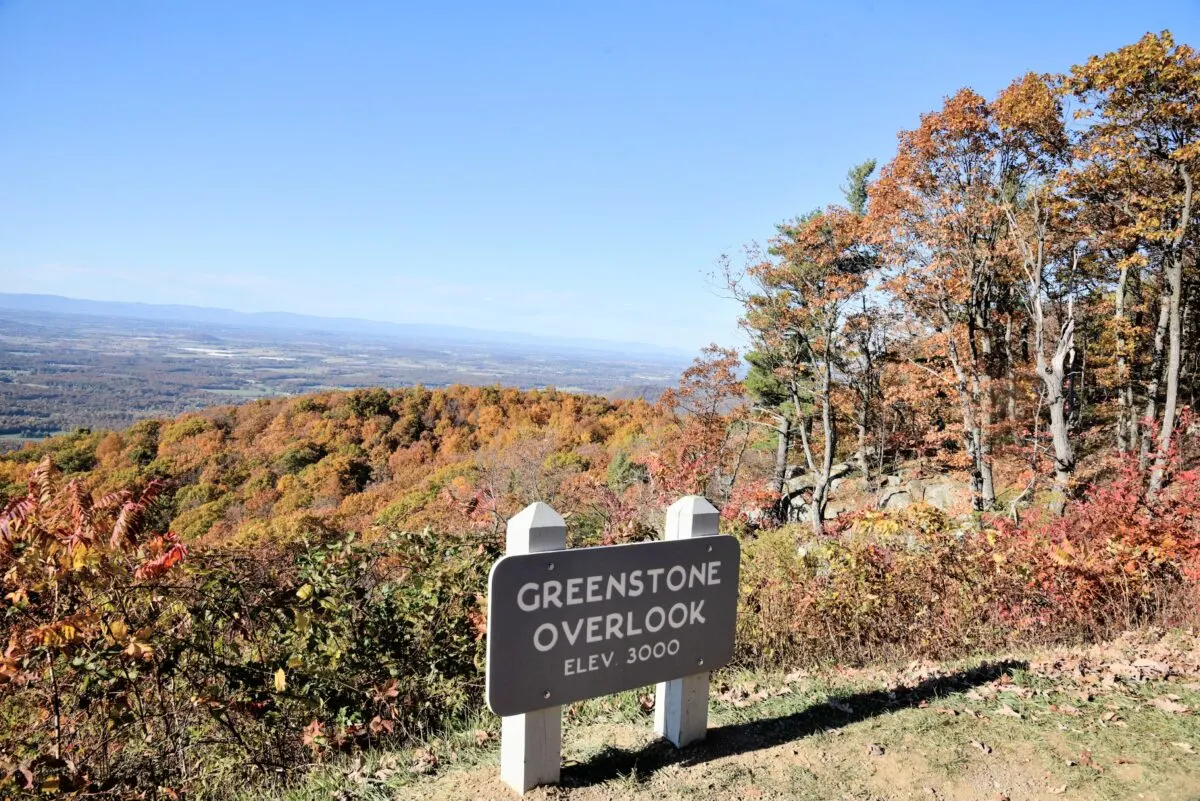 Dripping Rock is another easier trail, an 2.8 miles out and back trail which may be longer is a lot easier than Humpback Rocks.
Note: You may be one of the few people completing this trail as there is only car parking for around 2-3 cars. Due to just seeing a bear nearby and not having any bear spray on me, I wasn't that big on hiking off into the wilderness alone. If you want to do this walk, make sure you bring some bear spray with you for protection. Black bears don't tend to be the most aggressive but I don't fancy being one on one with one with no protection.
In town, there is a short 1.2 mile walk along Waynesboro's South River Greenway. We parked and walked part of it until we found it was closed due to construction. The walk was lovely but note there is a few junkies that unfortunately hang out in this part of town.
If you are thirsty after a long day hiking, Basic City Beer Co. is a cool place to check out in town. They have a range of unique beers and the pizzas that are top notch!
Accommodation in Waynesboro
There are quite a few options for accommodation in Waynesboro. We really liked staying at the newly opened Holiday Inn in Waynesboro which was conveniently located just 10 minutes drive from the Blue Ridge parkway entrance.
Brand new hotels are always a good option if you can find them as you know they are going to be modern!
During the week you can score rates as little as $100 a night which is a total bargain given the quality of the hotel. The included breakfast is also really quite nice with good quality yogurts and fruit which is pretty rare on an America hotel buffet.
Roanoke VA
Roanoke is only located about 15 minutes drive from the Blue Ridge parkway entrance. If you are traveling from Washington, it is about a 4 hour journey to reach Roanoke.
The first thing you will see when you drive into town, especially if you arrive after dark, is the iconic Roanoke Star, which shines bright over the city and is considered the Hollywood Sign of the East Coast. If you want to get up close and personal with the star, it is a 3.3 miles out and back hike which takes around 2 hours to complete. If you are feeling lazy you can also drive up 😉
Driving along the Blue Ridge parkway is absolutely magical in its own right and there are plenty of spots to stop and enjoy the view.
There are also lots of fun hikes to do in this section of the Blue Ridge parkway. One of our favorite hikes is the Apple Orchard Falls which took us around 2 hours to hike. It is an easy hike downhill (although you do need to watch your step due to the tree roots and rocks) to a very pretty waterfall. The waterfall is best after heavy rain.
The hike uphill is a bit of a challenge so don't expect a walk in the park if you do decide to take on this hike. We saw a family on the hike with a toddler and they were really struggling carrying him uphill.
Apple Orchard Falls is located about a 50 minute drive from downtown Roanuke through the Blue Ridge Parkway.
If you want a more relaxing and romantic stroll, the Otter Lake Trail is a really nice place to stop. A trip around the lake is 1-mile in length and will take around 45 minutes to complete. It is mostly flat with a few short strenuous climbs.
I noticed there is a nice hotel directly in the Blue Ridge Parkway overlooking the lake called Peaks of Otter Lodge which looked lovely and had balconies directly overlooking the lake – very romantic!
If you want a more challenging hike, you can attempt the iconic Triple Crown of Dragon's Tooth, McAfee Knob and Tinker Cliffs. Each section is moderate to strenuous so be prepared! The most iconic and most photographed of the three is McAfee Knob which is a 7.8-mile out-and-back trail. It takes 4-1/2 to 5 hours to complete.
If you spend some more time in the region and want to do something a bit different, you can tube or kayak the Upper James River Trail.
Roanoke is a very outdoor orientated town but the downtown area is also lovely and worth checking out and grabbing a bite to eat at one of the many restaurants in the area.
They serve cuisines from around the world. We ate Cambodian at one of the most popular restaurants in the city called Wok N Roll Kitchen. The only thing a bit strange about it was the owners appeared to be Spanish, not Cambodian.
If you want a cheap and iconic lunch, drop into the classic 1930s 10-stool diner called Texas Tavern which serves $2 burgers. Note: they are a cash only establishment.
Accommodation in Roanoke
There are lots of hotels in Roanoke and we have stayed at a few.
If you want to stay directly in the downtown area with access to restaurants and shops, Hampton Inn and Suites is a nice spot. It is difficult to get a carpark in downtown Roanoke so staying in the downtown area if you want to explore the town is a good idea.
If you want something a little more upmarket, the very classy German inspired Hilton hotel is really nice. It will set you back around $300 a night during weekdays and $600 a night on the weekends but it is a very special experience which is perfect for an anniversary trip or honeymoon.
The Liberty Trust Hotel is another really nice iconic Edwardian era building which was first constructed to house the First National Bank. It has old fashioned charm with a luxurious appeal including beautiful French renaissance architecture and Beaux Art designs which were carefully preserved. It is in a great location in the heart of downtown with an incredible view of the Blue Ridge Mountains. Even if you opt not to stay at the hotel, it is worthwhile to go inside to check out the stunning marble columns that frame the lobby.
If you are happy to stay a bit out of town for a better deal, we liked the clean and comfortable and reasonably priced Springhill suites by Marriott. While they are not located in the downtown area, they offer a complimentary shuttle to transport guests. We opted for this hotel due to the great reviews and the lounge suite in room, which I personally prefer to sitting on a bed watching TV. The hotel decks out in full form for Halloween.
Pro Tip: Stay in Salem VA for a more affordable Virginia Weekend Getaways for Couples
If you are looking for affordable romantic getaways in Virginia while visiting the Blue Ridge Mountains you can choose to stay in the nearby town of Salem VA instead of Roanoke. Hotels in Salem tend to be more affordable than Roanoke and they are as good if not better quality.
We considered staying in the Holiday Inn and Suites in Salem but ended up staying at the Holiday Inn and Suites in Roanoke instead as it was newly built in 2020 so we thought paying a few extra bucks was worthwhile.
Mountain resorts in Virginia

which are Destinations in their Own Right

There are lots of really nice resorts in Virginia mountains which are destinations in their own right. Here are a couple which you might want to check out:
***
More VA fun: