If you want to know the best time to visit Amish Country PA – we have you covered.
I really like learning about different cultures and different ways of life, it fascinates me, so when I was last in Washington DC, making the 2.5 hour drive to visit Amish Country PA was an absolute no brainer!
My visit did not disappoint. Lancaster PA has now taken over Ohio with the largest worldwide Amish population with around 30,000 Amish living in the area.
It was amazing to see horse and buggys drive around Amish Country. It gave me a real insight into what living in the 1700s would have been like!
The Amish came to America in the 1700s from Germany to escape religious persecution.
Nowadays, there are over 350,000 Amish living in the United States, Canada and a few other places around the world. They have recently set up an Amish community in Argentina as purchasing farmlands have grown quite expensive for young married Amish couples to afford in the US with the increasing cost of land and housing.
Amish are very clever and have lots of different businesses throughout Amish Country PA which you can visit and learn more about their community.
Visiting the Amish businesses in Amish Country PA was really fun as they have the BEST food which they make themselves on their farm, so it is a true farm to table experience.
What to book before you go:

🏨 Best Hotels near Amish Country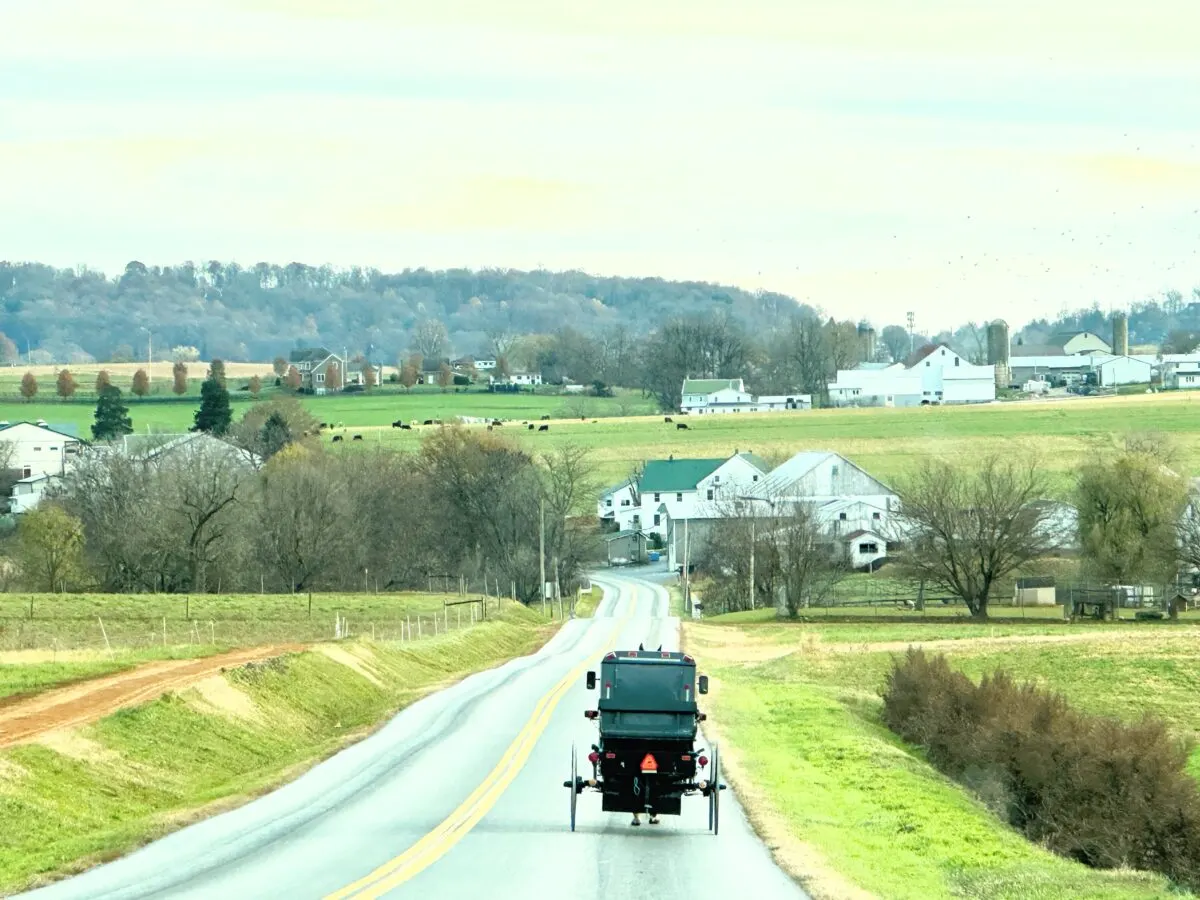 Where is Amish Country in PA & How to get there?
Where is Amish country in Pennsylvania?
The Amish live in the countryside areas around 10-15 minutes drive from the city of Lancaster PA. We would recommend you base yourself in Lancaster PA and drive or get a tour into the Amish communities. You could also base yourself in the town of York but it is a 30-40 minute drive from there.
There is plenty of accommodation options in the nearby town of Lancaster where you will stay in civilization and won't be required to go without electricity like the Amish!
Lancaster PA is located an easy 2.5 hour drive from both Washington DC and New York City.
The best way to visit the communities on your first day is with an Amish tour as they will show you all the areas where you can see Amish and visit their businesses.
We really liked going on an Amish tour as we got a tonne of really interesting information about the Amish and their way of life.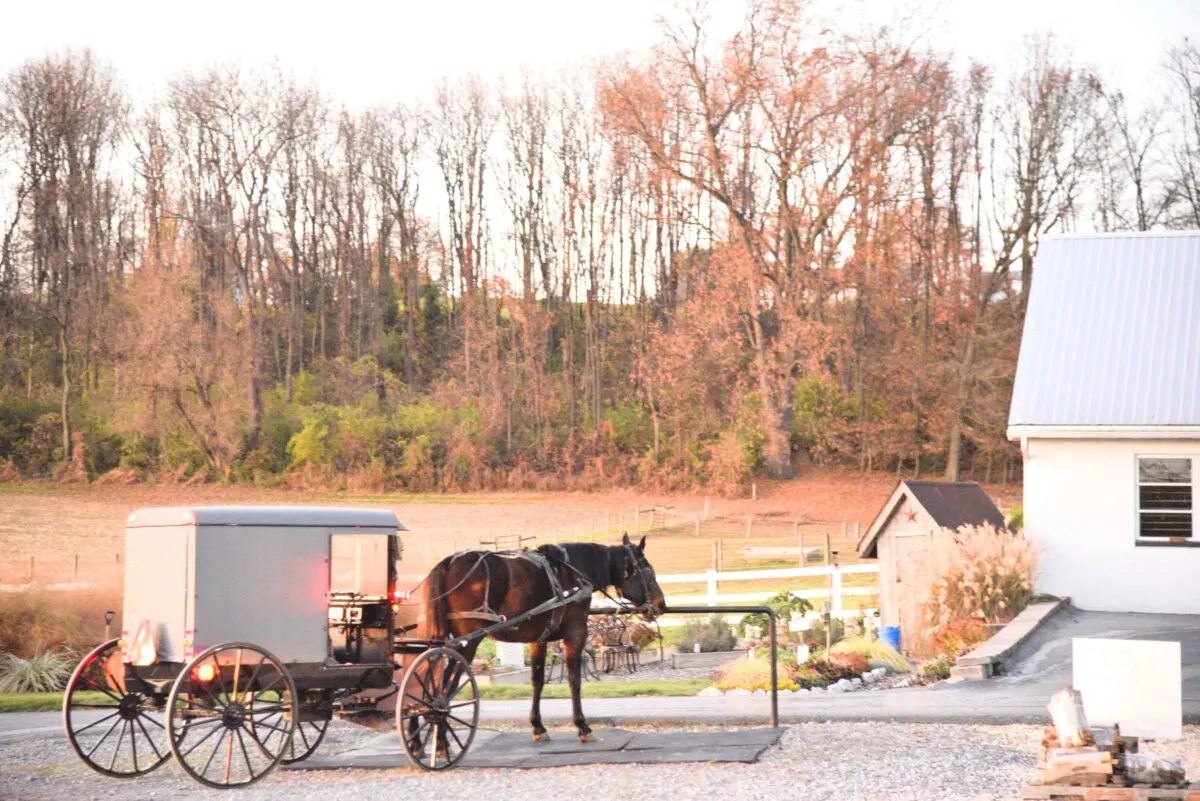 Best time to Visit Amish Country PA?
Like most places, the best time to visit Amish Country, PA is in Spring or Fall, when the weather is more mild and there are less crowds.
Amish Country PA is a popular weekend destination from both Washington DC and New York and tends to be busy year round. If you do intend to visit, it is always best to book in advance, especially if you wish to visit on a weekend.
Note: Amish have a day of rest on a Sunday so it is always best to visit during the week or Friday/Saturday if you want to make a weekend trip. No Amish businesses are open on a Sunday as they consider Sunday a holy day where they attend church and rest.
The best place to stay to explore Amish Country PA is Lancaster PA, which (depending on where you stay in Lancaster) is only a 10-20 minute drive to Amish Country, where you can visit Amish and their businesses.
See here for the best rates during your dates.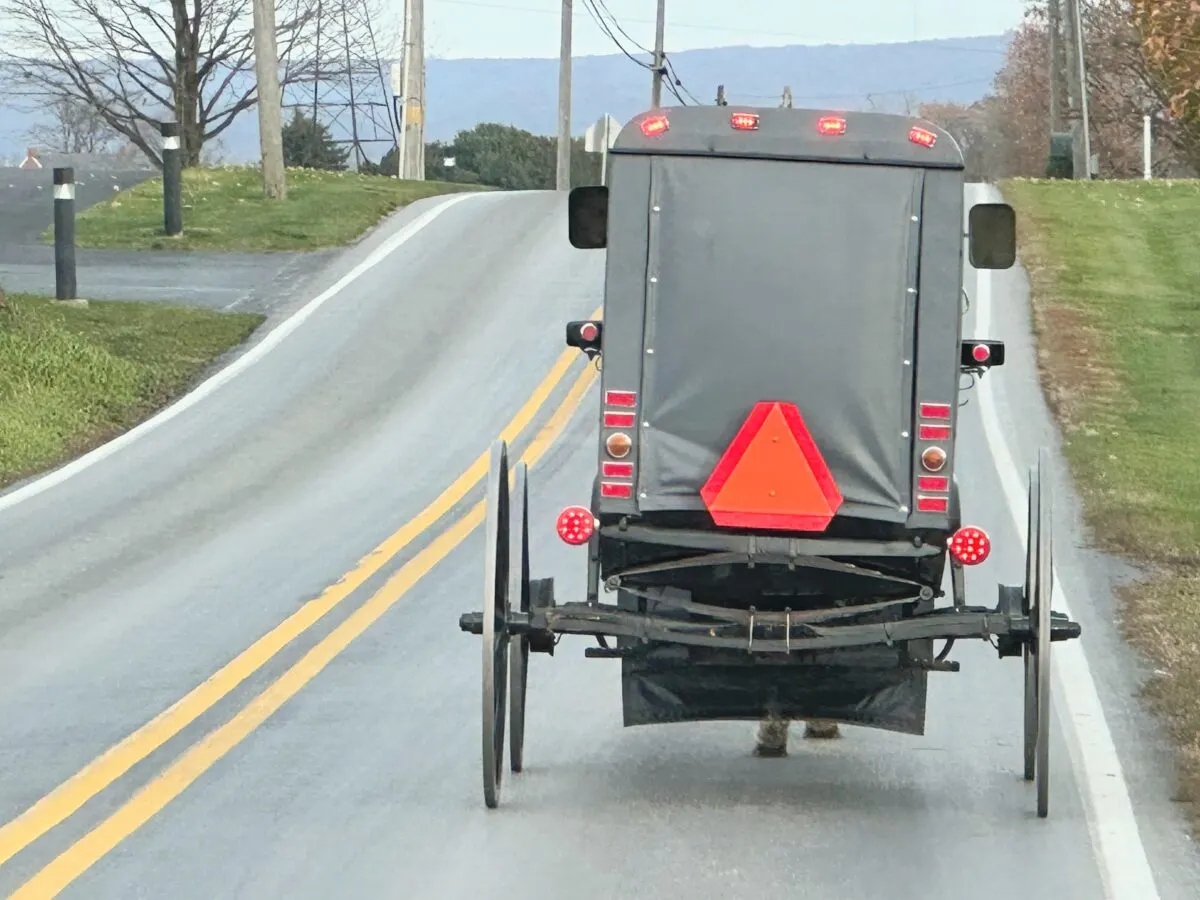 Summer in Lancaster PA
Summer is a very popular time to visit Lancaster PA and Amish Country. You can expect some hot days in the region with temperatures ranging from a high of 86° to a low of 65°.
In our opinion, summer is not the best time to visit Lancaster PA. I don't think it is the best time to visit Pennsylvania in general. Keep in mind, I am not a fan of being really hot weather or crowds.
Due to school calendars, summer vacations and 4th of July celebrations, July is the busiest month for tourism in Lancaster, PA which is followed by June and August. For this reason, I would say July is the worst time of year to visit Amish Country due to heat, crowds and expensive rates.
If you are planning to visit during those times, it is always advisable to book your hotel and Amish tours in advance as they book out ahead of time.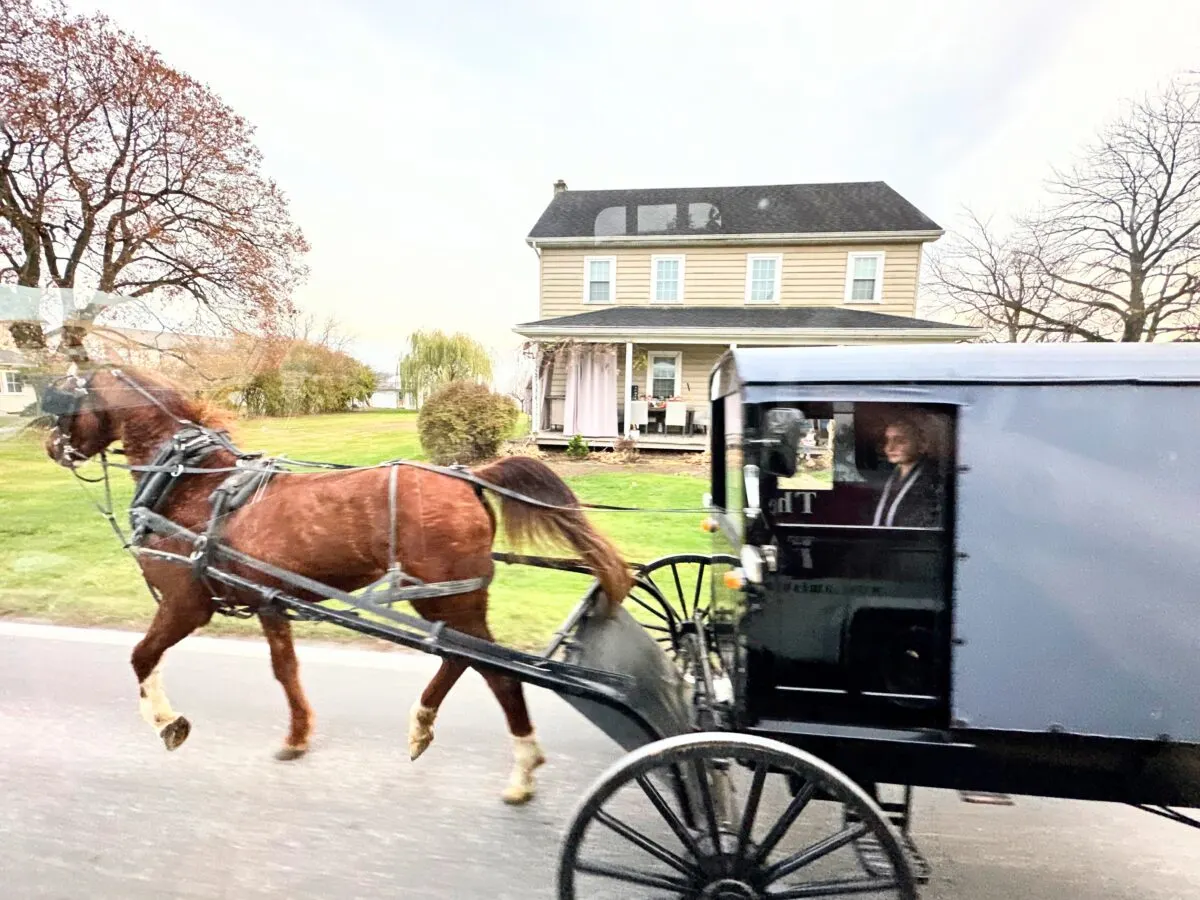 Fall in Lancaster PA
Fall is a stunning time to visit Amish Country PA with the best time to visit being from late September to late October. During this time, there is beautiful fall foliage in the area which makes the region absolutely picturesque along with the rolling countryside and barn-houses. It stays light as long as 6.30/7pm during this period and the weather is perfect (High 77° / Low 56°).
There are also great fall activities at this time of year. For example, the Amish Farm and House has a fun corn maze which is open from mid-July through to October.
We visited Amish Country at the end of Fall, in November, just before Thanksgiving. Temperatures were mild at this time of year and there was no snow (High of 55°/Low of 30°). I found myself wearing a light jumper throughout the day and a larger parker as the evening set in.
Thanksgiving is not a good time to visit Amish Country PA as it is a religious celebration for the Amish community and all the Amish shops and businesses will be closed for Thanksgiving. You can find non Amish restaurants open for Thanksgiving in Lancaster however.
Winter in Amish Country PA
Winters are cold in Lancaster PA but not as cold as other parts of the country!
It does not snow all the time in Amish Country PA but once in a while it gets quite a bit of snowfall. There is on average 9 days of snow annually in the area. A white Christmas in Lancaster PA is far from guaranteed and only happens around 10% of the time.
January is the coldest month in Lancaster PA with an average high of 38° and an average low of 22°. The worst part about visiting Amish Country during the winter is not the cold but the short days. You can expect it to be getting rather dark by 4pm/5pm.
If you are willing to get up early and do your activities earlier on in the day, you will be rewarded with much lower prices by visiting in winter such as lower hotel rates.
It's not that bad visiting Amish Country in winter as unless you want to do an Amish tour with a farm experience, most of the activities in Amish Country involve visiting shops, cafes and restaurants which are indoors and warm!
We would not recommend visiting the Amish over Christmas as the Amish do celebrate Christmas and shut their businesses down over this religious holiday.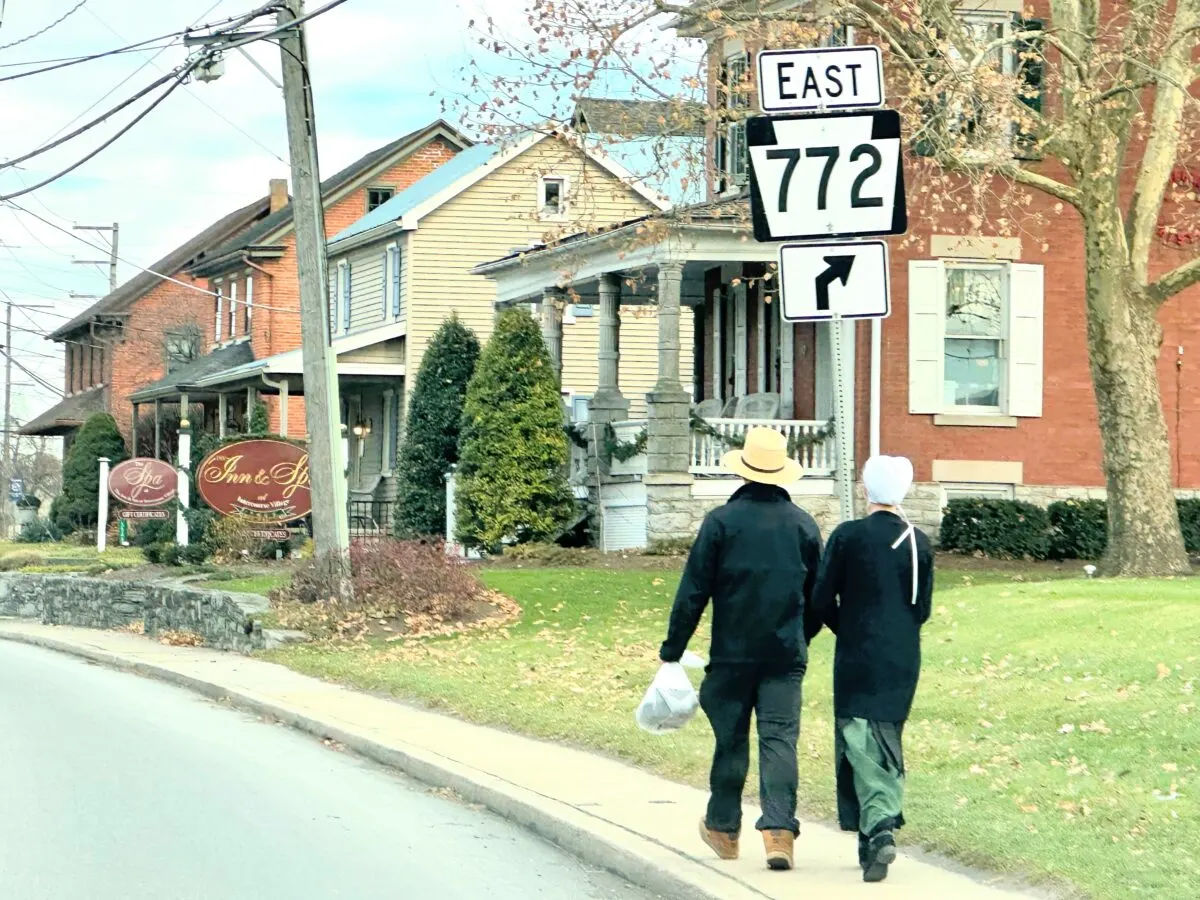 Spring in Amish Country PA
Spring is a really lovely time to visit Lancaster PA as like Fall, temperatures are more mild and the flowers are in full bloom in the countryside which is a magical experience.
There are a few Amish businesses which sell their beautiful flowers during Spring and you can purchase fresh flowers from boxes in front of their homes with payment being made in cash via an honesty box.
Tip: It is always best to have some cash on your while visiting the Amish as some of the businesses are cash only.
Temperatures range from a high of 74° to a low of 51° in spring in Amish Country PA.
Where to stay to visit Amish Country PA?
The best place to stay in Amish Country PA is Lancaster which is a town 10-15 minutes from the countryside where the Amish live. Lancaster is a city with all the modern amenities like Walmart, Starbucks etc and of course electricity 😉
You can book your hotel during your dates in Lancaster here.
We stayed in two really clean and comfortable hotels during our time in the area: Tru by Hilton and Holiday Inn Mt Joy.
The Holiday Inn I would say had the slight edge, just because it was newer however, the staff at Tru by Hilton were much nicer (even giving us free popcorn, water and a good room at check in) plus it was much closer to Amish Country, being a 10 minute drive to the countryside rather than a 20 minute drive.
Note: If you like to heat up something in a microwave in your room, I will note that the Holiday Inn has in room microwaves whereas the Tru by Hilton doesn't. Tru by Hilton Lancaster PA does have in room fridges for your Amish goodies however.
12 Things I learnt about the Amish from visiting Amish County PA
I thought visiting the area was quite an educational experience as I got to learn a lot about Amish culture!
Here are a few things that I learned if you are interested in getting some facts before your visit. I'm sure you will learn even more while you are there!
Tip – Going on an Amish Tour is definitely one of the best things to do in Amish Country PA and where you will learn tonnes about Amish culture and life.
1. The first language of the Amish is not English
The first language of the Amish is not English, it is Pennsylvania Dutch which is a language developed in rural America. It is more like German than Dutch.
Amish only learn English when they go to school and they only go to school to the eighth grade! After the eighth grade, they go out into the workforce.
Pennsylvania Dutch is the language they speak to each other in and the language they speak at home (mostly). I did notice the Amish servers at Hometown Kitchen would speak English to customers who were Amish rather than Pennsylvania Dutch.
2. The Amish live among the English as neighbors
The Amish refer to anyone who isn't Amish as "The English". This is because English is the first language that they speak and as mentioned above, English is not the first language that the Amish speak.
I expected that the Amish would live in a community of only Amish on a communal farm.
That is not the case. At least not in for Amish in Pennsylvania.
The Amish live right beside and among the English and Mennonites (a less extreme form of Amish who can drive cars and have electricity).
The houses are not always huge properties either. I was surprised that a lot of the properties seemed quite small, with just a barn big enough to store their horse and buggy.
3. The Amish are no longer only farmers and some of them are quite wealthy!
One misconception that I had about the Amish is that they worked only as farmers and totally lived off the land. As in did not have jobs or bank accounts.
I was wrong about this. Some Amish aren't even farmers at all!
Amish are actively supplementing their farming earnings (if even they are a farmer) with other business ventures including some of the businesses that you will visit and will undoubtedly purchase from if you are in the area. You will see that some Amish have big fancy houses and are even doing renovations/extensions.
As for the women, they are allowed to work outside their homes until they are married. After they are married they are allowed to work but only from businesses within their own homes.
Some of the women in the Amish community have become very savvy and have created great home businesses like candle shops, flower shops, quilt shops etc. The Amish have a fabulous work ethic.
4. The Amish women must not have buttons on their clothes
There are no buttons on Amish women's outfits as buttons are too fancy. Amish believe that everyone was made equally and that you shouldn't be "showing off" with fancy patterns, buttons etc. Instead, pins or in some cases clip buttons are used to hold dresses together.
If you drive past an Amish graveyard in the area you will notice that the same principle applies for graveyards and every stone is exactly the same as no-one is better than each other.
Dresses must be a plain color and not red as it draws too much attention. The dress on the far right is used for Sunday service and for Amish weddings. Amish do not use big white wedding dresses the English use – they are too fancy. They do however have very big weddings of 200+ guests.
Note: Mens clothing does use buttons which I find outrageous!
5. The Amish near Lancaster PA DO have flushing toilets and DO use toilet paper
Although other Amish groups may not, the the Amish near Lancaster PA do have flushing toilets and use toilet paper. The only places where an outhouse is used is in the Amish schools.
Prior to visiting, I started watching some videos by a lady called Lizzie Ens which left the Amish community. She talks here about how they did not use toilet paper in her Amish community and only used scrunched up newspaper to wipe their booties.
When I researched it further, turns out Lizzie grew up in the strictest of the Amish communities, Swartzentruber Amish community in Ohio, and life is a bit different for the Amish in Amish Country PA.
6. There is no polygamy in the Amish
The Amish are not Fundamentalist Mormons and do not believe in the practice of polygamy. Marriage for the Amish is between one man and one woman with no exceptions. The Amish do not accept gay members or LGBTIQA+ community.
A few years ago I visited the Polygamist town of Hilldale in Utah and driving through was a very different experience. We were not welcome in their community (that was made quite obvious) and were followed by a black van when we entered.
In comparison, we felt very welcome in the Amish communities in PA.
7. Amish men can only start growing their beard after they are married
Amish men can only start growing their beard after they are married. You will never seen an unmarried Amish man with a beard.
Ever wondered why they cut only their moustache off? We learnt it is because they did not want to look like the people who persecuted them in Europe, who had beards with moustaches!
8. The Amish don't use electricity but they don't live in the dark either!
The Amish don't use electricity but they don't live in the dark either! They use propane gas to light the house and even to cook with. Even the fridge runs on propane gas. As you drive around, you will notice big propane gas barrels next to their houses.
They also are a fan of solar and the use of batteries.
The reason why they don't use electricity is because they don't want to be connected to the power grid which would mean they are connected and dependent on the outside world. They believe you should "Live in the world but not be a part of the World".
9. The Amish don't drive cars but horse and buggy or non electric scooters are okay!
The Amish don't drive cars but horse and buggy or non electric scooters are okay! Some Amish communities use bikes also to get around by the Amish in PA don't allow bikes.
They are allowed to travel in a car but a non Amish person must drive it. Boats are fine but planes are not allowed.
10. No TV, No Internet and No Mobile Phones!
The Amish reject modern technology like TV, internet and mobile phones. They may have a phone for business but it must stay within the business premises and never come within the home. Some Amish communities have one phone per community in a phone box.
Amish can stay in regular hotels when they go on holidays and on these occasions they do use electricity and will do things like watch TV.
Some Amish businesses will have a website set up but it will be set up and run by an English person and not an Amish.
11. Amish don't drink but some do smoke
No Amish restaurants will serve alcohol but I did see a few Amish men smoking around town. At the Amish Farm
& House you will also learn that some Amish farmhouses grow their own tobacco.
The John Hay Cigar shop in Intercourse PA is a popular non Amish shop in the area.
12. The Amish are Not Allowed Music
We realized that the Amish don't listen to music when there was no music playing in the Amish restaurants we dined at.
Lizzie Ens who left the Amish told a story about a guy who wanted to join the Amish and was caught playing music while riding his buggy around town. When he was told that the Amish don't listen to music and he can't do that, he would cover his ears anytime he passed by a non-Amish shop which was playing music.
FAQ
What is the best day to go to Amish country? Monday through to Saturday are the best days to go to Amish County as Sunday is a religious day of rest for the Amish and therefore they will be in church and their businesses will be closed on a Sunday. Religious holidays like Thanksgiving and Christmas also aren't good choices to visit Amish Country as no Amish businesses will be open on religious holidays.
Tuesdays are a good day to visit Amish Country as the Root Country Market & Auction is on all day Tuesday which is very interesting. The Amish auction off lots of different things from livestock to fruit, vegetables and canned goods at bargain basement prices. There is also a really cool market where you can buy lots of fresh produce, fresh bakery items and knick-knacks without participating in an auction.
Can you go to an Amish Church on Sunday? No, this is most probably not possible as Amish hold church in their own private homes.
How many days do you need in Amish country? At least 2 full days are ideal to explore the area.
Is it worth visiting Amish country? Absolutely! If you have an interest in the Amish and their way of life it was a very rewarding experience.
What is the best Amish town to visit? Just for the name alone, I would say Intercourse PA! There are also lots of great Amish businesses to visit in and around Intercourse PA
How many Amish live in Pennsylvania?
The
state of Pennsylvania has the largest Amish population which is around
87,000 Amish people.
***
Save this to Pinterest so you can find it again later: