Looking for Date Ideas in Boston? There are seriously a tonne of romantic things to do in Boston this weekend for locals (you just have to know where to look ;))
Whether you are looking for a fun rainy day date idea for bad weather or you are just looking for something new and interesting to do, we have you covered with 65 of the best date spots in Boston for couples.
Look no further – the very best couple activities in Boston right here!
65 Date Ideas in Boston: Romantic things to do in Boston for Couples
Fun Date Ideas Boston
Explore Beacon Hill. This historic neighborhood is the perfect place to roam on a first date while you and your partner get to know each other. Get a taste of Boston with their Victorian style houses, antique stores, and chic boutiques.
Brooklyn Boulders. This rock-climbing gym is a great place for fitness buffs or people looking to try something new. Climb on their multiple routes of varying difficulty and choose from either rope or harness climbs. If you're not quite brave enough to tackle the rock yet, they also host fitness classes for people who are looking to sweat in a more traditional style.
A4cade. This arcade is a 21+ speakeasy-style hangout perfect for a date night. In addition to tasty food and drinks, they are a glorified video game playground and a perfect spot for adults to unleash their inner kid.
The American Repertory Theater. As part of Harvard University, this theatre is known for exceptional concerts, plays, musicals, and all kinds of performance art.
Improv Asylum. Are you or your partner comedy fans? This improv theatre hosts multiple shows per week and there is even an option for the bold and confident to take an improv class themselves.
Trapology Boston. This escape room has two themed rooms to choose from: Magic Portal or Operation Mindfall. They also serve beer and wine and have their own game center.
Judson B. Coit Observatory. Operated by Boston University, this astronomical observatory has a public open night on Wednesdays where couples can visit for the chance to learn more about astronomy and gaze at the stars.
Stay in one of Boston's best jacuzzi suites. Boston has some great hot tub hotels to check out.
Take a fast ferry to Cape Cod. Cape Cod is only 90 minutes away from Boston on a luxury fast ferry which is super fun. Plus, there are loads of romantic things to do in Cape Cod to enjoy.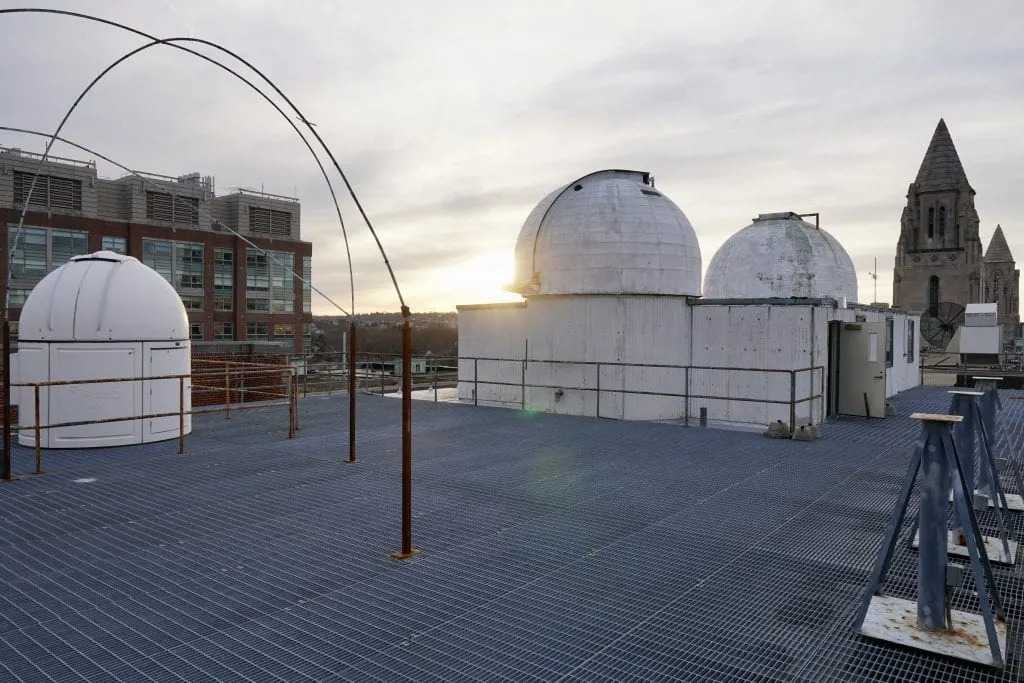 Fort Point Channel. This historic district is the site of the Boston Tea Party. Visit one of their many restaurants and enjoy the waterfront views of this Boston landmark.
Louisburg Square. This is one of the fanciest neighborhoods in Boston. Home to historic buildings from the 1800s, this is a great place for you and your partner to take a nice stroll on a beautiful day.
Rose Fitzgerald Kennedy Greenway. This public park is home to multiple food trucks, a modern carousel, fountains, and stunning landscapes.
Clayroom. This pottery store offers you and your partner an opportunity to paint your own creations, as well as take pottery classes so you can learn to create your own masterpieces. Perhaps even make a handmade gift for your partner?
Go on a Dollar Oyster Date. There a tons of oyster spots located around Boston. In fact, there's a spot offering $1 Oyster Specials every night of the week. Check out the list and see where you can grab some delicious fresh seafood.
Take a Class Offered by Yaymaker. This site has so many classes to choose from. They offer paint nites, holiday themed crafts, and cooking and mixology classes to take with your partner.
Visit Sacco's Bowl Haven in Somerville. This old-fashioned bowling alley also has their own retro restaurant where they serve pizza in their traditional wood-fired oven. Sacco's is home to candlepin bowling plus one of the best flatbreads around.
Fenway Park. This is possibly one of the most famous baseball landmarks in America. Home of the Boston Red Sox, Fenway Park has been a staple of the city since 1912. Couples can go catch a game or take a tour of this historic location.
Enjoy One of the Free Concerts at the Hatch Shell. This bandshell location is a great place to go to listen to some music outside on a beautiful day.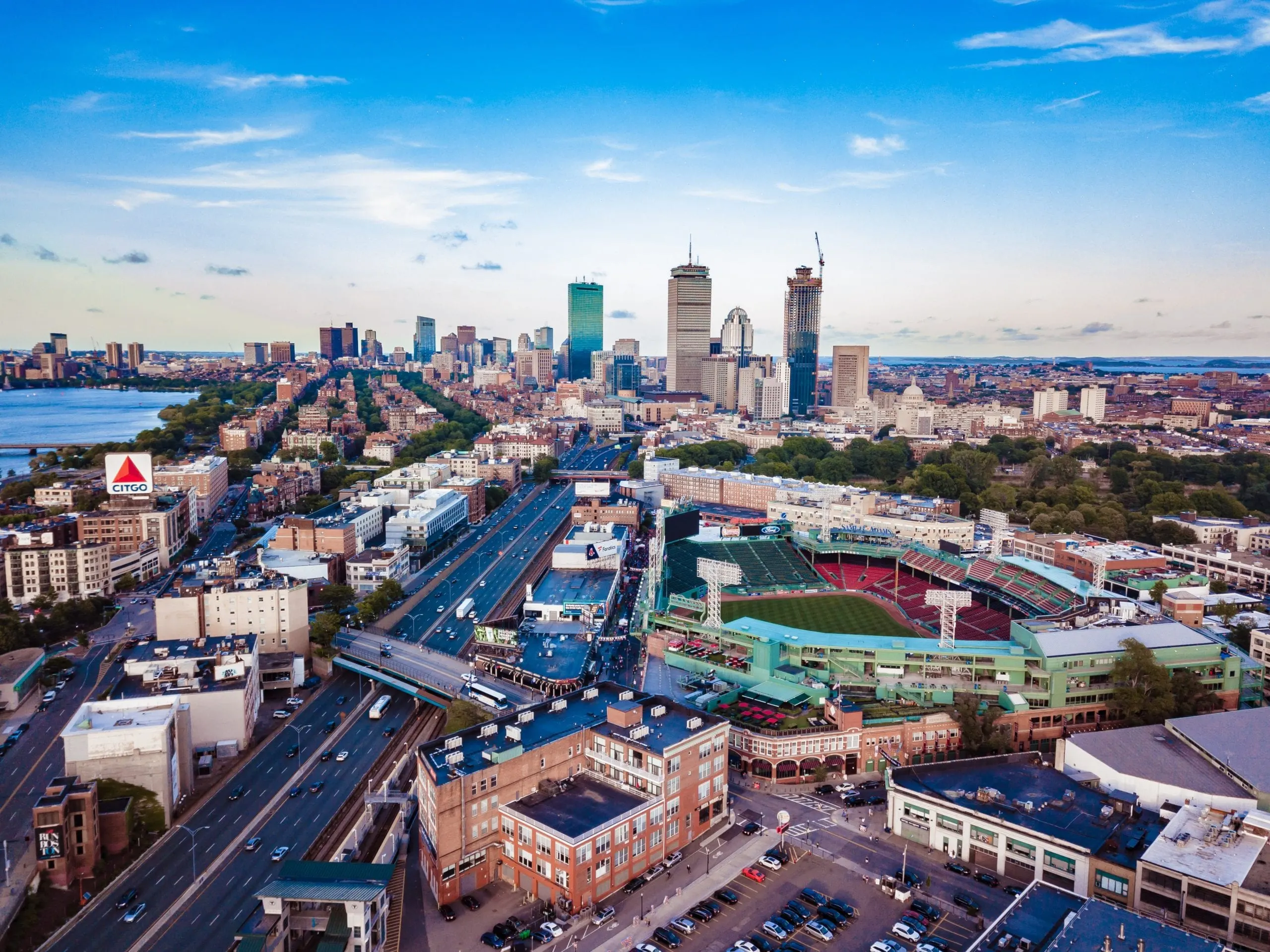 Date Night Ideas
Visit One of Boston's Numerous Theatres. The Wang Theatre has been open since 1925 and is one of the largest stages in the country. The Emerson Colonial Theatre opened its doors in 1900 and is oldest continually operating theatre in the city. The Boston Opera House is a stunning piece of architecture that hosts multiple opera performances each month.
Go to the Ballet. The Boston Ballet is a professional, classical ballet company that is the first professional repertory ballet company in New England. Ballet is one of the most beautiful and intricate forms of dance there is, and this is a great date night opportunity for couples looking for a fancy night out.
Coolidge Corner Theatre. This spot is an independent theatre that is home to international films, documentaries, and indie films and series.
Scullers Jazz Club. This club hosts jazz and soul music in an intimate environment with a small stage. They serve tasty small plates and offer a spectacular view of the river.
Topsfield Drive-In. Charging $27 for single showing or $30 for double feature, the Topsfield Drive-In is the place to go for a night under the stars without leaving the comfort of your car. They screen holiday movies as well as classics and modern hits.
See a Shear Madness Show. Located at Charles Playhouse, this popular interactive comedy show is a whodunit murder mystery that is guaranteed to grab your attention and leave you laughing all night long.
Visit One of Boston's Best Night Clubs. The Grand is a high-tech dance club offering bottle service with a Vegas feel. Royale is a mega club with multiple floors plus DJs and live music. Icon has DJs and a splashy, energetic feel to really get you in the mood to party.
Havana Club. Do you or your partner have a love for salsa? The dance, that is. This is a salsa dancing club that offers lessons for beginners. Their bar is fully stocked with beer, wine, and specialty cocktails, and this is a great place to stop for a night of lively, intimate dancing.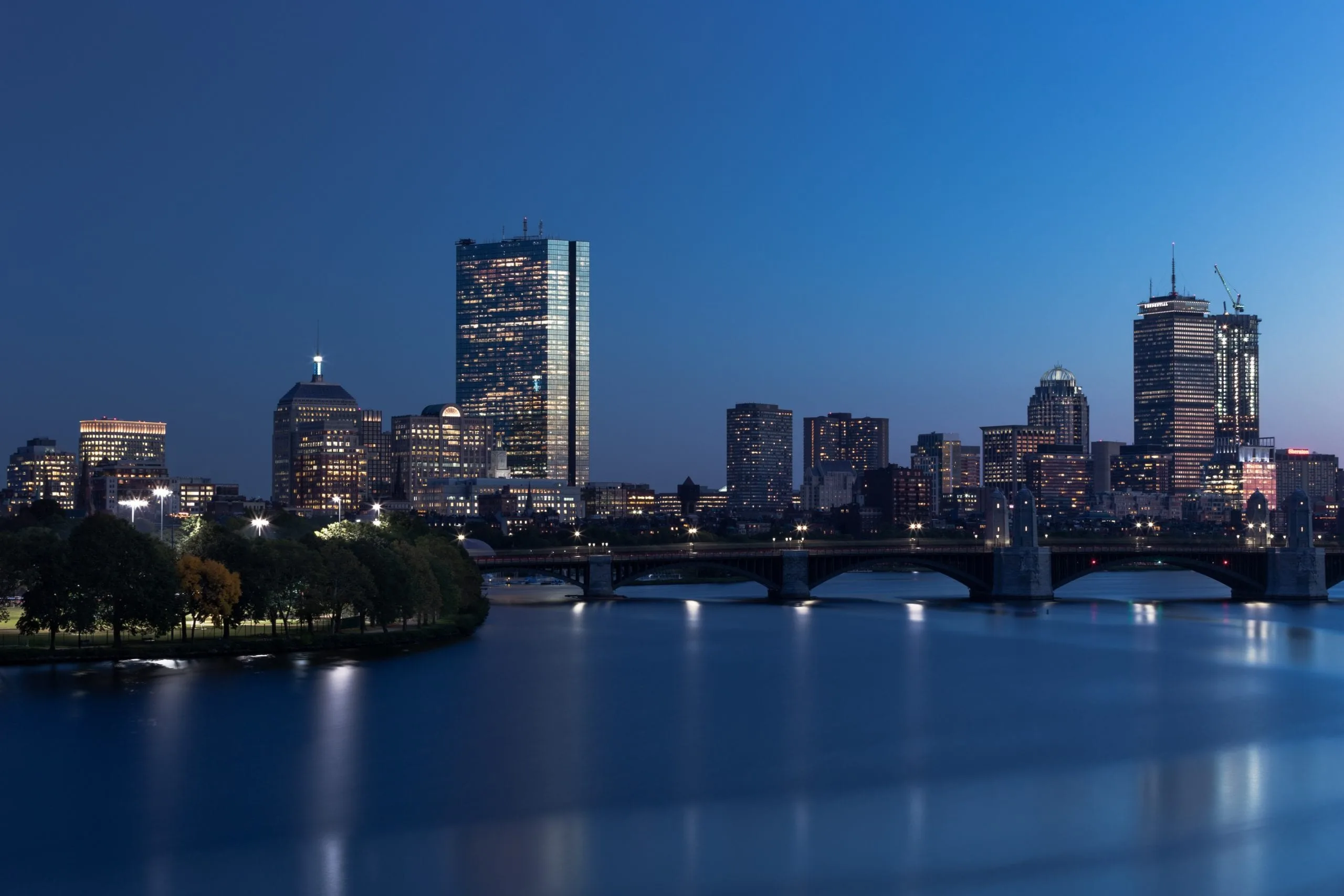 Romantic Dates Boston
Go for a Picnic. Boston Common is a historic 350-year-old park with plenty of spots for a romantic picnic, plus an ice-skating rink and tennis courts. The Public Garden is located adjacent to the Common. It was established in 1837 and was the first public botanical garden in America. The garden has a beautiful Victorian touch, many monuments, a lagoon, and over eighty species of plants. A perfect cheap first date idea!
Go for a Stroll Along the Charles River Esplanade. This three-mile stretch has gorgeous views of the river and cherry blossom trees. Couples can walk, run, or bike along the path. A perfect active date idea in Boston!
Boston Symphony Hall. Open since 1900, this hall is home to the Boston Symphony Orchestra. You and your partner can see one of their stunning shows and also take a tour of the theatre.
Take a Wine Tour. Choose either the Little Italy or Back Bay wine tours for a two-hour event with six wines from two of Boston's finest. Tours are hosted on Saturdays in some of the city's most historic neighborhoods.
Boston's Aquarium. Home to octopus, penguins, seals, and more, this aquarium is a must-visit for lovers of marine life. They also have a coral reef exhibit and a marine mammal center.
The Boston Harbor Walk. This 43-mile walk covers the beautiful beaches, piers, and wharves along the Boston Harbor shoreline.
Copley Square. This public square in Back Bay is home to art and attractions, historic buildings, tours, and upscale restaurants. It's the perfect spot for couples to take a leisurely stroll and take in the sights of the city.
Piers Park. Walk the promenade and pavilions, enjoying the views of the skyline and Boston's inner harbor. There is also an ampitheater for concerts and an outdoor fitness center.
Take a Gondola di Venezia Down the Charles River. You and your partner will feel like you're in Venice, traveling their gorgeous canals. On these private gondola tours, couples are treated to fruit and cheese platters, sparkling wine or champagne, and the choice to be serenaded on your journey down the river.
Bella Sante Boston Day Spa. Couples can enjoy a luxury pampering experience at this high-end spa. They offer all kinds of services to promote wellness and relaxation, such as facials, foot treatments, and various massages, including a couple's massage and a CBD treatment.
Spectacle Island. Located four miles offshore of Boston, this 105-acre island is a fantastic place for couples to explore. You and your partner can hike, swim, go boating, enjoy live music, and learn about the island's history.
Blue Hills Reservation. This 6,000-acre state park has over 125 miles of hiking trails, places to camp, canoe, and kayak, and cross-country skiing opportunities. They also have a trailside museum to learn more about the reservation and its history.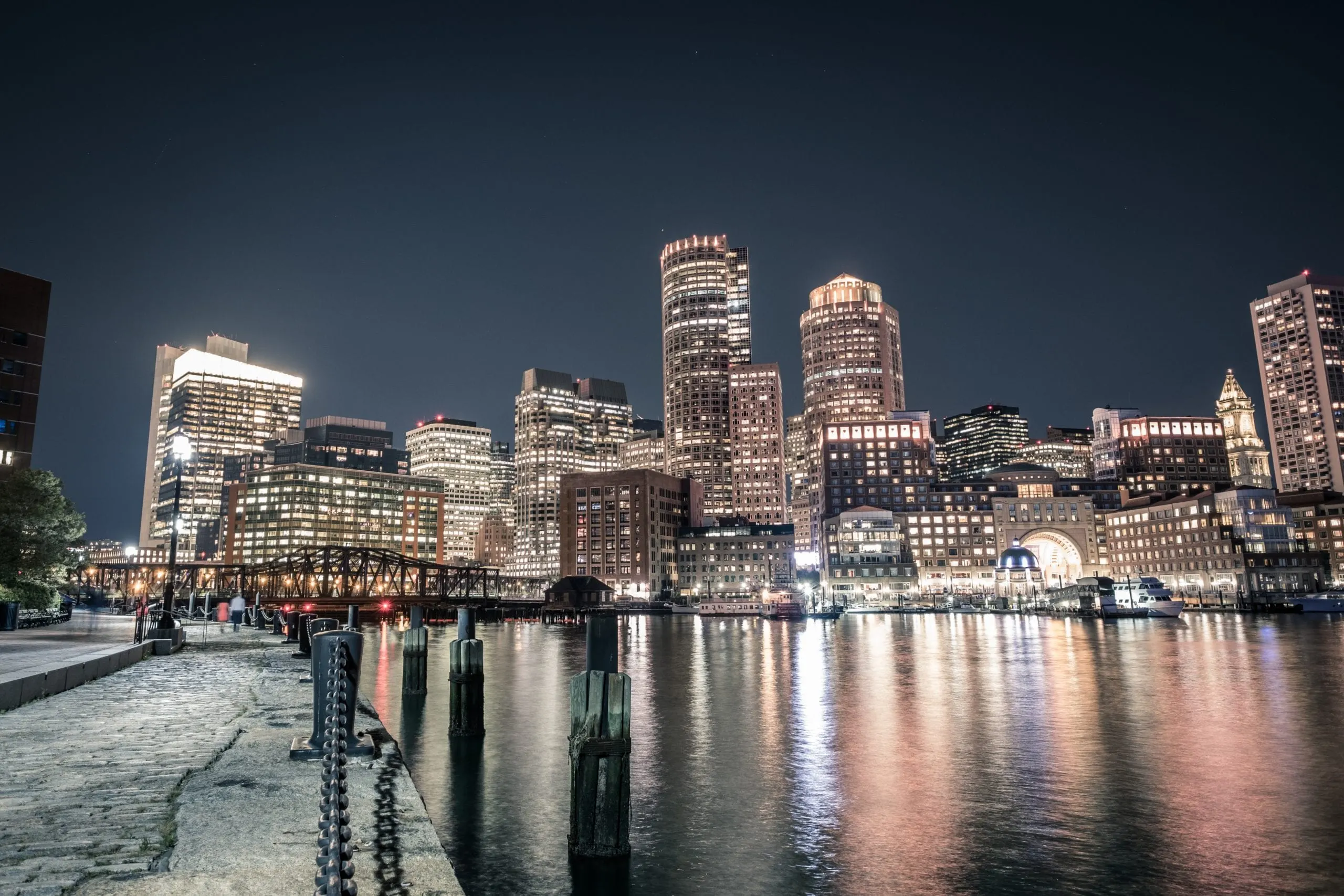 Boston Museums
The Isabella Stewart Gardner Museum. Home to stunning grounds and various pieces of Asian, European, and American art, including paintings, sculpture, tapestries, and décor, this museum also hosts musical events.
Boston Science Museum. At just $29 per ticket, this museum hosts permanent exhibits on dinosaurs, nanotechnology, and more. Located by the Charles River, this establishment also offers planetarium shows and various IMAX films.
Museum of Fine Arts. As the 17th largest museum in the world, this hosts over 450,000 works of fine art. Their current exhibits range from collections on Monet, Art of the Americans, Cezanne, and Black history.
The Boston Athenaeum. Open since 1807, this is one of the oldest independent libraries in the United States. In their collections are rare books and manuscripts, prints and photos, maps, paintings, and sculptures. Couples can schedule a tour around their collections and reading rooms to get the most out of the athenaeum experience.
The Sports Museum. This museum is home to all kinds of sports memorabilia and artifacts, but specifically those related to Boston. They also offer tours for the full sports fan experience.
The Gibson House Museum. Located in a preserved 1860 rowhouse, this spot was home to three generations of Boston's Gibson family between 1859 and 1954. Visiting here serves as a snapshot of domestic life during the 19th and 20th They offer guided tours that explore class and culture of the time period.
The John F. Kennedy Presidential Library and Museum. Learn all about the life and legacy of the 35th President of the United States. Interactive exhibits allow you to sit at JFK's authentic Oval office desk as you and your partner learn more about his life and historic presidency.
The Institute of Contemporary Art. Boston's waterfront museum was founded in 1936 and now is a home for unique visual artists and performances. They display a mix of modern, thought-provoking pieces.
The Boston Tea Party Ships & Museum. History lovers have to stop at this iconic spot. This floating history museum with full-scale replicas of antique ships also has a tearoom and presents live re-enactments of the Boston Tea Party event. Their exhibits display facts about one of the most famous moments of American history and their authentic environment makes you feel like you're in 1773.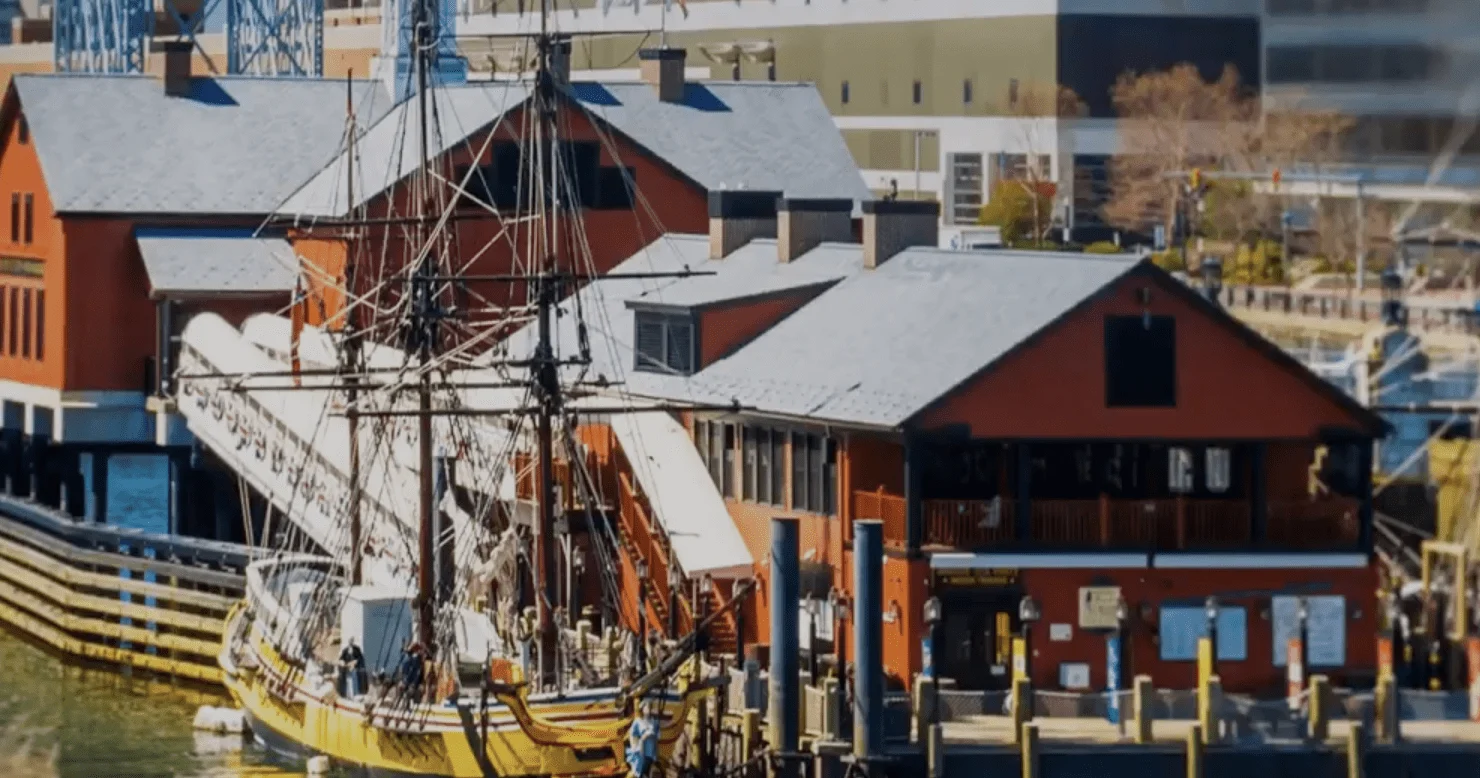 Unique Dates Boston
Boston Odyssey Brunch Cruise. Couples can enjoy a cruise around the Boston Harbor, treated to fully plated entrees and live music. Choose from either a lunch, dinner, or brunch cruise—or try out all three!
Sam Adams Brewery. Arguably one of the most popular brewery locations in the country, this spot is the home of the Sam Adams beer that New Englanders know and love. It has long been a part of Boston's history and the brewery offers tours and tastings that allow beer lovers to get the full Sam Adams experience.
Freedom Trail. This 2.5-mile trail connects sixteen of Boston's nationally significant historic sites. Starting at Boston Common and ending at the Bunker Hill Monument, every step of this tells the story of Boston's rich, varied history.
Quincy Market and Faneuil Hall Marketplace. Constructed in the early 1800s, this historic market complex has everything you could ever want in a marketplace. Couples can walk along the promenade, stopping in at the many restaurants and stores that are located within the area.
Boston Public Library. Founded in 1848, this library is full of not only Boston's, but America's history. You and your partner can peruse the shelves on your own or take advantage of the library's guided tours.
Explore North End. Known as Boston's Little Italy, this area is home to the city's oldest buildings, and the tiny narrow streets truly make you feel like you've been transported to Europe. It is home to historic sites like the Paul Revere house from 1680, and there is a wide variety of Italian restaurants and coffeehouses for you and your partner to enjoy.
Castle Island. This peninsula is located in South Boston and has options to swim, bike, or go fishing.
The Paint Bar. Couples can enjoy a paint night experience, complete with beer, wine, and snacks as their try their hand at making a masterpiece.
Trident Books and Café. This indie bookstore and café is also an all-day breakfast spot. Couples can hang out there for a relaxing, lowkey date no matter what time of day.
Visit The Lawn on D. This outdoor space is a great place for you and your partner to picnic, enjoy the sun, or play some lawn games. It also has concessions and seasonal live music.
Game Night at Knight Moves Café. Pay just a small feel to enjoy board games all night long. This café also serves coffee, pastries, and light snacks to fuel your competitive spirit.
De Cordova Sculpture Park and Museum. This 30-acre sculpture park is home to a continuously changing landscape of contemporary art. Walk around and enjoy a nice day outdoors while spending some quality time with your partner.
Mount Auburn Cemetery. This national historic landmark is also the first garden cemetery in the United States. Its historic grounds are home to gorgeous architecture and stunning fall foliage. A cemetery might not be everyone's ideal date, but this is a truly unique spot to visit.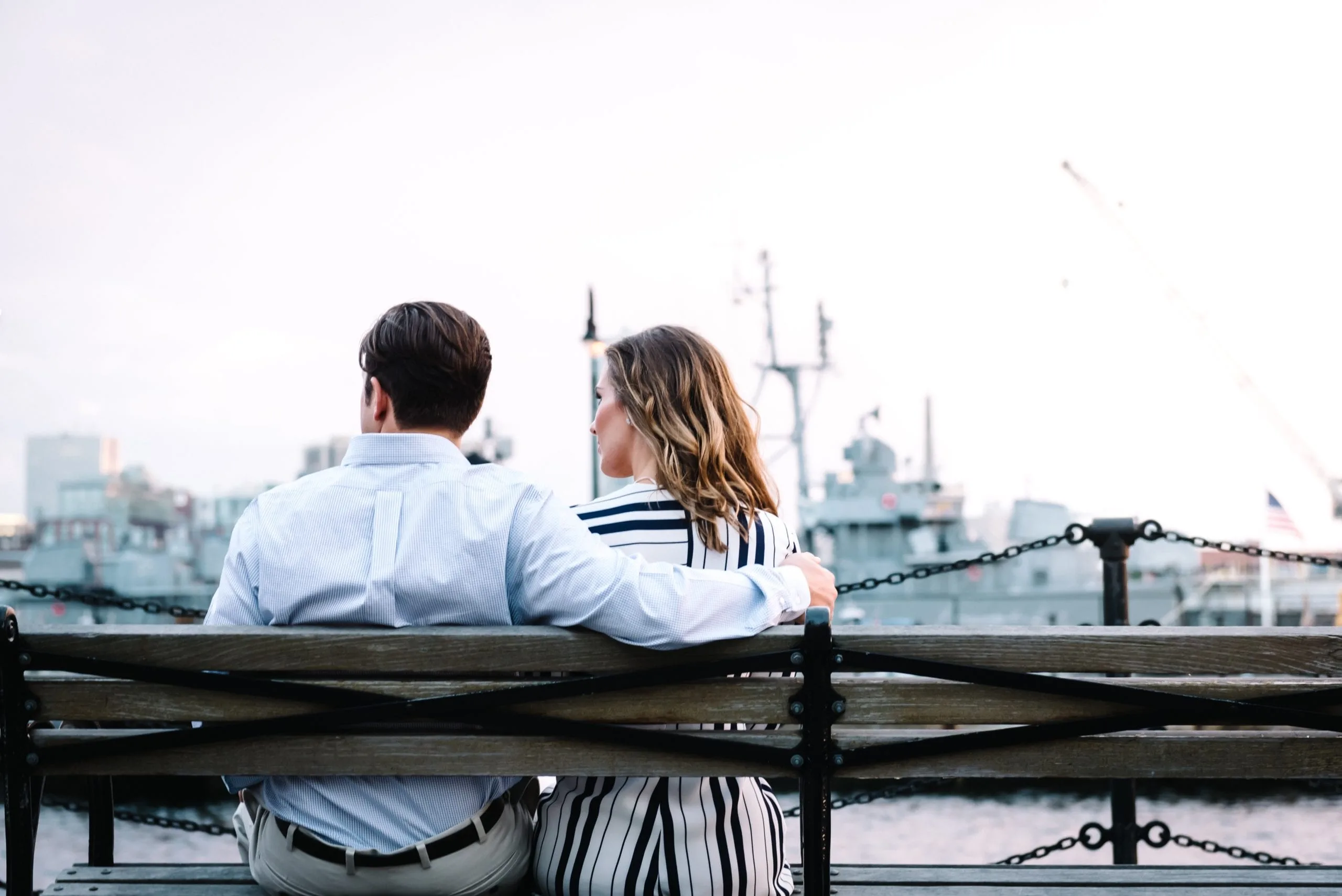 Romantic Restaurants and Cafes Boston
Giacomo's or Carmelina's. If you're looking for Italian fare, look no further. Giacomo's is a family-owned North End business that serves fresh pasta with outdoor dining options. Carmelina's serves traditional Italian dishes with a modern flair and a Mediterranean twist.
Tipsy Chocolates. Couples can indulge on a two-hour chocolate and cocktail tour throughout Back Bay. You can learn about the history of the area while sampling some decadent creations. They also offer in-home truffle making classes.
Kane's Donut. Satisfy your sweet tooth with his Boston establishment that has been in business for over 65 years. They boast innovative donut flavors and even donut inspired sandwiches.
Tatte Bakery & Café. With multiple locations all around Boston, open every day, Tatte is great date night or day location. They serve comfort good, coffee, and desserts in an elegant atmosphere. Stop in for a quick bite or a leisurely brunch.
A. Burdick. This café serves delicious pastries and handmade chocolates. They also offer vegan selections and holiday-inspired creations. This is a great spot to grab something sweet to end your night.
Visit Eataly's Outdoor Patio. This Italian market has cafes, restaurants, a gelato counter, and a cooking school. They are open daily, and couples can stop by Il Patio di Eataly for a chance to dine outside.
Rosebud American Kitchen & Bar. This refurbished diner serves craft cocktails and traditional American comfort fair. Visit them on Saturday or Sunday for brunch from 10am-3pm.
Lolita Cocina & Tequila Bar. This trendy lounge with gothic décor serves Mexican-inspired entrees and boasts an extensive tequila selection. It is a private and intimate atmosphere perfect for a romantic dinner date, and couples can even rent out the entire space to truly dine alone.
Num Pang Kitchen. This Cambodian sandwich shop has a sleek, inviting environment and is a great place to grab lunch or takeaway for dinner at home.
LimeRed Teahouse. Couples can meet up of a simple, relaxing date in this casual space. They serve bubble tea with all-natural ingredients, perfect for bubble tea fans or those looking to try this unique drink.
Abigail's Tea Room. With waterfront and skyline views, this is a one-of-a-kin date spot for couples who love history. Upon entry you are greeted by colonial tea ladies, and during your afternoon tea service you can choose from five different teas and various snack options.
Artisan Bistro. This chic bistro is located in the Ritz-Carlton Hotel. It has a modern menu with seasonal and savory dishes as well as delicious craft cocktails. The quiet, intimate atmosphere is perfect for a romantic date. Couples can even stay the night at the hotel, too!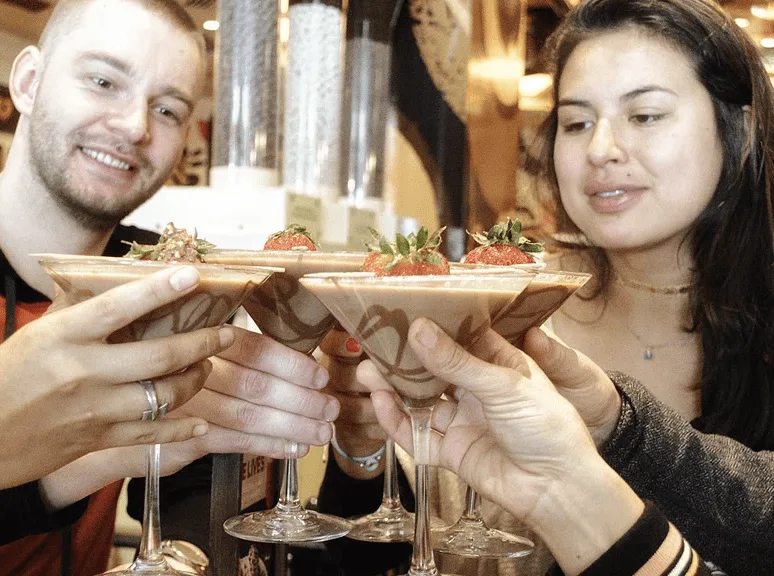 Romantic Things to do in Boston
Winter: Visit the Boston Common Frog Pond Ice Skating Rink. Open every day for just a $6 admission, this outdoor ice-skating rink is a romantic spot for a winter wonderland date night.
Summer. Enjoy the Rooftop Pool at the Colonnade Hotel. This rooftop pool and bar is situated in Back Bay. It is a sleek spot with a stunning view of the city and the sunset. Located twelve stories up, they serve small bites and craft cocktails and couples have the option to rent private cabanas.
Fall: Take a trip up Kancamagus Highway and admire the fall foliage. This scenic three-hour ride up Route 93 from Boston has one of the best views of the autumn leaves. It's a 34.5-mile highway with great spots for a roadside picnic and loads of places to take some gorgeous couples' pictures.
Spring: Ride a Swan Boat in the Boston Public Garden. This large, unique pontoon boat is shaped like a swan! The tradition started in 1870, and for just $4 visitors can take a fifteen-minute ride around the lagoon for another view of the public garden space.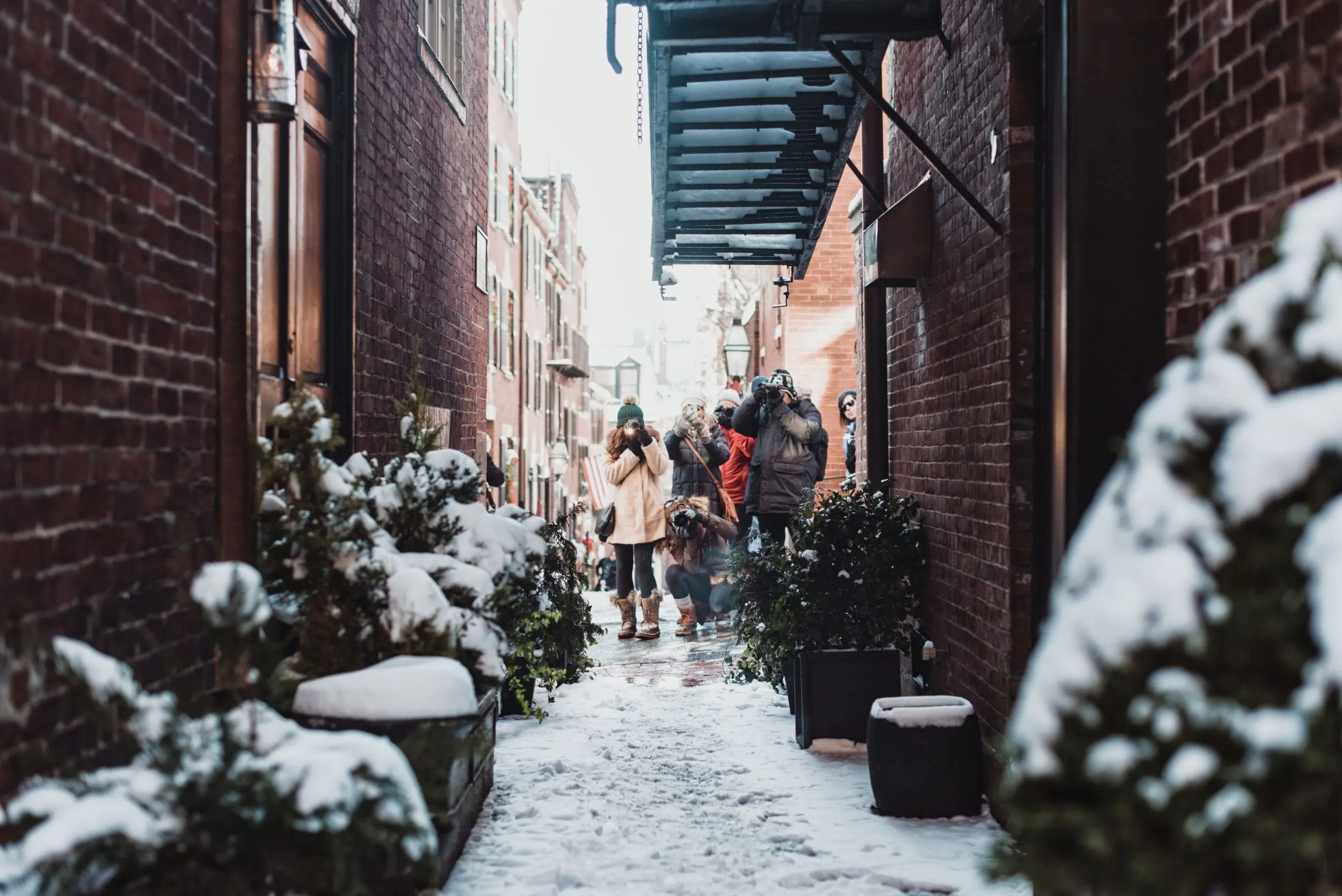 Where to Stay: Most Romantic Hotels in Boston
The Lenox. This sleek and hip Back Bay area hotel is home to two fine dining restaurants and host a weekend brunch. And the best part: dogs are welcome during your stay!
Hyatt Regency Boston. These spacious accommodations are also pet friendly! This hotel is within walking distance of many of the city's major attractions and restaurants.
The Godfrey Hotel Boston. This sophisticated and modern hotel was established in 1908. Its gothic revival face is located right near all the best attractions, right in the heart of Boston's night life. It is also home to an eclectic bar that is a great place to either start or end your night out in the city.
XV Beacon. This boutique hotel has just 63 rooms, all of them with a luxe, intimate feel. Couples can cozy up in front of the gas fireplace that all rooms are equipped with and relaxed after a busy day of sightseeing.
The Fairmont Copley Plaza. Operating since 1912 and located in Back Bay, this hotel is right in the heart of the city and has themed suites for all different kinds of romantic getaways.
Liberty Hotel. This elegant and luxurious hotel used to be the Charles Street Jail! Located in Boston's historic Beacon Hill neighborhood, this spot has been refurbished to now offer 298 beautiful rooms. Check out their Liberty Affairs list for daily events, from live music, morning workouts, and even a gallery night.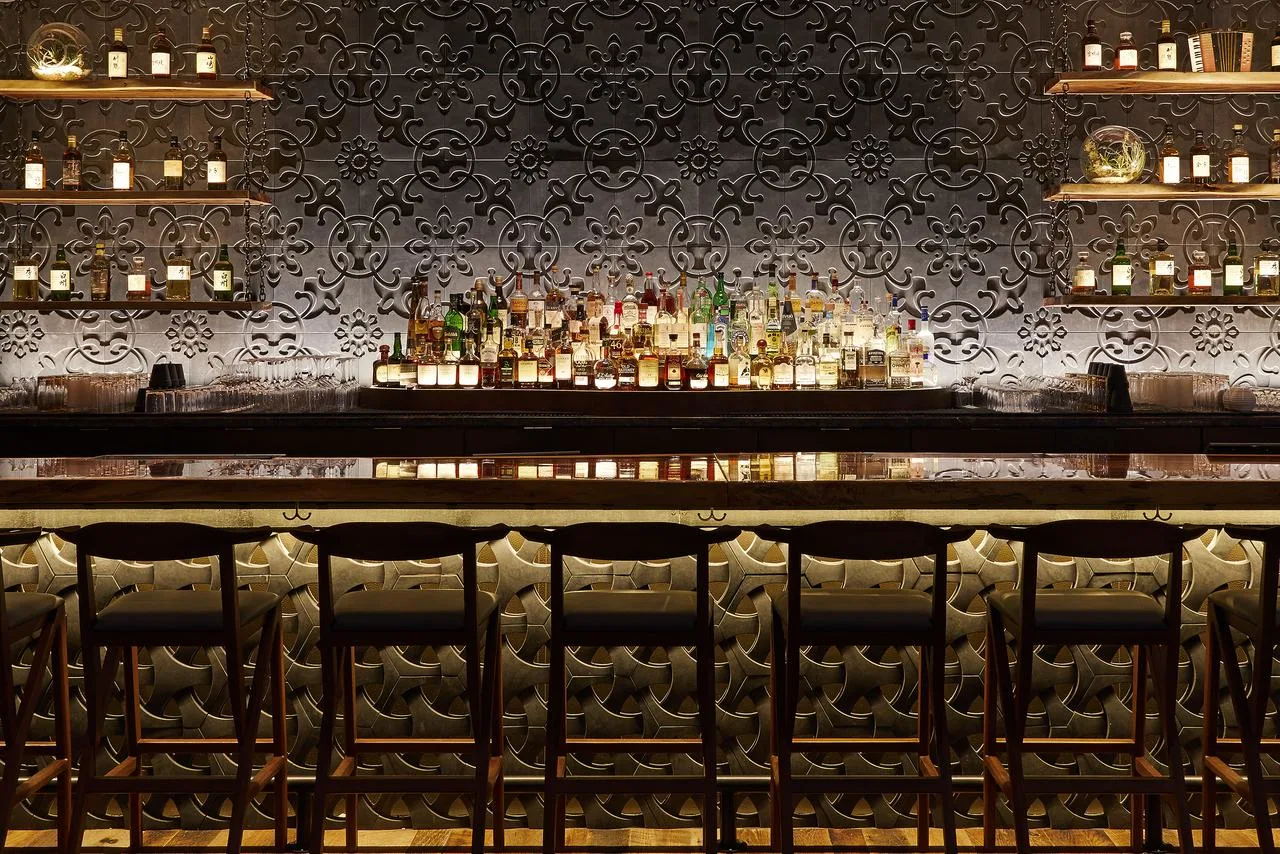 Don't forget to end your date with a cool IG snap. Here are some fun Boston Quotes to help with your caption!
***