Looking for great rainy day date ideas?
A date can be a daunting experience in itself (especially if it is a first date ekkk) but what if it is also raining. Cancel? Reschedule?
Here's 50 rainy day dates for couples that will leave you hoping the sun never shines!
50 Rainy Day Date Ideas for Couples
Rainy days in general can be a bummer.
All these date ideas for a rainy day have been tried and tested on rainy days all around the world.
1. Go Bowling
On our first date ever we went bowling. We had a fabulous time.
It was not raining on our first date however, bowling would be a perfect date idea in the rain. Personally, I think it is one of the best rainy day date ideas ever.
Bowling is also a perfect ice breaker for awkward conversations that may happen during first dates.
Whether you make a strike or your bowling skills are less than to be desired, bowling is a great idea to get out and have fun while you are getting to know someone.
Here is some first date outfit inspiration for you below.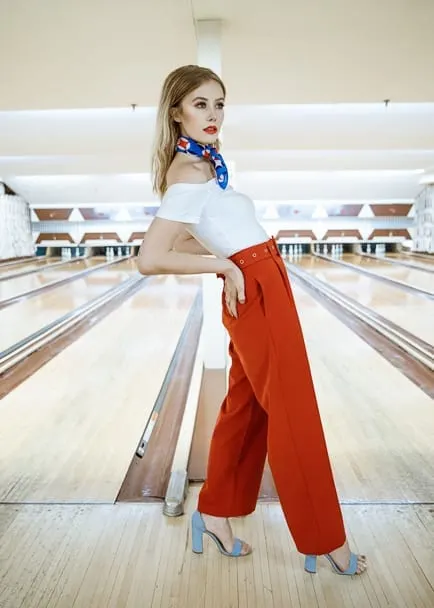 2. Make a home cooked meal together
There is nothing that brings people more together than a home cooked meal.
Cooking together really gets the conversation flowing. It is also very romantic to be cooking as the sound rain platters on the roof above.
For a first date on a rainy day, we would recommend a rich hearty meal like pasta or a roast.
Light some candles, put the fairy lights on and let the magic happen!
Cooking together is one of our favourite things to do on a rainy day at home. Jamie Oliver covers some great romantic recipes here.
While you are eating your delicious meal, you might like to take turns asking each other some fun couple questions!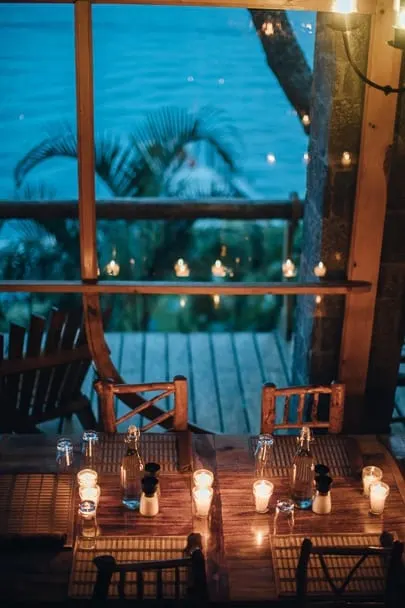 3. Wine & Paint
In recent years, wine and paint events have become particularly popular and for good reason.
Going to a bar and making awkward conversation on a first date can be a deal breaker to a potentially very successful relationship.
Going to a wine & paint event can ease awkward tensions as you not only drink but participate in an activity together.
4. Visit a hipster cafe
A normal cafe may prove a little dull for a first cafe. Research a cool or hipster cafe in your local area to visit.
Pick a cafe or restaurant that offers something a little out of the norm.
A cat or dog cafe is always a good idea as it prevents awkward conversation from occurring on a first date.
In Seoul we visited a Meerkat cafe, which is a very cool experience if you ever visit!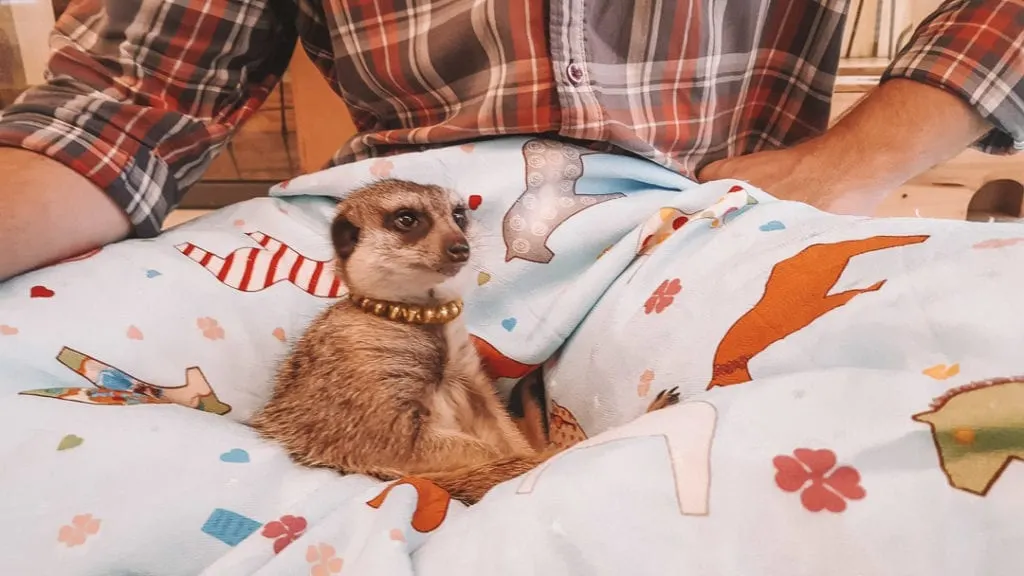 5. Go Rollerblading or indoor Ice skating
While it may be a little corny, rollerblading or indoor ice skating is a perfect first date rainy day idea.
There is nothing more romantic then skating around & helping each other up as you fall!
Rollerblading or indoor Ice skating can really help the magic to happen on a first date.
It is perfect too as if you pick an indoor arena, it is completely rain free!
6. Do a Board game or puzzle
Pick an old favourite like Monopoly or Cluedo and get settled in at home for the night. One of the best nerdy date ideas.
Make some yummy snacks and tell tales of old childhood memories. A great way to get to know someone on a deeper level.
Who has played the old favourite pictured below?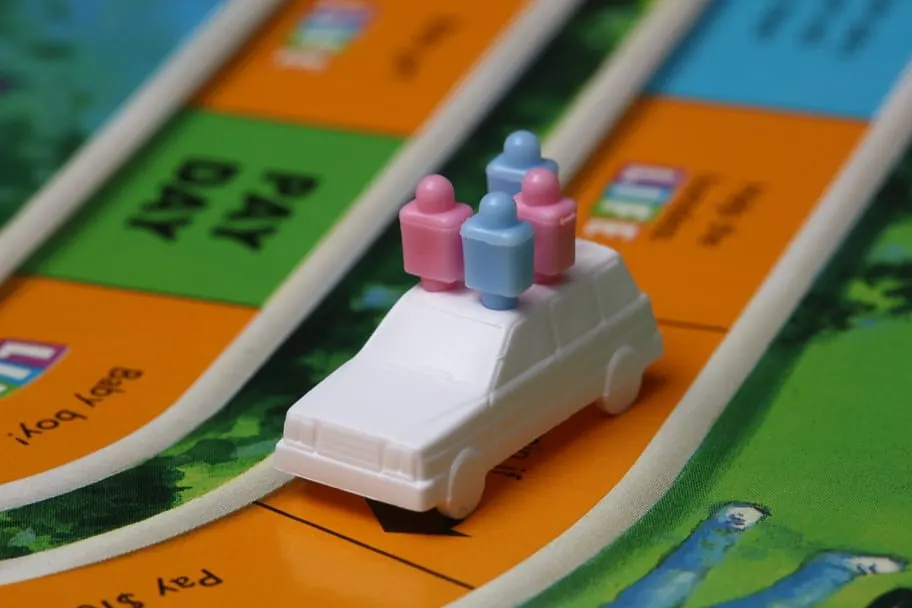 7. Visit an Art Gallery or Museum
If you have seen any Hollywood movie you will know that visiting an art gallery or museum is a very romantic date idea.
It is perfect for rainy day dates as all the exhibits are inside the museum.
Visiting a museum may also reveal a deeper intellectual side of a person.
8. Go to the drive in cinema or movies
The cinema is a pretty iconic first date idea and it also works for rainy days as it is undercover. A great car date idea.
A quirkier, more interesting option is to visit a drive in cinema.
Sitting in a car you are still protected from the rain and hearing the rain pelt down on the windscreen as you watch a movie can be a very romantic experience.
We went to an awesome drive in cinema called the Starlight Cinema in Atlanta Georgia if you are ever in town! One of the best late night date ideas.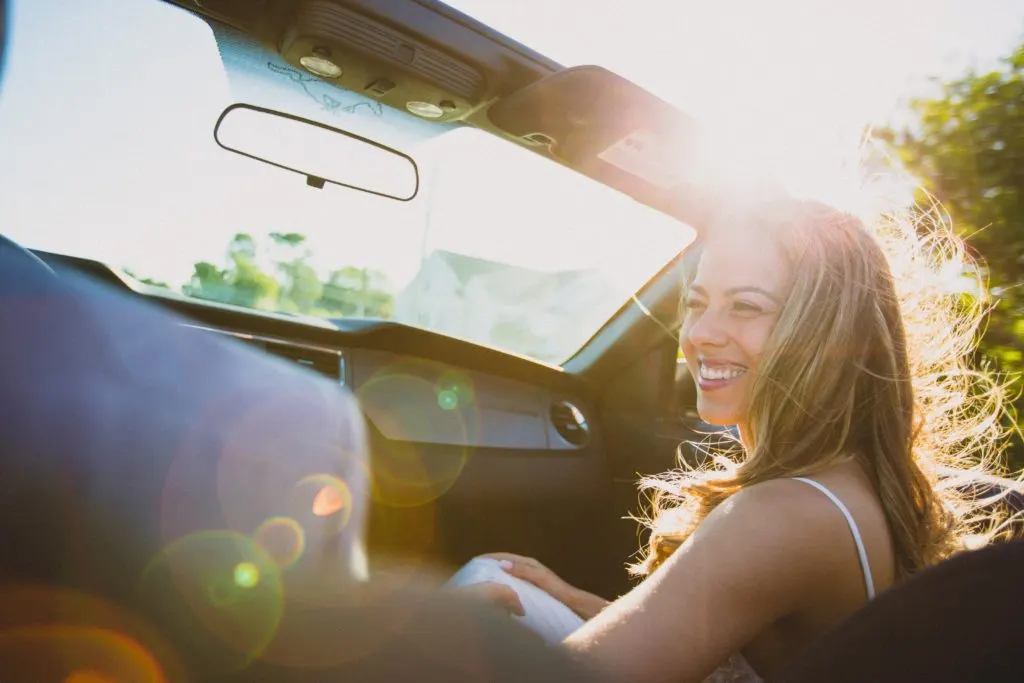 9. Go for an indoor picnic
When we stayed at Cassia Phuket, we had planned a romantic picnic at the beach.
Unfortunately, it was raining the day we planned to go out.
Instead, we choose to improvise and enjoyed a romantic picnic in the lobby of the hotel.
It proved to be a very fun experience. Indoor picnics are one of our favourite indoor date ideas for couples.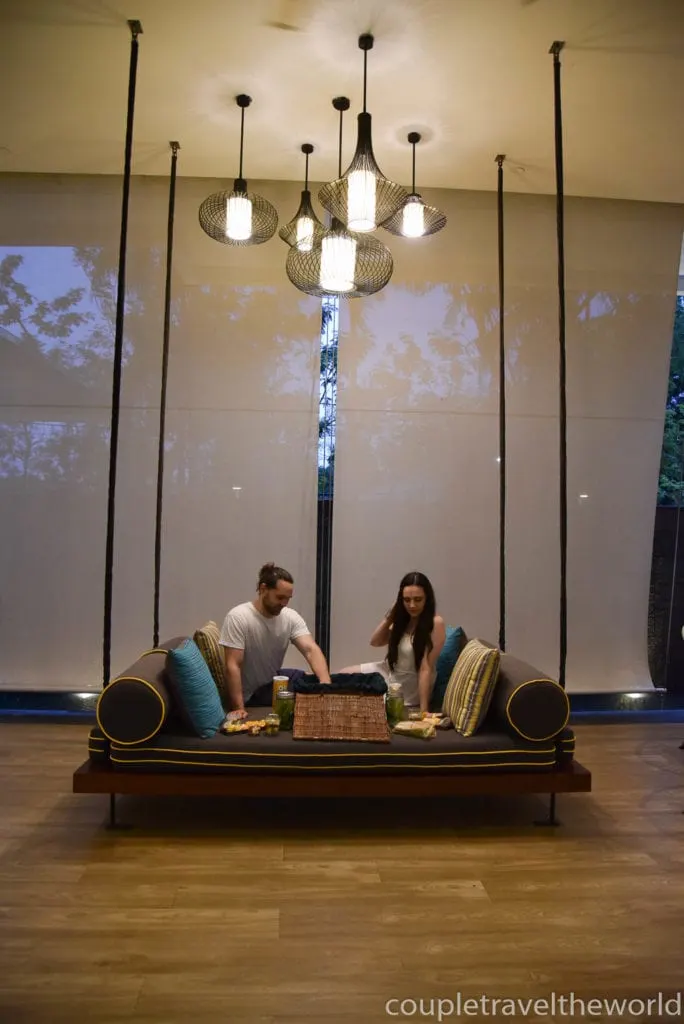 10. Attend a pub trivia event
A pub trivia night is a great idea for a first date on a rainy day as it super fun and can encourage a bit of healthy competition in the relationship.
If you are going on a double date this is a particularly good idea.
Look up your local pub to see when their next trivia night is!
11. Go to a Karaoke Bar
There are tonnes of places to go on a rainy day for adults but we love the idea of visiting a Karaoke bar.
It will take a bit of courage but there is nothing more loveable than seeing someone sing karaoke.
Your best bet is to look up Asian karaoke bars in your city to find where to go.
Do you remember the famous love scene in PS I love you? Now if that doesn't melt your heart, I don't know what will!
12. Go second hand shopping
Hunting out bargains is always a fun thing to do. You probably won't find something new but you are sure to get a laugh!
We recommend trying on silly outfits to make each other laugh! A fun idea could be a challenge to find the silliest outfit possible in the store.
Pick something interesting out for each other to try!
Make a runway and go strut your stuff! It is sure to make your date laugh!
13. Go to an arcade
If you are young at heart, an arcade will certainly be up your alley and there is really no argument that it is one of the best rainy day date ideas!
Try your hand at the dance machine or on the racing car simulator.
You never know, you might be able to win a prize to impress your date! If not, having a laugh at how bad you both performed will be pretty fun too!
You'll find plenty of trendy arcades in your city, many serving alcoholic beverages too. Search our website for date ideas in your city.
Playing arcade games like pinball can also be a good way to break the ice if you're a little shy. It means you don't necessarily need to engage in eye contact the whole date – it can sometimes help being able to chat and get to know the other person while giving you something to do to break up any awkward silences.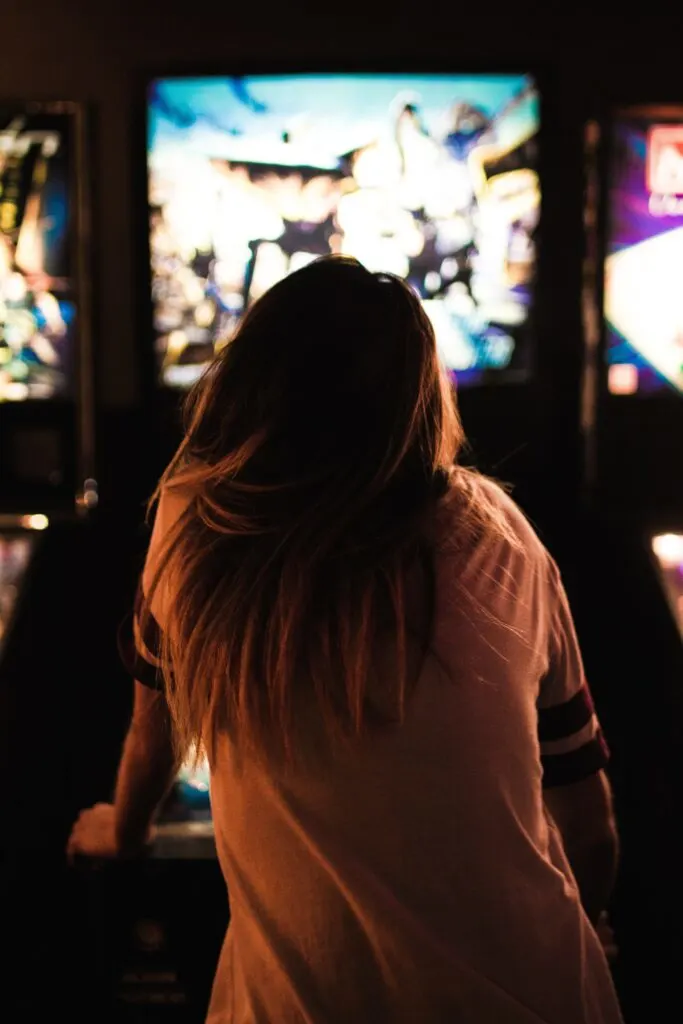 14. Have a movie marathon
Are you a fan of Game of Thrones or even an old classic like Lord of the Rings.
Plan a movie marathon and watch movies until your heart is complete.
Remember to have some snacks handy and a bunch of pillows ready to get snuggly!
15. Go bar hopping
Bar hopping is always so much fun and can really get the conversation flowing on a first date!
Why not set up a challenge like trying to visit every bar on a particular street. If ever find yourself in Edinburgh try the Rose St Challenge, that is a drink at every bar on the street!
Beware: You might have to make quick dashes between venues to avoid the rain!
16. Go for a rain walk
If you are looking for more romantic rainy day ideas then why not embrace the bad weather?
What is more romantic than going for a stroll in the rain with an umbrella in hand. To avoid getting wet you might just have to get snuggly!
Probably an activity you will forgo on later dates so it is nice to make the most of making crazy decisions while it lasts.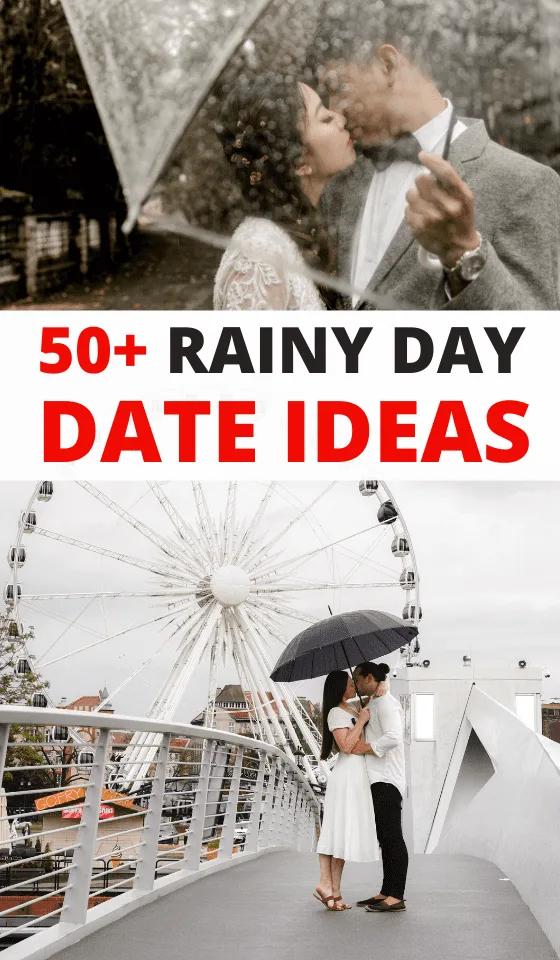 17. Let it all hang out and dance in the rain
This might be something you want to save for the end of the date.
Singing and dancing in the rain will demonstrate your fun & spontaneous side to your date.
There is seriously nothing more liberating than singing and dancing in the rain!
18. Go coffee tasting – to find the best coffee in the city!
This idea is one for true coffee lovers as it will truly leave you buzzing!
On one of our first dates, we did this as we are true coffee fans – a mission to discover the best coffee in the city.
If it gets too much with the first two coffees, switch to a drink with less caffeine like hot chocolate.
19. Splurge on a Michelin Star restaurant
There is no better time to justify spending money on fine dining than on a first date on a rainy day.
Pick a Michelin Star restaurant in your local area to try.
If the date goes well, you can always go to another to compare for a second date.
20. Visit an indoor pool
Going for a splash around in a pool is always a good idea for a first date.
Try to find an indoor pool with lots of different pools with different temperatures to try.
There is nothing worse than getting bored on a date and having a myriad of choice can cure the awkwardness!
21. Go for a massage
A massage is such a treat and there is no better time to treat yourself than on a first date on a rainy day.
If you want a little different experience, try a Thai or Chinese massage.
You will have a barrel of laughs when you see each other come out in the traditional outfits they provide.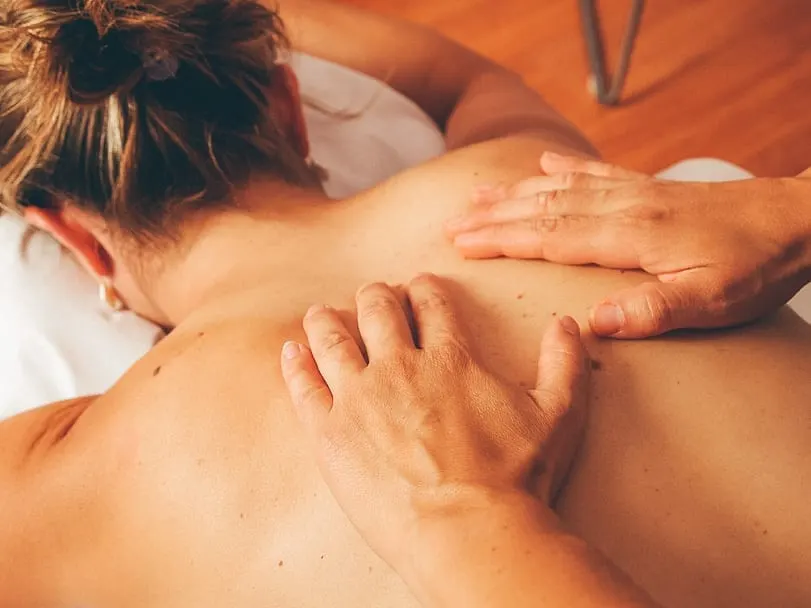 22. Get your nails done
Well lets face it, a male probably isn't interested in getting their nails done but this test will test how keen they really are!
If they agree to come get their nails done with you then you REALLY know you have a keeper!
So how about it, mani/pedi anyone?
23. Go to a sushi train
Sushi is of course totally delicious but the best thing about a sushi train is the theatrics of the experience.
A restaurant with a little more theatrics which can ease the tension of a first date.
Below is a super fun sushi restaurant in Toyko where you order what you want and it gets delivered to you.
Defs one of my fav rainy day date ideas – what can I say I'm a total foodie!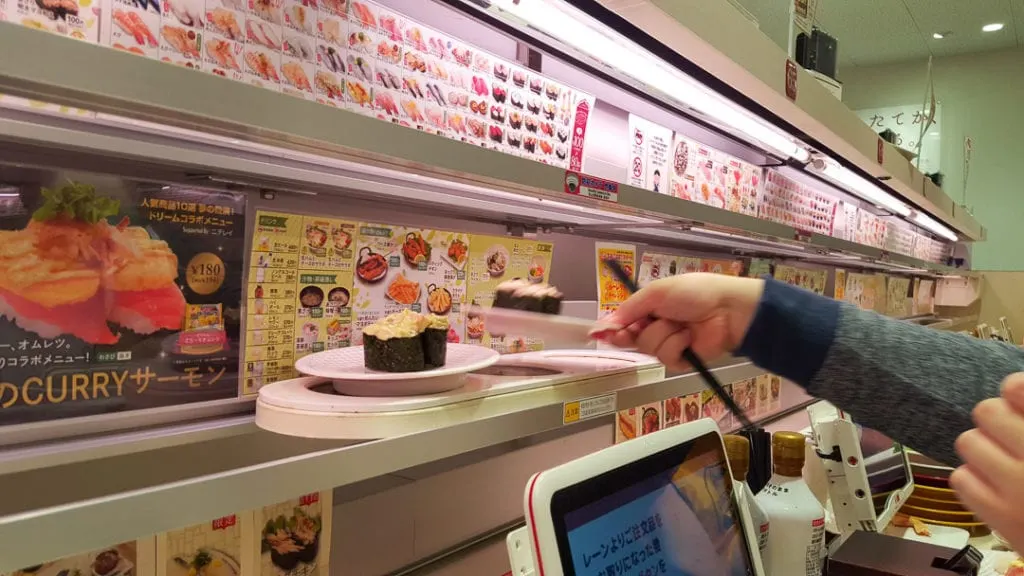 24. Go to a teppanyaki restaurant
With the above in mind, if sushi doesn't tickle your pickle, why not go to a teppanyaki restaurant.
Seeing the chef throw fried egg in the air and getting each party around the table to try to catch it is certainly always a barrel of laughs.
It can also ease any tension that may be around due to the first date.
25. Go to shopping centre and walk around
Not the most interesting idea, but a very causal, chilled first date which is perfect for a rainy day.
Shopping centres are also great for people watching. Rain draws all the weirdos in society to a shopping centre so they are a lot of great people to watch.
A great people watching game to consider is taking turns to guess about a random person's life.
26. Take photos at a photo booth
It is always so much fun taking photos in a photo booth.
If you can find a Japanese photo booth, it is particularly fun due to all the weird and wonderful settings – love hearts, red lips, pink cheeks, you name it, they got it!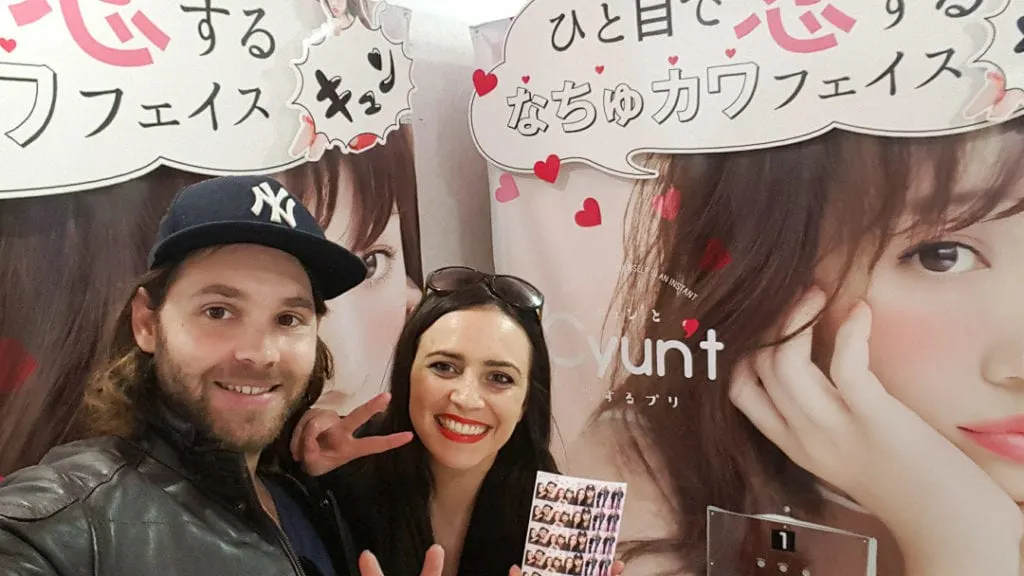 27. Go to a cooking lesson together
If you don't want to cook at home why not take part in a cooking lesson together. Who knows you might learn something new.
Trying your hand at a new culinary cuisine can be particularly fun and interesting experience. It will also demonstrate how well you cooperate together as a team.
28. Indoor go carts!
Go carting outside is very fun but indoor go carts have become very popular in recent years and are a perfect first date idea on a rainy day.
There aren't many people out there that hate go carts so it is sure to satisfy even the pickiest of first dates.
29. Try an indoor sport
Many sports can be played completely indoors such squash and indoor tennis.
Showing your competitive side can be very healthy and fun in a new relationship.
30. Go to the gym or take a fitness class
If you both have a mutual love of fitness, it would be fun to go to the gym or take a fitness class together.
For couples who are into fitness, helping each other with gym equipment can be a particularly rewarding experience.
It also highlights mutual interests in staying fit and heathy.
31. Go to a chocolate factory
Pretend you are Charlie from Willy Wonka and make a journey to discover a chocolate factory. Such a good rainy day date!
If there are no chocolate factories in your city, a chocolate cafe will suffice.
One of our favourite chocolate cafes is Angelinas in Paris which has now franchised out to all over the world! See if you can find Angelinas in your city. You can thank me later.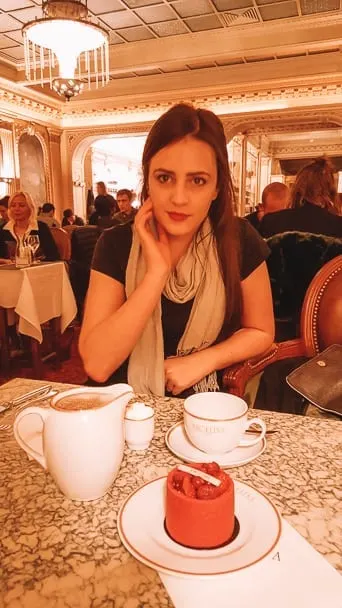 32. Take a tour of a beer factory
We love beer and nowadays it is not uncommon for women to enjoy beer as well as men. Therefore, it is a great first date idea on a rainy day for women and men alike!
There is a beer factory in most major cities so you shouldn't have trouble fulfilling this rainy day first date idea!
33. Go wine tasting
If you are more wine people, you could always switch the beer for wine and go on a wine tasting journey. It is always good to try something new!
You wont be able to frolic in the vineyards outside but the wine tasting itself will be very possible in the rain! My mouth is watering at just the thought of a delicious red wine.
34. Go shooting
If you love guns, shooting is a fun and slightly exhilarating experience and a great rainy day date!
For a slightly different experience, you could play Tejo, a game where you aim to hit a small paper triangle packed with gunpowder
35. Eat pizza!
There is nothing more comforting than eating a delicious wood fire pizza on a rainy day.
Why not share your love of all things delicious with your first date!
Making pizza together is one of our favourite rainy day date ideas at home.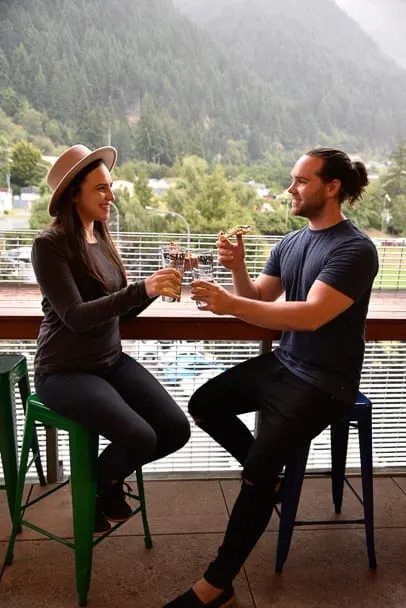 36. Go for high tea
High tea is always so much fun. Tea, jam, scones, mini sandwiches – what's not to love!
Sure, this idea is a little more on the feminine side but it will show you how serious he really is about you if he agrees!
37. Play cards
Everyone has a favourite game of cards. Teach your date your game and let them teach you theirs.
Whether it is Hearts or Uno it is certainly great way to start a relationship with a bit of healthy card competition.
If you are looking for fun games for couples – check out our favorite at home couples games.
Alternatively board games are a fun idea. Here are our favourite board games for couples.
38. Play playstation or wii
Leading on from the above, playing playstation or wii might tickle your fancy more than a board game! It is a pretty good rainy day date!
After a session at the nail bar, it might be fair to come back to a game of playstation or wii.
After all, there should be a bit of give and take in a healthy relationship.
39. Indoor put put golf
In some cities nowadays there is indoor put put. A traditionally fun outdoor game which is now indoors.
Some places allow you to also drink as you putt along which is a big plus!
40. Driving range
While golf is out on a rainy day, the driving range is not.
Most driving ranges are undercover so you can hit balls out into the universe until your heart is content.
It is a great first date idea as doing an activity always eases tension.
41. Drinking games
Now we are getting into the MA+ style first date rainy day ideas.
Drinking games are so fun and always help to lighten the mood.
Our favourites are power hour and kings cup. Look them up if you don't know, they are goodies!
42. Horse Races
While we are there in the adult activities, why not go to the horse races?
You can bet on a horse while being completely undercover and enjoy a beer.
If it's raining too heavy the races can be called off so be careful for that!
43. Online gambling
If you cannot be bothered venturing out in the rain for the option above, why not try online gambling.
Here is a review of our favourite online gambling site, Right Casino.
Right Casino is a comparison site of all different casinos so it is great to be able to compare which casino has the best offers around!
44. Go fishing
Fishing? Fishing you may say doesn't sound like the best activity to do while raining?!
But in fact, fish are more active during rain so you will have more success at this time.
For outdoors people, this would be a super fun, unforgettable experience for a first date!
45. Go to bingo
Bingo is considered a bit of an old ladies game but it can be super fun in a couple.
Having a drink and laughing at the host saying "All the 4s, 44!" is certainly something to talk about for many more dates to come.
46. Have a pillow fight
Bring out the little kid inside of you and have a pillow fight! A rainy day date doesn't get much better than this!
This will certainly ease the tension of any first date and it is great activity to do in the rain as it is totally indoors!
Add this to your list of things to do on a rainy night with your boyfriend or girlfriend for a fun night in.
47. Volunteer at a dog shelter
We saw this activity once on the Bachelor and thought it was just too cute to be true!
It really tugs on the old heart strings to see someone you fancy spending their time giving back to others.
If there is no dog shelter nearby you, what about a nursing home? Old people are THE BEST at asking hard questions. They might just ask the ones that you are too scared to ask yourself!
48. Go to the aquarium
A zoo might be out in the middle of the pouring rain but how about an aquarium?
It is magic to spend a first date while it is raining watching the colourful fish, sharks and jellyfish float by.
There is something just romantic about an aquarium, don't you think?
49. Visit friends
There is nothing better to get to know someone on a deeper level than to spend some time with their friends and family.
Suggest you will make 2 trips – one to each party's respective friends house- morning and afternoon tea!
After this first date, you will really know if you are up for a second!
50. Go for a dancing lesson
Last but certainly not least, our favourite in fact, is to go on a dancing lesson.
There is nothing more romantic than going for a dance lesson together.
We would recommend tango or salsa as some good dance styles for romance blossoming.
Don't be shy, why really is a good dancer anyway?
Taking a dancing lesson together is one of our favourite romantic rainy day ideas.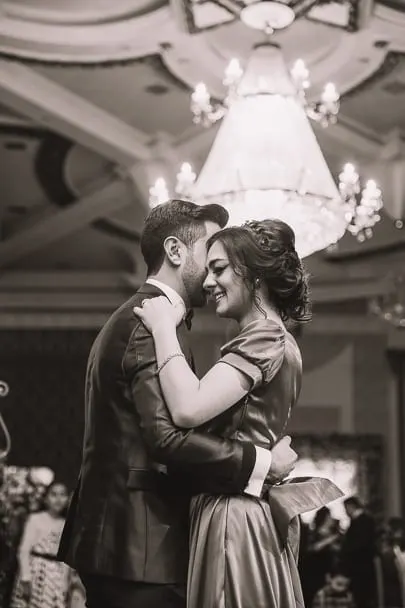 51. Investigate the best couple credit card options
It's not that fun and it's not that sexy but on a rainy day you can always be productive and get things done! Why not investigate your finances together and check out couple credit card options – you can surprisingly save a lot of money and gain a lot of points if you choose the right card.
52. Axe Throwing
Axe throwing is a great wet weather date idea because it provides an opportunity to bond and try something new together.
It is a fun and unique way to spend time with your partner, and it provides the chance to have some friendly competition and see who is better at throwing axes.
Plus, it's a thrilling activity that can help break the ice and create lasting memories.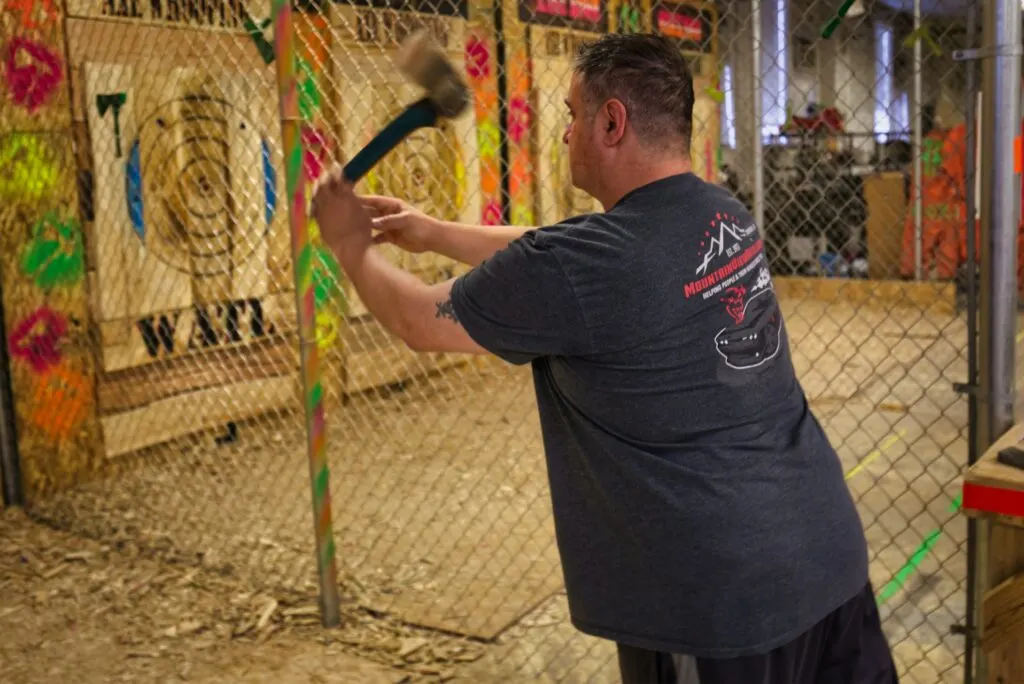 53. Take a long drive
We love the rain, but don't necessarily like getting wet. One way we get the best of both worlds is to go for a long drive on wet days.
It's a fun way to get you disconnected from phones and laptops for a bit. We enjoy having the chance to talk about anything from what's going on at home, work or our future travel plans.
It's also really nice if you have somewhere cool nearby to drive to like a rainforest or even just out of the city on country roads.
On the way home we love to turn on some music and sing along to our favourite music.
We write about some fun car date ideas – check it out.
***
Rainy Day Date Ideas in some of the rainiest cities in the world
Let's face it, some cities are just a little more rainy than others.
We were curious which cities were in fact the rainiest cities in the world (the list might surprise you!).
Our rainy day date ideas include our favourite rainy cities around the world but not necessarily the ones included on the above list.
So with no further adieu, here are our favourite rainy day activities for couples in some of the absolute best (and rainy) cities in the world.
It rains a lot in NYC so it is the PERFECT place for a rainy day date.
If you are visiting New York, you might also like to check out our guide to hidden gems in New York
Some of the best rainy day activities in NYC include the following:
Visit the Brooklyn Cat Cafe
There is nothing like a super cute cat date and The Brooklyn Cafe is a fabulous place to go if you find yourself in New York City on a rainy day. A fabulous rainy day date!
Not only does the cafe have cute cats but it is very reasonably priced. You can reserve a spot online for $7 online on a weekday or $8 walk in. It is a dollar more entry on weekends.
It is hard to own your own cat in New York in a small apartment so a cat cafe is the perfect place to get your cat cuddles in.
If you do have some room for a new pet some of their cats are up for foster or adoption which is pretty cool.
The cafe is open most days until 7.00 pm. It is closed on a Tuesday.
Visit the Grand Central Station
The whispering gallery inside Grand Central Station is a pretty cool thing to check out, especially on a rainy day.
We inside this on our hidden gems in New York guide.
What we love about the Grand Central Station is the acoustic walkie talkie it makes.
You can each stand at the diagonal arches and hear each other due to the design of the building. It is designed to carry voices across the curve of the ceiling.
Visit the Oculus
One of the prettiest and most impressive stations you will ever see is the Oculus.
As it is located indoors, it is ideal for a rainy date date in New York City.
Inside there are shops and restaurants. If it stops raining it is also a minute away from the 9/11 Memorial and Museum.
If you want to take some couples photography, this is one of the most photographed spots in New York. It appears a lot on Instagram.
Go shopping at Chelsea Market
Chelsea Market is a cool place to go on a rainy day date in NYC as there is so much to see and explore.
A once modest market has now turned into a multi-floor market extravaganza with interesting restaurants and shops selling worldly cuisine.
London is another place where the sun never seems to shine.
London is fully aware of this fact and for this reason, is well prepared with lots of places to explore on a rainy day!
Here are some of our favourite rainy day date ideas in London:
Visit Gods Only Junkyard
My Dad randomly stumbled across this seriously cool cafe in London last time we were visiting and it is beyond cool.
Gods Only Junkyard is truly a hidden gem on the outskirts of London and the ideal place to go on a rainy day date.
It might not be much to look at initially but don't get turned off, this old industrial estate warehouse has undergone a massive transformation to now be the largest supply of vintage neons and signs in Europe!
As you enter, you will be absolutely blown away by the amazing display of bright neon lights.
Inside is a retro cafe where you can enjoy an alcoholic beverage or coffee together on your date.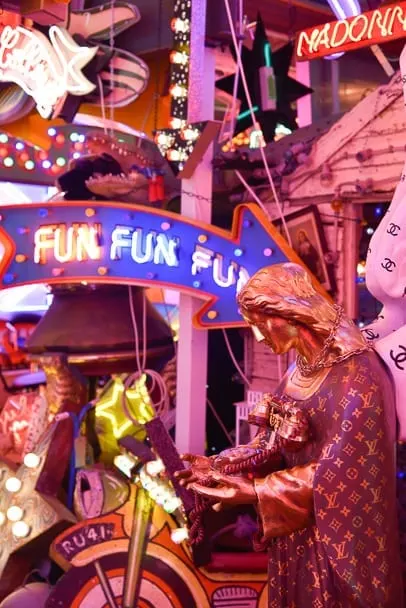 Let them eat Scones!
Every English loves a good scone and so do we!
Last time we were in London, we went on the hunt for the very best scones in London.
Having a high tea with scones date is in our opinion, one of the very best date ideas in London.
The English Rose Cafe in Central London is a great place to go on a scone date as it is the cutest cafe ever with perfect flower wallpaper, a piano and tea served in China.
Also, it is a pretty good deal – 2 scones, 2 rounds of jam and cream and a large pot of tea, enough for two for only 10 pounds.
Have a romantic lunch or dinner at The Gherkin
The Gherkin is a very iconic building in London and perfect for a romantic, rainy day date.
I recently visited with a girlfriend for dinner and realised I must bring Mike back there for a romantic date ASAP.
The very top floor is the most romantic with a very high, glass rooftop.
Rainy Day Date Ideas in Atlanta, Georgia
We were in Atlanta recently and we found that there was a lot of romantic things to do in this city, especially on a rainy day!
Our favourite rainy day date ideas in Atlanta include the following:
Go to the Starlight Cinema Drive in
The drive in is one of Atlanta locals favourite date ideas.
The best part of this date is that tickets are very reasonable at only $9 a ticket.
The drive in is open 7 days a week and there is even a candy bar conveniently located for all your snacks!
Visit the Georgia Aquarium
Going to the aquarium is one of our favourite date ideas ever!
We found a great aquarium recently in Key West and then this awesome aquarium in Atlanta.
The aquarium puts on some really fun imagination nights which are perfect for date night. As the event is at night, there tends to be less kids around.
Watch the Atlanta Symphony Orchestra
The Atlanta Symphony Orchestra is one of the best in America and there is honestly no better time to see them play then on a cold, rainy day in Atlanta.
The shows usually start at 8pm nightly and cost $22 upwards for a seat. It is held at the Woodruff Arts Center.
The Painted Pin
Aside from the drive in, my favourite rainy day date night in Atlanta has to be at The Painted Pin.
This super cool bowling alley turned hipster bar oozes personality.
It is located in the middle of Buckhead's Miami Circle and costs $25/hour on Mon-Thurs for bowling and $35 on Friday-Sun with shoe hire extra. Food at the venue is also reasonably priced.
Aside from bowling what makes this place a super fun date idea is that the venue offers a tonne of other fun games including indoor Bocce Courts and Shuffleboard tables.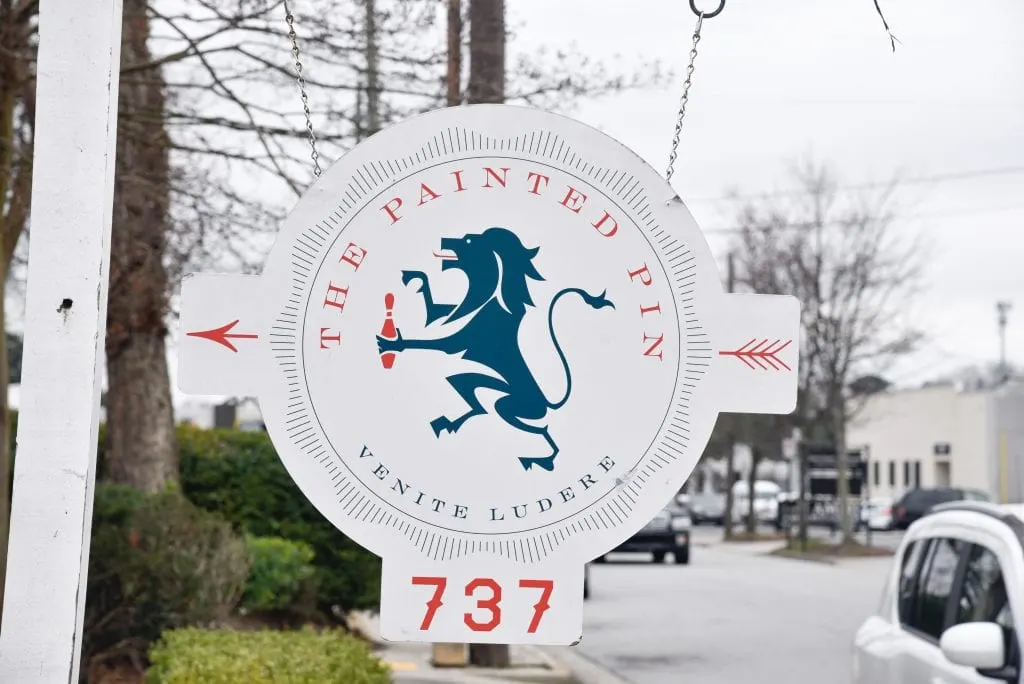 Summary: Rainy Day Date Ideas for Couples
We hope this helped you plan your rainy day first date. Let us know in the comments below what you ended up doing! And, if we missed a particular good date idea we would also absolutely love to hear it!
So there you have it! 50 First Date Ideas in the rain!
We hope this helped you plan your rainy day first date. Let us know in the comments below what you ended up doing! And, if we missed a particular good date idea we would also absolutely love to hear it!
Save Rainy Day Date Ideas to Pinterest (so you can find it again later!)