Atlanta Georgia is a city that oodles charisma and has an abundance of very romantic things to do for couples. Perhaps even stay in a jacuzzi suite in Atlanta?
While somewhat forgotten to nearby 'cuter' cities like Savannah and Charleston, we think Atlanta is somewhat of a hidden gem in the USA and definitely worth your time if you are looking for a romantic getaway.
Let's not forget, Atlanta was cool long before now – it is the home of hero Martin Luther King and held the 1996 Summer Olympics (you can still get a photo with the rings!)
Note: If you are on a trip to Atlanta, for the best value, we would recommend getting an Atlanta City Pass for your trip.
Romantic Things To Do Atlanta Georgia For Couples This Weekend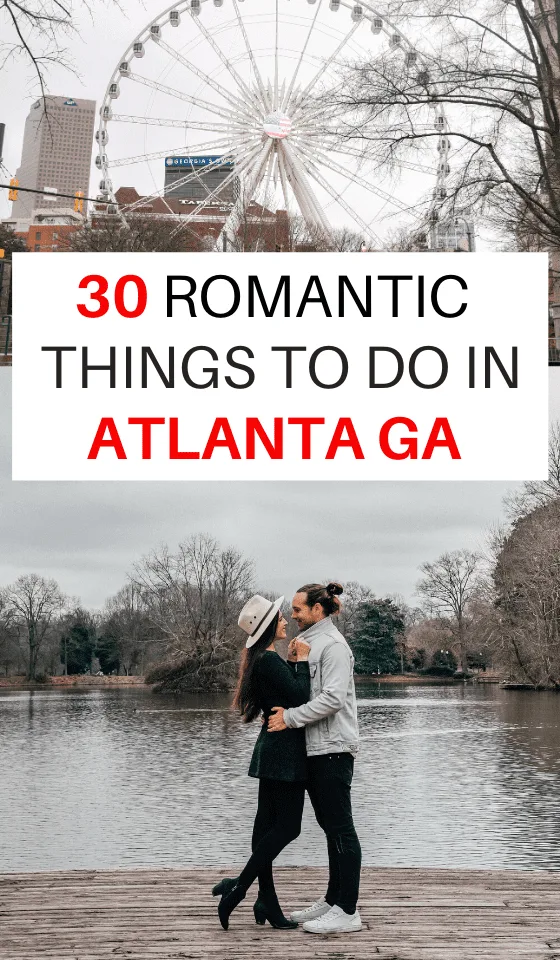 While you might not initially think it but Atlanta is actually a very romantic city and there are an abundance of cool date ideas in the city.
You are sure to find a suitable romantic activity in Atlanta whether you are traveling to Atlanta on a weekend holiday or planning a date as a local.
Note: Before you set off on a trip, make sure you always travel with Insurance with you. After 5 + years of travel we would recommend World Nomads.
Best Time To Visit Atlanta
We visited Atlanta in February during the middle of winter.
While we had a fabulous time, I would not recommend it as the best time to visit Atlanta as it was a little cold (12° C/ 53° F) and the city was a little dull and grey.
If you are spoilt for choice as when to travel, I would suggest either traveling to Atlanta in Spring (April – May) or Fall (September- October). These are the optimal months to visit Atlanta both in terms of weather and affordability.
Fall in Atlanta and outside the city in the mountains produces amazing colors.
Atlanta tends to get very hot and humid during Summer so avoid the middle of Summer at all costs. During Summer is also when prices in Atlanta become the most unaffordable.
This post covers the most romantic activities for couples but there are tonnes more attractions in Atlanta (it is a huge city!!), if something in this romantic list doesn't tickle your pickle, you are sure to find something else here:
Go for a romantic night at the Starlight Cinema
This is possible my favorite date idea in Atlanta.
Ticket prices are very reasonable too at only $9 a ticket so it is a great romantic thing to do for Couples.
We are huge fans of drive in cinemas. Huge is an understatement, we are massive fans of drive in cinemas. There is just something about drive ins that scream romance and date night, don't you think?
As we just visited Cuba, we are kind of up for some 1950s old school romance and as it so happened that we are cruisin' the US by car, it was the ideal date night for us to make in the comfort of our own vehicle.
The great part of this romantic activity is that it operates 7 nights a week so there is really no excuse.
Plus, there is also a candy bar at the cinema where you can enjoy some delicious snacks while you watch the show.
Visit the Georgia Aquarium
A very rom-com movie date, a visit to the aquarium is one of my favorite date ideas ever. We went to an aquarium on a date in Key West and since then I have been absolutely sold on this as a date idea.
While you will find a lot of kiddies at the aquarium during the day, night time at the aquarium shines and the adult fun begins. Keep an eye out for the Georgia aquarium adult only events with cocktails and finger food – they are the best.
You can buy a ticket to one of the aquariums imagination nights here.These do allow kids to enter but being at night you will find far less families and ticket prices are cheaper.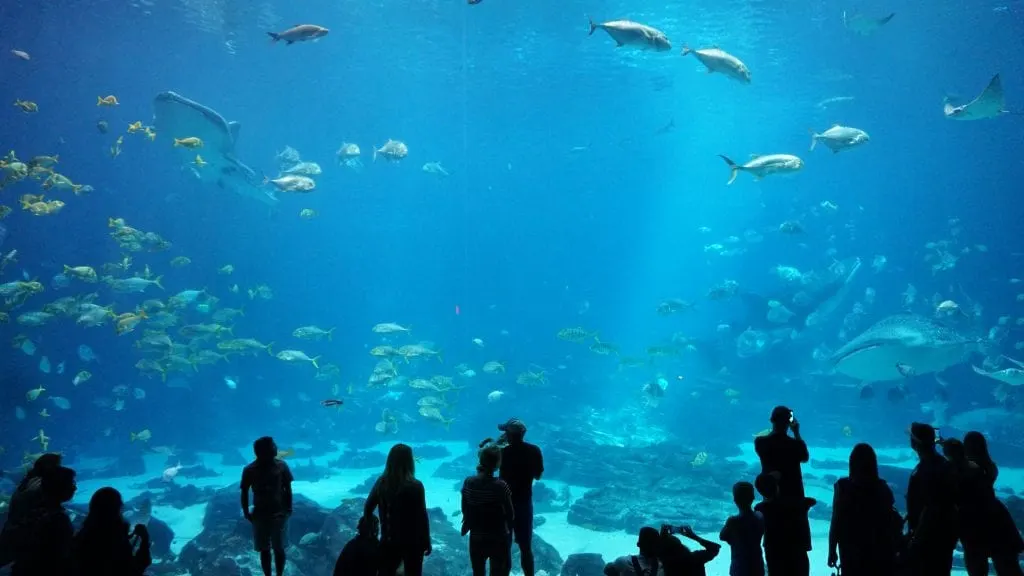 Legoland Discovery Center
Legoland may found like just a place for kids but it is also a great date idea for the big kid among us!
Legoland is located approximately a 15 minute drive from downtown Atlanta, in Buckhead at Phipps Plaza.
Inside you will find some super fun things to keep you and your date entertained including a 4D Cinema and interactive rides.
If you want a kid-free Lego experience, every third Thursday of the month there is an adults only night at Legoland Atlanta, perfect for an Atlanta date!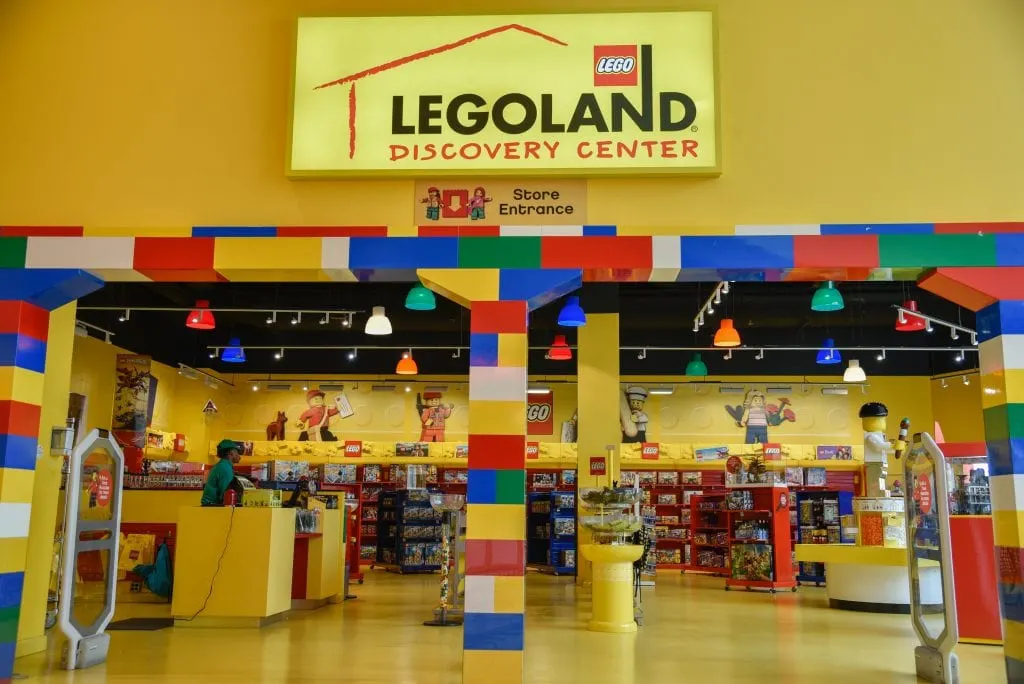 Get in some Atlanta History for history buffs
So remember when I told you that Atlanta is the home of Martin Luther King, well, that means, Atlanta is a place for history buffs.
If you and your significant other love history, there are some interesting places to get better acquainted with Atlanta's history. The best places in the city include:
The National Center for Civil and Human Rights – Atlanta has a long history with civil rights movements. The 1960s were the first time in Atlanta that the African American population were allowed to use the public parks and swimming facilities in the city. At the center you can learn more about past and future American civil rights movements and global human rights issues.
Martin Luther King Historical Park – Taking about the South and the civil rights movement , this park is dedicated to Martin Luther King and his importance in this movement. It is also the final resting place for him and his wife.
If you want a little more history about Martin Luther King from someone in the know, we would recommend going on this popular Martin Luther King Tour while in Atlanta.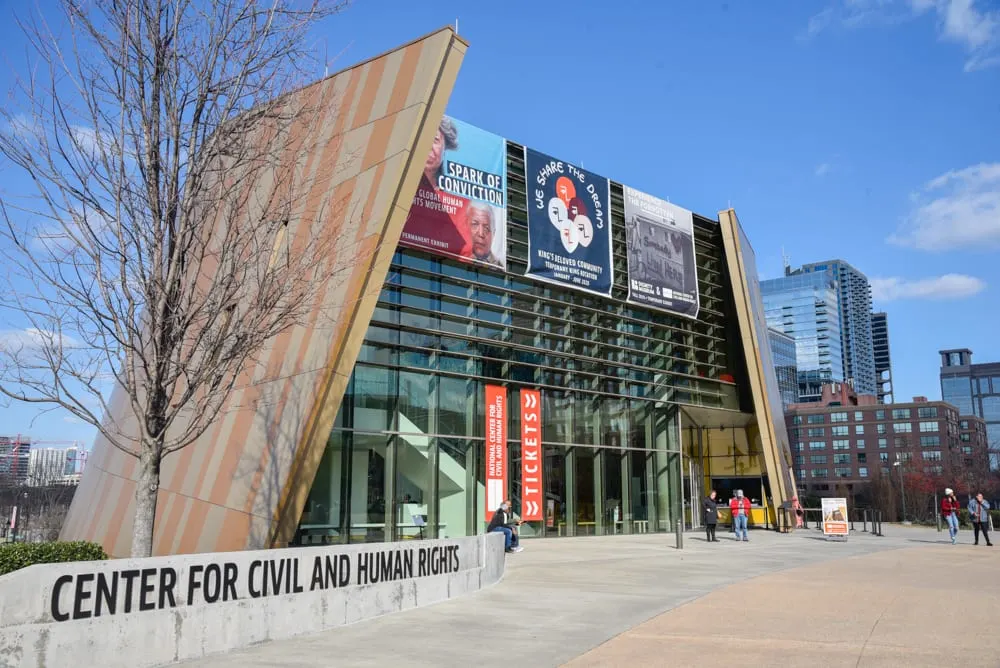 Visit the Oakland Cemetery
I always say a spooky movie is a great date idea so the Oakland Cemetery, while not that romantic, does seem like a good date idea in Atlanta.
This is a particularly beautiful cemetery (as wrong as that sounds!). There is also a tour offered in the cemetery during the month of Valentines day called the Love Stories tour. Tickets cost $16.
At all other times of the year, you can book this tour of Oakland Cemetery.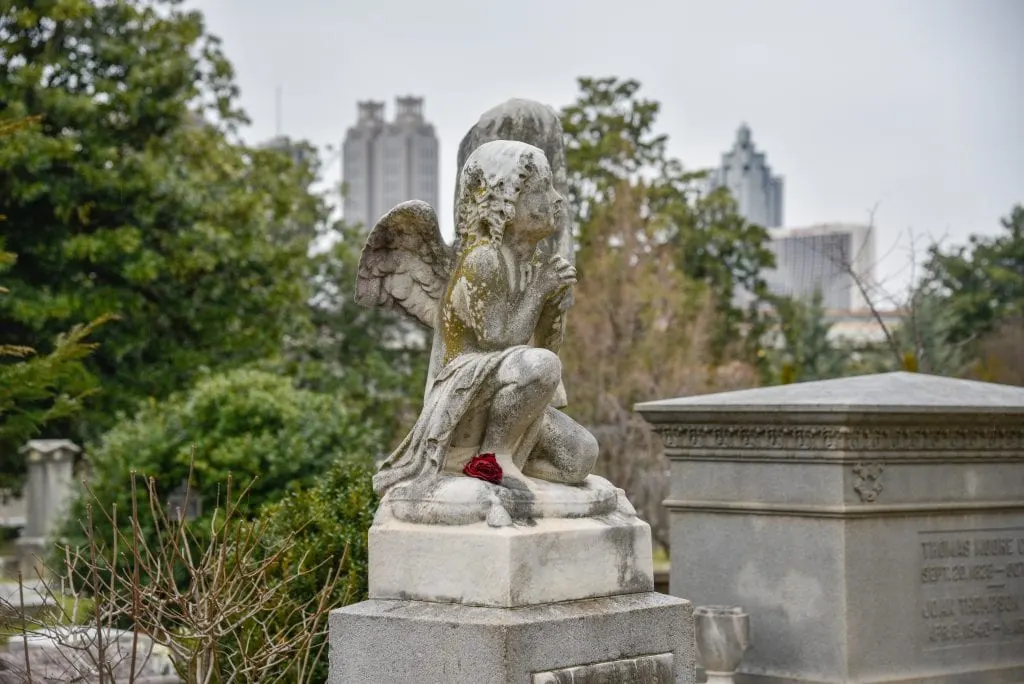 Skyline Park
It costs $10 to access the rooftop for a whole world of fun, perfect for a fun date idea in Atlanta.
Not only will you enjoy some fun games like putt putt but the park offers an incredible view of Atlanta. If you are an old soul, you will enjoy the old fashioned games on the rooftop including throwing a softball at ceramic plates.
Don't leave the park without trying one of their delicious frozen drinks.
If you are feeling peckish after your date, you can always head to the Ponce City Market (with awesome food and drinks) as Skyline Park is located right on top of the Ponce City Market.
For extra romance, sunset is a great time to visit the park for a sneaky kiss and cuddle as the sun sets over the skyline of Atlanta city.
Piedmont Park
There is no denying that one of the most romantic things to do ever in a city is to go for a picnic or stroll in a park.
One of the prettiest and best parks in Atlanta Georgia is Piedmont Park. If you are on a trip to Atlanta, it is in the perfect location as it is situated right in the very heart of the city.
One of the most romantic spots in the park is the stunning lake Lake Clara Meer located in the southern end of the park.
The park is completely free to enter and if you are lucky you can even catch one of the many free events at the park.
Go for a Tandem bike ride
We saw a couple on a double date on a tandem bike while in Piedmont Park and it seriously looked so fun. We are scheduling it as our next date in Atlanta for sure.
You can rent bikes outside Piedmont Park entrance at a shop called Skate Escape.

Have a Date at a Korean Bathhouse
We were seriously surprised to find a Korean Bathhouse right in the centre of Atlanta.
Visiting a jjimjilbang is one of the best things we did in South Korea so we would seriously recommend it if you haven't tried it and don't plan on visiting the country anytime soon.
Jeju Sauna only costs $30 entry and is a very relaxing and interesting date idea for couples in Atlanta. Like in South Korea, they provide you with a spa uniform to use to relax in as you experience the facilities.
Grocery on Home
If your visit to Atlanta falls on a Saturday, we would highly recommend a visit to one of the best free things to do in Atlanta, what is known as the Grocery on Home local artists performance.
While entry is completely free, you are required to RSVP on their facebook group to attend.
Locals and upcoming artists play weekly on a Saturday night at Grocery on Home and while entry is free, artists expect a small tip.
What's cool about this place is that you are allowed to bring your own alcohol to the event so come prepared!
Watch the Atlanta Symphony Orchestra
If you prefer classical music on your date, you may prefer to see the Atlanta Symphony Orchestra play while you are in the city at the Woodruff Arts Center.
The Orchestra includes violin concertos to Rachmaninoff symphonies.
Shows usually start at 8pm nightly and cost $22 upwards for a seat, depending on where you elect to sit during the show, making it a pretty affordable date night in Atlanta.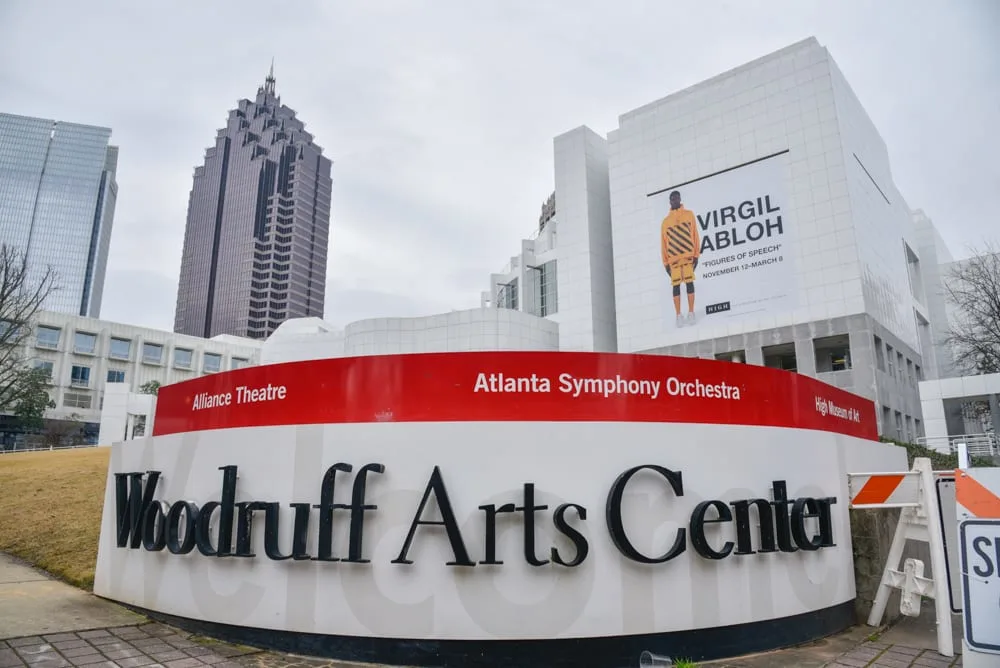 If you are an old soul that really appreciates the classics we would recommend seeing a show at The Fox Theatre in Atlanta which shows lots of Broadway musicals.
Shows at the theatre include a lot of classic romantic favourites including Dirty Dancing (1987).
You can see what's on during your stay in Atlanta on their website.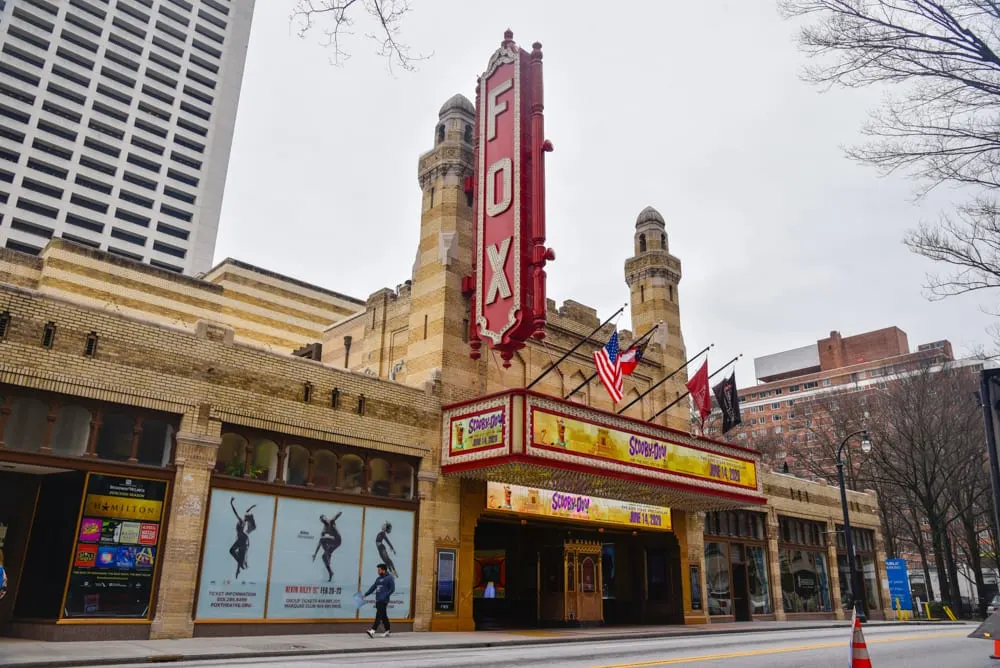 Go for a Humorous Puppet Show
One of the most unique ideas for date night in Atlanta includes visiting the Puppet Centre in Atlanta for an adults night of puppet comedy.
Now that is a date you won't be quick to forget anytime soon!
You can check out more about what shows are playing during your dates in Atlanta on their website
A Date of Fun and Games at The Painted Pin
Locals and travelers in Atlanta alike can agree that the The Painted Pin is one of the best places for a really fun indoor or rainy day date in Atlanta.
This cool, hip venue is located in an upscale boutique bar, bowling alley that oozes personality. This unmissable activity in Atlanta is located in a industrial warehouse in the middle of Buckhead's Miami Circle, home to some of Atlanta's best furniture, art galleries and entertainment.
Bowling costs 25/hour on Mon-Thurs and $35 on Friday-Sun with shoe hire extra. Food at the venue is also reasonably priced.
In addition to bowling the venue offers a tonne of other fun games and activities including indoor Bocce Courts, Shuffleboard tables, ping pong tables, vintage skee-ball machines and more.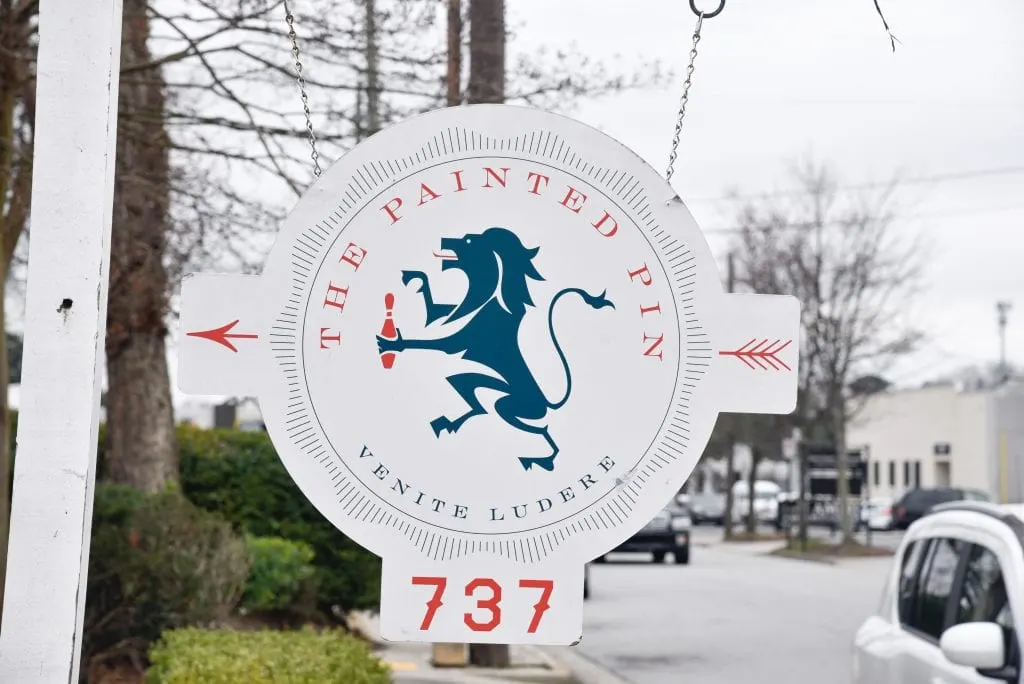 If you are a fan of art, nearby the painted pin, are numerous interesting art galleries including the Bill Lowe Art Gallery and the Pryor Art Gallery.
Enjoy some of the best views in Atlanta
There is no denying that Atlanta is a very pretty city. For this reason, one of the very best date ideas in Atlanta is to enjoy the city from an epic view – perfect for a very romantic date in the city.
Some of the best rooftop bars with a view in Atlanta include:
The Skylounge
9 Mile Station
If you want a very fancy dining experience we would recommend Nikolai's Roof which is a fine dining restaurant at the top of Hilton Atlanta. The restaurant is one of the best spots for a proposal in Atlanta due to the amazing view of the Atlanta skyline.
Aside from bars an restaurants, one of the cutest ways on a date to get an epic view of Atlanta is to take the Skyview Ferris Wheel for a ride to get panoramic views of Atlanta by sky.
If you are on a special date or are thinking to propose while you are on a trip to Atlanta we would recommend splurging on the Skyview Ferris Wheels VIP couples package which includes a private carriage, chocolates and a long stemmed rose (from $33+)
World of Coca Cola
If you are both coke fans, you might like to head to the world of coca cola in Atlanta, one of the best and most popular things to do in the city.
Inside is a long history of coke (as it requires a fair bit of reading few kids tend to go there) followed by a tasting room where you can taste over 100 flavors of soda from all over the world.
You are free to drink as much soda as you like so go crazy with your date here.
Entry costs $17 and is included as part of the Atlanta City Pass.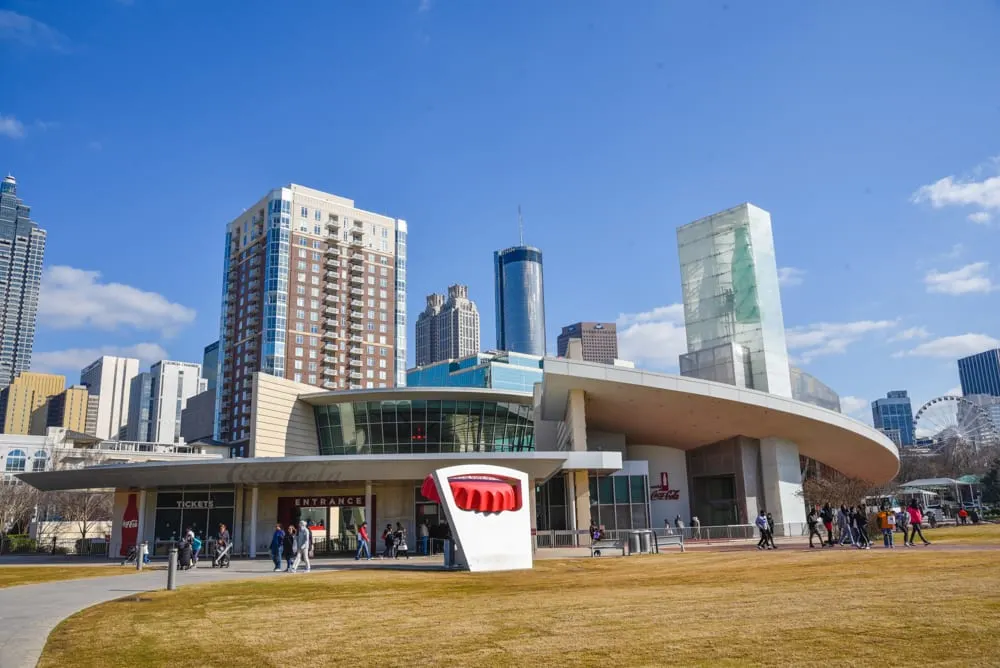 Atlanta Botanical Gardens
Another great place to go on a date in Atlanta is the Atlanta Botanical Gardens.
No matter what time of year you visit Atlanta, it is always a good time to visit the gardens as the gardeners have different plants to showcase all throughout the year.
They also regularly have special exhibits such as the Alice in Wonderland exhibit which was particularly impressive and popular at the gardens.
Entry is $22 and you can check out what exhibits are currently displayed on their website.
Have an extreme date at Porsche Driving Experience
For an adrenaline-filled romantic activity in Atlanta, head to the Porsche Driving Experience Centre where you can take one of the coolest Porsches for a spin around the track.
While it is not a cheap date in Atlanta (cars range from $400 up depending on the model you want too drive), it is sure to be a date that you store in your memory banks for years to come.
Xtreme Xperience is a similar place where you can drive sports cars in Atlanta.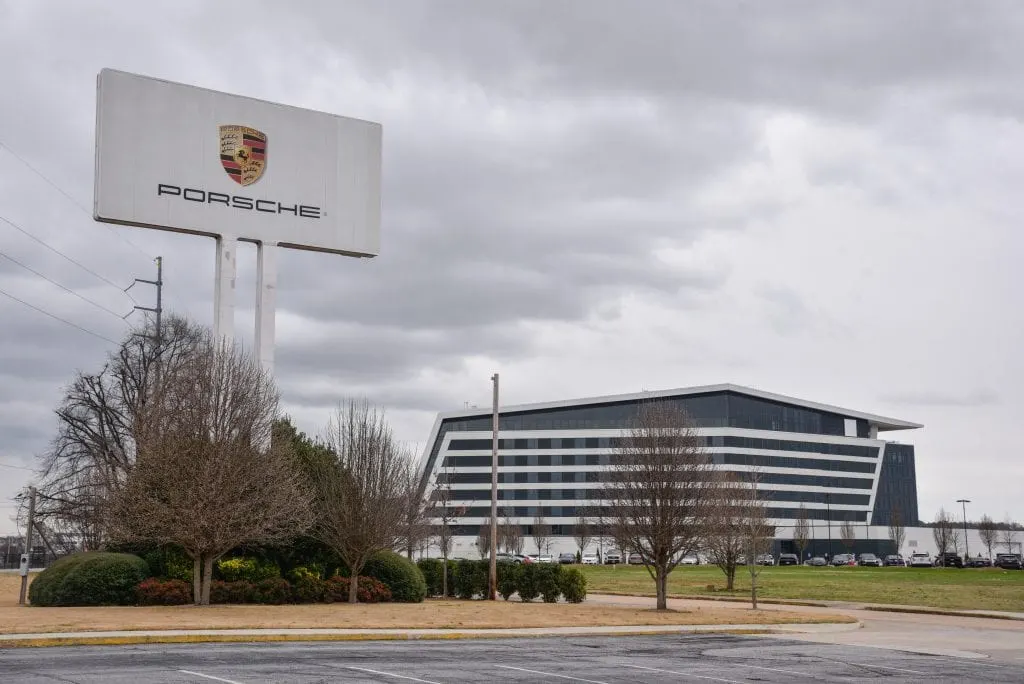 Swan House
If you and your partner are both fans of the Hunger Games, you might like to head to Swan House while you are in Atlanta to take a look around.
Swan House was used as President Snow's house in The Hunger Game movies.
If you are looking for a beautiful setting for your romantic getaway, you honestly cannot beat Swan House as it is one of the most beautiful places in Georgia.
A bit of history. The house was completed in 1928 for a couple who were heirs to a cotton brokerage fortune. The house still has a lot of its original furnishings and is listed as a city landmark on the National Register of Historic Places.
Entry to the Atlanta History Center ($21.50) includes entry to Swan House. There is an additional $10 fee if you want a guided tour of the house.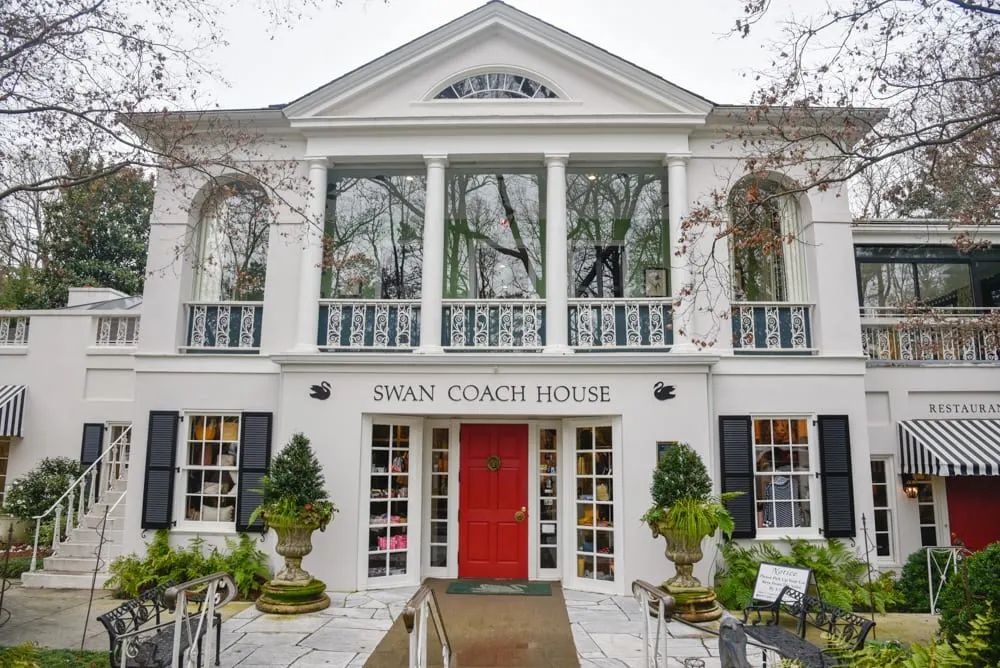 Go to a murder mystery night: Agatha's A Taste of Mystery
Have you ever wanted to go on a murder mystery night and none of your friends are interested?
Well now is your chance with Agatha's A Taste of Mystery.
It might not seem like a very romantic thing to do, but it is a great date as it is super fun. Agatha's A Taste of Mystery combines comedy with murder mysteries to solve.
It is $75 a ticket but is reasonably good value as it includes a show, wine, coffee and tea. If you would like a cheap date idea, the have a special rate of $58 for the matinee session on Sunday.
Atlanta Beltline "Where Atlanta Comes Together"
One of the newest and coolest walking areas of Atlanta, perfect for a romantic date, is known as the Atlanta Beltline – 22 miles of unused railroad tracks which cover the city's most interesting neighborhoods through green space and residential areas.
The BeltLine is a great way to really connect with the city as you will see a lot of locals running and walking their dogs as you walk along. A great place for people watching as there is even a Skate Park located along the BeltLine.
There are many cool restaurants situated along the BeltLine so if you get hungry you can stop in for a romantic lunch. TWO Urban Licks and Ponce City Market's Dancing Goats Coffee are two popular places for a stop.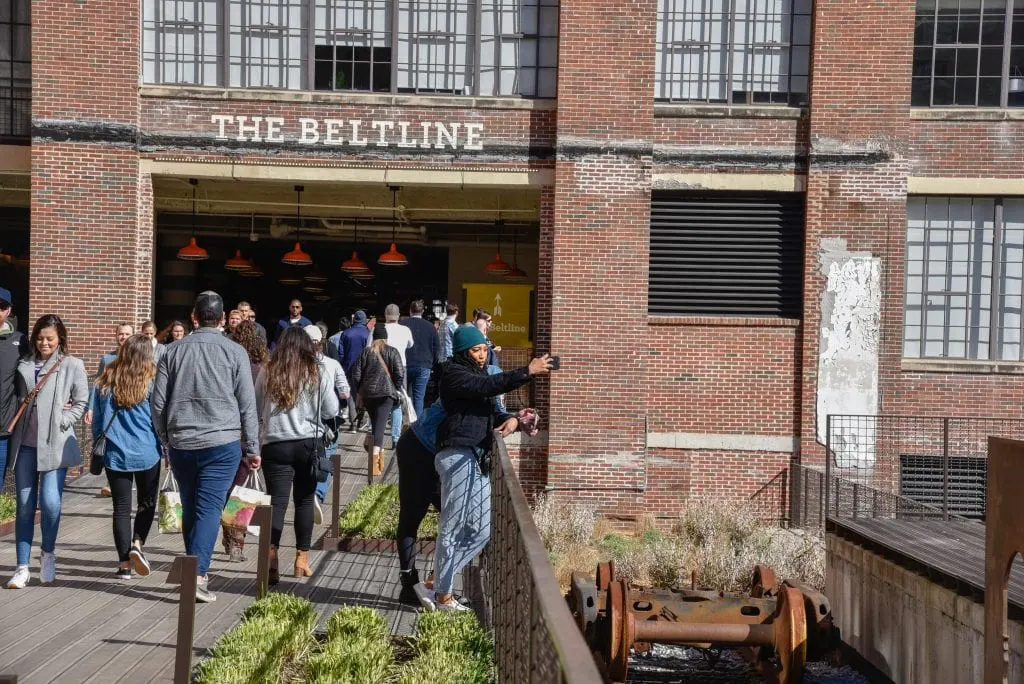 Romantic Things To Do Just Outside Atlanta Georgia
Lake Lanier
Located an hour outside of downtown Atlanta, you will find one of the most romantic things to do near Atlanta – Lake Lanier, one of America's favorite lakes.
If you love nature, you will simply adore Lake Lanier which is situated on the edge of the Blue Ridge Mountains.
If you are an active couple, there are lots of options for romantic activities on the lake including boating, fishing and kayaking. Be very careful doing any activities on the lake as over 11 people have died on the lake. Eekk!
There is a $15 parking fee to access the lake for a day.
Helen Georgia
Around 1.5 hours from Atlanta is the Bavarian inspired town of Helen Georgia.
If you can't afford a trip to Germany yet or want to get a taste for it before you go (we went on a 7 day cruise of Germanys best cities which we would highly recommend when you eventually go) we would recommend heading to Helen Georgia.
If you can spare a night here, we would recommend staying a night or 2 in Helen Georgia to soak up the culture. Click here for the best deals during your dates.
Even better, plan find your perfect romantic Helen getaway from our shortlist of incredible places to stay including a castle, log cabins, European half-timber guest houses, cozy bed and breakfasts and actually-worth-the-money hotels.
East Palisades Trail
Another one for the nature lovers among us is the East Palisades Trail, located in the Chattahoochee Recreational Area in Sandy Springs, only a 25 minutes drive from downtown Atlanta.
Arguably the most romantic walk in the area is the East Palisades Trail a trail along the Chattahoochee riverbanks past a stunning bamboo forest.
Entry is free but is costs $3 to park your car.
Climb Stone Mountain
Around a 30 minute drive from Atlanta you will find Georgia's most-visited attraction – Stone Mountain Park.
In the park is the world's largest piece of exposed granite built in the middle of 3,200 acres of forest.
It is free to enter but there is a $15 parking fee.
If you are an active couple and you wish to hike to the top it is one mile (1.6 kilometers) in length. Pack a picnic lunch for extra romance.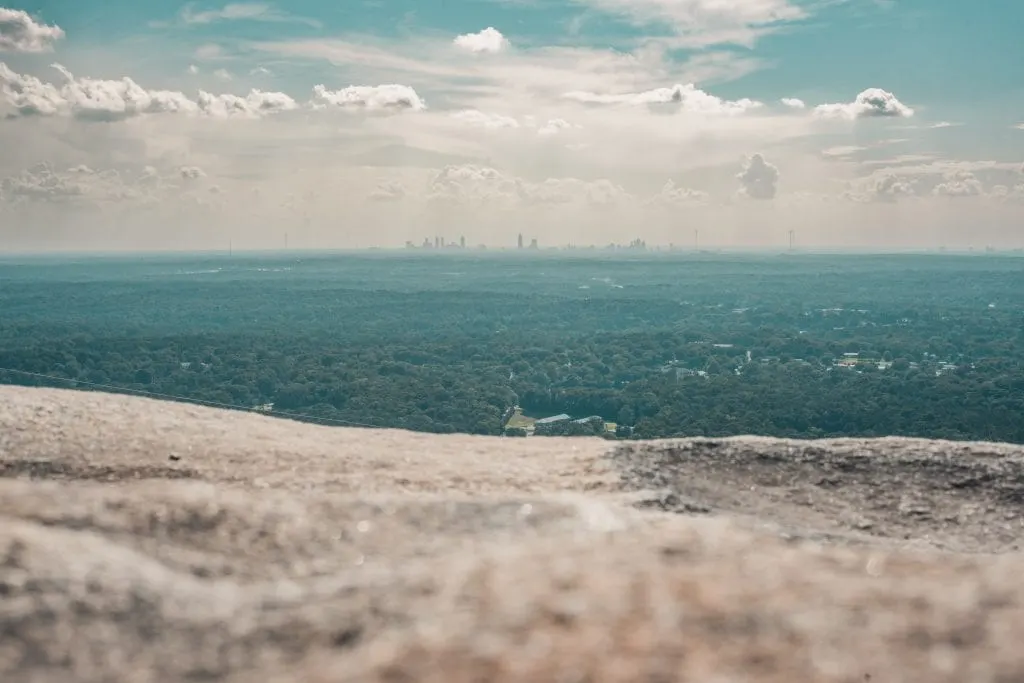 Ellijay Georgia
If you are an outdoorsy couple like us, consider making a trip to Ellijay in Georgia.
This beautiful mountain area with wineries and adventure outdoorsy activities is located just a 1 hour 20 minute drive from Atlanta.
If you are visiting in fall, this region of Georgia is particularly popular as the orchards in the area include apple picking and petting zoos.
One of the best orchards in the area is Hillcrest Orchards which is popular for their signature wagon rides
Visit Georgia's wineries
Georgia has some of the best wineries in America located along what's known as Georgia's Wine Highway.
Some of the best wineries are located just 1 hour outside of Atlanta, making it the perfect day trip from Atlanta. Aside from wine, the rolling hills of the region make this one of the prettiest drives in Atlanta.
As it is a romantic getaway, and you definitely don't want to argue over who is the designated driver, we would suggest booking a wine tour from Atlanta so you don't have to be worried about how much you drink on the day.
If you want to DIY the wine touring, some of the best wineries to visit include:
The Fainting Goat Winery
The fainting goat winery not only has great wine but one of the best views of all the wineries in Georgia. The winery is around a 1 hour drive from Atlanta.
The tasting at the fainting goat winery will set you back $10.
The nice part about this place is that on top of the view often there is live music playing.
Oh, and if you are wondering why it is called the 'The Fainting Goat Winery' it is because yes, there are actually live goats running around the place.
Kaya Vineyards
Kaya Vineyards is another nice winery to visit for couples. Located a similar distance from Atlanta at around an hour driving.
This venue also offers live music. The cool thing about this place is that if you are feeling a bit hungry during your wine tasting you can head there for a light lunch. A delicious cheese platter for 2 will set you back $18.
If you feel like doing something extremely romantic for date day, you can pick up one of their amazing picnic lunch baskets complete with a bottle of wine, sandwiches, salad and cheese as well as snacks ($175)
The Cottage Vineyard
The Cottage Vineyard is another popular winery near Atlanta located only a 1 hour 20 minute drive from downtown Atlanta.
This is a super cute winery with a fabulous view of the North Georgian mountains. In Georgia winery fashion, they offer free live music from a particularly good acoustic guitarist.
Wine tasting cost $10. If you like hospitality, you will love this place as the owner stops to personality serve and chat to the customers.
Montaluce
If you are looking for absolute luxury and a very unique romantic experience at a winery, we would recommend the Montaluce winery.
This place is so romantic that they even offer the possibility of weddings in their Tuscan inspired residence, which are becoming particularly popular for the amazing views.
This place is a pretty unique winery as along with the traditional tasting there is also the possibility of going on a 1.8 mile wine hike ($45). This is a great date idea for active couples as the 1.8 mile hike passes through beautiful North Georgia wine country.
The hike is guided by one of the staff at the winery which inform you about the winemaking process along the way and treat you to 5 of Montaluce's best wines.
If you aren't interested in hiking, there is a restaurant on premises where you can enjoy fine dining for around $30 a main.
Romantic Places To Stay in and Around Atlanta
Okay you so have your activities sorted, now you will need a super romantic place to stay for your romantic weekender or honeymoon to Atlanta!
We have made a full post with romantic places to stay in Atlanta. Otherwise, see below for some of our favorites.
Places Within Atlanta
There are a lot of places to stay in Atlanta to meet practically any budget.
Budget – Mid Range Atlanta
Parking can be expensive in downtown Atlanta ($30+ for valet parking) so if you are traveling on a budget and have your car with you, here are some good budget/mid range accommodation options in Atlanta:
Luxury Atlanta
If you would really like a romantic getaway to remember, we would always recommend going with a luxury option for a bit of extra pampering.
Atlanta has some fabulous luxury options in terms of hotels. These are our favorites with the best reviews:
We have personally stayed at La Quinta Atlanta Airport twice and would highly recommend it for their clean, comfortable and very large rooms.
The rate is also very affordable and includes a free breakfast and an airport shuttle.
Check availability at La Quinta Airport during your dates.
If You Don't Mind a Drive for Extra Romance (1.5 hours outside Atlanta)
If you don't mind a short drive from Atlanta, you will find some of the most beautiful resorts and places to stay within Georgia.
Here are some of the most romantic hotels within a 1.5 hour drive of Atlanta.
Around 1.5 hours outside of Atlanta is an absolutely stunning resort, totally set up for love and romance.
The cool thing about this resort is not only is it extremely luxurious but it is steps away from lots of fun activities including boating, canoeing and biking through the Georgia pines.
Check availability at The Ritz Carlton during your dates.
Barnsley Resort is actually located in Adairsville, around an hours drive outside of Atlanta near the North Georgia Mountains.
It is well worth heading to if you don't mind the drive as it is known for being on the best and most luxurious wedding venues in Georgia.
The hotel is completely set up for couples and offers fun and romantic activities including horseback riding, shooting, hiking and spa treatments.
Check availability at Barnsley Resort during your dates.
A winery is always a good idea for a date and what is better than just visiting a winery – well, staying at a winery of course!
If you can't quite afford a holiday to France yet but still want the full French experience complete with Versailles Afternoon Tea experience and a dedicated wine tasting room, then this is the resort for you!
Check availability at Chateau Elan Winery during your dates.
***
We hope you have a super romantic getaway to Atlanta Georgia, or even if you are a local, have found something new and romantic to do in this list for this weekend's date.
What's next? You might like to check out some romantic things to do in Augusta GA.
If you know of something super romantic in Atlanta Georgia that we did not include in our list, we would love to hear from you, so leave us a comment below.
***
Save Romantic Things To Do Atlanta Georgia to Pinterest so you can find it again later