Ahh, Havana Cuba – the communist city frozen in time.
People say 'visit Havana before its too late!' and now I know what they mean. Cuba is probably the closest you'll get to traveling back in time.
It certainly is a place to visit 'before its too late' and the 1950 movie ambience is gone forever. Imagine Spanish architecture (crumbling), vintage American 1950s cars, delicious mojitos and salsa…that's Havana Cuba.
A few years ago, when we were doing a cruise to the Dominican Republic, Cuba had just been reopened for American tourism and people were dying to get in.
It was very expensive back then ($5,000 for a cruise to Cuba vs the $299 on a cruise to the DR). Despite the fact we too were dying to go, we simply couldn't justify the expense to Cuba.
Luckily, it is still not too late to visit and there are now many cheap flights from international terminals including Miami and Cancun. The time has never been better to visit this incredible country!
We traveled from Cancun to Cuba which only set us back around 100 USD a ticket – bar-gain!
For a relatively small island country, we were amazed by how many amazing things there to do in Havana from meandering through the picturesque streets, going for a ride in a classic car, visiting the countryside to dancing the night away in one of Hemingway's many drinking holes.
This guide contains affiliate links. If you find some of the information helpful, we would appreciate you using the links to book hotels, cars and attractions. There is no extra cost to you but we get paid a small commission.
50 Best Things To Do In Havana Cuba (2022)
After 5 years of full time travel, there are not many cities in the world anymore that blow our mind upon entering.
Well, Havana absolutely blew our mind.
For this reason, we wanted to put together a guide of the best things to do in Havana to inspire you to visit and to help plan your next trip! There are so many things we learnt in during our trip to Havana, it really is a very interesting place both visually and politically.
Let's start with visually. If you love photography, you will simply adore Havana.
There is something interesting happening on virtually every street corner – from middle age ladies sipping tea outside a crumbling mansion to kids playing soccer on the bustling streets – there is seriously never a dull moment in Cuba.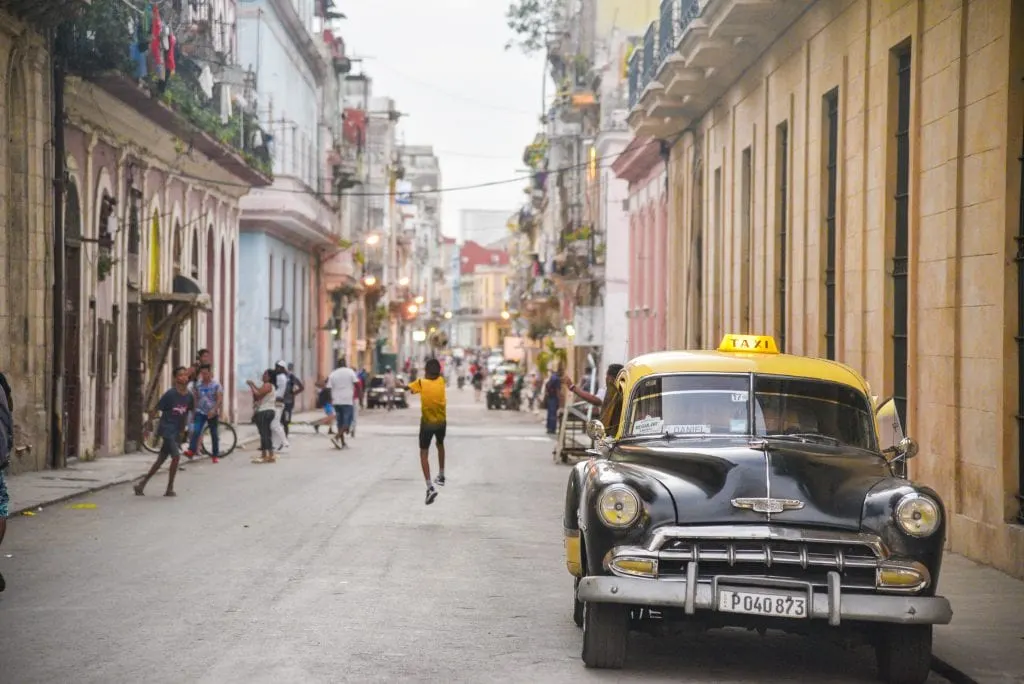 That doesn't necessarily mean Havana is perfect. Remember, you have just time traveled to the 1950s. Internet was not invented in the 1950s.
So, if you are a budding digital nomad or have come to spend countless hours on your computer – TURN BACK NOW!!! Don't say we never do anything for you 😉
If, however, you have come to disconnect for a while from the modern world and want a break from endless work emails in a "world that is filled with imagination", as Willy Wonka said, you will love Cuba. So keep reading for the 50 best things to do in Havana Cuba – a city unlike any other.
Don't pack your bags to Cuba without first reading our Cuba Packing List.
Visit the Old Town of Havana
The Old Town of Havana is hard to miss and will probably be the first thing you do when getting into the city of Havana.
One of the best ways to explore the Old Town of Havana and to learn a lot about it is to do a tour with a local.
The Old Town of Havana is a UNESCO World Heritage Site so it is definitely the #1 thing to do in Havana.
If you only do 1 thing in Cuba, don't miss this!
If you are coming from a cruise ship, they dock right in the Old Town of Havana. Yes, if you don't choose to fly into Havana coming by cruise is also a great way to visit for a day, although we would highly recommend spending at least a few days in Havana if you have the time.
The most beautiful and unmissable area of the Old Town of Havana is the area of Havana Vieja, a picturesque part of the city with cobblestone streets, colonial buildings and quaint alleyways.
This part of the city first took root in 1519 and drew the rich and famous to the area including the likes of famous writer Hemingway to Cuba in the 1940s.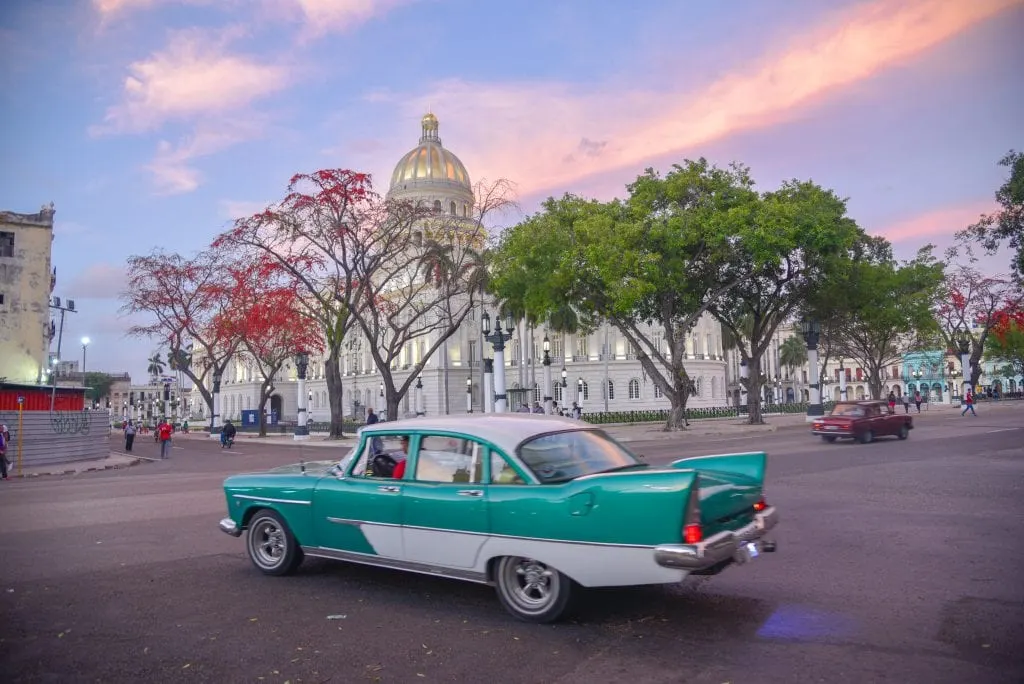 Since Communists took hold after the Second World War, many of the wealthy fled north to the United States abandoning their extravagant homes and leaving these mini-mansions to fall into ruin.
Today, the Old Town of Havana is a mixture of restored homes and un-renovated former mansions, half crumbling to the ground.
As little has been done to the area since the Cuban Revolution and the US stopped trade to the area, the city is frozen in time with hotels left in almost the exact state they would have been in the 1950s, old vintage cars filling the streets and of course no modern conveniences like McDonalds, Starbucks and very little wifi.
You could seriously spend hours meandering the streets of Havana Vieja and never get bored. If you are looking for a souvenir from Cuba, this is a great place to go as there is a souvenir shop on the corner of virtually every street.
In the middle of Havana Vieja you will find Parque Central where you can get a vintage car tour or a horse and cart draw tour of the city.
Note: The Old Town of Havana is very safe and you will have no problem wandering the streets as a solo female traveler. However, you will be stopped continuously as you walk the streets with someone trying to sell you something. Don't be alarmed, they are mostly harmless.
Explore Plaza Vieja
Within Havana Vieja is a awesome 16th century plaza in Havana known as Plaza Vieja.
It is one of the prettiest squares in the city with a fountain which is surrounding by colourful houses – a truley picturesque square that it not to be missed in the Old Town of Havana.
Plaza De San Francicso
It is amazing how many beautiful squares and churches there are to discover in downtown Havana.
The Plaza De San Francicso features a beautiful 18th century basilica church , the old Havana stock exchange and a statue of José María López Lledín, also known as The Gentleman From Paris.
Admire El Morro Castle
Across the bay from Havana Vieja, you will notice a rather impressive fort and lighthouse known as El Morro Castle or "Castillo del Morro".
It was built as a fortress in 1589 to protect Havana Bay from pirates. The fortress – thought to be invincible – was captured by the British in 1762.
Inside is a museum where you can learn all the history of Cuba. There is also a small shop where you can purchase cigars and coffee.
It costs $8 CUC per person for entry and will cost you around $10 CUC for a taxi from the city centre to get there. As it is located across the bay, you take an underground tunnel to access it.
Note: taxis all require negotiation in Cuba so never accept the first price they propose or you will likely be ripped off!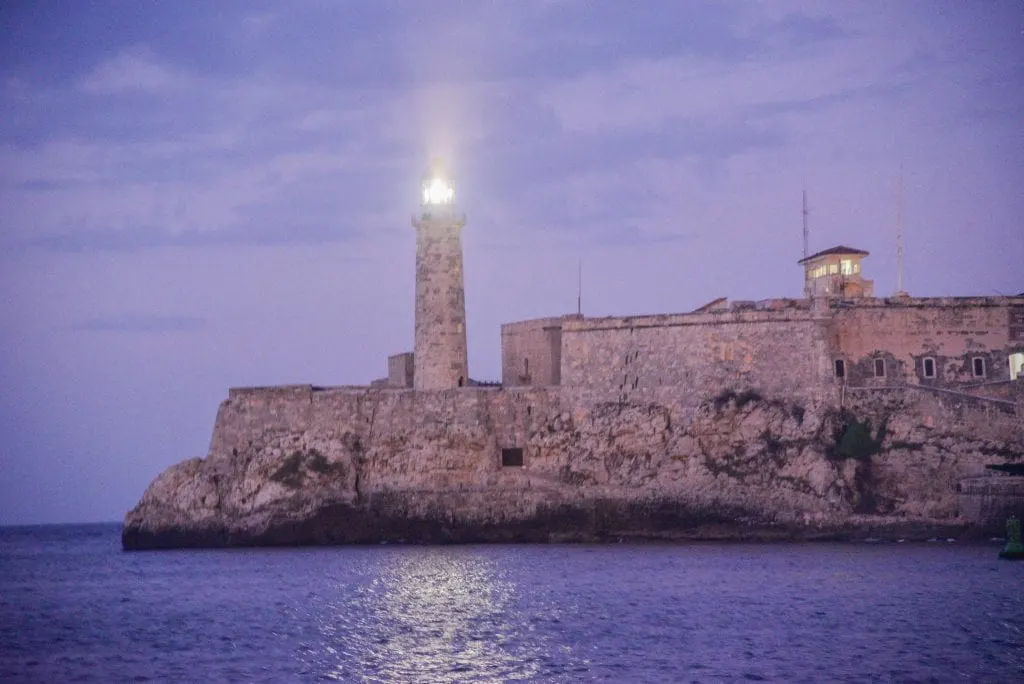 Go for a Ride in a Vintage Car
One of the things I was most excited to do when visiting Cuba was to go for a ride in a vintage car. I mean, it is not every day that you get to ride around, wind flying through your hair with no seatbelts, feeling like Marilyn Monroe.
If you want to go for a ride in a vintage car in Havana there are three main ways to do it.
Go for a mini Havana Tour
If you want to go for a ride in a shiny pink (or whatever color takes your fancy really) 1950s American convertible, you will need to go on a 1 or 2 hour tour of the city, where the guide will show you the highlights of Havana.
This is really fun and a great opportunity to take gorgeous photos. If you wish to do this, you will need to put on your best bartering shoes.
The 'official price' for a 1 hour tour is 80 CUC. The driver will show you a piece of paper showing you this and immediately follow it up with "But I will do a better price for you!!". Usually, at this point they will come down to 40 – 50 CUC.
You can negotiate further from there. We snagged a 1 hour tour for 30 CUC which IMO is a bit of a bargain. See how well your bartering goes and let us know in the comments below if you get a better rate than us (I will low key be hella jealous).
The great part about doing one of these, aside from the fabulous photo opportunities, is the opportunity to speak to a local about their life in Cuba.
We learnt some very interesting things about Cuba through talking to locals in these vintage cars.
For example, if you think Cuba is out of communism, think again. If you own a business in Cuba, you have to pay a *very* hefty 'tax'.
As an example, when Communism came into Cuba, owners of the tobacco fields were required to sign over 90% of the profits to the government or lose the right to their farms altogether.
Of course Communism has some benefits such as free education, free or almost free housing and very good medical facilities (surprisingly, Cuba has some of the best medical facilities in the world!). From what we learnt these benefits come with a price tag however.
For example, sure, you can receive free university in Cuba but it requires you to give back 3 years to the government after your degree on minimum wage.
Oh, and the vintage taxis you see? They are also owned by the government.
I still don't fully understand the ins and outs of living in communism but taking a tour with the locals definitely gave me a better understanding of a very complicated system.
Go for a ride in a collectivo taxi
The vintage cars which are not convertibles and usually look a little older and a little less shiny (but still very cool and fun nonetheless!!) for a lot less than the Havana tours offered in the very well maintained shiny convertible cars.
These often aren't government owned cars and are privately passed down generations. Due to the import ban from the US, new cars have only just started to make their way into Cuba. This is largely the reason why people say 'the time to visit Cuba is now' before the ambience is spoiled by new and modern importations to Cuba.
Like most things in Havana, you will need to negotiate for a fair price. To give you an idea of price, we got from the city to the Cuban Art Factory (15 minutes drive away) for 8 CUC with a little negotiating. We got a ride to the airport for 20 CUC.
They are called collectivo taxis as often they are shared with other passengers. As we were 4, this never happened to us.
We also took a day trip out to the country town of Vinales in a vintage taxi for 130 CUC (the driver drove us to all the sites and waited for us for the entire day).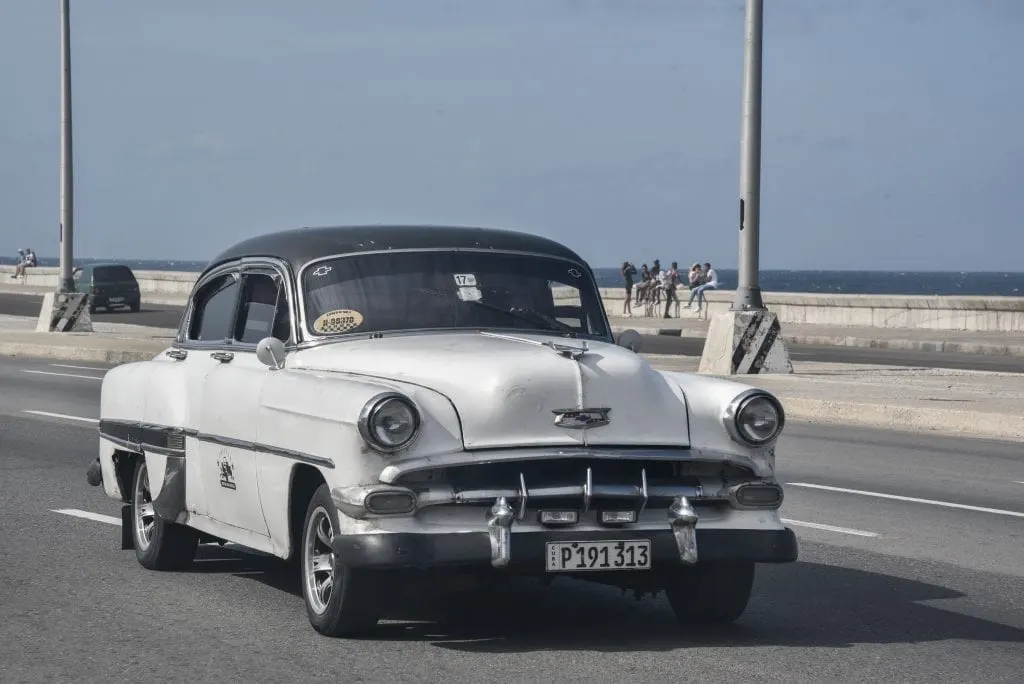 Buy a Tour before you go
If you don't want to have the hassle of bartering with the locals and want to guarantee you get an English speaking Cuban guide, we would advise booking a vintage car tour in advance before you arrive in Cuba.
It is necessary to pre-plan a lot of your activities in Cuba before you go as there is very little wifi so pre organising your activities in advance will be an absolute godsend.
We would recommend this highly rated car tour:
We would recommend bringing with you a copy of the Lonely Guide to Cuba with you to Cuba unless you are very organised and manage to plan every restaurant and activity in advance.
Be Amazed at the Tropicana Show
One of the most famous and iconic things to do in Havana is to visit the world famous Tropicana cabaret show.
A tropical version of the Moulin Rouge in Paris, the show is full of dancing with feathers, flitter and glamour galore.
The Tropicana show was one of the favourite activities of Havana's wealthy in the 1940s who were dazzled by the enchanted Cuban nights where a unreal world of exotic splendor came alive in a exuberant garden
The show will possibly one of the more expensive activities you do in Havana, as the tickets cost $80+ a person for show only with dinner and a show costing $100 + a person for the evening. If you like all things razzle dazzle, it is an unmissable attraction in Havana.
Or See a more Alternative Dinner + Show
If you want to see an alternative show, we would recommend the Buena Vista Social Club. It is a similar to the Tropicana show but only costs 30 CUC without dinner.
The Hotel Nacional also offers a smaller Tropicana type show performed in a old theatre outside of the Hotel. A great option especially if you decide to stay at the Hotel.
Go for a stroll along the Malecon
One of the most popular things to do for locals in Havana is to take a sunset walk along the Malecon, a stone wall that places the city of Havana on one side and the ocean on the other.
The Malecon covers 5 miles from the city centre of Havana to the area of Miramar.
If you have seen a picture of Havana it is likely to be of the Malecon, one of the most photographed areas of the city.
On a windy day, you will have to dash and duck along the boardwalk to avoid getting absolutely soaked by a massive wave, but it is all part of the fun!
Along the Malecon, you will get a great view of Castillo del Morro so if you don't plan on going over to the fort, the Malecon is a great place to spot it in the distance.
You can also admire some of Havana's best architecture from the Malecon including the most famous hotel in Havana, Hotel Nacional.
Watch the world roll by at Hotel Nacional
If you prefer a slower pace to life, stop by Hotel Nacional the most famous hotel in Havana for a mojito overlooking the Havana seaside and Malecon.
We were seriously impressed with how beautiful Hotel Nacional was. Built in the 1930s and forever stuck in time, this hotel has some serious glam (it also has live peacocks freely walking around the premises).
If you can afford to stay here for a few nights we would highly recommend it.
If you do you will be joining the list of some very famous guests including Frank Sinatra and Winston Churchill. You can even stayed in the exact rooms they stayed in!
Even if you choose not to stay at the hotel, it is still worthwhile to make a stop here and enjoy a drink with a fabulous view of Havana.
Hotel Nacional is also home to one of the best cigar shops in the city known as La Casa del Habano so it is a good opportunity to pick up a cigar or two.
Explore the Cuban Missile Crisis Tunnels
While you are at Hotel Nacional, go for a walk in the lawn overlooking the Malecon and you will find the Cuban Missile Crisis Tunnels and Cannons.
These tunnels and cannons were set up to defend Cuba from the United States during the Cuban Missile Crisis. Luckily, nothing eventuated but it is still very interesting to see the tunnels and missiles that were set up and aimed at the US in anticipation of a war.
These tunnels provide a better insight into the past tension between the 2 nations and the US trade embargo against Cuba.
Inside the tunnels there are posters with information about the Cuban Missile Crisis and if you are particularly interested you can even take a guided tour through the tunnels. Just go to the tunnels and wait, tours go every 10-20 minutes.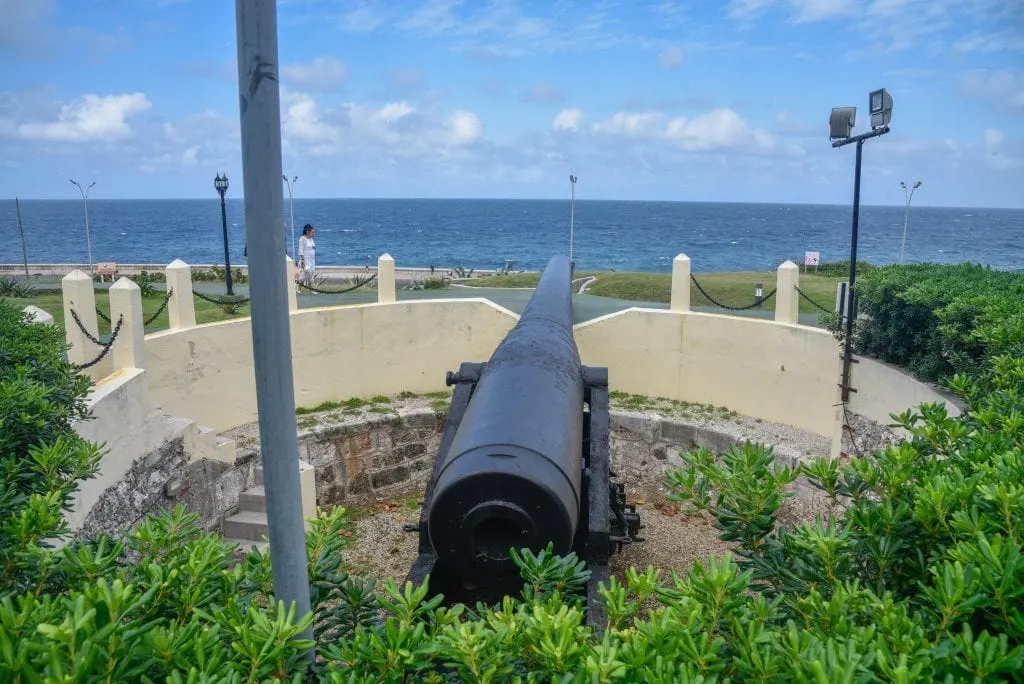 Drink at Hemingways Favourite Spots
Like Key West, Havana was one of Hemingways favourite places. He even had a home just outside Havana which you can visit!
If you are particularly interested in Hemingway, we would suggest taking a guided tour following the footsteps of Hemingway.
Or, you can go on a self guided drinking tour of some of his favourite bars and restaurants, detailed below:
El Floridita – Hemingways Daiquiri Spot
El Floridita is perhaps the most famous of Hemingways watering holes in Havana located in Havana Vieja.
Due to how often he frequented the bar, there is now a statue of him permanently sitting at the bat at El Floridita.
Hemingway is said to have liked the Daiquiri the best here, he claims it is the "best Daiquiri in the world" in fact so be like Hemingway and enjoy a daiquiri at El Floridita.
During the day there is no cover to enter although each drink is a little on the expensive side for Havana and will set you back around 6 CUC. Hey, no-one said Hemingway was cheap!
Dos Hermanos
We passed this bar by chance and decided to go in knowing it was another favourite spot of Hemingways.
If you would like a cheaper, less touristic Hemingway bar, this would be our pick as prices were very reasonable with each cocktail only costing around 4 CUC. We did notice the waiter try to overcharge the people sitting behind us at the bar so closely watch your bill!
When we visited there was also live music playing which was a really neat touch.
La Bodeguita – Hemingways Mojito Spot
Just off one of the most stunning squares in Havana, Plaza del a Cathedral, you will find another of Hemingways favourite watering holes, La Bodeguita.
It is said that this is Hemingways favourite mojito spot in the city. There is often live music here too. It gets very crowded due to its prime location in the city.
Sloppy Joes
We went to Sloppy Joes for dinner and drinks one evening and subsequently found out that it is another of Hemingway's favourite spots!
The food and drink were okay but the decor and ambience inside were pretty special.
If you go, we would recommend trying the signature Sloppy Joe burger, it is the best thing on the menu without doubt.
Visit Hemingways House – Finca Vigia
If you are obsessed with all things Hemingway, in addition to visiting all his favourite drinking spots, you can visit the house he lived in, just outside of Havana.
In this house, he wrote some of his best known novels including the Old Man and the Sea.
As it is located outside the downtown area, you will need a taxi or tour if you would like to visit.
Visit the Museo Nacional de Bellas Artes
If you love art, don't miss a visit to the Museo Nacional de Bellas Artes while in Havana.
The art collection it holds is very interesting as many pieces of art on exhibit at the museum date back to 500 AC.
Visit a Picturesque Beach Near Havana
As we just came from Cancun in Mexico, we were a little 'beached out' so we preferred to spend our time in the city and in the countryside.
If you do want to visit a gorgeous beach however, there are some great ones just near Havana Cuba.
The closest beach to Havana is Santa María del Mar, only a 30 minute car ride away.
The downside to this beach is that being the closest beach to Havana it is the most crowded. The upside is that it is by far the most affordable to access.
There are 2 options to access Santa María del Mar. The first is a taxi which costs around 20 CUC each way (barter!). The second option is to take the public bus which costs only 5 CUC a ticket roundtrip.
If you want to take the public bus option, the Blue T3 Transtur air conditioned bus departs every 40 minutes from Parque Central.
At the beach, there are numerous places to eat and drink and beach chairs and umbrellas cost around 2 CUC.
Another popular beach near Havana is Playa Este. You can negotiate a ride or book a pre-organised tour to this beach.
Admire El Capitolio
In my opinion, the most beautiful and impressive building in Havana is the large Capitol building in the city centre known as El Capitolio.
It looks remarkably like US Capitol in Washington DC because the building was based on it. Despite its impressive size, our taxi driver in Havana told us the building only took 10 years to build back in the 1920s.
If you like great photos of your travels, this is one of our favourite spots in the city for photography.
You can also get a 45 minute tour inside the building for 10 CUC which can be purchased at the kiosk on the left side of the grand staircase.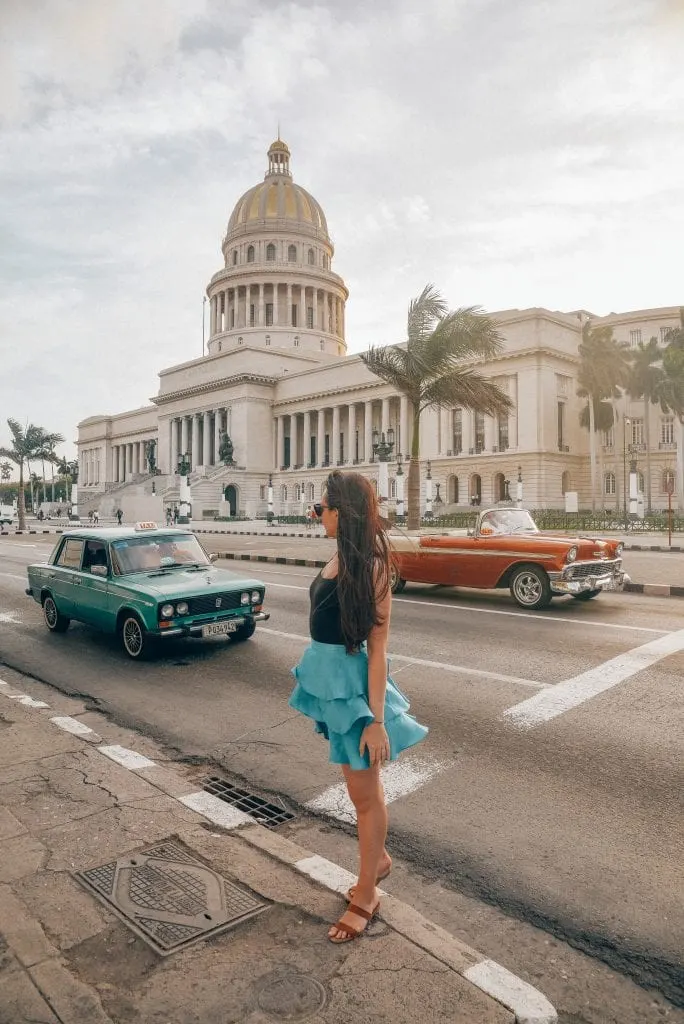 See Havana's Chinatown
I don't exactly know why but I didn't quite expect Cuba to have a Chinatown.
The architecture juxtaposes the rest of Havana and its interesting to see.
If you are feeling like a Chinese meal or are just curious to see keep walking onward down Dragones from the El Capitolio building.
Take a stroll with the locals at Paseo Del Prado
During late afternoons and evenings in Havana we often were found meandering along the Paseo Del Prado, looking for a taxi.
This walk which stretches from the Malecon to Parque Central was particularly interesting to see as it is a local hotspot where locals can be found relaxing, playing soccer or listening to some reggae music.
Listen to Live Music or Go Salsa Dancing
One of the parts we liked most about Havana was the fact that live music was played in almost every bar we visited in the city.
If you prefer piano, visit Hotel Plaza for a drink which has IMO the best wifi in the city at their piano bar. When the pianist was playing one evening, a guest staying at the hotel joined him to sing some opera. She must have been a professional opera singer as she was seriously impressive.
If you would like to try your hand at Salsa, the Cuban Art Factory offers Salsa lessons nightly. It is only 2 CUC to enter the Cuban Art Factory which we would recommend visiting even if you don't enjoy salsa.
Another good option is Casa de la Musica in Miramar, a very local joint where you can go to dance salsa with the locals.
Note: If you do see locals playing music at one of the bars in Cuba, they are doing so for a tip or to sell their CDs so don't be surprised if they bring their tip hat around after the performance.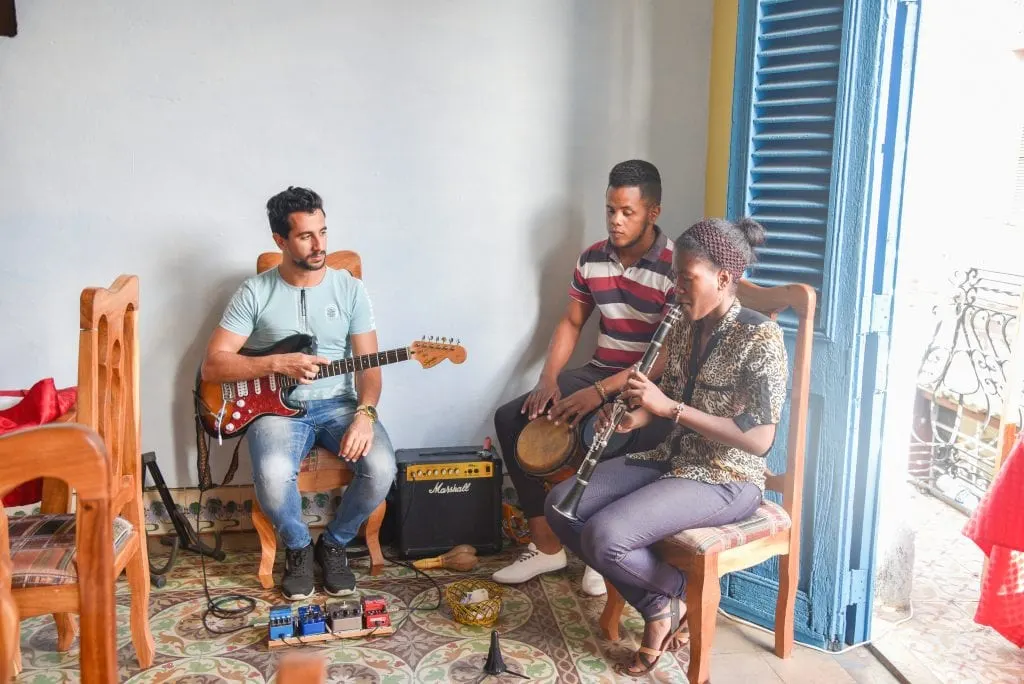 Learn Spanish at the Havana University
If you are staying in Havana for a little longer, you can get some very affordable Spanish lessons
It costs 100 CUC for a week (half day classes) for Spanish classes or 300 CUC for a month. A Canadian lady we met in Havana highly recommended it.
If you have less than a week, the locals were more than willing to speak Spanish with you as mostly their English is quite poor.
It is advisable to have a few basic Spanish phrases up your sleeve before visiting Havana so you can at least get by while you are there.
See the Cannons Fire at 9pm
Each night in Havana since the 18th century, a cannon is fired from Morro Cabana at 9pm sharp.
Seeing the cannons fire is one of the best free things to do in Havana. If you want to see the full spectacle, get there early as there is a little presentation beforehand with artillery cadets and a drumroll
You always know it is 9pm in the city of Havana as you can hear the cannons go off just about anywhere you are in the city.
Visit Havana's Christ The Redeemer
Interestingly, and rather unexpectedly to us, Havana has its own Christ the Redeemer constructed of Italian marble sitting on the hillside overlooking the city.
We did not visit the monument but we saw the 20 meters (66 ft) high statue overlooking the city from Havana Old Town.
If you would like to visit the statue can be visited by tax or ferry only 1 CUC pp. We read the ferry driver does not offer change so make sure you have the correct money with you.
See the Headquarters of Che Guevera
If you visit Christ the Redeemer, we would recommend also checking out the headquarters of Che Guevera which is now a dedicated musuem of the life and history of Che with many of his personal photos and possessions.
It costs 6 CUC to enter the musuem and learn more about the life of the iconic freedom leader.
Go for a trip to Vinales
If you want to see the beautiful Cuban countryside while in Havana, we would suggest a day trip out to the stunning countryside of Vinales, a 2-3 hour drive outside of Havana.
Vinales is probably the most popular day trip from Havana due to the amazing countryside filled with tobacco fields and caves.
Why is it called Vinales? Well, it first started as a winery area however, it did not produce great tasting wine. Subsequently, tobacco started being produced in the area which is still the main crop grown in the area today.
One of the best things to do in Vinales is to visit a tobacco farm where you can see the tobacco crop and receive a demonstration as to how to roll a cigar.
If you would like to purchase cigars while in Cuba, this is the best place and cheapest place to purchase good quality cigars in Cuba (4 CUC). We would highly advise against buying cigars from street vendors while in Havana as the cigars are often poor quality.
It is far better to go out to a tobacco farm in Vinales or purchase cigars from one of the official cigar shops in town (our recommendation below)
Aside from tobacco fields in Vinales, there is a lot of other interesting things to do in the quaint countryside town including going for a horse ride and exploring caves where slaves hid from the Spanish in fear of their lives.
As there is quite a lot of great things to do in Vinales, if you have the time, it is advisable to spend a few nights there to soak up the countryside air and get a great feel for the place.
If you choose to spend a few nights in Vinales, it is possible to get a public bus, otherwise, it is best to take a 1 day tour of the town.
If you don't want the hassle of haggling for a fair price, we would recommend booking this day tour to Vinales in advance.
Otherwise, see our guide of how to travel from Havana to Vinales DIY style.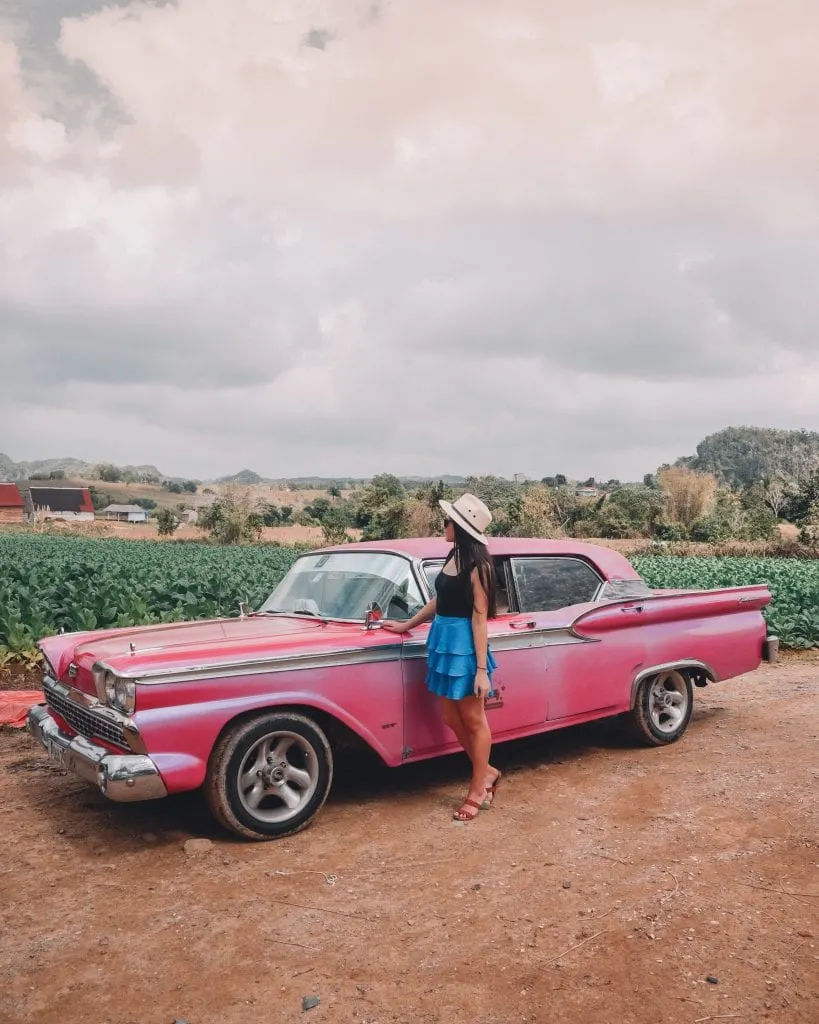 Visit a Cigar Factory in Havana – Partagrás
If you are not making a day trip to Vinales, we would suggest visiting the best cigar shop in downtown Havana known as Partagrás.
Seeing how a cigar is made is a really interesting process and Partagrás, one of the oldest cigar factories in Havans, is one of the few places in Havana city that you can see it.
If you want to buy cigars we would highly recommend purchasing them within this store and not with the street merchants claiming to have the same products outside. These most likely are cheap knock offs and nowhere near the same calibre of cigar.
Take a trip to El Bosque De La Habana
If you don't want to spend the time to get out to Vinales but want to feel the fresh smell of the countryside rushing through your lungs, we would recommend a trip to Havana's Green Forest, El Bosque De La Habana.
As it is only a 20-30 minute car ride outside of downtown Havana, it is possible to get a vintage car ride there. If you choose to take the longer vintage car Havana tour (2 hour) it is likely that they will pass through the El Bosque De La Habana.
The Green Forest of Havana is home to some stunning 300 year old banyan trees and the Almendares River.
Visit a Craft Market to Buy Interesting Souvenirs
In downtown Havana you will find many craft markets to find interesting souvenirs to take home with you.
There are a tonne of souvenir shops in downtown Havana but the best deals tend to be found at the markets.
We bought a few little souvenirs at bargain prices in the markets in Havana. Like most things in Cuba, be aware that you will likely have to negotiate to get a fair price.
We also enjoyed looking through a book market in downtown Havana. Most of the books are in Spanish however, they had a lot of interesting vintage posters, photographs and jewellery for sale too!
Eat Locally at a Paladar
In addition to the government run restaurants, the government of Cuba has allowed residents to run local restaurants out of their homes.
In these restaurants, known as Paladars, you can find some of the very best food in Cuba.
Paladars in Cuba often serve the Cuban specialty dish of Ropa Vieja which includes a tomato stew base with shredded beef, vegetables and rice with beans.
It is no secret that restaurants in Havana can be a little hit and miss so it is important to research the best restaurants in town in advance.
Some of the best paladars in Havana include Paladar Doña Eutimia and Paladar Café Laurent.
Paladars can range from very cheap to very exclusive places to eat depending on where you choose to go.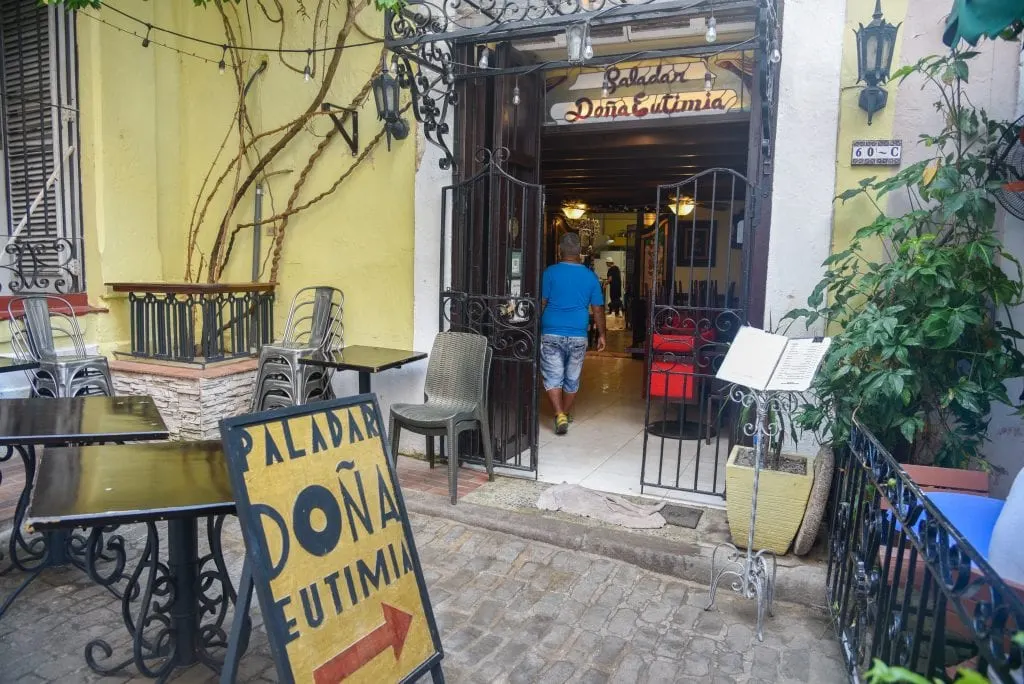 Stay at a Casa Particular
In a similar fashion to Paladars, the Cuban government have let local residents open their homes to visitors.
Basically, there are two choices of accommodation in Cuba. To stay at a government run hotel or in a Casa particular (local house).
Casa particular often include or for a small extra optional fee (around 5 CUC pp) a deliciously local cooked meal in the morning for breakfast.
Casa particulars can be basic or a more luxury experience, depending on the current State of the renovation of the home.
Despite most Cubans being relatively poor, accommodation in Cuba is not cheap as there are hefty taxes that residents are required to pay to the government to run their business (hello Communism!)
Expect to pay 50 – 100 CUC per night for a private, renovated Casa particular close to the Old town of Havana.
One thing we will note is that staying in a Casa particular did not prove to be the same private experience as elsewhere in the world, despite the fact we rented our own apartment.
Our host let herself in numerous times during our stay without warning which we weren't particularly happy about as we didn't have the forewarning to close our suitcases.
If you are worried about privacy, we would suggest booking a hotel instead or at least have the forewarning we didn't to shut your suitcase while you go out for the day.
The other thing to note about Casa Particulars is that 1. Water may turn off randomly without notice and 2. There probably won't be wifi.
We stayed at 2 Casa Particulars during our time in Havana and water turned off at some point during both stays. This is not the hosts fault per say but just a quirk of traveling to Cuba.
The other thing is wifi. Some Casa Particulars do state that they include wifi but in reality it will be slower than dial up speed. The only way to get decent wifi, short of being getting an expensive 4G sim card for your mobile, is to buy a wifi card and to use it at one of the hotels in Havana.
IMO, it is not worthwhile to pay more for a Casa Particular with wifi as the service will be virtually non existent. Don't fall for it!
Get a great view of Havana
There are a few great places in Havana to get a fabulous panoramic view of the city.
One of the best places to get a view of the city is from the Gomez Vila building in the Old Town of Havana. It only costs a few CUC to access the panoramic view of Havana from the roof of the building.
Another great option is Hotel Ambos Mundos. The hotel itself is really cool and worth a visit. To access the rooftop and receive a epic view of Havana city right over the bay to Morro Cabaña you to use a vintage 1950s elevator with an operator, as would have been seen in the old days.
Hotel Ambos Mundos is free to access but you are required to buy a reasonably priced drink at the rooftop bar. We hoped to get wifi here being a hotel in Havana central but had no luck.
Hotel Kempinski is another great spot to snag an awesome view of Havana including the Capitol Building. What makes this hotel special is the fact that in addition to the lovely view it boasts a gorgeous infinity rooftop pool.
Take a trip to the Fishing Village of Jaimanitas
If you have a little more time in Havana, you could always make a trip out to the Fishing Village of Jaimanitas, only a 25 minute car ride away.
What makes this village special is the mosaic artwork by artist Jose Fuster in the village known as Fusterlandia.
What is cool is that in somewhat similar fashion to Guatape in Colombia, the artwork is weaved into the neighbourhood. Interestingly, the homeowners of the village have allowed Fuster decorate their homes into amazing pieces of art.
Admire the Mansions of Vedado
We were staying in Vedado in a casa particular so each day as we left our apartment we got to see the incredible Mansions of Vedado.
Even if you are not staying in the area, we would highly recommend a trip out to Vedado to admire the huge, luxury albeit now run down mansions in the area. The area of Vedado really highlights how wealthy Havana once was. The architecture of the buildings is simply amazing.
Since the revolution, when the wealthy of the US fled Cuba, these mansions were left abandoned and are now somewhat rundown. These days multiple families live in the insane Mansions of Vedado.
A taxi driver told us that while he is one of the few Cubans who owns a property in Cuba (his Grandmother worked long and hard for the government and was gifted a property). Most Cubans do not own property and live, based on Communism, rent or virtually rent free. He informed us that it costs around 2 CUC a month for rent in Havana if you don't own a house.
While you are checking out the mansions of Vedado make a stop at Cafeteria Pilon for some seriously delicious Guava Milkshakes.
Visit a Jazz Club
If you like jazz, you will love Havana's jazz club scene.
While you are in Vedado, why not stop in at one of the best jazz clubs in Havana La Zorra y el Cuerro.
Entry is 10 CUC. Outside you can find various snacks to buy including popcorn and sandwiches.
See Cuban Fashion at La Maison
If you are staying in the Vedado area and are interested in fashion, you might also like to visit one of the nightly fashion shows at La Maison.
Visit the Fabrica De Arte Cubano
One of our favourite things to do in Havana, and a hidden gem IMO, was our night time visit to the Fabrica De Arte Cubano.
It has been rated as one of the 100 greatest places of 2019by Time Magazine and we can understand why – this place seriously has pizzazz.
As the Fabrica De Arte Cubano only opens from 8pm at night (Thurs – Sun) we almost missed visiting this attraction after being totally exhausted sightseeing at the end of each day but are really glad we dragged ourselves out, half dead in the evening.
Fabrica De Arte Cubano was founded by famous Cuban musician X-Alfonso in an old warehouse converted into a maze of art, music, performances and salsa.
There are numerous bars throughout the facility and 1 restaurant (meals cost around 15 CUC). Don't leave without trying one of the delicious frozen mojitos, they only cost 2.50 CUC and are the best mojito I tried in Cuba.
It costs 2 CUC no matter the day of week you visit. If you pay any more than this, it is possibly a scam, as written on the door.
You will have to put your bartering shoes on after leaving Fabrica De Arte Cubano as taxi drivers outside the facility will try to charge you a pretty penny to get home late at night.
We managed to negotiate 8 CUC to our casa particular just outside Havana downtown.
Marvel at the Plaza De La Revolucion
One of the most iconic places in Havana and one of the best things to do is to visit the Plaza De La Revolucion.
You will feel absolutely tiny in one of the largest public squares in the world where Fidel Castro made many of his famous speeches.
Here you will find government buildings including the iconic building artwork of revolution hero, Che Guevara.
The Plaza De La Revolucion is not within walking distance of the old town of Havana so you will need transportation to get there.
We visited during our vintage car tour. Alternatively, you can get there in a normal taxi or on the hop on, hop off bus in Havana as detailed below.
Admire La Cathedral De San Cristobal
On our very last morning in Havana we walked into the Plaza La Cathedral De San Cristobal and could not believe we almost missed this stunning gem while in Havana!
This plaza and cathedral is one of the best preserved spots in Havana, you will feel as if you are walking around somewhere in Europe within this square.
In the square you will find interesting things to discover including the Museo de Arte Colonial.
Go for a ride on a pedicab or a cocotaxi
One of the quirky and fun things about Havana is the ability to take such a wide array of different transportation in the city.
Two of the popular cheaper options than a taxi to get around are a pedidab (a bike with two seats mounted to the back) and a cocotaxi, a modified scooter which can fit 3 passengers.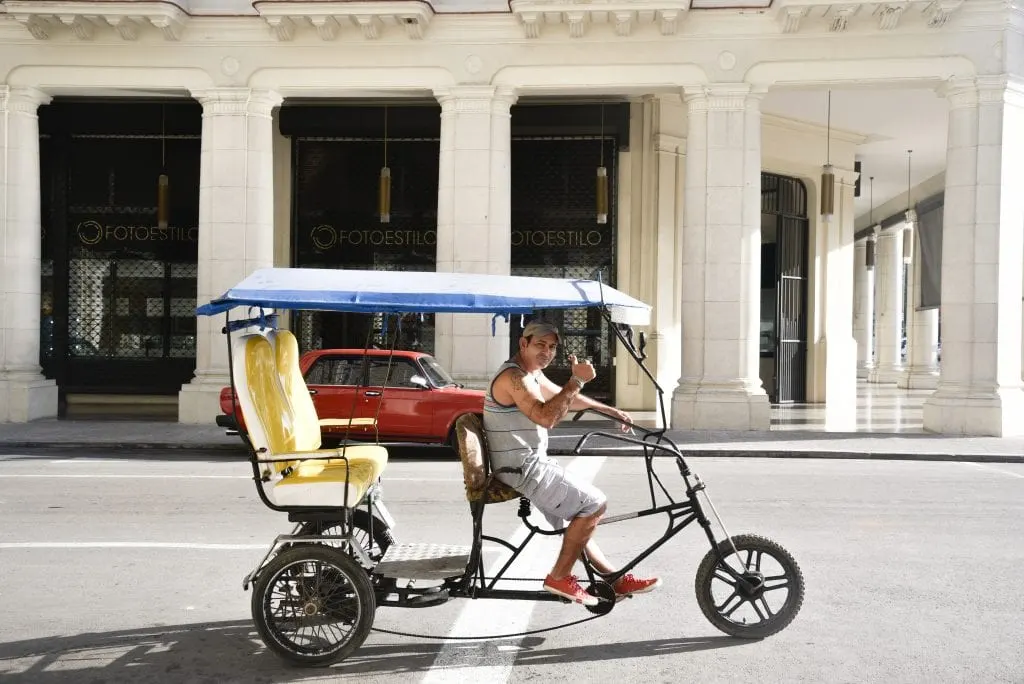 Jump on the Hop on Hop Off Bus
The Hop on Hop Off Bus is one of the most affordable ways to see all the best things to do in Havana.
We read online that it costs only 5 CUC a ticket. Sadly, this is incorrect information and the current ticket pricing of the bus is now 10 CUC a ticket.
If you are not planning to take a vintage car tour, the Hop on Hop Off Bus is a good alternative as it takes you to all the best spots in the city including further our attractions such as the Plaza De La Revolucion where you will need a taxi or tour to access.
Get Instagram Photos at La Guarida Restaurant
If you are interested in visiting an absolutely stunning, albeit a little pricey, instagrammable restaurant in Havana, don't miss La Guarida Restaurant.
The best place to get your insta pics in on the beautiful grand staircase of the building.
Revolution Museum
If you are interested in the Cuban Revolution, be sure to stop by the Revolution Museum while in Havana.
The museum is one of the many interesting things to do within the downtown Havana area.
One of the parts that interested us the most was the tanks and military equipment used during the revolution.
Inside is also an interesting place to visit. Bullet holes from the attempted assassination of President Fulgencio Batista can still be seen in the central staircase of the building.
Visit the Gran Teatro de La Habana
Another of the most beautiful buildings in Havana and one not to be missed on a trip is the Gran Teatro de La Habana which dates back to 1838.
It is particularly beautiful inside so if you have the time, we would recommend getting a tour of the inside of the building.
Try Some Unique Cuban Food & Drink
One of the best things to do in Havana is to try some of the very unique and unusual food there is on offer:
Cuban Pizza
One of the most unique things to eat in Havana is the Cuba pizza. On virtually every street corner in Havana you will see a little shop selling Cuban Pizza.
Cuban Pizza is really cheap and normally charged in CUP (local currency) however, in the Old Town of Havana they will also accept CUC.
The trick is knowing where to find the good stuff as a lot of the street pizza is pretty average. Some of the best Cuban pizza joints include La Mimosa and Pizzas Pachy in Havana.
Cuban Sandwich
One of the things we were most excited to eat in Cuba was the Cuban Sandwich.
Well, it turns out that Cuban Sandwich are not really Cuban after-all and something that originated in Miami.
Nethertheless, we managed to eat a few particularly delicious Cuban Sandwiches while in Havana. The Plaza Hotel serves a yummy ham & cheese toasted sandwich (5 CUC) and El Cafe (our favourite cafe in Havana) also does a great toasted sandwich (4-5 CUC).
We also tried the Sloppy Joe Sandwich at Sloppy Joe, a favourite spot of Hemingway which were also pretty tasty.
Although tempting we would advise against eating the street sandwiches while in Havana (only 1 CUC) as at one point we got a little sick and think the street sandwich is the culprit.
Try Guarapo
One of the most famous drinks of Cuba is the Guarapo – a freshly squeezed pure sugarcane juice. You can often see locals making the juice by hand using a giant squeezer.
It is interesting to try, especially if you have sweet tooth like me. Order 1 between 2 to test if you like it. It can get rather sickening after a while.
Try Ropa Vieja
One, if not the most traditional dish in Cuba is Ropa Vieja – a tomato stew base with shredded beef, vegetables and rice with beans.
Rancho Luna is known as the best spot in the city for some particularly delicious Ropa Vieja.
Drink Rum Out of a Box
While looking for milk in Havana, I discovered rum in a box (which looks just like a little bottle of milk). By the way, milk is virtually non existent in Havana – we ended buying some powdered milk for our tea and coffee.
Rum out of a box is one of the locals favourite drinks. You can often see them drinking the little rum in a box as they watch the sunset by the Malecon.
Guava Milkshakes
Guava is one of the best locally produced fruit in Cuba. It is the best Guava I have ever tasted in my life.
A specialty in Cuba is guava milkshakes. They are in virtually every cafe in Havana. Our favourite cafe is El Cafe. They have the most delicious guava milkshakes for 2.5 CUC, ever better with oatmilk (4 CUC).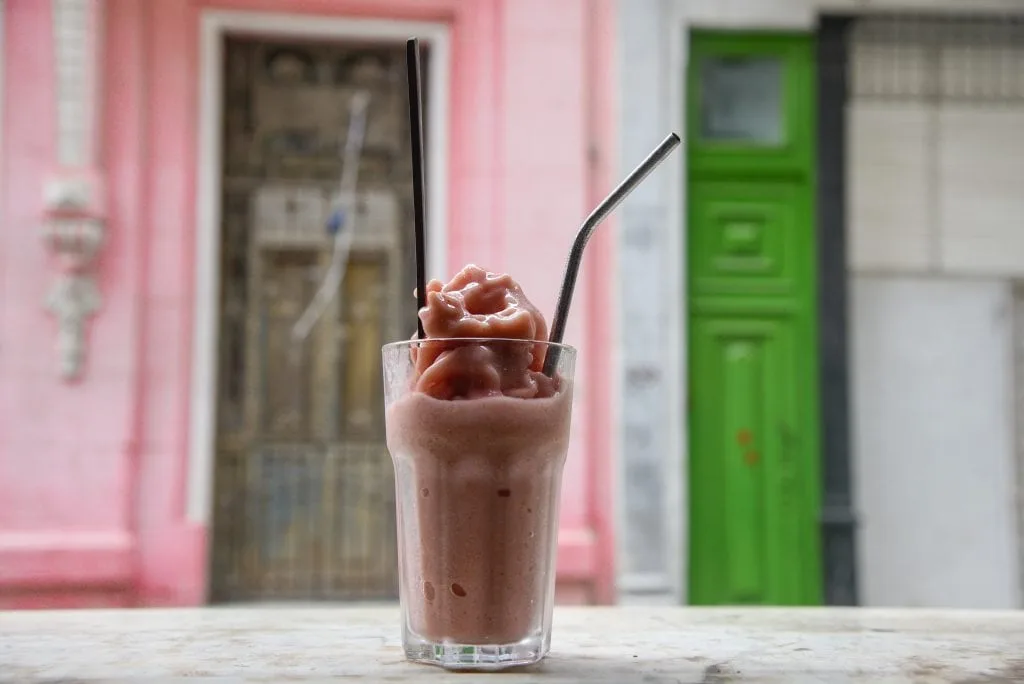 How to Get to Cuba?
It has never been a better time to reach Cuba as they have now opened their doors to foreign tourism.
If you are planning a trip to Mexico, Cuba is a fabulous next stop on your itinerary as tourist visas are a lot cheaper than from the US and can be obtained for $25 a person from the check in counter as you go to check in for your flight. Soo easy!
Nowadays, there are many cheap airlines that travel to and from Cuba. We travelled from Cancun to Cuba using Interjet. We travelled out of Cuba using Copa Airlines.
We were able to get in and out of Cuba for around $100 USD + bags each way.
Other airlines that fly to Cuba from the United States are American Airlines, Delta Airlines, Jet Blue and South West to name a few. The most affordable place in the US to access Cuba is from Miami due to its close proximity to the island.
Best Time of Year to Visit Cuba?
If you like warm and sunny weather, it is always a good time to visit Cuba as it is a destination that it is warm and sunny year round.
As it is a hot destination, we prefer to visit in the winter months (Nov – Feb) as the climate is more gentle and yet you can still comfortably relax at the beach. At this time of year, you are at less risk of getting absolutely fried to a crisp in the hot sun.
We visited Havana in February and it was an ideal time of year to visit if you are spoiled for choice as when to travel.
If you want more detailed information, see our month by month guide for the best time to travel to Cuba.
How to Get Around Cuba? (Once You Arrive)
It is very easy to get around Cuba in local buses or taxis once you arrive on the ground in Cuba.
Taxis in Cuba include normal modern cars as well as vintage cars. Bartering is a way of life in Cuba and we would suggest bartering for all your taxi fares while in the country.
It costs between 20-40 CUC for a taxi from Havana Airport to the downtown area of Havana. We paid 30 CUC for a maxi taxi for 4 people to Havana downtown and 20 CUC for a regular taxi for 2 people from Havana downtown to the airport.
If you want a stress free entry to Cuba, you can book an airport transfer in advance.
We would recommend booking any special tours that spark your interest in advance of arriving in the country due to the low connectivity of internet on the ground.
Tours we would recommend:
Where to Stay in Havana?
If you are looking for the most traditional way to experience Havana, we would suggest staying at a Casa Particular in Cuba. You can easily book one of these on airbnb.
As mentioned above, if you are in dire need of wifi 24/7 and the modern conveniences of a hotel with no water shortages (no promises though, after all, it is Cuba), we would recommend staying in one of the hotels in Cuba, which have wifi in the hotel lobbys.
Must Read: Best Places to Stay in Havana (and hotels with wifi which actually works)
If you are going to do the hotel option in Havana, we would suggest staying in at least a mid range hotel in the city as the budget hotel options tended to be a little on the shabby and rundown side.
You can search all hotels in Havana Cuba during your dates here:
Here are some hotels we frequented for wifi in Havana and would recommend investigating for a comfortable hotel stay in Havana.
Wifi in Havana?
Cuba is an absolutely amazing country, BUT, I'll be honest, if you are a budding digital nomad who needs wifi 24/4, you might want to forget Cuba – the wifi is woeful and can really only be accessed within major hotels in the city WITH a wifi card you pay for (2 CUC per hour).
We knew about the wifi situation before entering Cuba and decided to visit anyway for a disconnected holiday in somewhere truly special.
Although having limited wifi pained us as travel bloggers, I'm glad we made the decision to visit Cuba as it is up there in the top 10 countries we have visited.
Even if you don't plan to stay in one of Havana's fancy 1950s-era hotels, you can use our guide to where to stay in Havana to find hotels near you with wifi in the lobby.
How Many Days Should I Spend in Havana Cuba?
Havana Cuba is not a particularly large city but as you can see with this article there are still lots of awesome things to do.
How many days you wish to stay in Havana really depends on how many things on the above list you care to tick off.
Cruise ships pull into the city for 1 day and it would be enough to get a good feel for the Old Town of Havana which is very walkable.
We stayed 5 nights in Havana and were very happy with the amount of time we had. We would have been happy to stay a little longer and really soak up the atmosphere but we were also getting sick of having no wifi.
Currency in Cuba
Cuba has a weird currency situation.
Cuba has 2 currencies, the Pesos CUP (which the locals get paid in) and the CUP (the tourist currency). 25 CUP = 1 CUP.
CUP is mainly useful for buying street food and small purchases. It will probably be difficult to get your hands on some CUP while in Cuba and from our experience you really don't need to. The CUC was sufficient for all our travel needs in Cuba (except at the airport – I will get to that next).
CUC is closely tied to the USD. Roughly 1 CUC – 1 USD however, when we visited we got a slightly worse exchange rate (go figure!)
We read that you needed to bring cash with you however, this is not exactly true (although always a good precaution to take). Upon arriving in Cuba you can get out CUC at the international airport. We also read that you get a better exchange for Euros and Pounds than USD in Cuba however, we did not find this to be the case.
Note: For whatever weird reason, CUC was not accepted at the International Airport in Cuba so get rid of any CUC you have before the airport. Only USD, CUP and some other major international currencies are accepted at the international airport in Cuba.
What to Bring to Cuba? Cuba Travel Essentials
We hope you have a great time in Havana. It really is a special place. If you have any questions about Havana drop us a comment, we are always happy to help.
***
Save Things to Do in Havana Cuba to Pinterest so you can find it again later!