Tulum and Cancun are already some of the hottest destinations in the world. But why not take your vacation to another level by taking a trip back in time to 1950s-era Cuba which has recently reopened to the public?
From Cancun to Havana Cuba is just 275 nautical miles or a quick 1 hour 10 minute flight.
The pandemic's toll on the global tourism industry continues, our go-to airline in Mexico – Interjet – has ceased operations to stave off bankruptcy but expects to resume operations in 2022. For the most up-to-date flight information we start our search here.
Cancun to Havana Cuba in 2022

Cancun to Havana flights in 2022:

There are daily flights from Cancun to Havana year-round. Only Interjet airlines flies direct from Cancun Mexico to Cuba. In the peak months in Cancun (December to March) there are 3 direct flights per day. As such, flights do sell out in advance but we scored flights for less than $150 USD two weeks before flying.

2022 Update: As of January 2022, there are no direct flights from Cancun to Havana. The quickest way to visit Havana from Cancun is to fly via Mexico City (or even via Miami, though we discuss why we don't recommend flying via Miami below). Viva Aerobus flies direct from Mexico City to Havana Cuba daily. The travel situation in Cuba is changing quickly and direct flights from Cancun may open up any day, so we recommend using Momondo to find cheap flights to Cuba.
Cancun to Havana ferry in 2022: There are no ferries from Cancun, Mexico to Cuba. Unless you're smuggling Mezcal to Cuba or cigars back into Mexico save time and fly to Cuba.
Where to Stay in Havana: We traipsed all over town to identify first-hand the safest and best neighborhoods in Havana to stay and the best hotels, apartments and homestays "Casa Particulars" near all the best attractions with wifi that actually works.
Are you planning to visit Cuba at a good time?: Avoid hurricane season and the unbearably hot months of the year with our guide to the best time to visit Cuba and also read about things to pack for Cuba.
On this page
Flights from Cancun to Havana
* 2022 Update * The fastest way to get from Cancun to Cuba is now a flight via Mexico City or Miami. We recommend flying via Mexico City as the Cuba visa fee is less than half of the cost from the US (not to mention an easier process). Viva Aerobus flies to Cuba from Mexico City daily.
Even in peak season there are only a handful of flights per day from Cancun to Havana. Airfare for Cancun to Cuba flights will cost between $79 and $200. Flying time from Cancun to Cuba is 1 hour 10 minutes. Flights depart from Cancun International Airport 10 minutes from Cancun Old Town or 20 minutes from Cancun Hotel Zone. Flights arrive in Jose Marti International Airport, La Habana, Cuba located 20 – 30 minutes drive from Havana City.
Momondo is the website to search for flights from Cancun to Havana.
Interjet Airlines has 3 flights per day in high season from Cancun to Havana. All "light" fares include 55 lbs (25kg) checked baggage allowance as standard on flights to Cuba. The first flight of the day typically departs Cancun at 8:15am and the last flight at 17:50. Flights around midday and early afternoon are the most popular.
If you are travelling from Mexico and don't wish to visit Cancun there are direct flights to Havana from Mexico City and Merida. Search Momondo for available flights. Interjet has the cheapest flights from Mexico to Havana but Aeromexico also services the route.
What Airlines Fly from Mexico to Cuba?
Interjet offers direct flights to Cuba from Monterrey, Mexico City, Merida and Cancun. AeroMexico offers direct flights to Cuba from Mexico City.
Copa Airlines offers indirect flights to Mexico from Cuba.
What is the best airline to fly from Cancun to Havana
Interjet Airways is the cheapest airline which flies from Mexico to Cuba. Although it is cheaper than Aeromexico, it really shouldn't be classified as a budget airline like WizzAir, Ryanair or SkyAirways.
Cancun to Havana by Boat or Ferry
Despite their close distance, there is currently no (legal) ferry or boat to transport you from Cancun to Havana.
How to Get a Cuba Visa (Tourist Card)
Visitors to Cuba from pretty much every country in the world will need a visa to visit Cuba.
Known as officially as a "Tourist Visa Card" there are two types of Cuba Visas – a green tourist card and a pink tourist card.
A pink tourist card applies to anyone flying to Cuba from the United States and it costs over $100.
The good news for travellers flying from Cancun to Cuba is you only need a green visa which costs much less.
There are two ways to get a Cuba visa in Mexico:
1. Buy an Interjet Tourist Card for Cuba at the Airport
You can purchase a Cuba visa at the airport from the Airline customer service counter.
The price is around 250 mxp ($13) which is the cheapest Cuba visa around.
That said, the thought of being denied entry to Cuba because things have changed, or simply because Mexican authorities don't have enough forms on the day worried me.
So, I called our airline Interjet to inquire about whether we could buy a Cuba Visa from the airport in Mexico City ahead of time.
We were told we couldn't do this but we were reassured it would be no problem at all buying a visa from Interjet at check-in in Cancun.
Fast forward 2 weeks and we found ourselves without a visa as we arrived to check-in to our flight. As we approached the line an Interjet staff member asked (in English) for our Cuba Visa.
When we said we didn't' have one he whipped out one which we could purchase for 400 MXP or $25 USD (cash only).
He then took our passports and wrote in our information which is great because it's his problem if he writes the information incorrectly and needs to start again.
So we can tell you first-hand as of February 2020, it's perfectly safe to buy an Interjet Cuba Visa at Cancun Airport.
2. Buy Cuba Visa Online
If you think buying a Cuba visa at the airport seems risky – we share(d) your thoughts.
The cheapest way to get a Cuba visa is from this agent.
You simply enter your details into the form and they will send you a Visa within 1 business day.
Note this only applies for visitors (including US citizens) travelling from Mexico.
If you're travelling from a US airport you will need to obtain a pink tourist card from a Cuban embassy.
Essential Information for Visiting Havana
Entry Requirements include the aforementioned Tourist Card, which allows you to stay in the Cuba for 30 days and is valid for only a single entry.
You will also need to have:
A passport valid for 2 months beyond the length of your proposed visit.
Proof of a confirmed return flight and booked accommodation.
Proof of accommodation for at least the 1st night in Cuba.
Travel insurance which covers medical expenses.
Remember, June is the rainiest month in Cuba – so be sure to pack the umbrella! Read about the best time to visit Cuba.
Here's a fun fact about flying into Cuba: shortly before landing cabin stewards walk down the aisle to spray bug spray into the air to decontaminate the plane before landing.
This aircraft disinfection" is a stipulation of the World Health Organization for inbound aircraft to Cuba.
It won't hurt and won't kill you, so don't be alarmed. At least now you know what they're doing and why.
Havana Airport to Havana City
After arriving in Havana Airport and passing through immigration, head straight our the doors and turn left. Ignore all the touts offering you
About 100 metres away you will see a rank of yellow taxis which are the official taxis in Havana. Before jumping in a taxi make sure to agree on the fare because meters are not usually used.
A taxi from Havana Airport to Havana centro costs between 25 – 30 CUC (pesos cubano convertible) which is roughly $25 – 30 USD. The drive from the airport to Havana is about 30 minutes.
We paid $30 cuc for a maxi-taxi for four people to Vedado which is a suburb 10 minutes drive from Havana Vieja (aka Old Town).
For the return journey from Havana Old Town to Havana Airport we paid $20 cuc. Next time we visit Havana, if there's just the two of us we'll try to negotiate $20 cuc for a taxi to the center of town.
Map of Havana Airport
Recommended Hotels near Cancun Airport
These are the best hotels near Cancun Airport with a free airport shuttle:
Courtyard by Marriott Cancun Airport: The closest hotel to Cancun Airport. Restaurant & Gym. Free shuttle to it's beach club.
Fairfield Inn & Suites by Marriott: Second closest hotel to Cancun Airport. Restaurant & Gym.
Things to do in Cuba
Visiting Havana was the highlight of our time in Cuba. Walking the old town feels like you've fallen into a time machine set to 1940s. It's amazing.
A few bucket list activities you can't miss (which we've taken from our list of the 50 best things to do in Havana) are:
take a city tour in a classic American car (preferably a pink convertible)
sip a Mojito or Cuba Libre in one of the famous hotels frequented by stars of the 40s including Frank Sinatra, Errol Flynn, and the writer whose now famous for drinking at bars from Paris to Havana to Key West: Ernest Hemingway
take a day trip to Vinales where you can ride horseback and roll a Cuban cigar
Where to Stay when you get to Cuba?
There are not many hotels in Cuba and the ones that are there are run by the government.
If you choose not to stay at one of these hotels, your other option is to stay in a Casa Particular aka someone's apartment.
While this is a fun and very local experience, for Western comforts we would recommend booking one of the few hotels in Cuba, especially if it is your first time visiting:
Read our guide for to get the run down on the best neighborhoods in Havana plus tried and tested hotels where the wifi actually works.
Yes this means wifi in Casa Particulars rarely works, no matter what the Airbnb reviews say based on our personal experience after spending hours trying to find a good Airbnb with wifi.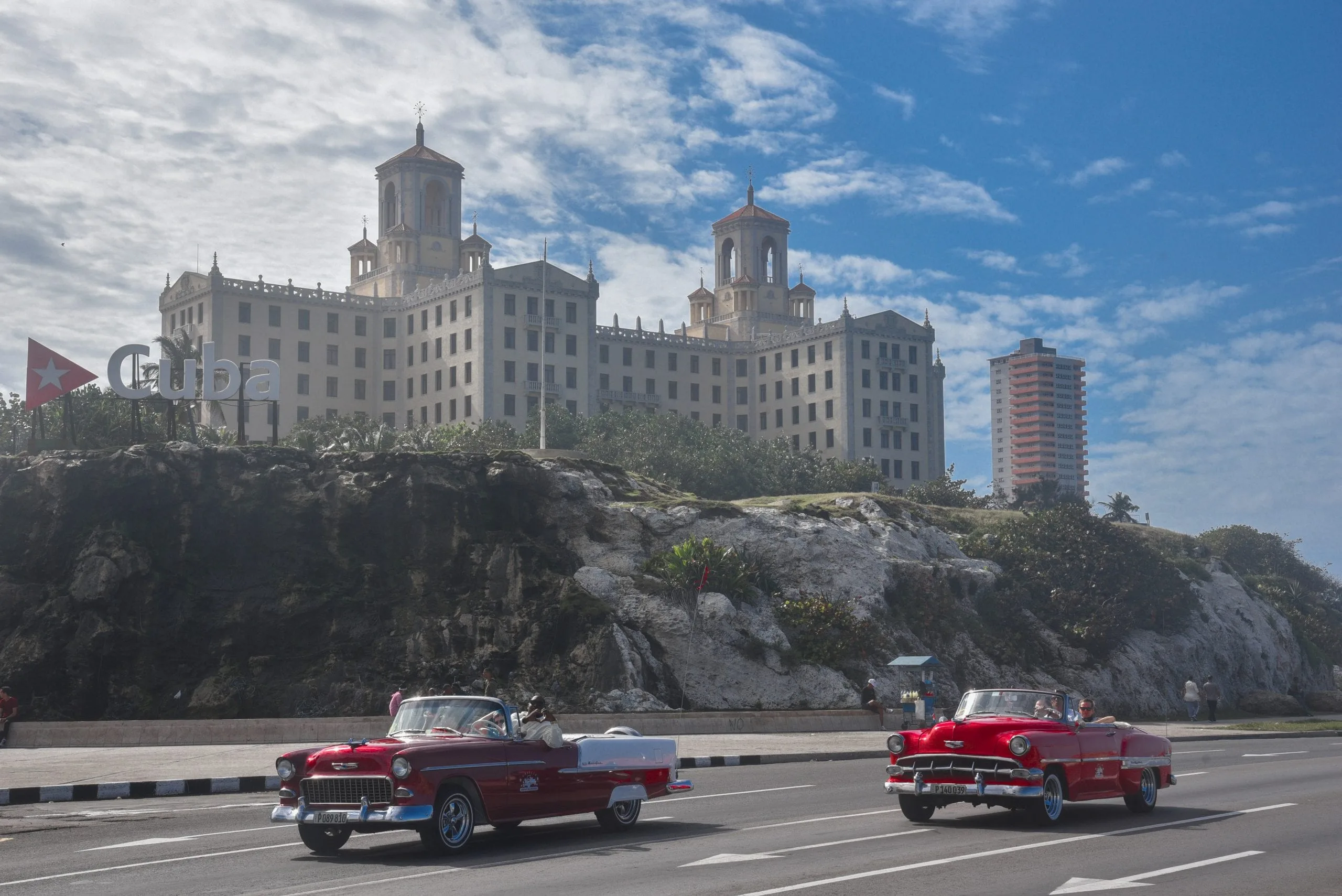 Summary: How to Get from Cancun to Havana Cuba
Flying is the only feasible way to get from Cancun to Havana. Flights take 70 minutes and cost between $80 – 250 USD.
We paid around $150 USD (including 23kg / 50lb checked-in bags) for relatively last minute flights between Cancun to Havana.
***
Hope this answered your burning questions on how to get from Cancun to Cuba. If you have any questions, we are always here to help, drop us a line below.