Looking for romantic hotels in Atlanta?
Are you planning a romantic getaway to Atlanta? Whether you are on a honeymoon or just going on a romantic weekend trip to Atlanta, we have you covered with the best romantic hotels and Jacuzzi suites in Atlanta Georgia!
Before we get started, if you are the planning stage of your Atlanta trip you also might like to check out:
15 Romantic Atlanta Hotels in Georgia USA
Your superb, child free adults weekend is just a few clicks away. We'll show you adults only hotels, popular bed and breakfasts, cottages and inclusive hotels near upscale Buckhead.
Let's start with one of the Real Housewives of Atlanta's favorite hotels – The Intercontinental Buckhead.
If you are looking for a romantic but modernized hotel with a charming atmosphere then this is the one for you.
What makes the Intercontinental Buckhead the perfect spot for a romantic hotel getaway is the staffs warm and personal approach to hospitality – hey, they don't call it Southern hospitality for nothing!
The hotel's rooms include a 47-inch flat screen TVs, coffeemakers (a must have for all non morning people), minibar, desk and pull-out sofas. You can even request for butler service if you fancy it. The IC will give you a taste of romanticism mingled with all the essential amenities of a luxury hotel.
If you are looking for a perfect hotel for a wedding or special event in Atlanta this also might be a good choice. It has a beautiful Windsor Garden and two amazing ballrooms which cater perfectly to this kind of event.
You can also dine in style in the 'Southern Art'. This southern style restaurant offers native dishes prepared with local produce that will leave you wanting to return!
Treat your partner to a date at the Jurlique Spa where the staff relies on holistic therapies and natural ingredients to make the skin healthy and glowing.
Check Reviews + see June / July Deals for Atlanta Buckhead Hotels.
The Ritz Carlton is the absolute perfect place for a romantic stay in Atlanta! As you can expect from Ritz Carlton Hotels, the rooms are designed for pure relaxation and romance.
Nestled at a walking distance from the Georgia Aquarium and the Centennial Olympic Park, this is one of the most popular luxury hotels in Atlanta and is unique for its special fitness center and other health-conscious amenities.
Don't miss the hotel's AG steakhouse which presents local dishes with seasonal ingredients. There is also an awesome Lumen Bar with live music and signature alcoholic drinks. If you are a coffee lover, the micro-roasted coffee from Jittery Joe is highly recommended!
If you are a fitness conscious couple, never fear, there is a world-class fitness center which puts the gyms at other hotels to shame! Personally, I'd rather shoot myself than work out on a romantic getaway but you do you!
Special mention: The views of Atlanta from the nearly long windows in room are more than spectacular.
View Deal for June/ Jul, traveler rating and popular hotels near Atlanta Downtown.
Do you want a relaxing stay with all the modern and basic necessities and top-class service? Then never fear the Whitley is here (sorry had to say it!)
Here, you will find lavish rooms (507 in total) with flat-screens TVs, iPod docks, luxe bed linens and even a marble bathroom to boot.
The hotel is a retelling of the Buckhead area's heritage but combined with new discoveries and experiences.
Delight your partner with Southern inspired dishes at the Trade Root, Whitley's very own bar and restaurant. The comforting atmosphere of the restaurants is a perfect place for couples to spend time together.
If you are looking for some much needed R&R then be sure to drop by the Spa. The Spa offers a variety of treatments like massages, facial scrubs, manicure and pedicure. Basically, it has everything that will make your skin look good as new and completely freshen you up.
About 6.3 miles from Whitley, you'll find the Georgia Aquarium, one of the best rated things to do in Atlanta for couples. The aquarium has 10 million gallons of water, 70 astounding habitats and just as amazing marine species including Beluga whales and Manta rays.
If the pair of you are feeling like big kids, Candytopia is only a 4 minute walk from the hotel. Always good to know ;).
See Deal + reviews for The Whitley + more Atalanta Hotels this June / July
Centered in Atlanta's business and cultural district, the Georgian Terrance will make you feel right at home with its carefully crafted décor and superb services.
This Midtown icon is just across Fox Theater so if you like watching a live performance, drop by the theater anytime during your stay.
Did you know which hotel hosted the premiere gala in 1939 for "Gone with the Wind"? Obviously the Georgian Terrace. Gone with the Wind is a bit of a big deal in around these parts as Atlanta is home to the famous author Margaret Mitchell. You can even go see her house if you like.
The hotel includes beautiful antique furnishing in every room, – perfect for you if you admire antiques – free Wi-fi, approximate floor to ceiling windows, 37-inch to 47-inch TV screens and on-site dining options.
You can enjoy meals during your stay at the Livingston Restaurant and Bar or if you prefer an intimate setting, Edgar's Proof and Provision is a great choice. Note: it only serves craft cocktails and appetizers so it's better to not go there when your famished.
To burn the carbs, you can head over to the fitness center, which fortunately has the most breathtaking views of the city!
Check Reviews & prices for Atlanta Hotels in June / July.
For some couples, high-end hotels with many facilities might not stand up to the romance you with find when staying at a quaint hotel in the countryside. That's where resorts like Barnsley come in.
Perched near Adairsville, Georgia, this resort will help you unwind from the stress of Atlanta city and experience the nature to its fullest.
The facilities here are a lovely blend of outdoor activities with necessities like Wi-fi and good room service. The rooms have a homey feel and are equipped with features like a mini-fridge, coffeemaker, flat-screen TV, carpeted floors, full bathrooms and private porches.
The resort has something for everyone from hiking, horse-riding, tennis to fishing. If you're a historian or architect, be sure to explore the Manor House Ruins and the Barnsley Museum.
For a restful and serene experience, the Spa awaits you. There you can enjoy a message or have a facial done using modern techniques combined with nature's remedies.
Dine at the resort's three amazing restaurants, the Woodland Grill, the Beer Garden and the Rice House. What is cool about the restaurants here is that the chef provides a "the Garden to Table" experience (the chefs incorporates ingredients from the resort's very own garden to the menu).
Mark up this resort on your calendar for your next romantic vacation to Atlanta because the place is worth a trip!
Disclaimer: It involves a drive to the countryside just outside Atlanta.
View Reviews, rating & June / July deals for hotels near Atlanta
Not all romantic hotels in Atlanta need to be traditional hotels.
Huddled in a art-filled mansion in midtown Atlanta, this Boutique hotel provides its clientele with 8 singularly decorated rooms, each having a modern and chic style, Wi-fi, flat-screens TV, iPod docks and even in-room messages (with a fee).
The Stonehurst Place can also be used as a wedding venue where the staff will make sure to fulfill all your wedding dreams!
Do you like trying out local and foreign cuisine whenever you travel? Then, be sure to step out of the hotel and try all of the amazing food from the Empire State South in Atlanta, a restaurant about a 7 minutes' walk from the hotel.
See new June & July prices & check reviews
Award-winning Ellis Hotel, oozes southern hospitality, is nestled in downtown Atlanta, near Peachtree Street and many of Atlanta's best attractions.
Like other hotels, it boasts rooms with Wi-fi, flat-screen TVs, modern furniture but unlike other hotels, its rooms have bamboo paneling and limestone bathrooms – a perfect fit for our romantic hotels in Atlanta guide.
Interestingly, they even have women only floor and even a floor for guests with pets if you want to bring your furry friend with you on vacation.
Inside Ellis, the Terrace Bistro and Lounge gives you an opportunity to taste some upscale and flavorful dishes.
If you want to try out other restaurants in Atlanta then you're in luck since Peachtree Street is home to many of Atlanta's best restaurants and other attractions. Some popular restaurants include the White Oak Kitchen & Cocktails, Herban Fix and Polaris.
Ellis Hotel is perfect for first timers to Atlanta as it is close to lots of places in the city: Centennial Olympic Park, Atlanta Streetcar Stop, Georgia Aquarium, Margaret Mitchell House and the World of Coca-Cola.
Trust me, your Atlanta trip won't be complete until you visit these places with your partner.
View Jun / Jul deal & check reviews.
A hotel near Peachtree Street which makes you feel like you are living in your best friend's house rather than a hotel – what more could you wish for?
Services aside, The Glenn Hotel is perfect for a romantic getaway as it has bright, classical rooms and beautiful marble bathrooms with rainfall showers and designer toiletries.
If you are an old soul, you will love the classic style of the hotel, designed in 1920s style, with modern amenities.
The Glenn Hotel is the definition of a holiday as a personal host is assigned to each guest to guide and help them around the hotel.
The location is also a great choice for visiting Atlanta since it is close to the State Farm Arena (the busiest entertainment and sports arena in southern USA), the Mercedes Benz Stadium and College Football Hall of Fame.
Just across the street from the hotel, drop by the Skyview to see a tantalizing view of Atlanta from 20 stories high on a ferris wheel.
Show June & July Prices & Rating.
Four Seasons is a beautiful Midtown Atlanta hotel just steps away from some of the best attractions in Atlanta including Piedmont Park, High Museum of Art and the Atlanta Botanical Garden.
Rooms feature amenities such as cable TV, Wi-fi and marble bathroom with a soaking tub. You can expect nothing but the best at the Four Seasons Atlanta with daily room service not once but twice daily.
Suite rooms include a whirlpool tub, private terraces, separate living rooms and picturesque views of Atlanta (since the suites are in the upper floors of the hotel).
If you really want to treat your girl, the Four Season's Spa offers amazing treatments and messages like Piedmont Park Polish, The Georgian Peach (which also includes a nutritious spa lunch), the Midtown Massage – unique to only the Four Seasons – and Aromatherapy in which you get to choose your favorite scents that are all home-made.
If you're still feeling hungry after the spa lunch, head over to the Bar Margot, where tasty food along with crafted drinks are waiting for you.
Can't really go wrong with the Four Seasons!
Show Reviews for one of the best romantic hotels in Atlanta & more hotels near Midtown!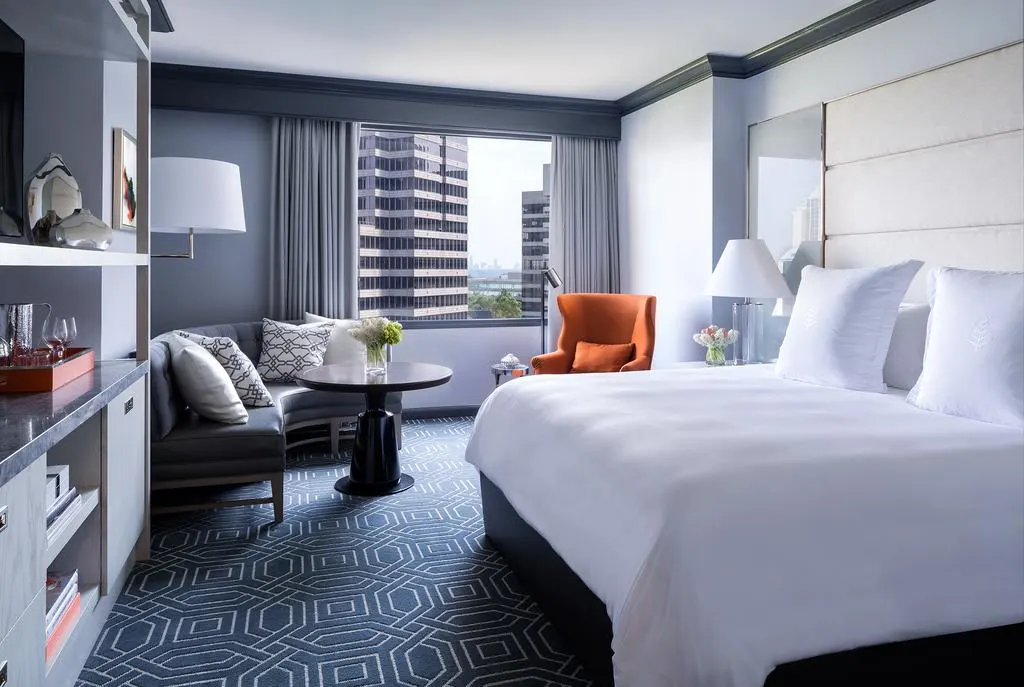 One of the only romantic hotels in Atlanta Midtown with a Spanish inspired façade, Artmore is a beautiful blend of historic architecture and modern conveniences.
Situated in the heart of Atlanta's Cultural Arts district, the hotel is walking distance from the First Presbyterian Church of Atlanta and the Alliance Theatre.
The rooms are painted in a splash of browns, cream and red that accentuate the fine woods, leather and metal. Rooms include flat-screen TVs, Wi-fi, mini-fridge and separate bathrooms.
Can't feel alive without the nectar of gods – coffee – in the morning? The good news for you is that rooms here include a coffee maker. If you don't feel like MYO, head over to the Coffee Studio to start your day with one of the best coffees in town!
View reviews, traveler ratings & more romantic hotels in Atlanta Midtown
Near the Fortune 500 headquarters and the high-end shops in Lenox Square, Waldorf Astoria is located in the most prestigious neighborhood in Atlanta, Buckhead.
Here, you'll be able to experience a perfect blend of modern luxury and Southern charm. The rooms and suites are up-to-date with dark wood, lavish furniture, and some rooms even have terraces.
There is a possibility to book an amazing breakfast package while at the hotel. The only downside is that this cannot be enjoyed in bed!
As for your main dining options, you can devour delicious dishes at the hotel's acclaimed Café & Bar.
Although children are allowed, you can leave your child in the care of their popular Nanny service visit their spa. It includes a dry sauna, vitality pools, steam rooms and a relaxation lounge.
Show Traveler Rating & Jun – Jul Deal for Buckhead Hotels
The Ritz-Carlton is on the list of romantic hotels in Atlanta because we love the idea of escaping to the elegant lake resort overlooking Lake Oconee.
Why not stay slightly out of Atlanta city center and enjoy lakeside dining and reconnecting with your partner while roasting s'mores by the fireside.
At the resort, you have an option to choose various accommodation options depending on your budget.
Nearby, are amazing cafes, bars and steakhouses to enjoy. The National Tavern at the resort is a popular dinner destination while the pies from Yesterday Café are to die for.
We love that the resort offers a wide array of activities like a shooting range, kayaking, games area, archery range, air rifle range, sporting clays instructional, hiking, fishing, and canoeing.
Drop by the Greensboro Florist, Antiques Gift shop or Butterfly Treasures to buy souvenirs of your time.
Oh, and if you love classic cars, don't miss a trip to the Memory Lane Classic Car Museum.
Built in a 1920s building, this modernized hotel with a retro design is located near Piedmont Park and the Georgia Aquarium, two of the best things to do in Atlanta.
Clermont not just a hotel but a clear representation of the city itself. It's a hotel "where anything goes and everyone's welcome".
Each of the rooms have a king or queen-sized bed, tiled bathroom, fantastic views of the Poncey-Highland, in-room service, Wi-fi and TV with cable.
If you decide to stay at Clermont, flag a trip up to the rooftop day or night for snacks and drinks as it provides an amazing skyline view, especially at sunset!
Check The Clermont & Hotels Near Piedmont Park in Jun
Situated on 3500 acres of vineyard, this luxurious French chateau slash Winery is about 15 miles from the beautiful Lake Lanier.
Built in the vineyards, this hotel has a lovely natural green scenery with wine bushes galore! There is nothing that screams romance more than wine!
The cool part of this hotel is that, not only is it a hotel but a full serviced vineyard where you can go wine tasting or plan your trip around many of the awesome events held at the hotel.
Two of the most popular events in the year are the Winemaker Wannabe, an event in which you can discover the art of wine making, and a Taste of Georgia, where you can get a full wine tasting education. These events are held on March 13th and 20th respectively.
Not to worry if you can't schedule your trip around these dates as you can taste wine at the vineyards year round.
You might also like to take part in the Viking Culinary Classes at the hotel with your sweetheart.There's nothing like cooking together under the chef's instructions to strengthen bonds. 😉
There are lots of restaurants to explore during your stay in and nearby the hotel including Paddy's Irish Pub, Sarazen's Bar & Grille and Versailles Restaurant & Atrium Bar.
Nestled near the Zoo Atlanta, it's one of the most popular Bed & Breakfasts and is set in a Victorian House from the 1900s. Doesn't that just scream romance?!
The area around the Zoo is a lovely area of Atlanta in its own right but it is also not far from many of Atlanta's other top attractions including the Atlanta Botanical Gardens.
The B&B has a wide variety of rooms including a Master Suite, Third Floor Suite, the Yellow Room and houses such as the Birdnest, Hog Heaven House, the Rooster Cottage and the Carriage House.
All of these rooms and are uniquely designed and have their own special personality. For those who think big 5* hotel chains are rather stark and prefer the comforts of home – this is the hotel for you!
It doesn't have facilities like a Spa or a Fitness center that many fancy hotels have, but it has a very special homely vibe with down to earth and genuine staff that while make you feel right at home.
Being a bed and breakfast, a delicious breakfast is included in the room rate in the elegant dining room.
They don't call it the Social Goat for nothing! Outdoorsy couples will love that the inn doubles as a farm and is home to a few animals.
The inn houses 5 goats, 11 chickens, 3 cats and some ducks and even aquatic pets like Koi fish which are fun if you have children with you.
As you enter the house, watch out for Tallulah the Nigerian dwarf goat. She looks to greet the guests as they enter for their stay. I told you, you got good service here!
Long story short. Stay here if you desire to stay in a quaint place that boosts Southern Hospitality with social animals and people.
See Deal for June & July, reviews and current prices.
***
Find Cheap Flights
This June and July, the airlines are offering bargain air fare prices to get travelers back in the air again.
Check out these air lines for superb sales this month:
Access secret offers
Some of the most popular OTAs (Orbitz, Expedia) are offering back to work deals.
Don't miss the express back in the air sale, with flights on sale night and day to Atlanta, sometimes packaged with hotels across the US.
Explore Further
After you've explored Atlanta, consider a getaway to the cute Bavarian town of Helen, GA.
There's plenty of things to do for couples ranging from cute wine tasting, long lake-side walks to pretty out there (think horse-drawn carriage ride and hot air balloon rides)!
We picked out the 11 Best Places to Stay in Helen for a romantic getaway including a castle, popular cabins, hotels with private jacuzzis, quaint half-timber Bavarian-style cottages, and a stunning vineyard.
***
We are dying to know – which of our romantic hotels in Atlanta did you choose for your stay? Did it live up to your expectations? Or, did we miss your favorite hotel from our list. We love to hear from you so leave a comment below!
Looking for more Georgia Travel Inspo?
Loved the Article but not ready to book? Save it to Pinterest so you can find it again!