Looking for awesome indoor date ideas SO much better than Netflix?
We have you covered with the best date ideas that will totally spice up your otherwise boring indoor date night.
And, if these dates aren't completely hitting the spot, here are some alternative rainy date date ideas and at home date night ideas that should well and truly keep you occupied indoors.
Indoor Date Ideas for Couples
Indoor Dates don't have to be another boring night in at home.
In fact, they can be very interesting and bring more groove and spice back into your relationship with careful planning!
So with no further adieu here are some of our favourite indoor date ideas for couples that will totally blow your mind.
Tip: To really spice things up, you might like to check out our fun games for couples at home.
Date Night Box
If you find yourself at home on date night a date night box is the perfect idea to keep yourselves entertained on a night in!
Basically, a date night box is an interesting date box delivered to your door including various games, challenges and activities for you and your partner to enjoy around the table in the comfort of your own house!
It may sound a little boring but some date night boxes are super creative and fun. Plus it takes all the hard work out for you (which I love!!).
Some of the best date night boxes include:
Bowling
Bowling is seriously always a good indoor date night idea.
We went bowling on our first ever date together and it was a total hit or strike haha. We are still together over 10 years later.
What we love about bowling is that it is a great conservation starter. It is the perfect place to have a laugh at your terrible bowling skills and really get to know each other on a deeper level.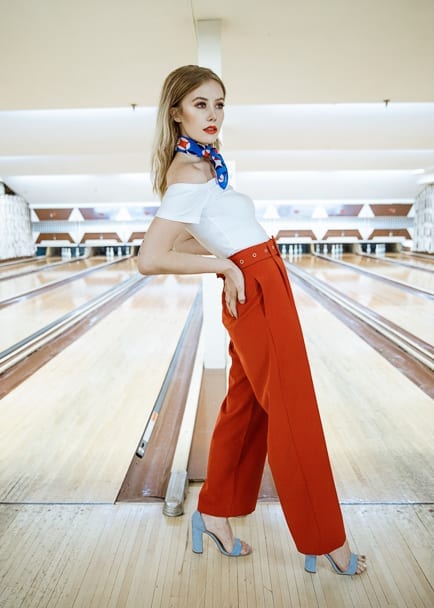 Pizza and Wine Night
Pizza and wine night is definitely one of our favourite indoor date night ideas.
It is so simple but it is oh so good!
Either order in a pizza or pick one up at the store that you just pop in the oven.
Alternatively, you could make a delicious homemade pizza together!
HOW TO PREPARE:
A great recipe + ingredients, frozen pizza or pizza delivery number
Wine
Our favourite pizza making utensils for couples
Wine & Paint Night
A wine and paint night is quite literally the perfect indoor date night idea for couples.
What is more fun that making some quite literally terrible piece of art with your significant other.
This date night is sure to increase the LOLs and bring on the romance.
A card or board game night
Catan, Monopoly, Candyland, Chutes and Ladders, Life, Twister, Chess, Checkers, Hearts think of all your very favourite games as a kid and really make a night of it.
Along with a few of the old trusty favourites we like to mix up our board game nights with something interesting.
Visit an animal cafe
One of our favourite date ideas when its raining is to visit an animal cafe.
As we travel a lot we can't own our own pets. In lieu of this we visit lots of different animal cafes around the world to get in our cuddles.
Cat and dog cafes have become a little old news. See if there is a animal cafe that is a little quirkier in your local area.
In Seoul we visited a Meerkat cafe, which is a very cool experience if you ever visit!
Ice Cream Sundae Bar
Getting ice cream is one of our all time favourite date ideas.
Go to the best rated ice cream store in town or if you are feeling a little creative you might like to make your own ice cream bar at home for the pair of you to enjoy.
Go Indoor Ice skating
This is actually one of my favourite summer date ideas as it is a really nice break from the heat.
There is nothing more cute and romantic then skating around & helping each other up as you fall!
I don't know about you but ice skating reminds of of every cheesy, romantic movie ever and I LOVE IT!
Go to a Karaoke Bar
Definitely one of the best indoor date ideas ever.
Going to a karaoke bar is one of our ultimate favourite date ideas and heres why.
Karaoke bars really bring out the silly and fun side of a relationship.
Pick an evil song for each other to sing (I once picked Miley Cyrus Wrecking Ball for Mike to sing on a Norwegian Cruise) and it was an absolute barrel of laughs!
If you're going to share your singing 'talent' with the world, make sure you have the perfect caption with our list of romantic captions for Instagram.
YouTube Yoga Date!
Going on a YouTube yoga date is seriously so fun.
Not only is it fun but it will make you so relaxed! A relaxed spouse certainly is a happy spouse.
One of our favourite youtube Yoga/Fitness channels is Blogalites. Look her up, she is awesome!
Create a yummy desert
Making a yummy desert is always a fun and delicious date.
Find a desert online that looks appealing to you both and work together to make it.
Be proud of yourself afterward as you take a picture, then dig in!
Visit an indoor pool
Indoor pools are even better than outdoor pools in my opinion as you don't have to get burnt and they can be visited year round.
Take the opportunity to visit an indoor pool in your local area. The best ones have lots of different pools with different temperatures to try.
Learn a new song
If you are musically inclined, it is super fun to learn a new song together.
Watch Lady Gaga and Bradley Cooper for some romantic musical inspiration. They should be a real couple as they are just so adorable!
Go out to a fancy restaurant
Indoor dates don't need to be cheap dates. Go out and enjoy a fancy restaurant together.
Select a new Michelin Star restaurant in your local area to try.
Go for a massage
A massage is seriously the PERFECT indoor date idea – AMIRIGHT?!
There is nothing more relaxing than going for a couples massage together.
If you are wondering where to find a good massage, we would suggest looking up fancy hotels in your area. Most fancy hotels have a great indoor spa with well trained staff.
Eat Sushi
Going and getting some seriously delicious sushi is one of the best indoor date ideas EVER!
Our recommendation is a sushi train as it adds a little more interest and theatrics to the experience.
Below is a super fun sushi restaurant in Toyko where you order what you want and it gets delivered to you.
Take a fitness class together
A couple who is fit and healthy stays together!
Get dressed in totally hilarious lets get physical outfits and find the most amusing class out there to visit together.
Visit the Aquarium
An aquarium is one of our all time favourite indoor date ideas.
There is something just super romantic about aquariums. Maybe it is watching all the colourful fish, sharks and jellyfish float by – I don't know but they are totally a great date idea.
We recently visited an aquarium together in Key West and had an incredible time. If you are ever in the area, they have a great little aquarium that's free!
Visit Friends – Double Date Time!
Go to a friends house for a good old yarn.
There is something about sharing mutual friends that can really bring a couple closer together.
You may want to combine this date idea with a board game. I don't know about you but I think it is super fun to play board games in a group of friends.
Indoor put put golf
Mini golf is such a fun date idea.
In the past most mini golf courses were outside but nowadays mini golf courses are indoors too!
Some places allow you to drink and golf which can add a whole new element of fun.
Go to bingo
I might just be an old granny at heart but I love the idea of a bingo date.
Having a drink and laugh at the host saying "All the 7s, 77!".
Ahh, the people you see a bingo will certainly give you something to talk about for many more dates to come.
T
eppanyaki Time
Teppanyaki Time!
You guys are going to start thinking I have an obsession with Japan by the time you have finished reading this and I kinda do but that is besides the point – Teppanyaki is the best date idea.
I just love the theatrics behind Teppanyaki which make it so much better than a usual dinner date idea.
Plus, watching your significant other try to catch egg in his or her mouth is always a total barrel of laughs.
P.S If you just HAVE to watch a movie – here are our favorite romantic travel movies you might like to check out!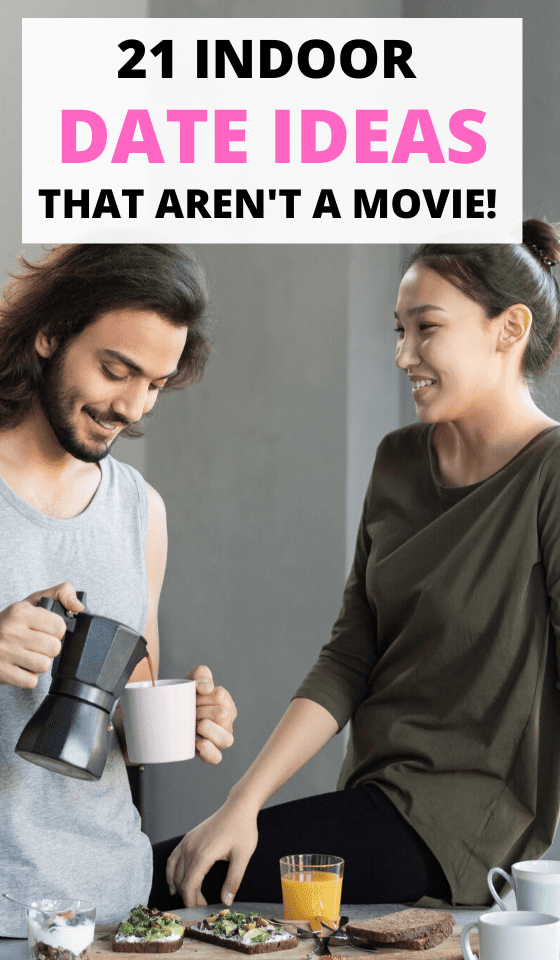 Want MORE date ideas beyond our indoor date night ideas?
Don't worry, we like to consider ourselves date experts haha – we have you covered with date ideas for seriously ALL occasions.
If you are looking for something other than at indoor date idea you might like to check out:
If you know someone going on a first date (exciting!!) here are some date ideas you can recommend them including:
Go bowling (this is certifiably a great way to spend a rainy day date. This was part of our first date together)
Make a home cooked meal for two together
Wine & Paint
Visit a hipster cafe
Go rollerblading or indoor ice-skating
When thing are heating up and really getting exciting! Here are our favourite second date ideas:
Go on a double date;
Visit a theme park;
Go somewhere your date would love – demonstrate how attentive you were on the first date;
visit a farmer's market;
go rock climbing.
If you have made it to your third date, you need to start looking at ideas out of the box including:
write a song together;
invite your friends to meet & bond playing cards against humanity;
watch a Game of Thrones marathon (probably not Season 8 though…)
visit a new restaurant;
go diving.
If it's raining outside, we have you covered! Here are some of our favourites:
take a dancing lesson. Take shelter from the rain in your partner's arms;
visit friends. Make the most of the rainy day but hanging out with your friends;
go to an aquarium;
volunteer at a dog shelter;
have a pillow fight.
Fall is possibly our favourite season for dates! Here are our favourite fall date ideas:
See a movie at a Drive-In theatre;
take a horese-drawn hayride (super cute – no more to say);
go sweater shopping together;
go horseback riding and watch an orange sunset among the fall leaves;
hot cocoa and rockers (You and your date head to the front porch and get comfy in some rocking chairs)
You might not think winter is a good time for dates but we beg otherwise! Here are our favourite winter date ideas:
build an igloo;
go ice skating;
indoor picnic;
get outside! Build a snowman, make snow angels and make the most of your winter day;
take an ice sculpture class.
Ahh Summer! Everyone's favourite season! Summer should be a easy one for date ideas! If you find yourself low on money this summer, here's the dates we would recommend:
make a date for a pool party;
have a picnic on the beach;
try out water skiing;
have a go at surfing;
BBQ at a lake or in a park.
If you want to take it back to your teenage years (perhaps you are high school sweethearts like us?) you might enjoy one of our 50 recommended date ideas fo teenagers:
Go to an animal cafe;
Go bowling;
Have a movie marathon;
Get some quirky photos at a photo booth;
Mini golfing
We hope you loved all our date ideas and found something super special for your indoor date night!
Hey, I almost forgot. We also thought of some cute couple things to do so you might like to try out a few of these on your indoor date night. One of our favourites is the couples yoga boat pose – see if you can achieve it, we struggled.
Note: This post contains affiliate links. If you purchase something through this post, we will get a small commission at no extra cost to you.
Save Indoor Date Ideas to Pinterest!