Are you ready to take your Instagram Couple game to a whole new level? The couple Instagram world is not only about quality pictures, carefully researched couple hash tags but also thought provoking and inspiring captions. Here are 150 + romantic couple love quotes to take your gram to a new level of cuteness.
Check out our Couple Instagram where you are sure to see a few of these in use!
And, If you love Instagram we developed some kick ass Instagram presets (filters) so you can edit your photos in 1 click!
Romantic Couple Love Quotes for Instagram
Have you ever gone to post a picture of your partner and wondered what caption to write?
Have gone searching all over the internet and all you came back with was frustration?
Worry no more as these quotes are all you will ever need. The quotes and captions are carefully selected so as to make sure they are not in everyone's posts. Spoil yourself and your partner with one of these Instagram quotes!
Cute Couple Quotes
Cute Couple Quotes are ideal if you are feeling warm and fuzzy and the picture is just the cutest! They are sure to provide the perfect romantic couple love quotes.
Add one of the following quotes to a super cute picture. It is sure to result in "owwws and ahhs" from your followers and partner alike. Words bring couples together.
If I love you, I show you I love you every day. Little things, big things – Dwayne Johnson
I really hope you and I make it together till the end – Unknown
You are even better than a knight in shining armour because you are real and I know that you were made just for me – Unknown
The water shines only by the sun. And it is you who are my sun – Charles de Leusse
I'd rather die tomorrow than live a hundred years without knowing you – Unknown
You are the most beautiful thing I keep inside my heart – Unknown
You're cute, can I keep you? – Unknown
You will forever be my always – Unknown
Every night when I fall asleep I think of you – Unknown
I catch myself searching for you everywhere I go – Unknown
I love the little things I get to learn about you – Unknown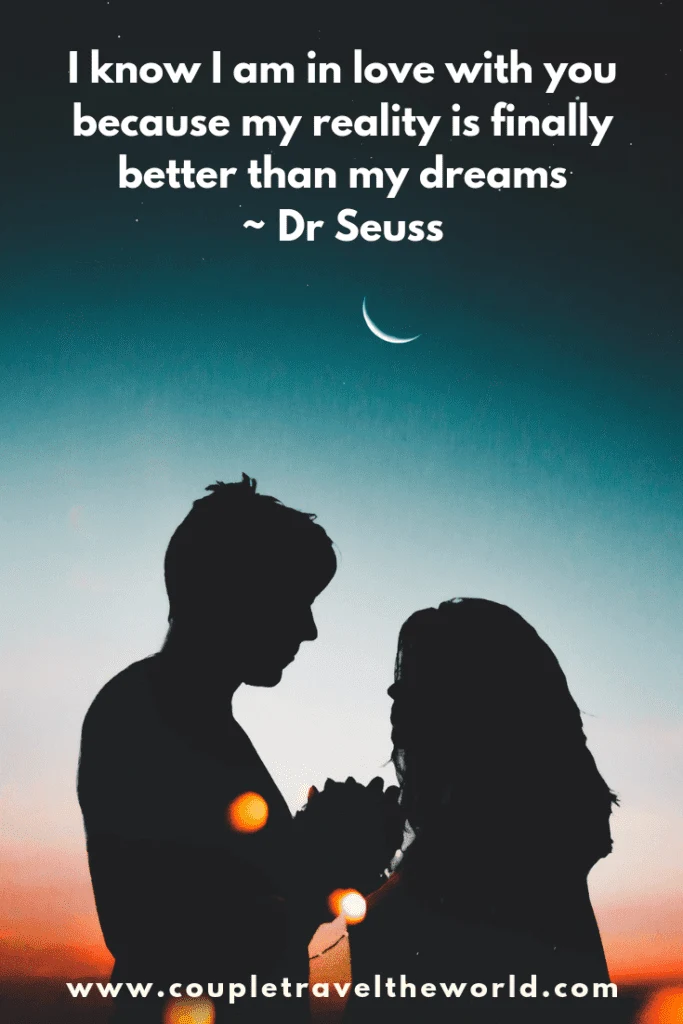 I know I am in love with you because my reality is finally better than my dreams – Dr Seuss
I can't escape the way I love you – Unknown
You taste like strawberries in the summertime – Unknown
Every love song is always about you – Unknown
It's really my favorite thing. Saying your name – Unknown
Even the slightest touch from you makes my heart feel so full – Unknown
Do us both a favor. The next time you have thoughts about me. text me & Send me your location – Unknown
Just know that while I'm so in love with you I'm in like with you too – Unknown
You are like winter, you give me chills up my spine. You are like spring, you give me life. You are like summer, you bring warmth in my body. You are like autumn, you make my life colorful – Unknown
You may hold my hand for a while, but you hold my heart forever. – Unknown
Your smile is literally the cutest thing I have ever seen in my life – Unknown
I swear I couldn't love you more than I do right now, and yet I know I will tomorrow. — Leo Christopher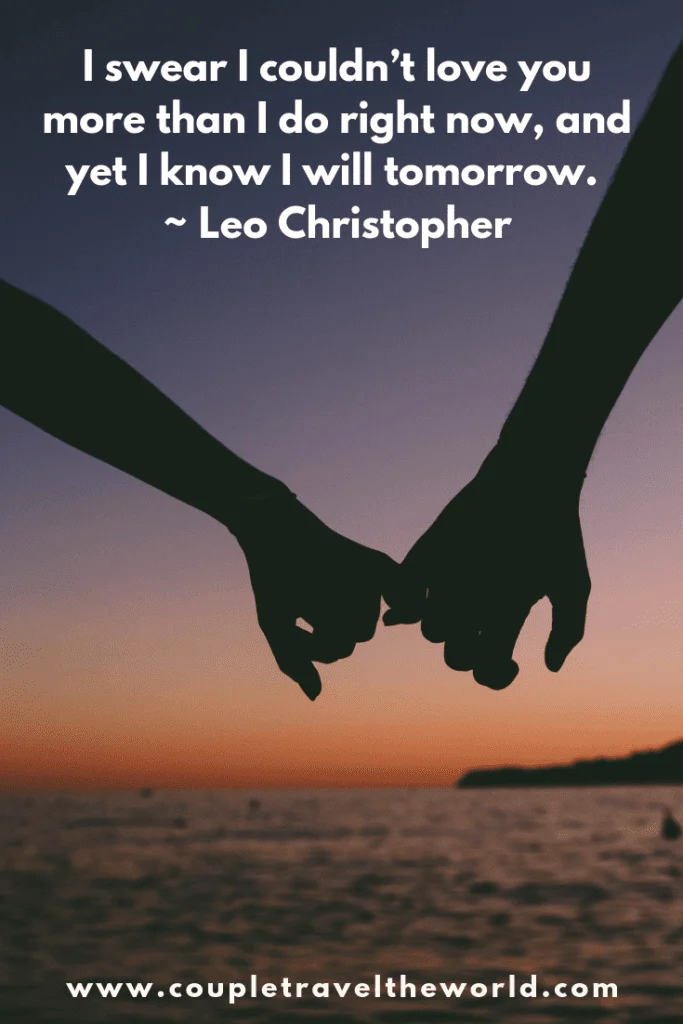 Funny Couple Quotes
Sometimes you want to post a funny couple picture to Instagram. What is seriously better than making your partner and friends laugh?
The perfect quote can take a funny couple photo to a whole new level. Here are some of our favourite funny Instagram captions for boyfriends or girlfriends.
Disclaimer: They are quite cringey!
I love you from my head tomatoes – Unknown
I love you like a fat kid loves cake – Unknown
The brain is outstanding, it works 24 hours 365 days until you fall in love – Unknown
Just like bacon you make everything better. – Unknown
The most important thing in a relationship between a man and a woman is that one of them be good at taking orders – Unknown
Remember, beneath every cynic there lies a romantic, and probably an injured one – Unknown
You give me that freshly baked cookie kinda feeling, warm and gooey – Unknown
At a touch of love, everyone becomes a poet- Unknown
You're so delicious that I will take a bite of off you instead of a cake – Unknown
Do you think you can get away with everything because you're so adorable? – Unknown
Marry a man your own age; as your beauty fades, so will his eyesight. – Phyllis Diller
Love is sharing your popcorn. – Charles Schultz
See more: Couple Instagram Captions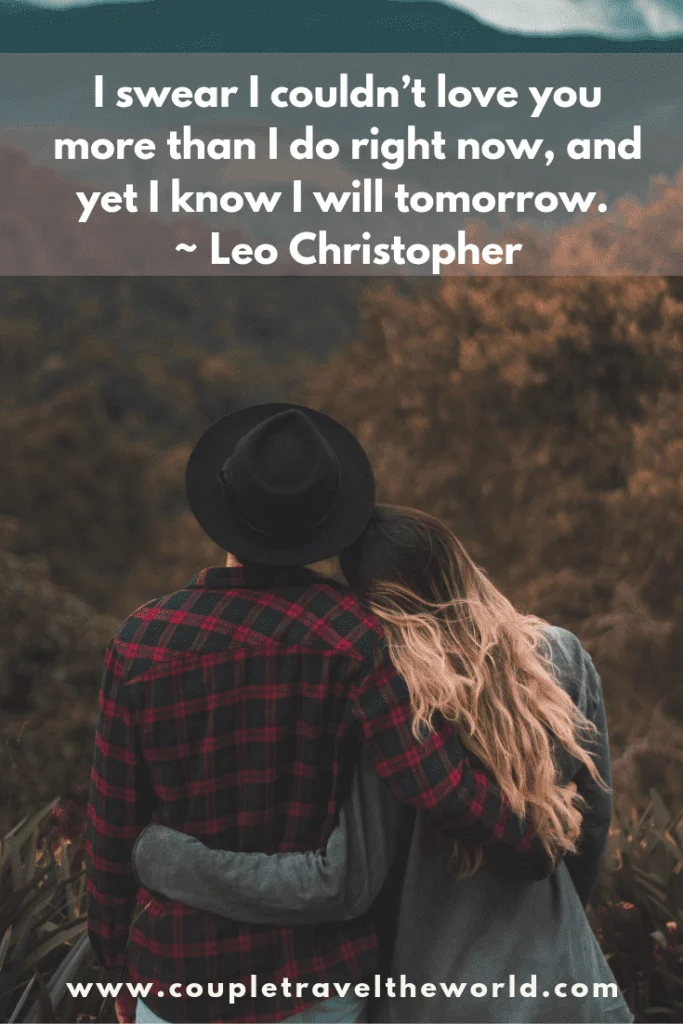 You are sorta, kinda, pretty much always, 24/7 in my mind and my heart. – Unknown
Facebook notification "I really Like you". – Unknown
Besides chocolate, you are my favorite – Unknown
If you want to read about love and marriage, you've got to buy two separate books – Alan King
Marriage is a great institution, for those who like institutions – Unknown
An archaeologist is the best husband any woman can have; the older she gets, the more interested he is in her. – Unknown
They say that love is more important than money, but have you ever tried to pay your bills with a hug? – Unknown
If you love a person, let them go. If they come back with coffee, it was meant to be. – Unknown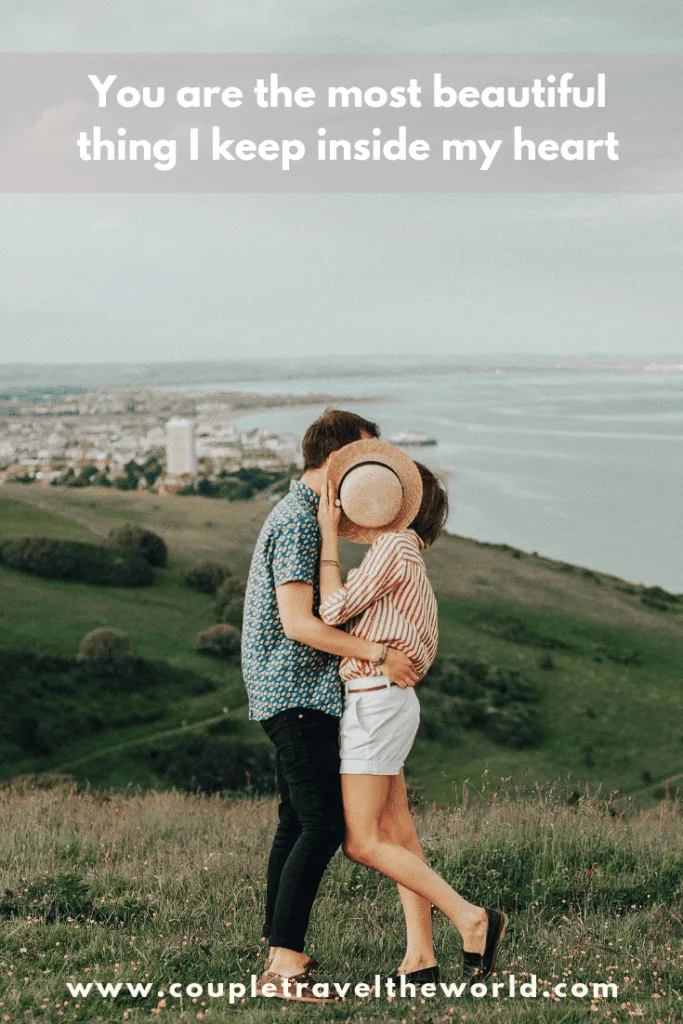 Happy Couple Quotes
These are the perfect appreciation quotes for your partner on how happy they make you feel.
Perhaps you've just had the best date of your life (maybe you took inspiration from our romantic ideas).
It is important to appreciate and recognize the things they do for you and to let them know how blessed you feel to have them in your life. What better way them to publicly appreciate them on Instagram!
Being with you is what I call happiness – Unknown
The most fulfilling part is waking up next to you and knowing that this is my life and that you are mine – Unknown
Do you ever look at someone and think, goddammit I fucking love you – Unknown
Your smile is the reason why I have a twinkle in my eye and love in my heart – Unknown
The greatest gift I ever received is when I first saw you smile, it took me to a whole new world – Unknown
I'm never gonna stop loving you and I'm never gonna stop falling in love with you- Unknown
It is not being in love that makes me happy, it is being in love with you that does. – Unknown
I fell for you unexpectedly but now I plan to be with you forever – Unknown
I am in heaven and paradise whenever I am in your arms- Unknown
The reason I smile is you. The reason I believe in love is you. The reason I breathe is you. The reason I'm alive is you – Unknown
You gave your smile to me, you gave your heart to me, you gave me everything that I will ever need – Unknown
In a happy relationship, it is the woman who provides the climate, the man the landscape- Gerald Brenan
The meeting of two personalities is like the contact of two chemical substances: if there is any reaction, both are transformed- Carl Jung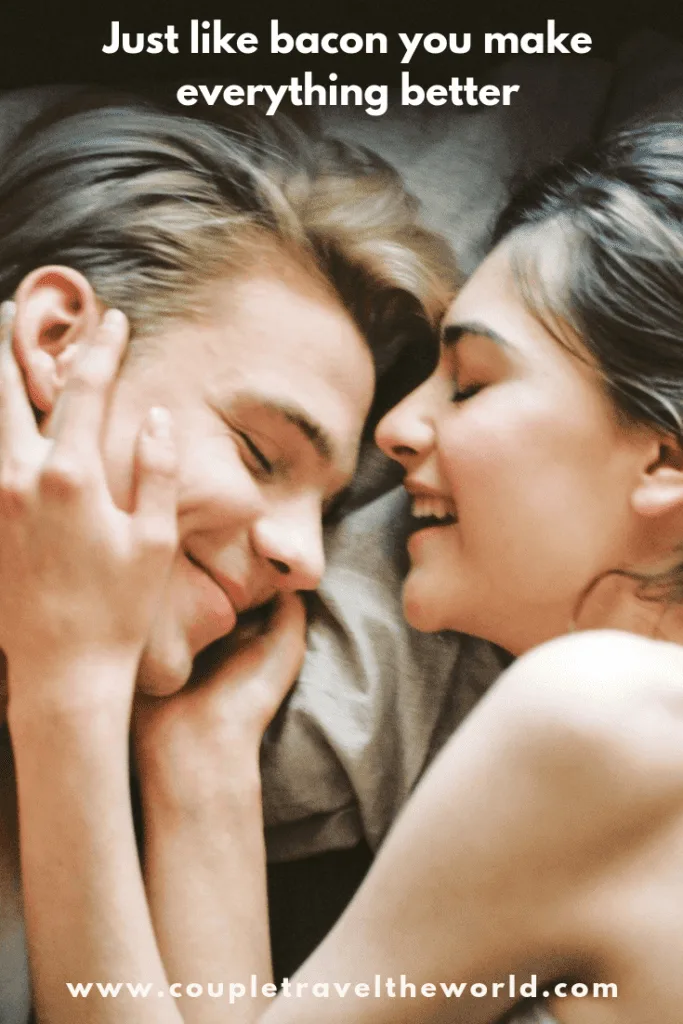 Sweet Couple Quotes
You can never go wrong with a little sugar in your tea and the same works for relationships. Sweeten your partner up with these unique and beautiful quotes and watch them giggle, twinkle and smile.
You will also make the day of your followers with these totally adorable sweet quotes which match your image!
Forget fairytales, our love story is the best ever made – Unknown
We are all a little weird and life's a little weird, and when we find someone whose weirdness is compatible with ours, we join up with them and fall in mutual weirdness and call it love- Seuss
I can't imagine what my life was before. I can't imagine ever being without you for very long again – Unknown
I love you not because of who you are, but because of who I am when I am with you – Unknown
I love you neither with my heart nor with my mind. My heart might stop, my mind can forget. I love you with my soul because my soul never stops or forgets – Unknown
I might not be a perfect person, but that's okay because I found the perfect partner in you – Unknown
You always make me feel like I'm the best and luckiest person in the world – Unknown
Hearing your laugh feels like coming home – Unknown
You are not the love I was looking for. You are more. You are better – Unknown
I wish I could turn back the clock. I'd find you sooner and love you longer – Unknown
Celebrating each and every day that I'm with you is what I'll do for the rest of my life – Unknown
Cuddling with you, talking with you, and being with you, that's what I love most – Unknown
Thank you for coming into my life. Thank you for making me smile like crazy. Thank you for making me happy – Unknown
I like how pretty your eyes look when they shine in the sunlight – Unknown
Mood: binge watching tv shows and eating take-out food with you – Unknown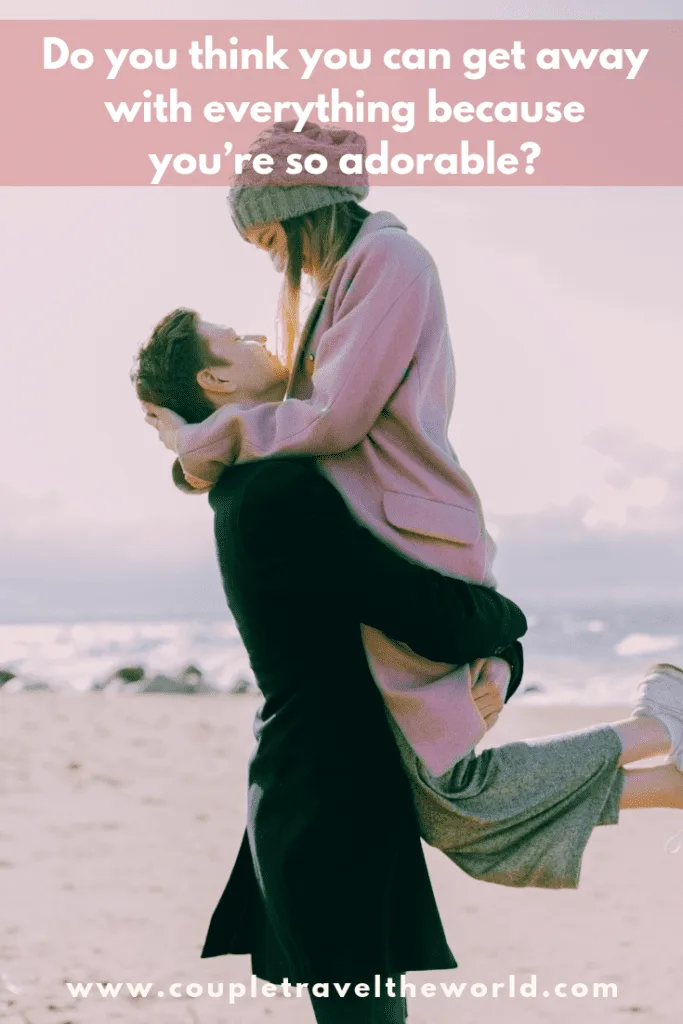 Beautiful Couple Quotes
Relationships are very special and it is awesome when two people find each other and share their lives and happiness together. The following beautiful love quotes are great to send as texts or as captions as well. They are short, sweet and to the point.
I knew it would be an adventure as soon as I saw you – Unknown
I fell in love with your soul even before I could touch your skin – Unknown
I am amazed when I look at you, not because you look good but because everything I ever wanted is right in front of me – Unknown
I swear I could not love you more than I love you right now – Unknown
The thought of losing you scares me – Unknown
Love is a condition where someone's happiness is essential to yours – Unknown
I am waiting and if waiting means being able to be with you, I will wait for as long as it takes – Unknown
True love is about vulnerability. It is allowing someone to see that you want and need them in your life – Unknown
I'm so lucky to have met you, I hope you know that. No matter how things turn out in 2, 5, 10 years, just know that right now I'm so happy to know you and even if things turn bad, it doesn't change the fact that I'll always be happy to have known you – Unknown
That was incredibly fascinating for me to see how much of me is in you. It was scary at the same. And that was definitely the weirdest thing that has ever happened to me – Unknown
I love you and I never want to lose you, because my life has been so much better ever since the day I found you – Unknown
Be a boss. Date a boss. Build an empire – Unknown
You meet thousands of people and none of them really touch you. And then you meet one person and your life is changed forever – Unknown
I came here tonight because when you realize you want to spend the rest of your life with somebody, you want the rest of your life to start as soon as possible – Unknown
Power Couple Quotes
We all know it takes arguments, hills, valleys, high highs, and low lows to build a strong unbreakable relationship. Below are some lovely quotes to caption and remind people that no matter what love conquers all.
We are a strong couple because we are best friends and lovers – Unknown
Never leave a true relationship for a few faults. Nobody is perfect, nobody is correct, and in the end, affection is always greater than perfection – Unknown
50% of a great relationship is how you treat someone. The other 50% is having the ability and confidence to communicate the treatment you want in return – Unknown
Love is like the wind, you can't see it but you can feel it – Unknown
It's just that, ever since I met you, I knew it was you. I knew it was you all along – Unknown
Every relationship has its problems but what makes it perfect is when you still want to be exactly where you are even when everything sucks – Unknown
You and I equal a perfect world, a paradise, and eternal bliss – Unknown
When two people really care about each other, they always find a way to make it work, no matter how hard it is – Unknown
Arguments in relationships are a test to see how strong the couple really is – Unknown
Love is like water. We can fall in it. We can drown in it. And we can't live without it – Unknown
Being deeply loved by someone gives you strength while loving someone deeply gives you courage – Unknown
Three things I want in a relationship: Eyes that won't cry, lips that won't lie, and love that won't die – Unknown
A perfect relationship isn't perfect, it's just that both people never gave up – Unknown
If you are in a relationship then focus on your relationship. not everything else outside of it – Unknown
The best proof of love is trust – Unknown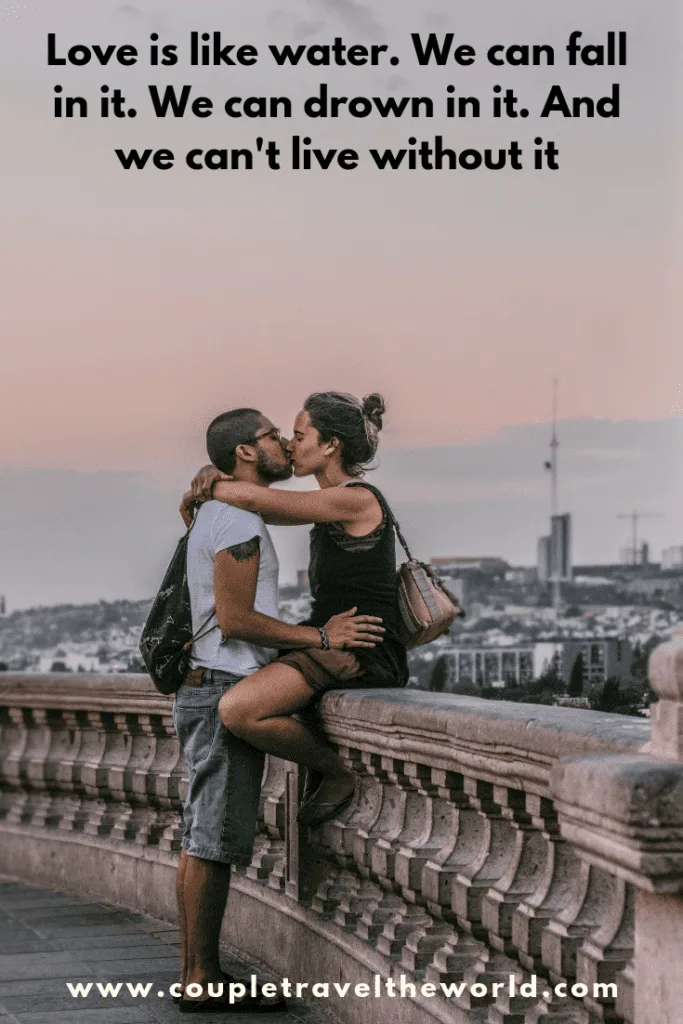 Best Married Couple Quotes
Marriage is a beautiful thing. It is a commitment between two souls who wish to be one in front of friends and family. Marriage is a promise and a lifelong trust towards your partner and it should always be celebrated.
Caption one of the following quotes and remind your wife or husband of how great it is being married to them! If it is your anniversary, you alternatively might like to check out our list of anniversary quotes.
He stole my heart, I stole his name – Unknown
I love being married, it is great to find one person to annoy for the rest of your life – Unknown
Forever is a long time, make sure you spend it with someone who makes you giggle – Unknown
Love is needing someone. Love is putting up with someone's bad qualities because they somehow complete you – Unknown
I'm thankful everyday that God gave me the best gift there is: YOU – Unknown
I may want, need, hope and wish for things but I couldn't ask for more because your love is the greatest gift of all – Unknown
I have found my destiny, I have found my heaven, I have found my best friend in you. – Unknown
Every year has brought us more love as a husband and wife, you are my heart's delight, and I can't wait to see what this year brings for us – Unknown
Almost all married people fight, although many are ashamed to admit it. Actually, a marriage in which no quarreling at all takes place may well be one that is dead or dying from emotional undernourishment. If you care, you probably fight – Flora Davis
Marriage is the miracle that transforms a kiss from a pleasure into a duty – Unknown
You don't marry someone you can live with – you marry the person you cannot live without – Unknown
A happy marriage is the union of two good forgivers- Ruth Bell Graham.
Marriage should be for love; marrying a woman simply because she is cute is like buying something useless at the market just because it's beautiful – Unknown
A wedding is a party, not a performance. If at the end of the day you are married to the one you love, then everything went perfectly – Unknown
A great marriage doesn't happen because of the love you had in the beginning but how well you continue building love until the end – Unknown
It is not a lack of love, but a lack of friendship that makes unhappy marriages – Nietzsche
A successful marriage is leading innovative lives together, being open, non-programmed. It's a free fall: how you handle each new thing as it comes along. Like a drop of oil on the sea, you must float, using intellect and compassion to ride the waves – Joseph Campbell
As a married couple one of the best ways to test your relationship is by travelling. Being in a foreign country together can be a really stressful experience but it's the perfect way to perfect your teamwork skills. If you're travelling as a couple and you love to share your journey on Instagram use one of these travel captions!
How about some inspiration for your next trip? Check out our guide to impossibly romantic getaways.
Love Couple Quotes
A couple in love is the most perfect thing in the world.
Love is gentle and kind, love seeks no evil, love is trust, patience and has no judgment. Love your partner today by sharing one of these quotes with them to remind them how deep your love for them goes!
You are everything I ever needed in my life – Unknown
Love is doing saying & showing. Never think just saying you love someone is enough – Unknown
Every love story is beautiful but ours is my favorite – Unknown
You are the one thing that never fails to make me happy – Unknown
Just give me one second to look at you, and then I'll give you one thousand reasons why I fell for you – Unknown
Your sweet smile is intoxicating, your warm caress is calming, your beauty is breathtaking, you are simply amazing – Unknown
Your flaws are perfect for the heart that is meant to love you – Unknown
Home wasn't the place where my bed was. Home was every emotion you made me feel. You are my home – Stephanie Perkins, Anna and the French Kiss
Oftentimes I catch myself smiling and singing, that's how crazy in love I am with you – – Unknown
We came together underneath the stars above. What started out as liking soon turned into love. I sensed a certain something in my heart that was true. I know I waited all my life to fall in love with you – Unknown
I just want you that's it. All your flaws, mistakes, smiles, giggles, jokes and sarcasm. Everything. I just want you – Unknown
Falling in love is great, but chasing your love and experiencing it every day is even greater – Unknown
You know you are in love when you see the world in their eyes and their eyes everywhere in the world – Unknown
Traveling right now? Here are some fun couple travel quotes!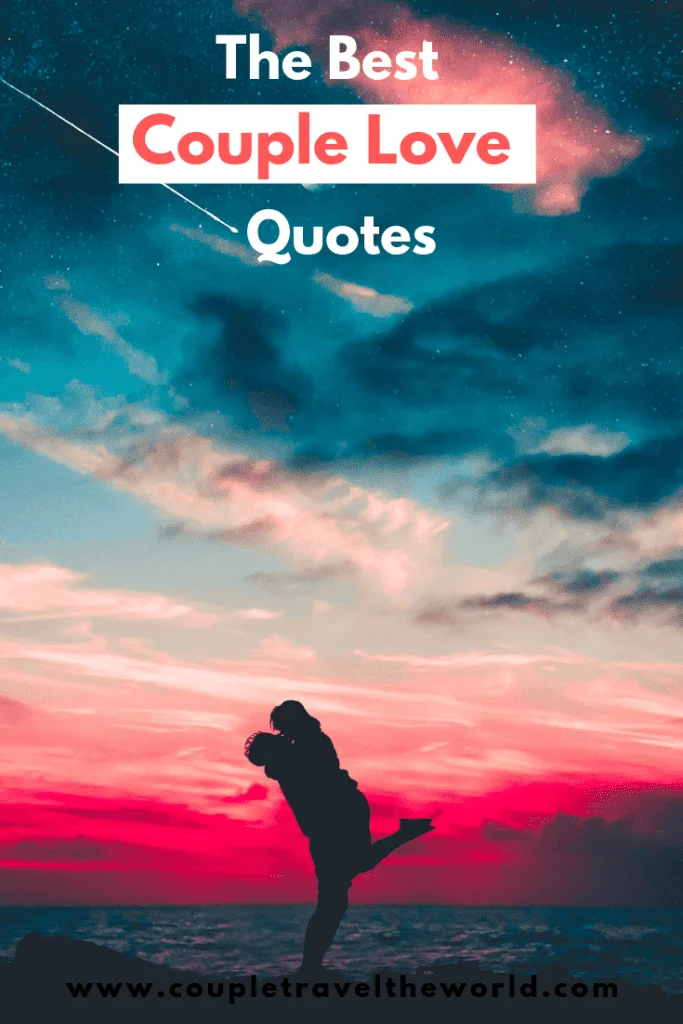 Corny Love Quotes
Everyone loves some corny quotes. We have come up with a few that are corny and not cringe-worthy so as to let you have the best quotes available for Instagram.
They say there is a lot of fish in the sea but you are my Nemo – Unknown
You are the compass that guides me in life – Unknown
I look over to you and I see sunshine – Unknown
You are like a dictionary, you add meaning to my life – Unknown
You are a wise cookie, smart chocolate, and a brilliant pancake – Unknown
My eyes literally turn to hearts when I see you – Unknown
Each time I see you, I stop breathing for a second – Unknown
In a sea of people, my eyes will always be searching for you – Unknown
My heart skips and sings whenever you are near – Unknown
I can't wait for forever with you – Unknown
Every moment I spend with you is my favorite moment – Unknown
All I do, since I met you, is dream of you – Unknown
Do I cross your mind anymore? Cause I swear to God I thought you were my soulmate – Unknown
Your smile is something else it's the sun and stars to my eyes – Unknown
Roses are red, violets are blue, I am truly, madly, deeply in love with you – Unknown
You rang the bell to my heart and it echoes "I love you." – Unknown
You are the rainbow in my sky, you are the sun in my life, you are the half that makes me whole, you are my heart and you are my soul – Unknown
You're that part of me I'll always need. Falling in love with you, I don't know how or when it happened. All I know is that it's the best thing to have happened to me – Unknown
Meeting you was fate, becoming your friend was a choice but falling in love with you I had no control over – Unknown
Our love is like a train with no brakes, unstoppable – Unknown
Do you believe in love at first sight, or should I walk by again? – Unknown
We hope these inspirational caption ideas and quotes bring you happiness and closer to your partner. Every happy couple invests in communication and we hope this helps you in that journey.
The quotes also provide the perfect addition to any couple Instagram photo.
We love to hear from you: what do you think is the most romantic saying? What are the best quotes for love and what do YOU say when you love someone?
Save this Romantic Couple Love Quotes to Pinterest (so you can find it again later)